I'm finally getting back to Apple Grove after a bit of real life and holidays. I had this idea that a holiday post with all the different families would have been cool, but there would have been too many spoilers because the families have been played farther than what you've seen so far. Bummer. Maybe next year if all goes well.
This is the Tucker family. The last time we visited them, Martin's mother, stepfather, baby brother, aunt and niece all moved out, and he met and married Jill. They had a little girl they named Artists, and Jill is pregnant with their second child.
Martin Tucker, 37, Adult Popularity, LTW: The Law
Jill (Natale) Tucker, 27, Adult Popularity, LTW: 20 Best Friends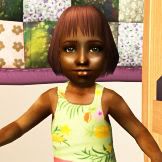 Artists Tucker, 3
Mark Bigfoot, 40, Adult Fortune, LTW: Media Magnate
Metalfoot Bigfoot, 3, Adult Fortune, LTW: Prestidigitator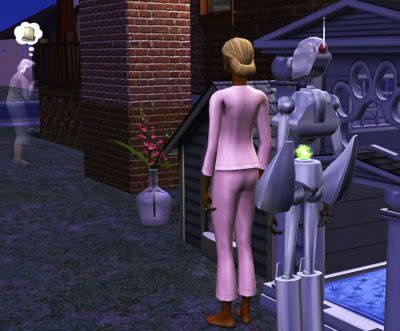 Jill and Metalfoot are wary of Natalya's ghost. She doesn't seem to be lamenting her own death, but upset that her headstone was moved to the backyard. Ghosts are so picky.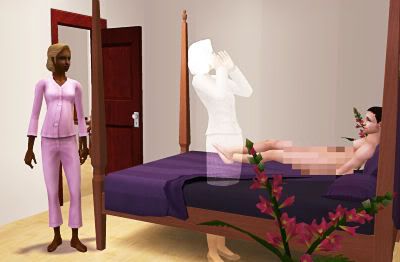 It looks like Martin had some alone time plans for his very pregnant wife Jill, however it has to be fairly awkward to have his babushka's ghost in the bedroom when he's naked... or anytime really, but especially when he's naked.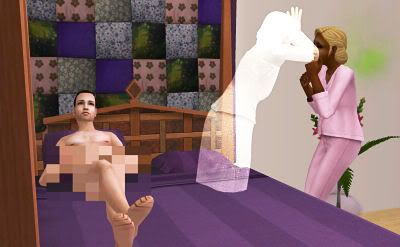 And now Jill will need a shower, so Martin may as well give up on his plans and change back into his pajamas.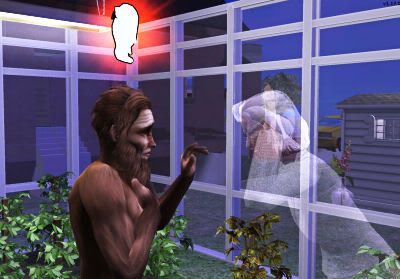 Natalya wasn't quite done with her evening's activities. She also gave Mark a scare out in the greenhouse.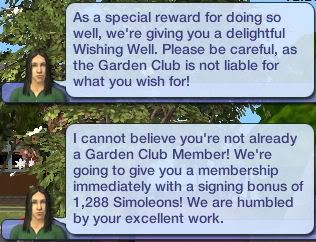 Jill is a Popularity sim, so she can definitely benefit from earning the wishing well.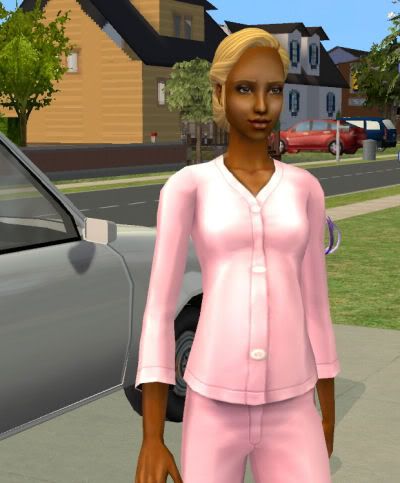 Jill loves pajamas. During pregnancy she ditches the gray pajamas in favor of the roomier pink pajamas.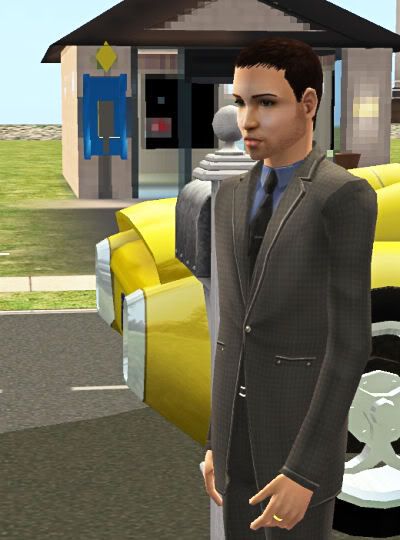 Despite this suit that I think is ugly, Martin has somehow become an Icon in Show Business.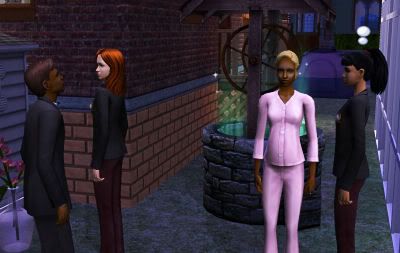 Now that Jill has her wishing well, her LTW of having 20 best friends should be pretty easy to achieve. These are her 3 new best friends. It would appear that they are all members of the Secret Society.
Damion gave Jill a flatscreen TV sample for being insightful.
And Yusun offered her a home furnishings discount.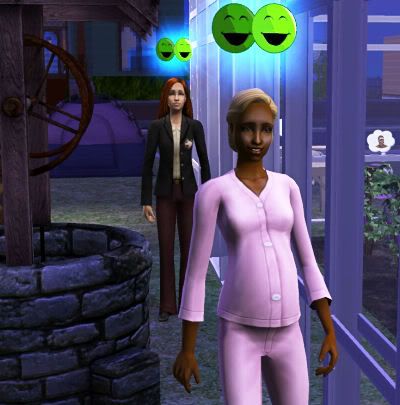 As soon as she made friends, she waddled away. With popularity sims, it isn't about the friendships themselves so much as being able to count the number of friends.
But wait, before Jill can get away, Kimberly would like to offer Jill a job in the Gamer career as a Trash Talker. Nah.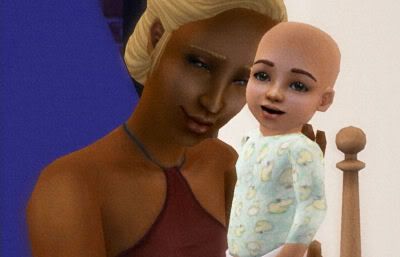 Jill gave birth to a baby boy who will grow up to be the heir of the Tucker house.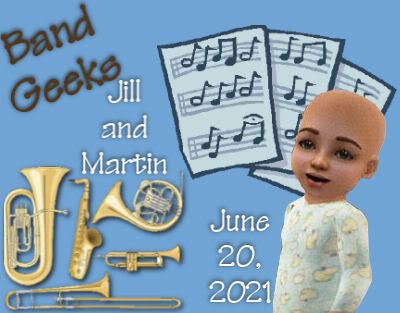 I'm going to admit to laziness on this birth announcement, but I just don't care enough. Poor Artists didn't even get a birth announcement. Hey, but I'll just blame Martin and Jill.
Since Jill and Martin are both popularity sims, I decided their kids would be named after cliques at school. My husband Scott was both an Artist and a Band Geek in high school.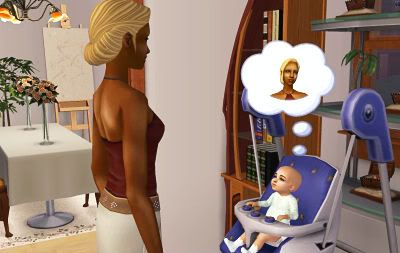 Band Geeks seems to live in his bouncinator. He wonders who this strange being is standing in front of him, since he is being cared for mostly by a servo and Sasquatch.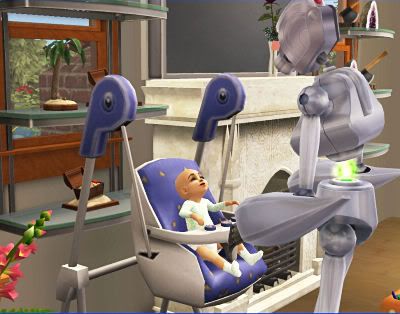 Band Geeks looks a lot more excited to see Metalfoot than his own mother. Actually, he probably thinks Metalfoot is his mother, at least until he's older and less needy - and when Jill needs another best friend.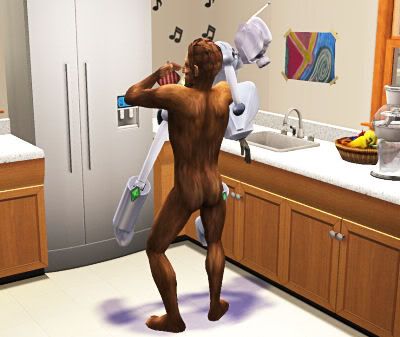 Mark gives Metalfoot a surprise circuit-crushing bigfoot hug in the kitchen. He really loves the metal friend he created.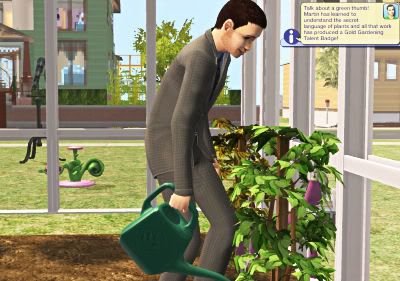 Martin earned a gold gardening badge while tending plants out in his greenhouse.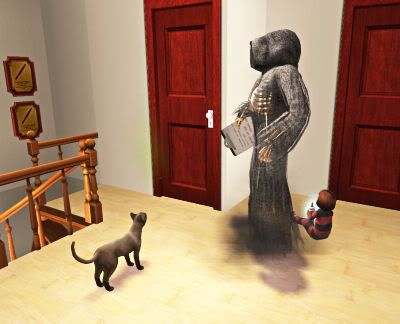 Uh-oh, it looks like Cyan's time is up. She was barely here long enough to destroy anything, which is the only memorable thing she ever did.
Izzie is upset, and her howling is probably the only reason Pooka cares.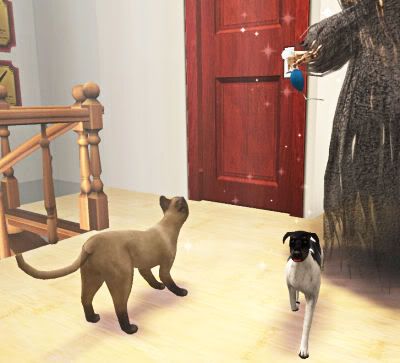 I love that Grimmy has the catnip mouse, the feline equivalent of an umbrella drink, I guess.
Jill wished in 3 more friends the next day.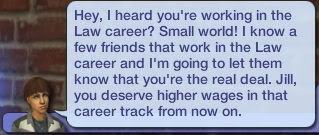 Andrew wants to help her advance in the Law career - among other things.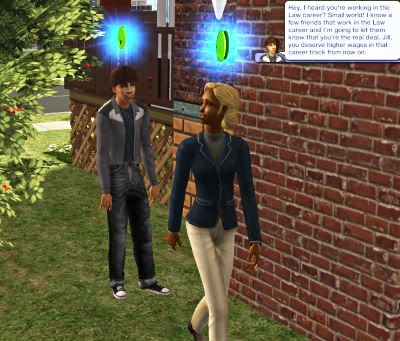 Apparently, that was the offer that really turned her on. It did not immediately occur to me that Jill was giving Andrew a "come hither look", especially because he's just standing there slouching stuipidly with his bowl haircut.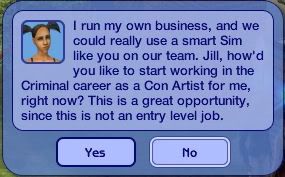 Samantha tried to give Jill an offer she can't refuse, but apparently she's distracted by the hotness that is Andrew. I refused for her, though. I don't agree that becoming a Con Artist is a great opportunity.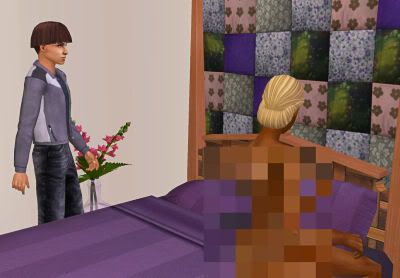 This was a totally unexpected thing - to discover Jill upstairs seducing Andrew, a man she just wished in a few minutes ago, with only one bolt of attraction. She has 3 bolts of attraction for her husband Martin - more than anyone in the whole neighborhood, and she is a popularity sim, not a romance sim. Well, I stopped her from having an affair, but I'm really not pleased that she was so eager to cheat on Martin.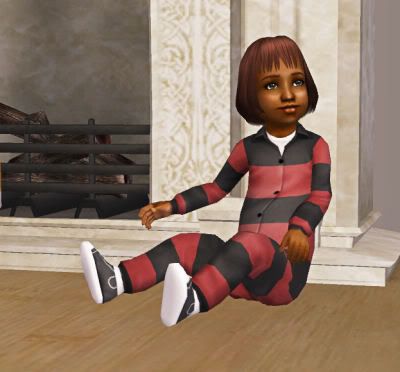 This is a much happier scene. Little Artists is a beautiful toddler.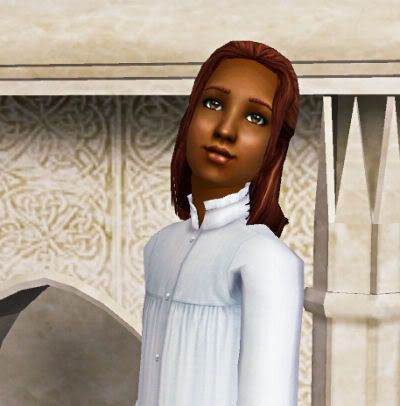 And she grew into a beautiful child as well.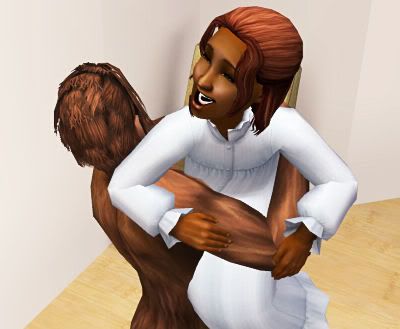 Mark was quick to give her her first bigfoot hug.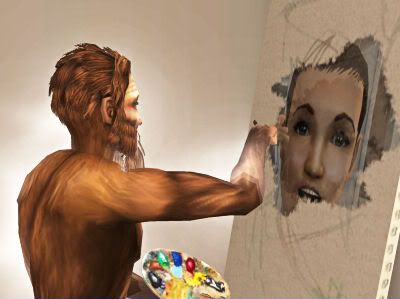 Mark loves his adopted family. He painted a portrait of his favorite human, Martin. I guess he has completely forgiven Martin for that crotch-grabbing incident a few years back.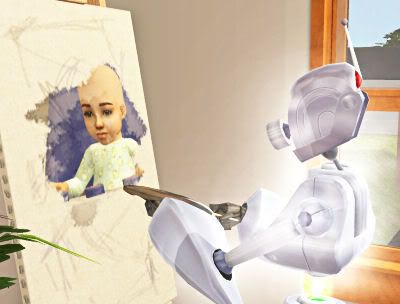 Metalfoot painted a picture of Band Geeks from memory. He knows that kid very well, as he is the one the feeds and changes him all the time.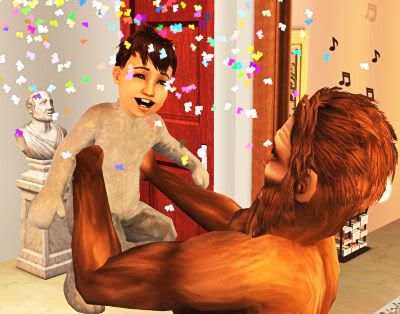 But Mark actually got the do the toddlerification honors for Band Geeks.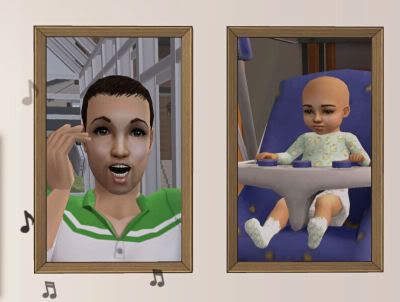 These are the finished portraits of Martin and Band Geeks.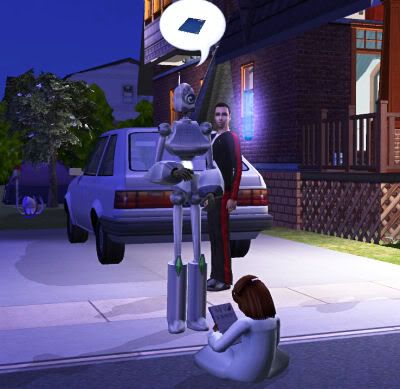 Um, is it just me, or is it wise to have Artists do her homework in the dark sitting in Orchard Way? Even in a small town like Apple Grove it doesn't seem safe to sit in the street. Servos are good at homework, but lack common sense.
Mark is able to get the apple trees to produce the very best quality fruit. It's just one of his many talents.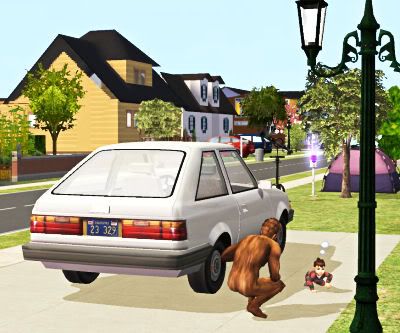 Mark was teaching Band Geeks to walk outside.
At least he had the common sense to keep him in the driveway.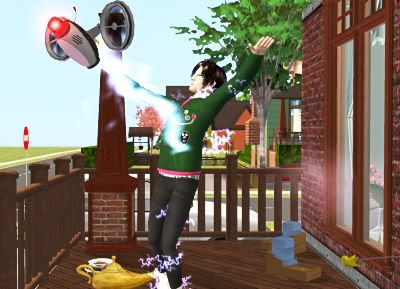 Vince tried to steal the newspaper, but the sentrybot is on the job. As a fan of The Mighty Boosh, I couldn't resist adding
Vince Noir and Howard Moon
as townies when I saw someone had made them on MTS2. Vince is a frequent newspaper thief.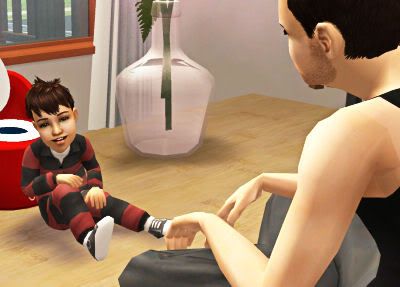 Martin takes the time to teach his son how to talk. Maybe waiting so long for marriage and family has helping him appreciate them.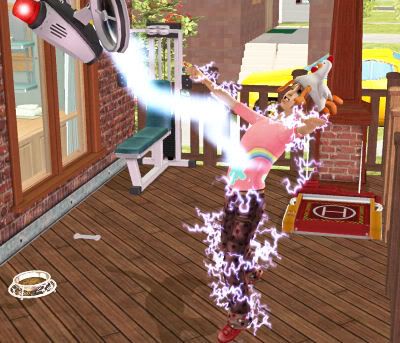 Chick-Fil-A came to steal the newspaper and was in for a nasty shock.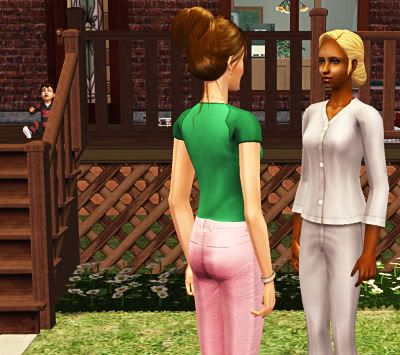 Kimberly Shibata is Jill's sister-in-law, and now her 20th best friend. So Jill has now earned her LTW. I wish I could say I could just ignore her now, but since she wants to cheat on her husband, I have to keep an eye on her.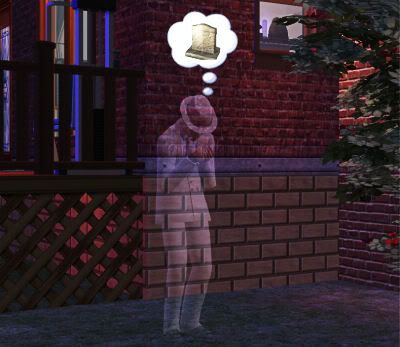 Ghost Sam is sad - because I moved his tombstone.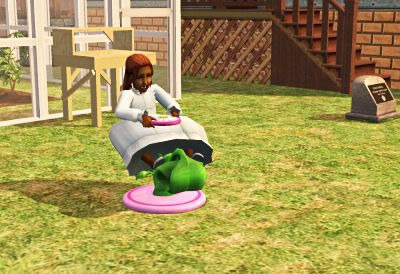 I'm not really sure how Artists is managing to ride the the spinny-toy in a long nightgown, but she is.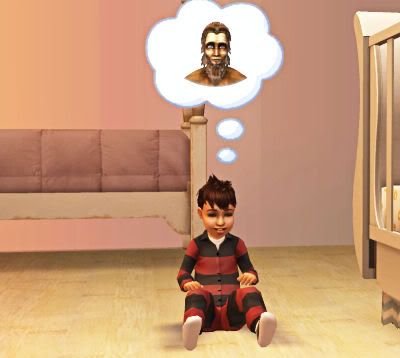 Band Geeks really likes his buddy Mark.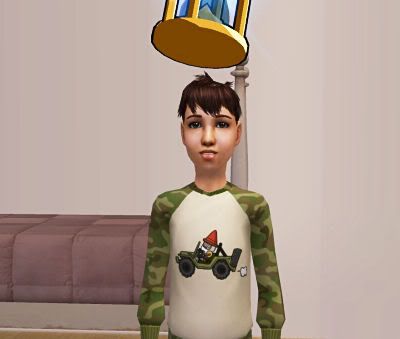 I like that he chose the Fort Gnome Army pajamas. I think those are my favorite for boys.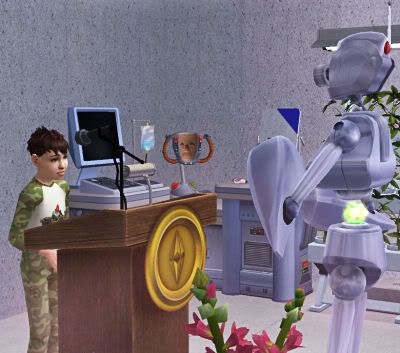 Every time a sim kid plays with a podium, I punish them with a lesson in charisma. Band Geeks is no exception to my rule. But skilling is not nearly as fun as annoying people.
The Tuckers are getting ready to go on vacation.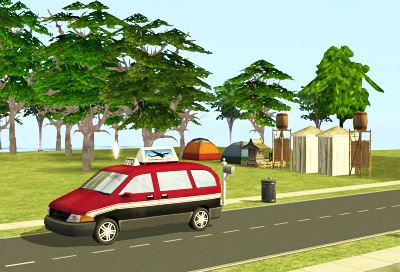 They got a blank lot next to a campsite.
Martin and Jill all all over each other as if they are romance sism, even though they're both popularity.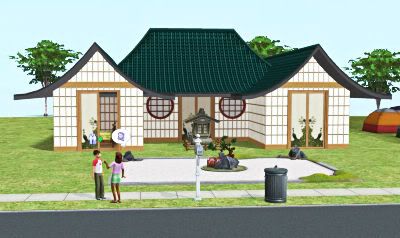 Quickly I was able to construct this little vacation house.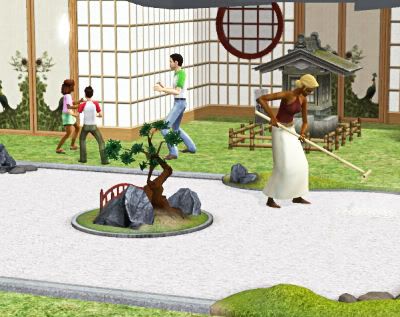 It comes complete with a zen garden, and the kids are getting Tai Chi lessons from Martin.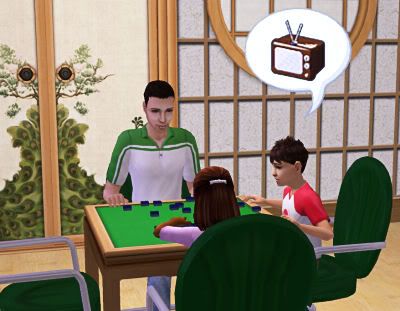 They played some Mah Jong, but Band Geeks complained that he really just wanted to watch TV.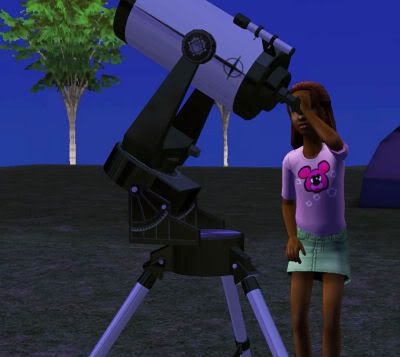 I wanted Artists to be interested in arts and crafts, but her one true hobby is science. I considered changing it, but I decided not to and to just be happy that it isn't sports like most of Apple Grove.
When Martin returned to Tucker Toys and More, he was finally able to get the business up to Rank 10.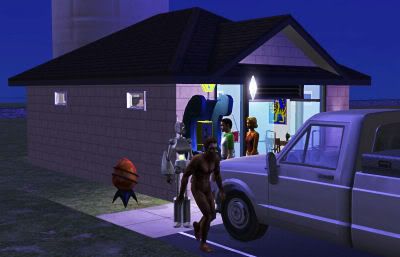 He couldn't have have reached Rank 10 without the help of Jill, Mark and Metalfoot.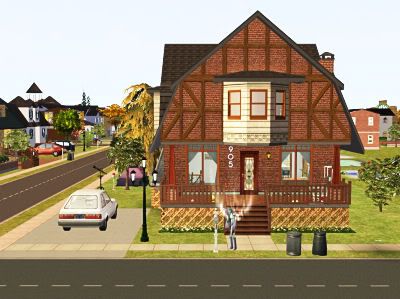 And now we will say goodbye to the Tuckers until next time.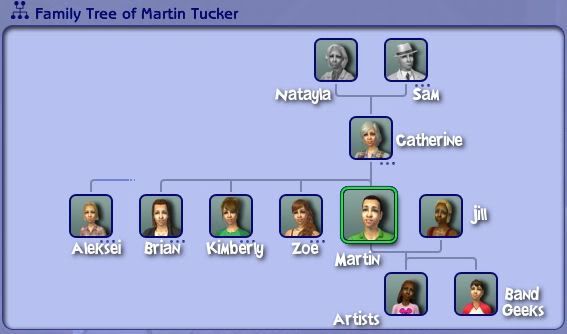 Scoring: 1 point for adding Band Geeks to the neighborhood, 1 point for Martin reaching the top of the Show Business career. The population of Apple Grove is currently 59, with a total population of 62.