I'm finally back to Apple Grove. Even though I played the Miguel family back in March, I'm just now getting around to blogging about it. Maybe I'm tired of Christmas? :P Anyway, I decided to go ahead and write it, whether or not it's a very interesting story. And, it just isn't, trust me. But what can I do? The Miguels are flat broke. They can't even afford a Christmas tree.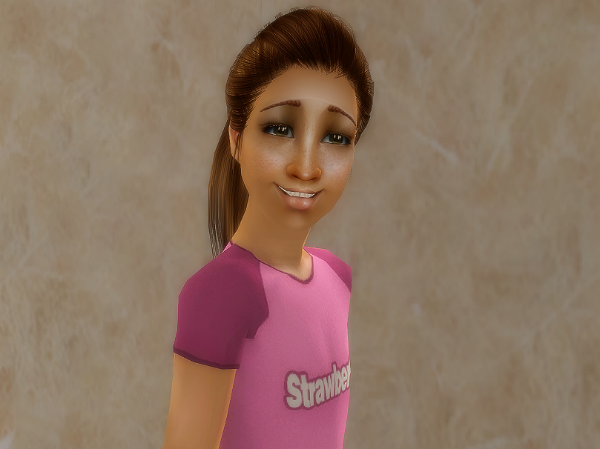 I'll start off with some kid spam. This is Strawberry. She's cute and sweet, just as her name implies.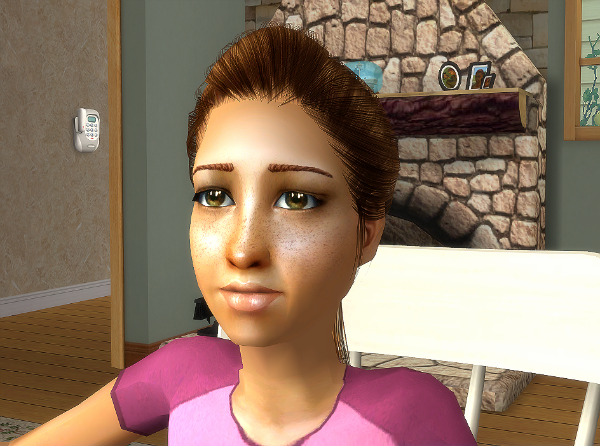 Here's a closer picture so you can see her freckles.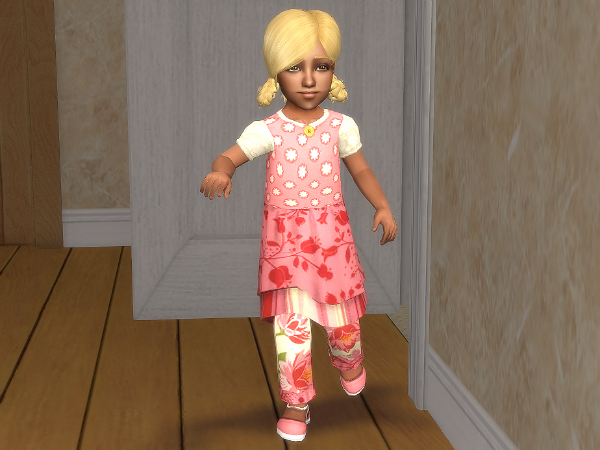 Raspberry has learned to walk. She's wearing her sister's hand-me-down clothes.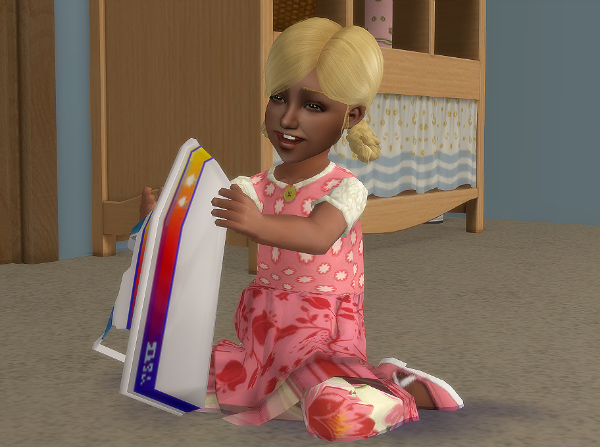 She enjoys playing with toys.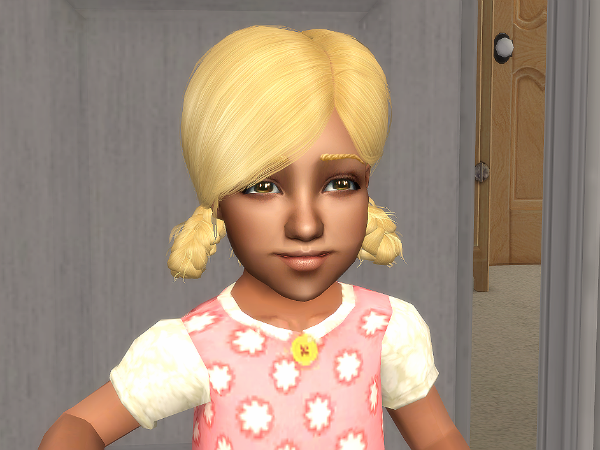 And she's pretty darn cute.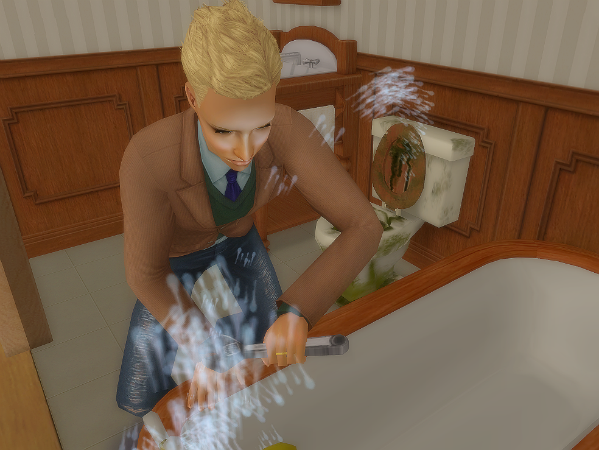 While he was home from work, Miguel enjoyed part of his vacation time fixing the plumbing problems. This seems like the kind of stuff that happens IRL.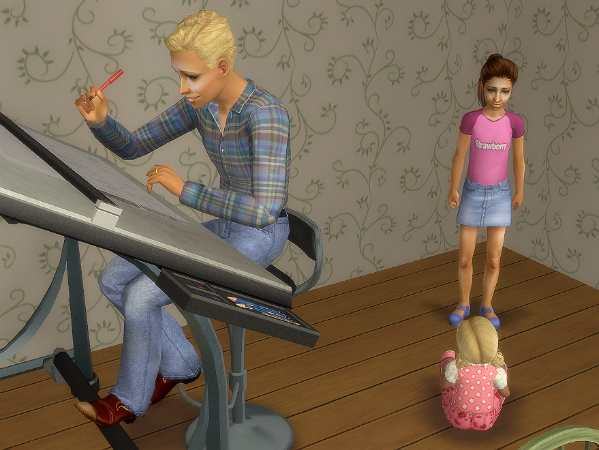 Almond worked at home on some architectural drawings to try to earn a little Christmas money.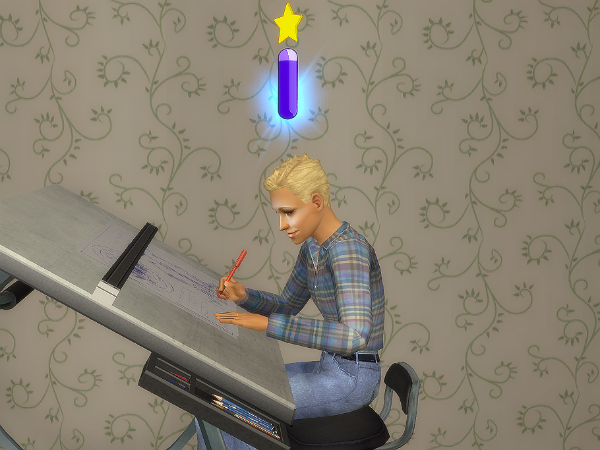 He did so much work at home that he maxed his creative skills.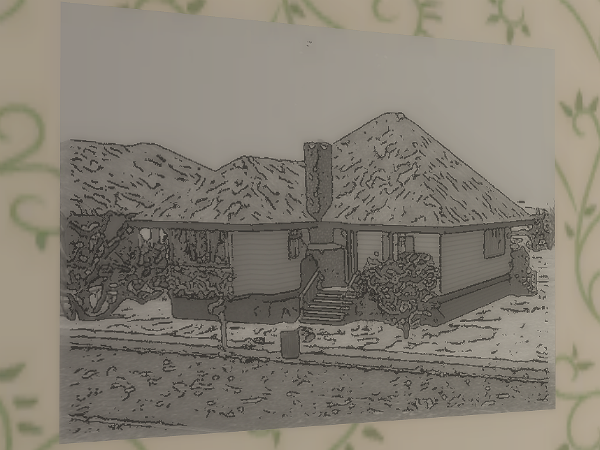 The good thing about the drawings is that most of them don't look tempting enough to keep. But then, this one is only worth $93. Since Almond is a draftsman, it does seem more realistic that he should be drawing rather than painting.
Strawberry is sweet as always, and made friends with her little sister.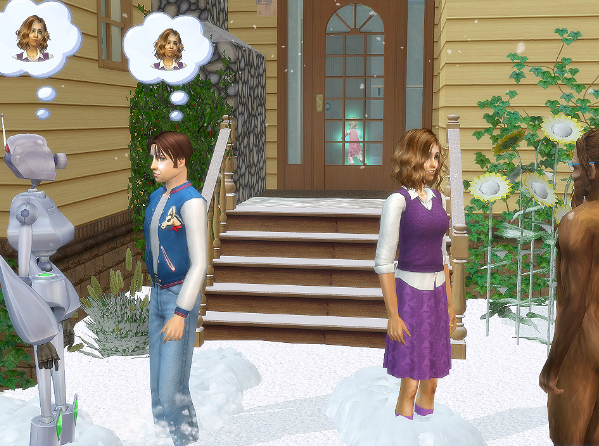 The welcome wagon arrived to welcome them to their new home.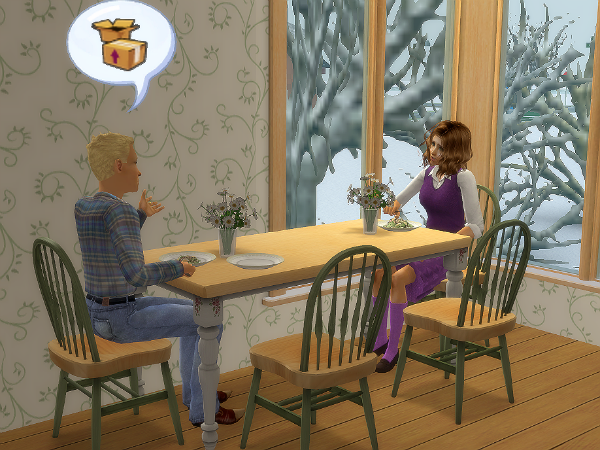 Almond and Violet discussed the move over a salad. Even though they were really broke and heavily mortgaged right now, it really was nice to have their own home.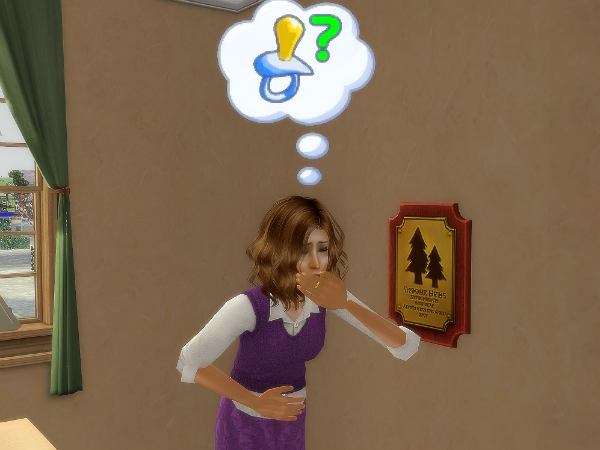 Oh, and to add to the fun with poverty, Violet is pregnant again.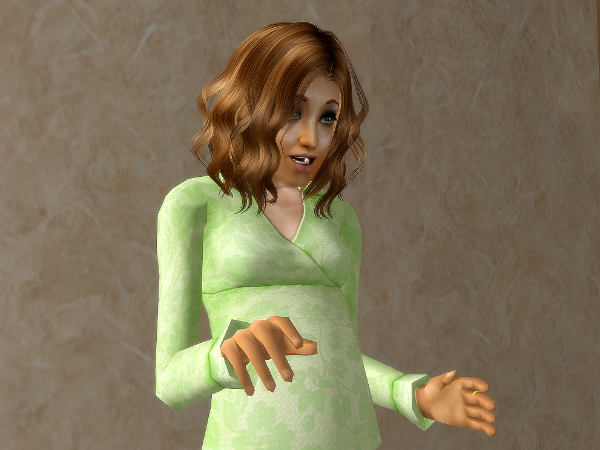 And is now in her 2nd trimester.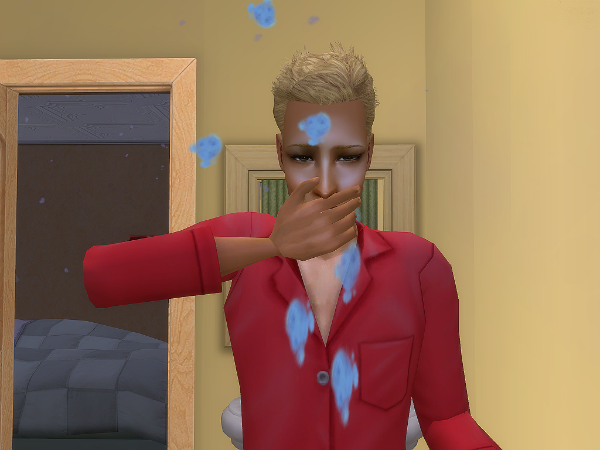 Almond has been feeling nauseated lately. He thinks maybe he's still feeling "space-sick" from his recent trip in the UFO.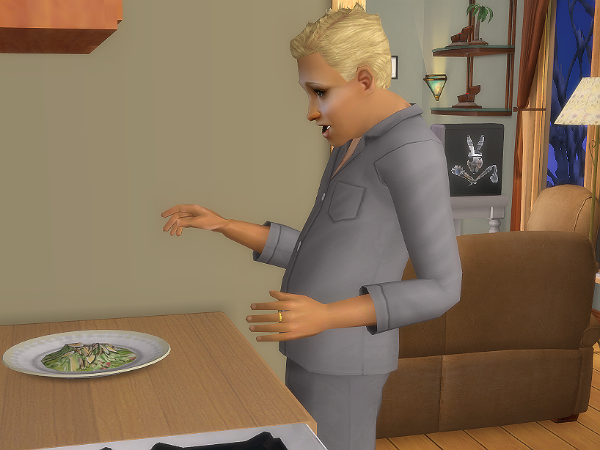 But I don't think he should believe he's just gaining weight from eating all that salad.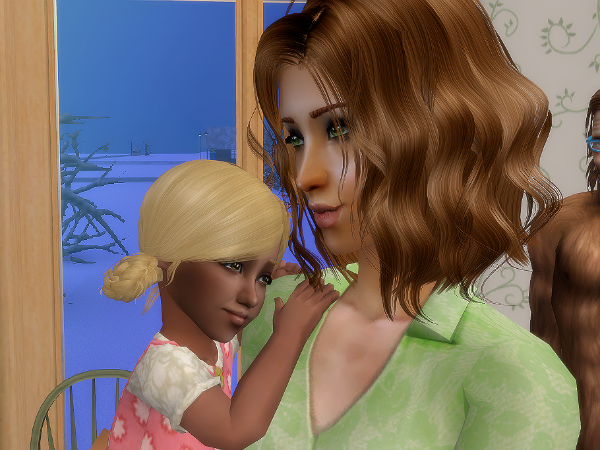 Raspberry had a birthday party.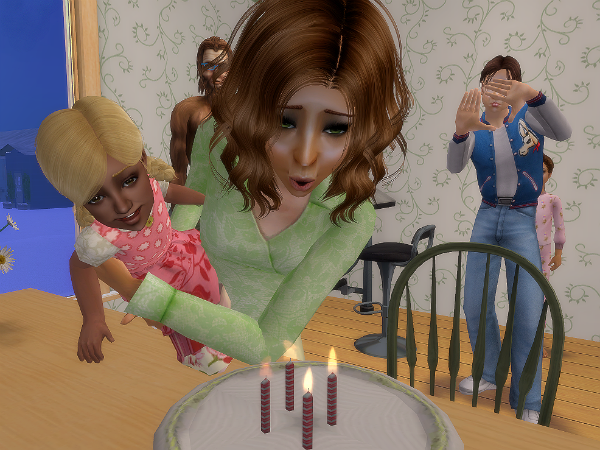 Yep.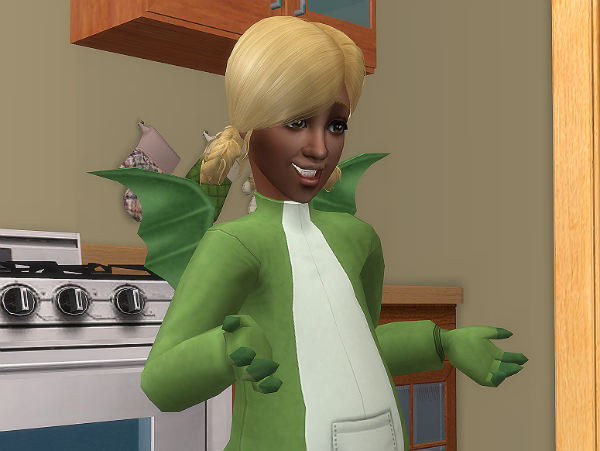 She chose the dragon outfit.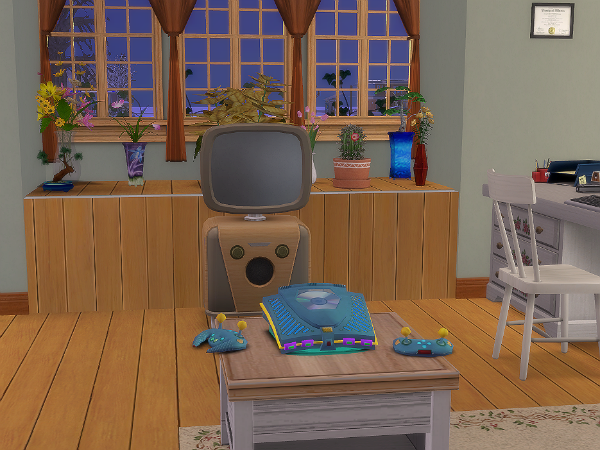 She wanted some electronic entertainment, so I figured this would be a nice birthday gift for her, as well as Christmas gift for the entire family.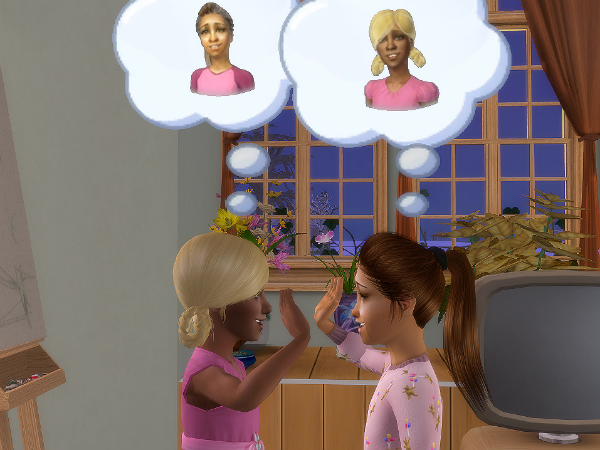 Now that Raspberry and Strawberry are the same size, they're sure to have more fun playing together, and they'll be BFFs before you know it.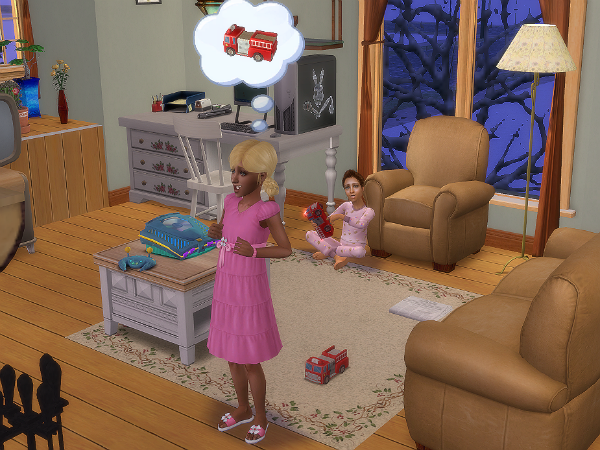 The girls both got fire trucks from "Santa." They're both very nice little girls - Strawberry with 7 nice points and Raspberry with 9, so I figured they deserved some fun.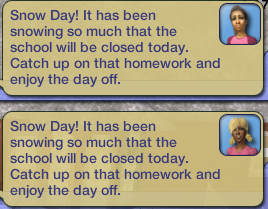 And now that the holidays are over, they get a bonus - they don't have to go back to school yet.
Thank you for bearing with me and reading. Hopefully the next family will be a little more exciting.
(Cross-posted on my LiveJournal)