When we last visited Brian Tucker, he spent the entire time working on his Lifetime Want of Woohooing 20 sims. As
Squinge's Mr. Bubbles painting
reminded us, Brian has "did the woohoo 15 times." According to my calculations, this means that Brian has to "do the woohoo with 5 more sims."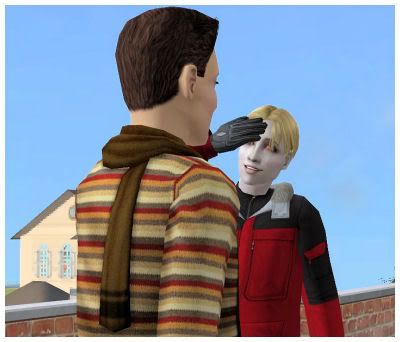 For some reason Daniel Brown was visiting, and came running out of Brian's apartment. I was really glad he made it off the lot alive, as it's a long way down the stairs.
Brian's sister Kimberly came over to visit. I can't believe she's smiling at her brother, as this seems kinda gross. It's not quite Cloris Leachman and Jack Black gross, but it's still pretty icky.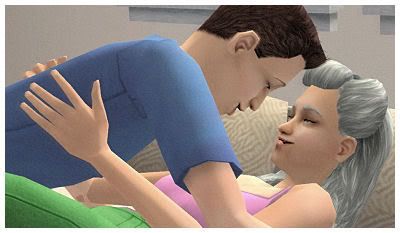 That's right, Brian. Close your eyes and pretend she's young.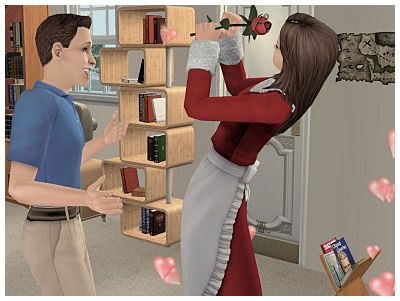 Speaking of young, the next girl on Brian's list is a college girl that wants to be Mrs. Santa.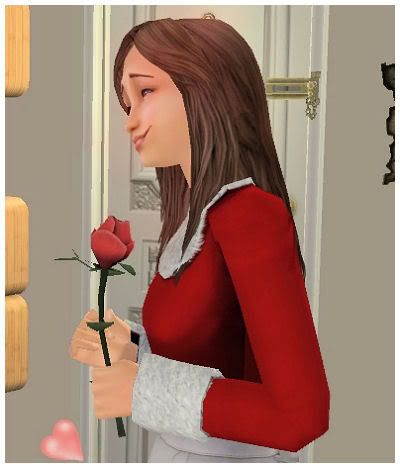 Oh, she is so naive. For some reason about halfway through their date, she just ran off the lot.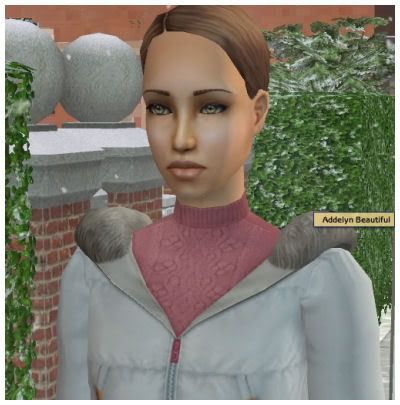 So Brian saw this pretty lady down by the mailboxes and had to meet her. I see that her last name is Beautiful. I have a names mod, but I don't remember who made it.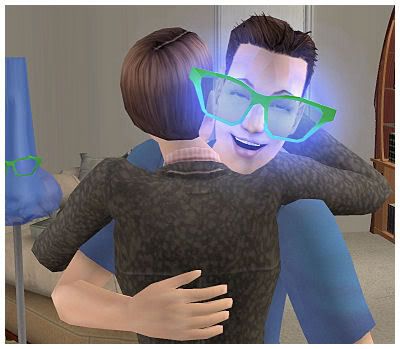 Brian gets to know her quickly through his constant use of cool shades.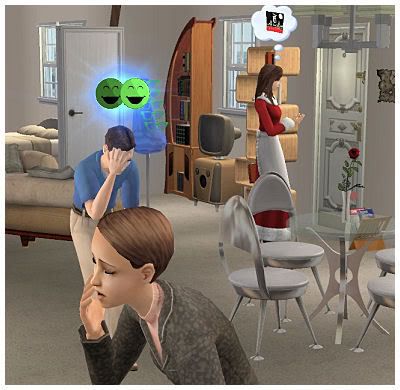 Mrs. Santa returned unexpectedly. I wonder if she went to class before, since she is a college student. That would explain her running off earlier. I thought things would get ugly when she noticed Brian was on a date with someone else, but fortunately Brian was able to say goodbye to Mrs. C before either of them got jealous.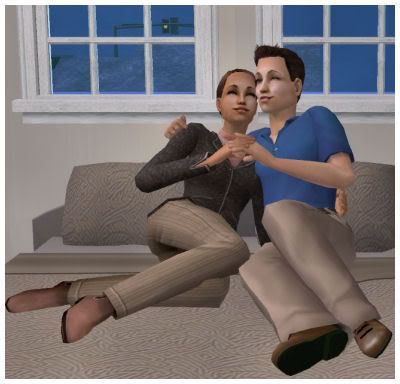 And he was able to get down to business...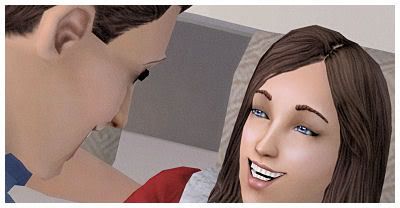 And then called Mrs. C for another "date."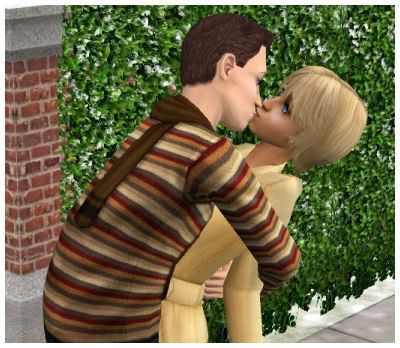 This was the girl from Three Lakes that loved grilled cheese.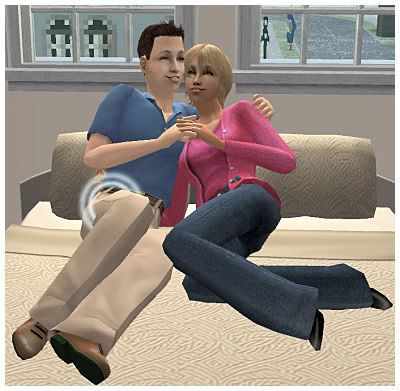 And she was victim #19.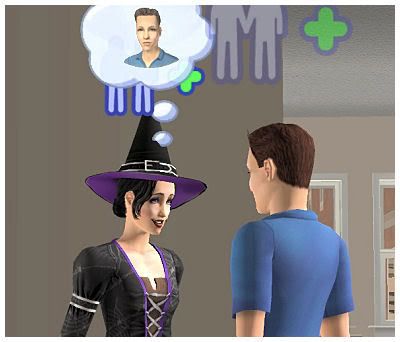 And so for convenience, Brian went downstairs to ask Sophie to go "downtown."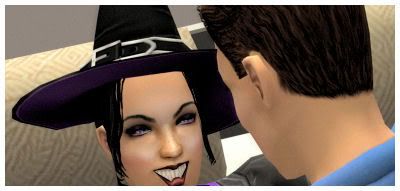 And Sophie who is a naughty girl was quite willing to be his final conquest.

Yes, uh, you should be um... proud.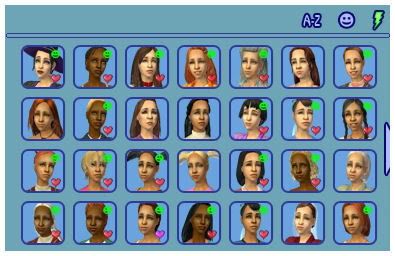 So now whether or not Brian wants it, he's going to get married. Here's the list of women he's most attracted to.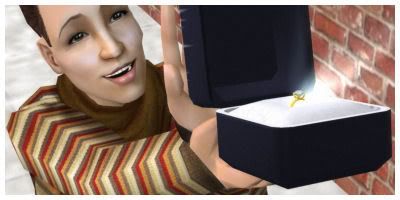 I made him get engaged.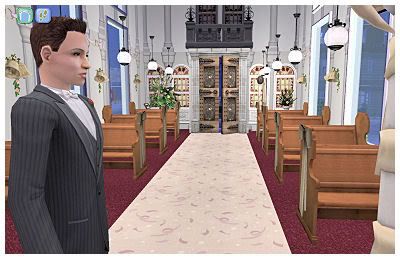 And here he is waiting in the chapel.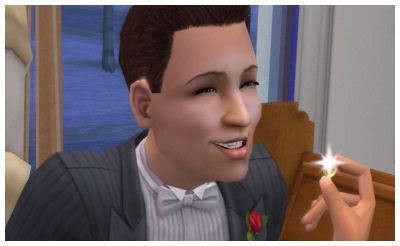 And exchanging rings. He's now officially married.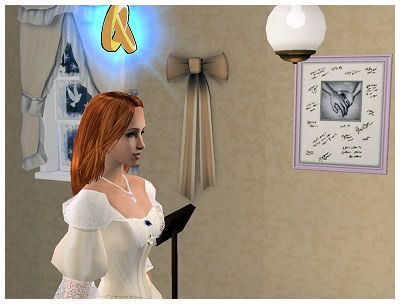 I had him marry Dagmar because she's the woman he likes the most who isn't a brunette. It turns out that she was a college student.

And the good news is that Dagmar is a knowledge sim who brought in §19K!
The bad news is that her Lifetime Want is to - Woohoo 20 Sims! She's out of luck. She's going to woohoo 1 sim.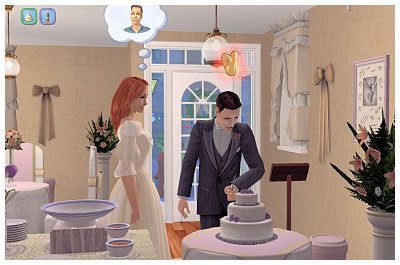 Brian is already having a bad memory of getting married.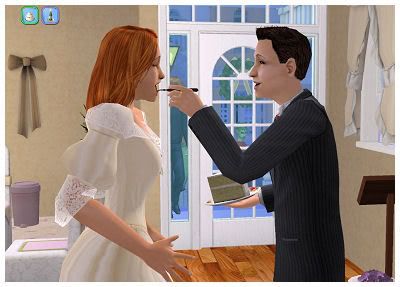 But he is kind and doesn't cram cake into Dagmar's face.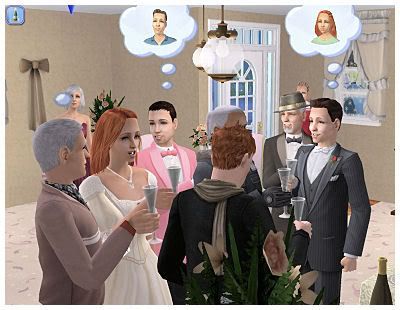 There were many toasts to the bride and groom.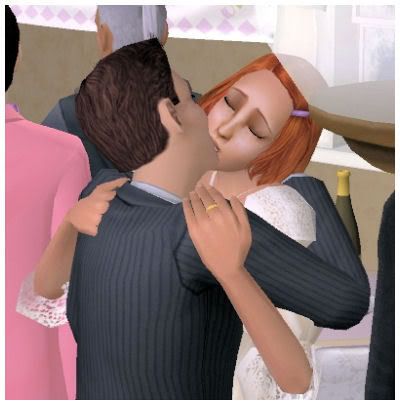 And they truly seemed to be in love.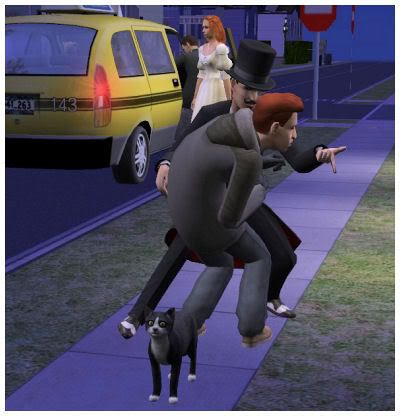 As they were leaving, poor Talin was getting pick-pocketed by the Charlatan. Talin lived in Candy Apple Court where Kimberly and Ravi used to live.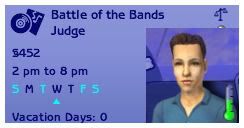 Brian's new Lifetime Want is to be a Rock God. If Nickelback knows anything, then being a rockstar seems to be just like his last Lifetime Want, only set to music.
Dagmar decided to be an artist.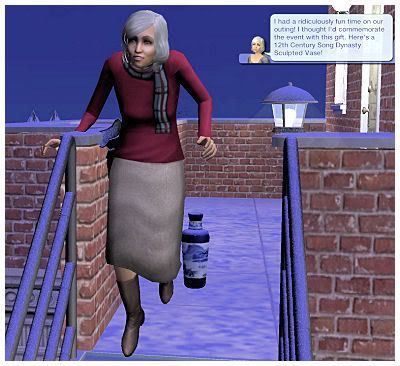 Brian's mom Catherine dropped by with a really nice wedding gift.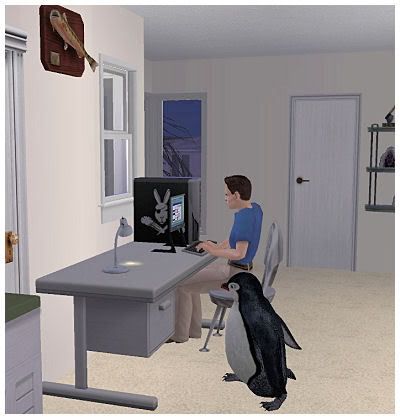 The penguin walked up 2 flights of stairs to try to get the mounted fish off the wall. I had no idea that Apple Grove was near the South Pole.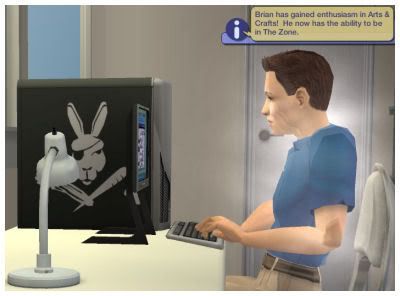 Brian got a hobby plaque for Arts & Crafts. It's about time he did something with his life besides chasing women.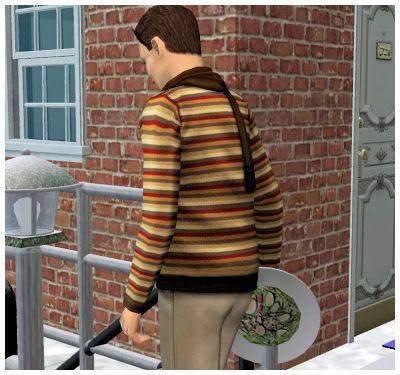 I really hate that I put a picnic table on the property. Brian is heading down there with his anti-gravity salad.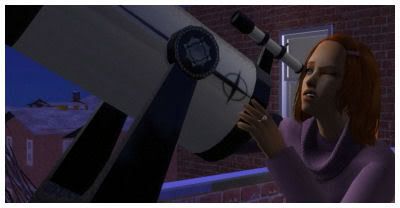 Dagmar really enjoyed stargazing.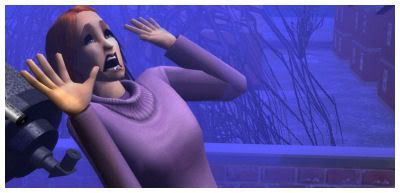 Until she got more than she bargained for...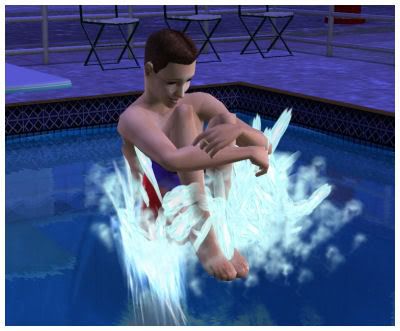 And here is Brian - completely unconcerned.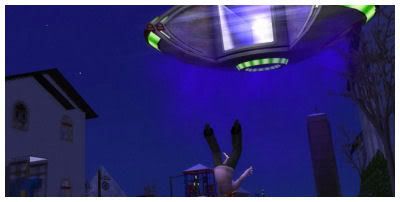 Dagmar was rudely dumped onto the ground.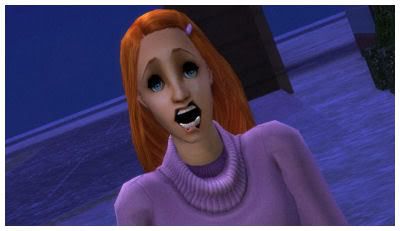 And she was really upset about her experience.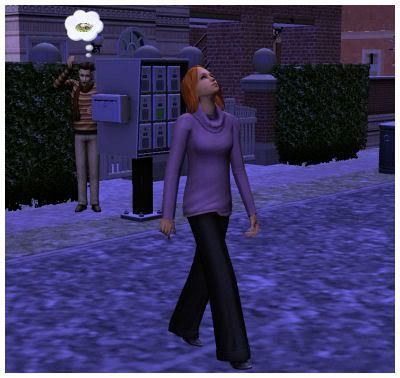 Even though Brian is not a knowledge sim, he was excited that Dagmar got abducted.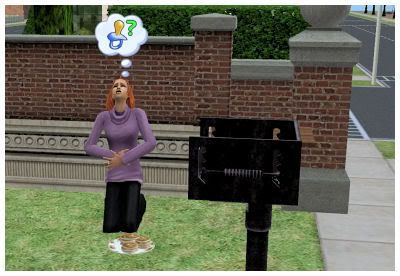 Dagmar never recovered from her trip into space. She got too hungry and then took a long trip down to the picnic table to serve the neighbors pancakes.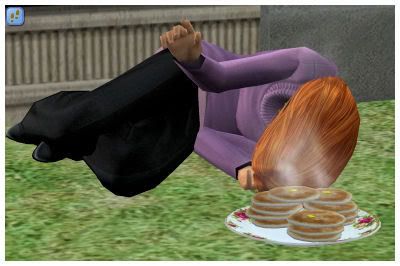 With one last feeble attempt to grab a pancake, Dagmar died.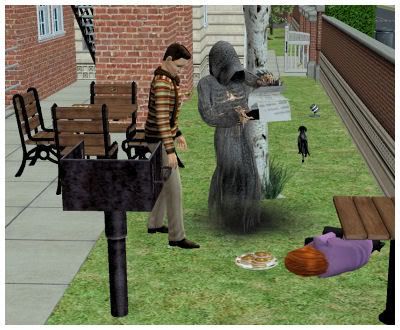 Don't you dare get a pancake, Brian! You have to plead for your wife's life!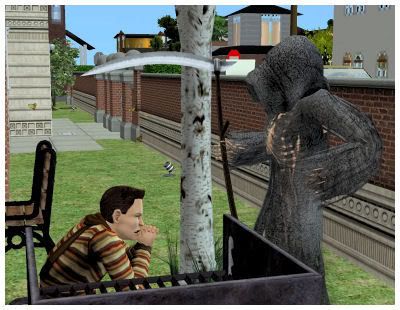 Brian seems to want her to live, but...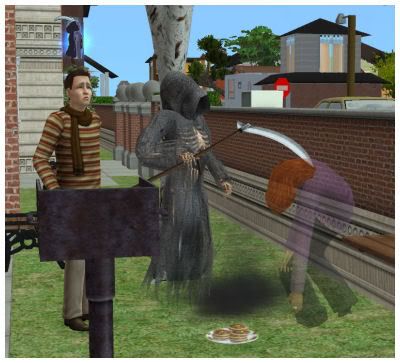 He looks upset when she actually gets a second chance.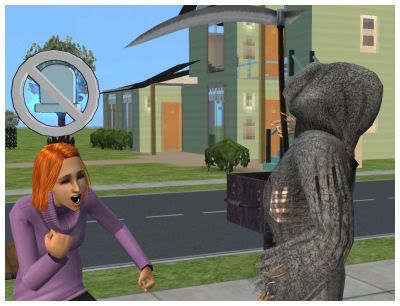 Dagmar, however, is very happy to be alive.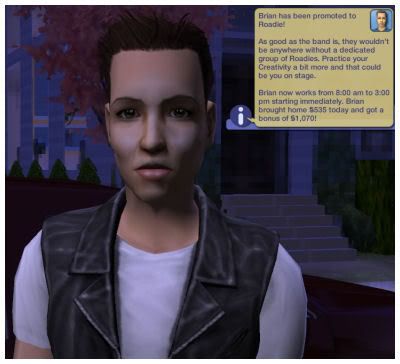 Brian is now a roadie.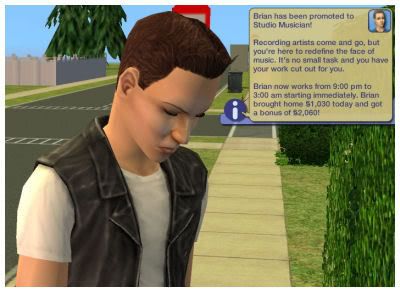 But his next promotion was to studio musician. Either he's tired, or he really misses life out on the road with a band.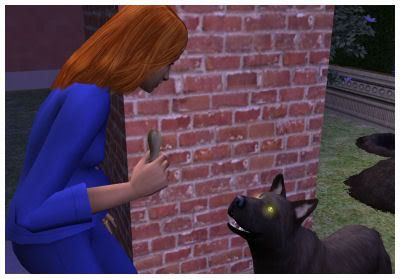 Dagmar really wants to befriend Bobo. Bobo doesn't look as cute and cuddly as his name implies.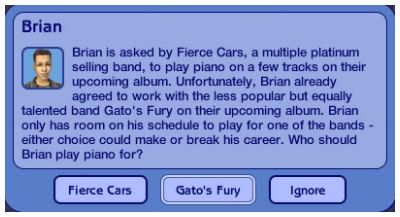 Brian decided to keep his promise to Gato's Fury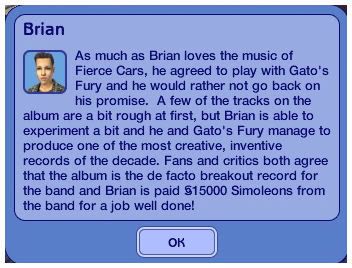 And he got paid §15K!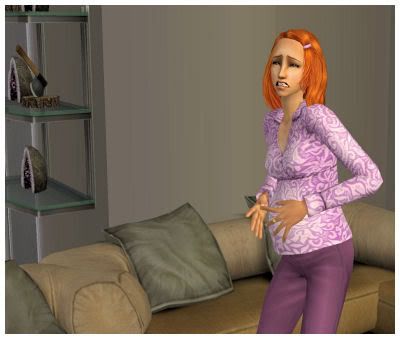 That money will come in handy right about now.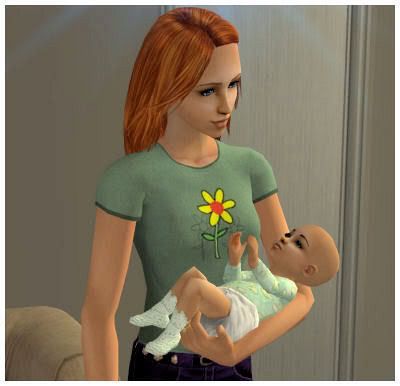 Dagmar gave birth to a baby boy.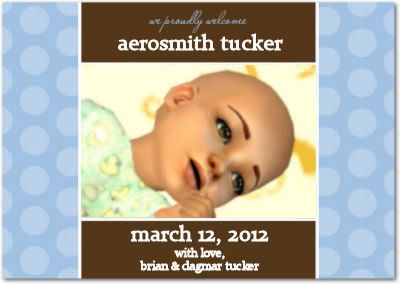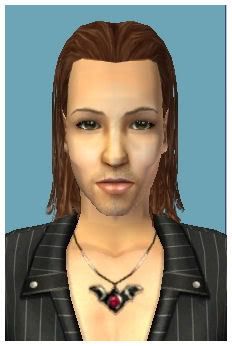 Brian is really getting into the dream of becoming a rockstar. I suppose that may be obvious since he named his son Aerosmith, but he decided it was time to change his image as well.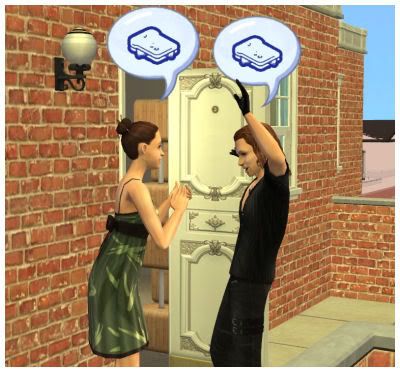 Uh-oh, Charity stopped by to talk to our rockstar about grilled cheese. I don't trust him with my daughter. I made him say good-bye to her.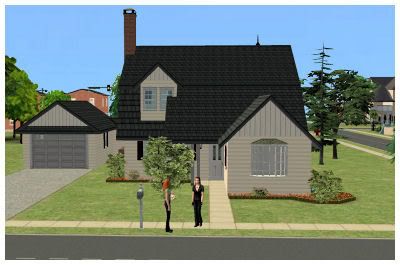 And now the Tuckers were able to move into their new home. This house is
The Kenfield by teril02
. The new address is 11 Orchard Way.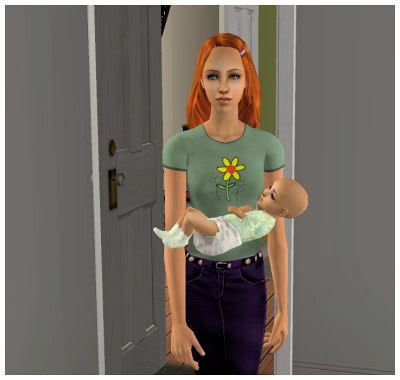 Look ma, no hands! Dagmar and Aerosmith apparently have the ability to "walk this way."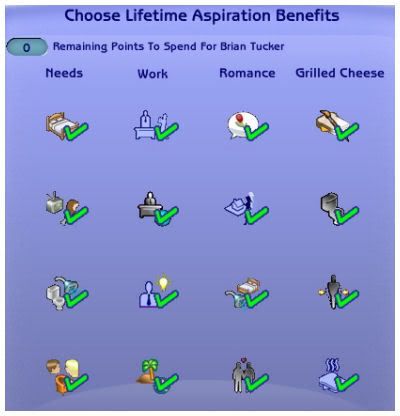 Brian is the second sim in Apple Grove to earn all his lifetime aspiration benefits.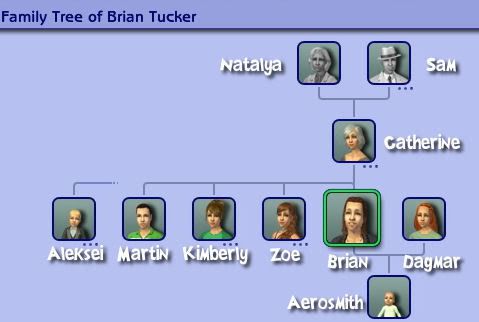 And here is an updated family tree for Brian.
Scoring:

1 point for Brian's stupid LTW, 1 point for Dagmar joining the neighborhood, 1 point for Brian's Arts & Crafts plaque, 1 point for the birth of Aerosmith, and 1 point for Brian earning all his Lifetime Aspiration Points. The total population of Apple Grove is 39. The current population is 37.