Last time we visited Sophie she was trying for the Impossible Want of 50 Dream Dates. Well, she kind of gave up on that idea for now. I'm not sure if she will come back to that goal or not. For now...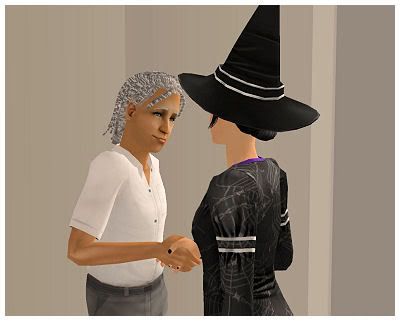 Sophie looked deeply into her
TwoJeff's crystal ball
and choose the wrong man.

She meant to choose Daniel Graham, a man on her list of 20 "conquests" from her college days.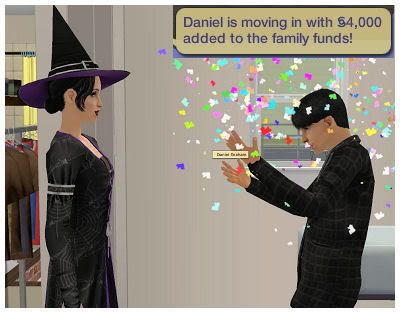 Daniel is a popularity sim with a side order of grilled cheese. Nice suit there buddy, LOL.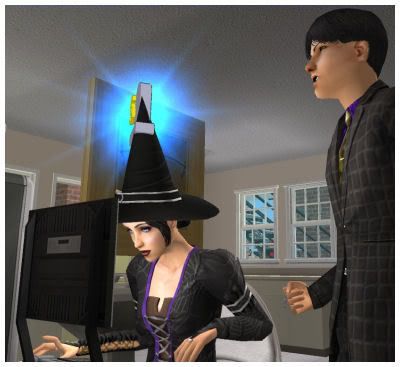 I guess she was friends with Sam Tucker because she inherited some money from him.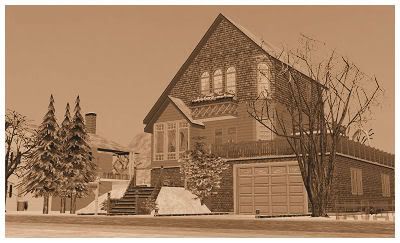 Since it was Monday, I let them move to a new house. Spooky!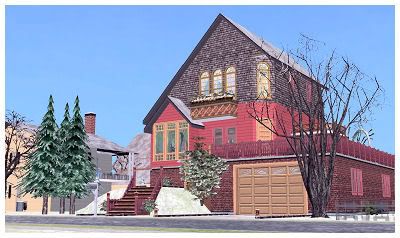 Okay, not really. They now live at 4 Apple Avenue.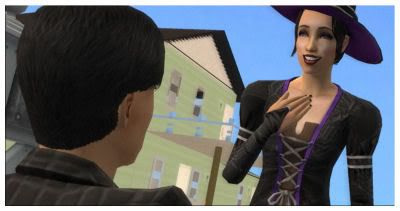 Daniel wastes no time in proposing.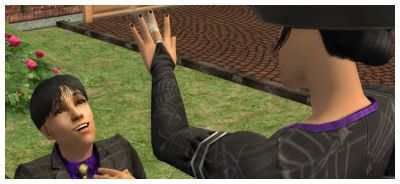 Such a sweet, innocent face he has.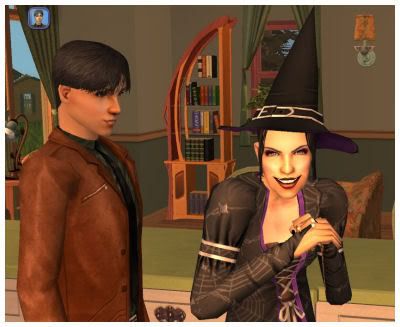 Sophie on the other hand never looks sweet and innocent.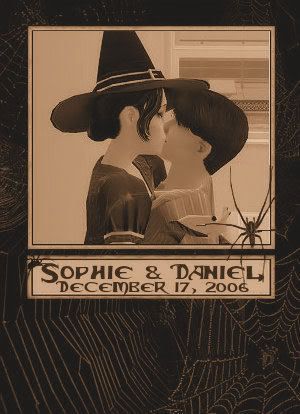 I think Sophie must have been in charge of the wedding invitations - just a guess.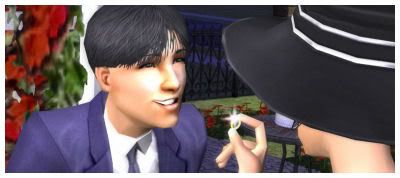 Poor Daniel is under Sophie's spell. I doubt he really knows what he's gotten himself into.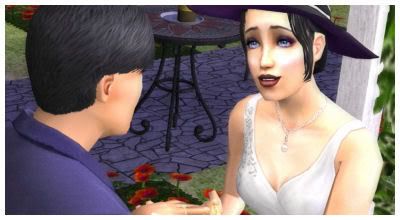 Wait, Sophie DOES look sweet and innocent! It's a miracle!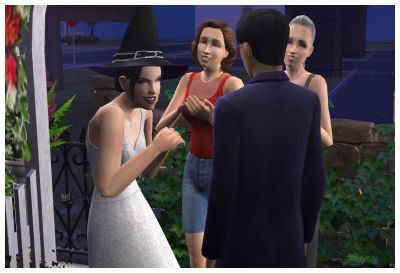 Okay, never mind.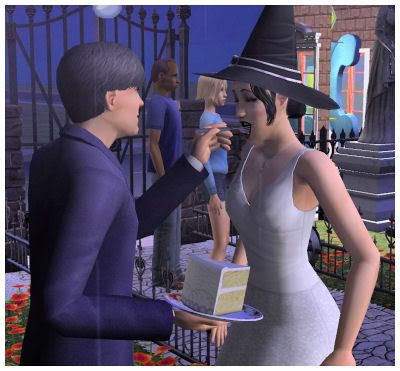 I'm glad to see that Daniel has the good sense not to try to smash cake into his mean wife's face.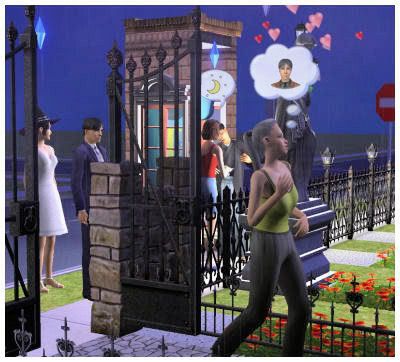 Grace swoons over her new son-in-law. Ewww.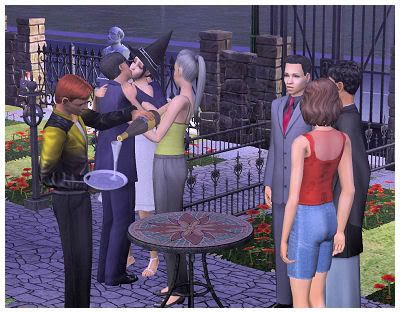 Uh yeah, back off Grace. You have your own man at home.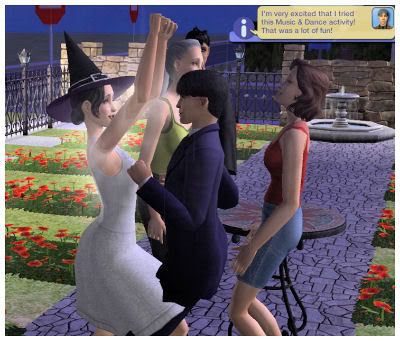 This is an interesting time for you to proclaim an interest in Music and Dance, Daniel.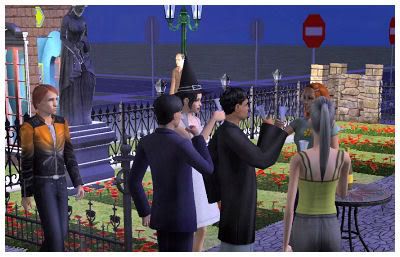 Go easy on the champagne folks. There are no bathrooms at the cemetery. That's right - what better place for a mean witch to get married? Apple Grove Church just didn't seem appropriate for Sophie.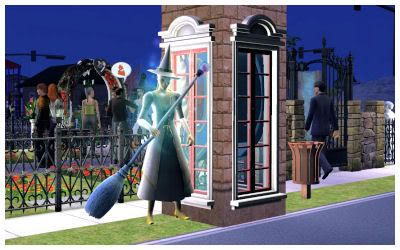 A good witch showed up, and I thought that maybe there would be an exciting confrontation between good and evil.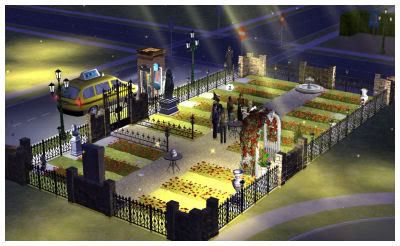 All she did was try to ruin Sophie's wedding by making everything all pretty.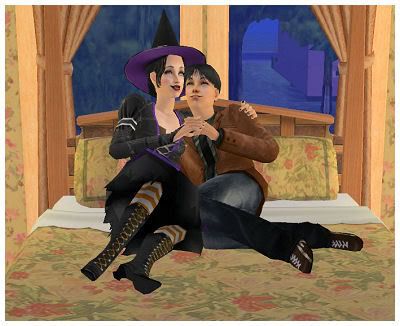 I find it funny that when townies move in, they are "re-flowered." So, this is Daniel's first time - again.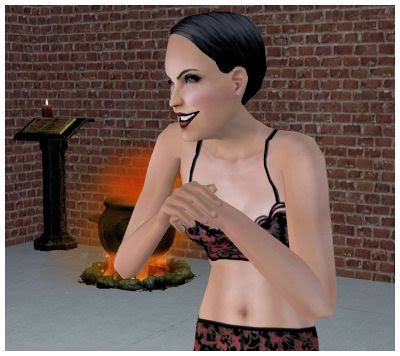 What the heck are you up to this time, Sophie? She is constantly cackling and rubbing her hands together and looking devious.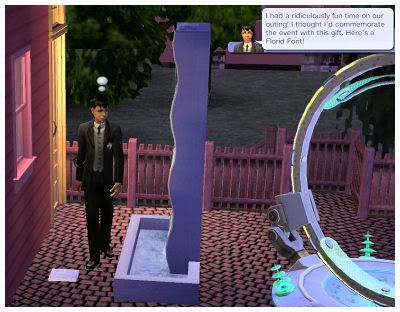 Sophie's half brother Wilson dropped by a really nice wedding gift - a Florid Font.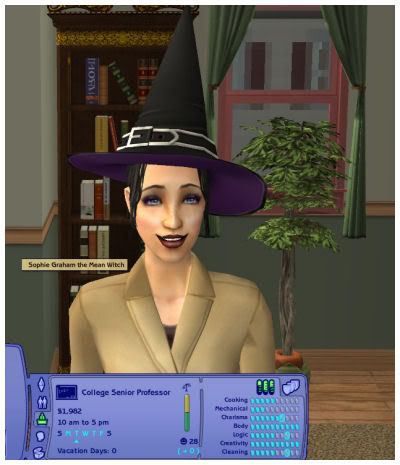 Sophie had already earned her 20 Woohoo LTW in college - remember? I try to forget. So I decided to have her take a job in Education so she could do one good thing in her life - earn the Education career reward. Future generations will be very happy to be able to study from the bookshelf she earned.

Daniel's Lifetime Want is to become Captain Hero. That's ironic since his wife spends most of her free time trying to become atrociously evil. Anyway, thank you Daniel for being such a good sim. So sorry you wound up with Sophie, dude.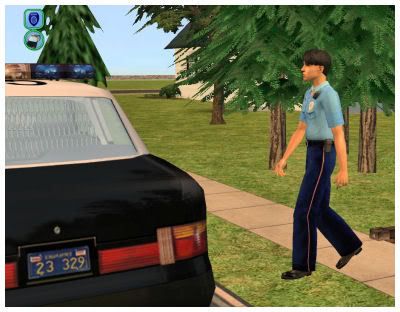 Thankfully, he didn't have to wait long to get started on his goal. He was able to find a job offer in law enforcement right away.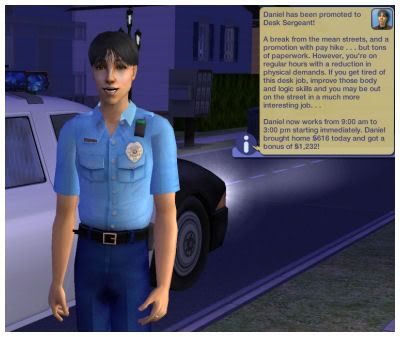 And he looks happy about his promotion to Desk Sergeant.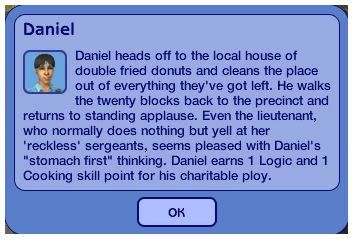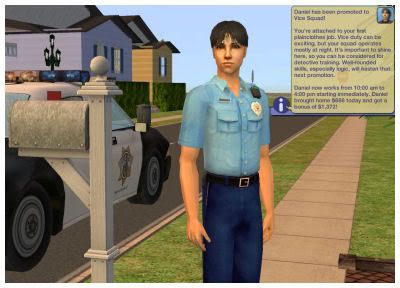 Walking twenty blocks for donuts got him promoted to Vice Squad! Never underestimate the power of deep fried bread.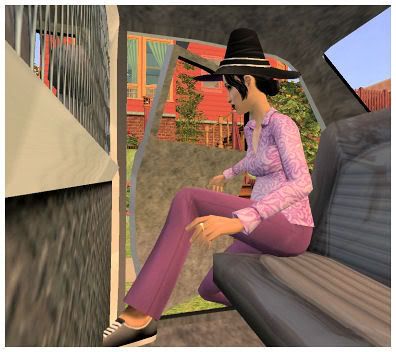 Speaking of work, even though she now has maternity leave, Sophie has headed off to work.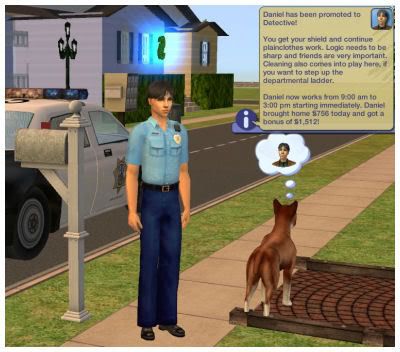 Wow! Daniel is already a detective! Good job! The dog seemed impressed as well.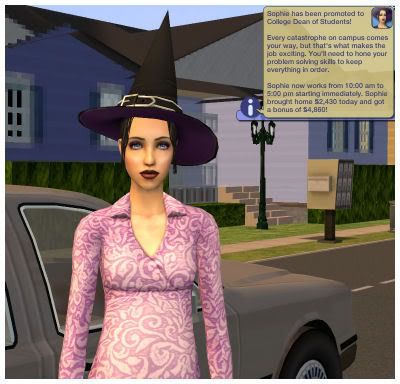 Sophie gets a promotion to College Dean of Students! I guess they saw her overzealousness to work while on maternity leave as a good thing.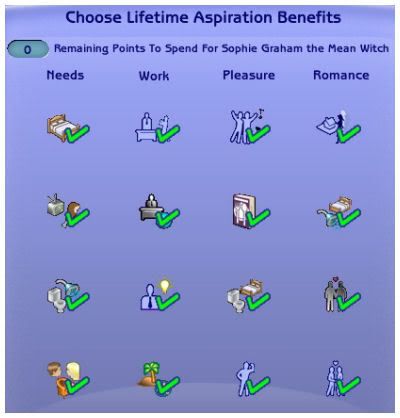 I checked, and despite Sophie's somewhat neglected childhood, she has earned all her lifetime aspiration points.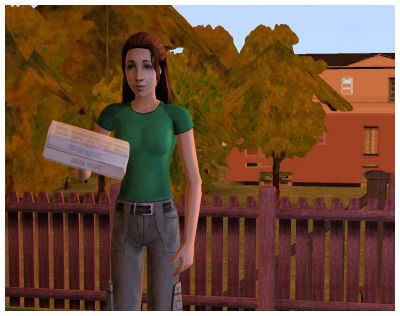 My fake daughter Amiee has come on her daily rounds to steal the newspaper. Ever since she was a kid she's been stealing papers all over town. I assume she must have the meanest personality in Apple Grove.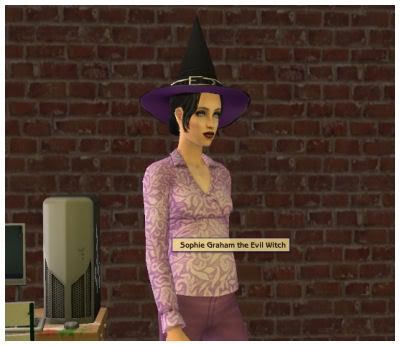 And speaking of mean, Sophie is working hard to be meaner. She is now evil instead of just mean.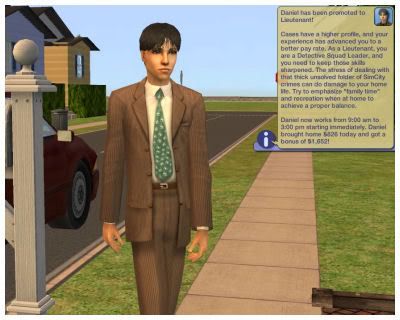 Daniel gets promoted to Lieutenant. It seems he was made for police work. It's nice to have a sim who wants something and really means it. Daniel seems to really want his Lifetime Want.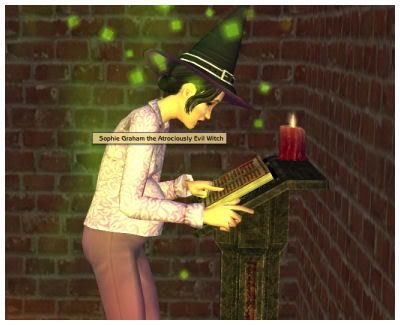 Sophie has now reached her goal to become atrociously evil. Uh, congratulations?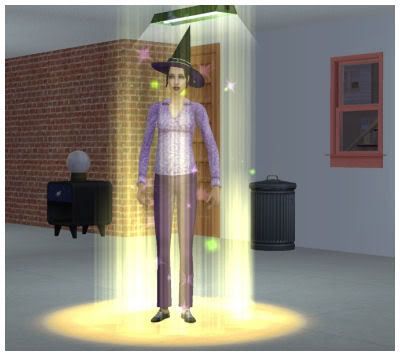 She can now do this really nifty thing called Magivestigium. In other words, she can teleport in this cool beam of light.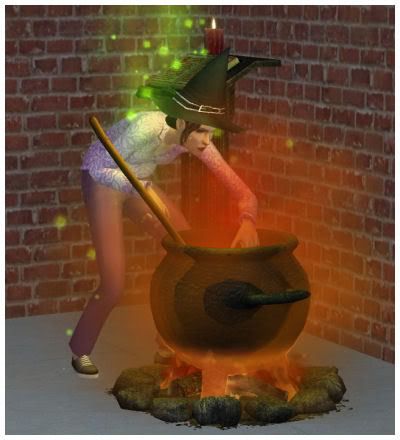 She now spends all of her time down in the basement. Here she is making reagents for a spell.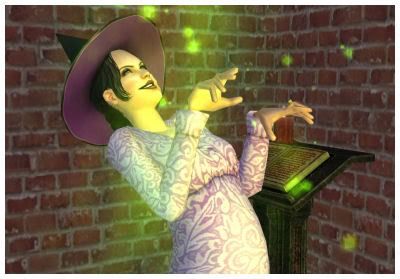 Oh no, it must be a really bad one...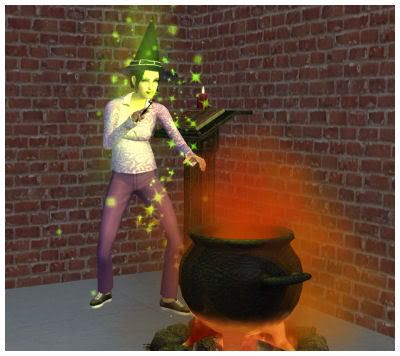 She's casting the spell...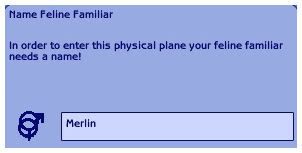 Whew! A feline familiar doesn't seem too bad. Isn't that gender symbol a little confusing? It's like the symbol for Prince, LOL. It was unclear whether to give the new creature a male or female name.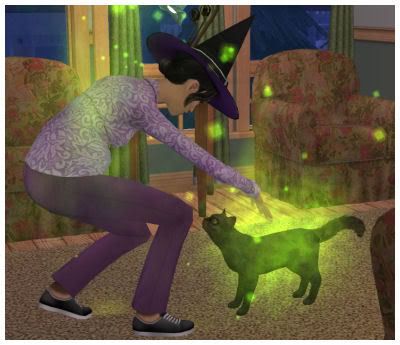 Meet Merlin. Merlin turned out to be a female cat. Grrr.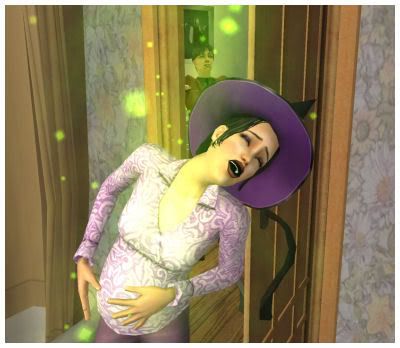 Speaking of new creatures... Sophie picks the smallest room in the house to give birth.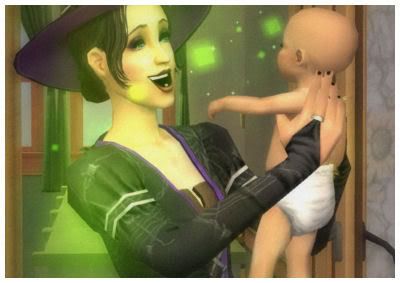 She had a baby boy.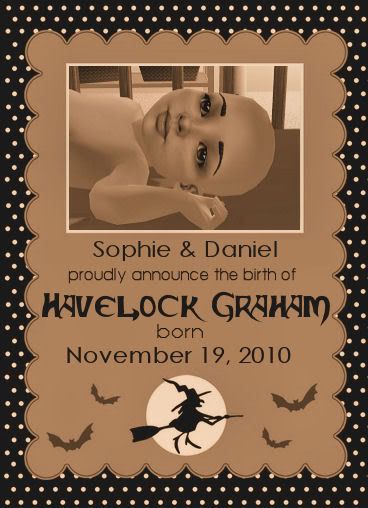 What an interesting birth announcement.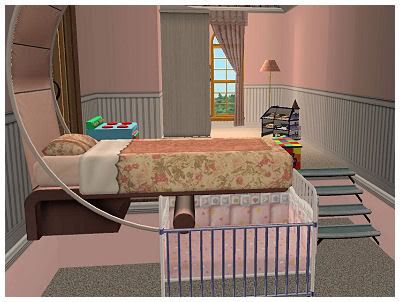 The bedroom for Havelock looks a bit feminine. I guess Sophie was really hoping for a girl.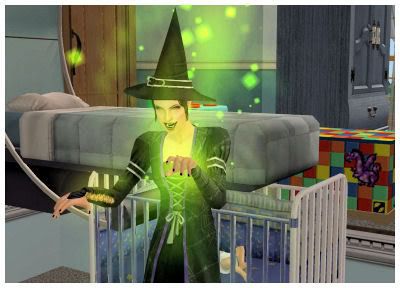 But, it was quick work for her to change everything to blue.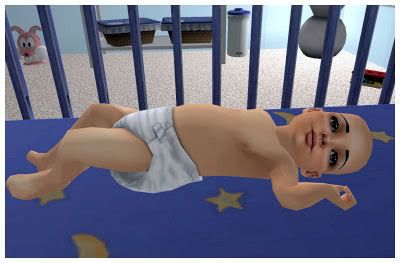 Poor Havelock gets about as much attention from Sophie as Daniel does.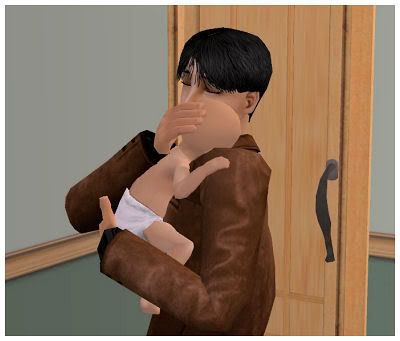 At least his daddy loves him.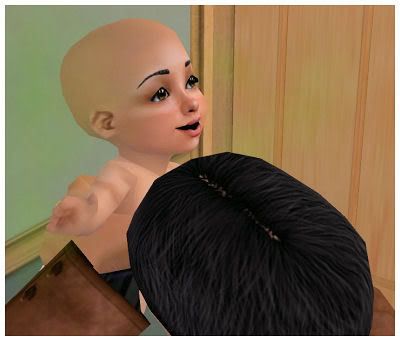 Even when he stinks, LOL.

Not only is she atrociously evil, but she has now reached the top of her magic skill.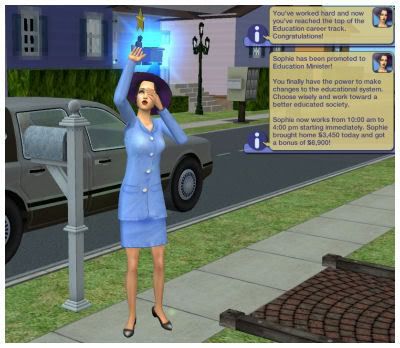 I'm not sure why she's playing basketball, LOL. She is now the atrociously evil Education Minister. I wonder what evil schemes she has in store for the kids of Apple Grove.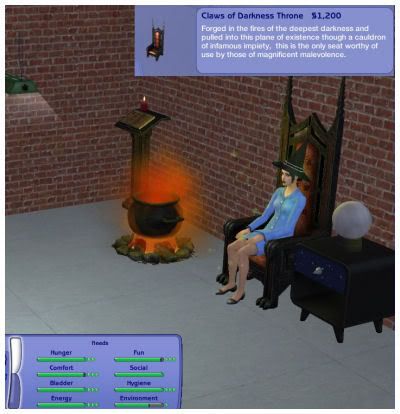 Ahh... the purpose of the Claws of Darkness Throne has become clear. It's an energizer! Yay! Sophie somehow magically made this in the cauldron.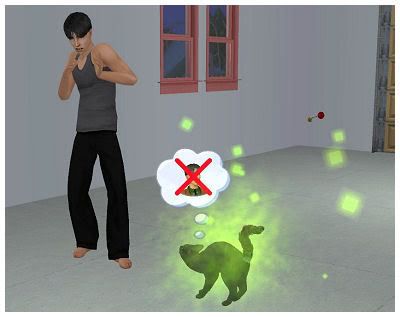 Merlin absolutely hates Daniel, and so her favorite activity is to chase him.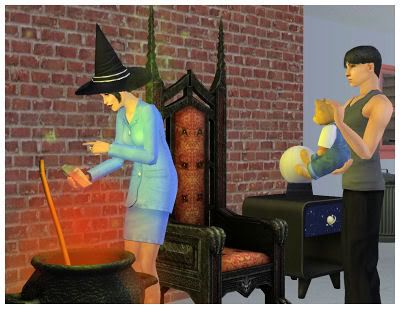 Daniel is beginning to realize that his wife is always preoccupied with magic study. He hoped that maybe he could reach her though the teddy bear, but had no luck. I don't have a picture, but during all his free time, he learned to become an expert pianist and earned his Music & Dance hobby plaque.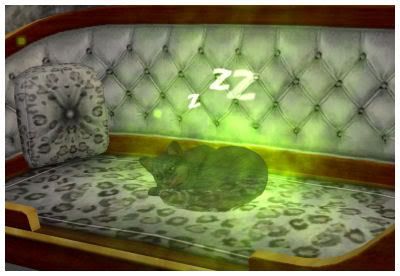 Merlin finally takes a rest from her evil ways. I read in the Prima guide that if she gets on the throne it works as an energizer for the feline familiar as well.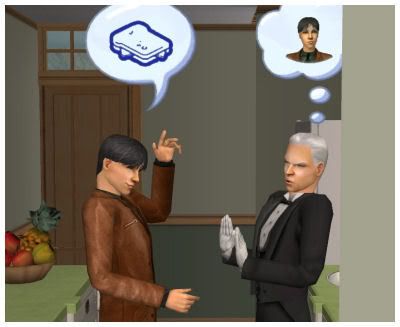 Not even the new butler is willing to talk to him. Poor Daniel. Maybe when Havelock grows up a little he'll have a friend to talk to. Hopefully Havelock will take after his father and not follow in his mother's footsteps.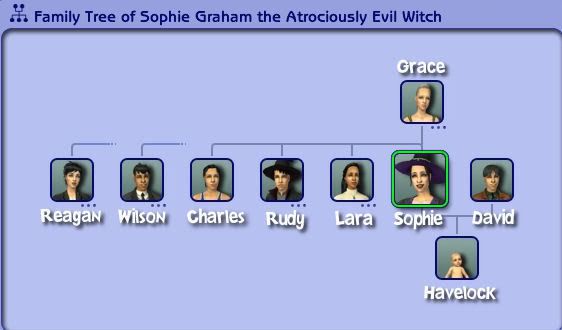 Here is the updated family tree for Sophie.
Scoring:
1 point for adding Daniel to the neighborhood, 1 point for Sophie earning all her Lifetime Aspiration Points, 1 point for Daniel earning his Music & Dance hobby plaque, 1 point for adding Havelock to the neighborhood, and 1 point for Sophie reaching the top of the Education career. The total population of Apple Grove is 40. The current population is 38.