I lost my satellite internet since my last update due to some crazy lightning that defied surge protectors. After some scary moments of crackling inside my house, I'm just thankful to still have my computer, which happened to be on. Anyway, we could have paid for replacement of the fried equipment (not really keen on exact technological terms for what fried - the box with the flashy blue lights, lol). But anyway, we have been so unhappy with Hughes.net for so long, that this seemed like a sign to get out and save ourselves some money. Dial-up is cheap, although slower and less reliable. Blogger hates my dial-up more than it hated Hughes.net. But, I will just deal with it. The good news is that DSL may be coming to my area sometime this year.
So, Apple Grove updates may have to get a little smaller for now. I cut out half the pictures this time, which actually is probably better anyway. You don't really have to see every promotion and aging spin, do you? LOL These type pictures are boring, but I'm in the habit of taking them. I can still take them as reminders to myself, but the updates might be more interesting without some of the more typical event photos.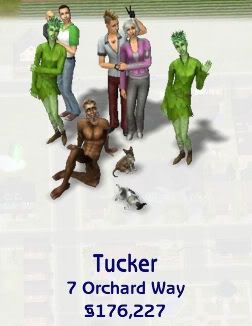 Here we are at the beginning of Round 5! I'm always glad to see the Tuckers again.