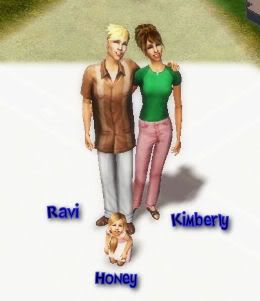 We now return to 11 Apple Avenue, located right across the street from Apple Grove Church, to the Shibata family. Ravi and Kimberly are married and have a daughter named Honey.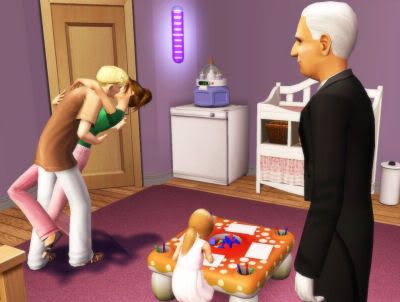 And Ravi and Kimberly are both romance sims with 3 bolts for each other, which is often nauseating. When left to their own devices, this is the kind of thing we can expect to see. All the time. It even sickens Charlie McClellan, but he says nothing, like a good butler. They pay him plenty, although it may not be long before they will no longer be able to afford his help. Their new house is quite expensive, and their lives may soon be getting a lot more interesting.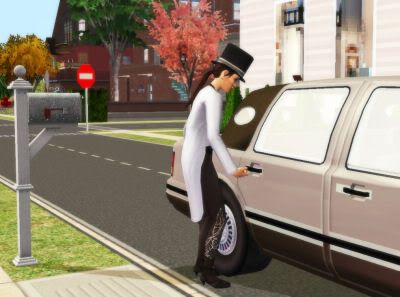 Kimberly has taken a job in the Dance career field as a tap dancer.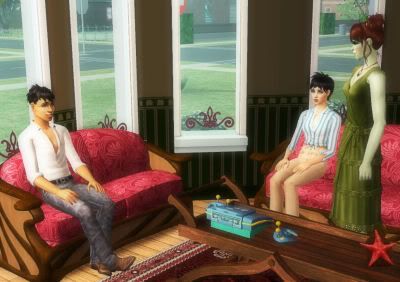 Since they had just moved into the house when we left them on the last round, we now have the welcome wagon visiting, which for some odd reason now consists of the Webb kids who all just returned from U of A.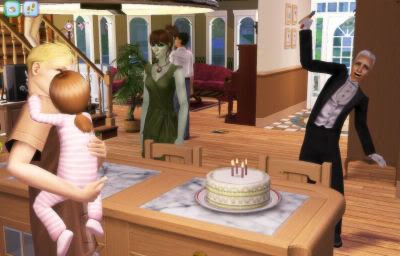 They were there during Honey's birthday, which of course means free cake.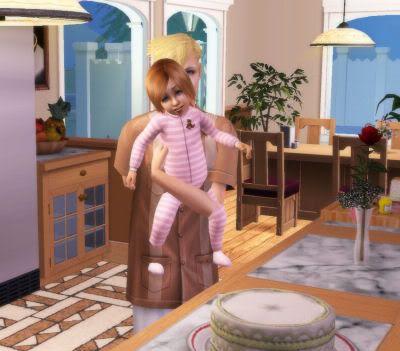 There was a bit of a problem when Ravi forgot to set her down on the floor to let her spin.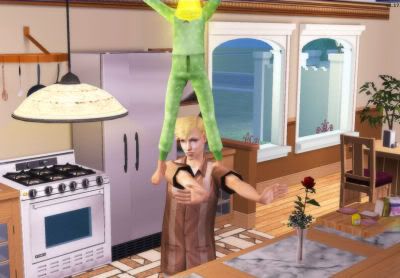 And the force of the rotation resulted in some seriously weird moments for Ravi and his daughter.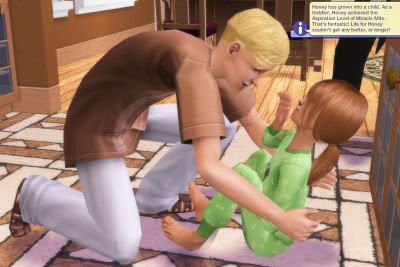 Thankfully, things were sorted out rather quickly and he was able to set her down on the floor as if she were still a toddler. I guess he's just not ready for her to grow up and start school yet.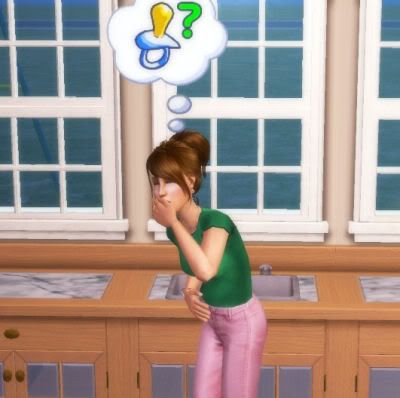 Kimberly just recently discovered she's pregnant again.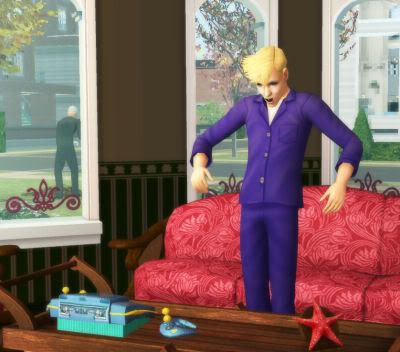 And even though he tried to forget he was abducted by aliens, Ravi is also pregnant.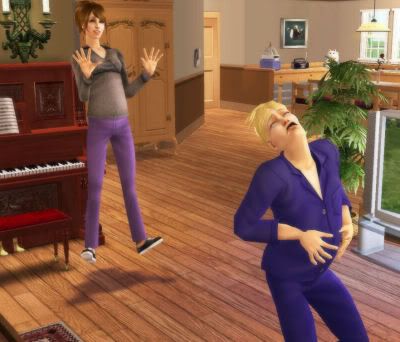 Despite her heavy belly, Kimberly is still able to get quite a bit of air between her and the floor when she jumped in surprise during the birth of Ravi's baby.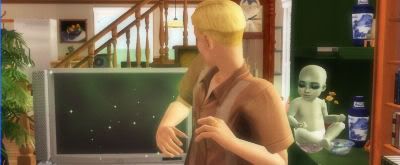 Ravi had the creepy feeling there was a presence there, but at first he couldn't see it...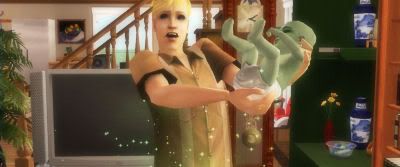 It's a green baby! It had somehow mysteriously flown out of him. He looks pretty freaked.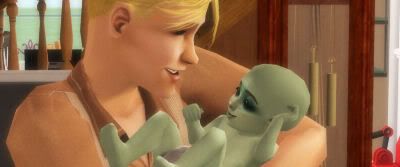 But she was so cute, that he quickly he quickly lost most of his fear.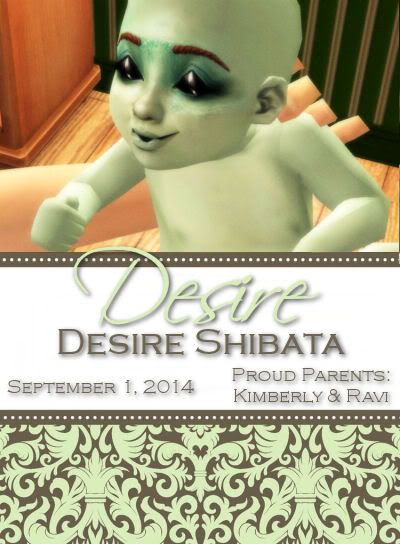 Here is Desire's birth announcement. Kimberly put her name as a parent on the announcement too, because who else can they put on there? Ravi has no idea who Desire's other parent is, and he's really glad he can't remember anything about how he was pollinated.
Really
glad.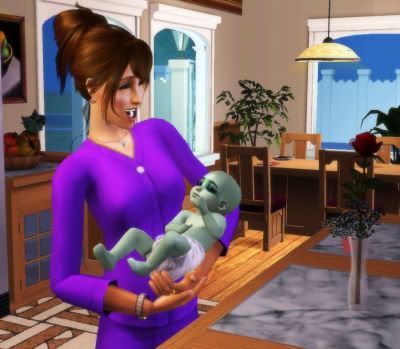 Kimberly cheerfully does birthday duty for little Desire since Ravi is now afraid of birthdays, and a little bit afraid of his green baby. Kimberly is very fond of her, though.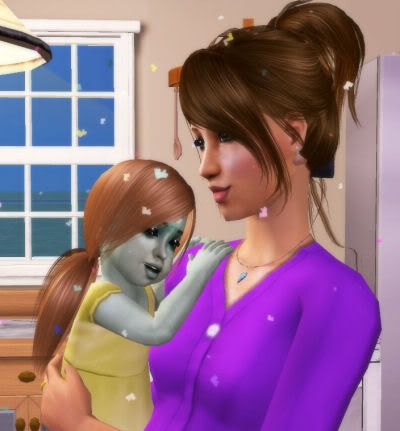 Despite being romance sims, Kimberly and Ravi are good parents. It looks like Desire has the same hair as her big sister.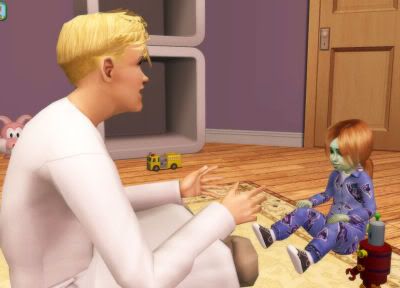 Ravi is trying to be a good dad to his alien daughter by making sure she can communicate. It helps him that her hair looks just like Honey's. He just tried to focus on the hair and not on the green skin and the big, black, creepy eyes...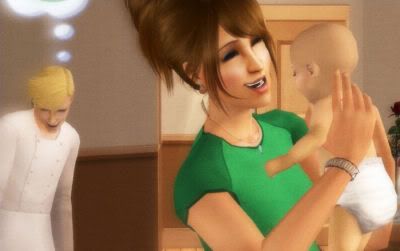 Ravi is still
very
fond of Kimberly after all the years they've been together. He's thinking she is even sexy while giving birth. He's kind of weird. But I doubt Kimberly could ever do anything he would consider unsexy.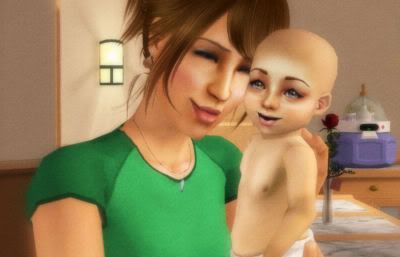 Meet their new daughter Cherish.
Who has a twin sister, Adore. Unfortunately, the printer reversed their names on the announcement, which should read Cherish and Adore. Adore is trying to high five her sister, who is trying her best to smile nicely for the camera.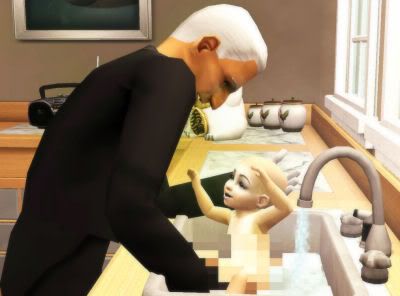 Is it me, or does it seem like a butler providing child care is a little unrealistic? I mean tuxedos and white gloves don't seem practical when bathing, feeding and changing babies.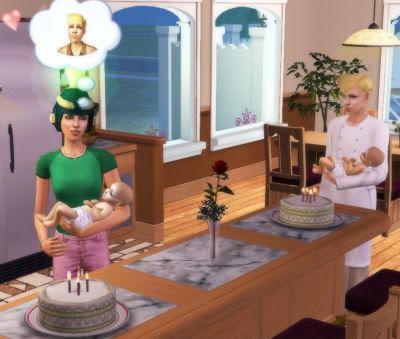 Soon the twins were having a birthday. Since there are two babies, Ravi reluctantly agreed to help with birthday duty.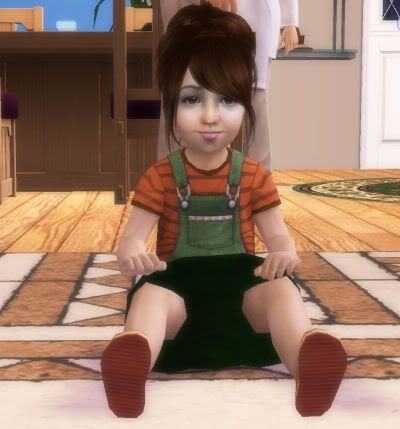 Adore has brown eyes like her mommy, and she inherited a lighter genetic skintone.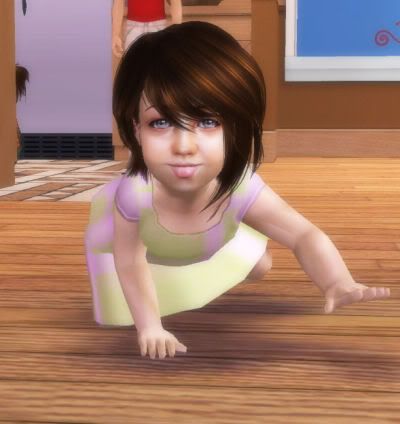 And Cherish has gray eyes, which neither parent has, but which are very pretty.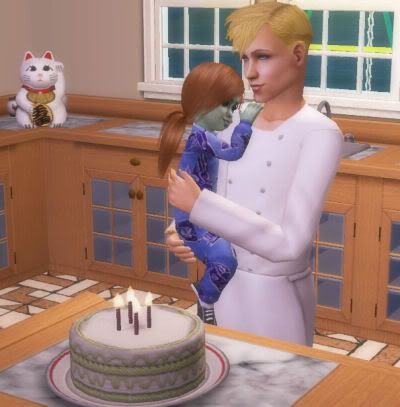 Having nearly overcome his fear of toddler birthdays and of his green daughter, Ravi was willing to try birthday duty again.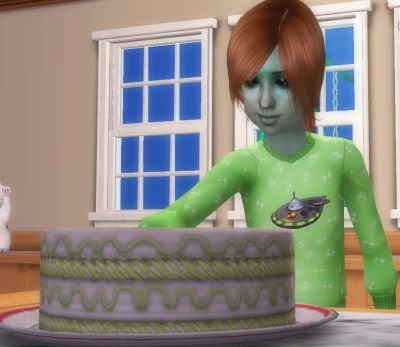 And fortunately she did not stand in his body to grow up. Unfortunately, she chose the abduction pajamas, a painful nightly reminder of her origin.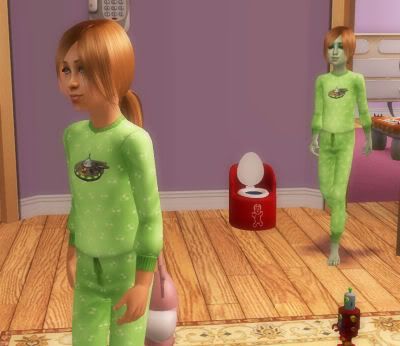 Apparently, both girls like to torment their Daddy by wearing the abduction pajamas.
"Mommy, Desire is copying me again!" Desire desires to do everything her big sister Honey does. She wears her hair the same way and chooses the same pajamas.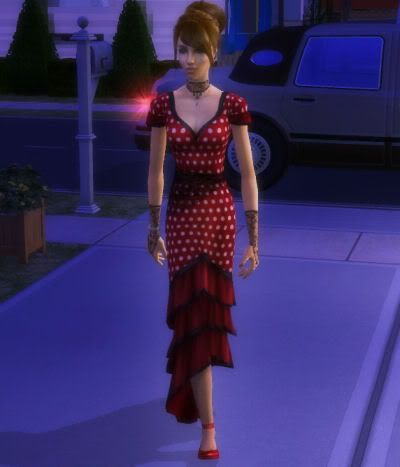 Kimberly has reached the top of the dance career, and is now a world class ballet dancer. I guess that means she works with my simself.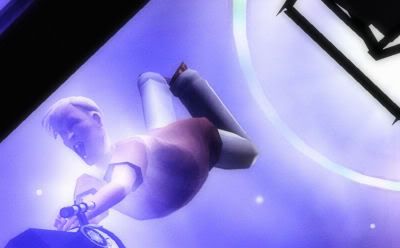 And, oh my gosh! Ravi is moving up - back into the alien spaceship for another ride! Apparently the aliens consider him to be the ideal breeder. He seems to be clinging even more desperately to the telescope this time, because he has a good idea of what's coming next, and it will involve more probing and yet another green baby.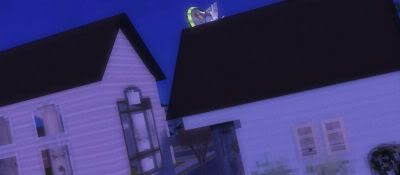 On the return flight, it looked like the alien ship was going to crash into the church.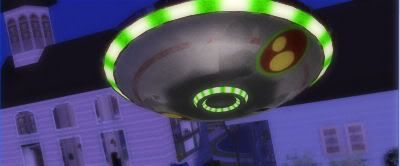 But the alien managed to expertly pilot the spaceship between the church and the reception hall. I'm impressed.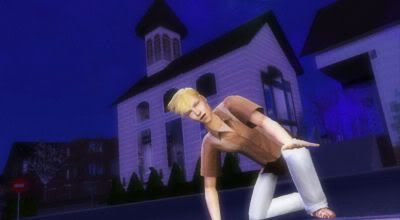 And now Ravi is depressed. This is not supposed to happen to a romance sim. You may be wondering why he would ever want to stargaze again after what happened to him last time, but he is very interested in weather, nature, the paranomal and sci-fi and just could not resist the temptation to peek through the telescope again.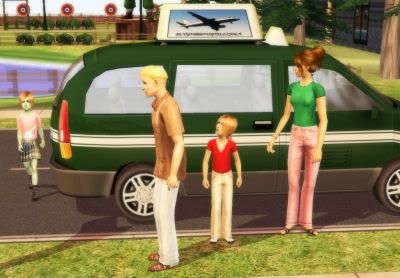 Ravi felt the need for a vacation after his most recent close encounter, so they decided to leave the twins with the butler and take a relaxing trip to Three Lakes, where hopefully there were no aliens besides his daughter.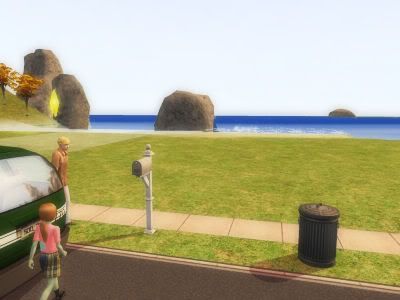 Their budget dictated that they could only afford to camp, so they decided to spend a week on the lake. Nature is Ravi's one true hobby, so he doesn't mind camping so much.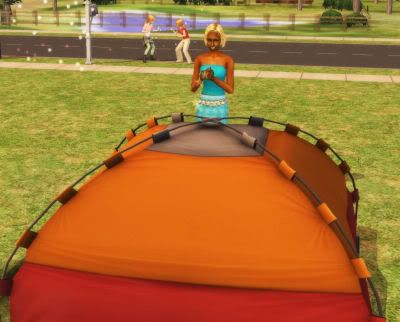 As romance sims, Kimberly and Ravi have frequent, er... needs. They set up the tent and decided to enjoy a few private, intimate moments together while they paid their girls a few simoleons to play in the street. And then this annoying local woman came out of nowhere and was cheering them on like they were her favorite sports team. It was disturbing. It's going to be a long week with so little privacy.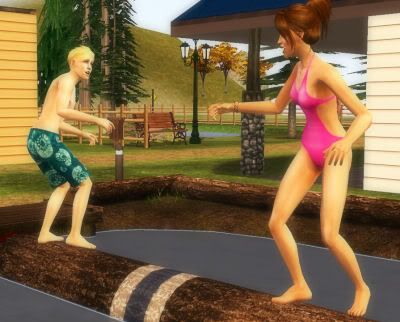 Fortunately, there were a few diversions at Three Lakes. Log rolling is a popular sport there.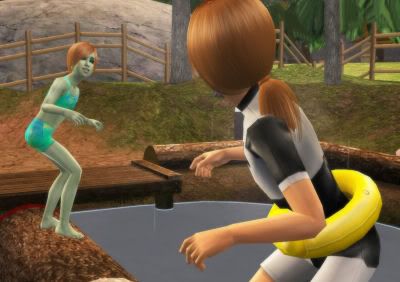 Desire and Honey are competing yet again.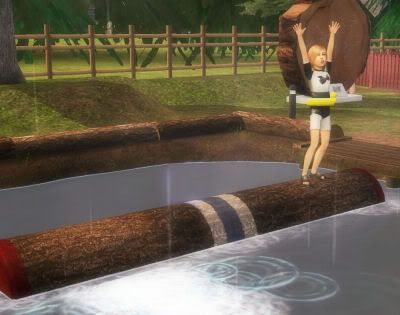 Honey was so glad to have beaten her little sister. Maybe she should stop gloating and make sure Desire comes back up for air.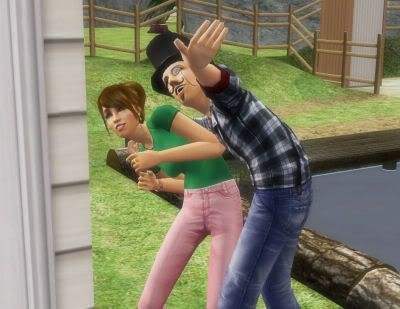 Kimberly met an interesting man who was a bit too touchy-feely even for a romance sim such as herself.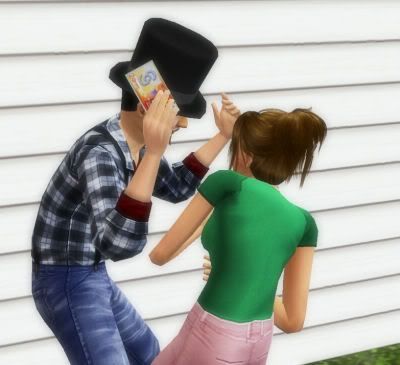 Later, she realized he had taken all the vacation money she had in her wallet.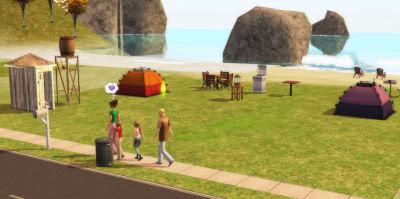 So now they were camping and almost broke.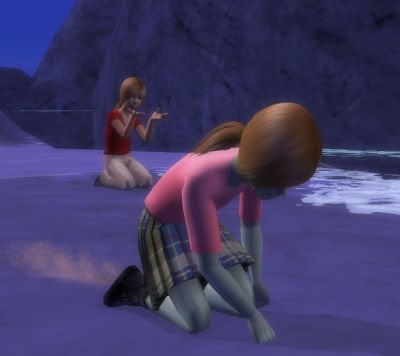 The girls looked in the sand for treasure that they could maybe sell to help out. Honey was having very little luck, but of course Desire had to be there too, doing whatever her sister Honey does.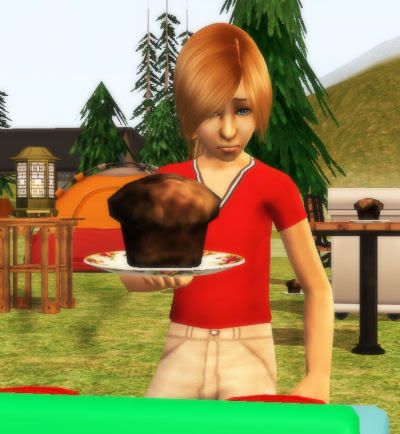 Honey hoped to outdo her sister and help out by baking muffins for everyone. She wasn't having much luck with that either. They were a little extra crispy.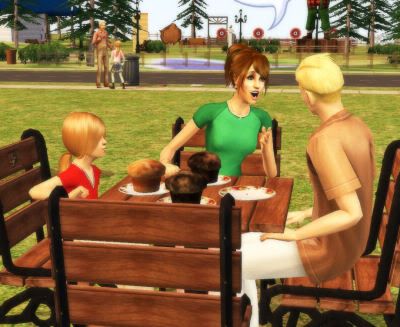 But her parents were glad Honey had defied the laws of physics and packed her ginormous easy bake oven in her suitcase so that they can have food besides just grilled fish, even if it is a little charred.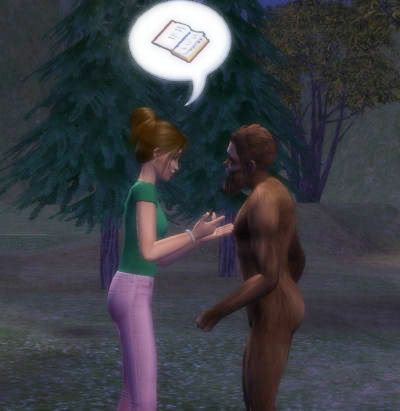 Kimberly tells her new best friend Rawley, the new Bigfoot in Three Lakes, about how she can't bring him to Apple Grove because of the Prosperity rules. Even though she and Ravi are quickly increasing the population of Apple Grove, there still aren't enough residents to allow another Bigfoot to immigrate yet. He's a bit disappointed, as he knows his cousins Mark and Stephen are doing quite well there and living in comfortable homes with plumbing, soft beds, and food besides fish.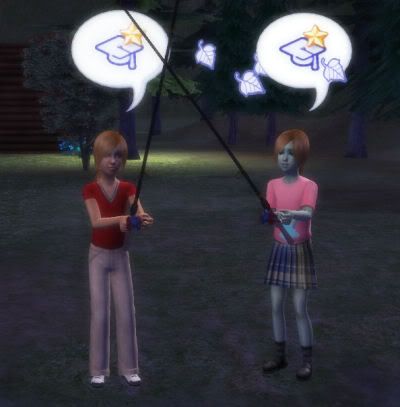 "I just got an A+ on my report card."
"Oh yeah, well I'm older, so I got an A+ when you were still wearing diapers, Greenbean."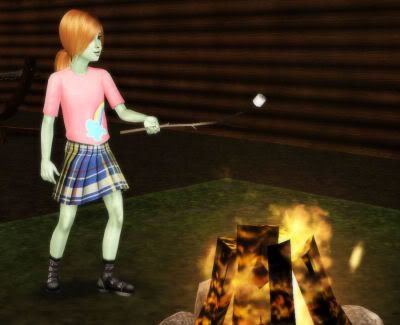 Desire was a bit sad that her sister doesn't seem to like her that much sometimes. But hey, marshmallows are so darn good toasted over the campfire.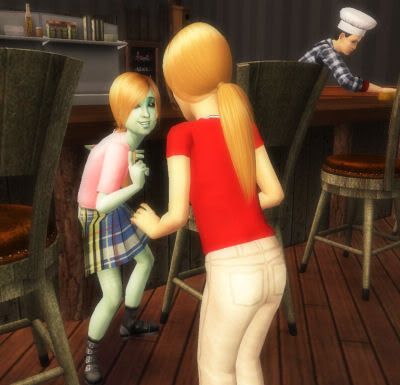 Desire is always wanting to play with her sister, even if she can only get her to play fighting games.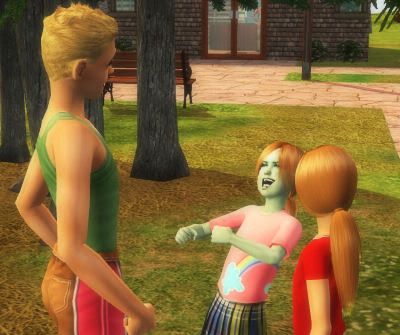 Even though they're only kids, Honey and Desire are now competing for a local boy's attention.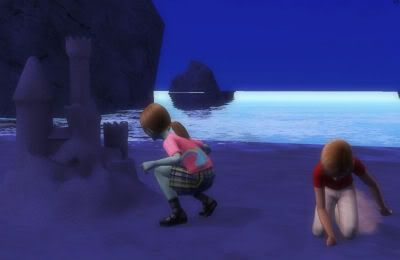 Now they're competing to see who can build the best sandcastle. It looks like Desire is doing great, and is way ahead of Honey.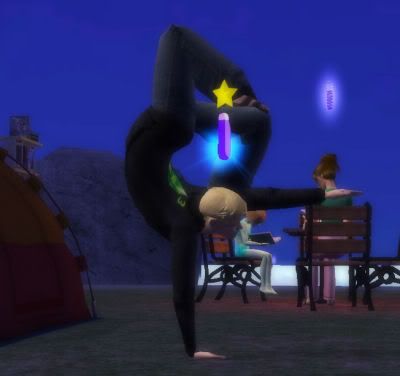 Ravi likes to do Yoga, and was able to get his body in peak physical condition during his week at Three Lakes. Hopefully, that will help him better deal with the inevitable outcome of his latest abduction.
All good things must come to an end, and it's now time for the Shibatas to head back home to lots of bottles and more toddler training.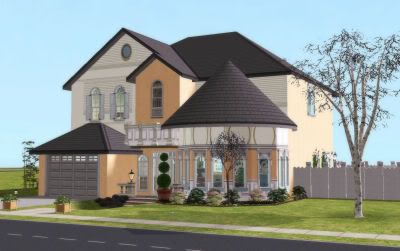 I'll leave you with a view of the Shibatas new house. What lies ahead for the next round? Will Ravi have to give birth again? Check back soon for additional Apple Grove updates.
Scoring: 1 point for Kimberly reaching the top of the Dance career, and 1 point for Kimberly's Music & Dance plaque. 3 points for adding Desire, Adore and Cherish to the population. The population of Apple Grove is currently 49, with a total population of 51.