When we last visited the Webbs, Clinton and Grace both became elders and retired from their jobs. They took the whole family to Takemizu Village on a vacation, including Reagan, Taft and Wilson who were still in college. Washington became a teen, and Grace created a new family member - a servo named Grace 2.0.
Clinton Webb, 57, Elder Family, LTW: Captain Hero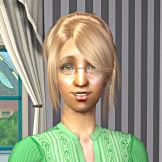 Grace Webb, 61, Elder Knowledge, LTW: Education Minister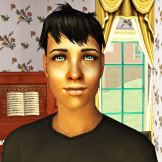 Wilson Webb, 30, Adult Popularity, LTW: Professional Party Guest
Reagan Webb, 24, Adult Pleasure, LTW: Celebrity Chef
Taft Webb, 23, Adult Pleasure, LTW: Celebrity Chef
Washington Webb, 14, Teen Pleasure, LTW: Prestidigitator
Grace 2.0, 1, Adult Knowledge, LTW: Media Magnate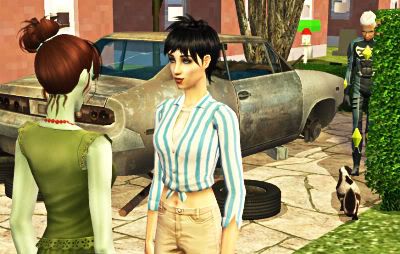 Taft and Reagan arrived home from college with their brother Wilson. Their dad Clinton is doing too many projects now that he retired from the police force. "Retirement" is a funny word for my sims, because I make them work harder than ever. Clinton still wears the Captain Hero uniform, at first. That was the only way I could get him to agree to retire. The girls are discussing how embarrassing it is to see him wearing that all the time, especially since he wears it outside in the yard to garden and to work on the old junk car that's parked in their driveway. Unfortunately for Clinton, he wasn't able to keep the uniform permanently like I hoped he could. His daughters will be so relieved.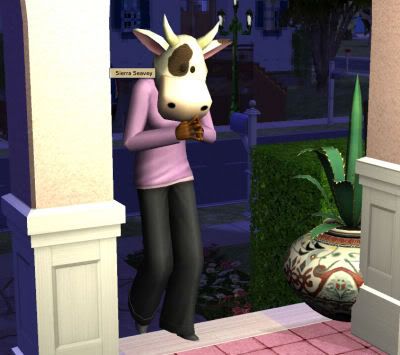 The cow mascot Sierra Seavey has arrived to test the Webbs sentrybot. The sentrybot did not fail to deliver its voltage.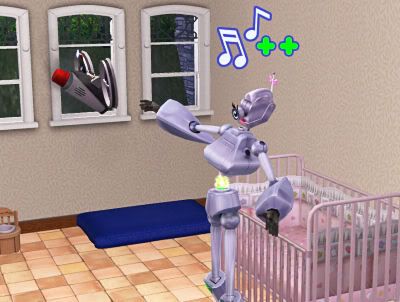 Unfortunately, the cow must have fried its circuits, because it went on a rampage after that, attacking Grace 2.0.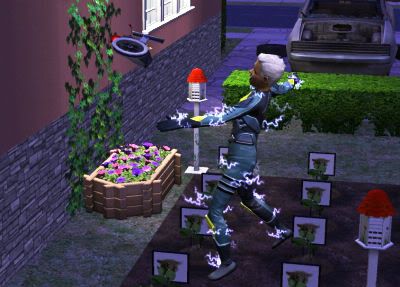 It also attacked Clinton before he was able to shut it down for repairs.
Reagan called a friend from college named Komei, who then wanted to set her up on a date with one of his friends. I don't remember who the date was with, but it was Komei that Reagan was really interested in dating.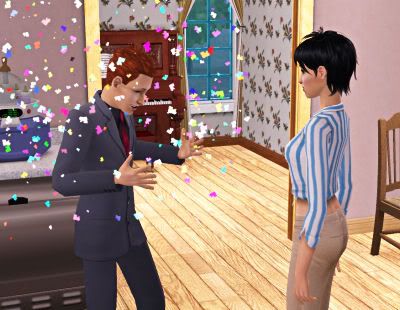 They hit it off very quickly. She liked him so much that she asked him to move in right away, and he was more than willing to do so.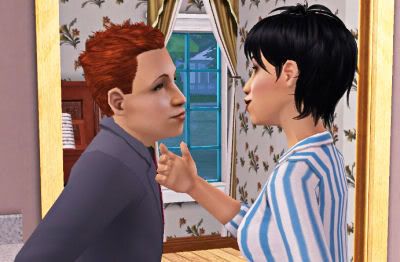 I think they make a cute couple, especially since he brought an adorable §16,000 with him.

I love you Komei for having an easy LTW. You make me a very happy woman. I hope you will make Reagan happy too.
He wasted no time in popping the question.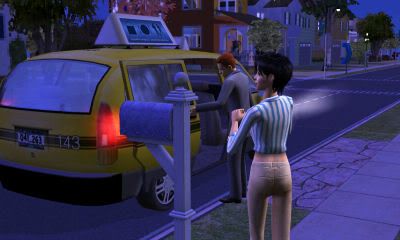 Soon they were on their way to find their own apartment.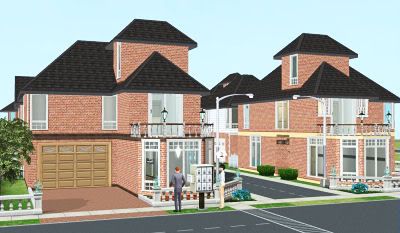 Reagan and Komei moved to Candy Apple Court, back when these small rental houses still existed. Once my simself became the de facto mayor, these houses had to be bulldozed to make room for Apple Grove's City Hall parking lot. The street has now been renamed Candy Apple Road and has been extended to Brown Betty Boulevard. There are now a couple of duplexes and small houses on Candy Apple Road.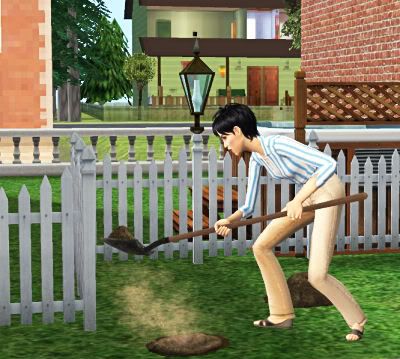 Anyway, Reagan and Komei did not quite have enough cash for the rent and had to do a little treasure hunting to come up with the rest of the rent money. I'm sure in real life this would not be so easy, and would probably cause a real problem with the landlord to be digging on the rental property. Thankfully, sims can get away with it. Anyway, she and Komei moved into the apartment Rudy Fletcher lived in very briefly, which is across from where the Shibatas started out.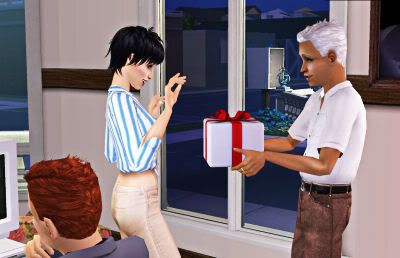 Regan's dad Clinton came by dressed normally for once and gave her a present. It's actually a wedding dress he sewed for her. Not too many dads sew wedding dresses for their daughters.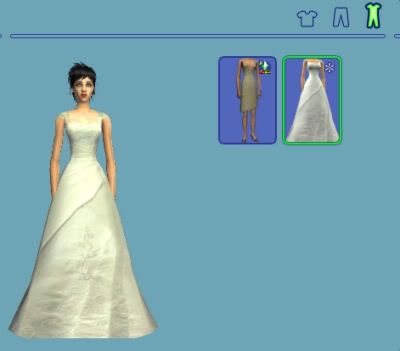 Here is the wedding dress. I think Clinton did a fantastic job.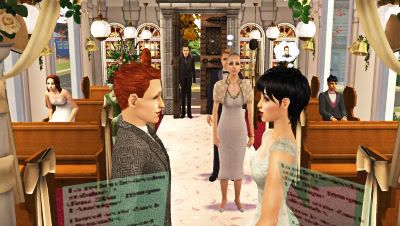 At the church, Grace had trouble looking away from her daughter to take her seat, but stood in the aisle and stared. Sims could really use some ushers.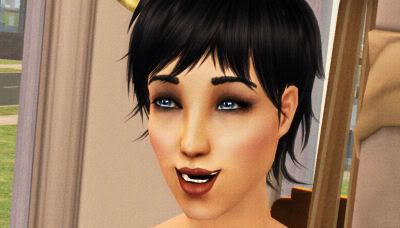 Aww, she looks so happy.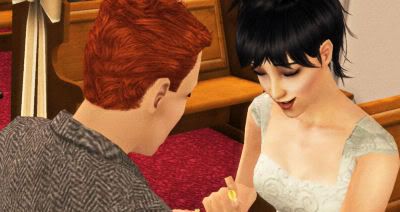 BTW, Reagan and Komei's wedding day is September 20, 2021.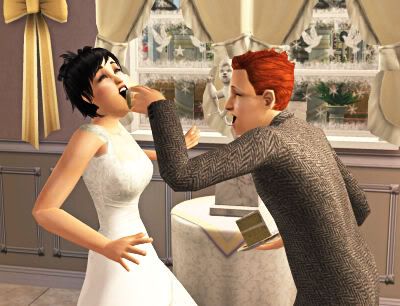 Komei playfully shoves cake in Reagan's mouth at the reception.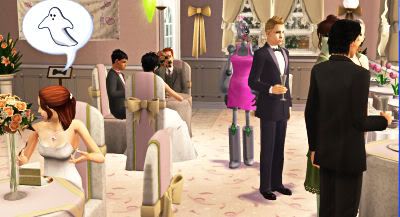 My sim daughter Amiee talks about how wearing white makes her look pale like a ghost. It serves her right for wearing white to a wedding that isn't hers. :P
Aww, Clinton will miss his daughter, but he's happy to see her happily married.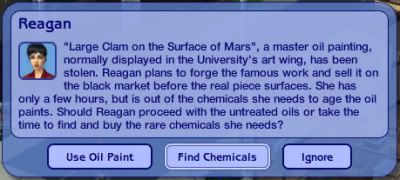 Reagan took the time to find the proper chemicals to forge her painting.
She made a successful forgery and received §10,000. Should I be proud? Realistically, I think there should be a chance of jail time on these illegal activities. Maybe in the future that will be a possibility. ;)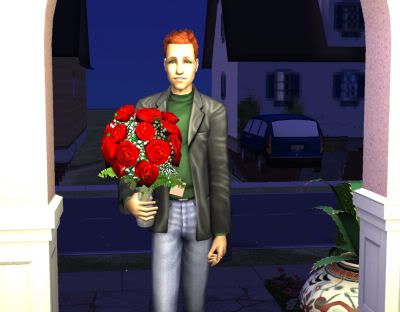 Komei forgot he moved out with Reagan and accidentally delivered flowers to her parents house.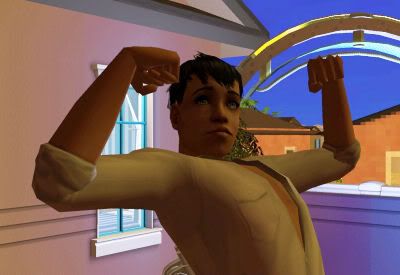 Wilson worked out hard and got in shape in hopes that I will allow him to go on a date with an actual woman. I'm thinking about it. It's a little bit fun to torture him, though.
When looking in
TwoJeff's Crystal Ball
for potential mates, Taft was most compatible with the Hot Dog Chef. Unfortunately, his name is Hot Dog Chef. I'm not sure how that would work out anyway. I'm not sure if marrying the Hot Dog Chef would cause a game-exploding problem. Her other choices were 2 Grand Vampires, a guy with a mullet, and the llama mascot.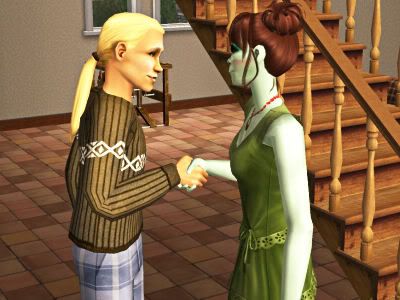 She decided to call this guy from college who looks a lot like Sabastian Anderson, only it is another blond-haired guy with a ponytail. She wasn't that interested.
Taft met the mullet guy just to see if they had chemistry.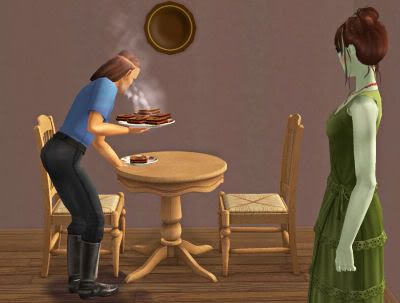 He tried to impress her by serving up some nice grilled cheese sandwiches. I don't think she was that impressed, because the next thing I knew she was giving up on my ideas and taking matters into her own hands.
I caught her trying to sleep with Martin Tucker. I put a stop to that plan for her sake. Maybe I shouldn't have interfered, but it really bothered me. I'm not so worried about his marriage, since his wife tried to cheat on him, too. I just hate the idea of sweet Taft getting involved with an older, married man with kids. I see no happy future for her in that plan.
Shame on you, Martin! Go home!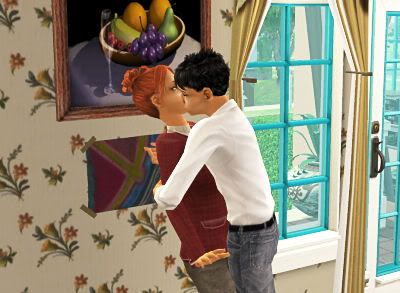 I finally had mercy on Wilson's hormones and let him go on a date with his old Professor. He was a bit too enthusiastic, but she seemed to like him despite how grabby he was.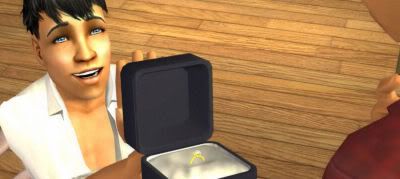 He asked her to marry him on the first date. I guess he knew that he wouldn't get any action until he was married, so that made him want to rush things along.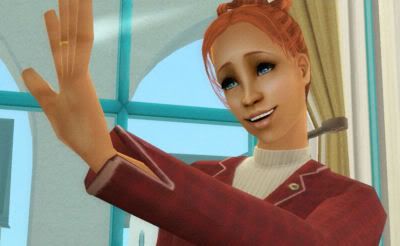 Surprisingly, Professor Karen actually wanted to marry Wilson. I guess she's finally tired of grading papers and
sleeping with students
teaching classes.
Wilson's Aunt Beverly was there to witness their engagement.

Professor Karen was also very helpful to me by picking a career-related LTW.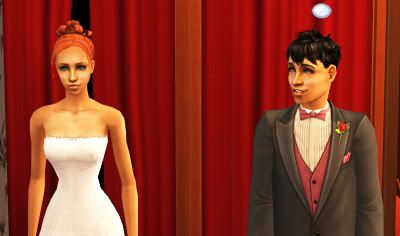 She looks a bit uncertain about her decision to marry Wilson. Wilson is a bit of a goober, so I can understand why she might be getting cold feet.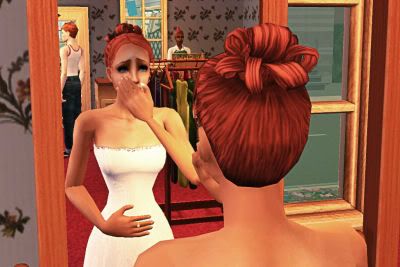 I think the idea of her wedding is actually making her feel ill. Although, maybe it's just the way I styled her hair.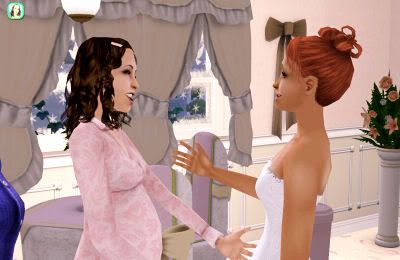 Cassandra is glad to see her old friend getting married.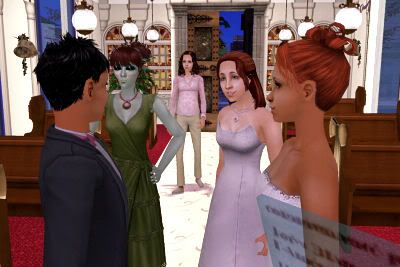 My sim daughter Amiee seems to be trying to upstage Karen by wearing a white dress to this wedding, too. I should really help her find a different formal dress, but I'm lazy and know she'll eventually get married too.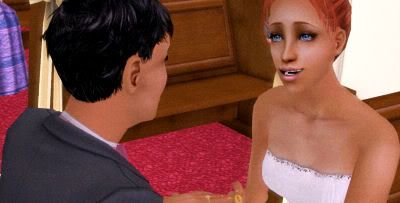 Karen did go through with the ceremony despite any doubts she may have had. They were married on March 13, 2022.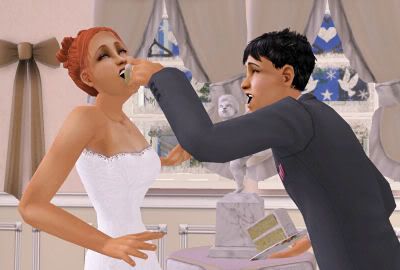 Wilson stuffed cake into her face. He's in a hurry to get to the honeymoon.
While at the reception, Wilson makes some important contacts. Santa may be calling him soon.
And he was given a free flatscreen TV as a wedding gift from this guy, Sinjin Bar.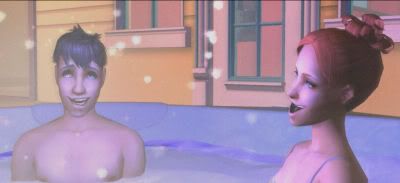 Finally
, Wilson experienced what he's been dying to experience since puberty. He doesn't know about his wife's previous experience in this department.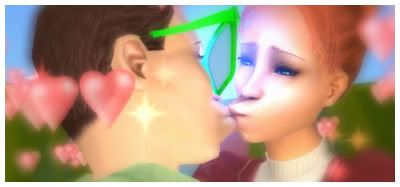 Professor Karen does have a past that Wilson doesn't know about.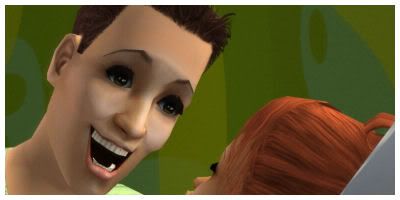 I found these incriminating photos from rockstar Brian Tucker's college days when Professor Karen had a fling with him. Hopefully, Wilson won't ever find out.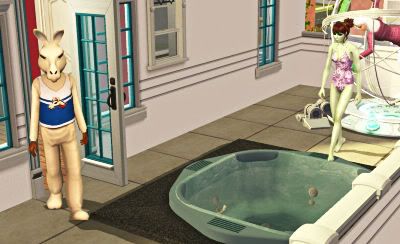 Taft finally decided to give the llama mascot a chance.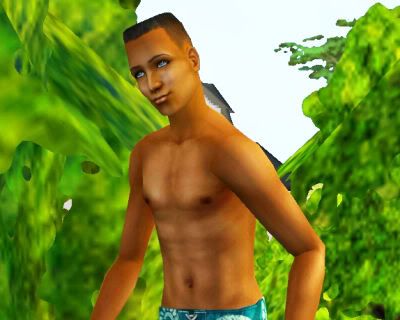 He's attractive under the llama costume.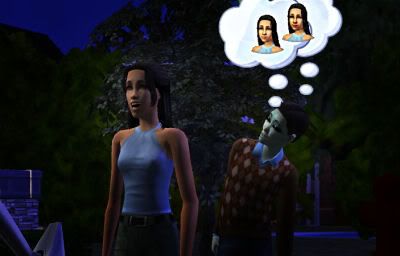 Meanwhile, Washington is apparently really attracted to Coupon Fancy.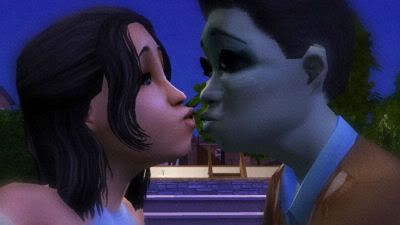 They were each other's first kiss.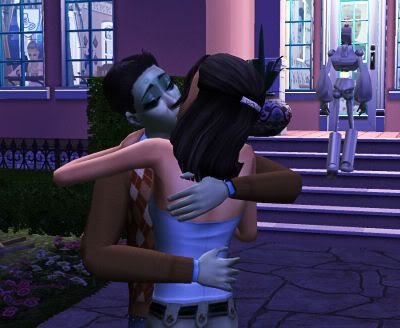 Once they got the hang of kissing, they never wanted to stop.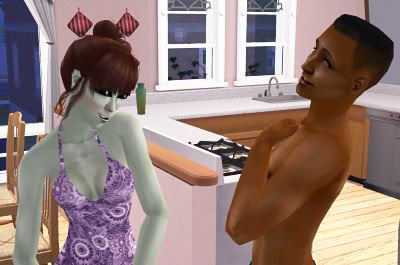 Taft really seems to like Tyler the Llama man.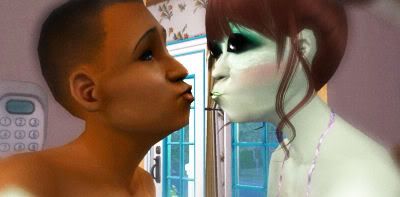 Here's their rather awkward first kiss.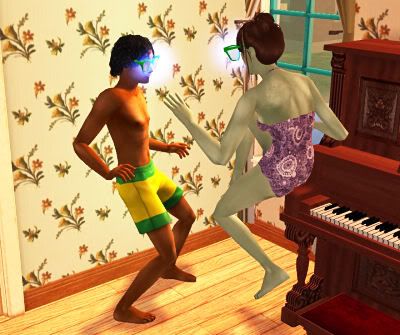 However, once she made up her mind she wanted him, Taft really knew how to put the moves on the llama man. She nimbly jumped up and sat on the piano to impress him.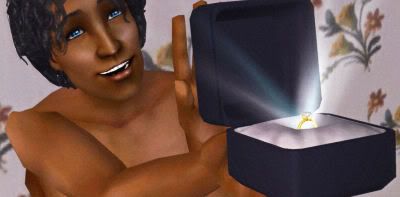 He was so impressed that he knew he wanted to spend the rest of his life with this beautiful green woman with such amazing bust-a-move skills. He does look better with a little more hair, doesn't he?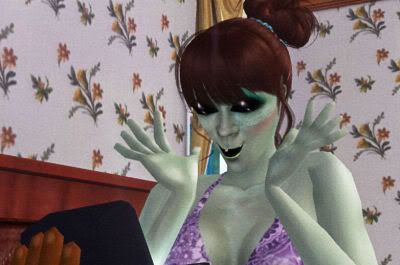 She is so excited to finally have found the man of her dreams. Tyler brought §5,000 when he moved into the Webb house.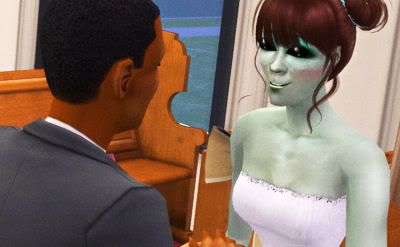 For some reason, Tyler decided to shave his head for the wedding. Thankfully for him, his hair grows back as quickly as Harry Potter's hair in the Sorcerer's Stone book. Clinton also made Taft's wedding dress. They were married on April 22, 2022, a little over a month after Wilson's wedding.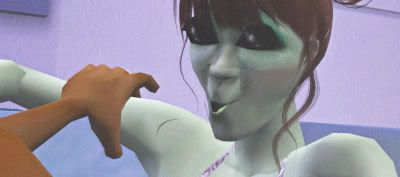 Tyler is glad to get Taft home after the wedding so he can finally show her some of
his
moves in the hot tub.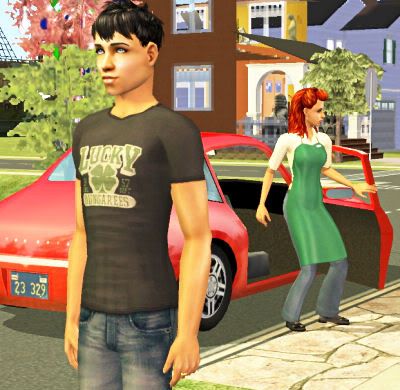 Wilson feels so lucky about finally getting lucky that he's wearing a new lucky shirt. It must be a lucky shirt, because he just got promoted to Professional Party Guest and achieved his LTW.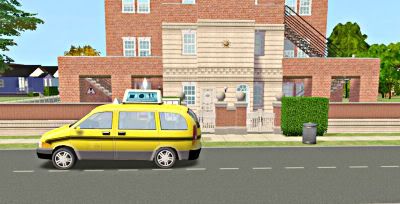 Taft and Tyler decided to move into an apartment in the building on Turnover Terrace where Brian Tucker and Sophie Fletcher used to live.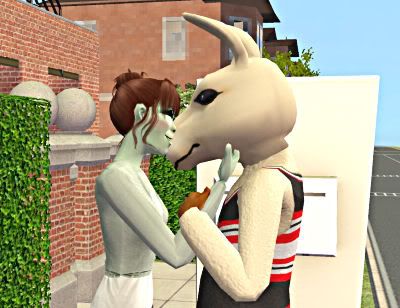 Taft and Tyler seem to be really in love despite the fact that Tyler still prefers to wear the llama mascot costume every chance he gets.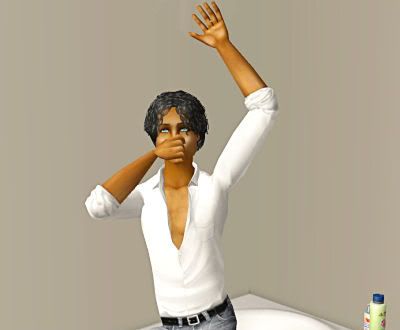 Tyler has a very playful personality and loves to play in the tub.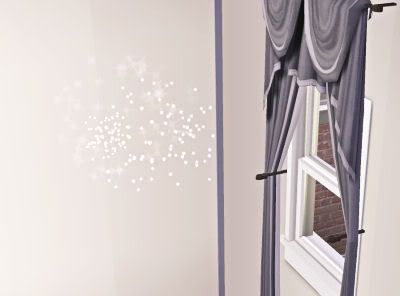 Taft and Tyler decided to play in their closet. Even though it looks small, there is enough room in there for their clothes as well as for Tyler to show Taft even more of his moves.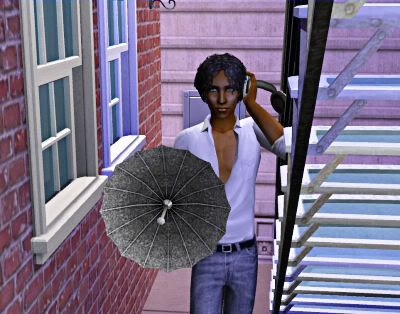 Tyler likes to walk around listening in on the neighbors. This seems a bit wrong, but I guess he had to have a flaw.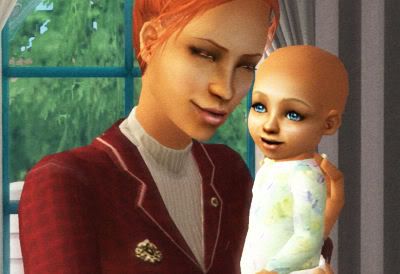 Wilson and Karen soon added a new member to the Webb family. Well, it seemed soon to me, even though it was about 5 years after they were married. This is Jefferson Webb, born on June 4, 2026. Since all the Webb house kids are named after U.S. presidents, he's named after the 3rd president of the United States, Thomas Jefferson.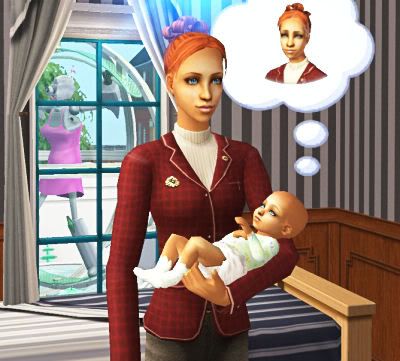 Jefferson really is fond of his mommy, but his daddy is nowhere to be seen. I'm not all that sure Wilson is interested in being a daddy.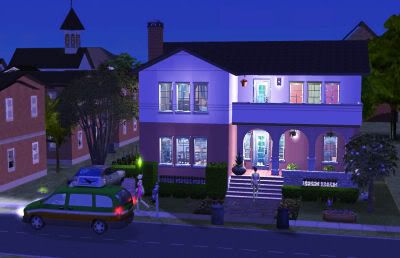 It looks like the Webbs will be going on vacation to Twikkii Island. Baby Jefferson will be staying home with Grace 2.0.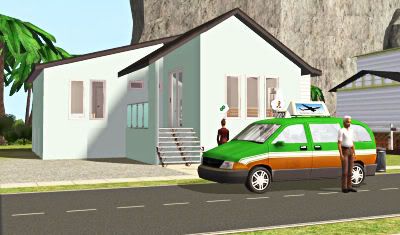 They decided to stay in
this little house
.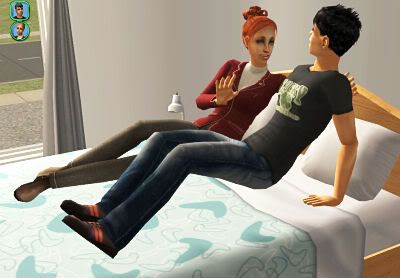 With baby Jefferson at home with Grace 2.0, Wilson and Karen wasted no time finding a bed now that they have some time to themselves. I think maybe they should have taken just a moment to close the drapes.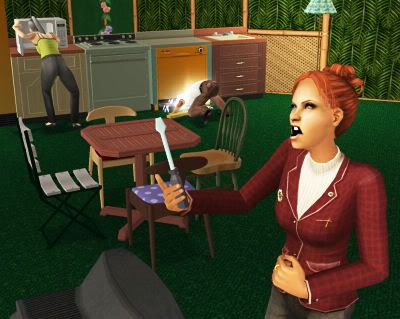 On their visit to the Witch Doctor's hut, Karen got really mad. Fixing stuff was not the kind of thing she wanted to do while on vacation.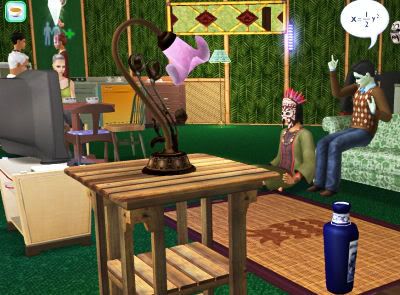 After the repairs, Washington sat down and explained algebra to the Witch Doctor while they watched educational TV together and his family ate macaroni and cheese.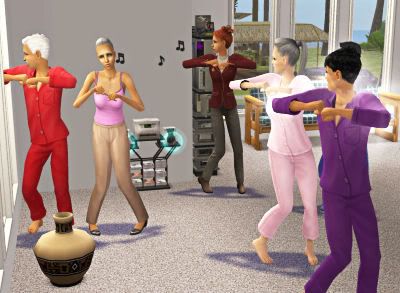 One thing they did on vacation was have an old local woman come teach them the hula. Except for Karen, no one bothered to get dressed. To me it looks like the old woman is teaching them the chicken dance, and that she really has to pee.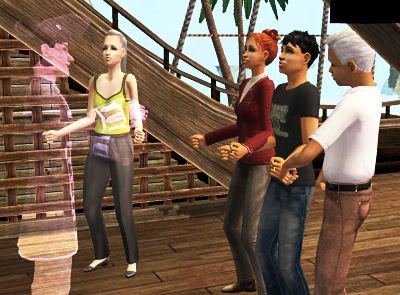 They went and explored a pirate ship and found the ghost Captain who taught them a Sea Chantey. I can't wait to hear them sing it all the time.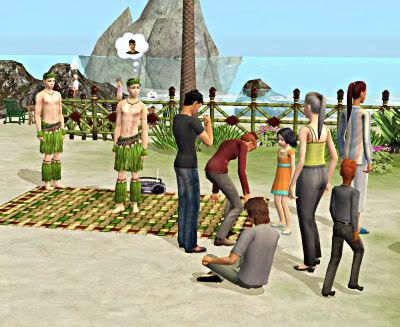 At the beach there were actually 2 fire dancers this time. The Webbs all took turns trying to learn how not to catch themselves on fire.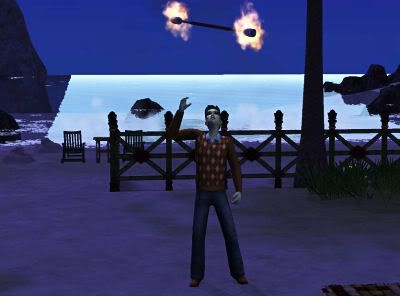 Washington actually got good at fire dancing, and didn't set his sweater on fire even once. Yes, again I have a sim on vacation at the beach in a sweater.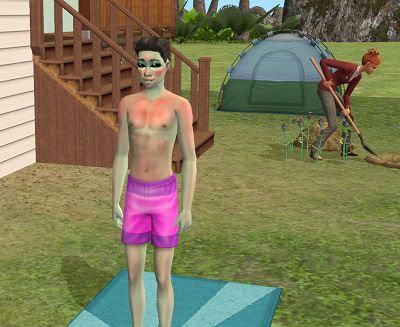 But maybe it was a good idea for Washington to wear a sweater to Twikkii Island because it protected his skin. When he finally did take it off to sunbathe, he turned his normally green skin bright red. I guess he burns quite easily.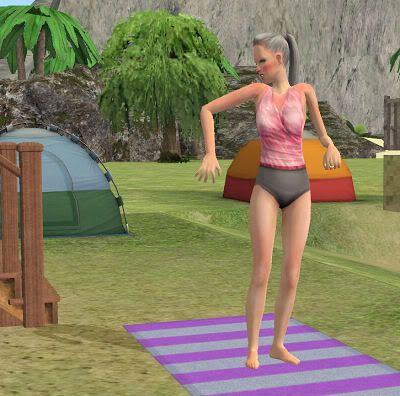 Grace got a little bit red too, but not nearly as burnt as Washington did.
When they got back home, it was time for Washington to go to college. He left for college with §3,750 in scholarships.
Scoring: 1 point for adding Komei, 1 point for adding Karen, 1 point for adding Tyler, 1 point for adding Jefferson, 1 point for Wilson reaching the top of the Slacker career, 1 point for Grace's Nature plaque, 1 point for Clinton's Tinkering plaque, 3 points for Wilson earning all his Lifetime Aspiration Benefits, 1 point for Wilson's Nature plaque, and 1 point for Washington's Nature plaque. The population of Apple Grove is currently 63, with a total population of 66.