When we last visited the Bauers, there were 2 weddings: Cassandra and Morgan, and Charity and Elmer. Amiee and Jason went off to college, and Christopher and Ian became teens. Padi and Obi had 3 puppies. The whole family (except for our new sons-in-law) went on a vacation to Three Lakes.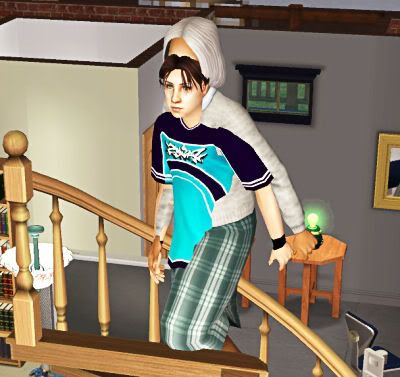 Christopher must be wearing a nanny costume for Halloween - scariest costume ever. But seriously, it was hard to get rid of Nanny Shenene, because even when the boys grew up to be teens she would still show up.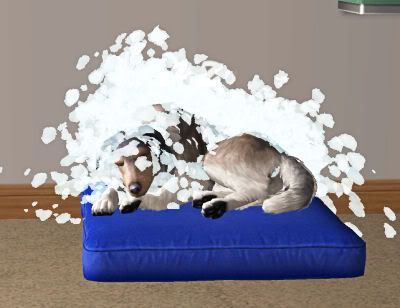 I love this wet dog water wiggler glitch. If only we could add the wet dog smell for realism.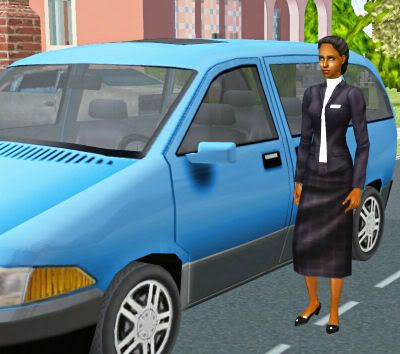 DUN DUN DUN! What the heck?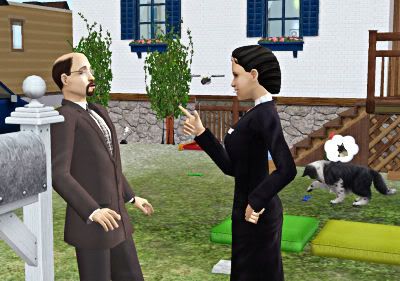 Since we have no babies, toddlers or children in the house, I was a bit confused about why the social worker showed up and threatened Scott.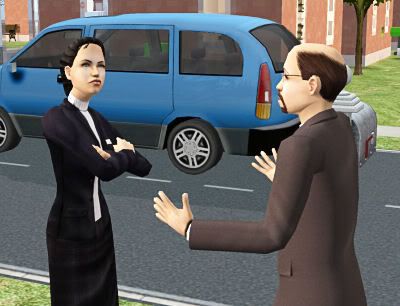 She wouldn't listen to anything he said or explain who was being neglected. Thankfully, she left without incident. Too bad she doesn't take teenagers. ;)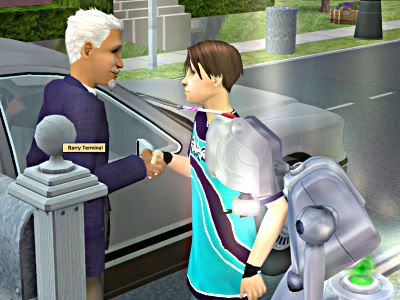 Barry Terminal the headmaster arrived for dinner. It seemed about time for the Bauers to give private school a chance.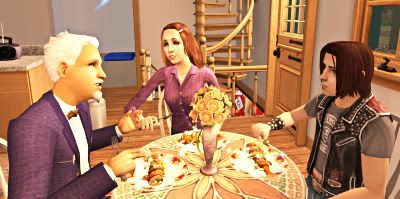 I served some stuffed rainbow trout for dinner. Yeah, like that would happen. In real life I tend to stick to making the same few meals, none of which have fish in them. I would like cooking more if I didn't have such a super picky family. Needless to say, stuffed rainbow trout is not on the menu. I like fish, but the others are very reluctant to eat it.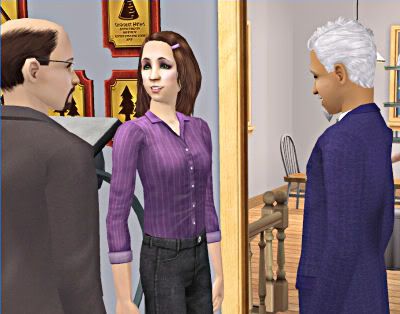 The house and food were satisfactory enough to get the boys got into private school. I hope it had nothing to do with the headmaster's creepy preoccupation with staring at my chest. Scott looks a little annoyed at him.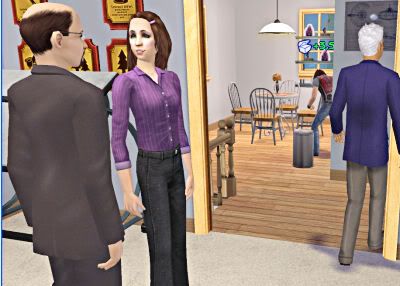 I guess the headmaster noticed Scott glaring at him and got scared, because after that he tiptoed out of the house.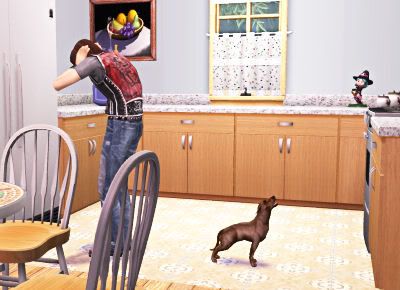 Sim Piglet likes to howl. Barking is the real Piglet's obsession. There doesn't have to be a reason, and it's hard to get her to stop once she starts.

The social worker was back
again
. I finally realized that maybe she was talking about the puppies, although we are not their parents, and I never noticed that they were being neglected.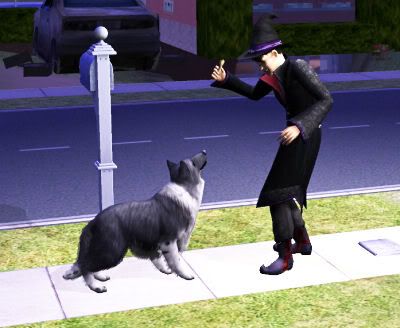 Rudy Fletcher walked by and gave Padi a treat. I guess he has a soft spot for dogs. Maybe his family should get one someday.

Christopher's date Nerissa Goldman left him a really, really expensive gift.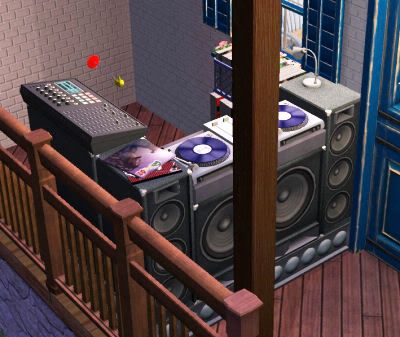 I couldn't find it at first, but then I looked out on the back porch.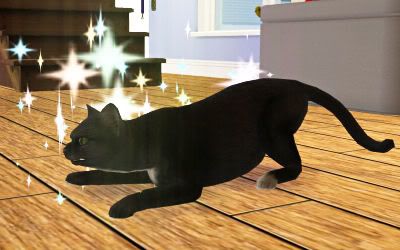 I decided it was time to adopt a cat, so my sim went back to Hamilton's Pet Store. This is Fumbles, a cat we have in real life that we adopted from a pet rescue ranch. Fumbles is not a very bright animal, and for a cat, he's not that coordinated.

The matchmaker dropped by and left us a magic lamp.
Taft Webb's new husband Tyler Porter came by in his llama suit and had fun trying out our new DJ booth that we put in our basement.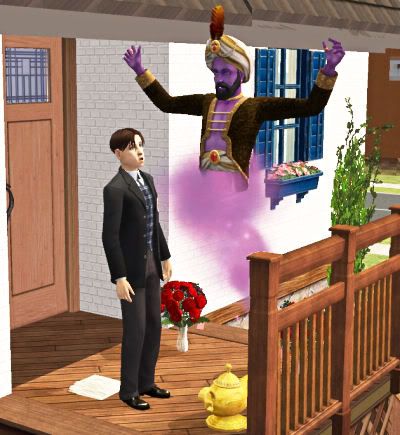 Christopher used the lamp to wish for Peace of Mind.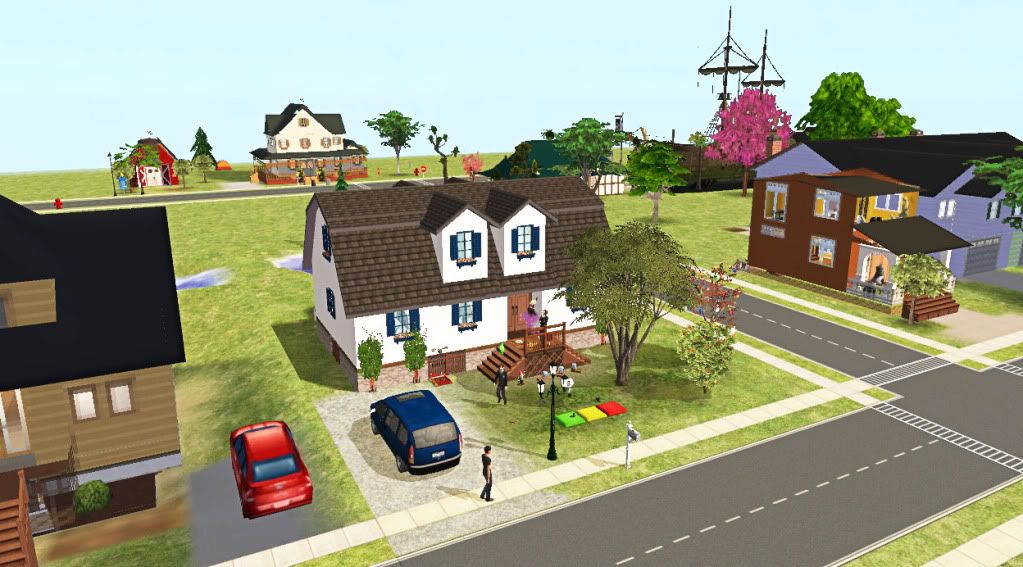 (click to see larger pic)

I'm not sure why, but I took an aerial view picture of the Bauer house. Apple Grove continues to grow.
For some reason,
Stacey the Stalker
came by for a visit. We haven't seen her around Apple Grove for awhile. Christopher tried to impress her with his couch jumping, but it seems like she might still be pining for Daniel Brown.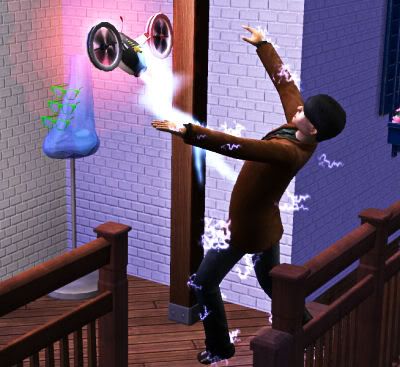 I would never have suspected that Daniel Graham
who works in law enforcement
to try to try to steal our newspaper. The sentrybot was on the job, though - keeping our newspaper safe from the police.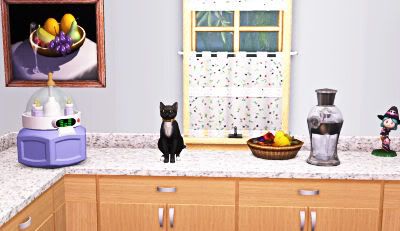 This is where the real Fumbles would be if I let him back into the house. This is the main reason he lives outside now. He will not stay off the kitchen counters - that is when he's not busy shredding our furniture.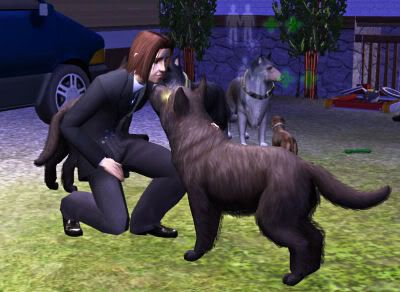 Ian always wants to pet the wolf pack leader. We used to call the real Ian Danger Boy because if there was something dangerous to be done, Ian was always there first on the job.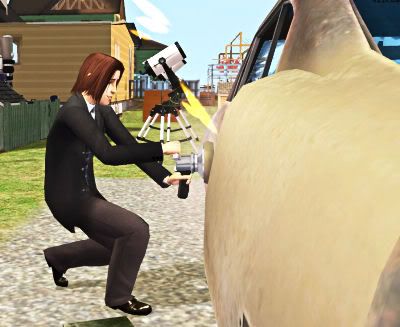 Sim Ian has a car to fix up out in the backyard. The real Ian is really into cars as well, although he doesn't restore old cars.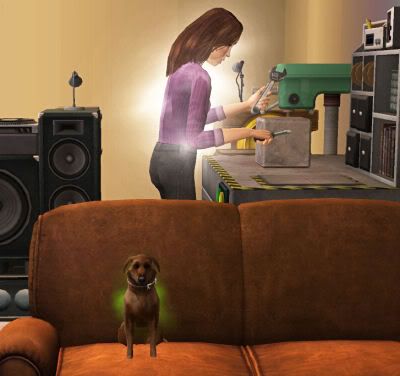 Sim Piglet tries her best to be like the real Piglet - smelly, and always on our couch. Thankfully sim Piglet is housetrained better than the real Piglet who sometimes likes to leave us puddles and other surprises - usually in our bedroom. Thankfully, sim dogs can only leave puddles.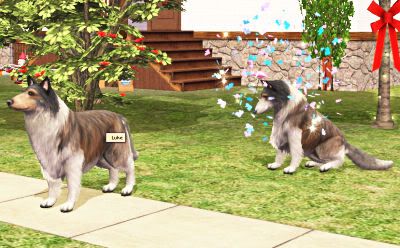 I was glad when the puppies grew up without being taken by the social workers. Luke is the dog on the left, but I'm not sure if the one on the right is Leah or Chewbacca.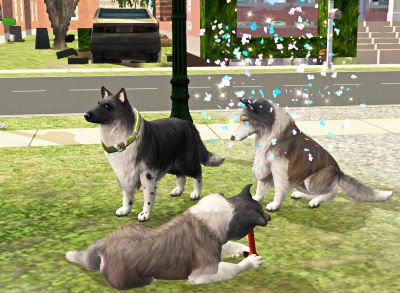 The Bauers now have 6 dogs. There are too many dogs, so some of them are going to have to go.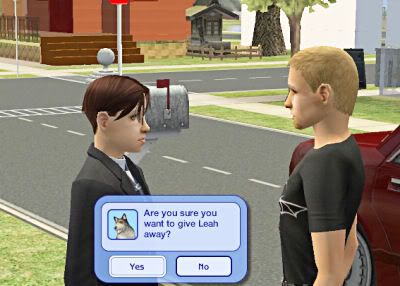 Christopher gave Leah away to his brother-in-law Morgan.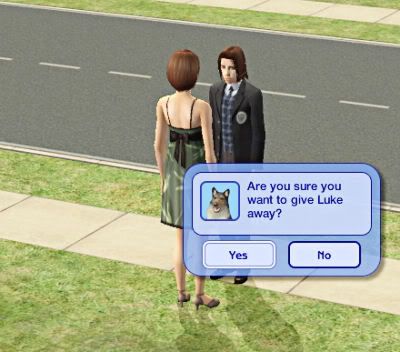 Ian gave Luke away to his sister Charity. Thankfully, sim Charity is not allergic, and like the real Charity seems to love dogs. We decided to keep Chewbacca - mostly because I love his name so much.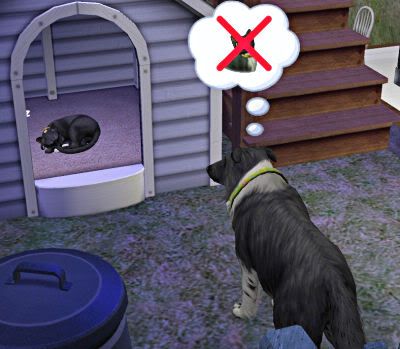 Padi does not like Fumbles, especially since he's in her doghouse. I suspect the real life Padi wouldn't have liked Fumbles either. She thought cats existed for her to chase.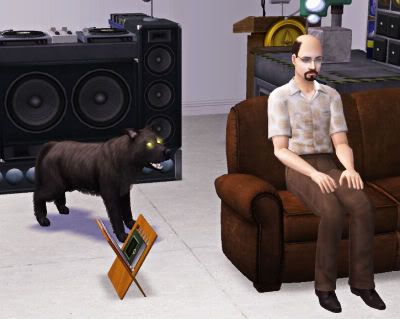 It's scary when the wolves come into the house because Ian always greets them. Scott thinks if he ignores the leader of the wolf pack, he'll go away.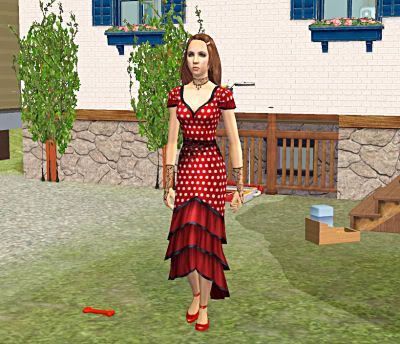 I look very unhappy heading off to work in my Flamenco dress. I did reach the top of the dance career, though. It's a funny thought, as I have always considered myself to be somewhat uncoordinated. I doubt I would have ever had the talent to become a dancer.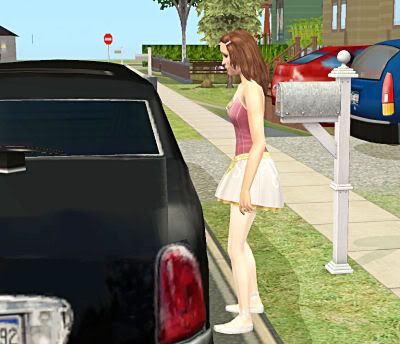 I look goofy as a World Class Ballerina, but I do look a little happier to be going to work in the tutu.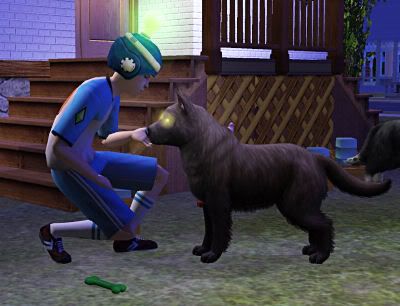 Here's Ian again - always doing dangerous things.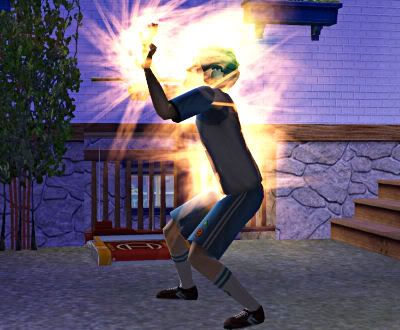 UH-OH. He finally pushed his luck too far.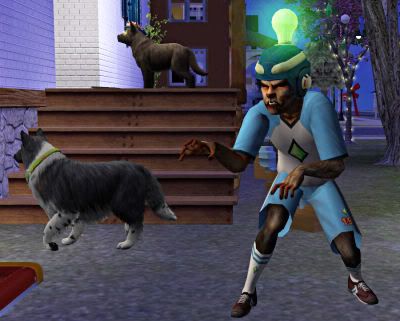 Great, he's been turned into a werewolf. Well, Apple Grove did need at least one for the creature bonus. I suppose it fits his personality - independent and a bit on the wild side.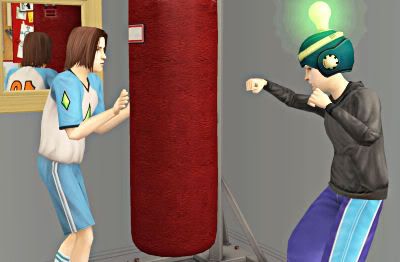 Well, now that Ian's body skills are maxed out, he's able to teach Christopher how to fight. This skill may come in handy someday. Of course, it could backfire if Christopher decides to start giving him back some of the noogies he's dished out.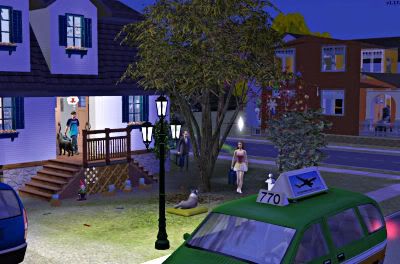 Our family is headed off on another vacation. I wish we got to do this in real life, but we don't have the simoleons to go anywhere fun.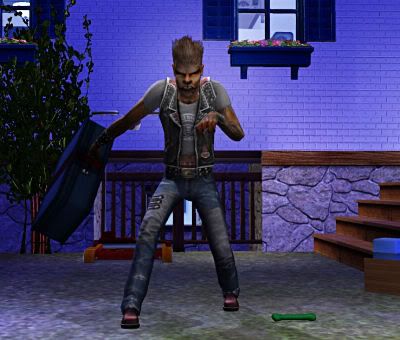 I love watching Ian as a werewolf trying to walk while carrying his suitcase. With all those body skill points, you'd think he'd be a little faster and more agile.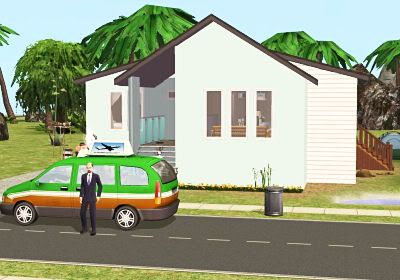 We bought the vacation home that the Webbs just recently used and then sold. It's a decent-sized vacation house for the price.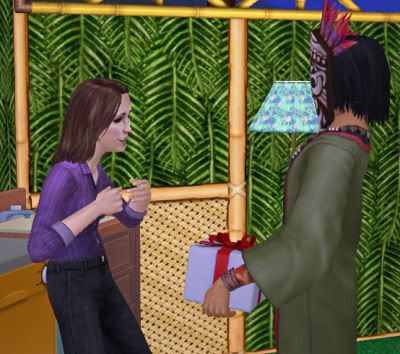 The Witch Doctor gave me my voodoo doll right without delay. I guess he knows not to mess with me, since I do have my hands on the controls, and now that I've actually murdered a sim that ticked me off. He can't be too careful.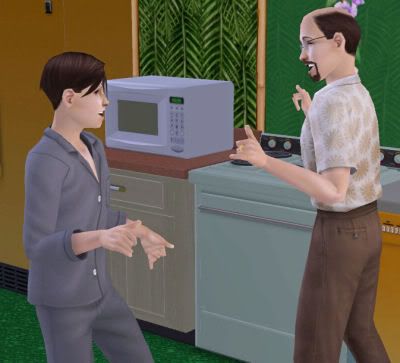 Scott is not a hang loose kind of guy. Not at all, so this funny to me. And yes, we did actually live on an island for 3 years (Oahu, Hawaii) , so if he were going to hang loose, I'm pretty sure that would have been the ideal time to start.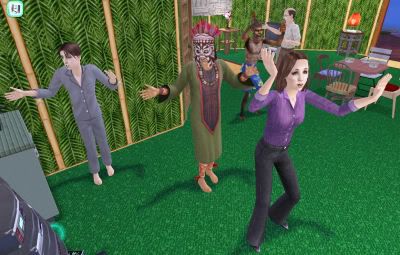 Apparently, the Witch Doctor knows how to hula. We look pretty confused just like I would expect us to in real life.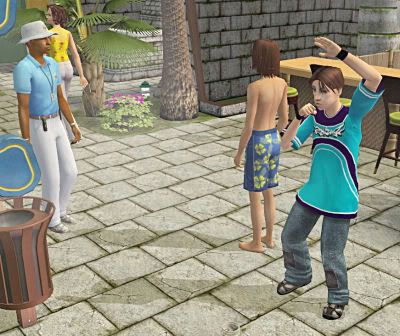 As an annoying Pleasure sim, Christopher was always rolling up the want to freestyle for tips. I don't see him actually doing that, as he's not outgoing enough. He's a good singer, though. I never get to hear him individually, but he sings in choir at school, and is one of the best. I get to brag a bit and tell you that he made All-State Choir this year.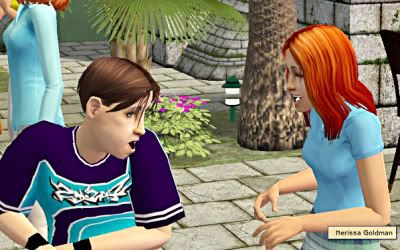 Sim Christopher's girlfriend Nerissa was on vacation on Twikkii Island. Either that, or she lives on Twikkii Island. Or she's a stalker. I'm just not really sure. We didn't bring her with us, though - she just showed up.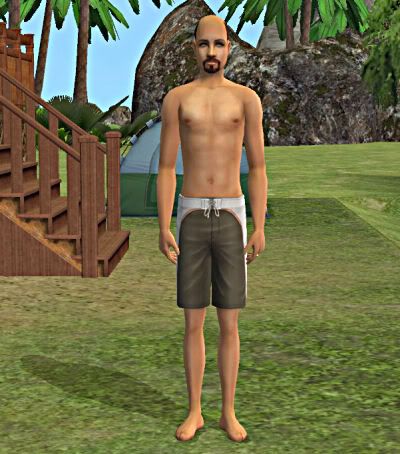 Scott got a bit of a tan.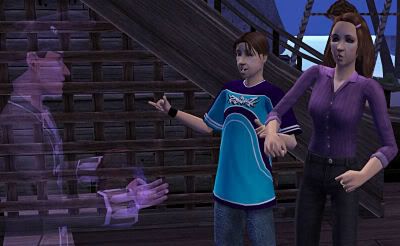 Oh yay, I'm always glad to sing a Sea Chantey. OK, not really.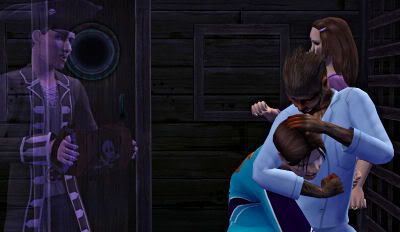 For some reason, Ian wore pajamas when we went to visit the pirate ship. He gave his brother a noogie, as always instead of paying attention.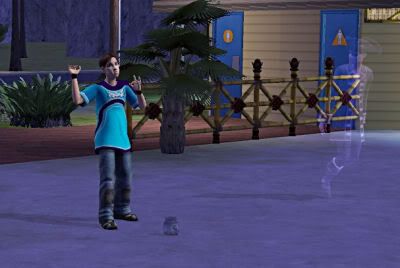 I don't think this location was the best choice for Christopher to try to earn tips. Only the ghost Captain is listening, but he prefers Sea Chanteys to rap and doesn't carry change because it won't stay in his pockets.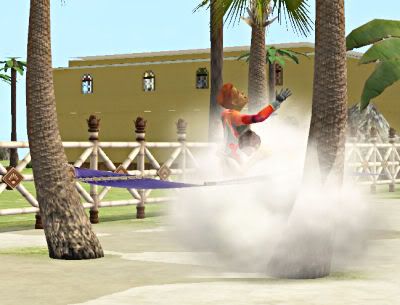 Whenever anyone visits Twikkii Island, we always see these two townies fighting - a man and a woman. I should definitely move these two in together someday. Maybe I should make them get married, LOL. Nah, that seems like a lot of work to get them to like each other enough.
This is so atypical for me. The real me would
never
sunbathe. I've tried it a few times when I was a teen (back before people thought much about skin cancer), and I hate it. It's boring, hot, and I can feel each heartbeat. I don't understand how people can enjoy cooking themselves in the sun.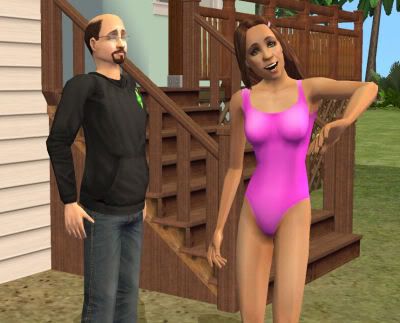 And so the idea of sim me being tan is funny. I won't even use a tanning bed, as I hate those too (tried it once and got burned from it), and I would never even get a spray-on tan, because I would never spend the time and money. I have only ever been just a little tan, and that was when I used to spend almost every day of the summer at the swimming pool. I would now make a great vampire, as I tend to be very indoorsy.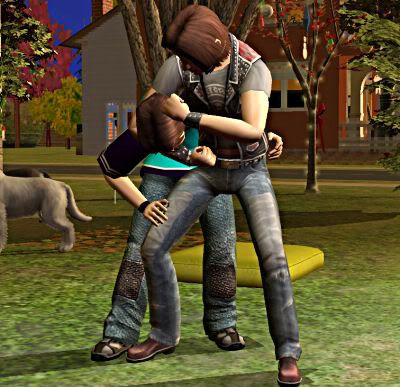 I'm happy to say that the real Ian never gives Christopher noogies. They're actually good friends most of the time, with rarely even a word of disagreement between them. This can be good and bad. I just wish Ian set a better example.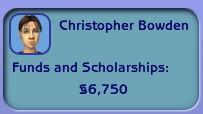 It's college time, and Christopher did well with earning scholarships.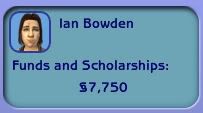 Ian got even more scholarships than his brother, despite his unfortunate werewolf condition.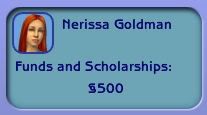 Anyway, I decided to send sim Christopher's girlfriend Nerissa to college as well. This was probably not the best plan.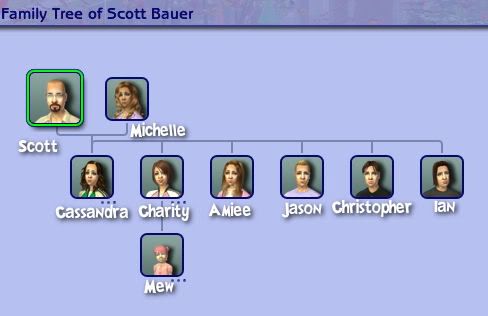 Scoring: 1 point to Scott for an Arts and Crafts plaque, 1 point for my sim reaching the top of the Dance career, 1 point for Ian for a Cuisine plaque, 1 point for Christopher for an Arts and Crafts plaque, and 1 point for Christopher for a Cuisine plaque.