When we last visited the Hamiltons, Badger and Acorn aged to elder cats, Forrest and Beverly became elders, they adopted
another
kitten named Hindrance, George became a teen and Hyacinth became a child, the "mentally-challenged" cat Gump ran away, Forrest achieved his lame lifetime want of having six pets reach the top of their careers, and the family took a vacation to Twikkii Island.
Forrest Hamilton, 58, Elder Fortune, LTW: 6 Pets Reach Top of Careers
Beverly (Fletcher) Hamilton, 57, Elder Popularity, LTW: Hall of Famer
George Hamilton, 14, Teen Family, LTW: Marry Off 6 Children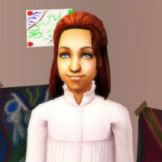 Hyacinth Hamilton, 9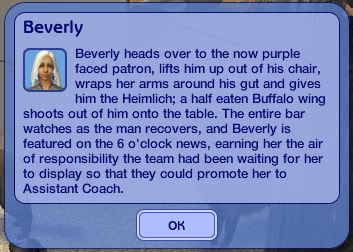 Because Beverly remembers how to do the Heimlich maneuver and saves a life, she is promoted to Assistant Coach.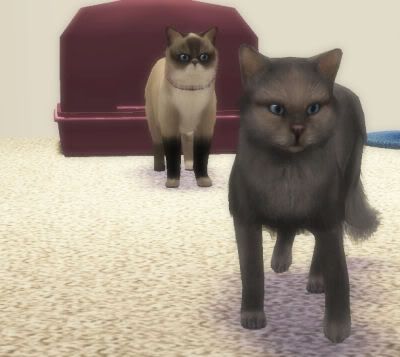 Hindrance, the kitten they adopted in the last round, has now grown into a cat.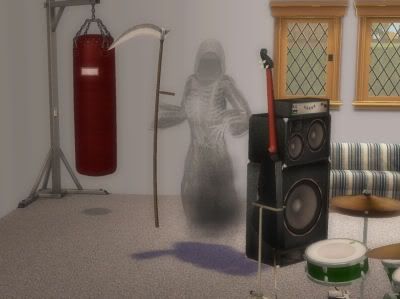 Uh-uh, it looks like we have an unwanted guest. No offense, Mr. Reaper. It's just the purpose of your visit that makes you unwelcome.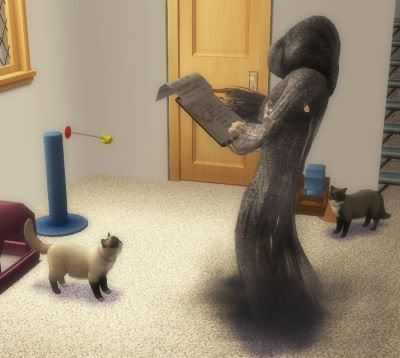 My sweet little Acorn is next on Grim's reaping to-do list. She was my favorite of all the Hamilton's cats, in looks as well as personality. I'm going to miss Acorn. *sniff*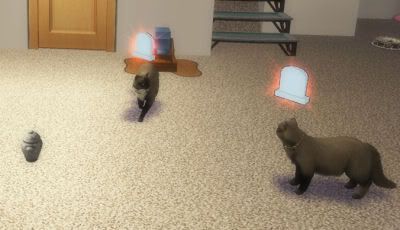 Dr. Watson and Fortitude mourn their mother's death.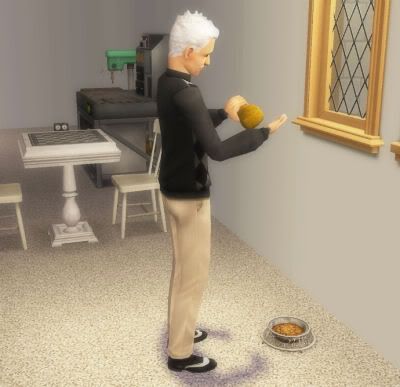 Forrest must also be in mourning, because he's now started cleaning cat dishes that aren't even there.
Gump was found by Washington Webb who lives on campus at University of Applebama. I didn't think that pets were allowed on campus.
Anyway, even though the university is 20 miles away, Washington decided to walk the distance.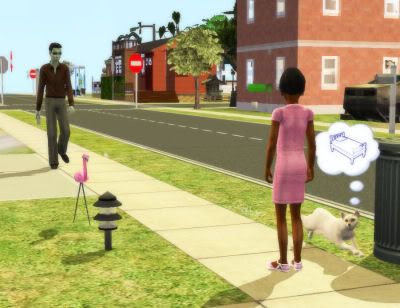 That might explain why Gump was exhausted when he arrived home.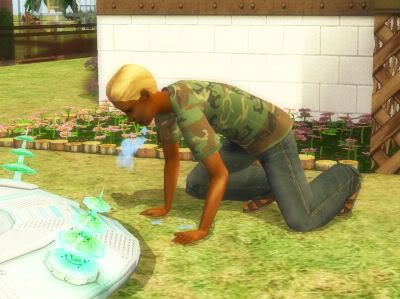 George was in the process of barfing when they showed up. His stomach just can't handle the dance sphere yet.
Well smartypants, we didn't do anything to cause him to leave. He just doesn't get along with Dr. Watson.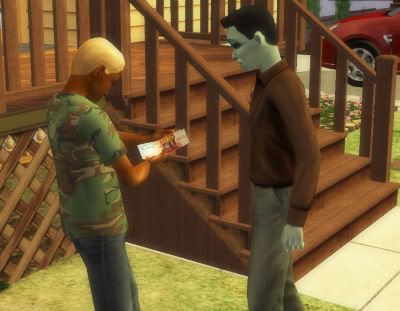 George is a nice kid, and gave Washington some reward money for returning Gump.
It's time for the Hamiltons to see if they are good enough to impress the headmaster of Apple Grove Academy.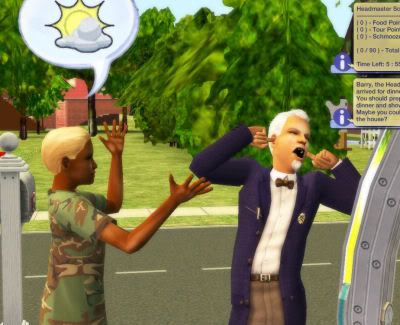 George did not start off well by singing "Tomorrow," his favorite song from the musical "Annie" to Headmaster Terminal.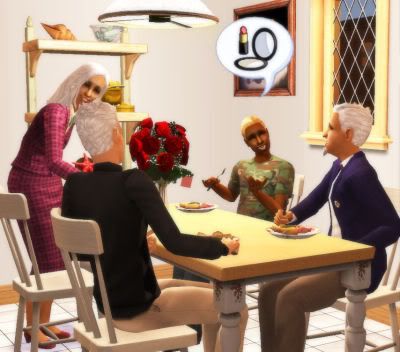 I'm not sure why George is talking about makeup now, especially since it's a big turnoff for him. Maybe he's just nervous. He may still have some confidence issues from living in a orphanage for many years.
I usually get my sims into private school without too much trouble. I just can't impress you with a high score. I think it's interesting how the headmaster can simultaneously be impressed and not too impressed.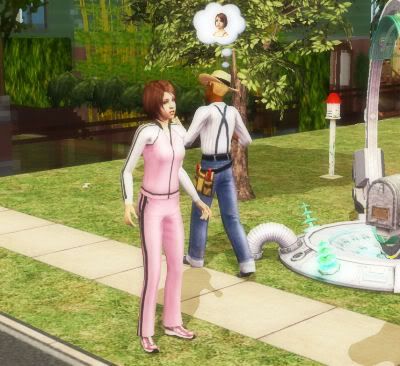 I see Charity is keeping fit by jogging. That's realistic for her, as she really does like to work out in real life.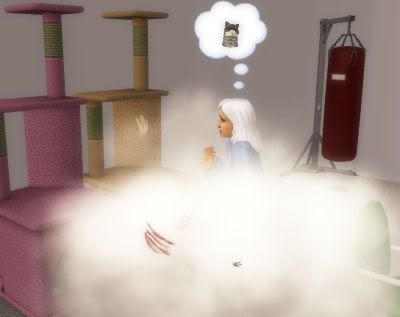 We had another cat fight between Gump and Dr. Watson. It looks like Beverly is smart and has placed her bet on Dr. Watson, who won again.
And of course, Gump ran away again. He and Dr. Watson are now enemies.
I had them go through the motions and report Gump missing again. Whatever, I don't really care anymore.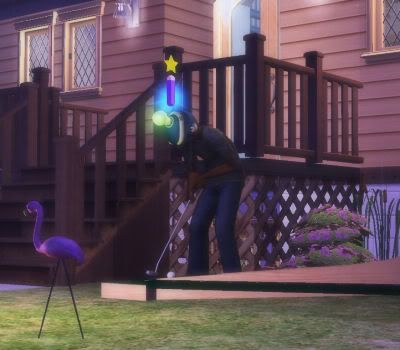 George maxed out his charisma by playing golf.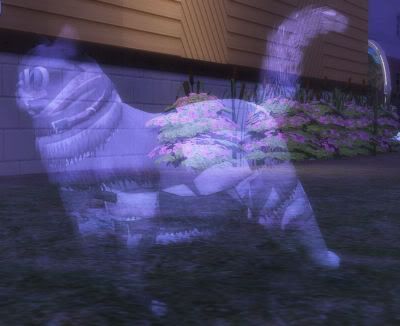 Acorn has begun haunting the Hamilton house. It's sad that she looks so freaky as a ghost, and not at all my pretty kitty.
Lime Jeffress, Rose's alien son and the Hamilton's grandson, has now found Gump.
Bring him if you must, kid.
I hate how judgmental these people are. I do find it interesting that both times Gump was returned by an alien. I think that maybe Gump is an alien cat, and he's trying to find his way back to his home planet. That would explain it. The truth is out there somewhere.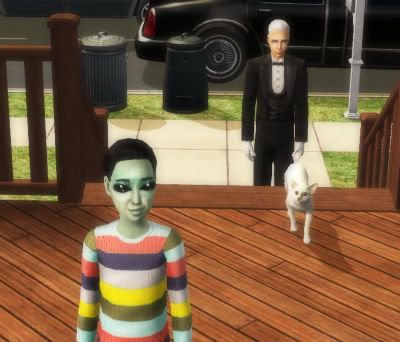 Since this is Lime's grandparents' house, I thought it might be nice to have Lime visit for awhile, at least since he is already here.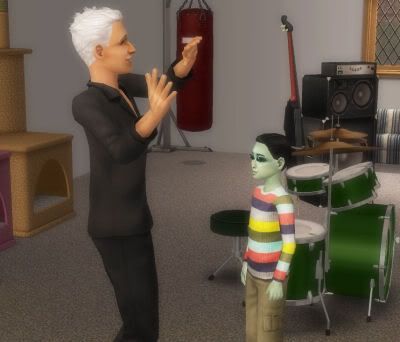 Forrest tried to talk to him about all of his cats and how well their various jobs and promotions were going, and about their different skills, personalities, likes and dislikes, favorite color of catnip mouse.... blah blah, blah blah blah...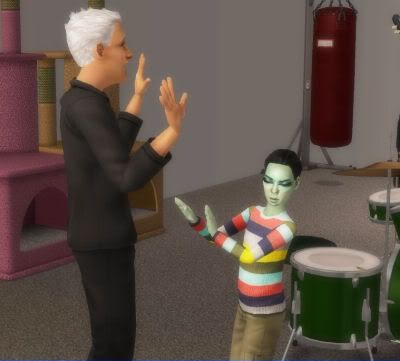 But he really doesn't care to hear all the furry little details. Unlike his Grandpa Forrest, Lime only likes cats generally, and in moderation.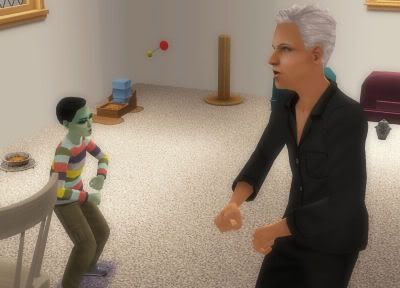 But they did share a mutual love of sea chanteys and enjoyed singing together. It's a bit unusual, but whatever works for them.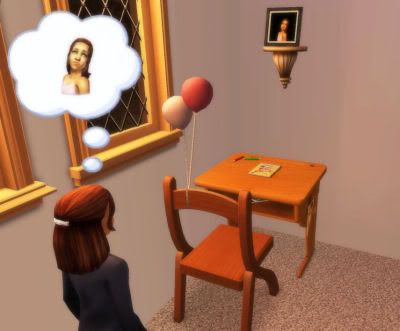 Now that George and Hyacinth are fancy private school kids, Hyacinth now has a desk in her room where she can do her homework.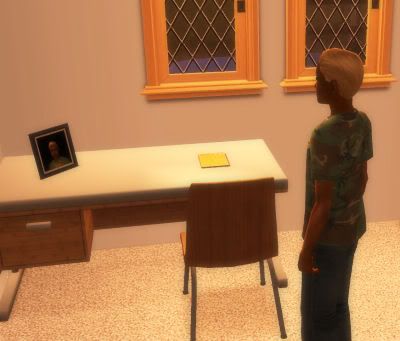 And George does too. I love the
desk locator
.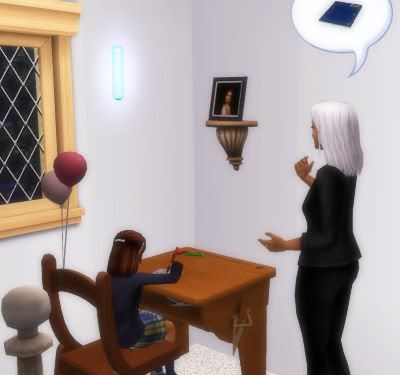 Of course, having a desk for homework still doesn't make doing the homework that much more fun.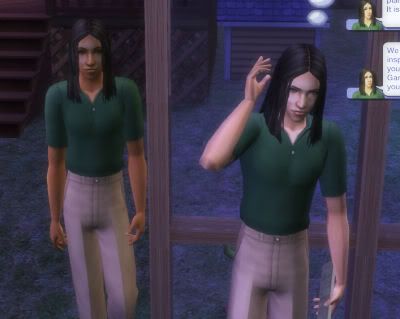 I don't know about you, but I'm seeing double. I had no idea until this moment of the game that there were two guys in the garden club that look nearly identical. One of them was part of the welcome wagon and was beating up on Beverly's sister, Grace (Fletcher) Webb, at the very beginning of Apple Grove's history. Will the sim who beat up Grace please raise your hand? Ah, see he raised his hand. That is the guilty one. His name is Alec Ebadi. His doppelganger's name is Quinten Butler.
An interesting bit of trivia to me is that when looking through the people Beverly knows, I learned that to her, Quinten Butler is the second hottest male in Apple Grove second only to the rock star Brian Tucker. Thankfully, Forrest is in the top 3. It would be sad if he hadn't even made it into the picture.
This was so fun that I thought I would try to remember to look at the attractions of my sims and maybe share them in the future. If I look at all the different attractions as I play the different houses, I'll eventually figure out who the hottest sims are in Apple Grove. Don't feel too bad for Forrest for being 3rd on her list, because Beverly is 3rd on his hot list behind Cassandra (Bauer) Foreman and Catherine (Tucker) Todd.
Anyway, back to the garden club inspection. Forrest got into the Garden Club with a perfect score and was awarded a wishing well.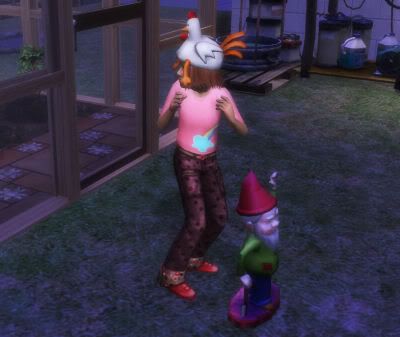 I see Chick-Fil-A has come to steal the Hamilton's garden gnome.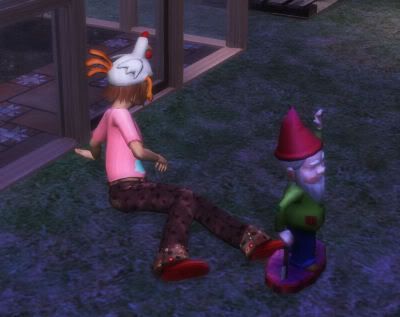 And I'm glad once again to have installed
electric gnome security
.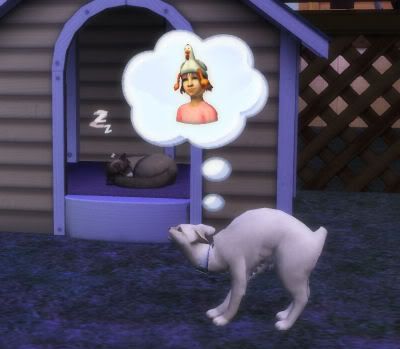 Gump does not like Chick-Fil-A, but who cares what he thinks - if he thinks at all. This cat is supposedly a genius. I checked, and I was very surprised that he wasn't a doofus.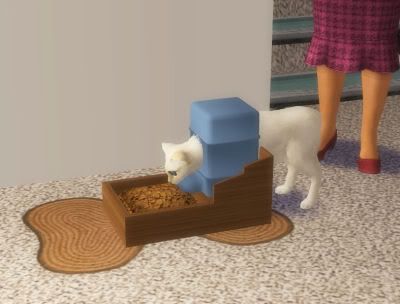 Even so, Gump is not very bright in my opinion.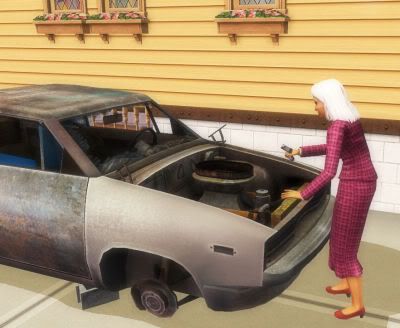 Beverly wanted to fix up an old car, and she didn't even bother to change out of her dress.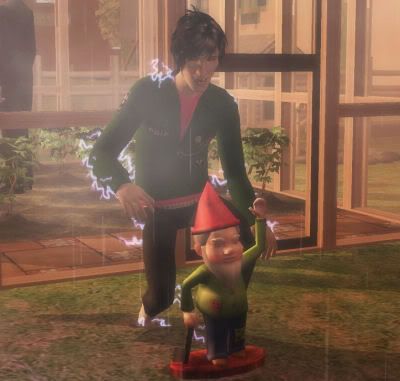 Another attempted gnome robbery - this time it's Vince Noir getting zapped.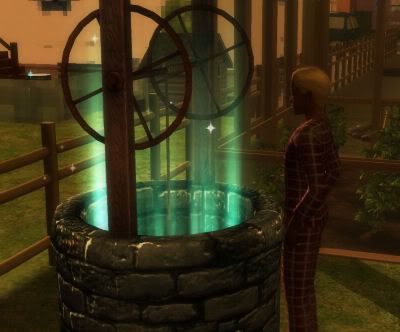 George decided to try out the wishing well and look for love, even though he's already going steady with Jessica Ajjanagadde.What a player.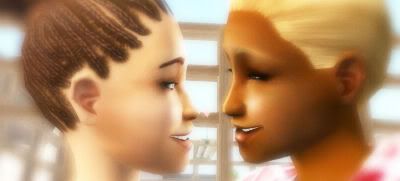 He met Catalina Lillard, and it was love at first sight.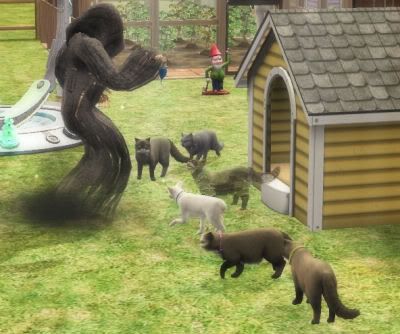 Death is back, this time for Badger.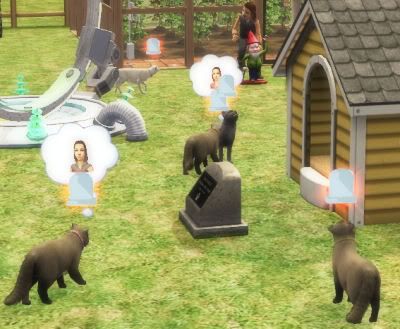 The kitties are upset about losing their father, although they can't help but be distracted by Aerosmith's attempt to steal the gnome.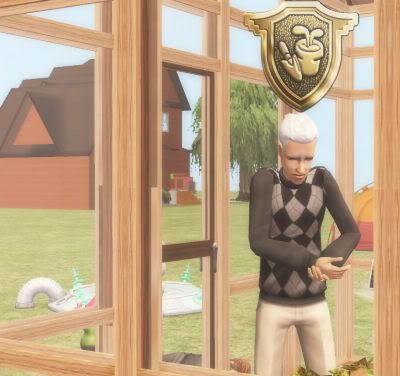 Forrest earned a gold gardening badge, but it looks like all that gardening gave him carpal tunnel syndrome.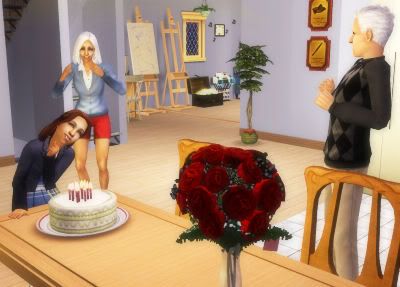 It's Hyacinth's 12th birthday, and she's making a wish.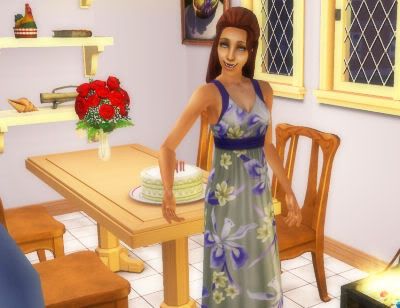 She turned out pretty, even choosing to wear a floral dress to go with her floral name.
Hyacinth is really into money. She prefers charismatic redheads who don't wear jewelry. Maybe she should marry a redheaded politician.

Hyacinth's lifetime want is to be a World Class Ballet Dancer. I can live with another ballet dancer, because it could be so much worse, like George's lifetime want of marrying off six kids, which will ultimately give me six more families to play just from his family.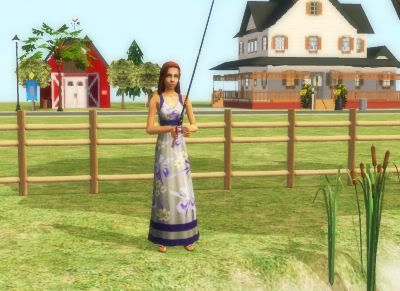 Hyacinth decided to go fishing in her backyard pond. I think she needs a more casual look, but it's too much trouble to change her clothes.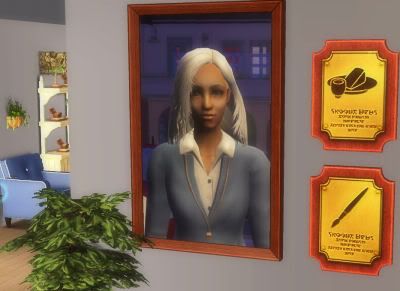 Forrest painted a nice painting of his wife Beverly in her coach's uniform. She lives in that uniform a lot, so it seems like a fitting choice of clothing.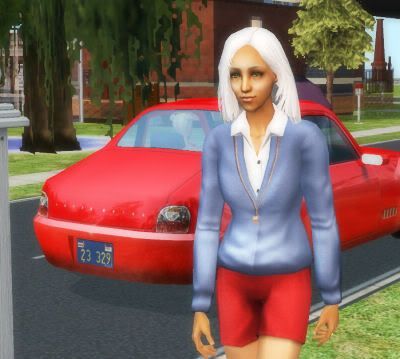 Beverly finally
, finally
earned her lifetime want of becoming a Hall of Famer!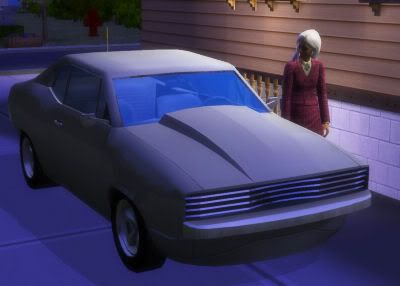 And she also finished restoring her classic car.
After all the work that went into the car, it deserves an alarm system.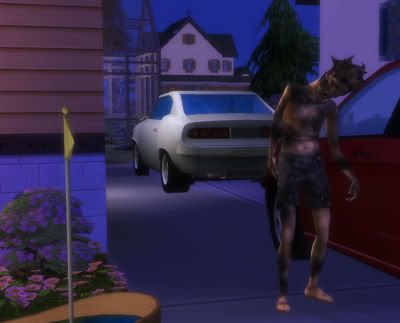 Ouch! Poor Forrest got struck by lightning on his way in from work.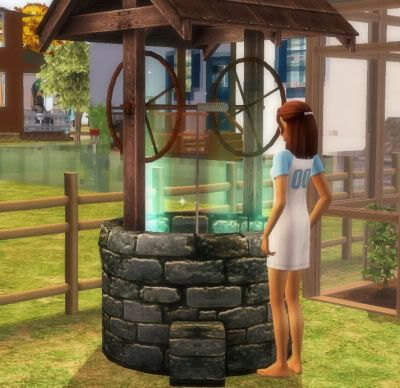 Because of George's success at finding a second girlfriend, Hyacinth decided to try her luck for a boyfriend at the wishing well.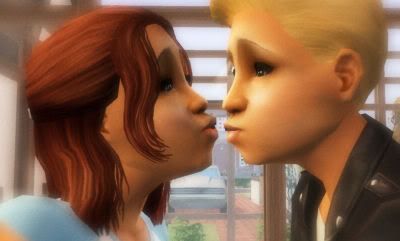 The wishing well sent her this boy, Pierce Zarubin, who we haven't seen in awhile. He hasn't aged a bit since he was kissing Kimberly Tucker in Round 1. He's a blond instead of a redhead, but she still has two attraction blots for him.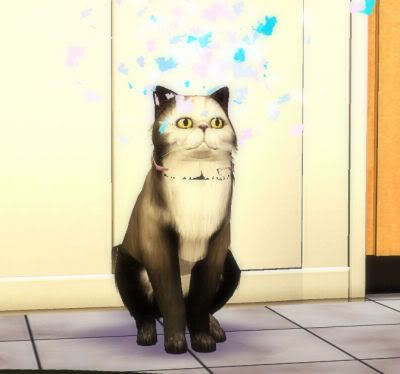 Fortitude has finally aged to an elder.
All of Acorn and Badger's kids have now aged up to elder cats.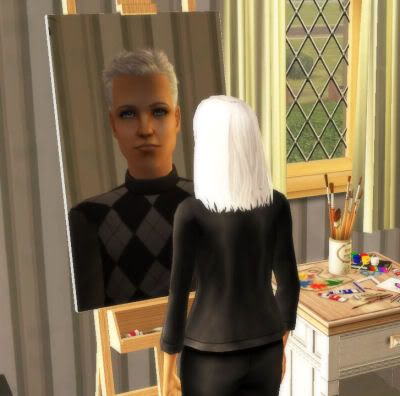 Beverly painted a nice portrait of Forrest.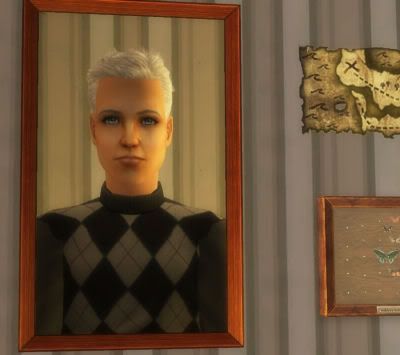 I really think she did a nice job. Hopefully, I can get paintings of all the founders and heirs, and their spouses in the various houses.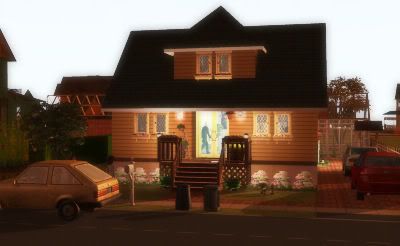 Hyacinth's carpool is here for her new part-time job as a test subject.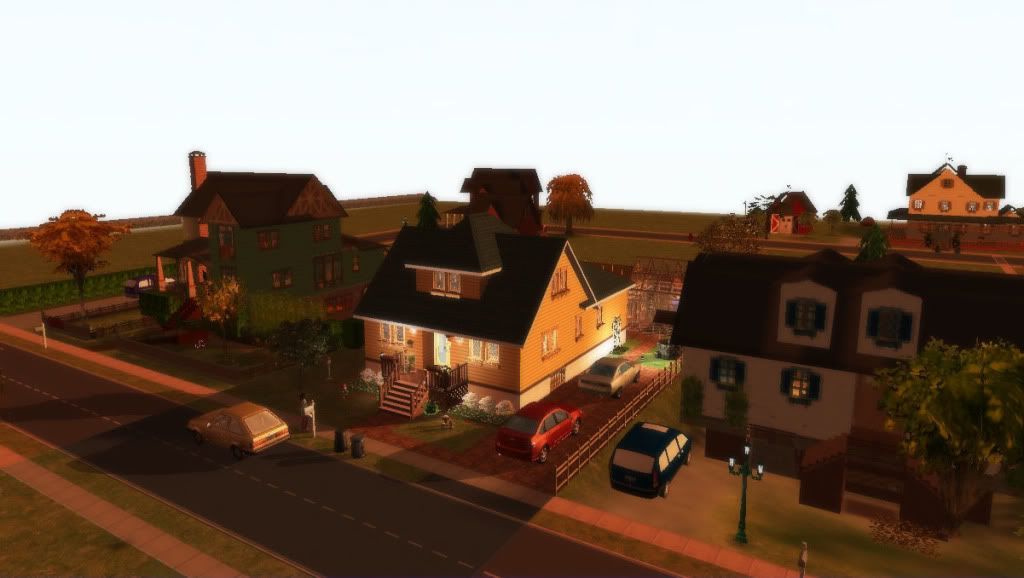 I love looking at Apple Grove from different aerial views. Yes, I'm a bit weird that way.
It didn't take long at all for Hyacinth to get promoted to the top of the science career, which for a high school student is a lab assistant.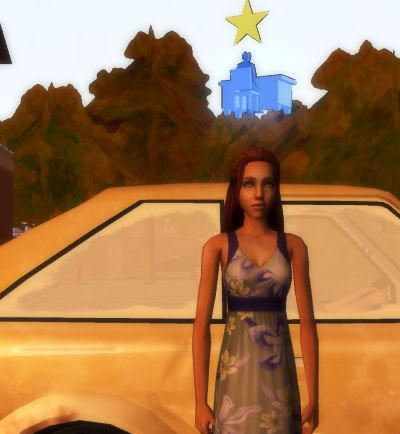 Hyacinth also became an overachiever.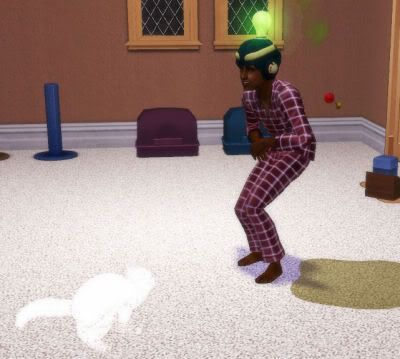 Scary Bug-Eyed Ghost Acorn scared the pee out of George, literally. She scares me too.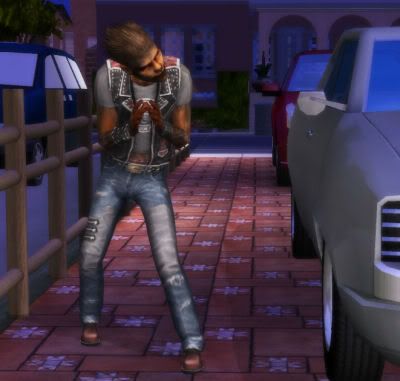 Ian came by and admired Beverly's paint job on his way to try to steal the Hamiltons' gnome. Naughty boy, but at least he didn't go for the car.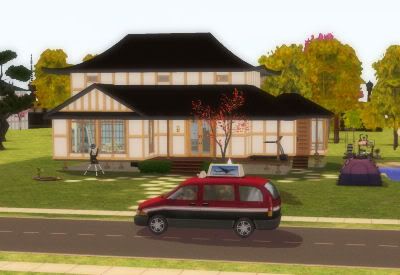 The Hamiltons decided to go on vacation to Takemizu Village this time. They bought Green Thicket Manor, which has no green thicket, that has been used by several of Apple Grove's families, including the Bauers.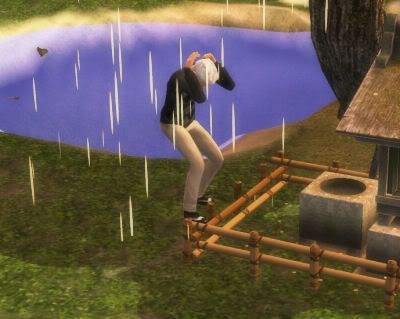 Forrest made a wish to be pelted with §1000 in coins.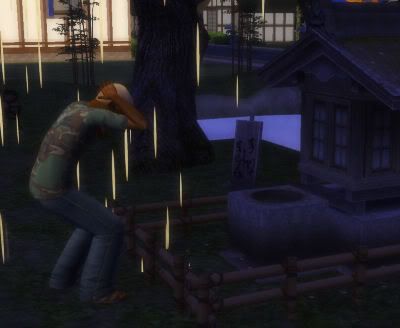 George also got a painful, but profitable shower when making a wish.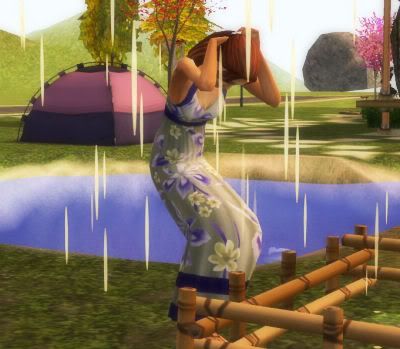 And there was a third coin shower for Hyacinth. Maybe the Hamiltons' will actually get ahead financially while on vacation. I realized later that I forgot to have Beverly make a wish, or she may have had a coin shower, too.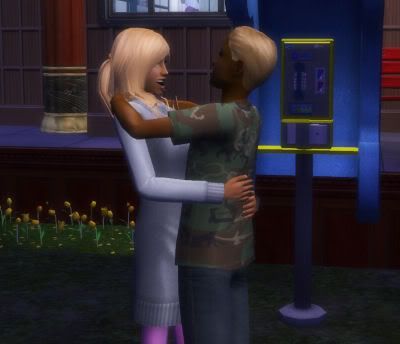 It's interesting that George's steady girlfriend Jessica is in Takemizu Village now. Last time they were on vacation she showed up on Twikkii Island. I think that either she's a professional vacationer, or she's stalking him. I wonder when she'll find out he's cheating on her with Catalina.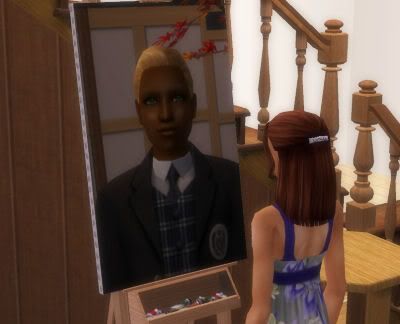 Hyacinth painted a picture of George while they were on vacation. I'm glad to see that she's not overly jealous of her adopted brother. As a fortune sim, she probably should be jealous, since he'll inherit the Hamilton house and most of the money.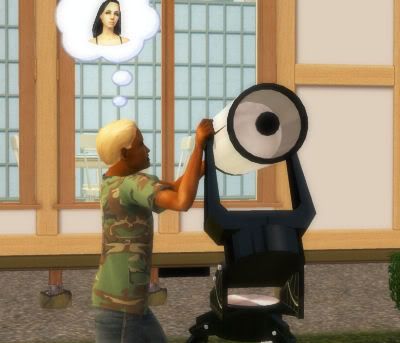 George's male curiosity combined with his overly active hormones can't resist doing a little daytime peeping on the infamously seductive Mary Gavigan. He could see Mary all the way in Apple City, which should have been impossible.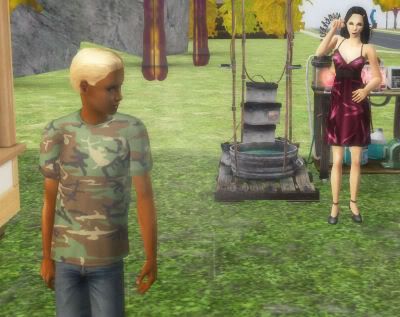 What's even more impossible is that she was able to travel from Apple City to Takemizu Village in just minutes to confront him about it. I guess she must be a witch.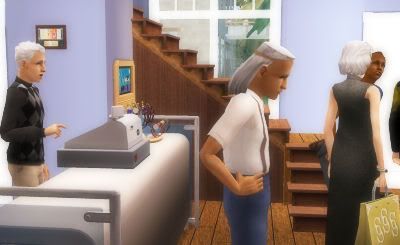 Forrest and Beverly remembered they own a business, Hamilton's Pets, and actually opened the doors for business for a little while.
Apparently, they made a huge impression on the horrible reporter Lisa Pons, and were able to get a good review as well as a Best of the Best Award.
They also got two free "sample" TVs. One from this guy, Kevin Kratz.
And one from Diana Harris.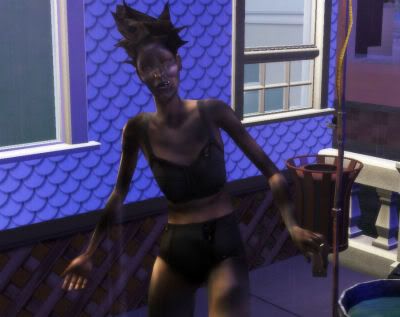 Beverly got zapped by lightning on her way out to the energizer, which burned off everything but her 18 hour bra and her granny panties.
She was able to physically recover, wash off the soot, straighten her fried hair, and change into identical foundation garments and clothing just in time for her garden club inspection.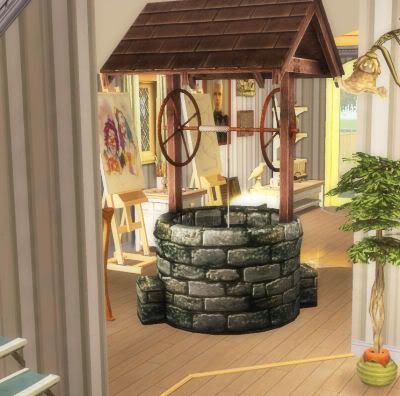 As expected, Beverly had no trouble getting into the Garden Club with a perfect score. It makes sense that she got the same great score, since it's the same yard they're inspecting. By the way, what a perfect spot for the second wishing well. :P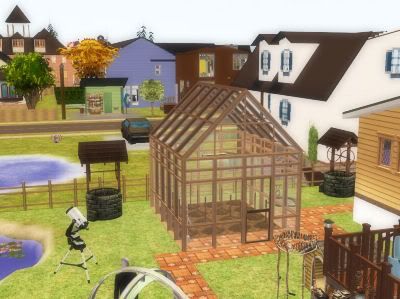 As you can see, the wishing well worked better when it was relocated out in the back yard like the other one.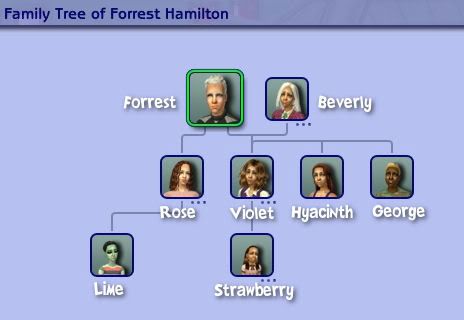 And now we must say good-bye to the Hamilton family until Round 7.
Scoring: 1 point for Beverly reaching the top of the Athletic career, 1 point for Forrest earning a Nature plaque, 1 point for Beverly earning a Nature plaque, and 1 point for Beverly earning an Arts and Crafts plaque. The population of Apple Grove is currently 63, with a total population of 66.