Sorry it's been so long - almost a month. I've been making a somewhat futile attempt to purge my 7.59G downloads folder, and so I'm still at 5.65G. In my attempts to locate some of the stuff, I found new stuff to download. :P
I think I've also been procrastinating due to the hugeness of this update that will have to be in 2 parts. My playstyle has slowed down a lot and I'm taking a lot more pictures, so I'm really going to have to play smaller rounds starting in Round 7. Anyway, Rose and Violet are sisters and their families are sharing the house that was formerly owned by Brian Tucker, Apple Grove's famous rock star.
Please refer to the previous post and/or the Round 5 update for the personalities and other details of the Jeffress/Miguel families.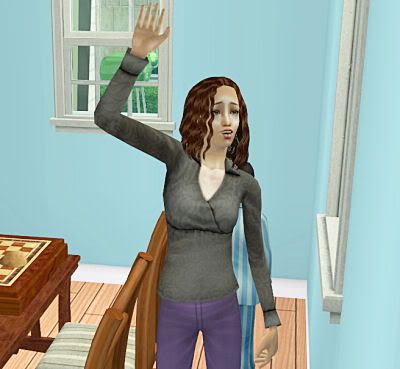 Rose returned to the dining room and stood in the exact same spot where she gave birth to Lime in Round 5. But it was a false alarm this time. I was confused, because I thought she was already very pregnant, but after the pop she only looked like she was in her second trimester.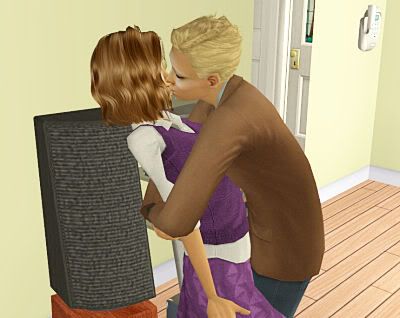 Almond is violently in love with his wife Violet.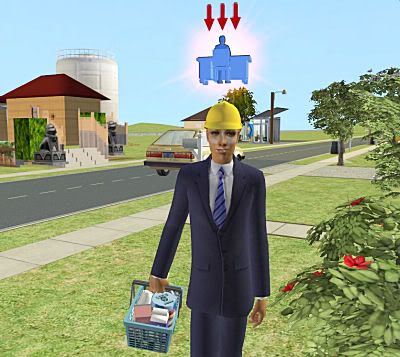 And he's a good husband who was thoughtful enough to pick up groceries on his way home from work despite being demoted. I'm somewhat fond of Almond, and almonds - yummy. Anyway, Almond has never done anything that I remember to annoy me, so I like him. Actually, I usually ignore his existence, which is probably healthy for him. ;)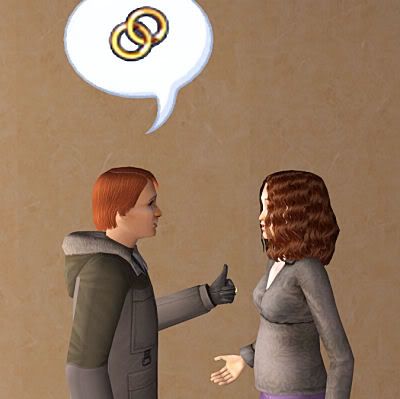 On the other hand, Rose's husband Apple is beginning to annoy me a little. Apple congratulated her on marrying such a wonderful guy - himself.
Violet has fulfilled her lifetime want and is now in the Hall of Fame with my simself and her mom Beverly Hamilton.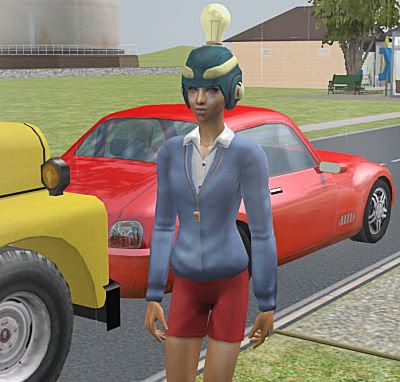 Unfortunately, she wore the thinking cap to work, so her picture in the Hall of Fame is going to look really nerdy.
See, I told you she looks nerdy. Maybe the powers that be, ahem,
me
will let her get the picture retaken some day.
I remembered to choose a random scenario. The family was supposed to get a pet bird and keep it - haha - until the end of the round. I have the worst luck with birds, so I figured poor Tweets' days were numbered.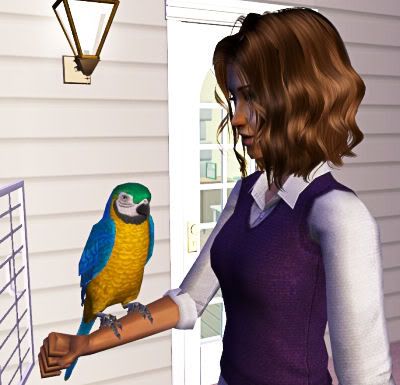 Hello Tweets. It's been nice to meet you. I hope we will see you alive again, but I seriously doubt it. Goodbye.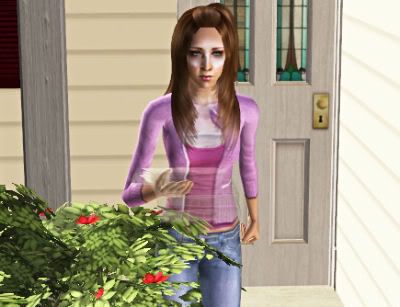 My fake daughter Amiee is back from college, and she's right back to her old vice of stealing newspapers. I guess I should have encouraged her to be nicer when she was a kid, but I really hate to change sims' personalities. It makes them more interesting to have flaws. Plus, I'm lazy. ;)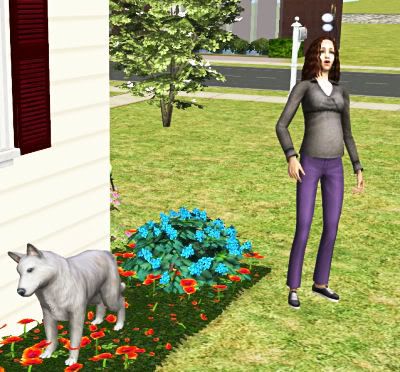 I thought maybe Rose was going to have an outdoor birth - outside with the wolf who was determined to destroy their flowerbeds... But this was actually the third trimester of her pregnancy, so the first pop was the second trimester. Since a long time has passed since I played this house, I assume maybe the accelerated pregnancy was actually due to a neighborhood reset. I guess her pregnancy is catching up to the proper stage or something. Or maybe it's just all in my head and progressing normally. I rarely pay much attention to the timing on pregnancies.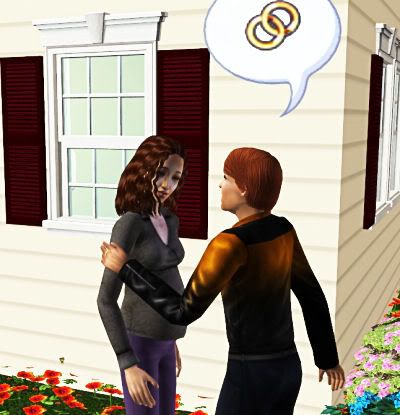 Apple helpfully congratulated her again on her fantastic choice of marrying him. I admire her for letting him keep that hand. Pregnant women should not be annoyed like that.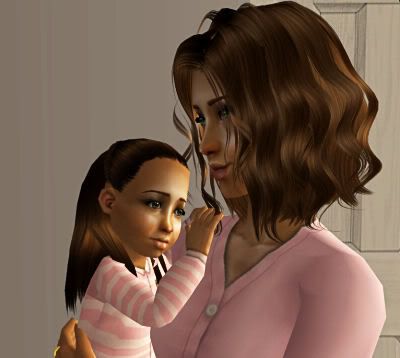 This is a very pink mother and daughter picture of Violet and Strawberry. I think Strawberry's facial features look more like her daddy Almond, but time will tell.
Almond got promoted back to his job as the head of a construction company.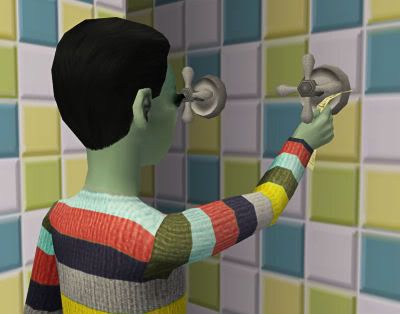 I was wondering why Lime was inserting his A+ report card into the shower knob.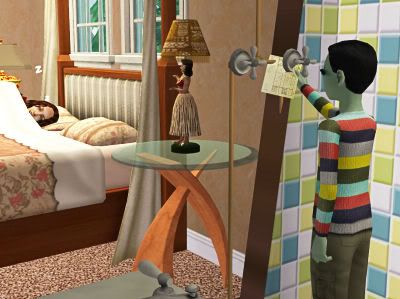 His mother is asleep in her bedroom on the other side of the wall, and he's determined that she see his report card. It's good that she locked the door so she can get some much needed rest from these annoying people.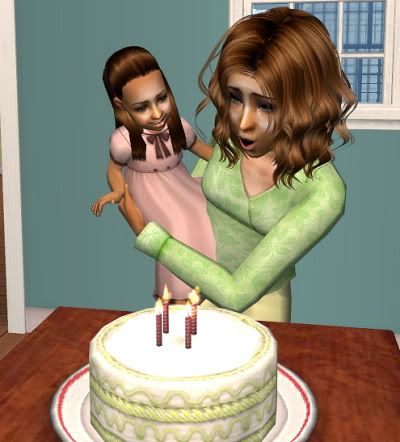 It's time for Strawberry's birthday today. Come to think of it, it's Lime's birthday too, although he's not allowed to blow out more candles until he's 11 years old. It's the law.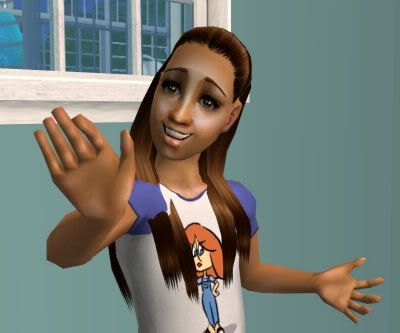 I think Strawberry is a cute kid.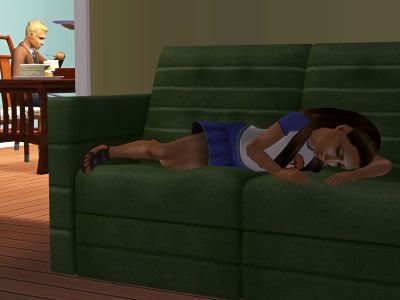 I wondered why she crashed on the couch
when she has a perfectly good bed in her bedroom upstairs
. Whoops. I had to go and make a bedroom for her.
Rose returned to her favorite birthing spot in the dining room with her arm around the chair back for support, and this time it was for real. Almond was there freaking out, but her "wonderful" husband is nowhere in sight. I guess he figured he did his part already.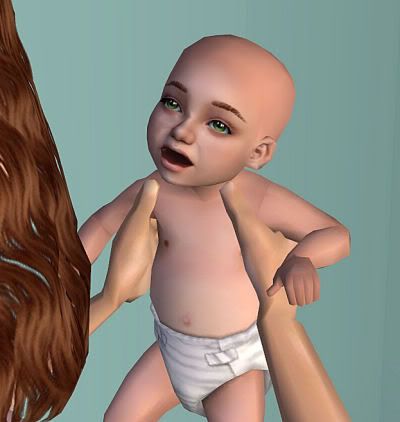 Rose gave birth to a baby boy who seems less than thrilled to be here. His name is Banana. Banana is a hilarious name, and that makes me happy.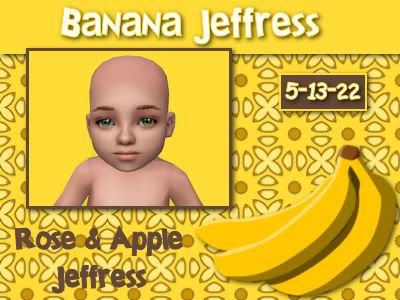 Banana was born on May 13, 2022.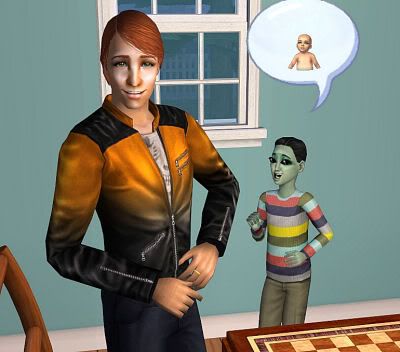 Apple finally showed up. He and Lime are happy about the new baby.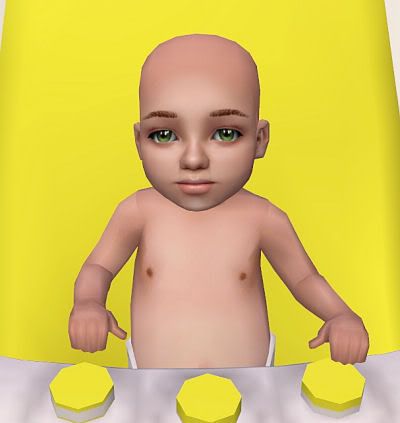 Banana, while cute, is still not exactly sure he's happy to be here.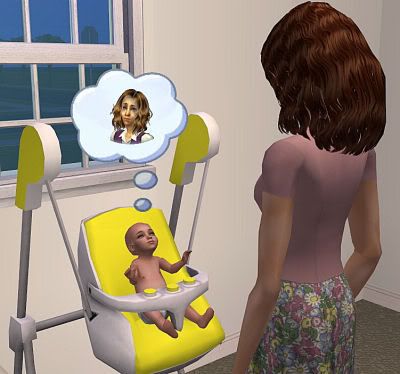 And he seems to prefer his Aunt Violet over his boring mom. Yeah, your mom only carried you around in her body for 3 sim years, you ungrateful baby.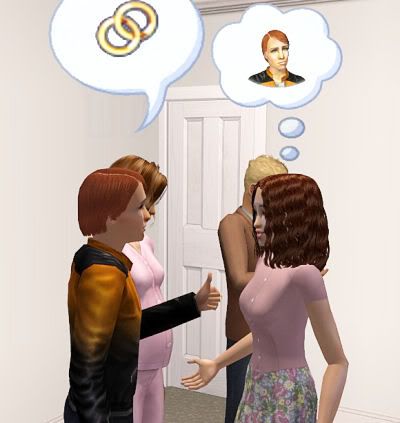 Of course, Apple could not waste another perfectly good opportunity to congratulate his wife once more on marrying such a wonderful man. Yeah. Right.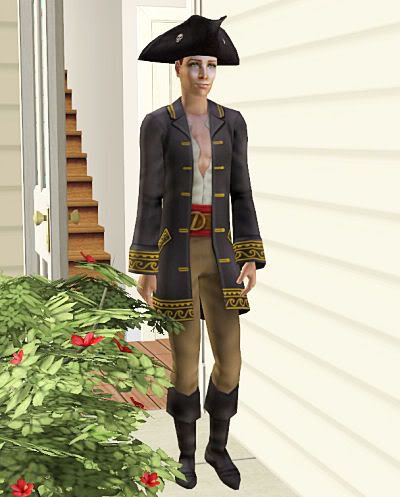 Apple headed off to work as a dread pirate. The Dread Pirate Apple - yeah, that sounds even less threatening than the Dread Pirate Wesley. Although, I hope Banana will want to follow in his daddy's footsteps, because the Dread Pirate Banana is just priceless. I may let him have that job even if it isn't his lifetime want just so I can call him the Dread Pirate Banana.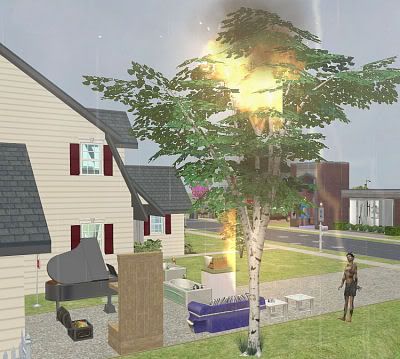 Gallagher Newson, one of the Newsons from Apple City who is now a teen, was walking by and saw the burning tree that had been struck by lightning. He came to get a closer look and to
freak out
.
He should have minded his own business and walked away. Lightning struck in the same place twice that day in Apple Grove. Thankfully, he lived through it.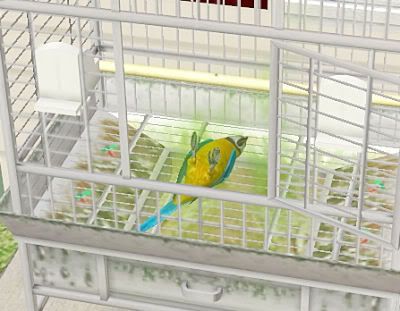 Tweets bit the dust though, as predicted. There was no warning or anything. If a bird runs out of food it dies, but his food was only halfway gone. It takes §20 to fill up his dish, and I had
just
checked and he still had like §11 of food left. He should have checked to make sure before he decided to die. :P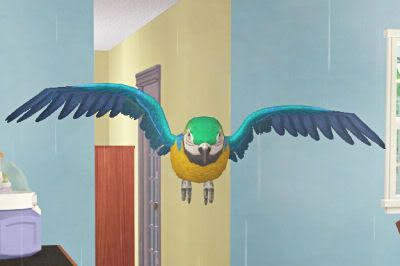 Tweets was soon replaced by Tweets 2, who is out of his cage because of the very useless nanny.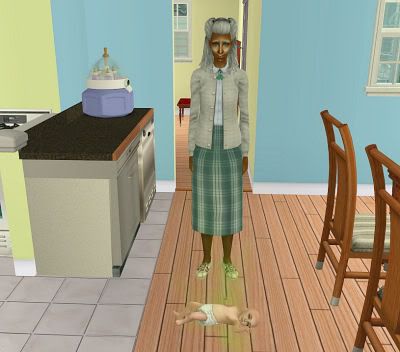 The nanny would rather play with the bird and let him out of his cage than to take care of Banana properly. Nanny Genesis Cormier sucks. They've been wanting to fire her, but she's been avoiding that conversation quite effectively for awhile. Whenever they try to talk to her about it, she suddenly gets very busy doing unhelpful but unstoppable tasks.
Rose became Chief of Staff at the hospital, which fulfilled her lifetime want.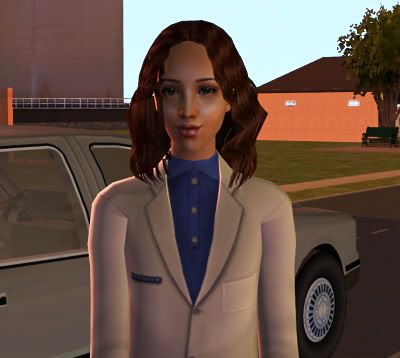 Yay, Rose! Chief of Staff!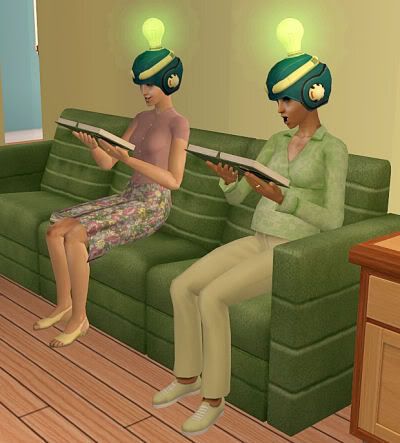 In matching thinking caps, Rose and Violet celebrate their promotions by doing what knowledge sims love doing most - earning skill points.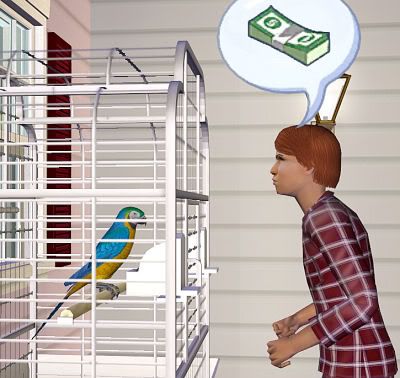 Apple is teaching Tweets 2 to talk. The original Tweets learned to talk, but he's dead. Apple is going to need a lot more charisma to reach his goal as a Space Pirate, and teaching parrots to talk will help him. O.o Plus, he's already a dread pirate, so having a parrot seems like a fitting pet for him. Hopefully, he can keep this one alive after going to all the trouble to train it to talk like a pirate.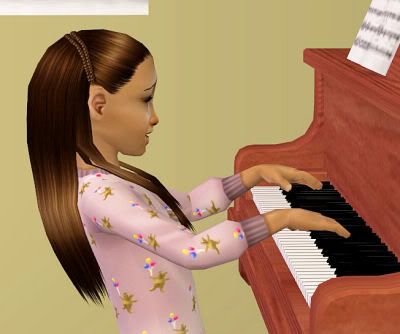 As soon as she could reach the piano, Strawberry got started teaching herself piano I really prefer this over jumping on beds and annoying people.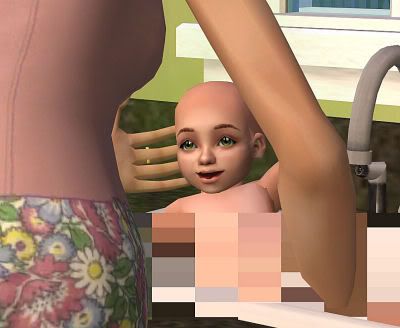 Rose and Violet both have irrational fears of changing diapers, so Banana is getting a lot of baths without getting a diaper change. That does not seem like it should work.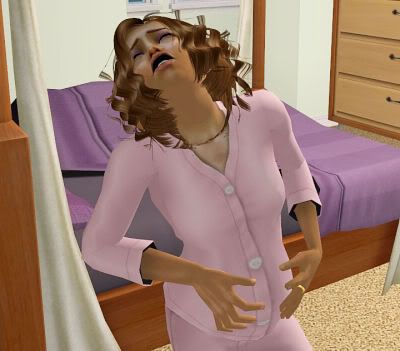 Violet went into labor, but broke tradition by choosing her bedroom for giving birth instead of the dining room. I guess she couldn't make it there on time.
She gave birth to a second daughter that they named Raspberry.
I didn't take any good photos of Raspberry as a baby like I had planned, but I did the best with what I had to make a birth announcement. She was born June 20, 2023, so she's just a little over a year younger than her cousin Banana.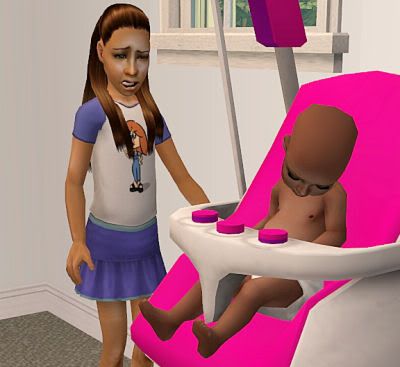 Strawberry doesn't look thrilled about a baby sister, but I think she's just jealous that she didn't get an awesome hot pink bouncy seat when she was a baby.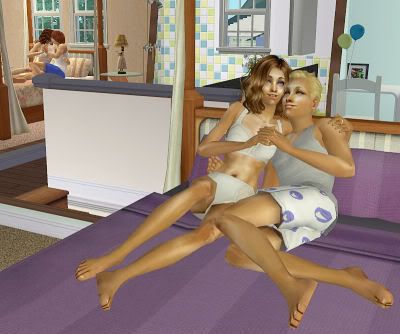 I guess that nothing puts sims in the mood more than watching a baby's birth. Both couples headed upstairs at the same time for some woohoo right after Raspberry was born.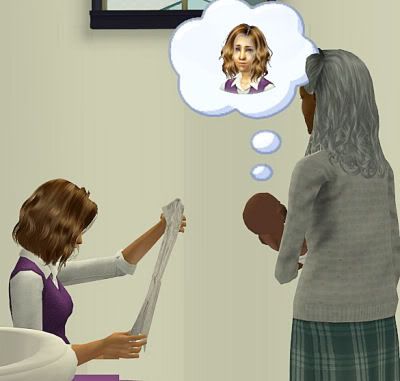 Nanny Genesis was not done with her shift, yet she felt a pressing need to barge in on Violet in the bathroom to hand her Raspberry. Nice. If only we could stop her from being annoying long enough to fire her.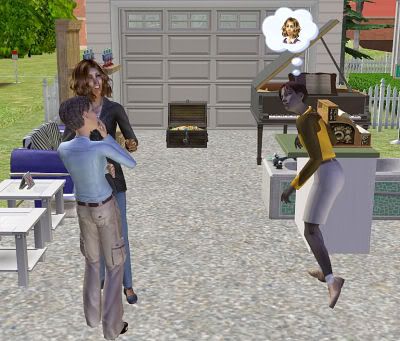 On nice days when there aren't massive thunderstorms they've been taking turns selling off some old, unwanted stuff. Thankfully sim furniture doesn't get damaged by rain so they can leave it outside during storms. Some of the stuff was Brian Tucker's so they're hoping to get a good price. It really only takes one available person to run a yard sale since I don't have them restock. I've been having them use their sales techniques only on the townies so that the playable sims won't buy as much junk to sell off when I get to their houses. But I see that Elmer the zombie has shambled over to look through their junk.
Apple is now a Warhead Disarmer. Sometimes I wish I were the kind of simmer that would roll a die every day he went to work for a random chance of him blowing himself up. But, I don't really hate him (don't like him that much either). If I really hated him I'd make sure he died, but then I'd feel bad about it. I know, I have issues. ;)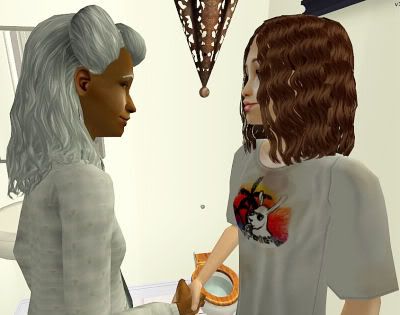 Finally
, Rose was able to corner Nanny Genesis in an upstairs bathroom long enough to give her the heave-ho. Genesis was useless, and Rose and Violet had plenty of vacation days saved up that someone could always be home for the children until they are at least teens.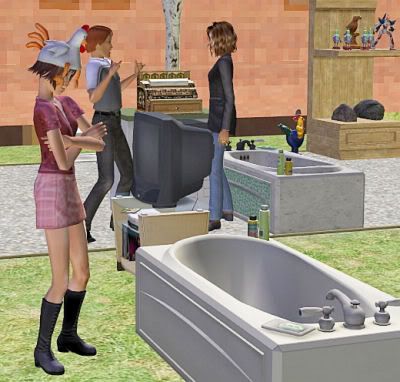 As you can see, the family has been doing some bathroom remodeling, so they're selling off their old tubs. I'm not sure why Chick-Fil-A Fletcher was interested in buying old bathtubs, but I guess she loves a bargain no matter what it is.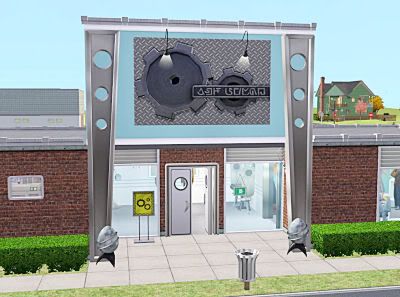 Since Rose has a secondary aspiration of fortune, she decided to start her own business, Rose Electronics. I thought maybe an electronics store that also has some of the crafted robots might be something a knowledge/fortune sim would find interesting.
She needed a manager, so she hired Belladonna Tucker to manage the store when she isn't there, but then sent her home. I'll admit that with most of the owned businesses, they try to get by with as little staff as possible so that they can make a profit.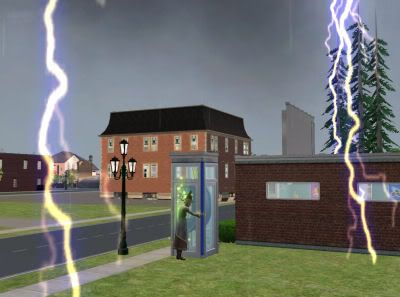 It didn't take long for
Maura Trimble the Atrociously Evil Witch
to show up and start some chaos.
But the storms did not have any impact on the level of business being done inside. I love this picture because if you squint, you can see that every customer is male. It's like Radio Shack in there.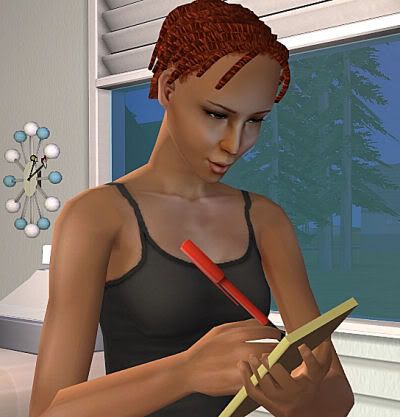 Lisa Pons came by the first day to review the store. Thankfully, she gave the store a good review. She has been known to be a real jerk sometimes, and I really don't like to see her. Ever.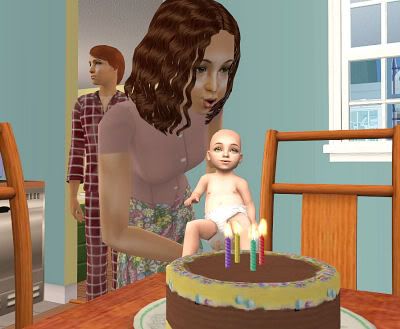 It's time for Banana's birthday.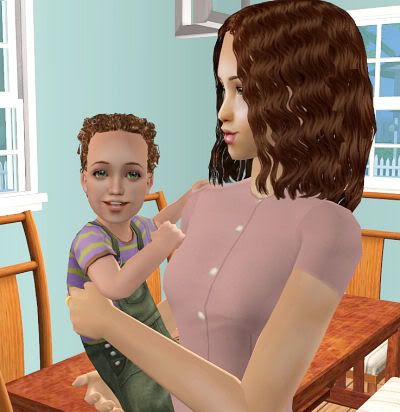 And I think he's a really cute toddler. He looks almost happy now.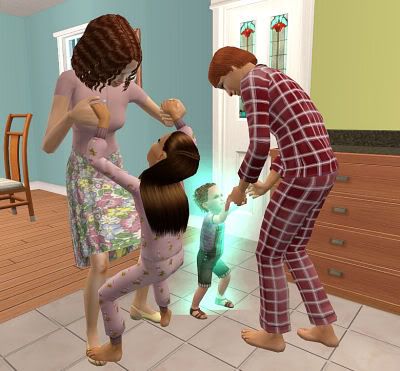 The kitchen was usually a busy place, but especially at the moment with Apple teaching Banana to walk and Rose dancing with her niece Strawberry. I wish I could say the kitchen was a warm, friendly place where family meals were cooked with love and care, but it is mostly the place for grabbing ancient leftovers, or for kids to burn muffins in the toy oven.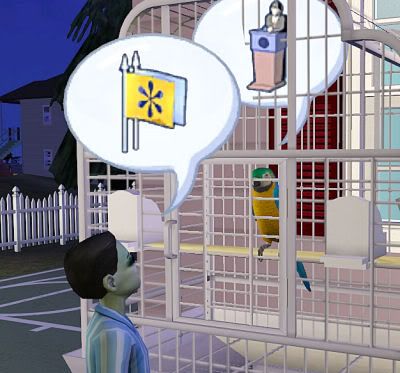 Tweets 2 has managed to live for awhile. I try to make sure they're constantly checking on him and have them interact with him frequently so I make sure I remember him. The cage is so darn big, so he has to be placed out of the way on the back porch, which is not ideal for keeping an eye on a pet that needs such constant care. But, I'm almost starting to relax a bit and think that the last bird death was just an isolated incident.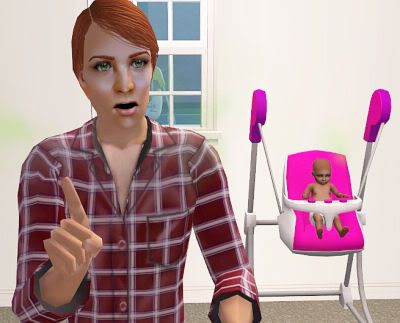 Apple can't even bring himself to look at his niece Raspberry who has a dirty diaper, but turned his back on her and gave her a stern lecture on cleanliness. He's a hypocrite, as he has his own green stink cloud at the moment, and he is actually capable of walking himself to the shower.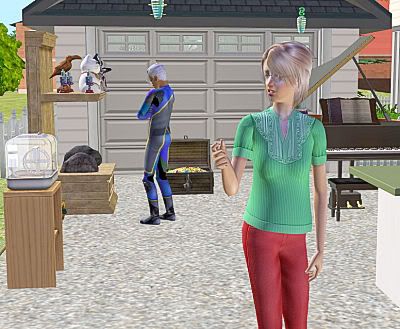 Grace Webb showed up at the yard sale, confused as ever. I think maybe she forgot where she was.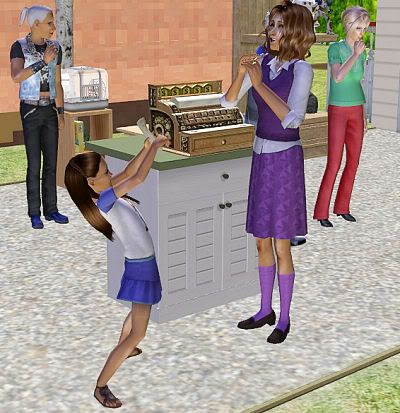 With the pace of life in Apple Grove at speed 1 instead of 2 or 3, we can enjoy some moments like the A+ report card viewing now and again instead of canceling it out every time.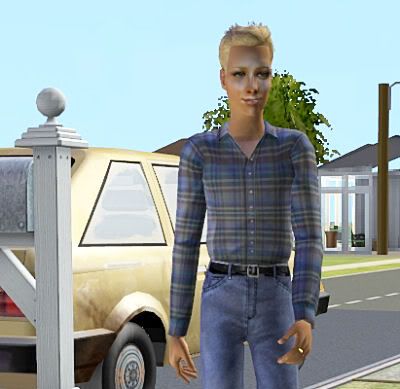 Almond came home from work with a tired, but slightly happy expression because he got promoted.
Cool. Good job, Almond. Now I will go back to ignoring you.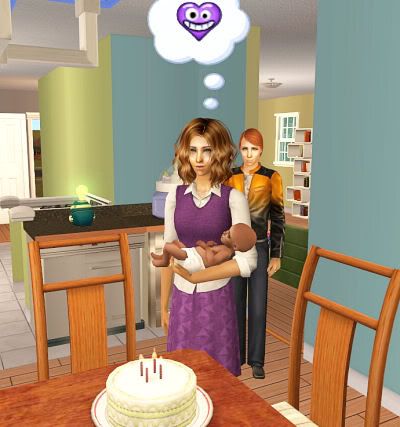 For a knowledge sim, Violet thinks about woohoo a lot, even at her baby's birthday party.
I wonder what Rose's problem is? Maybe she's a little jealous of her sister. Rose loves playing with her nieces a lot, and I think she wishes she could have had a baby girl.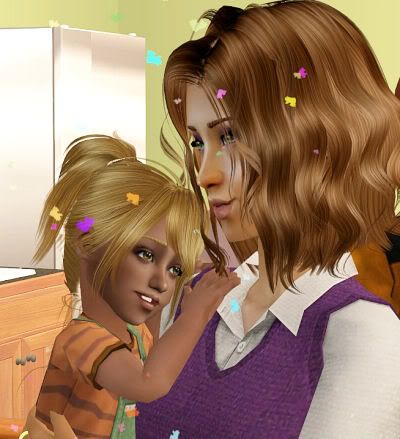 Raspberry seems to favor her mom in her facial features more than Strawberry does, but she has her daddy's blond hair, brown eyes and darker complexion. She actually has a custom genetic skintone which is darker-looking than my default skintones.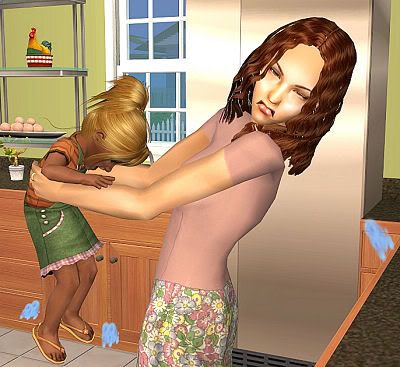 Rose couldn't resist playing with Raspberry and throwing her into the air repeatedly until she made her throw up blue raspberry milk.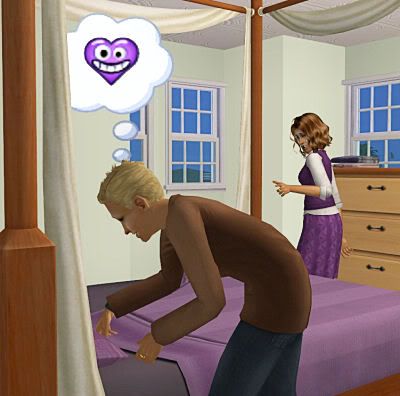 Meanwhile, Violet still has woohoo on her mind, and so does Almond. I guess birthdays really put them in the mood, too.Maybe any excuse will do.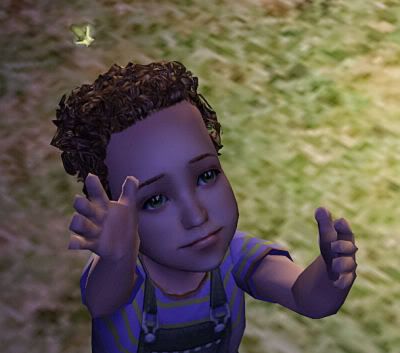 I was trying to find Banana, and he was outside trying to catch fireflies. So darn cute.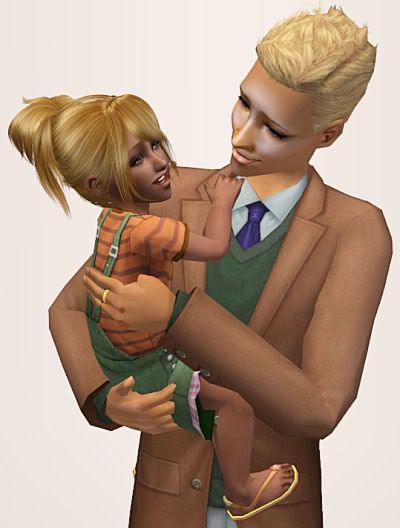 Speaking of cute, I loved seeing Almond holding Raspberry and love his expression.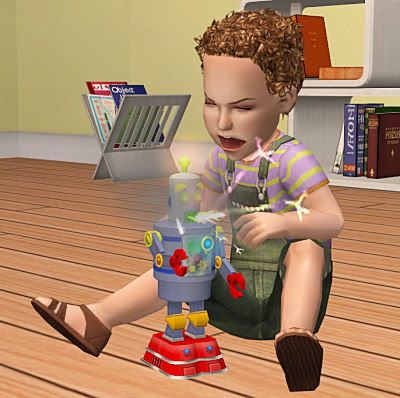 The robot toy is a popular item around the house, but Banana broke it, giving himself a nasty shock.
I figured I could finally help him find a yellow outfit. And like a banana, I thought he needed a few brown spots on his cheeks. ;)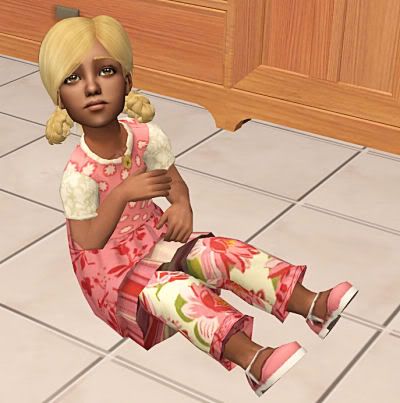 Raspberry got a makeover too. This little outfit used to belong to her big sister Strawberry, and she now has her hair in braids.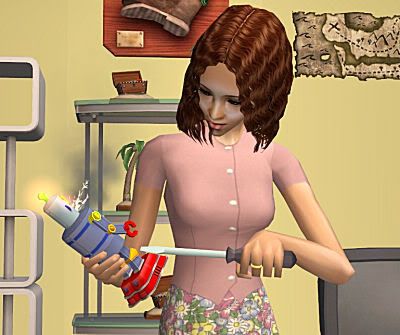 Rose can do just about anything, so she has no problem fixing the robot toy for Banana. She needs practice with robotics anyway as she now has a store that sells them.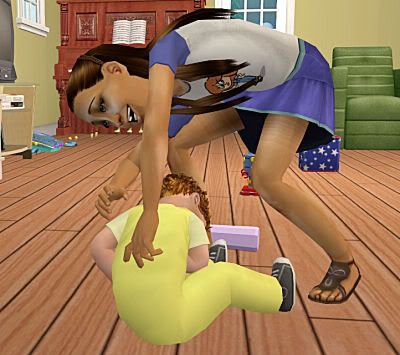 For some reason, Strawberry is really fond of her cousin Banana, and often has wants to play with him. I think that's sweet. I guess Strawberry and Banana get along just like the flavors do.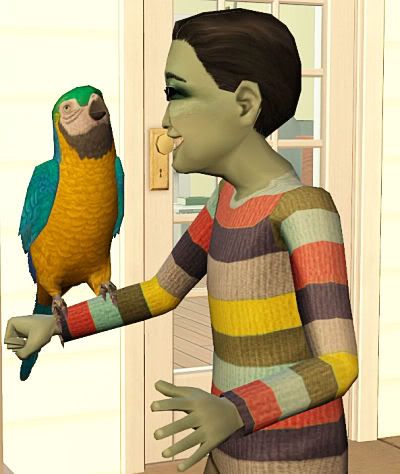 Now as we leave part 1 of the Jeffress and Miguel families, I'll let you get one more look at Lime holding Tweets 2. Will he be the last Tweets in this round? Find out soon (I hope!) in part 2.