As we return to part 2 of the Jeffress and Miguel families, we are now back at Rose Electronics. If you haven't read part 1 yet, you might want to go back to the previous post.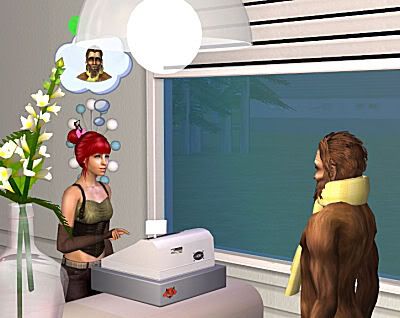 Rose's business was really taking off, so she hired Amaya Schweber, who is one of the local Gearheads, to be her cashier. The
Wookie
Bigfoot in the yellow scarf buying electronics is Mark Bigfoot, the first Bigfoot to move to Apple Grove who lives with the Martin Tucker family. Soon I will do away with the scarves. I like to be able to tell my Bigfoots, servos and plantsims apart, but that scarf just looks cruel and unusual on an already hair-covered being. I have other ideas about how I can individualize Bigfoot(s), thanks in part to Photobucket.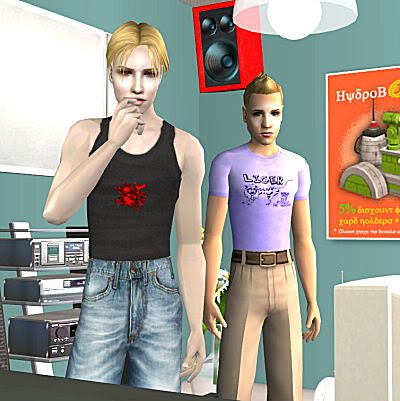 This must be a night picture, because vampire Daniel Brown is here shopping. Also, my son Jason is really into electronic stuff, so it's only right that he is here too.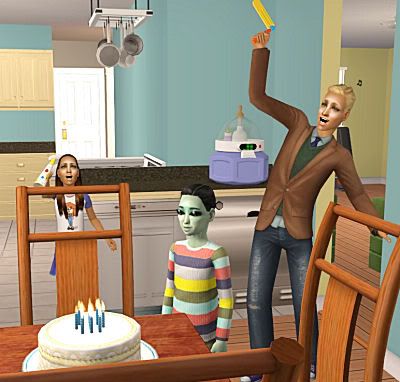 Finally, it has come time for Lime's birthday. It's actually Strawberry's birthday today too, but she doesn't get to blow out candles this time.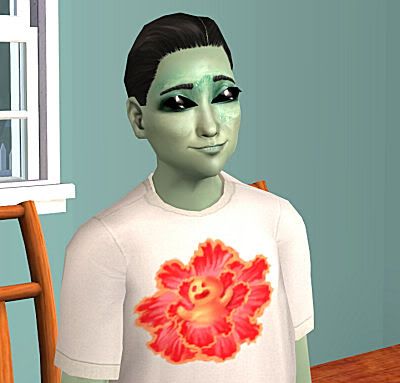 I see that Lime grew up in a Cabbidgimon shirt. He's a bit of a nerd.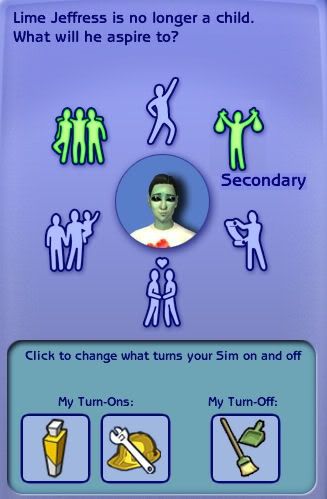 He's a nerd that really wants to be popular, and would also like some money. Lime is attracted to girls who wear perfume and are handy with a wrench, but he doesn't want them to be good at cleaning.

Lime's popularity and money desires are leading him down a dark path. He wants to be a Criminal Mastermind when he grows up. With his 8 nice points it seems a bit contradictory, but I guess if he wants money and the wrong kinds of friends badly enough then it could be plausible.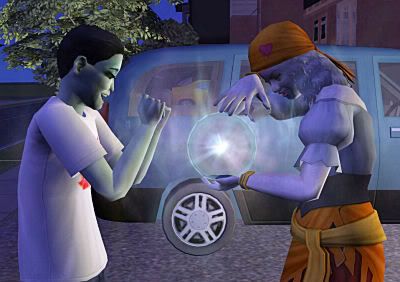 Eva Harrington, a new matchmaker in town, gazed into her crystal ball, and for a mere §5000 and found him a blind date.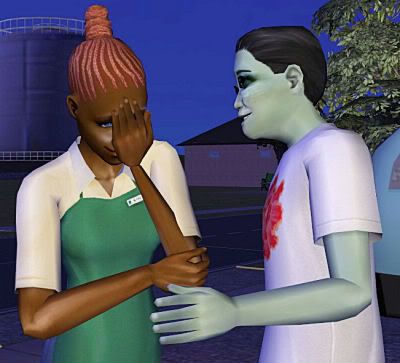 Laura Mellon is extremely shy. They have one bolt of attraction between them, but then it's difficult to find someone with Lime's very specific tastes.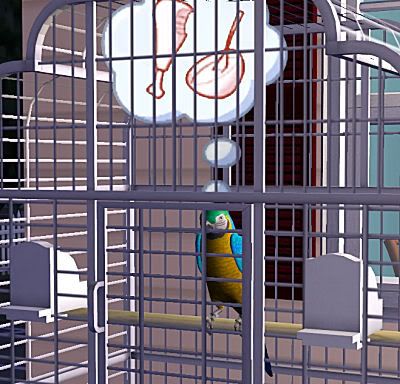 Tweets 2 ran out of food, but they were able to get food to him just in the nick of time. Whew!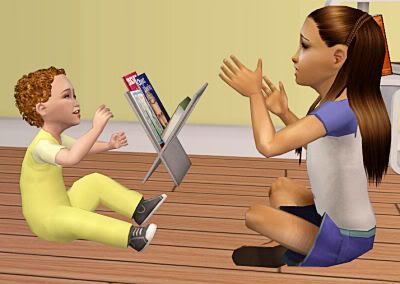 Meanwhile, Strawberry and Banana continue their friendship. Strawberry just loves her little cousin.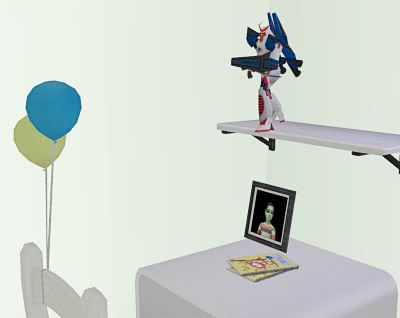 I can see that Lime's been neglecting his homework.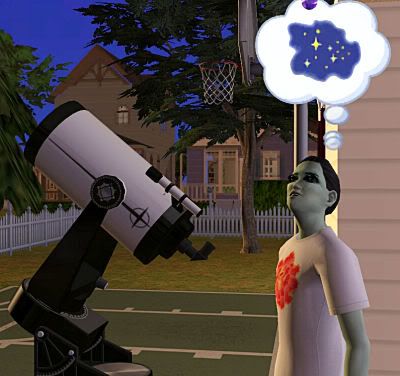 He wanted that alien abduction scholarship, but when it came time to actually stargaze, he did not want to do it. He groans every time he has to stargaze. He's not really interested in his origins, but prefers the here and now on this planet.
He got his chance to go buy a cellphone at Game S'more as is traditional for most teens when I remember. That will really help him to hopefully shed his nerdiness and begin making all those friends that popularity sims crave. And there I am walking by with my skinny backside. Yeah, this is the fantasy me. ;)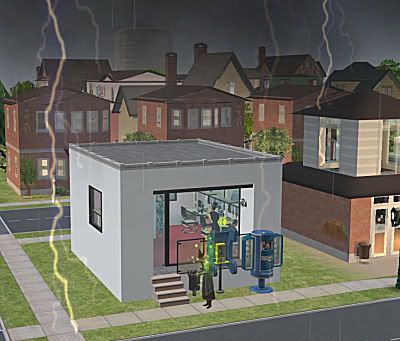 And again we have some terrible storms hit thanks to the atrociously evil Maura Trimble. She really needs to look in a mirror to see that she is wearing the neutral witch clothing now.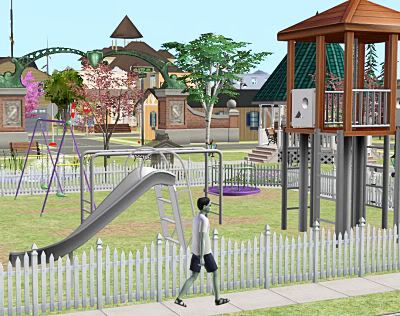 When he left Game S'more, Lime headed over to Apple Grove's central park to meet up with Laura for another date.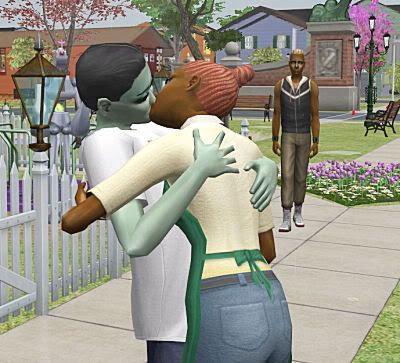 And he got to make out with her away from the prying eyes of his family, although there were plenty of other people around in the center of town.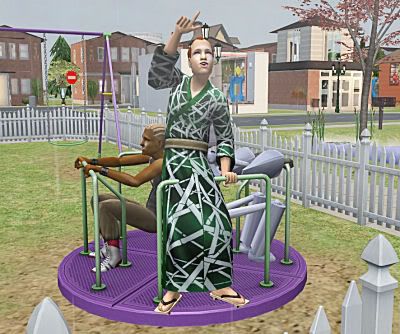 Like these bozos playing on the merry-go-round.
Lime also gave Laura a cell phone, as he had an extra one. I think Laura was unsure of what to do with a cellphone that didn't have texting. Sadly, there are no texting plans in Apple Grove. They have to actually talk to one another, and they have to walk around looking when they are going.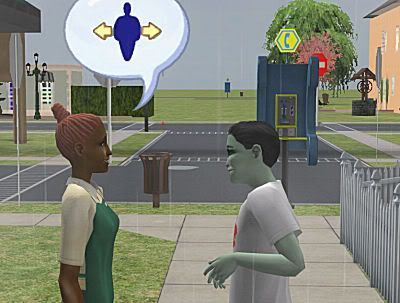 When Lime asked Laura what she liked about him, she told him she was just so happy he didn't have blond hair, but that she really hoped he would get fat one day, because that would turn her on. O.o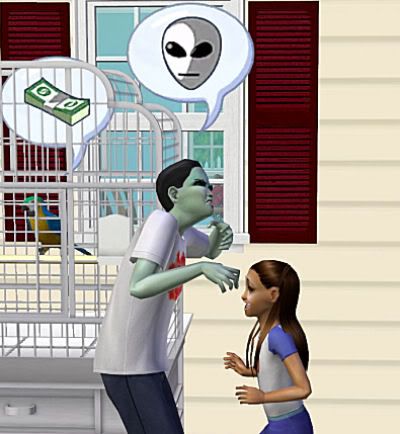 Lime tries to scare Strawberry with his scary alien stories he's heard, but Strawberry is not that worried.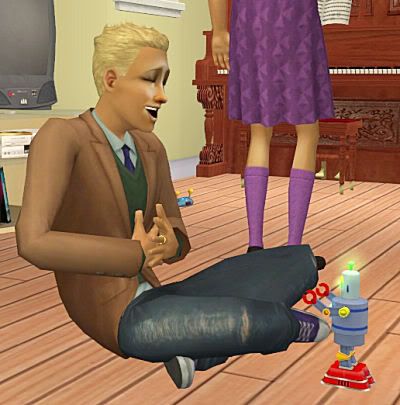 Almond thinks the little robot toy is a hoot. He has an absolute blast with it until it breaks.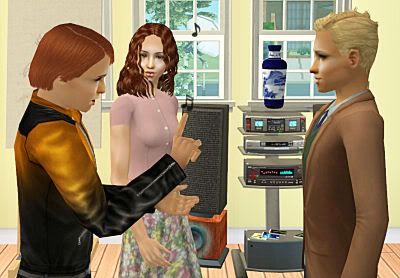 He got a stern lecture from his brother-in-law Apple about he should really be more mature and not be playing with the children's toys, especially if he was going to be so careless. And better yet, maybe he should go live in his own house and break his own stuff.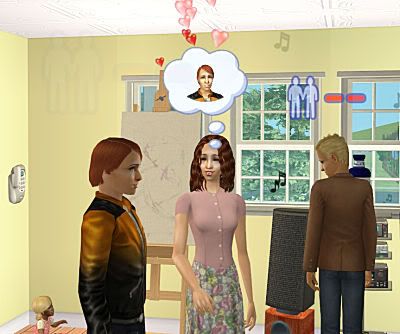 Seeing her husband take command like that really turns Rose on. Yuck, I just don't understand. Almond is not at all happy, though. He thought he and Apple were sort of friends.
Strawberry tried to pretend not to see Blondie the daughter of the tramp who runs the "massage" business (that's in the background) right across the street from their house. Everyone knows that Blondie is not really Brian Tucker's daughter - except Brian Tucker. But with 7 nice points, Strawberry is too nice not to greet and talk to her.
But she did mention to Blondie that just because she's rich and goes to a fancy private school doesn't mean she had to show off and wear her uniform all the time.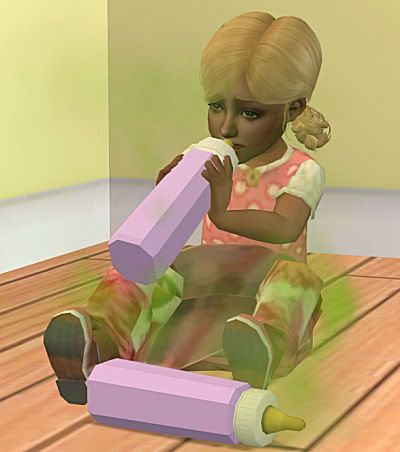 Oh my gosh, yucky! Where are your parents, Raspberry? Your Aunt and Uncle? Surely someone can get you a fresh bottle.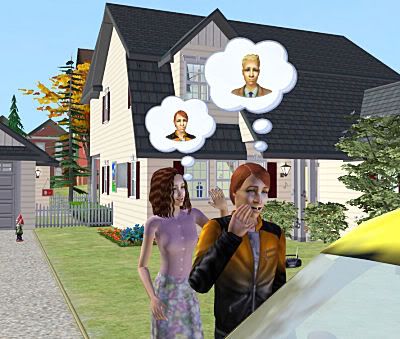 After the robot toy incident and the spoiled milk incident, Almond and Violet decided it was time for them to get their own place. Apple looks happy to see them leave, especially Almond. Rose thinks her husband Apple is going with them, so she looks happy too. I guess she's conflicted, loving her husband sometimes and other times wishing he would go away.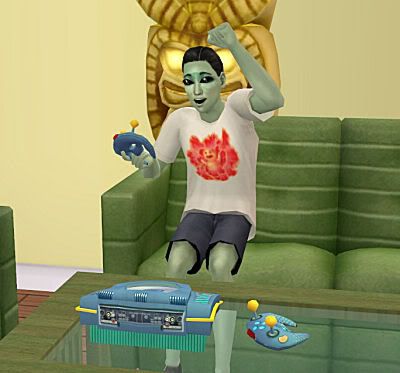 Uh-oh, Lime has discovered that there is a gaming system. Will Laura ever hear from him again?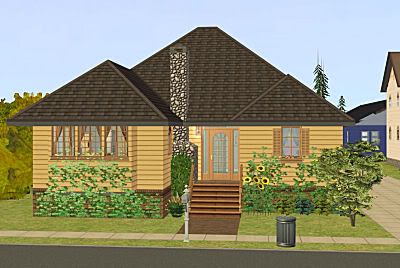 Almond and Violet bought this little houses on 120 Turnover Terrace. It's not that far away from Rose and Apple's house. They didn't have enough money to buy the house on their own, so they had to take out a loan from Simlogical.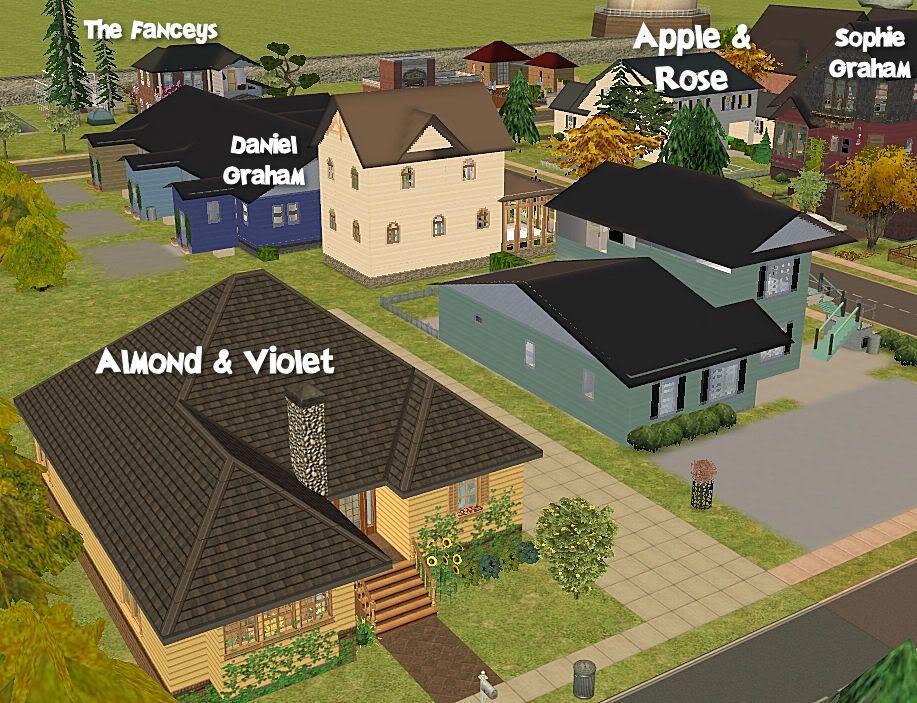 Click to get the BIG picture
Here's a better view of the neighborhood so you can see where they're living in relation to Apple and Rose's house. And it's as good a time as any to reveal where Daniel Graham and his sons ended up, which is in one of the rowhouses (dark blue) across the street from his ex-wife Sophie.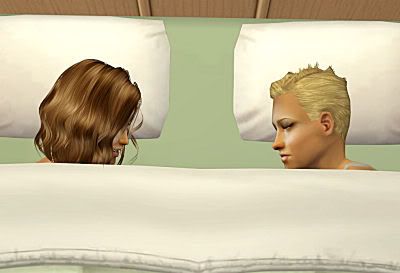 Violet and Almond were quick to break in their new bed, and heard a lullaby. Maybe they will get a boy this time.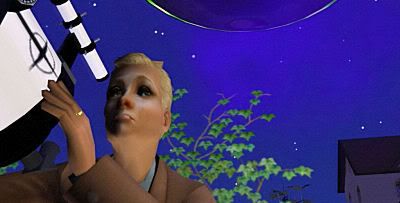 But one thing's for sure.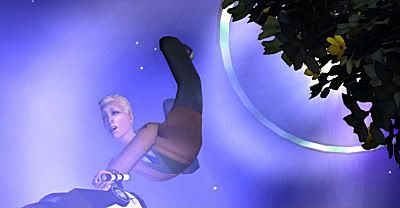 They're
both
going to be having babies now.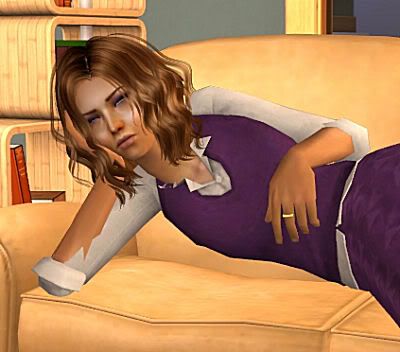 Violet's expression is saying: a.) I'm tired b.) I'm uncomfortable c.) I'm nauseous d.) I'm broke e.) All of the above.
If you guessed e, you are correct.
Really, you just need to see the bathroom to know that times are hard. If I could fix it myself or they could afford to replace the tub and toilet, I would. It's bugging me, but we'll have to leave the Miguels with a mess because their week is actually finished.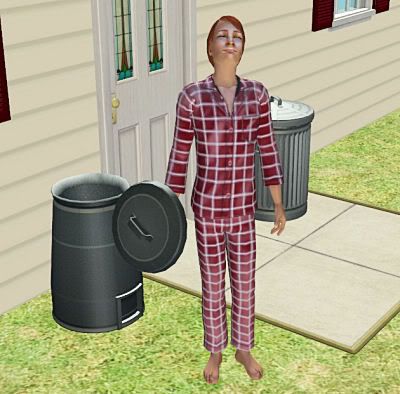 Apple just loves the fresh smell of compost in the morning, especially now that the Miguels have moved out of his house.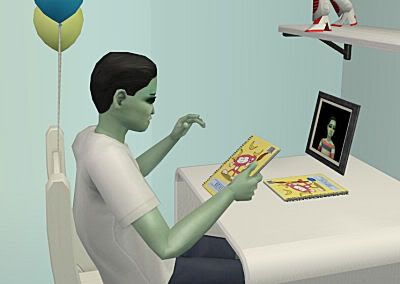 Back at the Jeffress house, Lime finally gets started on his dreaded homework. Since he can do this elementary school work in crayon, it shouldn't take him long to get caught up.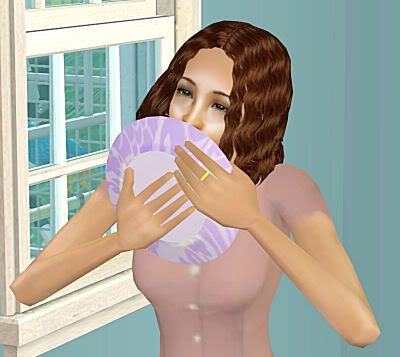 Rose does the dishes in her own special way.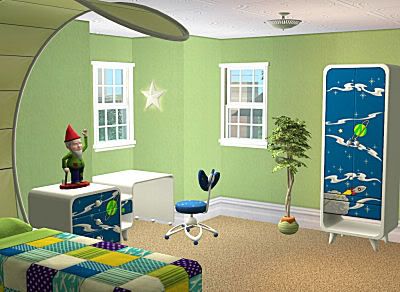 Now that Violet and Almond have moved out, I fixed up their old room for Lime. The gnome was one of many I found in his backpack. I'm not sure if they're stolen, but I don't remember anyone selling them before his family's yard sale. My guess is that his life of crime has already begun.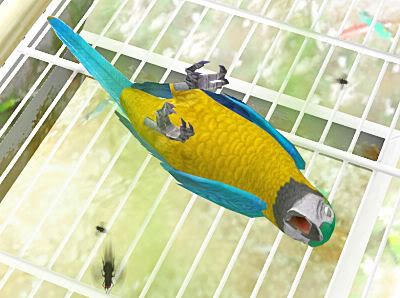 Oh no! Tweets 2 died! I really don't know how that happened. I thought I was doing a good job at keeping up with his feedings.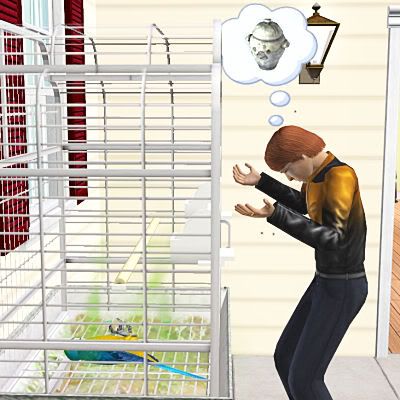 It seemed only fitting that Apple should mourn the bird that he worked so hard to teach to talk like a pirate.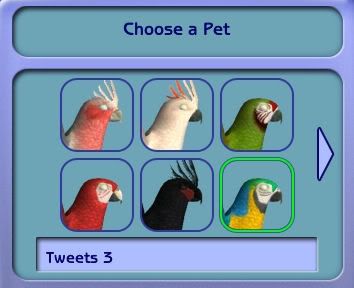 So they got another bird. At §400 a pop, this random scenario is adding up.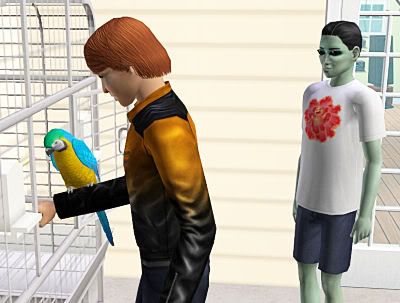 Lime is not sure he likes Tweets 3, even though he looks exactly the same as the previous Tweets-es.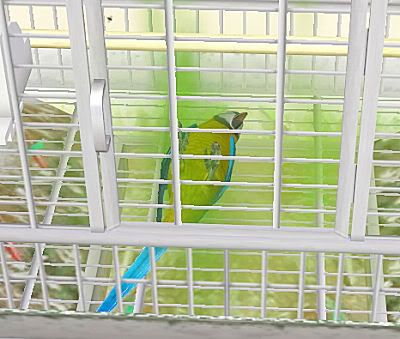 But it's a completely moot point anyway, because Apple forgot to add food immediately, and Tweets 3 died almost instantly.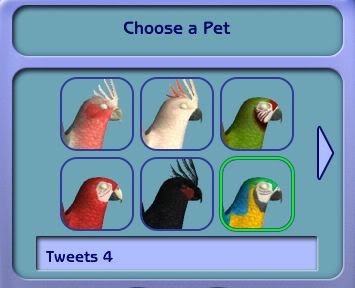 So now they are on Tweets 4. This is beyond ridiculous, EA Games.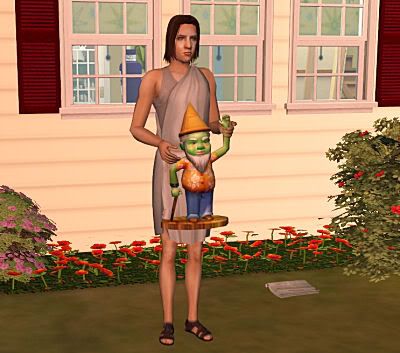 It was time for Banana's birthday. Lime wanted to throw a party for him. One of the party guests is my son Ian who is friends with Lime, and he wasted no time in stealing their alien gnome when he realized that the gnomes are no longer electrified. I guess I don't really need to mention that he's in the Greek house at the University of Applebama.
Poor Banana did not want a birthday party, so he took a small aspiration hit. But it was really no big deal, as he had learned all of his toddler skills and had plenty of love and attention from his parents so far to comfort him.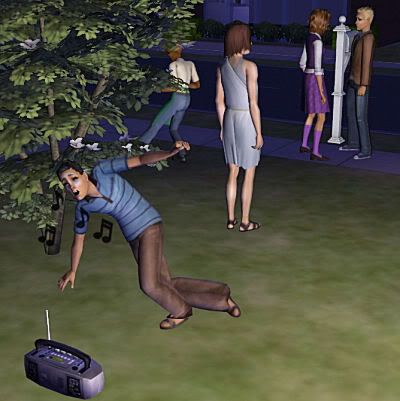 I was wondering why the guests were all out on the lawn until I realized the doors were locked from when they had the yard sale. I didn't want shoppers wandering around inside the house.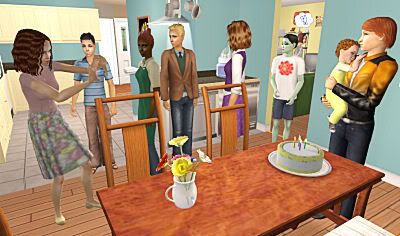 So I was finally able to get everyone inside for the main event - cake.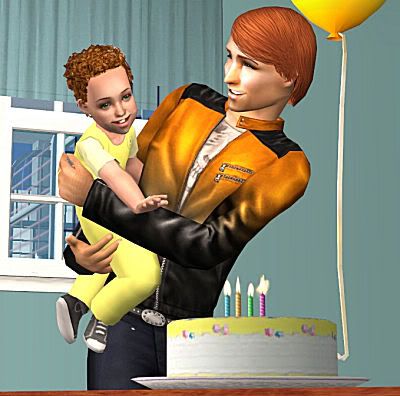 Banana wants at the candles.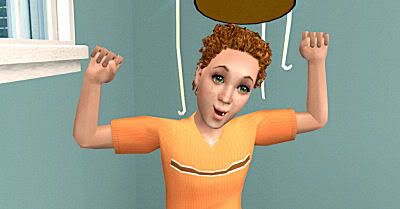 And oh my gosh! What is this?! A special event camera?!!!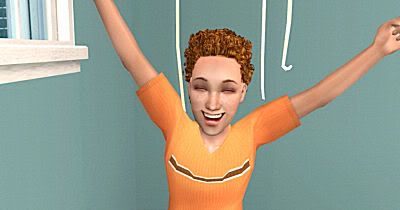 I have sadly never seen the special event camera for birthdays. I didn't even know it existed! That's sad, really. That says how many
actual
birthday parties I've had for my sims - like maybe one when there was only the original game.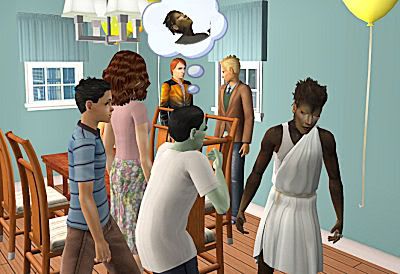 The party was soon interrupted by Ian's nightly transformation.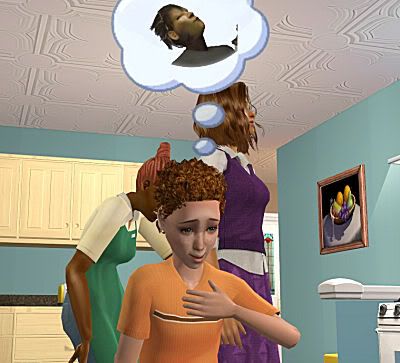 Poor Banana was really freaked out for awhile. I even saw him writing about it in his diary later. I sure wish I had gotten a picture of that, because I thought it was really interesting that it made such an impression on him.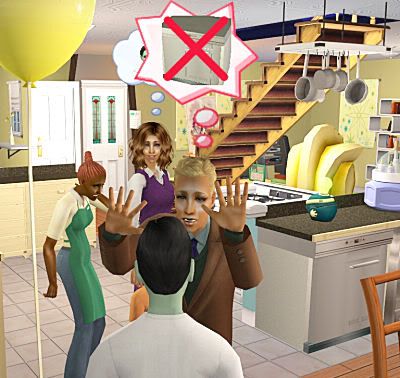 Almond is really unhappy that no one bothered to empty the trash compacter before the party. What?! I've never even thought about that. I thought trash compactors were just something you crammed trash into until you just couldn't cram anything more into them. That's what we always did to my parents' trash compactor. ;)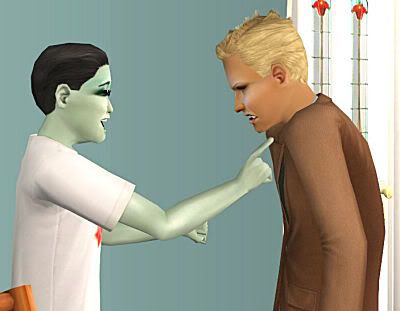 Lime thinks it's funny that his Uncle Almond (who he has a really good relationship with, BTW) is getting so angry, and gives him a little poke. LOL.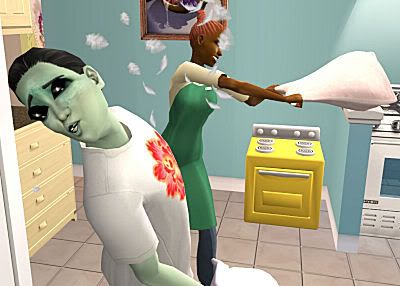 Lime made sure to invite Laura to the party as well. She gave him a good thwack with a pillow. I think it's interesting that they keep pillows in their kitchen.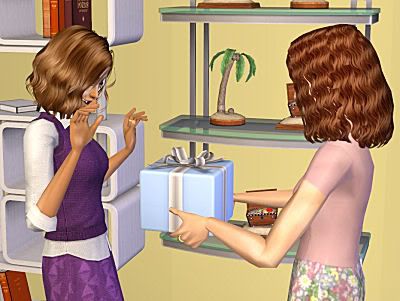 Rose wrapped up all her sister's old beds and furniture and put it all into this box. It's amazing how much you can fit into a small box if know know what you're doing.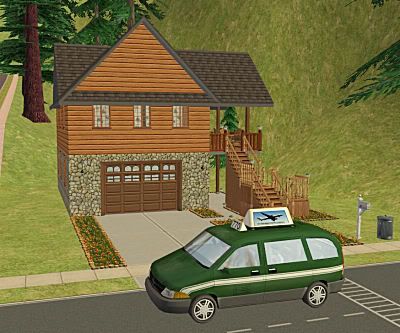 Since the Jeffresses are not completely broke and pregnant like the Miguels, they got to go on vacation to Three Lakes. And the Miguels were not invited.
Lime decided to use this vacation to change his image a bit, getting some new clothes and dying his hair green. It really conflicts with his skin tone, but matches his shirt, so he thinks he looks hot. He also wants to learn flower arranging. He just gets more and more complicated. He wants to be a popular, nature-loving, criminal florist.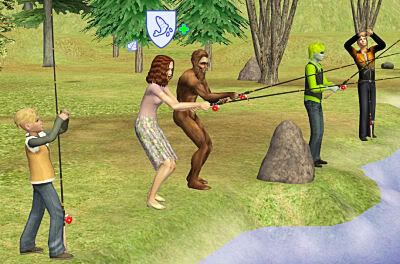 The family wanted to go and meet the most current Bigfoot living at Three Lakes. This one is Rawley Bigfoot.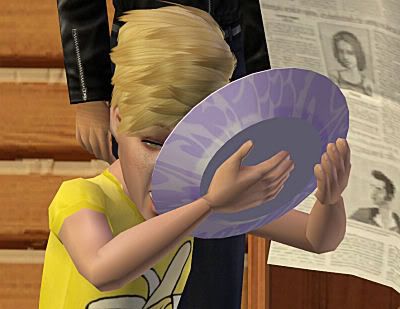 Banana saw his brother's hair and had to change his too. He wasn't allowed
to get any weird colors, but had to settle for blond, or banana-colored as he preferred to call it. Oh, and he loves to do dishes just like his mom.

I did not know that the social worker could threaten you while on vacation.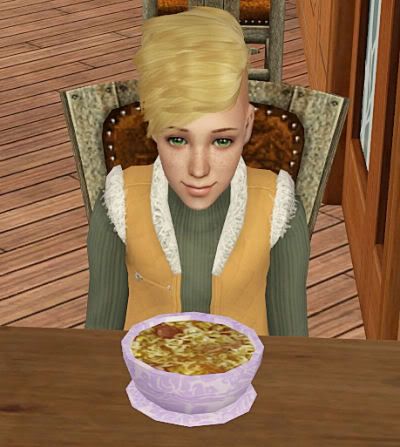 Speaking of food, it was weird that when I sent Banana to try flapjacks, he ended up with what I assume was ramen instead. I didn't even see ramen on the menu. But he did get his flapjacks finally.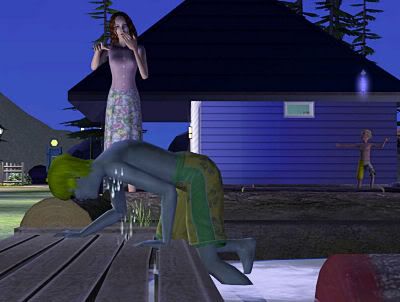 Nice, Rose. She was pointing and laughing at Lime for falling off the log when he and Apple were having a log-rolling contest.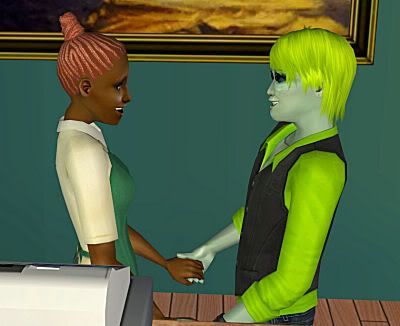 Guess what? Laura works at Three Lakes as a cashier in the clothing store. I guess Lime was surprised. She seems to approve of his new look.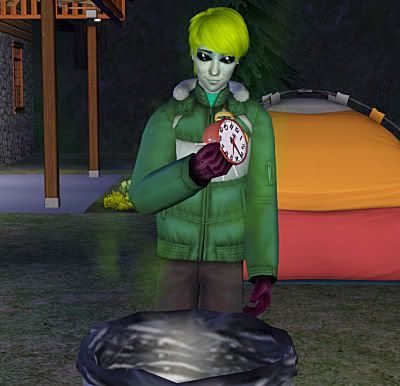 You know what I remembered? Sloppy sims can salvage stuff from the trash can. It was a lot of fun for me, and even somewhat fun for Lime, although he got pretty smelly. He was able to make an average of §50 simoleons for each full queue of salvaging.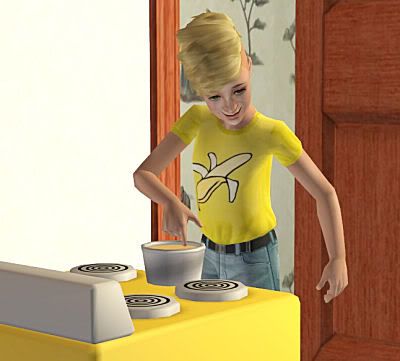 Banana used his banana-colored toy oven to stay fed on vacation and keep the social worker away.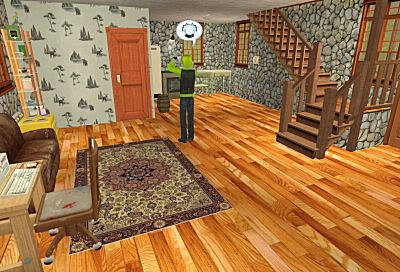 I decided that the garage part of the vacation home was unnecessary since they walk everywhere anyway. I decided to make it into a living area/kitchen for them.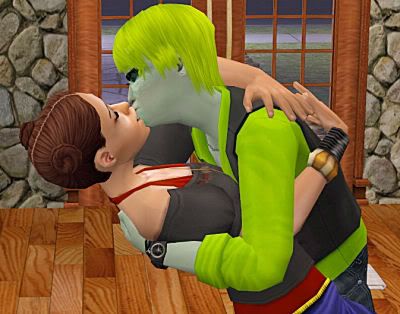 Uh-oh, this isn't Laura. This is a Three Lakes local named Emily Mellon. Lime has about the same amount of chemistry with her as he does Laura. He wanted to go on a date and Laura was not available, so he thought that since he isn't repulsed her, this girl would do nicely.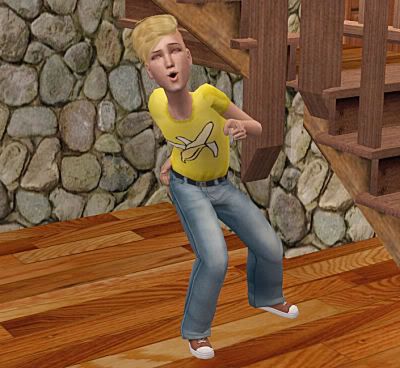 Banana is dancing the smustle, probably to some Bananarama.
Apple absolutely hates the vintage radio and is ready to get back to the world of technology.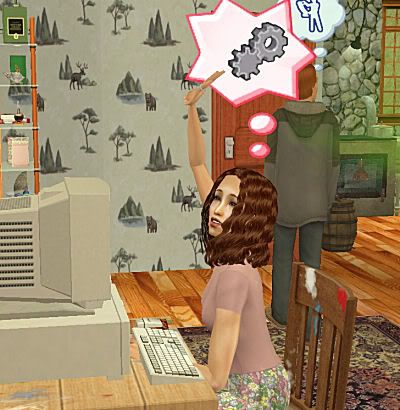 Rose must feel the same way because she seems to think that this old Moneywell computer is so old it has gears instead of Intel Inside.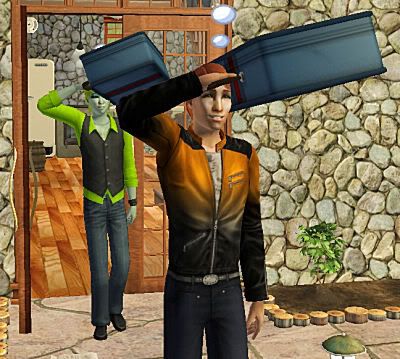 So they have now packed their bags and are heading to the shuttle. Apple and Lime do the simultaneous suitcase salute in farewell.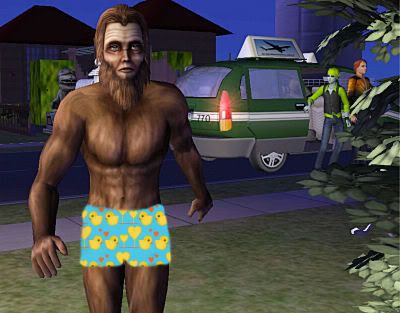 And surprise! They have adopted their very own Bigfoot! Rawley has brought his §1 and his virtual ducky shorts and is moving in. Virtual Ducky Shorts are courtesy of Photobucket and
COLOURlovers
. Photobucket finds a nekkid bigfoot offensive and have rejected at least 3 of my pictures of Bigfoot(s). So from now on, Bigfoot(s) in Apple Grove will be wearing badly photoshopped, but fun sprayed on shorts. Rawley gets the ducky shorts because...

He wants to become the Hand of Poseidon. Yes, ducks have nothing to do with that, but they have to do with water, so it sort of works.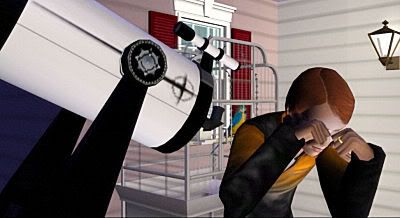 Apple has just seen something in the telescope, and has now been taken on a little adventure with some green guys. He isn't even a space pirate yet, but I bet he's up there in space somewhere yelling "Aaaarrrrgggghhhh!" and "Blimey!"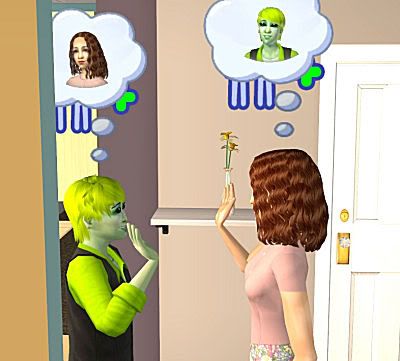 Now that Lime is a teen with florescent green hair, things seem a little awkward between him and his mom.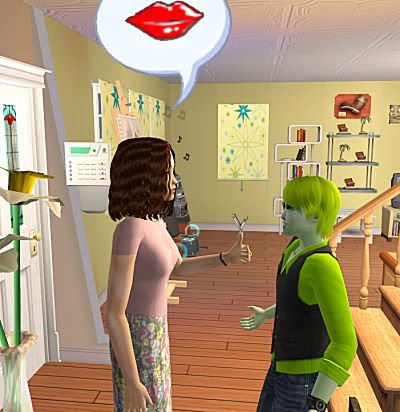 It doesn't help when she congratulates him on kissing those girls. What does he say to that?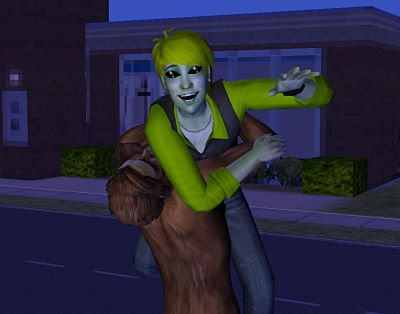 Rawley really likes his new friend Lime, and gives him the honor of a Bigfoot Hug.

Wow, I've never seen that notice before. That might have come in handy the last 3 times. I paused the game and sent Lime to run to the cage and feed Tweets 4.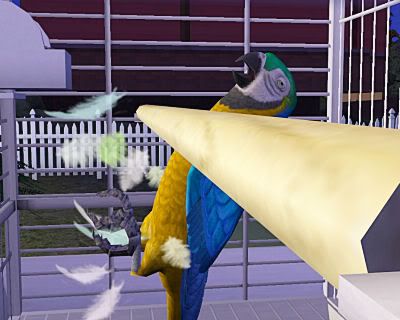 But it looked like it was too late, and Tweets fell off his perch to his death.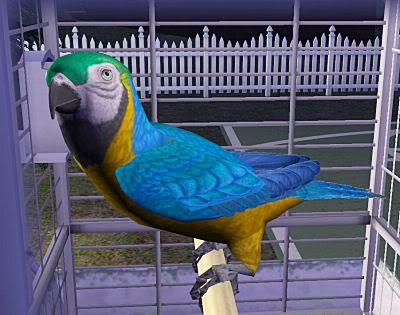 And then instantly revived when the food hit the feeder. I know it seems like I am making this up, but I have photos.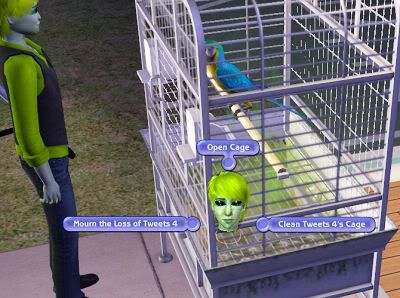 Tweets 4 is clearly looking alive, while his cage thinks he's dead. I wasn't sure how that would work out.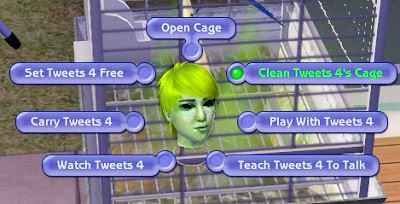 But in a few seconds the regular menu came back, and I just had Lime clean the cage, and the bird was fine. So, we have been through 4 Tweets this round instead of 5. And thankfully it's time to leave before we can kill off another one.
Next time I will play the Jeffress and Miguel families separately. We should be getting another green Jeffress baby, and at least 2 more Miguel babies - one of them will also be green. Hopefully Tweets 4 will get to live a good, long life - but odds are sadly not in his favor.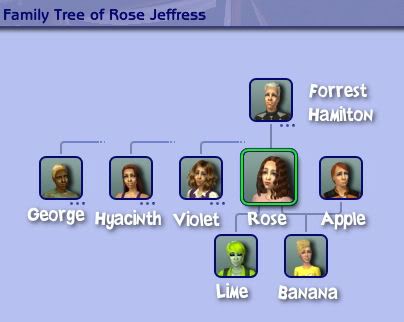 This is Rose's family tree so far.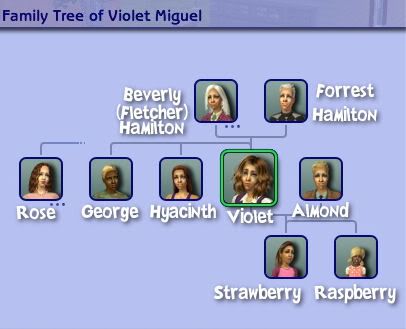 And this is Violet's family tree.
Scoring:
+ 2 for adding Banana and Raspberry and +3 Violet for all Lifetime Aspiration Benefits. The population of Apple Grove is currently 76, with a total population of 78.