Sorry, I said I was going to try not to take a month to update this time. Well it isn't quite a month yet, but it's close. Since my last update, I got myself addicted to Colourlovers, and then Pinterest. ;)
Anyway, we are back with the Todd family. If you read about
the Todds in Round 5
, then you might notice that Aloe and Belladonna look much different with hair and normal clothes. I think it's a definite improvement, especially since I can tell them apart. This is the Reader's Digest edition of what happened at the Todd house. I could have written another 2-part update, but I just didn't want to. To learn more of the details of the Todd family, please see the previous post.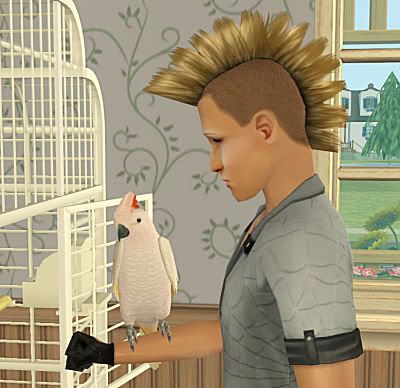 Unfortunately, the changes I made at the end of the last Todd update did not get saved for some weird reason. But I decided to go ahead and try to do some of the things - like give Charlie a bird.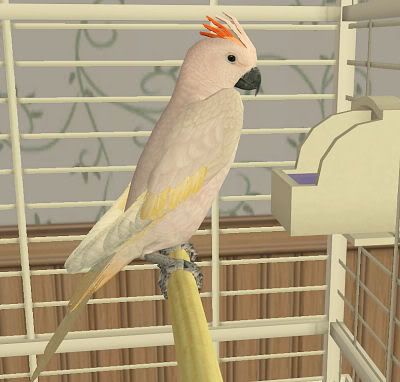 Meet Screwed. Again. Considering my luck with birds, the name will be sure to fit the poor thing.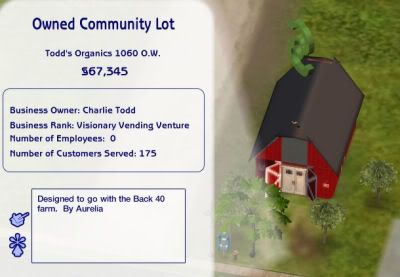 Just an FYI, Charlie owns Todd's Organics, where they sell their family's produce along with regular groceries and some gardening supplies and miscellaneous stuff. Nothing very interesting happened there on this round, although they did go and run their business several times.
Belladonna LOVES hugs. All the time. Especially from Uncle Charlie. Yuck.
Belladonna and her mother Aloe are both Romance plant sims with a strong attraction to Charlie. Instead of going outside for much-needed sunlight, they hang around him all the time waiting to hug him. It's a dangerous situation that reeks of a potential daytime talk show. I will have to start finding these two some men.
Thankfully, Charlie is very committed to his wife Catherine, even though she's 24 years his senior. Aloe is Catherine's sister, and Belladonna is her niece. Catherine just took her retirement. Maybe that will help keep Charlie away from Aloe and Belladonna.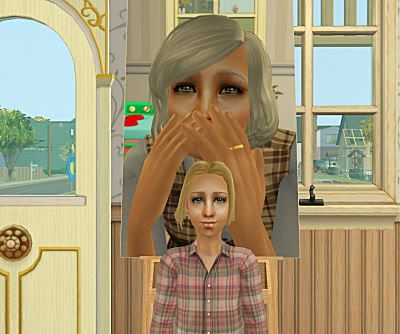 Aleksei is Charlie and Catherine's son. He's very gifted at painting, and painted a picture of his mom, even though she was too embarrassed to pose properly.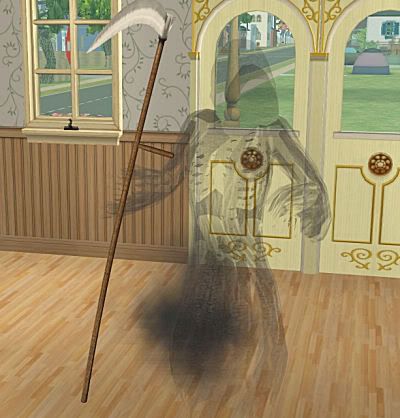 Oh no, they have an unwelcome guest.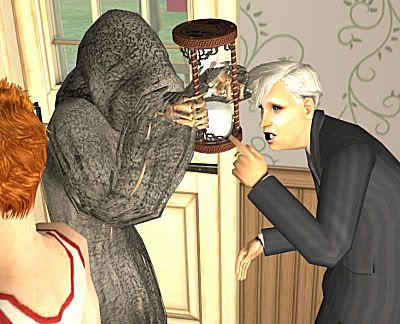 Fortunately, he is there for Adam Harris and not for any member of the Todd family.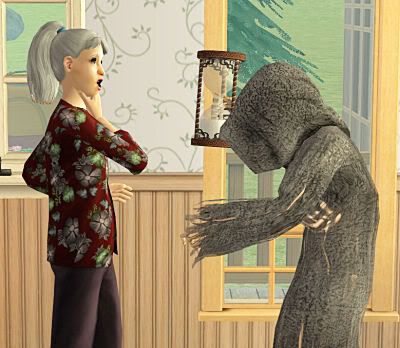 And he came back to get Adam's wife, Diana. You may wonder why this is happening. I'm trying out
ancienthighway's hack
that allows non-playable sims to age on your lot if they are there at 6 pm. Unfortunately, time was up for both Adam and Diana Harris.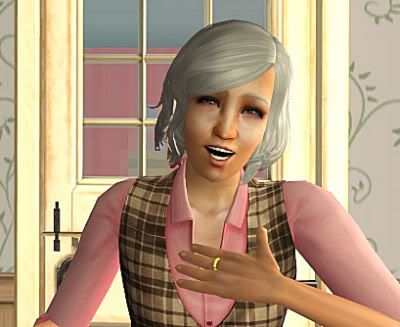 Catherine was so relieved, as she isn't quite ready to go just yet. I didn't realize at the time why she was so relieved, but she is worried that she might not live long enough to achieve her LTW of celebrating her Golden Anniversary.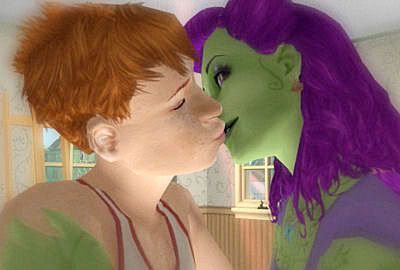 Belladonna grabbed Danijel Dalmatian and got her first kiss. He didn't seem to mind that much. Danijel is a custom townie I created in hopes of someday playing the 101 Dalmatians challenge. So far, he hasn't had much chemistry with anyone until now.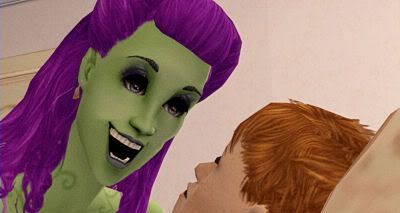 Before I could stop them, he even willingly obliged Belladonna in another first - in her Aunt Catherine and Uncle Charlie's bed. That's just wrong.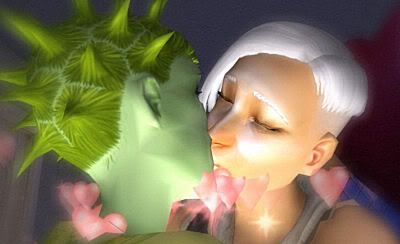 Sadly, Aloe was way behind her daughter in the romance department and was just now getting her first kiss from Kacper - the guy she fell in love with in the end of the last round - which technically didn't really happen.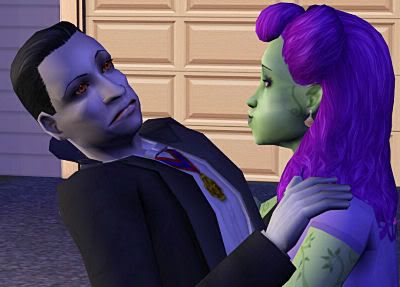 As a random scenario, someone at the Todd house is supposed to date several different NPCs to include a Grand Vampire, and Belladonna was more than willing to take on the challenge. Count Sabastian Harris is a little put off by the forwardness of today's modern woman.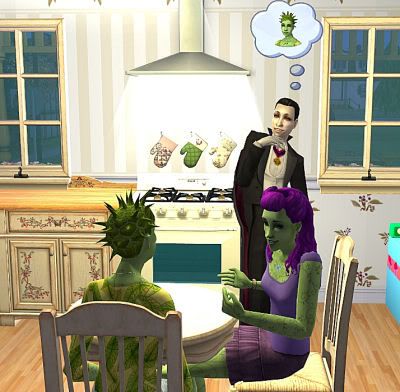 But he really was charmed by Belladonna's beauty -- as well as that of her mother Aloe. Yuck.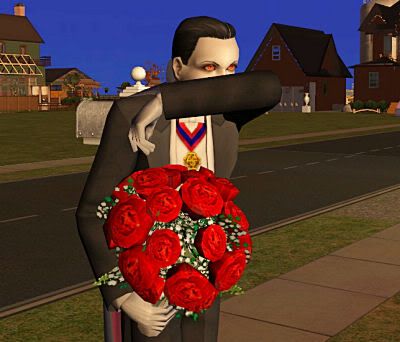 And it was a dream date. Count Sabastian arrived slightly before dawn to deliver a bouquet for the purple-haired beauty who had captured his heart - before rushing back home to his coffin.
Aloe is on a date with Metalfoot, the Tucker's servo who was built by Mark Bigfoot, who now (sometimes) has a face.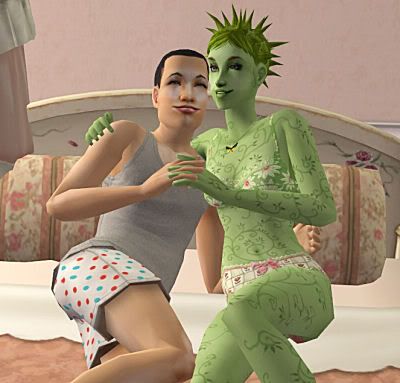 Oh, and Aloe got her first woohoo from this guy named Parker Brown who walked by one day and caught her fancy. And then there's that Kacper Larrea guy she really likes... She also has developed a crush on Heath Fancey, although I don't know when that happened. Hopefully, I can keep her away from him. Anyway, she is also "borrowing" her sister's bedroom.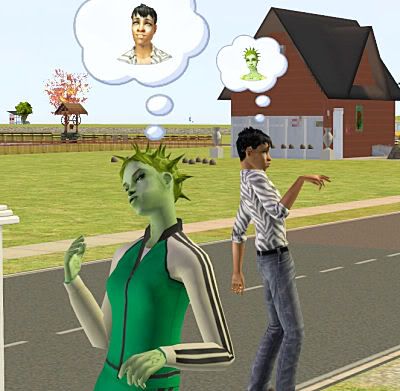 And as it turns out, Aloe also really has the hots for Wilson Webb, who is her co-worker. She brought him home with her one day after work, and I sent him straight home after I observed all the swooning.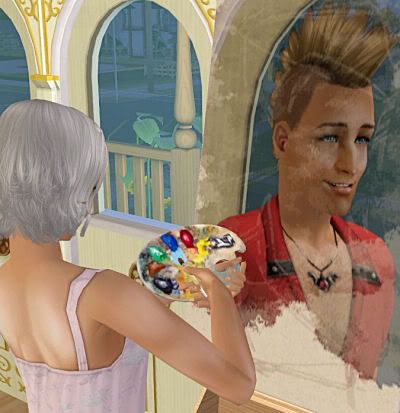 Catherine decided to paint a portrait of her dear young husband. She's also a romance sim, but she seems refreshingly committed to Charlie.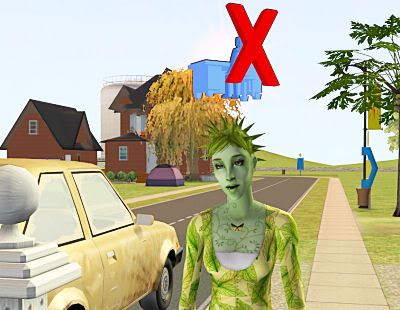 Poor Aloe lost her job as a freelancer due to a bad decision she made to add erroneous information to a website instead of revealing all she knew. Thankfully, she was able to get her job back quickly. She has a LTW to become a professional party guest.
Belladonna was on a date with a local chef when she got a surprise from Adam Harris' ghost. Adam's ghost may become a problem if he does much haunting, because he's a very unhappy ghost.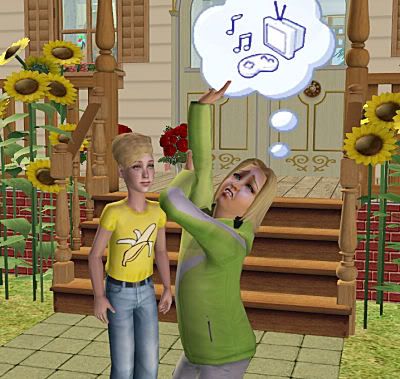 Aleksei brought Banana Jeffress home from school, but was too bored to play with him.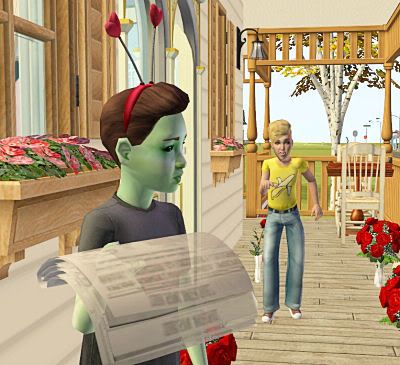 Despite being completely ignored by Aleksei, Banana was very angry at Jack-in-the-Box Fletcher for stealing the Todd's newspaper.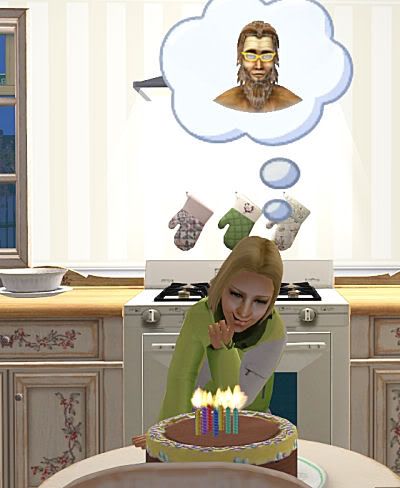 It's Aleksei's birthday party, and apparently his birthday wish is to have his very own bigfoot like Mark Bigfoot who lives with the Tuckers.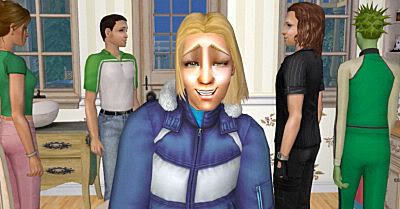 He didn't get his wish, but seems rather pleased about finally getting to be a teen.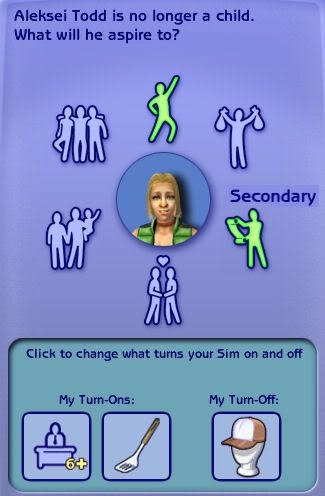 Aleksei lives for pleasure, but wants a little bit of knowledge. He's attracted to girls who work hard and can cook, but doesn't want them to wear hats.

Aleksei's goal in life is to become a Professional Party Guest. That will be easy.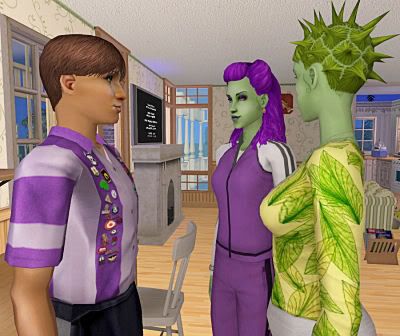 Any time there is a male around, both mother and daughter want him. This is Ethan Gray, a local waiter that Belladonna is trying to have a date with despite her mother's constant interruptions.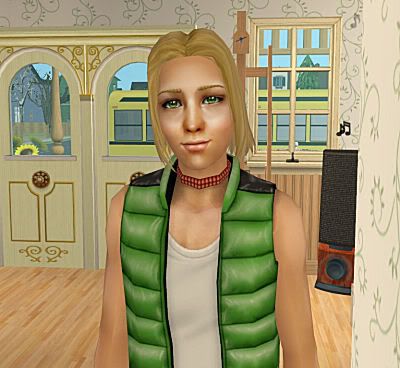 I think Aleksei has turned out to be a rather attractive teen, getting the best features of his parents.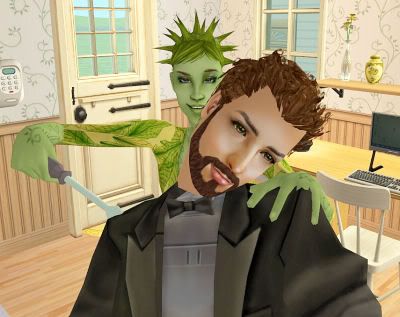 Aloe likes to stay busy. ;)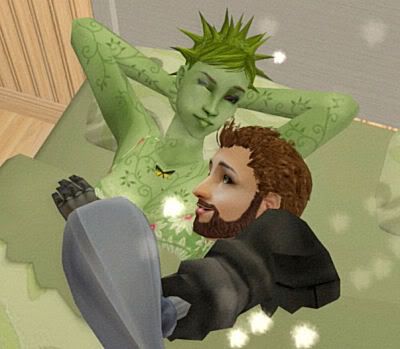 I finally added a bedroom above the garage with a cheap double bed so the mother and daughter plantsims would have a place to take their dates, because Charlie and Catherine's bedroom is now locked and off limits to them.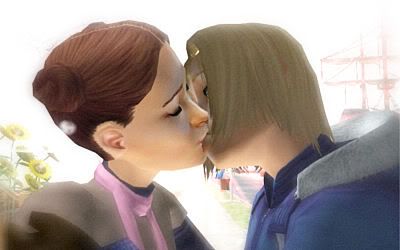 Aleksei paid the local matchmaker §5000, and she sent him Emily Mellon. Emily is the girl that Lime Jeffress dated while he was on vacation at Three Lakes. Since Lime already has a girlfriend, I thought Aleksei and Emily shouldn't worry about Lime's feelings. Aleksei and Emily have 2 bolts of chemistry.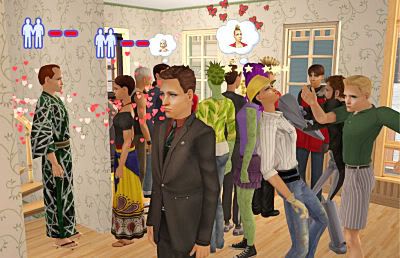 In another evening of inviting over friends to allow them to age up, someone is rejecting a first kiss somewhere...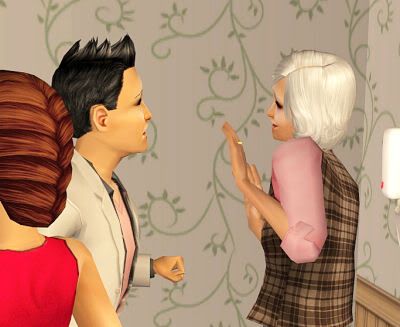 I believe the drama was caused by Andrzej Haggerty who tried to kiss Catherine. I'm really relieved that she turned him down. I like Catherine more all the time.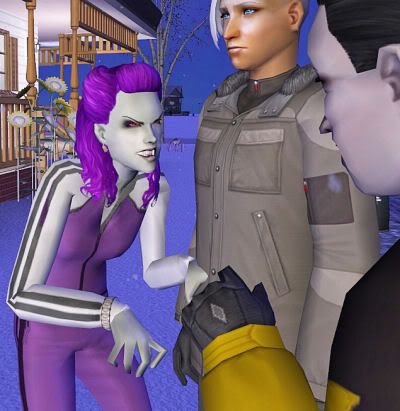 Count Sabastian came back for a second date and without warning turned Belladonna into a vampire.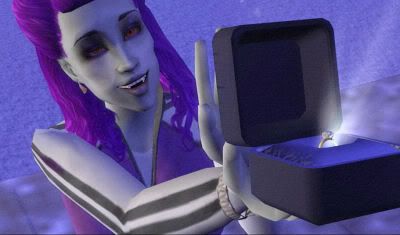 After that she had a want to get engaged to him, which I found surprising since she's a romance sim. Since she had no fear of engagement, I went ahead and let her go for it.

Count Sabastian accepted her very forward proposal and also moved in with her, bringing in a whopping §50,380. The Count is a pleasure-seeking sim who wants 50 dream dates. I guess he and Belladonna have all eternity to make that happen. Oh no - I just realized I'll be playing Belladonna for a long, long time. Crap.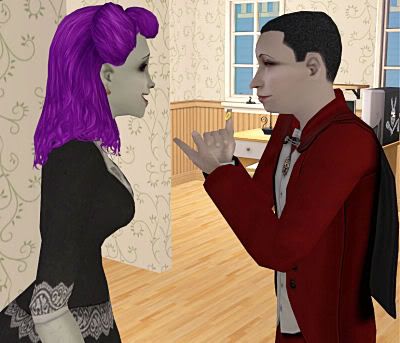 The Count and Belladonna were married that night in a private ceremony. This time he was in charge. One thing he didn't want was to change
his
last name. He was not about to change his family name that he had held for centuries.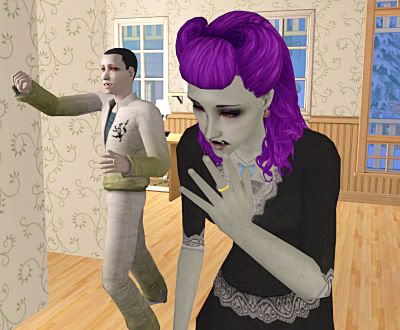 Soon thereafter Belladonna was hit hard by the realization that her dating days were over - and that her new husband is obsessed with Tai Chi.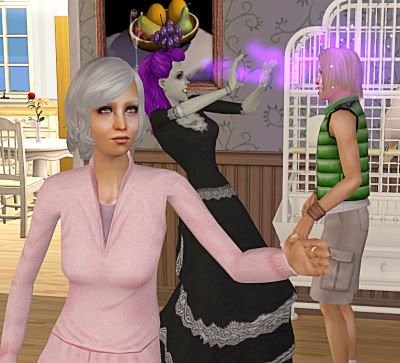 Aleksei wanted to become a vampire too, so I figured why not. Well...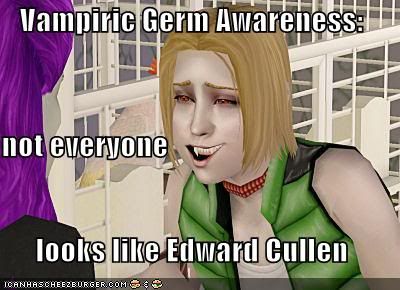 Unfortunately, he found out the hard way that not all vampires look hot. Except for the fangs, he looked more like he had just had his wisdom teeth out than like a hot vampire.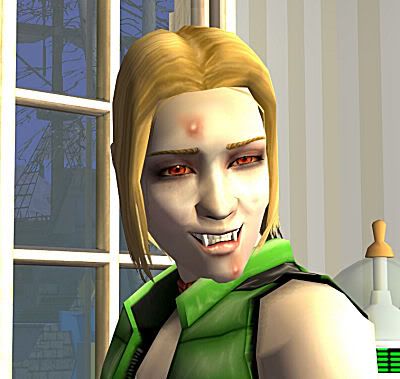 And later once the swelling had gone down, he discovered that vampires aren't immune to major breakouts. Their pale skin really shows off acne more than ever. Plus, it's hard to have much of a social life when you spend so much time in a coffin. Being a teen vampire actually really sucked.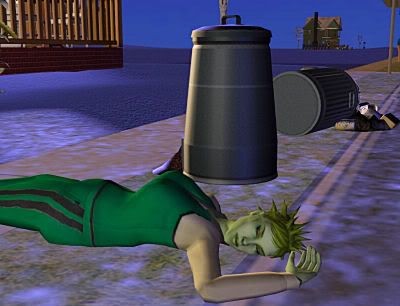 Aloe tends to forget she's a plant that needs sunlight, and often passes out. She is also the cause of the trash can being kicked over. Metalfoot caught her cheating on him with Kacper, so he is really mad at her.
Count Sabastian wants to vamp
everyone
. Fortunately, he and Catherine are not friends yet.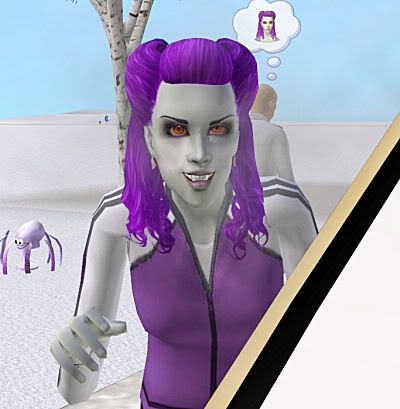 Belladonna seems to enjoy being a vampire-plant as she is heading off to work as a manager for Rose Electronics.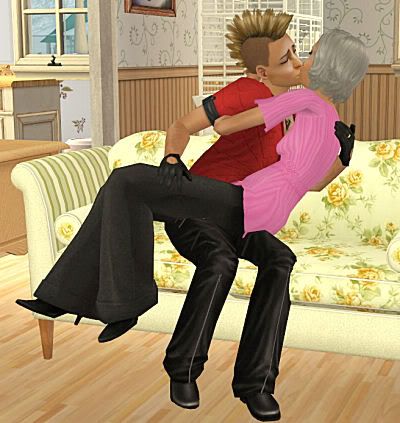 Despite Catherine's age, she and Charlie still have a lot of fun together.
Unfortunately, he really wants to be a vampire. Belladonna was more than willing to make it happen for him.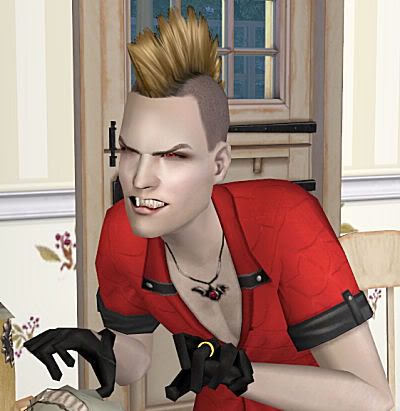 And he looks pretty good as a vampire. He just forgot one thing... Catherine's LTW is to have a golden anniversary, and that will only happen if he becomes an elder. Vampires can't age. So, oops.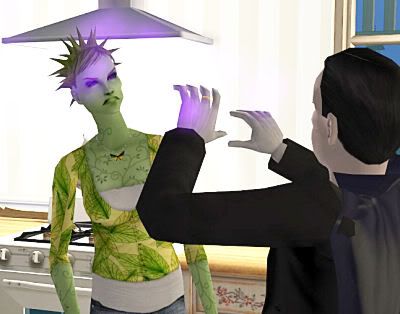 Fortunately, Aloe rejected the Counts attempt to make her a vampire. I think we have enough vampires already. Although it probably will only take a few more hugs and then he can vamp her too. :P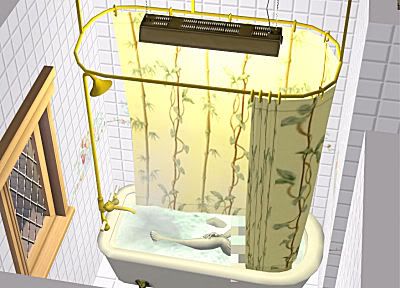 I discovered that a grow light over the bathtub is a really good thing for plantsims. Belladonna also has a grow light over her coffin.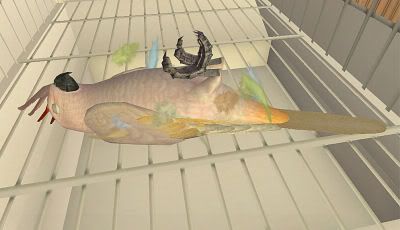 Poor Screwed bit the dust as predicted.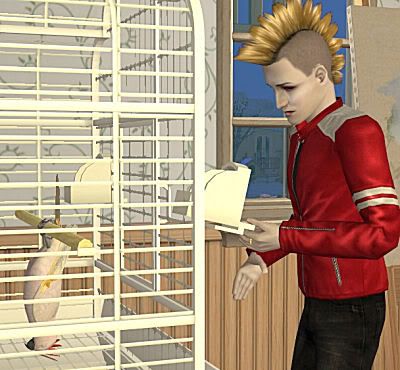 And then this is Screwed 2 dying. He had no miraculous recovery when Charlie added food one second too late. There is a Screwed 3 now. There's no point in showing you the picture, as he looks exactly like the first ones.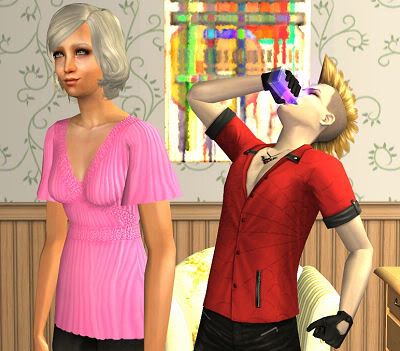 Charlie went ahead and took the cure so he could help Catherine get her golden anniversary. Hopefully, she will live long enough to see it. I think she is concerned that she won't live long enough. Actually, according to Simlogical's days left shrub, she will die 2 days before Charlie becomes an elder. But maybe she will find a solution before it's too late.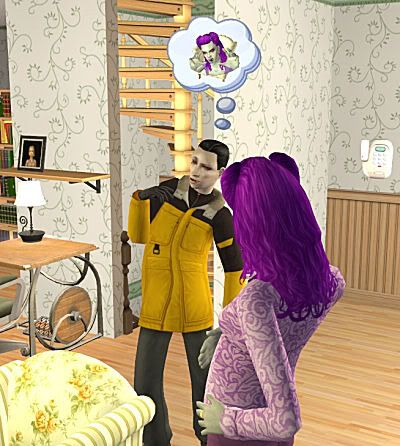 There's a lot going on in this picture. The Count thinks his wife is hot, and also loves the new chair. And yes, Belladonna is pregnant. She surprised me by trying for a baby. I didn't expect that from a romance sim, but I forgot her secondary aspiration is family. ACR does have it's downside, but thankfully Belladonna is a surprisingly resilient sim for a vampire, and is having no problem meeting her needs despite the pregnancy.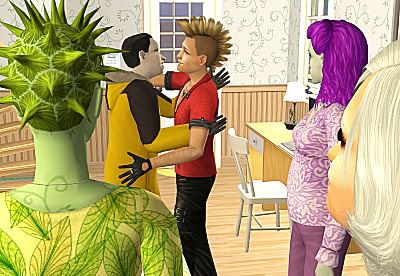 Now that Charlie is back to his normal self, the Count is determined to befriend him so that he can turn him back. Geez Louise, these sims are making me crazy.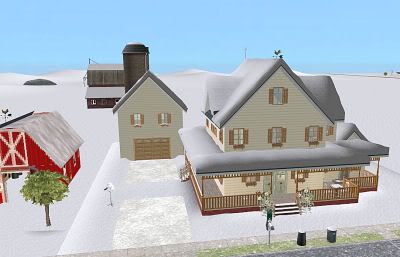 As we leave the Todd house, I'm relieved. It's been a tiring house to play.
Scoring: 1 point for adding Count Sabastian to the neighborhood. The population of Apple Grove is currently 77, with a total population of 79.