When we last saw the Todds, Catherine and Charlie had moved out of the Tucker house at the beginning of Round 5 to give Catherine's son Martin more incentive to settle down and get married. They brought their young son Aleksei with them, as well as the two plant sims Aloe and Belladonna. They settled into
a nice farmhouse
on Orchard Way. It's not that Catherine or Charlie had any interest in farming, but Aloe and Belladonna wanted a farm.
Charlie Todd, 32, Adult Knowledge, LTW Earn §100,000
Catherine Todd, 55, Adult Romance, LTW Golden Anniversary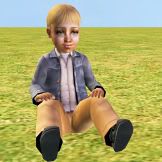 Aleksei Todd, 2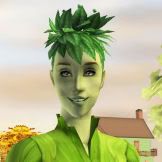 Aloe Tucker, 11, Adult Romance, LTW Professional Party Guest
Belladonna Tucker, 5, Adult Romance, 20 Simultaneous Lovers
Catherine and Charlie had a farm,
Ee-i-ee-i-o
.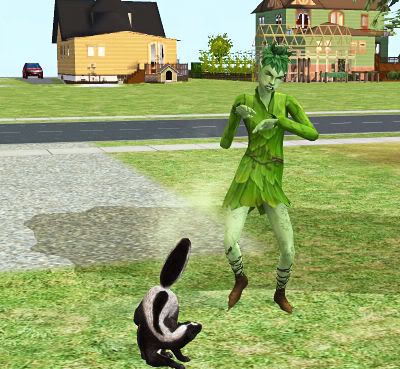 And on that farm they had a skunk,
Ee-i-ee-i-o
.
With some skunk funk here,
And some skunk funk there,
Here a skunk, there some funk,
Everywhere some skunk funk...
Belladonna got a nasty surprise when she tried to pet the pretty striped kitty. I'm learning more and more that Belladonna is
not very bright
.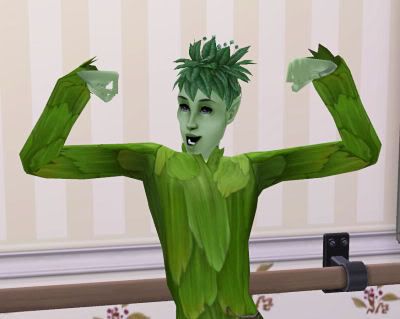 Despite having the IQ of a side salad, Belladonna is a very healthy and fit plant. I'd say she eats her spinach, but guess that would make her a cannibal.
Poor Charlie got fired from his job as a projectionist when he decided to play an art film he made in high school in place of a Hugh Martin film with damaged reels.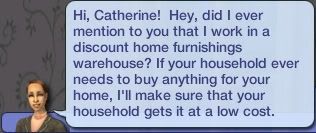 But on a positive note, Catherine got offered a discount on home furnishings.
And just when she thought she was safe from people offering her discounts, she got a freebie. The sample was a wall-mounted flat screen TV, because obviously when they sample this one, they're going to need to buy one for every room. :P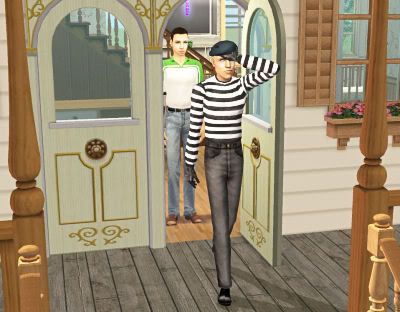 Charlie feels ashamed as he heads out to his new job. Is he a thief? No, actually he's a mime, which might be worse.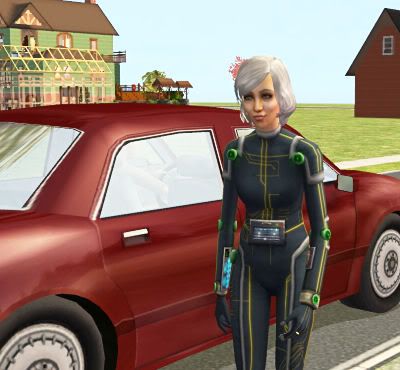 Speaking of humiliation, what about
a mature woman
anyone having to wear this outfit? Catherine is a Guild Leader now of some kind of game. I'm assuming it's an online game, but since I don't play any online games, I really don't entirely understand what a guild leader is.
Aleksei practices his musical skills on some pots and pans.
And before I knew it he was old enough to start school.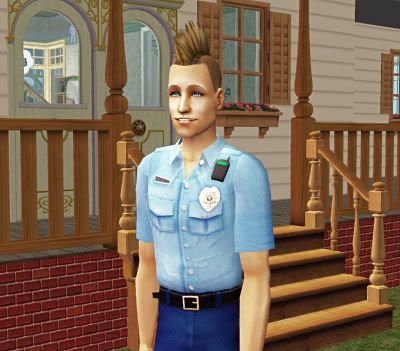 Charlie decided to quit the mime job to take a less humiliating job as a police officer. I'm not really sure how he's able to keep his mohawk with the uniform, but whatever.
Catherine's grown-up son Martin and his friend Mark Bigfoot came by for a visit. I think they may have even been the welcome wagon.
Aleksei's Aunt Aloe taught him how to do his homework. She must be a little brighter than his cousin Belladonna.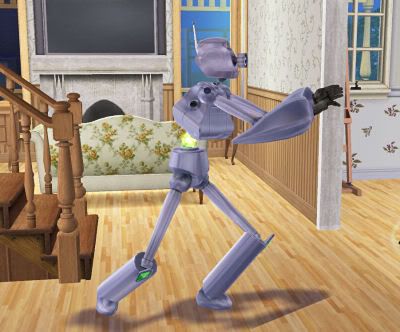 Metalfoot also came with Martin and Mark and spent his visit practicing his Tai Chi. If you remember, Metalfoot is the servo Mark Bigfoot built.
Aleksei met Lime Jeffress after school one day, and they became good friends. It looks like Metalfoot's batteries ran down from all the Tai Chi. Good.
Since Charlie has a LTW of earning §100,000, he decided to open Apple Grove's Produce Stand right next door to their farmhouse selling Aloe and Belladonna's produce. Later, I renamed the business Todd's Organics, BTW.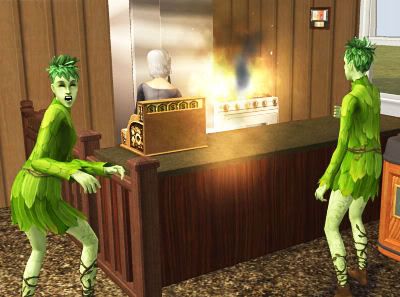 They were also selling some comfort soup that Belladonna was cooking, until she set the stove on fire.

But on a happy note, she earned a cooking point while trying to burn down Charlie's business.
After that bad experience, Belladonna temporarily forgot that plant sims don't have bladders and had an accident out on the road. Have I mentioned that Belladonna is not very smart?
Of course, Lisa Pons, the horrible reporter that I hate, arrived shortly thereafter.
Thankfully, she didn't find anything wrong, and gave Charlie a good review as well as a Best of the Best Award.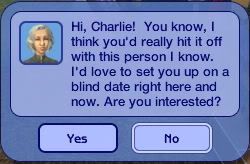 I think it's kind of odd that this old lady was trying to fix Charlie up on a date since he's already married and has a kid. Maybe she thinks Catherine is Charlie's mother instead of his wife. I suppose that would be an easy mistake to make.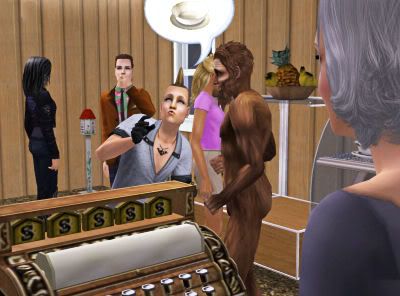 Charlie is trying to sell Stephen soup, telling him how quickly it will disappear from the bowl.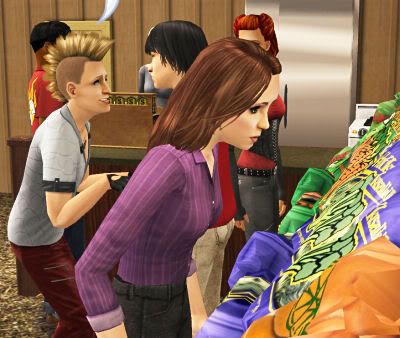 I must be looking for organic produce. Sometimes it's hard to find that on the label.
Yep, this is probably how I usually look when shopping. I really don't enjoy it much, and would prefer to find what I need and get out as soon as I can. I assume it's possible that sim me is also unhappy with the prices of Charlie's produce.
Uh-oh, it looks like Charity doesn't have enough cash with her. Too bad my simself didn't help her out. It made me sad that I had no options to help out.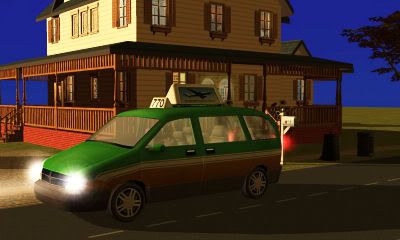 Charlie made enough at the produce stand to take Catherine and Aleksei on a vacation to Takemizu Village. He bought a vacation home and everything.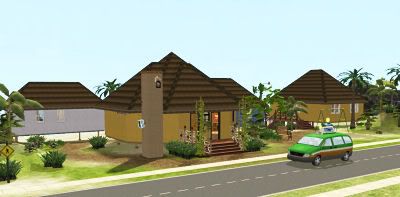 Unfortunately, they mistakenly bought tickets to Twikkii Island instead. That meant they had to stay in these beach cabins instead of a vacation home. Vacation homes are a lot better because they can live a lot more like they're at home.
But, Aleksei was able to find some of the residents dancing and learn to hula from them, which was one benefit of staying at the cabins.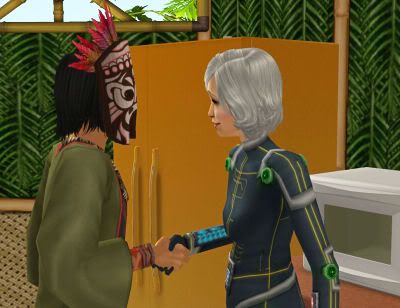 The Witch doctor still appears to be back to normal. Darn. He was so fun when he was in aspiration failure. Although, it was a very long wait to get a voodoo doll when he was engrossed in a conversation with volleyball professor.
The most exciting part of the vacation had to be when Catherine lectured Charlie for breaking the shower. I guess she was cranky that things weren't going as planned.
And this would have been the end of this update except that when I went back into the lot to get some information for this update and take a few additional pictures, I realized that I still had one day left to play the Todd family. Yippie! This may make things a bit more interesting.
In my my post
True Colors
I wrote about my new plan to give my sims favorite colors like the sims in Sims 3. Well, that kind of evolved a bit as I changed some of the colors and eliminated others. Then I added a few themes such as plaids, animal prints, and burberry. Most are chosen randomly, but others will be chosen intentionally. I've spent a lot more time downloading and playing with Body Shop than I really enjoy trying to make my colors idea work. So anyway, you will get just a little taste of some of the changes coming in the new gameplay at about halfway through Round 6.
Catherine got another makeover, and I think she's looking a little better. I made her shirt pink, which is close to her favorite color, hot pink. At the time I made it, I was distracted.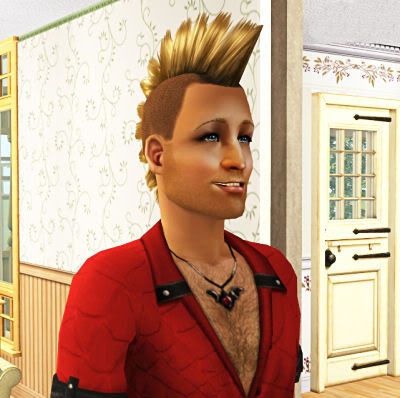 Charlie got a little bit of a makeover and grew some chest hair. I let him keep his clothing and hairstyle, but he really prefers to wear red, so I recolored a shirt for him.

Yeah, don't be too impressed. He earned this by selling the vacation home they never got to visit. That should not have fulfilled his LTW, but what can I do?
WTH, Catherine? I was so confused at what she was doing for a moment. I thought maybe she dropped an earring under the vanity. I'm beginning to regret letting Heath Fancey teach Tai Chi classes. Tai Chi is contagious and seems to be the new smustle.
Aloe, who happens to be an annoying Romance sim, was in need of some aspiration points and was not rolling any wants related to her becoming a Professional Party Guest. Since plant sims only count for the Plant Sim Generational Bonus in the Prosperity Challenge, keeping Aloe and Belladonna happy is not my first priority. However, I'm sure if they have aspiration failure, that probably does count against the score. So, I let her look in TwoJeffs crystal ball, and Kacper Larrea was on her list.
In case you're wondering, Aloe is now wearing orange accessories* so I can tell her apart from her daughter Belladonna. Sure, she looks stupid, but that's how we like to do things in Apple Grove - stupidly. I'm making a new law that I must be able to look at a sim and instantly be able to tell who it is.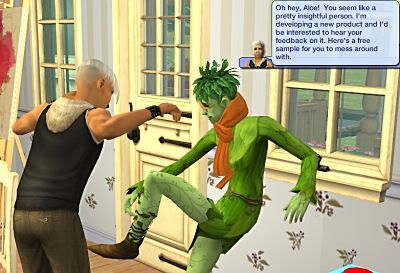 And Kacper is so highly impressed and/or scared that he gave her a flatscreen TV, because we need yet another one. I really think that there must be a lot of flatscreen TVs falling off trucks in Apple Grove.
What he'd really like to see is Aloe wearing a hardhat and holding a wrench. He has some kinky preferences.
Aloe likes him so much that her fingers began to take root into his right shoulder blade.
You know, I think I'm a bit of a reverse-sexist when it comes to the maid outfits. I have default replacements for both the male and female maids that are more modest, but I think I kind of miss the sexy male maid outfits. I may have to get those back. ;)
After uprooting Aloe's fingers from his back, Kacper very cautiously gave Aloe her first kiss.
Aloe tries again to grow herself onto this guy like a vine. She has been starved of romance her entire adult life because of her second class citizen status.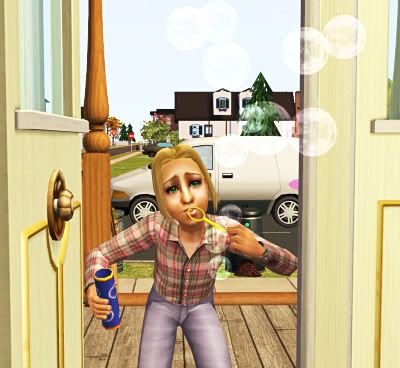 Meanwhile, Aleksei tries some cute bubble-blowing.
And of course, he must drink the bubbles just to see if they taste good.
Which, no matter how many times you taste them, never do taste good. Sort of like I admit I used to do with Play-doh as a kid. It smelled so darn good.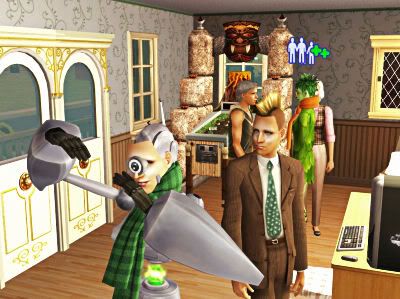 Metalfoot came back for a visit, this time obeying the new law of being recognizable by wearing a green scarf. Unfortunately, this means he gets the creepy fake-human mask to go with it.
Catherine finally forgave Charlie for breaking the shower on their vacation.
But Catherine seems more interested in playing with Aleksei and lately doing pretty much anything else rather than acting like a typical Romance sim.
The eggplants were ready for harvest. *yawn* Thankfully, plant sims have few needs so harvesting huge crops in the greenhouse with new garden lamps is not a problem for them.
By the power of deduction, I'm sure you've figured out that the plant sim wearing red must be Belladonna. You are correct, and way smarter than she is, I'm sure.
Aleksei loves the new garden lamps for some inexplicable reason.
Speaking of love, Aloe believes she's in love with Kacper.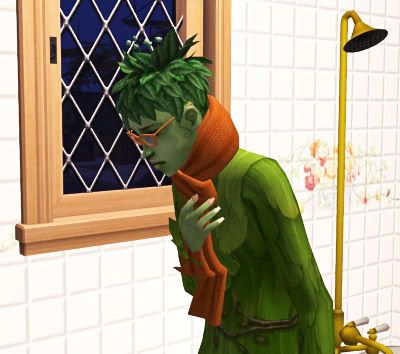 Oh, so sad. According to the flower petal game, he loves her not.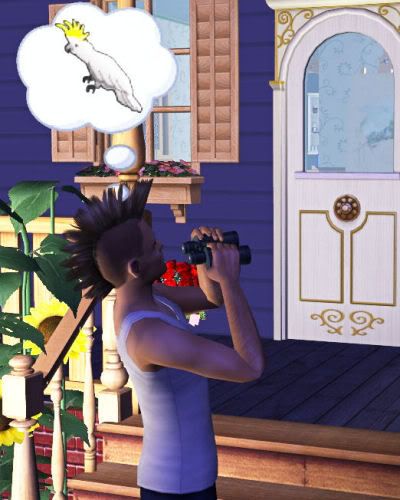 As I started to leave the Todds, Charlie was sending me hint. Charlie wanted to birdwatch, but then spent his time looking for a Cockatoo inside their house. I gave in and let him have one. I usually don't let sims have pet birds because with my help they
always
,
ALWAYS
end up dead on the floor of their cages.
Catherine looks thrilled to have a bird. The bird's name is Screwed. I think it's a fitting name to make sure the Todds are constantly reminded that birds are very temporary in my game. I do like that Screwed and Charlie have the same hairstyle, and I'm hoping against hope that he will get to live awhile.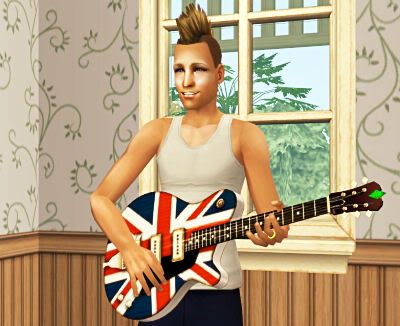 And now we will really leave the Todds. Charlie is very happy that I bought him a guitar. With his hairstyle and clothes I should have realized long ago that what Charlie really wants on his farm is rock 'n roll! And a cockatoo.
*Made possible by Pescado's clothing tool available at
MATY
.

click to see larger pic
Scoring:
3 points for Catherine earning all her Lifetime Aspiration Benefits, 1 point for Catherine reaching the top of the Gamer career, and 3 points for Charlie earning the impossible want of earning §100,000 (even though he probably got it from selling the vacation home, I'm sure if he keeps working it will be legitimate earnings) The population of Apple Grove is currently 56, with a total population of 58.