We are now returning to the Foreman house where newlyweds Cassandra and Morgan live in a very tiny house at 240 Turnover Terrace on the corner of Turnover Terrace and Strudel Street. When we left them, we just caught a quick glance of them as they moved in earlier in Round 5 after moving out of the Bauer house.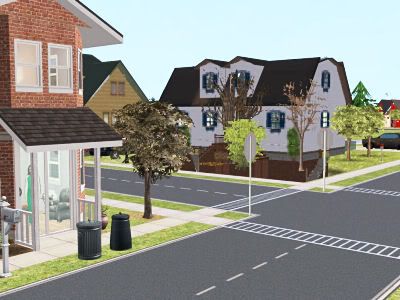 It was an easy move, because as you can see, the Bauer house is right across Strudel Street from them.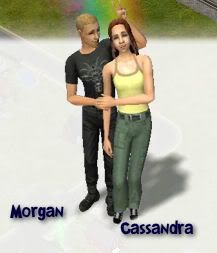 Morgan is currently employed as a City Council Member, and Cassandra just got a job as a Vice President of a company. They are an ambitious young couple.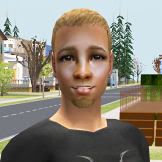 Morgan Foreman, 26, Adult Pleasure, LTW 50 Dream Dates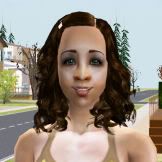 Cassandra (Bauer) Foreman, 25, Adult Popularity, LTW Business Tycoon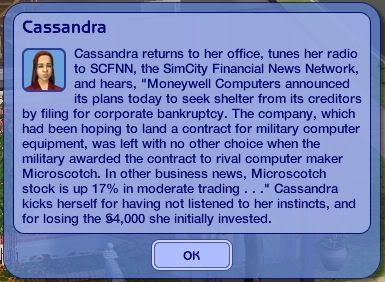 Uh-oh, Moneywell didn't get the contract, but she could have lost a lot more than §4000.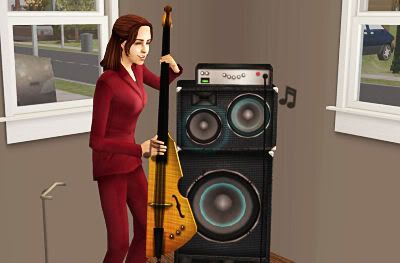 Cassandra wanted a bass, and I like to make her happy by giving her what she wants, even though they live in a tiny house and really don't have room for it.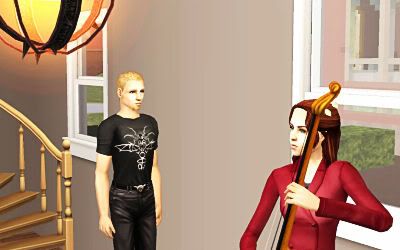 She's enjoying herself so much that she's not about to give Morgan a turn to play. I think the real Morgan actually does have a bass guitar he enjoys playing.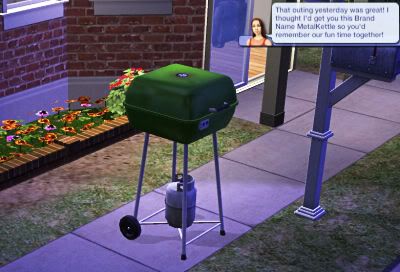 Cassandra's sister Amiee left her a green barbecue grill the next night as a wedding gift. She is a surprisingly thoughtful fake sister, even remembering that green is Cassandra's favorite color.
It looks like Mary Gavigan is here for a visit, but not for her usual shoving match. Cassandra actually made best friends with her in her quest to make 30 best friends.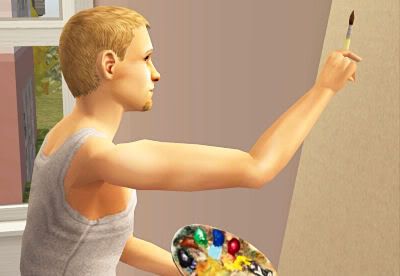 Morgan has discovered that his one true hobby is arts and crafts.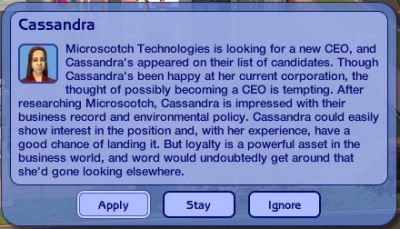 Hmmm... she wasn't sure, but she chose to apply for the job as CEO.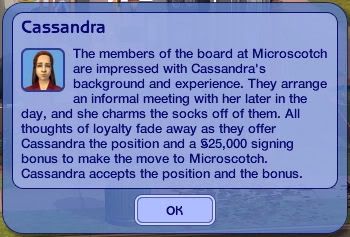 And she was able to get the position at Microscotch, as well as a nice §25,000 bonus.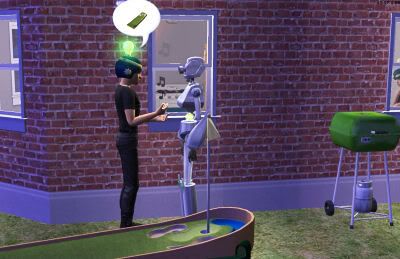 Metalfoot, Mark Bigfoot's servo, came by for a visit, and Morgan decided to ask him to help him with his putting.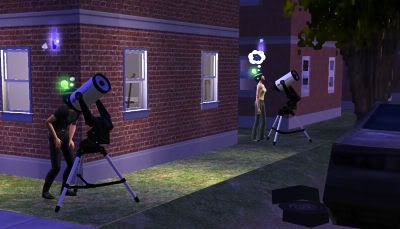 Later, Cassandra and Morgan took a risk and did some stargazing out in their tiny yard, despite how common it seems to be to get abducted by aliens in Apple Grove. I wonder if maybe their yard is just too small for them to be abducted in.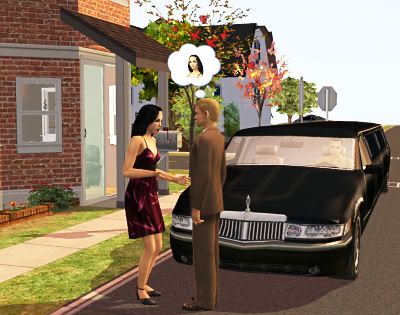 Morgan finds Mary absolutely icky, and while not currently enemies, they definitely have a negative relationship. This was probably caused by Morgan spying on her. The whole neighborhood spies on Mary Gavigan, even though she lives all the way in Apple City.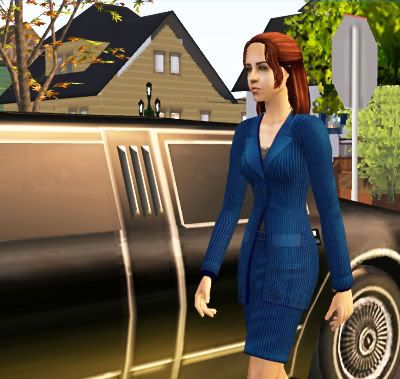 Cassandra has been promoted to the top of the Business career as a Business Tycoon, and has achieved her LTW.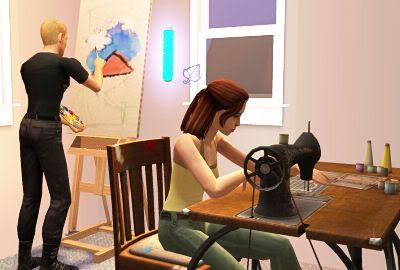 The real life Cassandra loves to sew and is very good at it, so I figured sim Cassandra should have a sewing machine, even though there is very little room for one.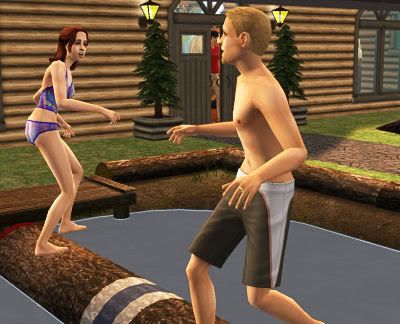 Since Morgan's LTW is 50 Dream Dates, he and Cassandra decided to visit as much of Apple Grove as they could while on a date(s). They started with Mini Mountain, Apple Grove's own little Three Lakes themed lot.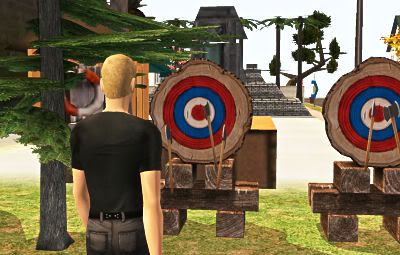 They did some log rolling and ax-throwing.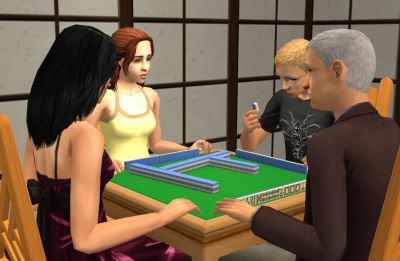 And then played Mahjong at Mini Takemizu.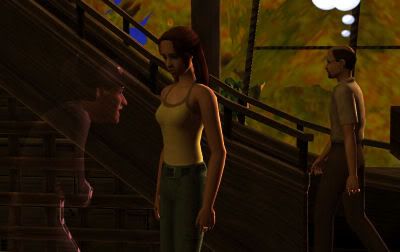 They went to Mini Twikkii and met a ghost pirate captain. I see that Scott was also there that night.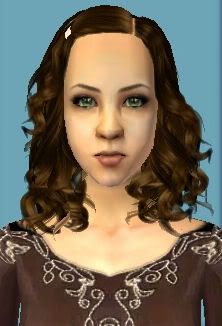 Cassandra got a bit of a makeover to look have a different hairstyle from her sister Amiee.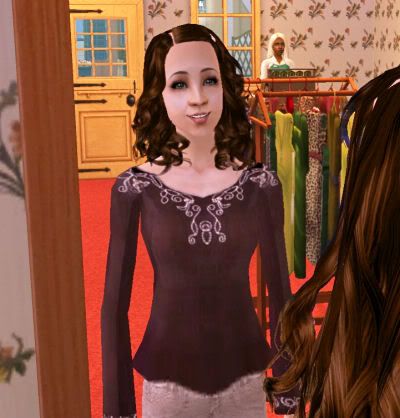 She seems to like her curly hair and new clothes.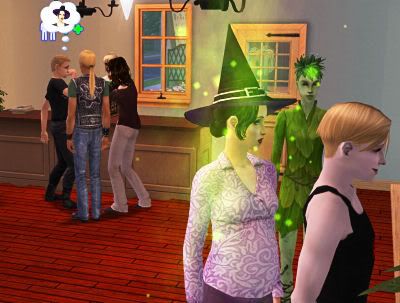 In the distance you can see that Morgan is very attracted to the atrociously evil witch Sophie. He'd better only be looking, because I have a strict no cheating rule when it comes to sims cheating on my sim family. Elmer Cormier is only safe now because I haven't yet visited his house as of this play session. His house will be played next, though. He should probably leave town.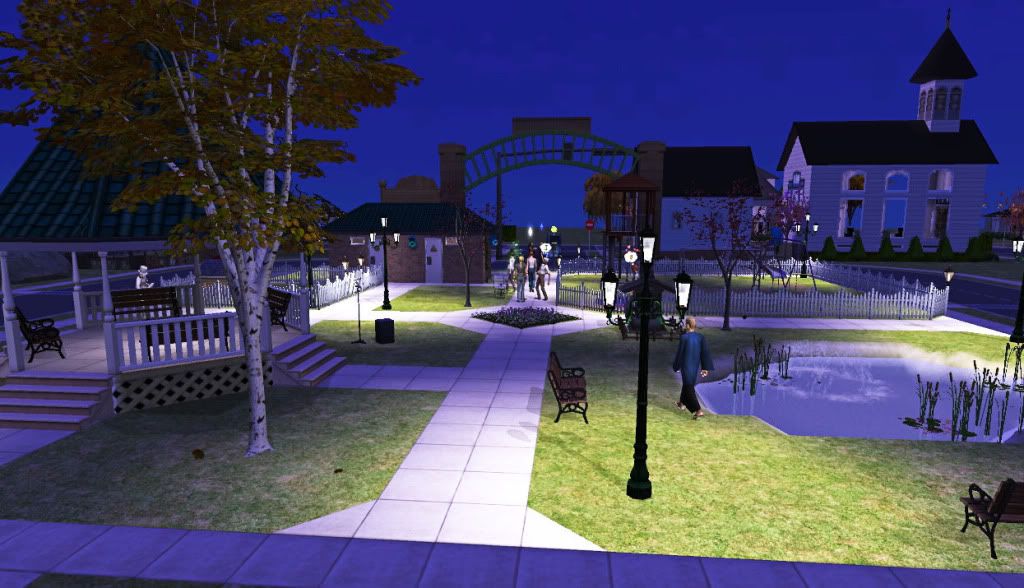 click to see bigger
Located right in the center of town is Apple Grove's Town Square. I think Cassandra and Morgan are the first sims to visit this lot.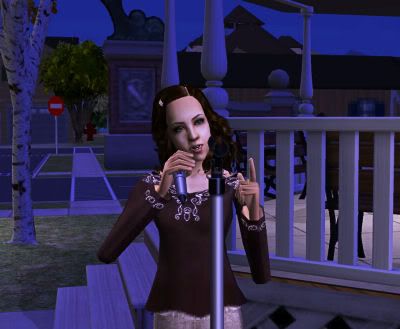 There is a microphone set up by the gazebo, so Cassandra wanted to try it out. I think she did a stand up comedy rountine.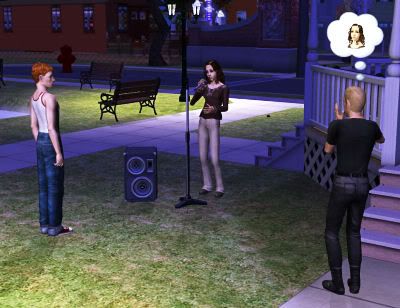 Whatever she did, Morgan thought it was a great performance.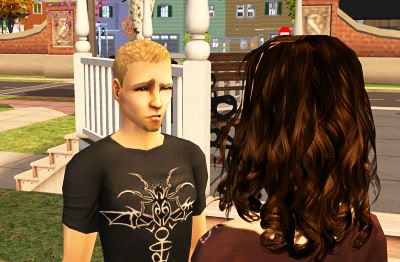 The real life Morgan makes a lot of faces, so I found seeing him with his face stuck like this more than a little funny.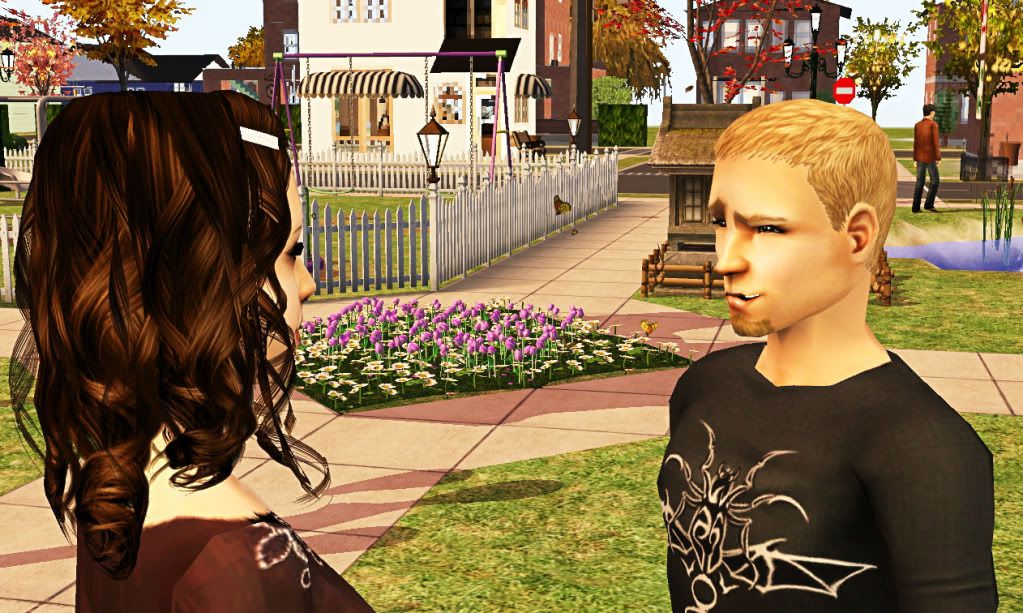 Maybe I should warn him of the dangers of making faces.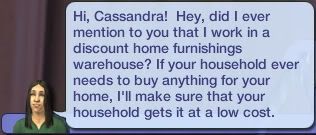 More home furnishing discounts from one of the garden club members.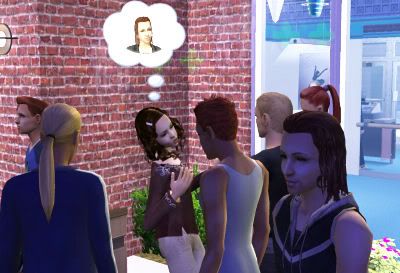 Cassandra finds the rockstar Brian Tucker very attractive. I highly recommend she avoid him, as he is trouble.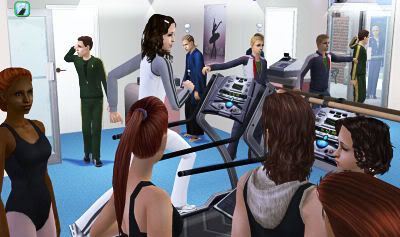 Cassandra actually looks happy to be working out on the treadmill. Maybe it's because the treadmill is the most popular piece of equipment, and she was able to get to it first while everyone else had to stand around and wait for a turn.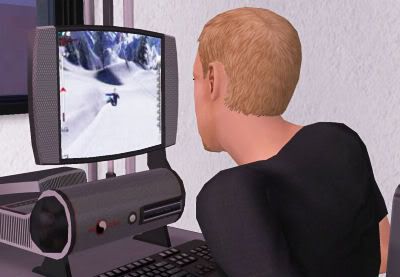 Morgan loves video games, so they went to Game S'more where he played in an SSX competition.

And apparently he's really good at SSX, so he won §525.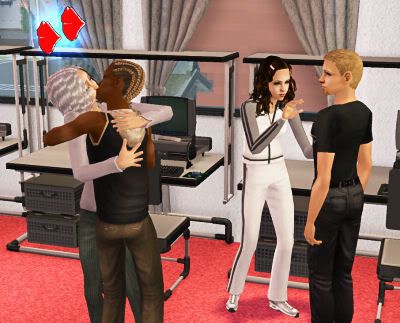 It looks like ACR is at work here in this unusual pairing for a makeout session. It also looks like Cassandra is going to swat a mosquito on Morgan's shoulder.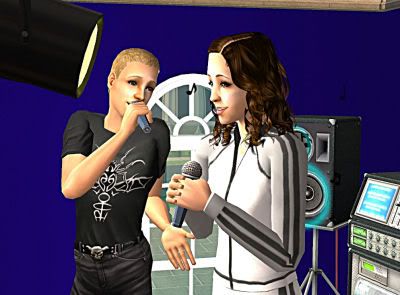 And at the end of their date, they stopped at Apple Grove's Performing Arts Center to sing a duet.
♪♫
Two hearts,
Two hearts that beat as one
Our lives have just begun...
♪♫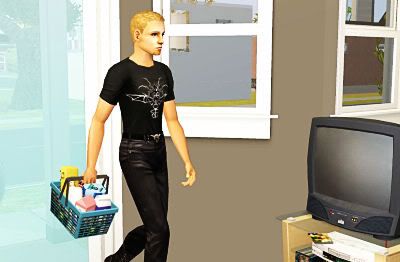 Morgan actually did some grocery shopping while they were out. I wish it were this simple to restock the refrigerator, and that it only took one small basket to do it.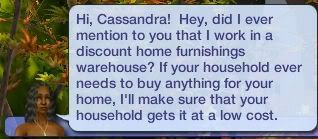 More home furnishing discounts. It helps to have a lot of friends. Now if only they had a bigger house to put home furnishings in.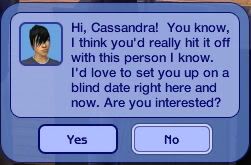 For some reason, people are always trying to set up their married friends on blind dates. Not cool, Jimu. Jimu was the one I caught Cassandra making out with during
Martin Tucker's wedding
, but at least it was before she was dating Morgan.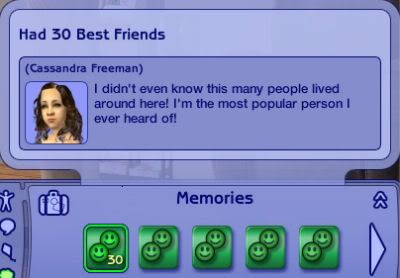 Cassandra earned her impossible want of having 30 best friends.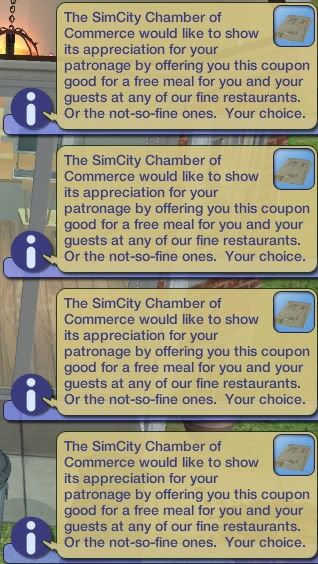 Wow, they got a lot of coupons for free meals in the mail after their mega-date. Morgan is now up to 23 dream dates on his quest to get his LTW of 50.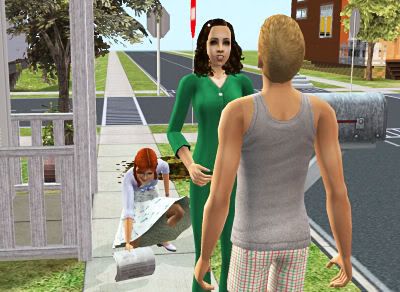 It seems that Wendy's showed up just in time to steal the newspaper.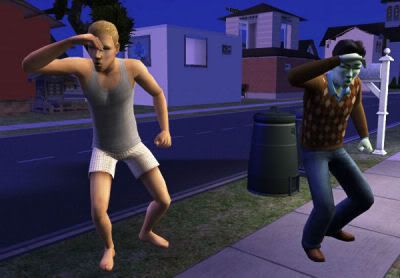 Washington Webb stopped by for a smustle session. Morgan apparently thought it was a pants off dance off.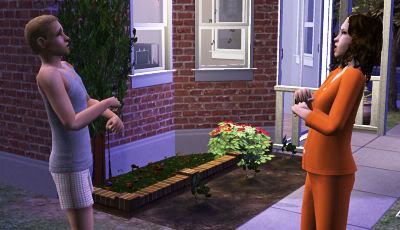 As we leave the Foremans, they are singing a sea chantey out on the sidewalk. Morgan seems to love living in his underwear lately. Cassandra and Morgan are expecting their first child. It's about to get really crowded.
Scoring: 1 point for Cassandra reaching the top of the Business career, 3 points for Cassandra earning all of her Lifetime Aspiration Benefits, and 3 points for Cassandra earning an Impossible Want of having 30 best friends.