Darn, I accidently pushed the "Publish" button this morning when not 100% finished with this post. But it is almost finished except a few minor details. I have to leave for awhile today before I can completely finish, but I'll go ahead and leave my post up.
If you've been reading Round 5, you may remember that Charity's new husband Elmer cheated on her right after their wedding when I was playing
Sophie Graham's house
. I can't stand the sight of him anymore.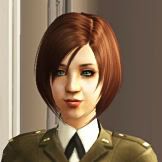 Charity (Bauer) Cormier, 22, Adult Popularity, LTW: Golden Anniversary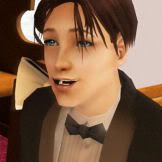 Elmer Cormier, 21, Adult Fortune, LTW: Celebrity Chef

I don't know why he had food poisoning, but I actually did allow him to have some comfort soup so he could get well quickly. I did not have any solid plans for his demise - yet.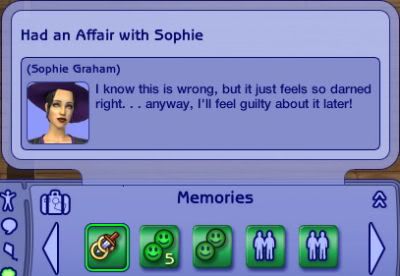 And yes, he was quite aware that he cheated as you can see by his memory of the experience. Charity has not yet found out that he cheated, even as I write this.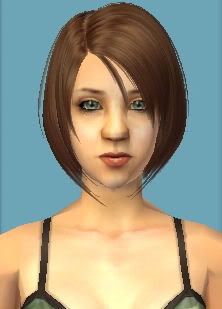 I let Charity have a makeover, which is very similar to her hairstyle now. I think it looks cute on her.
In real life, Charity is in the U.S. Army as a medic. She is currently serving in Afghanistan, so I am definitely thinking about her and worrying about her daily, but also proud of the work she is doing. I think she's a very wonderful and talented person.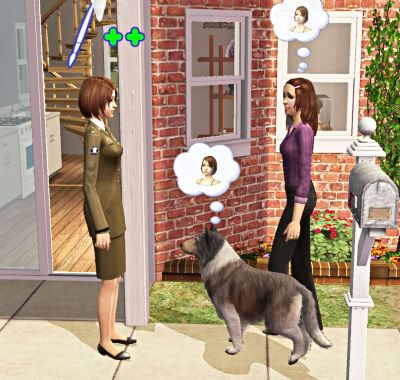 My simself and Obi came by for a visit soon after she was married and moved into her new house. She lives right next door to her sister Cassandra at 230 Turnover Terrace in a house which is a reverse floorplan of Cassandra's tiny house.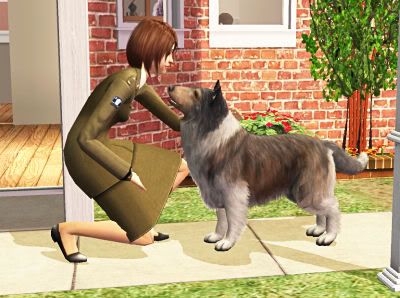 Charity is very much a dog person, and in real life is very fond of Obi, even though she's allergic to dogs and has to make sure she always washes her hands when she pets him.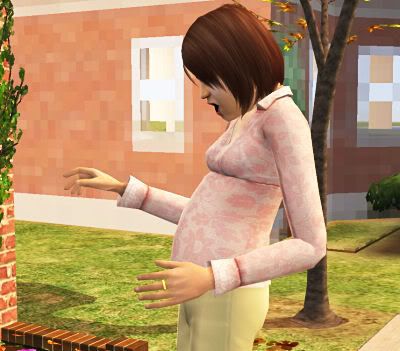 Uh-oh, it looks she's going to be having a baby with stupid Elmer.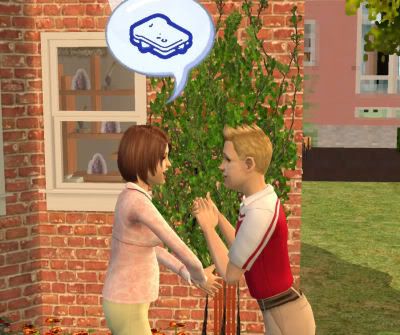 Her brother Jason also came by for a visit. They both love to talk about grilled cheese since they both have it as a secondary aspiration.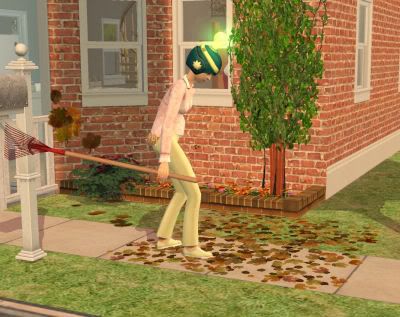 Charity tried to rake the leaves with the rake behind her back. It was pretty amusing to watch.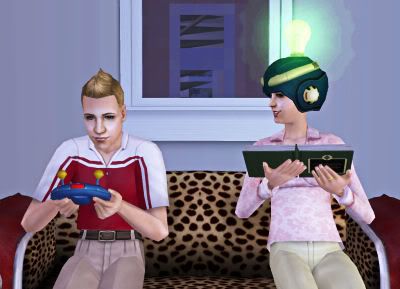 Charity is studying while Jason kills Nazi zombies. If she didn't have a thinking cap on, I would swear she was reading something like Pride and Prejudice and Zombies.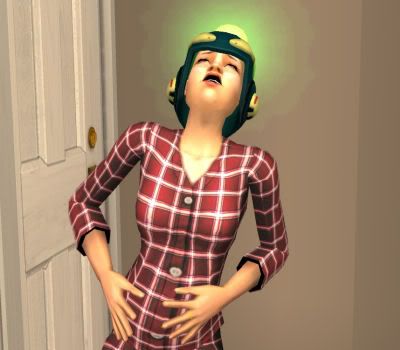 It wasn't long before she gave birth to my first grandsim baby.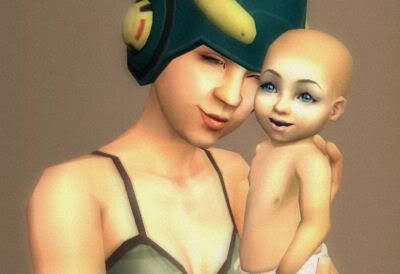 It's a little girl, and her name is Mew. 4 out of 5 of my children were obsessed with Pokémon when they were kids, but Charity had the largest and most organized collection of Pokémon cards and memorabilia, so all her kids will be named after Pokémon. Mew was one of her favorites.
A Mew is a pink cat-like creature with a long skinny tail. Mew is said to have the DNA of every single Pokémon contained within its body.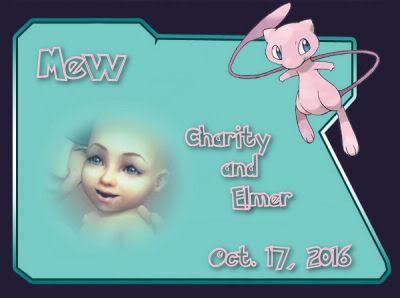 Here is Mew's birth announcement.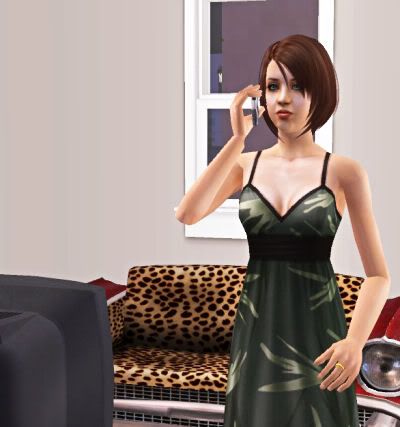 Charity's aspiration is popularity, and she made friends with a guy she met in college named Sabastian.

He offered her a nice discount on home furnishings.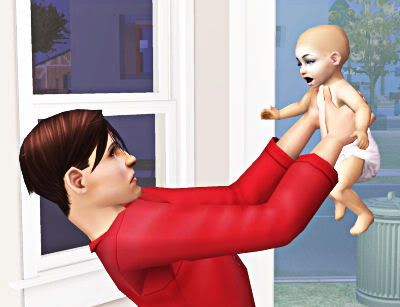 Elmer is an inept father. Mew and Elmer look equally unhappy about their father/daughter relationship.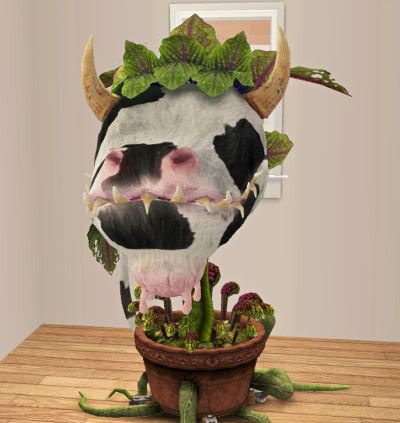 Meet Miltank, Charity's new cowplant. Yes, I forgot to mention that Charity took a new job in the Natural Science career track. There really isn't any room for a cowplant, but we made room for her in what would have been the dining room anyway, because Miltank is just too awesome to leave stuffed in a backpack.
A Miltank is a Pokémon that looks like a cow. That is probably the only similarity a Miltank has to a Cowplant, as cowplants are not very nice. Miltanks feed mostly on grass and are fairly placid. They produce milk that can heal other Pokemon.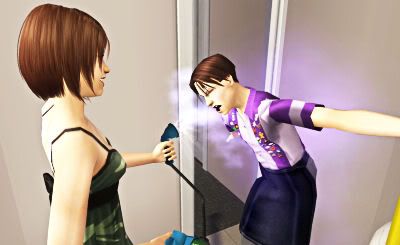 Charity doesn't know about Elmer's cheating, but she was more than willing to use the SimVac on him.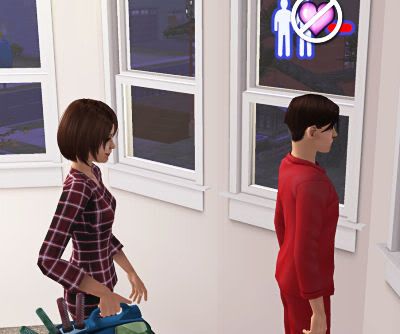 It seems that for some odd reason Elmer is not in love with Charity anymore. Hmmmm....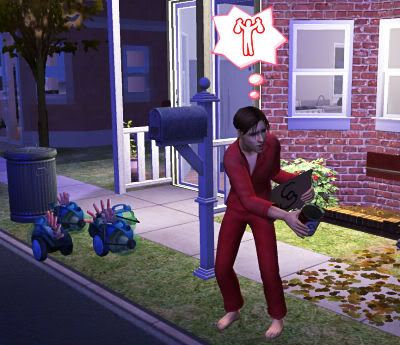 He went out to beg for simoleons out on the sidewalk after losing all of his skill points.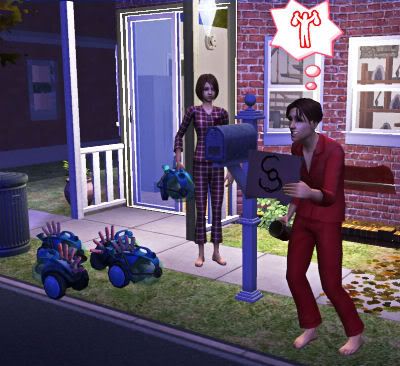 I guess maybe using 5 SimVacs on him may have been excessive, lol, but I was mad at him.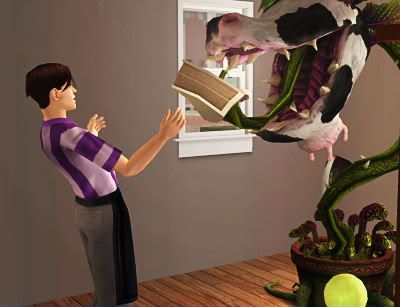 Miltank was willing to help me out by offering him some delicious cake.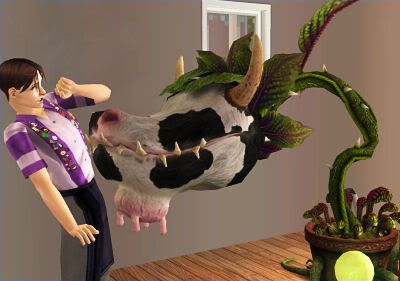 And I guess he did smell pretty delicious when he returned home from work as a waiter.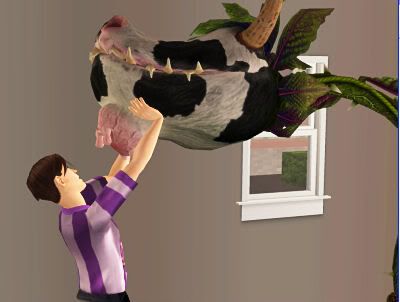 Elmer tried to push Miltank away... but.... oopsie. Where did he go?
And yes, I realize that I have now broken a cardinal rule of the Prosperity Challenge. You can't just take a loss of points for killing off a sim, because you're just
not allowed to do it
. Well, it's done, and I'm not really that sorry, except I really don't like to be a rule-breaker. I did consider my options, and I just couldn't stand Elmer anymore and couldn't imagine a way in which I could stand playing him anymore.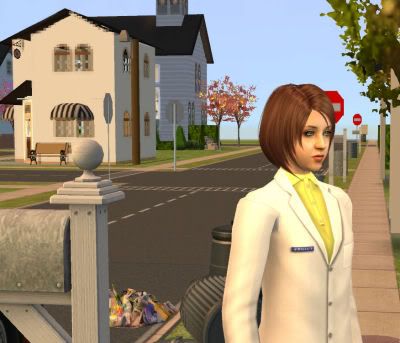 Anyway... Charity doesn't seem too broken up over Elmer's sudden disappearance. She just got promoted to Animal Linguist, so maybe she'll be able to talk to Miltank to ask her why she is now full of milk.
Little Mew grew to be a toddler. She also seemed relatively unaffected by Elmer's disappearance.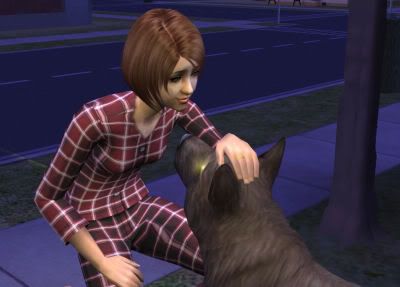 Here's Charity again petting a dog. This one is pretty scary looking. Go wash your hands, Charity.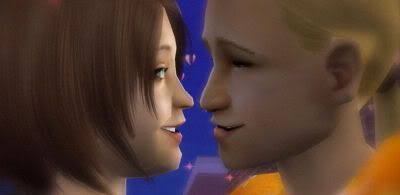 Charity was soon in love with Sabastian, the college guy who offered her the home furnishings discount.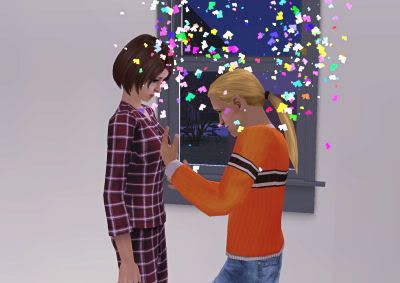 I see he's going to stick with another orange shirt, so orange is obviously his favorite color. I like that he made it so easy for me to guess.

He moved in, bringing a little bit of cash.

Sabastian is a knowledge sim, but has a want of marrrying off 6 children. Wow, that's a lot of kids to add to the neighborhood. Oh well, at least he's not wanting to woohoo everyone in Apple Grove.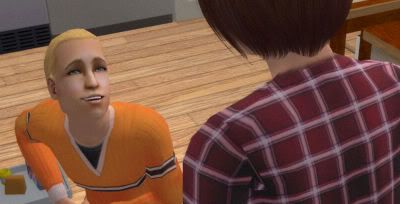 Sabastian proposed the night he moved in.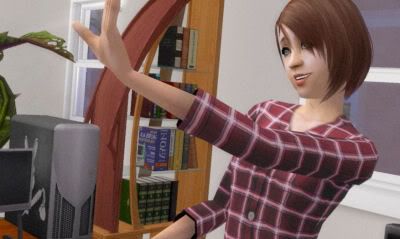 And Charity looked very happy.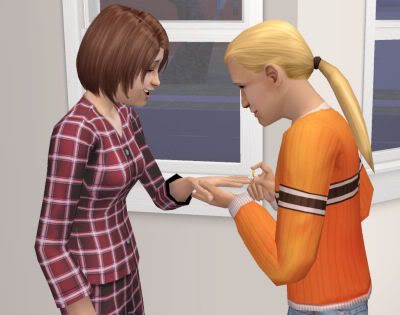 They were married right away in a very simple home ceremony with Charity in plaid pajamas.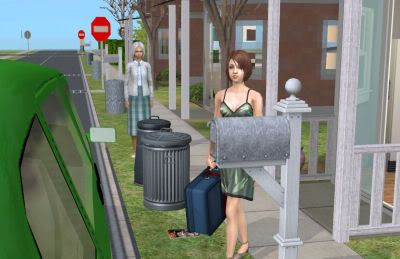 Nany Shenene was called to watch Mew the next morning, and they were soon headed off on a honeymoon to Twikkii Island.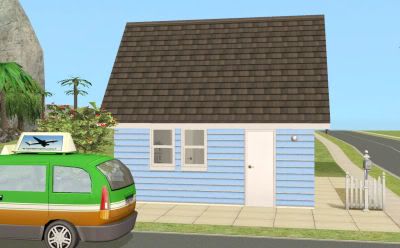 It was a tiny vacation cottage, but it was perfect since it was just the two of them.
I see that Sabastian is yet another sim who wore a sweater to Twikkii Island. I really need to help these sims pack. If only he had brought the orange Hawaiian shirt he wore in college.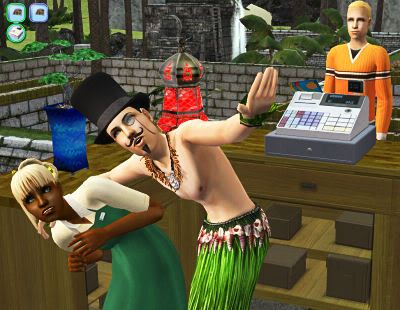 This was something new, seeing the unsavory charlatan pickpocketing an NPC. I felt sorry for the poor girl.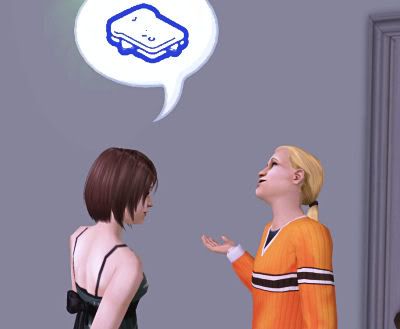 Charity and Sabastian have a strong relationship, and it definitely helps that they share a mutual love of cheese.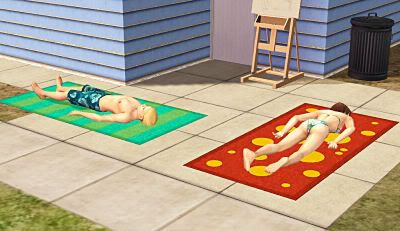 I was glad to see that Sabastian at least packed a swimsuit. They really enjoyed sunbathing on their vacation.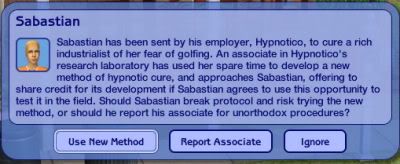 When they got home, Sabastian tested a new hypnotic treatment on a rich industrialist who had a fear of golfing.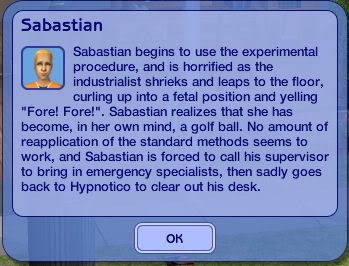 Unfortunately, the experimental treatment failed when the woman began to believe she was a golf ball. He was fired for his failure to help her.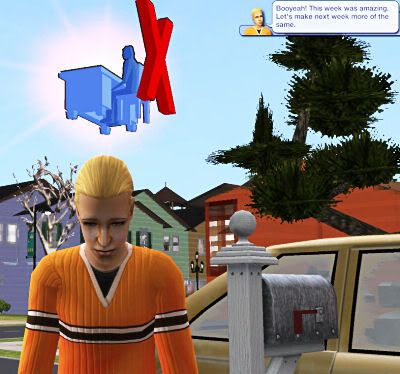 Even though he was fired, he still thought he had an amazing week and is hoping his next week will be the same. That's a positive attitude - possibly a little too positive, but I guess his marriage and honeymoon more than made up for the loss of his job.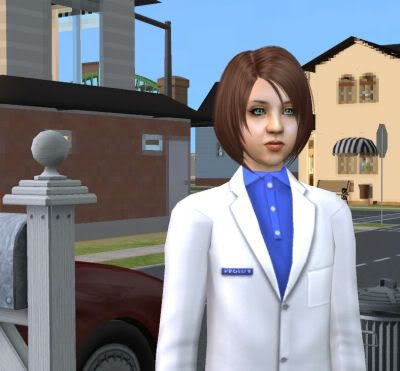 Charity has been promoted to Unnatural Crossbreeder. Maybe she can now invent even more breeds of Pokemon.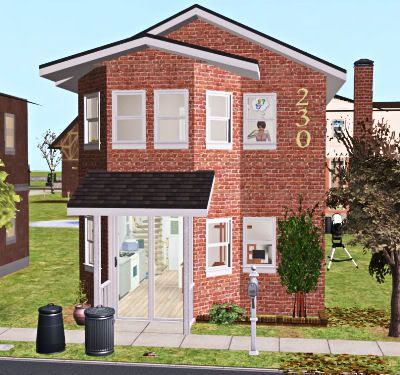 BTW, this is a view of their tiny house.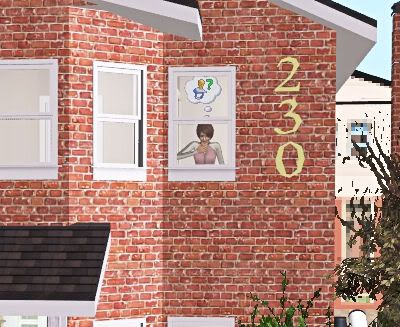 As we look in the window, it seems that she and Sabastian may be adding another child to their very tiny house.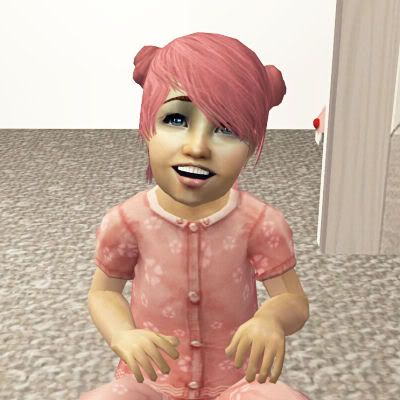 Mew got a makeover, which seems fitting for her.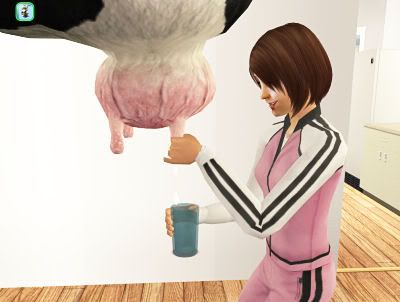 Charity decided to finally milk her cowplant and drink some of the milk.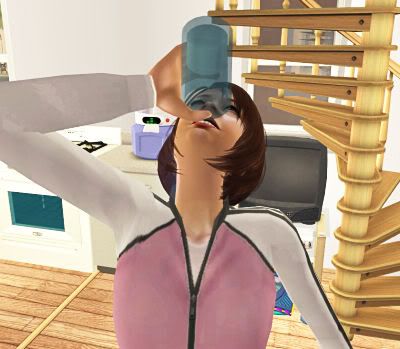 It seems kind of gross to be drinking her late husband, but it must not be too bad, or she maybe she can't taste the stupid because she downs the milk quickly.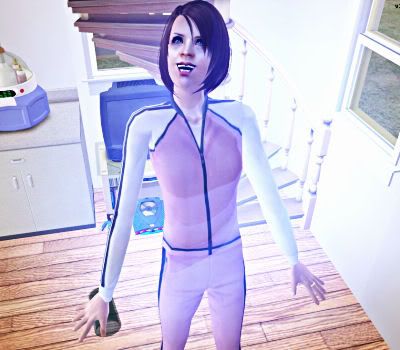 And it had quite an immediate and powerful effect on her, adding 5 more years to her life.

And that makes Sabastian is technically only 4 years younger than her instead of 9 years.
I'm not really sure if I should be calling this a Prosperity Challenge neighborhood anymore or scoring anything since I broke one of the cardinal rules of the challenge, but I guess there really aren't any Prosperity Police out there to make sure I follow every rule. I may be able to satisfy at least the spirit of the law in Round 6, if not the exact letter of the law, so maybe you can bear with me for a little while longer despite my rule-breaking ways. ;)
All that said, this is the end of Round 5!!! :)
Scoring: -1 point for Elmer's aspiration failure (even though I'm not sure the shrink actually came, I'm not 100% sure), 1 point for adding Mew to the neighborhood, 1 point for adding Sabastian to the neighborhood, 3 points for Charity earning all of her Lifetime Aspiration Benefits. The current population of Apple Grove is 58, with a total population of 61.