Cassandra and Morgan and their dog Leah have moved out of their tiny house and into a new home. Cassandra has short hair now. I'm not sure if she changed it because she's pregnant, or if I deleted her hair when trying to cut back on my cc. I suspect I deleted it.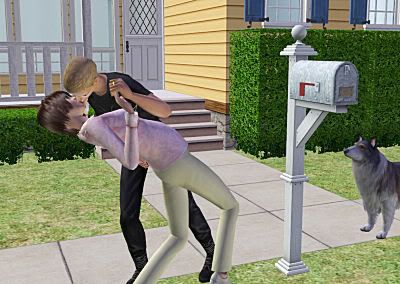 Okay, this kiss seems like a bad idea, and looks like it might be difficult for a pregnant woman to bend like this without pulling a ligament or a muscle, or falling on the ground.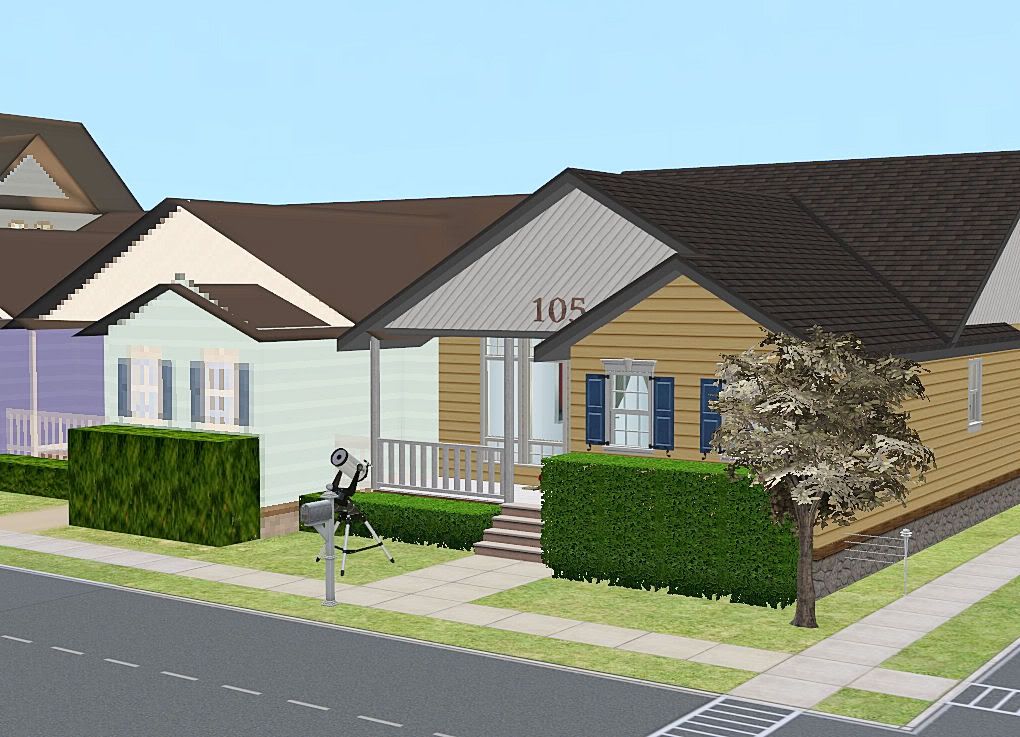 Their new home is on 105 Apple Avenue, and is a rowhouse. It looks like an apartment, but it's a private home. Daniel Graham and his boys live on the other end, and so far the middle rowhouse is unoccupied. Their new home has more space than their previous house, but is still within their price range.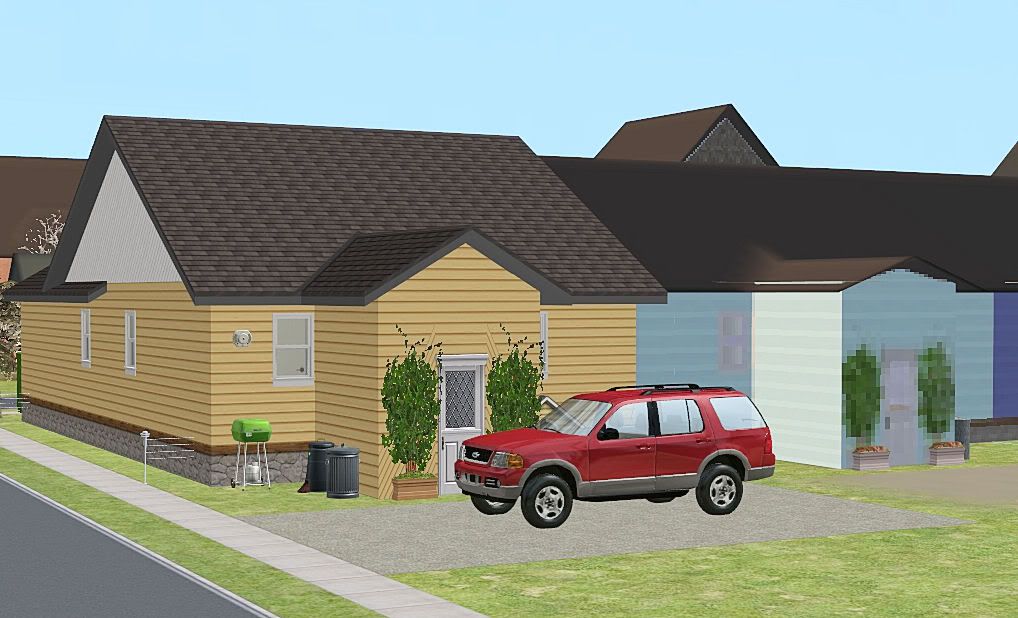 They were able to afford it without a loan, and even had enough money left over to buy a vehicle. There is almost no yard, however.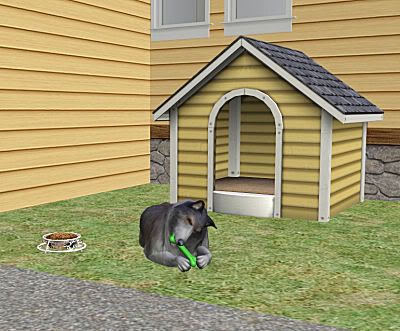 There was a small corner in the backyard for Leah, where she has a new doghouse.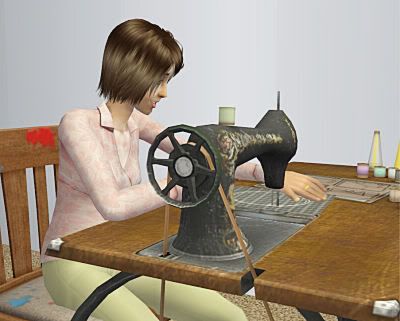 The real Cassandra loves to sew, and has a much newer, nicer sewing machine. Sim Cassandra has been working on sewing curtains.
I can't believe Morgan is a Senator now. Well, not for long. My sim is the de facto mayor, so Morgan is going to have to find a new career. Only a sim who really wants to be mayor (LTW) is going to remove me from office until I'm dead. Morgan's LTW is 50 dream dates. So far no other sim has that LTW, so I get to continue my reign of terror. ;)
I made him take a job as a mime to shut him up about the unfairness of the situation.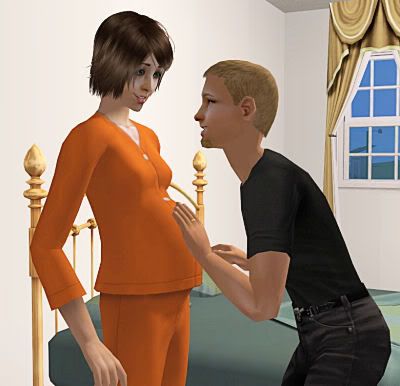 But Morgan seems fairly happy. He and Cassandra are expecting their first baby very soon, and he seems excited.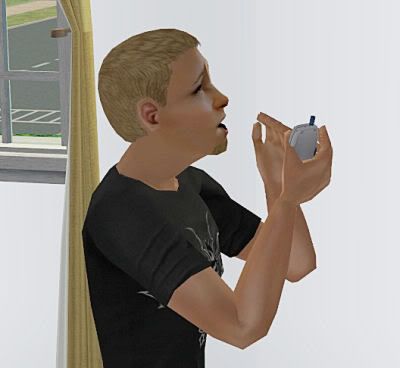 He even took a sick day on his first day of work so he could be home for the birth. But how does a mime call in sick?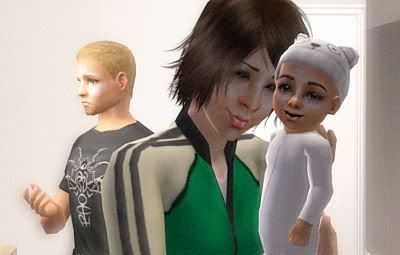 That night Cassandra gave birth. Morgan was too distracted by the beautiful kitchen cabinets to notice.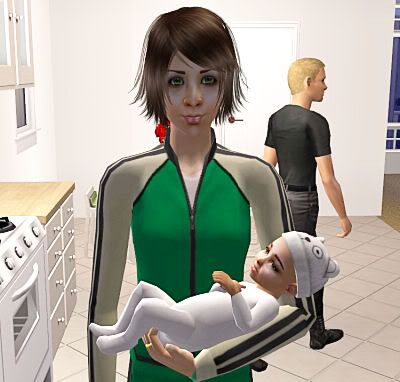 And then walked off to play the bass guitar.
I asked the real Cassandra what naming theme she would like for her sim kids, and she humored me by suggesting a Dr. Seuss theme.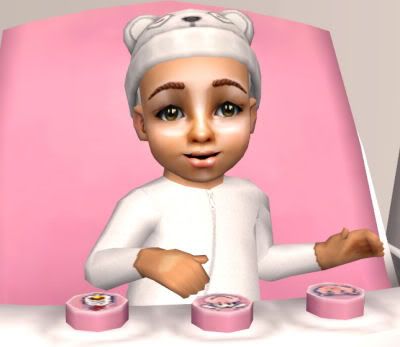 So meet Cindy Lou Who, born September 3, 2021 at 8:39 p.m. This is obviously not the name of my real granddaughter, who is a very beautiful little girl with blond hair and big brown eyes. Grandmas have to brag. I think it's in the rulebook somewhere.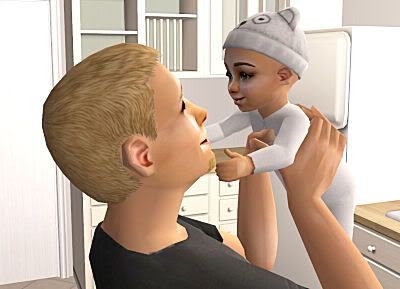 Morgan finally noticed he has a daughter, and he thinks she's the best.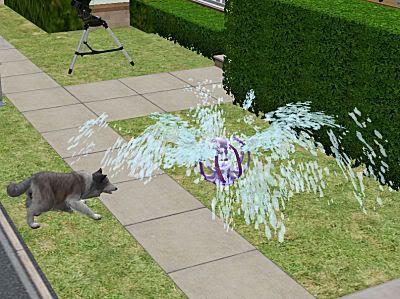 They bought a water wiggler from Martin Tucker's toystore so they wouldn't have to bathe the dog anymore, however there is a glitch either with Leah or the lot, so I finally had to get rid of it. They will have to take the time to bathe her.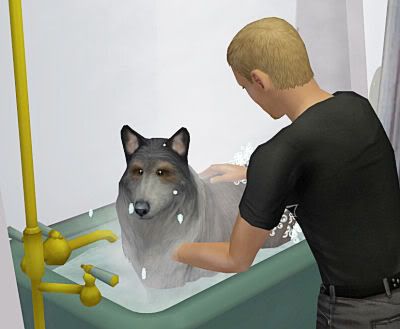 Morgan gave her a much-needed bath.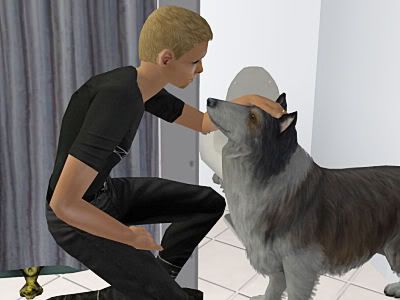 And she is usually a well-behaved dog - at least in the tub. Morgan is her favorite human, and she quickly accepted him as her master.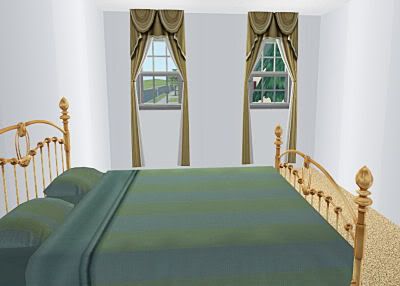 During her maternity leave, Cassandra was able to finish curtains for their bedroom.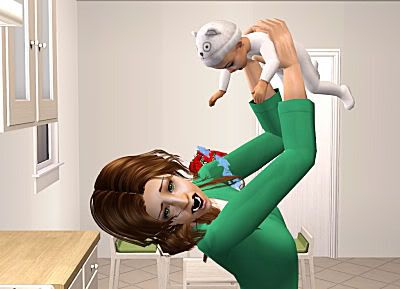 My real granddaughter threw up a lot as a baby, so I think it's kind of funny that Cindy Lou Who is a gastro geyser too.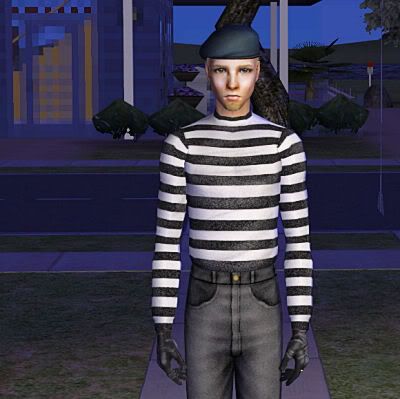 I'm not sure why Morgan is looking at me like this. Either he's still mad at me for keeping him out of the mayor's office or he hates the mime outfit, or both. Thankfully for him this is the only time he will be seen in the mime outfit...
Because now he's a lounge singer.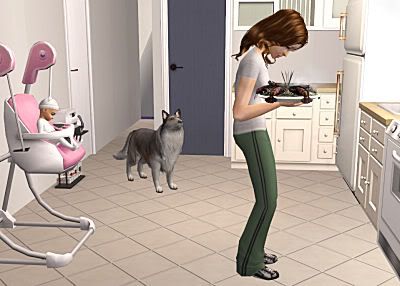 Cassandra burned the lobster thermidor. She looks disappointed. As you can see, She has some longer hair now, and a new outfit. Her hair and clothes are more like my real daughter.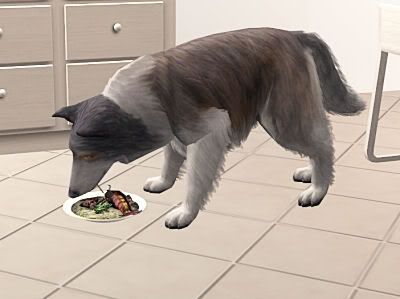 Leah ate some of the burnt lobster, but it made her bark at ants afterwards.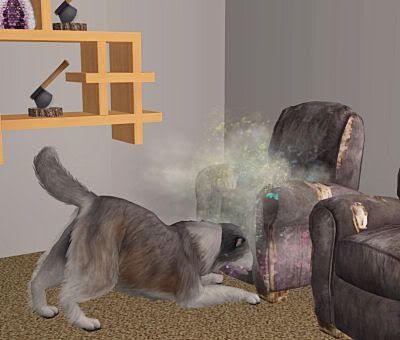 She took it out on the chair. Thankfully, the chair looks like it's already been through worse.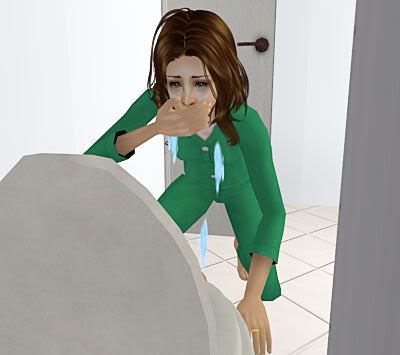 Cassandra had to call Ralph on the big white phone. Is it the burnt lobster?
Morgan got promoted again - this time to Ventriloquist. I'm just glad he didn't bring home one of those creepy dummies.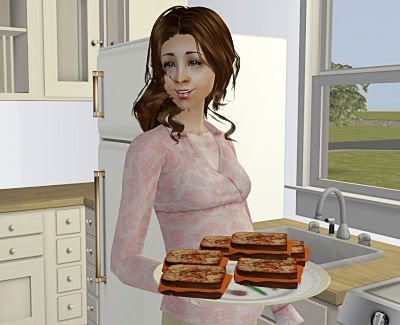 No, as you can see, it was not the burnt lobster that made her disembark dinner. She's going to have another baby.
This is one thing I wish were possible in real life. You could make up a plate of something like grilled cheese in the time it took to make one sandwich, put it in the fridge, and people would eat those sandwiches without complaining. And the food would stay good for an indefinite period of time. Have you guessed that cooking is not one of those things I like to do?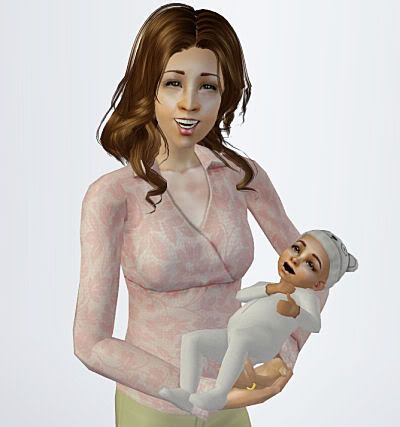 Little Cindy Lou Who is due for a birthday.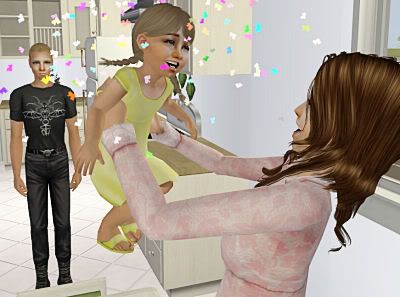 And I think she's a cute kid, and I'm going to let her keep the braids for now because I like them. And I'm lazy. Cindy Lou Who is an Aries: 10 Neat / 7 Outgoing / 4 Lazy / 5 Playful / 3 Grouchy. Her one true hobby is science. She's most interested in entertainment, animals, toys, travel and sci-fi.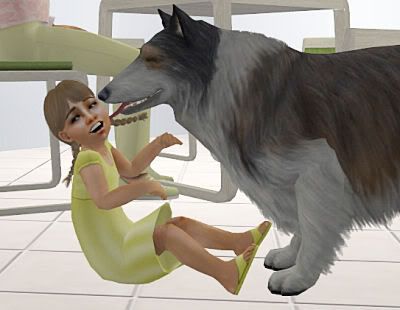 Leah gave her the taste test. Dogs know toddlers are usually covered in something sticky, which makes them extra tasty.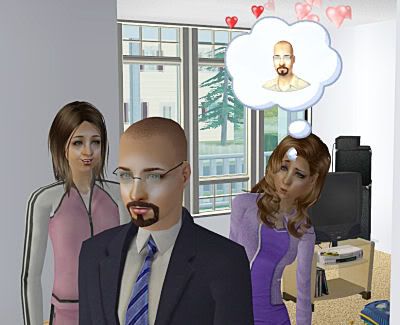 Speaking of tasty... My simself still thinks sim Scott is yummy after all these years. I'm really fond of the real Scott, too.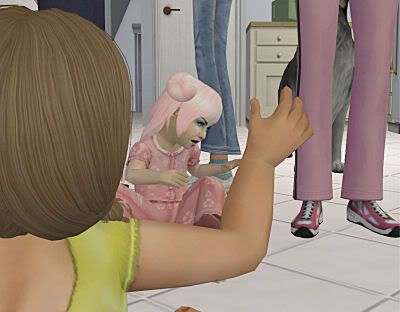 Charity's daughter Mew was teleported to the party in hopes that she and her cousin Cindy Lou Who could become friends, but toddlers don't really have any interactions with each other except "Huggle," and Mew was not having that, so now they've gotten off to a bad start.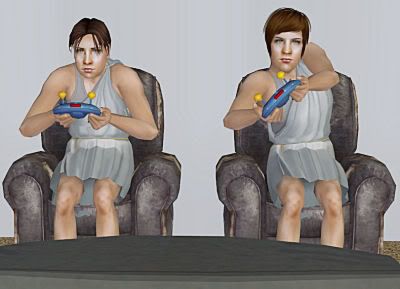 Christopher and Ian wore their togas to the party. They soon found the video games. In real life, they play games together often - usually killing zombies.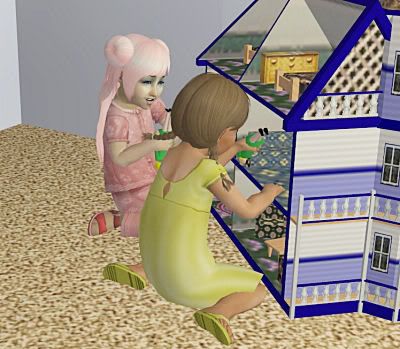 I tried getting a dollhouse so the girls could play together, but despite how cute it looks, it didn't seem to improve their relationship.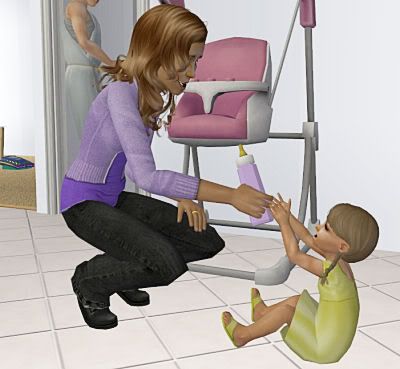 Cindy Lou Who was able to get a bottle from her "Gramichelle". This is what I have my grandchildren call me. Scott is Pap-pa.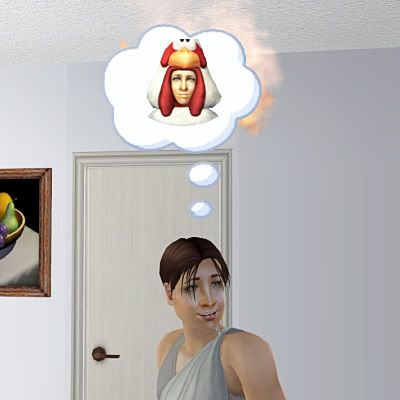 Christopher is still really mad at the Chicken Man who stole his girlfriend Nerissa, even though he was no longer attracted to her. But it really makes him happy to be mad.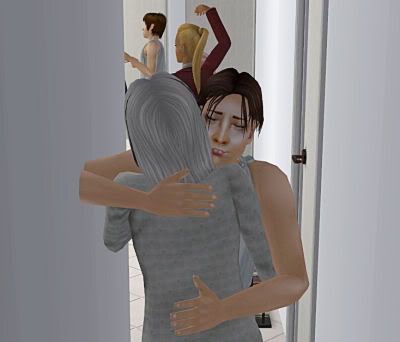 I found it surprising that Christopher remembered his old nanny Shenene, and that he liked her enough to give her a hug.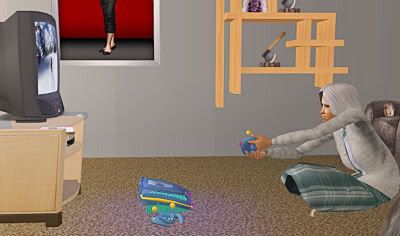 Maybe it's because Shenene is pretty cool, at least for a nanny.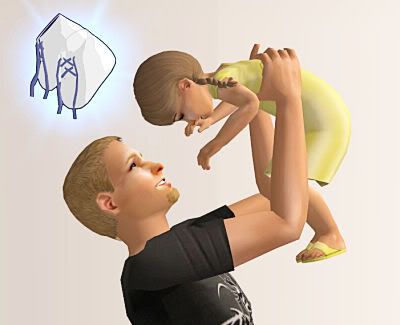 Cindy Lou Who is a daddy's girl. Morgan has been teaching her to walk and talk, etc. Cassandra is not feeling too great since she's pregnant again.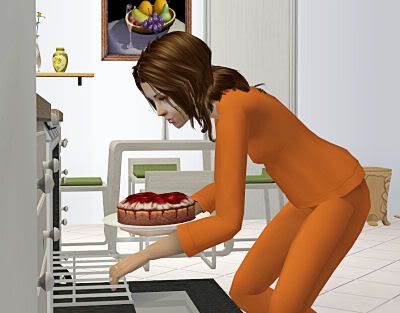 Even though she's sewn a ton of hotpads and has five of them hanging above the stove, Cassandra prefers to use her bare hands when touching the oven rack. It's time to see if she can't make the most of this pregnancy and get some cheesecake twins. She still has to have 2 boys.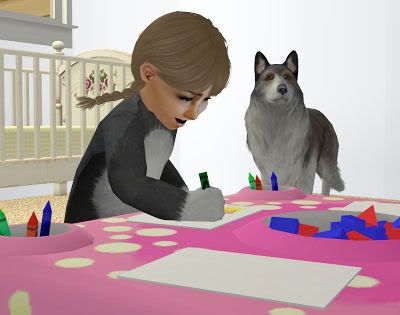 Cindy Lou Who loves to color, something she truly has in common with her human counterpart. Leah is probably waiting to eat crayons. My dog Obi loves them.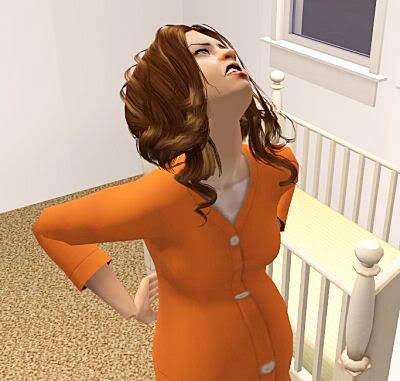 Cassandra's comfort level was good and she wasn't in labor, so I was surprised to see her show signs of a backache. I guess I haven't noticed pregnant sims doing this before.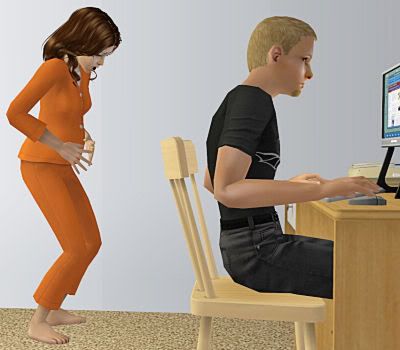 Finally, the great pumpkin was ripe and ready for harvest, but Morgan just had to finish up a few things on the computer first.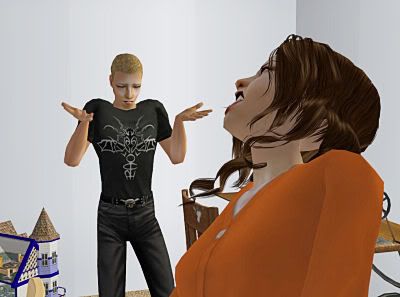 And now he's wondering why he bothered to get off of the computer. He doesn't have a clue what to do.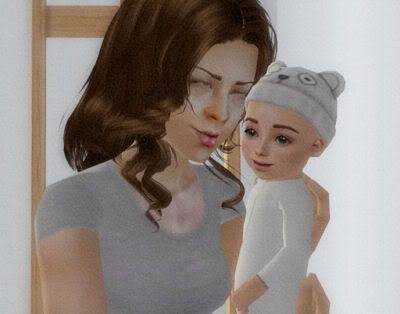 Thankfully, Cassandra had done this before and knew what to do. She had her eyes closed tightly, wishing for boys.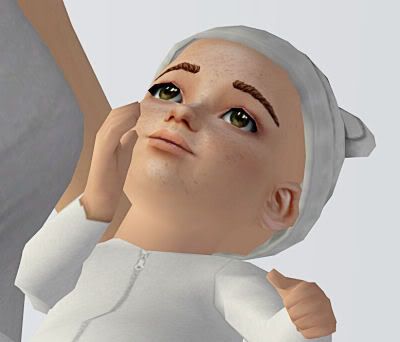 But it was not meant to be. This is Fox in Socks, a cute freckle-faced baby girl. The cheesecake didn't work either, because there was just one baby. Fox in Socks was born on December 16, 2026 at 10:42 a.m.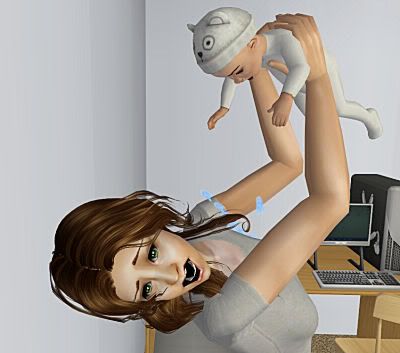 Fox in Socks hasn't even had her first bottle yet, but she's already training to be a supermodel.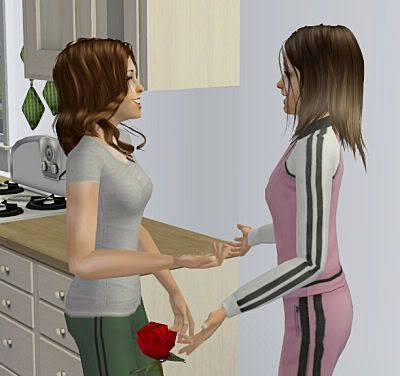 Cassandra is asking her sister Charity if she can watch the kids for awhile. Thanks to
Squinge's Watch Kids Enabled hack
, this is possible in all houses and not just apartments. Since I no longer use apartments (at least not the game's version), I find this hack especially nice so that I can still have others watch the kids without hiring a nanny every time.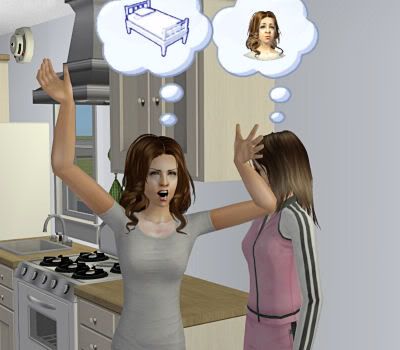 Because Cassandra is exhausted and Morgan went to work.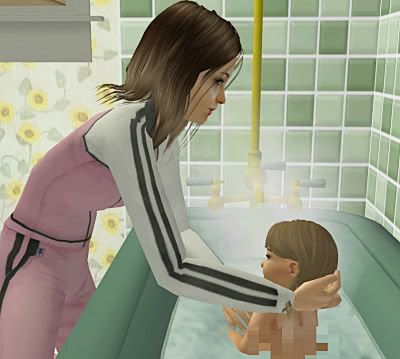 Charity was glad to help and did a great job. She did way better than most nannies. She bathed Cindy Lou Who and changed her diaper.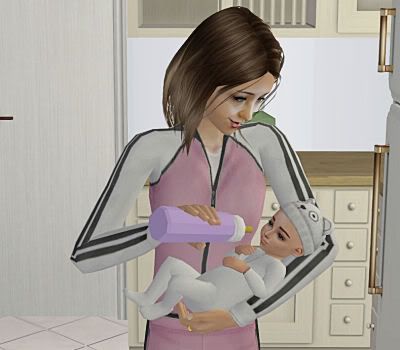 Fed Fox in Socks two huge bottles in a row and changed her diaper three times in a row, LOL.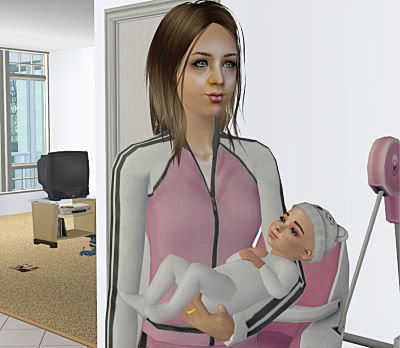 She did seem a bit obsessed, but at least she was focused on taking care of the kids needs, sometimes taking care of their needs before they actually needed them.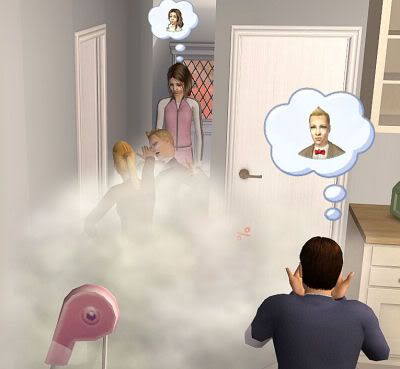 At that point, I remembered I hadn't been inviting friends over to age up, so I teleported in a few of Cassandra's friends. These are two of her old professors fighting - Pamela Gergis and Craig Pearson.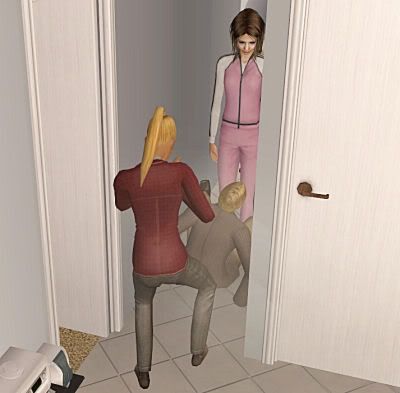 And Pamela won the fight. This was a bad place to fight, because Charity was trapped in the hallway. This was my design flaw - a 1 tile hallway was not a good idea, as it causes fairly frequent problems, even when people aren't fighting.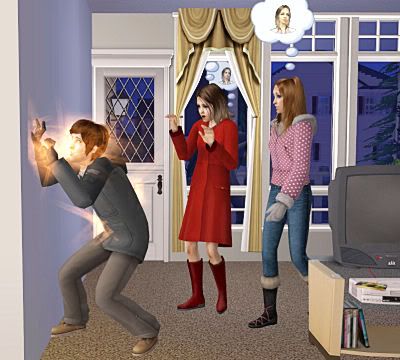 And this is where things got hairy, or at least tried to. Ian's nightly werewolf transformation was too much for this party, throwing us into a time loop.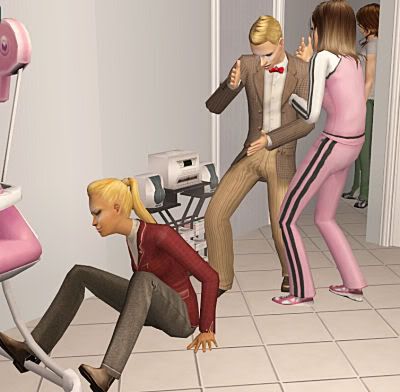 And in this alternate timeline, Craig kicked Pamela's butt...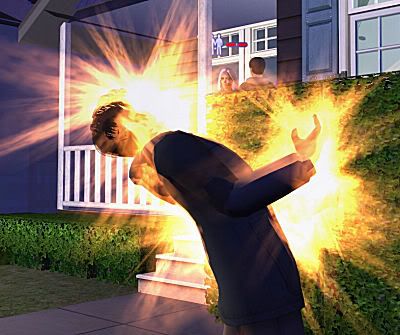 And then Ian's transformation threw us into another time loop... Finally, I teleported him away before his transformation at 8 p.m., and then teleported him in later in the party so that he would already be transformed. That only caused a long pause instead of a crash.
Morgan was now
finally
free to come home with a promotion to Round Table Knight.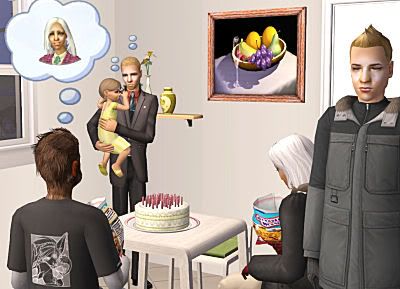 And finally it was time for the main event - Cindy Lou Who's birthday - again. Jason has his eyes closed in this picture. This is very typical of real Jason to accidentally blink in pictures, although lately I've been seeing pictures of Christopher in school activities with his eyes closed
on purpose
because he thinks it's funny. He has an interesting sense of humor.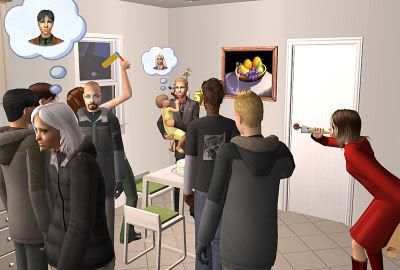 This is usually how it feels in real life at Cassandra's house when there's a birthday. It's standing room only at the kids' birthday parties - lots of people in a fairly small house.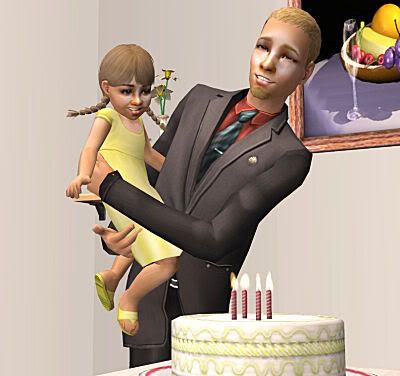 One more picture of the cute toddler with her daddy...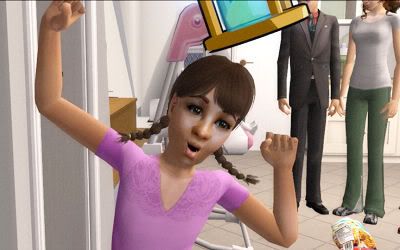 And Cindy Lou Who is happy to be a big girl now.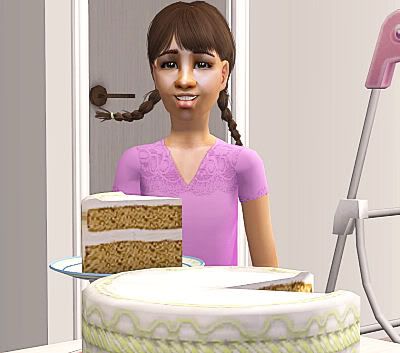 I love how one braid is sticking out, and how her piece of cake is the size of her head.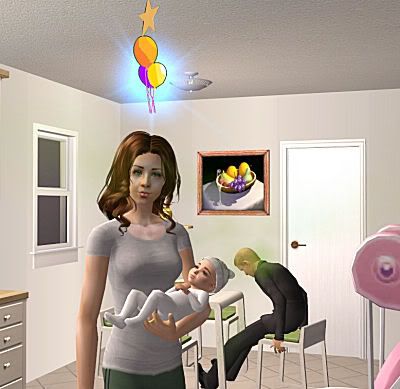 It was after 1 a.m. before the party guests left her roofraiser party. Cassandra was exhausted, holding a smelly baby, and giving me a look to kill. Next time I'll be smart and have the stereo on, thereby ensuring that the party will end at 11 p.m. when the police show up. This party was a roofraiser almost from the start, so there was no reason to drag it out for 6 hours.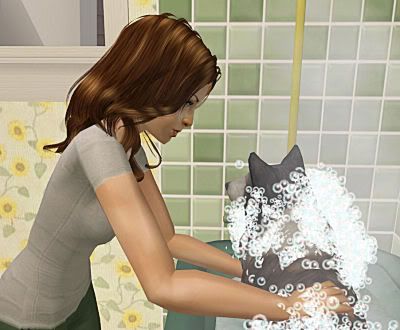 Time to wash the smelly dog again. Cassandra has a dog in real life - a female chocolate lab mix named Chocolate. Chocolate is always exuberant to see me. It usually takes a good long time for her to calm down and stop trying to jump on me.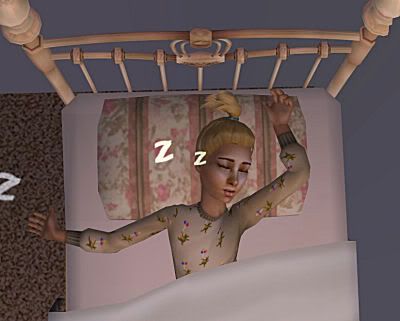 Cindy Lou Who got a makeover in her sleep, and is now a blond with a more Seuss-looking hairstyle.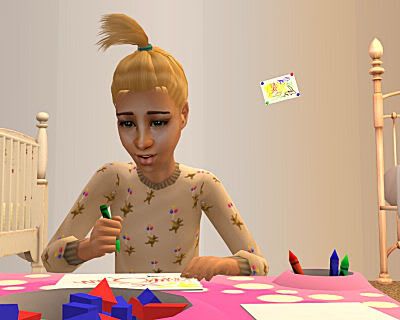 She's up bright and early to get in some coloring before her first day of school.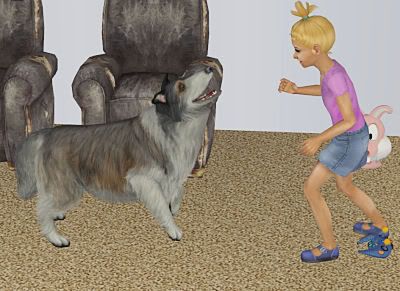 And while she's waiting for the school bus, she also takes time to play with her dear dog Leah, whom she adores.
This family was fun to play, and I kind of hated having to quit. I completely forgot to do a random scenario, and I didn't feel like sending them on vacation, even though they could afford it. I probably should have had them take a vacation. I still could... Nah. I'm starting to really hate vacations.
Scoring: +2 for adding Cindy Lou Who and Fox in Socks to the neighborhood. The population of Apple Grove is currently 79, with a total population of 81.