The last time we saw the Fanceys, it was just briefly in the last University update. Baby Franc was deposited into the arms of his grandparents Lara and Heath, so that Coupon could continue on with her wild, partying ways at University of Applebama.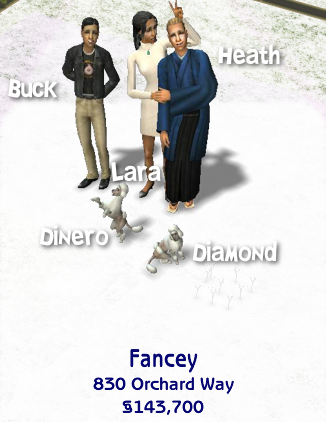 Just as a reminder, these are the members of the Fancey household. For some reason baby Franc is not showing up in the picture. I suspect it has something to do with adding him in a non-traditional way to the household. He was added to the family with the Teleporter Plus painting from Simlogical instead of by allowing him to be taken by the social worker and then adopted. I suspect that when he transitions to toddler, he may begin to show up in the picture.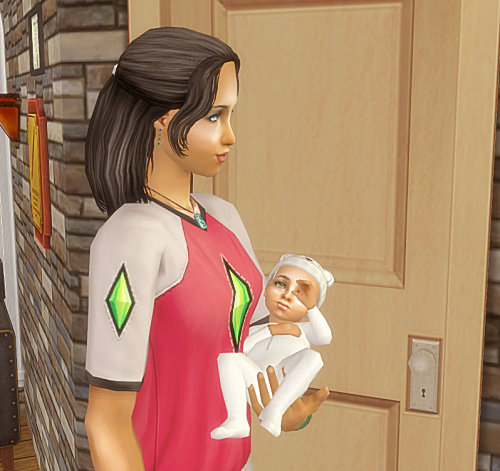 It looks like Franc is waving hello. ;) Lara doesn't exactly look thrilled to be raising another baby. She's done the parenting thing already, and she would probably prefer not to have to raise a grandchild. But she and Heath are nice (Lara 7 points and Heath 5), so I'm sure she would prefer this to having him taken by the social worker. It's not little Franc's fault that his real parents are irresponsible losers. Well, they do have some involuntary responsibility thanks to
child support
enforcement.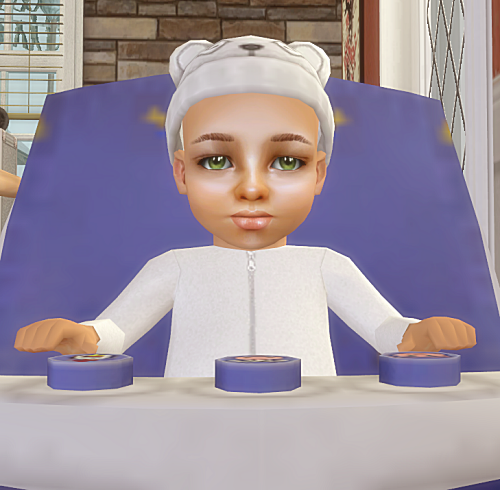 I wasn't able to get a smile out of Franc, but at least he was awake. He must have the stoicism of his Grandma Lara. I think he's really cute.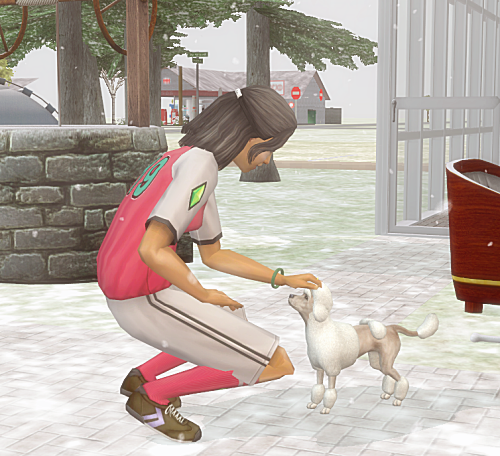 Lara wanted to be better friends with her dog Diamond, but it sure is cold to have to hang around outside.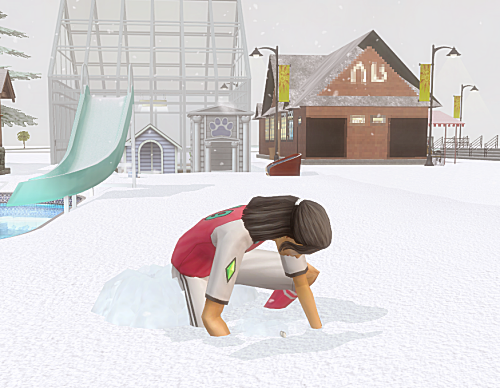 Although it's hard to tell, here she is rubbing Diamond's belly.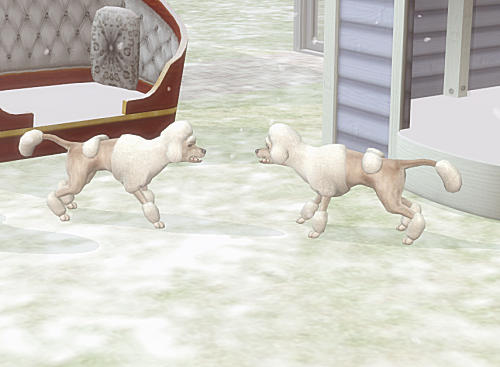 Diamond and Dinero don't get along very well. I think Lara was hoping to make more dinero from selling little Diamonds and Dineros, but I'll be surprised if that works out anytime soon.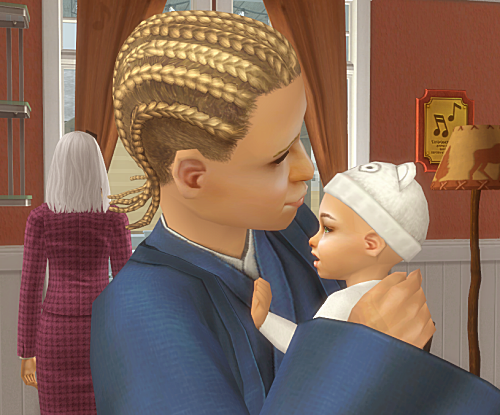 Heath does his best to be a good grandpa. I think he may be surprised that his daughter Coupon has turned out to be such a wild and careless girl, but I think he blames the school. U of A was not always such a party school, and I think he and some of the other parents may have to insist that something is done about the co-ed Greek house. As far as the rumors about the Christmas party... I guess that despite eyewitness accounts, he will give her the benefit of the doubt.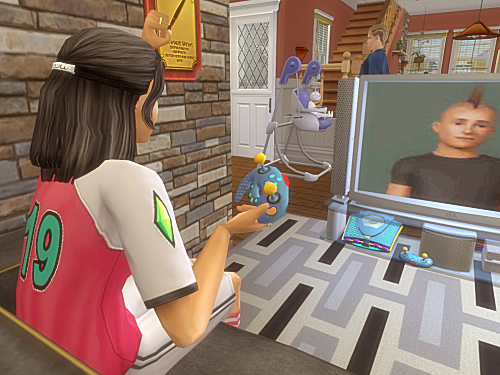 Since she wanted a gaming system, Lara bought one. She actually took a break from Tai Chi to play sims. Every time you see the Fanceys in workout clothes, you can be sure it was because of Tai Chi. Heath and Lara are still very obsessed with it..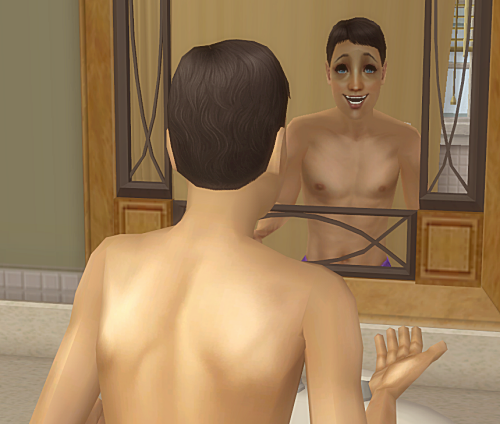 Buck had the want to learn charisma. I'm sure part of it was to try to earn a promotion at work. He's currently a birthday party mascot, but he would really like to become a mime. I'm not sure how practicing talking into a mirror will help him be a better mime. He would also really like to get his first kiss. He didn't get one in the last round because the matchmaker sent Jessica Ajjanagadde, George Hamilton's steady girlfriend.
Buck is yet another Apple Grove resident that hates his step-uncle Washington. I guess he has a right to be upset, since Washington did those things with his sister in the hot tub at the family Christmas party. I'm still ewwwing over that myself.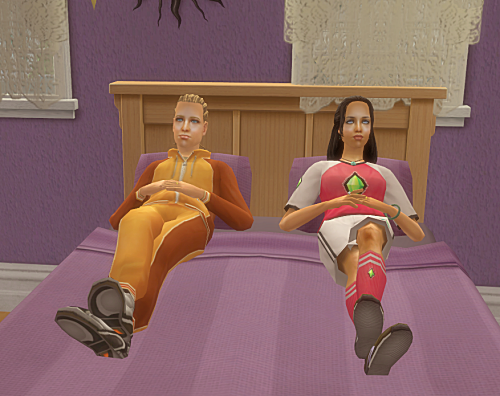 Heath and Lara both enjoy relaxing on the bed. I thought it was an ACR thing, but I guess it isn't. When I cancelled out their relaxing session for them to go do something else, they just went right back to relaxing again. I gave up, and just left them there. Maybe they're just waiting for ACR to finally kick in again.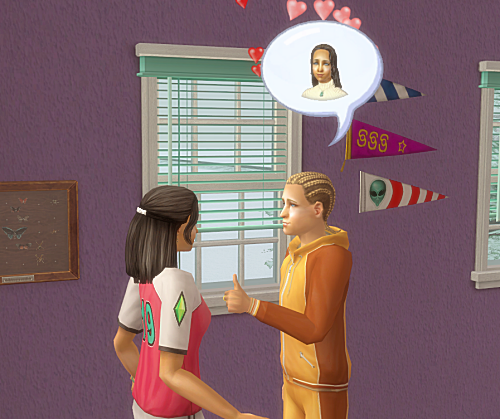 Finally, they decided to give up, and Heath congratulated Lara for being hot.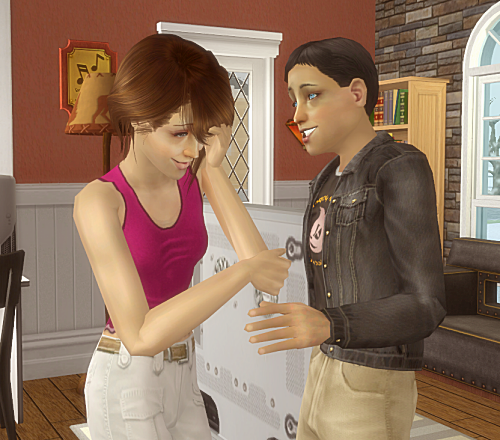 Buck is now working on a first kiss from sweet Adore Shibata. She has 10 nice points, and seems destined to be another of my favorites. She and Buck are both fortune sims and have 2 bolts, so I really hope they'll have a future together if they can somehow make it through U of A with the relationship intact.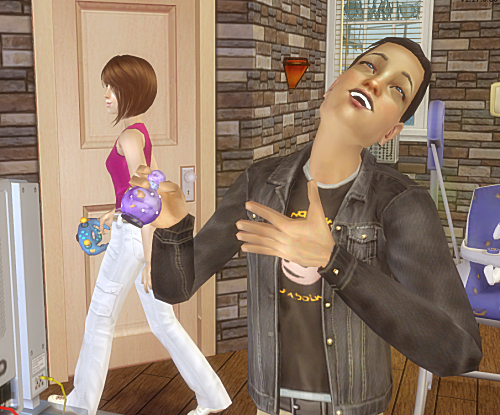 I let Buck in on a little inside information. Adore really likes the smell of cologne. I found it funny watching him splash it on from this girly purple bottle. Since he's a teen, I can assume he must have used a lot of it, as teens tend to do. And not just girls either - my sons have gagged me on countless occasions with their clouds of AXE.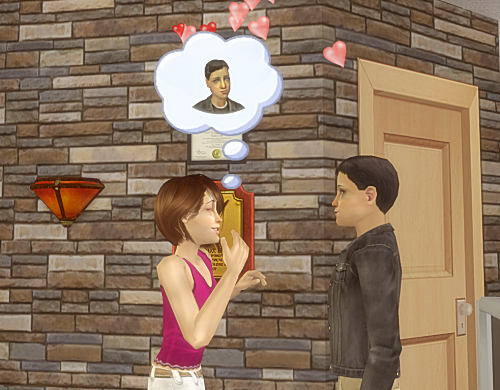 Fortunately for Buck, Adore loves the overwhelming fumes of fragrance, and at least for now, Buck is irresistible.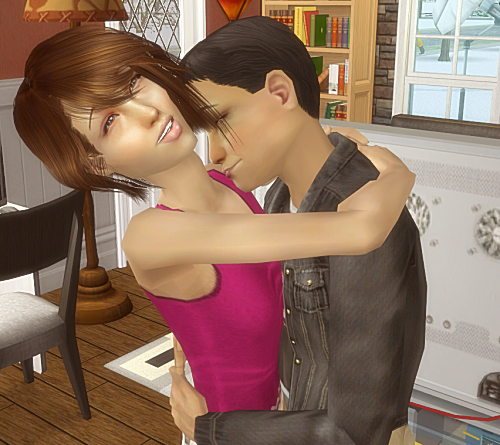 Things were progressing nicely on their date...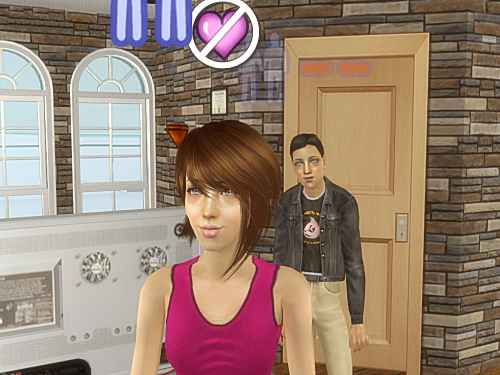 Until he told her a dirty joke. I was pretty sure she was not the type to enjoy dirty jokes, but he really wanted to tell her one. I was right - she
really
doesn't like dirty jokes (I understand), and I wasn't sure if he was going to get his first kiss after all.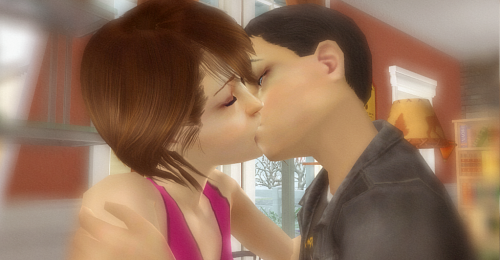 But she soon forgave him, and they both had their first kiss.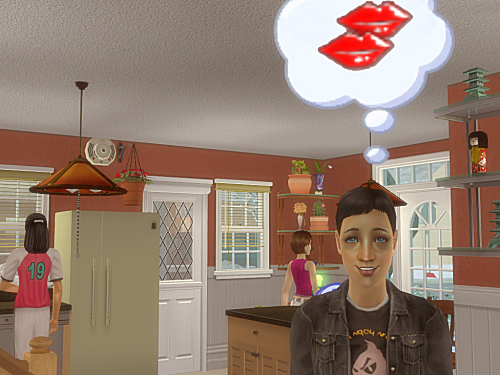 After she left, kissing Adore was all he wanted to think about...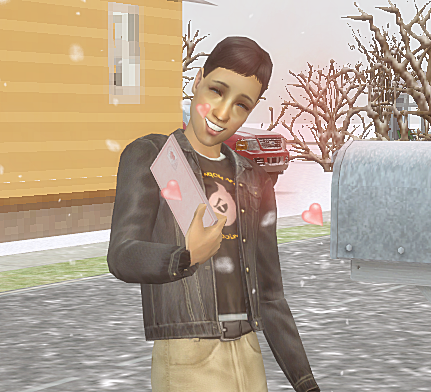 Until he got a love letter in the mail - a card from Jessica Ajjanagadde. The card must have been delayed in the mail, bceause I guess he doesn't know she's a mom by now.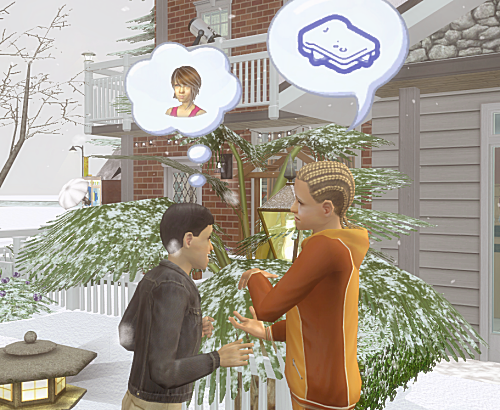 Heath was telling Buck how much he adores grilled cheese, but all Buck heard was Adore, and he was back to thinking about her again.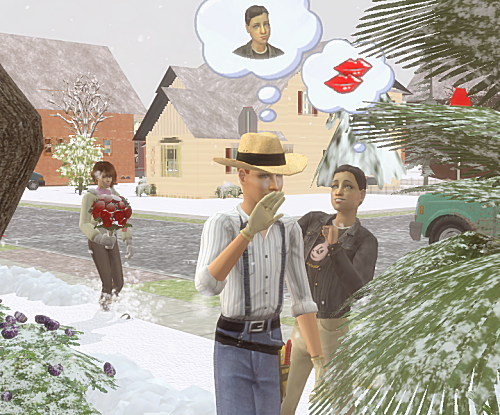 The Fanceys finally broke down and hired a maid and a gardener. It's getting to be a bit much to keep up with everything. The gardener Roberto Huerto seems to be friendly.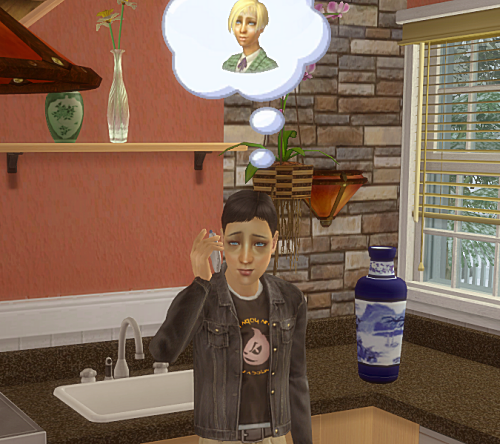 I was surprised that Jessica actually called Buck. I wonder if she's telling him about her baby, and her serious relationship with George. He doesn't look very happy about the conversation.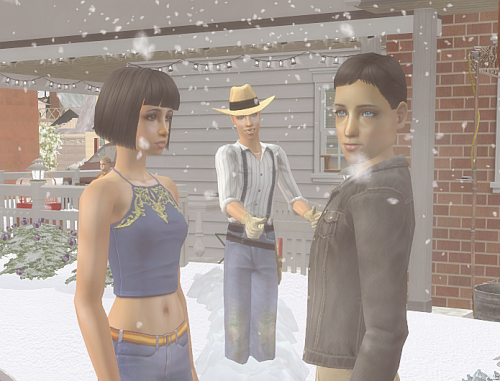 After that, Buck had a wish to kiss 3 sims. I really don't know where that came from, since he's not a romance sim, but I guess it must be because his secondary aspiration is pleasure. Since he isn't going steady, I decided to let him try the wishing well. It sent Ginger Newson. I like how Roberto seems impressed. Since he's been there to work on the garden, Buck got his first kiss from one girl who brought him a bouquet of roses, a love letter and a phone call from a second girl, and now he's about to kiss a third girl. I guess that's why Roberto gave Buck a double thumbs up.
He only has one bolt for Ginger, so this isn't really going to go anywhere. Hopefully he'll get all these romance-type wants out of his system while he's young. If he turns out to be a jerk, I don't know if I want him with Adore.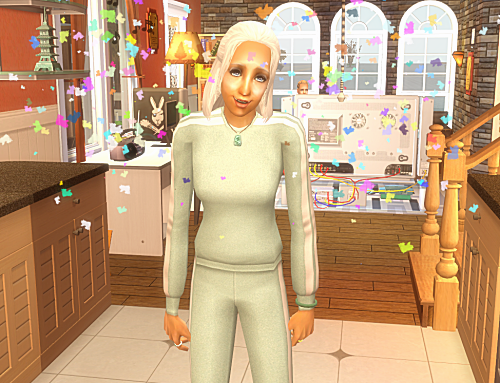 Poor Lara didn't get a party, but she aged to elder well. She's Sophie Graham's older sister, so she actually managed to stay young-looking for quite awhile.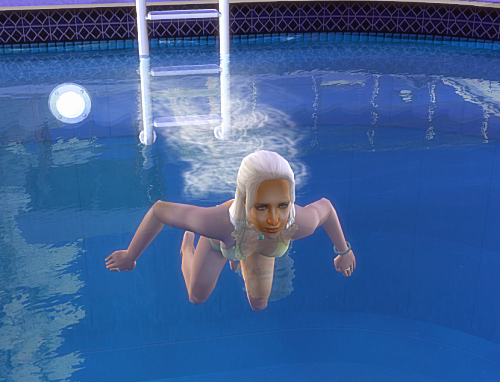 Lara decided to celebrate by taking a swim in her heated pool.
After a day of romance, Buck decided he wanted to earn some logic. I'm glad, because I feel I indulged his romantic wants quite enough already.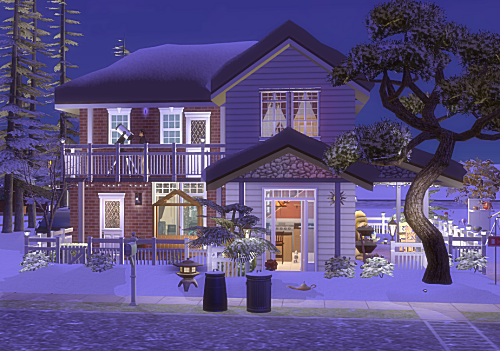 The Heaths didn't really bother to put up Christmas lights, since they have strings of lanterns up around the porches already, and didn't put up a tree until late on Christmas Eve.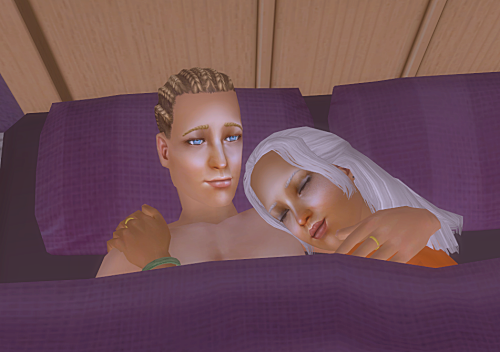 Heath still loves his wife Lara very much, even though she is is a little older now.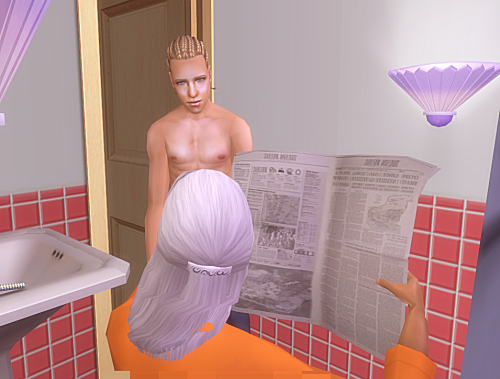 But he wasn't feeling particularly patient on Christmas morning when she beat him to the toilet and took her time.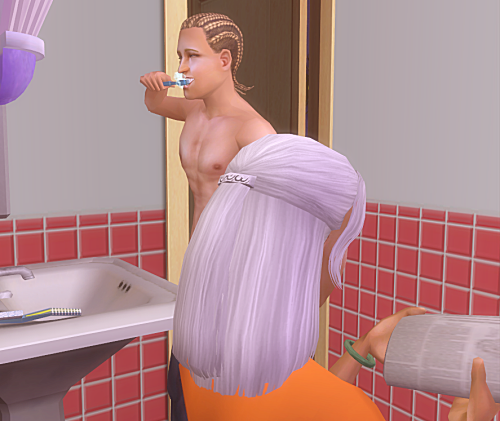 He made the best of his waiting time to brush his teeth.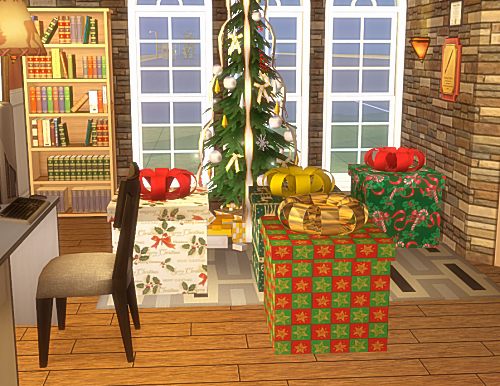 The Fanceys all got some expensive gifts for Christmas except for Franc who got a toddler toy. He will have to wait awhile to be old enough to open it. Buck got an expensive vase, Heath got a piano, and Lara got a(nother) grandfather clock. The piano and grandfather clock had to go into storage until they either move or they build on an addition to their house.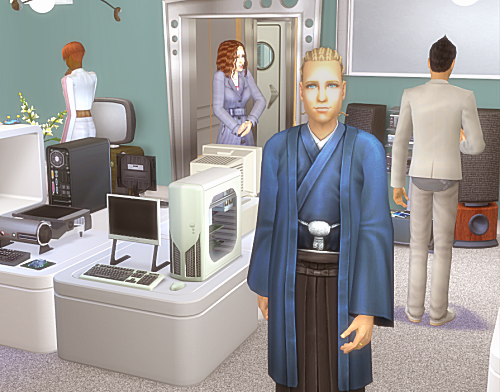 Heath decided to go to an after Christmas sale at Rose Electronics to get late birthday and Christmas gifts for his wife. An after Christmas sale at rose Electronics only means that things are for sale - and that it's after Christmas. There is no discount. ;) Heath thought that with Lara getting older and with the burden of raising a grandson, she could use something to cheer her up a bit.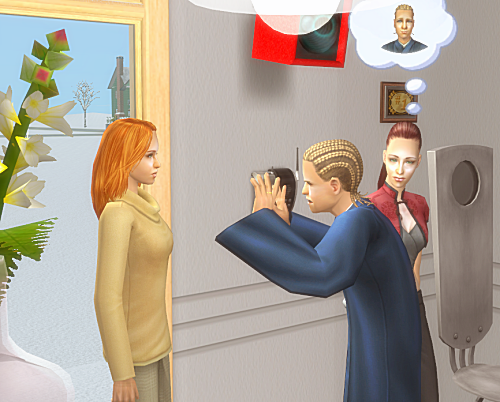 While he was trying to pay for his gifts, this moronic townie who looks like Dagmar Tucker's twin sister was confused about where to find something, so she just blocked the register and walked in circles for the longest time, and Heath finally had to tell her to get out of the way. It was so annoying.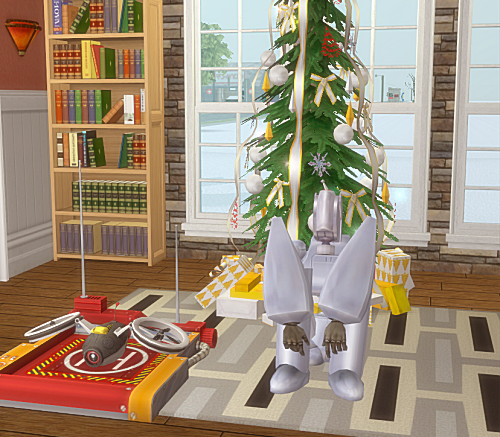 Heath brought the gifts home and put them in front of the Christmas tree. Lara is getting a sentrybot to protect all their valuables, and a servo!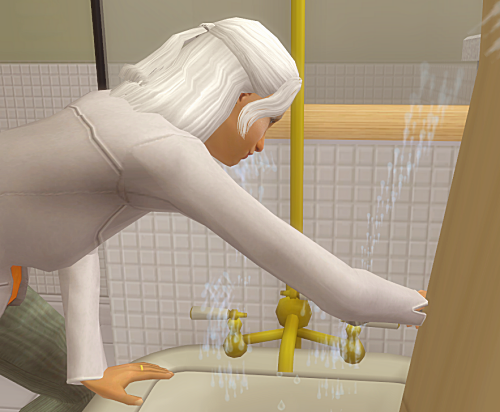 Lara was in the bathroom fixing the leaky shower when Heath told her to come out and see what was in the living room.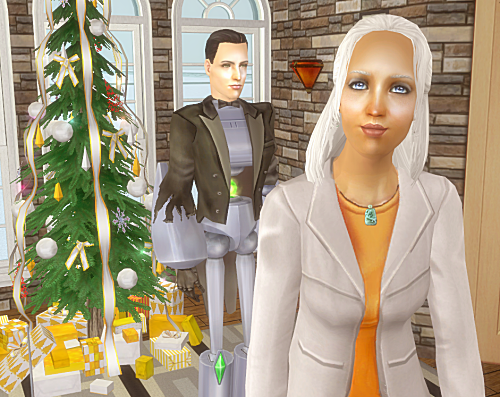 Lara had her usual stoic expression, but I feel she will be pleased, especially with the new servo Butlernator. He supposedly does all the work of a butler, but without being paid. Of course, he will also be great for Heath, because he can send him to do the gardening over at their rental properties. Butlernator is a Fortune sim and has Lara's personality, but unfortunately his secondary aspiration is Romance. He wants to be a World Class Ballet Dancer. That should be interesting. ;)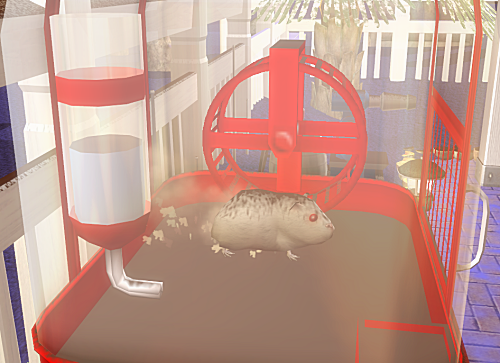 Butlernator's first job needs to be cleaning out the dirty womrat cage. I didn't realize that the womrats themselves got dirty. Despite a dirty cage, he has been very low maintenance, and hasn't even required any food for the duration of this round. Why can't the birds be half that easy?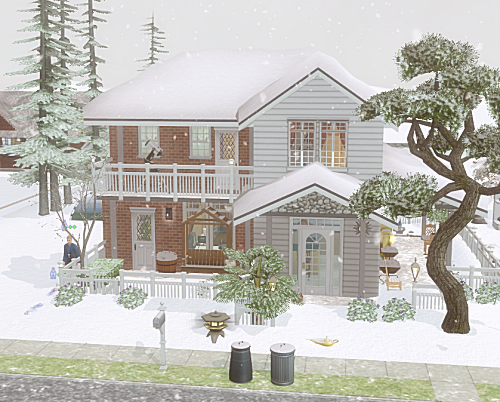 Well, it's time to leave the Fancey house. I think they had a pretty good Christmas.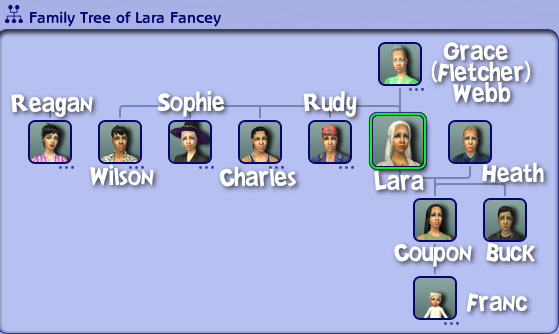 This is Lara's updated family tree to include her grandson Franc.