This was the name of a movie from the 70's. The name seemed to fit this round at the Graham house. Does it make me kinda old to know this? Nah, I won't be old until I outgrow playing with sims, so I'll never grow up. Plus, I use moisturizer. ;)
Sophie had found
a way around using the reagents
, which she said are basically only good for one thing - decoration. She said, "If you're going to be a witch, you shouldn't be forced into making arts and crafts all day just so you can do a little magic."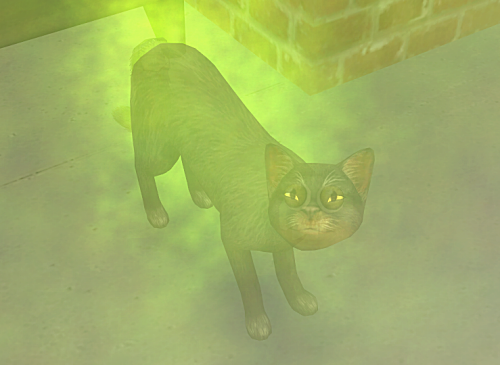 She then summoned her magical cat "Merlin." We haven't seen
her
in awhile. Yes, Merlin is a girl because the first time Sophie tried summoning her feline familiar...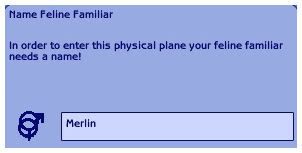 ...she saw both the male and female symbols, so mistakenly gave her female cat a male name. I had nothing to do with that confusion. ;)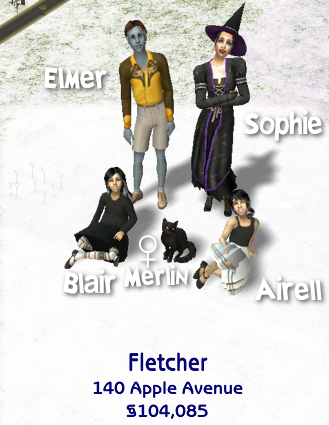 Just so you know, these are the members of the Graham family, even though I'm lazy and it still says Fletcher. Graham is Sophie's married name, which she kept after her divorce from her ex-husband Daniel. She likes Fletcher better, but she knows if she goes back to being a Fletcher that her family will be referred to as the Fletcher 3 family. She doesn't like that idea. Besides, she knows it must really bug Daniel to have to be the Graham 2 family, even though it was originally his last name. Well, she's not going to give him and his new red-headed wife the satisfaction of getting to be the Graham family. She'll stay a Graham just so they have to be the Graham 2 family. Even though the divorce was her plan, she's bitter that Daniel moved on so quickly.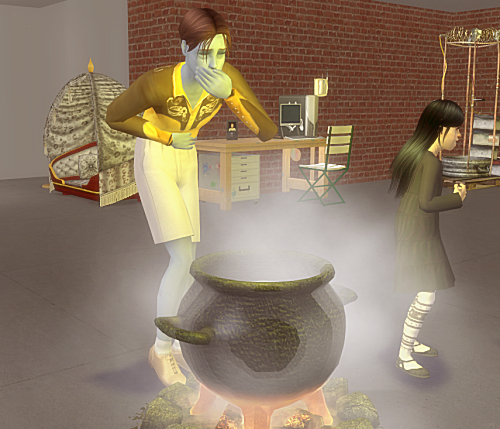 She's bitter even though she moved on first and has her zombie
lover
servant Elmer. Elmer fails as a wizard, so Sophie made him turn in his robes. He now has to wear his cowboy shirt with shorts and bowling shoes from the Goopy Gilscarbo Collection of Fine Apparel. Sophie even sold Elmer's cauldron since she says he is too incompetent to make good use of it.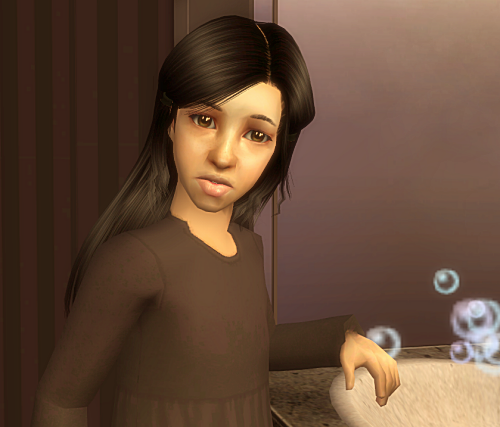 This is Blair, one of Sophie's quadruplets. I think I like Blair a lot.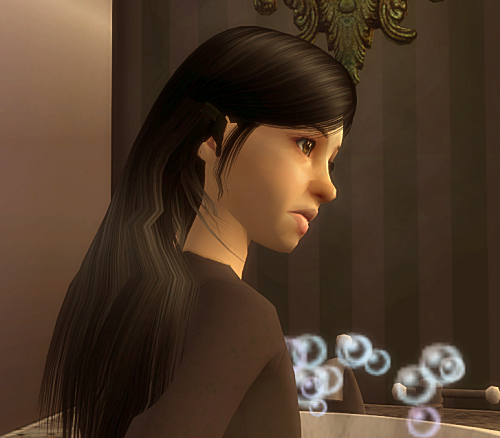 And it's mostly because of her looks. She looks just a little different with her downturned mouth and her slightly pointy nose. Different is good in Apple Grove. Sometimes I think I should have given stronger, more unique features to the founding families. Even though she looks slightly unhappy, Blair has 4 nice points, which means that relatively speaking, she's one of the nicer kids in Apple Grove. This has to be a disappointment to Sophie.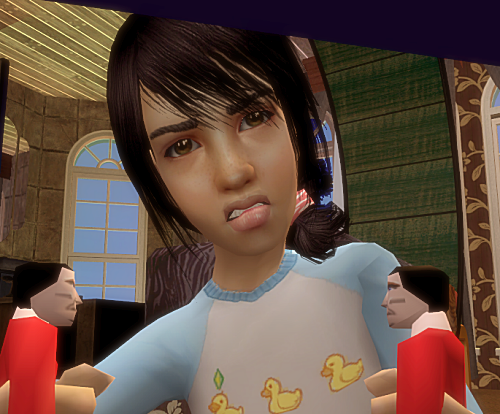 Airell is the prettier of the girls, IMO, and actually has
8 whole nice points
despite her current expression. She must be a
terrible
disappointment to her mother.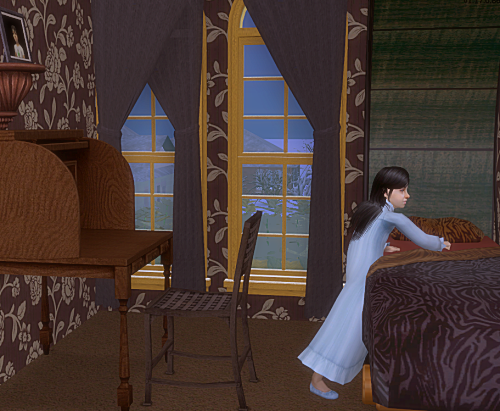 For the winter holidays, Sophie redecorated the girls' bedroom, making it a bit bleak for the girls.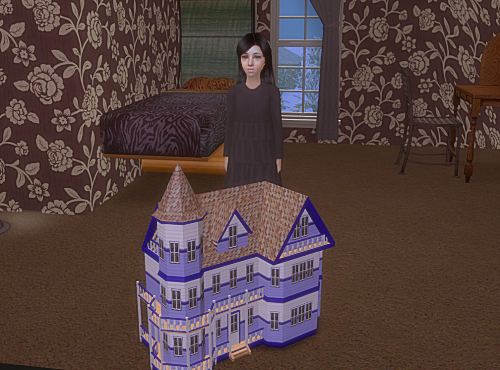 The only bright spot left in the room is the dollhouse, and if Sophie knew how to make it look less cheerful and more like a haunted house, I'm sure she would make it look depressing too.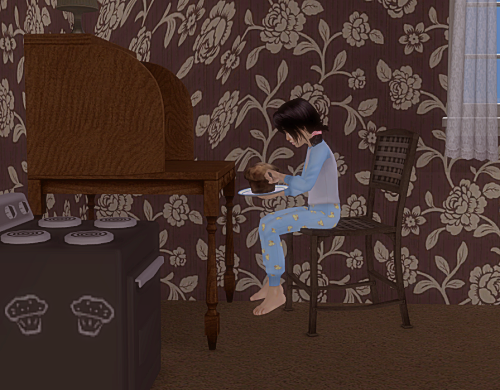 Airell practices her muffin-baking survival skills. I wondered why she was spending so much time in her room...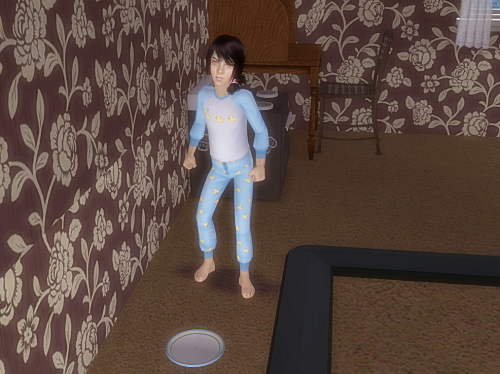 Until I figured out that during the remodel I put her stairs in an inaccessible area which trapped her in her room, testing even her 8 nice points. Thankfully, nothing bad happened to her because of my mistake.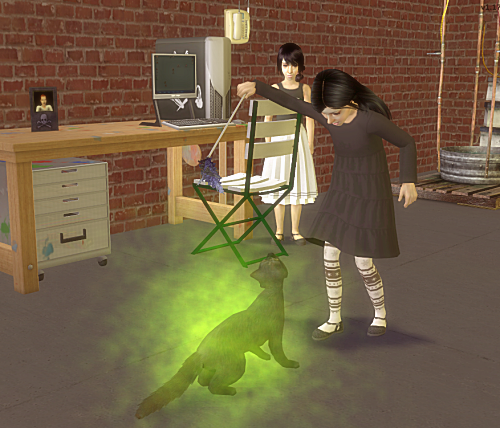 Airell and Blair had little that was cheerful in their lives during the holidays - or really anytime, but they did enjoy playing with Merlin. I suppose you could say that having the cat visit was their Christmas present, even though Sophie doesn't celebrate Christmas. There was nothing festive or special going on at the Graham house. Except for having the cat around, the only difference was the new home business.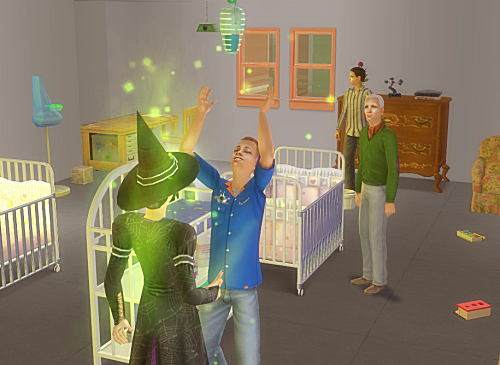 Sophie had less than §70 at the beginning of the round. She decided that she could make some money by selling off the girls' old baby stuff. Gullible townies would even buy tickets just for the opportunity to buy her old furniture.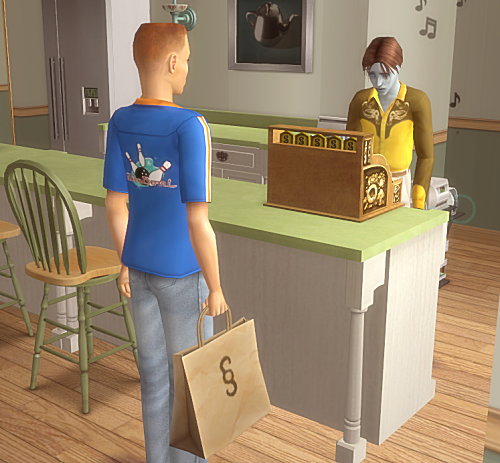 And she didn't really have to work that hard, because that's what Elmer was for.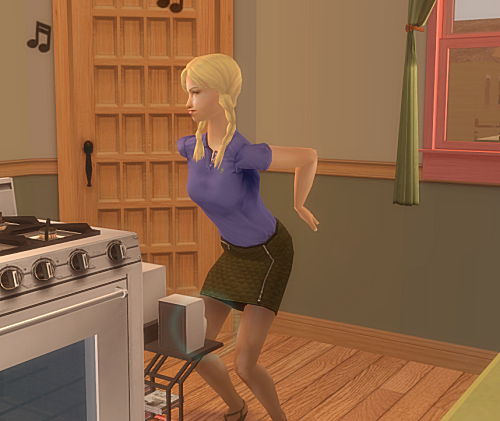 This customer was really cracking me up with her weird dancing. I know it's probably nothing new, but I guess I just haven't paid much attention to this strange butt-patting dance before.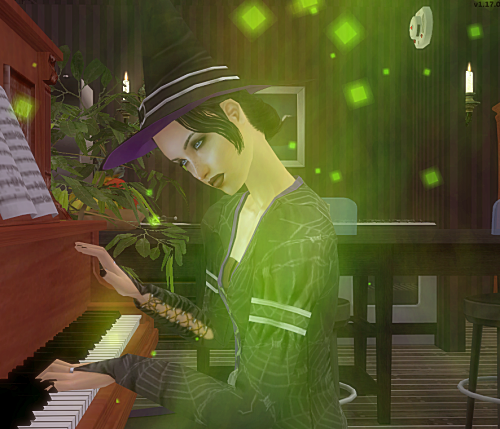 It was finally time for Sophie to become an elder, and I think she knew it. On her own, she got on the piano before 6 p.m. and decided that if she played the piano long enough, she could avoid aging for another year. I could have made her stop, but I decided to just wait and see what happened.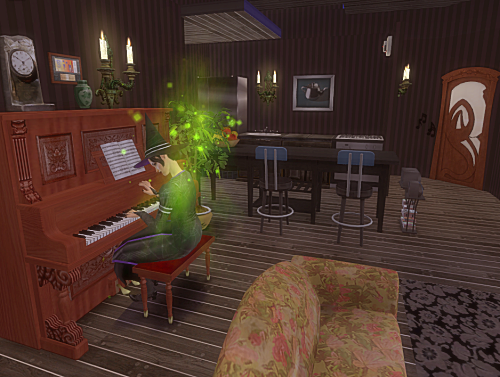 Meanwhile, as she sold off more of her old stuff, her house was becoming increasingly dark as it was replaced by darker furnishings.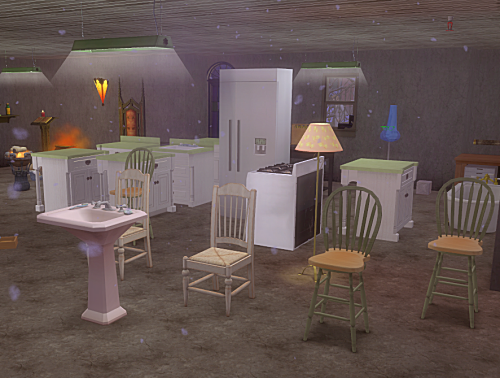 This is the current state of the garage/basement. Almost everything you see down here is for sale.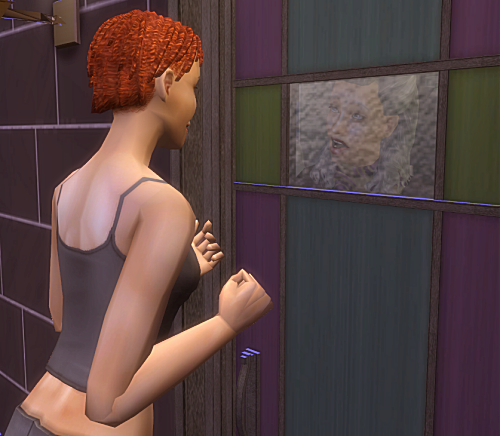 This was weird. Apple Grove's mean, annoying and often defective reporter Lisa Pons came over and just hung around taking notes, but never gave a review. She did, however, have a conversation with a lady through the door. It was somewhat amusing to watch.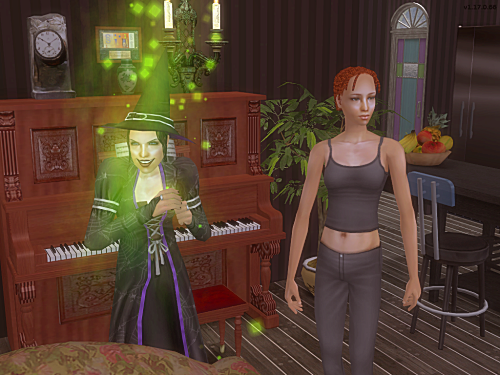 Lisa Pons should probably watch her back. She gave Sophie's Sorcery Shop a bad review, so Sophie is not that happy with her.
It's now 2 a.m., and Sophie did manage to skip her birthday. What's up with that? Sometimes it all starts to seem a little eerily real. How did she do that?!!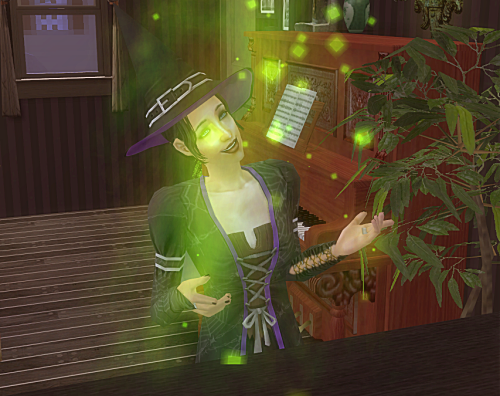 Anyway, after Sophie somehow managed to avoid that age transition, I got a little more freaked out when she sat at the bar and had a conversation - with seemingly no one else there. Maybe there is an invisible sim here, which is even creepier than Sophie talking to herself, IMO.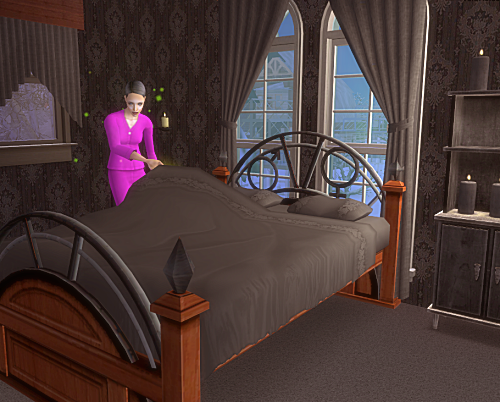 Sophie finally went to bed alone in her newly depressing bedroom. Now if she had only bought some new pajamas that weren't florescent pink, the effect would have been better. ;)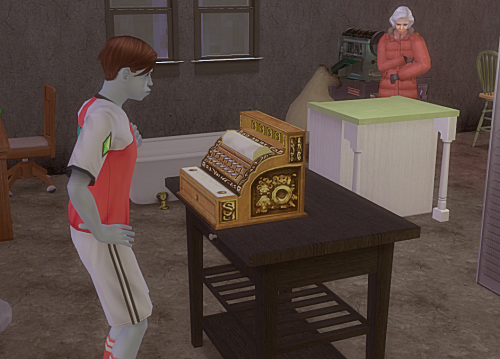 Elmer doesn't get to sleep or enjoy anything really. His job is to sell furniture all night, with the occasional break to sit in Sophie's Throne of Darkness.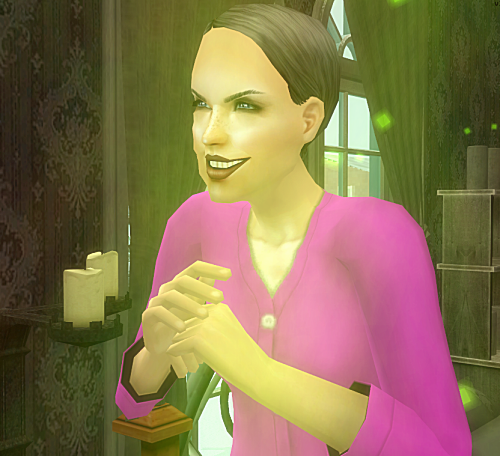 Sophie woke up in the morning refreshed, and happy to still be young. She had big plans for her day. Yes, she is happily scheming.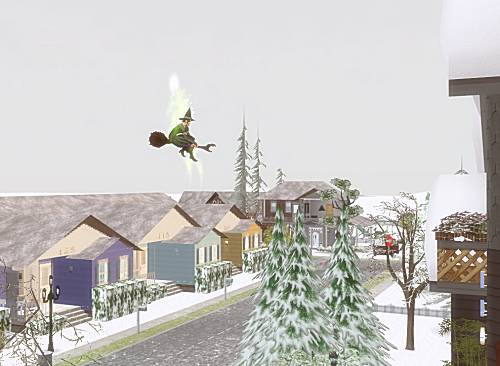 She left early, heading for her failing business Sophie's Sorcery Shop. It's failing because the people of Apple Grove don't seem to have much use for reagents or scary lamps. They're much more inclined to buy tickets to an opportunity to buy used furniture at average prices. :P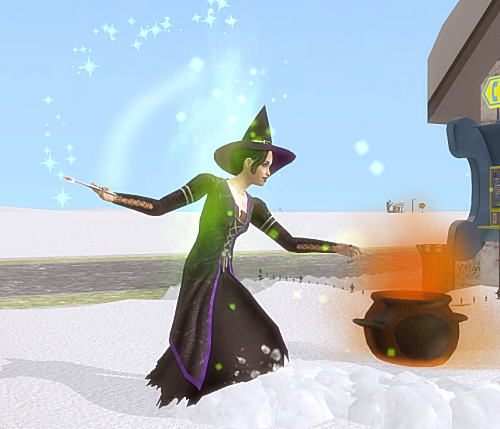 When she arrived, she cast a very powerful spell.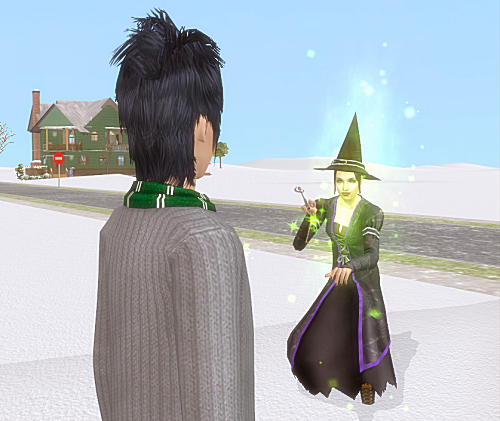 And she cast it at her son Havelock. Yes, she had pretty much ignored him from birth, but now she had plans for him.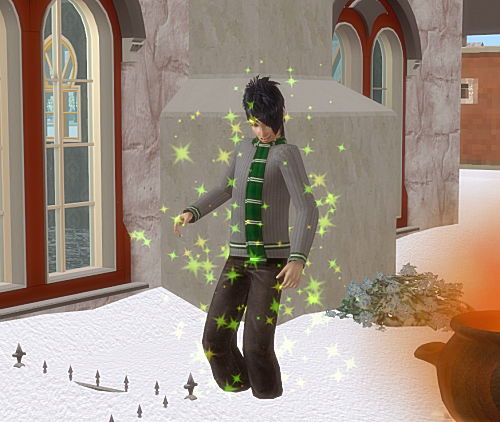 Before he knew it, Havelock felt an odd change begin to take place in his body.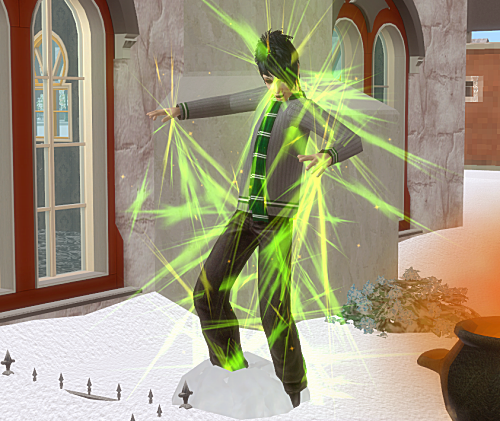 As it grew more intense, it was a scary, yet wonderfully powerful feeling.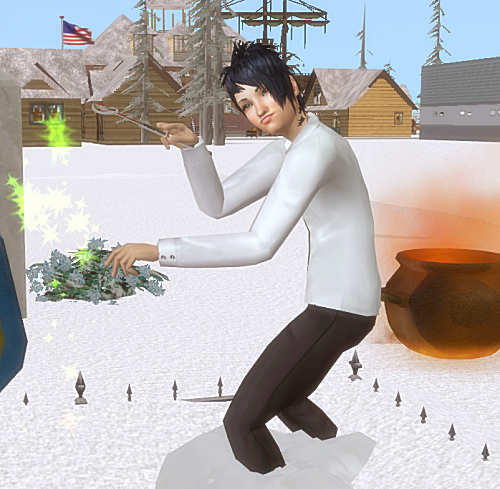 And he realized that he was no longer just a witch's son dressed in a Hogwart's uniform. He now had
real
power, and it felt
good.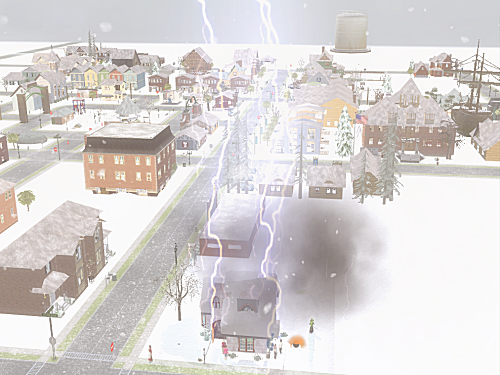 There was a bright white flash of light, and powerful lightning bolts rained down from the sky as he cast his very first spell. And it was only the start of greater power to come. There was no way he could go back to being just an ordinary guy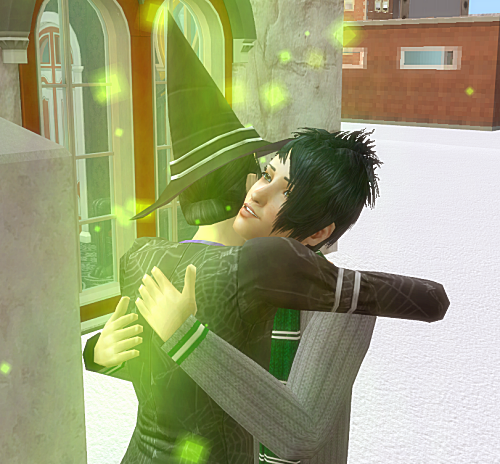 Sophie thought her plan couldn't have gone any better. All her hopes were now on Havelock, and she told him that he would be her heir. He had the necessary personality traits to make a powerful, dark wizard. How could she have been so blinded into thinking it would be the girls that would carry on her legacy? Havelock was just so happy. Not only did he have great power, but he finally had the attention and approval from his mother that he had always craved.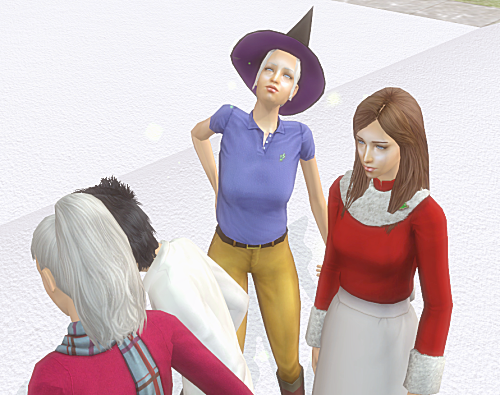 Casting that spell on Havelock that morning must have really taken a toll on Sophie, because afterward she was no longer able to hold off the aging process. Unfortunately, she grew up in a somewhat lame outfit.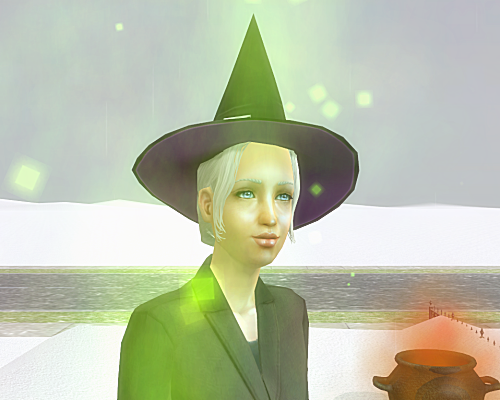 Soon she was able to find more appropriate colors, although a witch's dress could not be found. Despite her age and atrocious evilness, I think she still manages to be very pretty.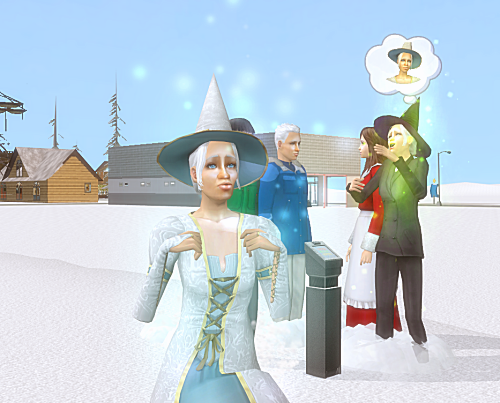 She had a lot of fun casting a chicken spell on one of the good witches that dared to stop by her renovated business.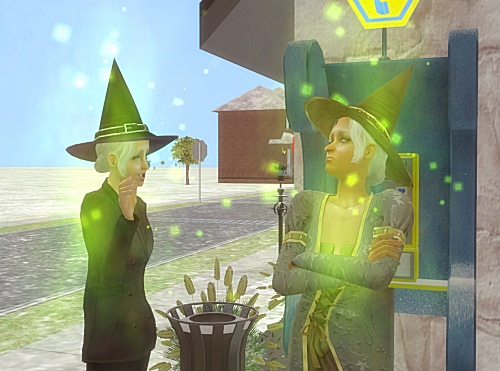 But the other bad witches for some reason wouldn't have anything to do with her. The atrociously evil witches like herself had changed into the neutral robes. She really wasn't sure what was going on, or how to get through to them.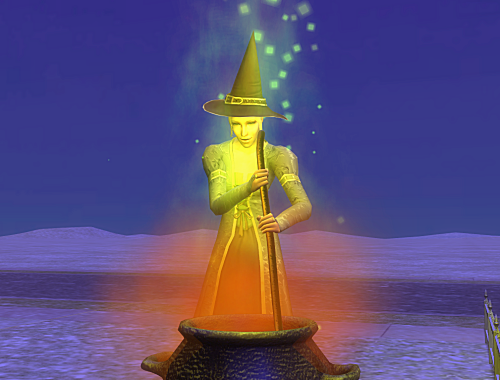 This younger witch even started using Sophie's cauldron, which has to be a serious breach of witch etiquette.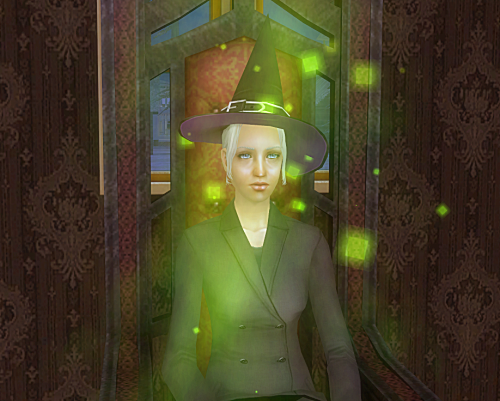 But Sophie would have to figure out what to do about the other dark witches another time. Right now she had to focus on business.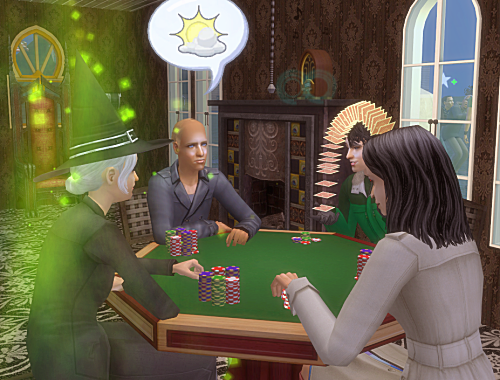 Sophie's Sorcery Shop was now a gambling establishment, and in need of a new name, but that would also have to wait. It took some time for her to figure out how to make poker pay. She had to send her employees home, because they really weren't much use in the current business, and they just expected to be paid to play poker.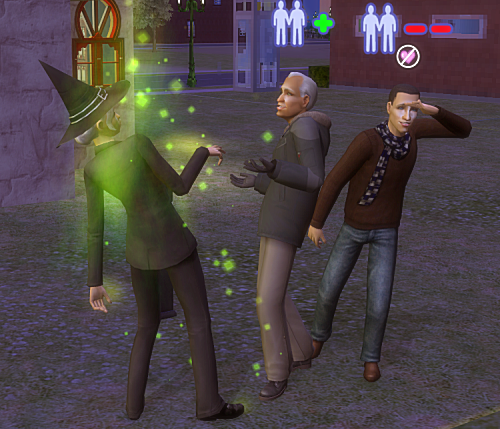 She decided this business ran itself pretty well, so it was a good opportunity to meet some new men. After the incident at Brian Tucker's house, she had somehow managed to completely put him out of her mind. I was really surprised she got over him so quickly. Until now, she hadn't had any romantic thoughts since Brian's party. Anyway, I guess she completely forgot that she had once "dated" this professor in college, although apparently it was still fresh in his mind, so he didn't think she should be flirting with that old man.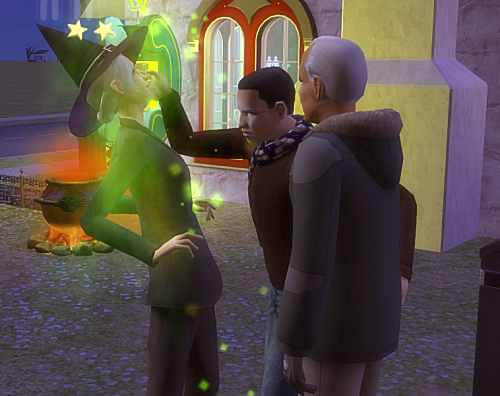 He even dared to start slapping her, which seemed very unwise.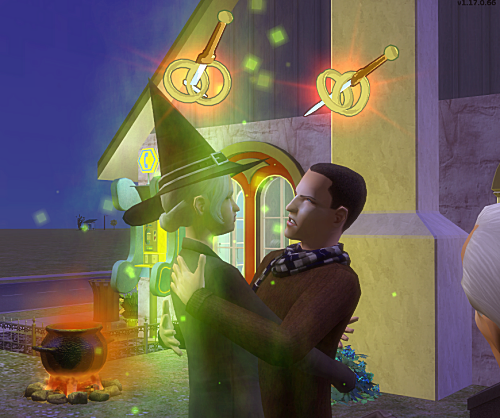 Well, instead of hitting him back or turning him into something, she decided to grab him.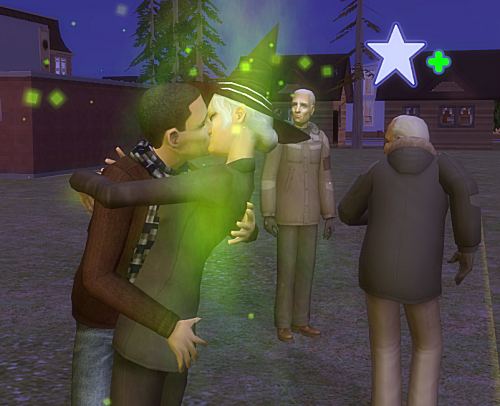 She kissed him, and that seemed to fix whatever problem he had with her.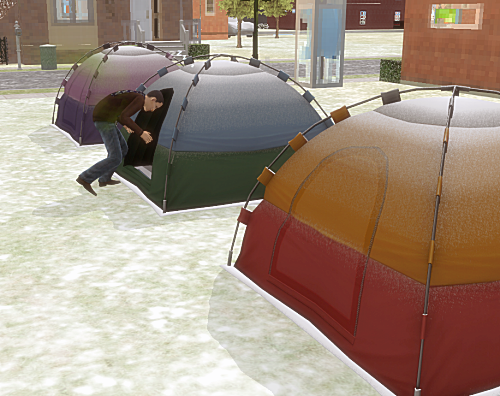 He actually had to go take a nap after that kiss. Sophie had set up a row of tents behind her new poker den. People were so obsessed with poker that they never wanted to leave. They were passing out on the floor by the poker tables before she added the tents. Now they would nap in the tents just so they could get up and go play
more poker
. They still kept paying by the hour to nap, so she didn't mind if they stayed longer to sleep, and it was much less annoying than watching them sit down to play poker, get up, pass out - repeat.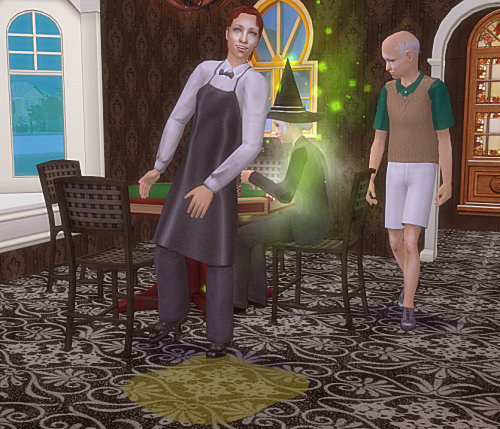 She didn't mind that they stayed to sleep, but she didn't like it when their poker obsession made them forget to use the toilet. :P It was almost a casino now. If she fed her gamblers, they would probably
never
leave, but that would be too much work.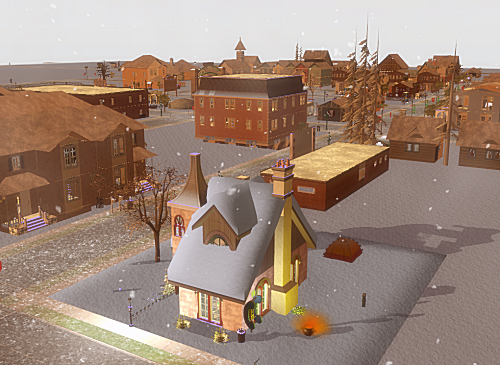 It was finally time to leave her new casino to head back home for awhile. She still had her job as a cult leader, plus she needed to check on the home renovations back at the house.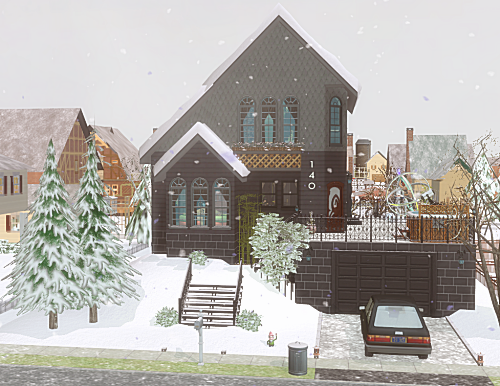 As we leave Sophie's, her newly remodeled house really seems to stand out in the quaint little town of Apple Grove. What was once a cute cottage is not quite so cute anymore. :P Yes, this is still Sophie's house, just much darker-looking. Maybe the customers will be more impressed to be at a real witch's house that
looks
a little more like a real witch's house.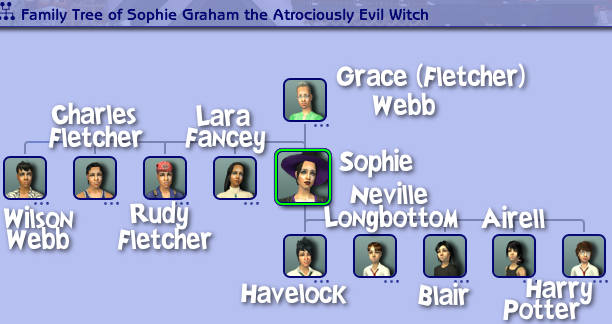 This is Sophie's family tree.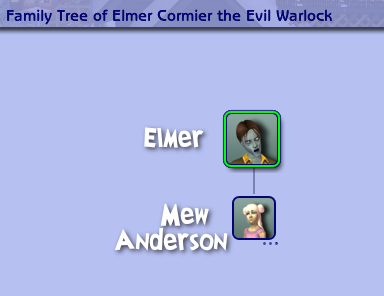 And this is Elmer's family tree. In his previous life before he was eaten by a cowplant and resurrected as a zombie by Sophie, he was married to my daughter Charity and fathered a daughter named Mew.
Scoring: +1 Sophie - Games plaque