Count Chocula loves *Stephen, his bigfoot servant who is his best friend in the world.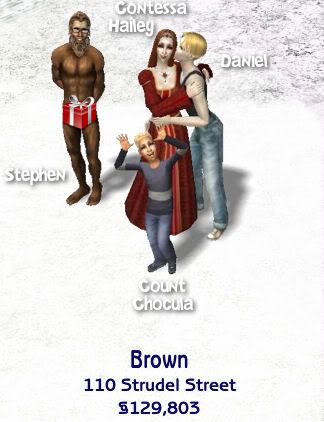 As a reminder, here are all the members of the Brown family.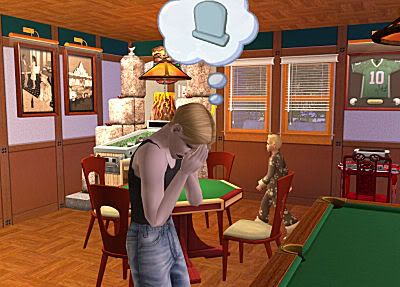 Daniel is really sad, because even though he always suspected his long-missing parents were probably dead, he now knows for sure. Their remains were recently discovered and returned to him. Knowing for sure they're dead gives him little comfort.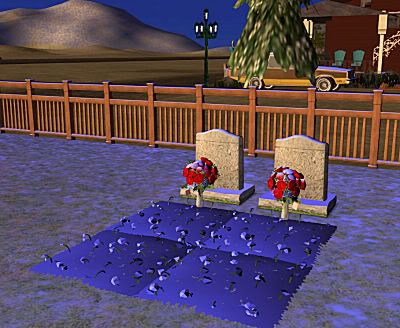 Like most sims, he prefers to have his dead parents interred in his backyard.
This is Daniel's family tree.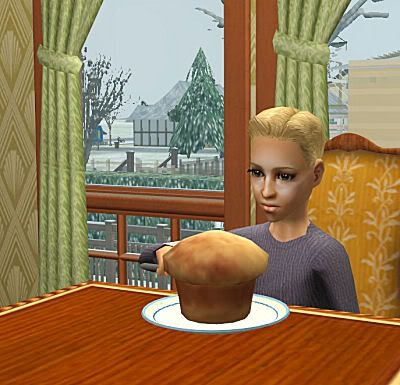 During his Christmas vacation, Count Chocula started his morning as he usually did. He baked himself a muffin for breakfast and ate alone since his parents had to be asleep when the sun was was out.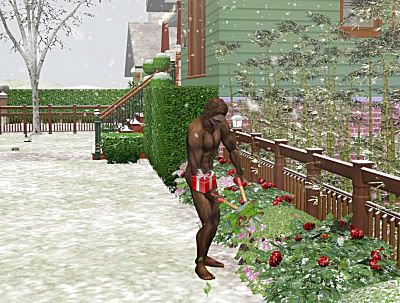 Stephen stayed pretty busy cleaning the house and gardening in the Browns' large yard.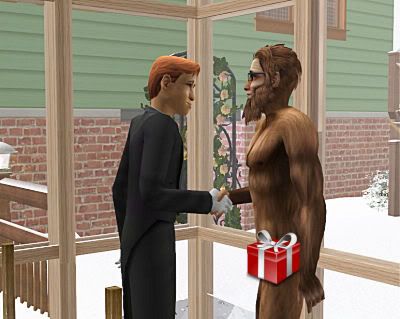 Stephen was finally confident enough that he could take care of the Browns by himself. He chased the butler Marcel Thorne all over the house and yard and was finally able to corner him in the greenhouse to let him know that his services would no longer be required.

I thought that Marcel handled the news of his termination with great dignity.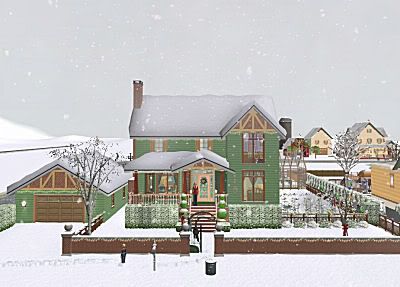 The house is all decorated for Christmas. I really like this house, which is my
makeover of 130 Sim Lane from Pleasantview
.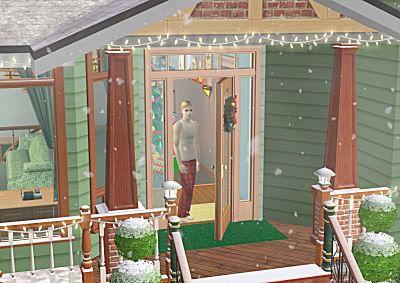 I'm not sure why, but Daniel just won't stay put today, and keeps getting up to see the snow and the Christmas decorations. I guess he's getting excited to celebrate Christmas, but it won't be nearly as fun if he kills himself before his party.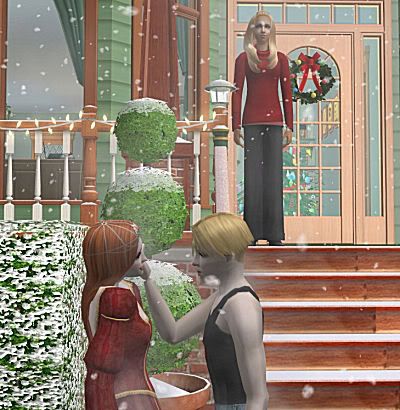 Daniel's sister Devan showed up with Chevy to help watch him since she knew her brother and sister-in-law would be sleeping. Or they would be sleeping if they weren't constantly jumping out of their coffins. They definitely
should
be in bed! :P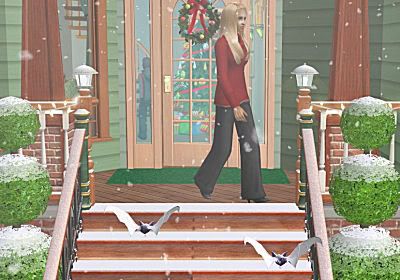 Daniel and Contessa Hailey reluctantly agreed to stay alive by flying back down to bed. I think it's funny how they get snow on their wings, and yet are still able to fly.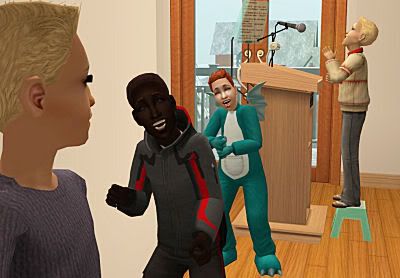 Chocula invited a few friends over for the day, including his cousin Chevy.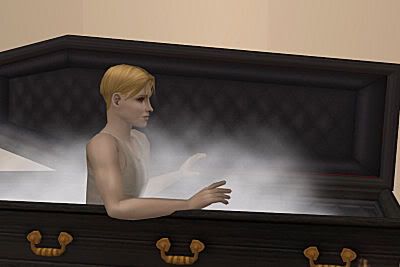 Daniel, please! Stay in your damn coffin!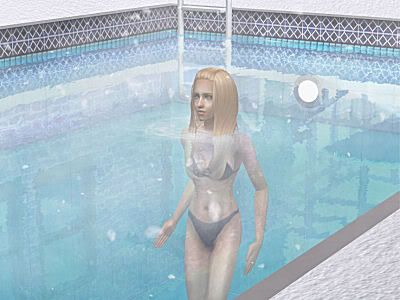 Devan said she was here to "watch the kids." I'm assuming that her true motive was to swim in her brother's awesome heated pool.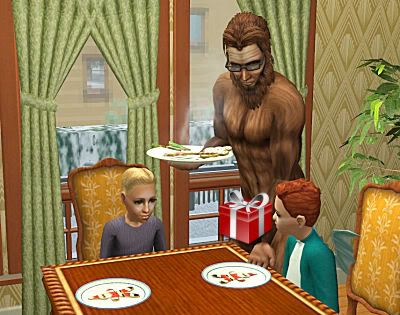 Stephen serves up a nutritious lunch for the kids.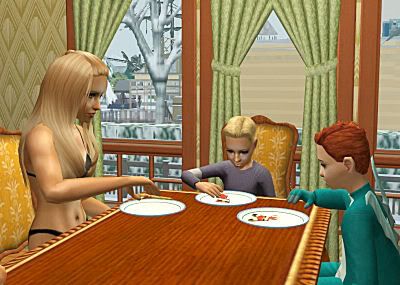 Aunt Devan likes to hang around all day in her bikini. Chocula and his friend Jeremy Tang try not to stare.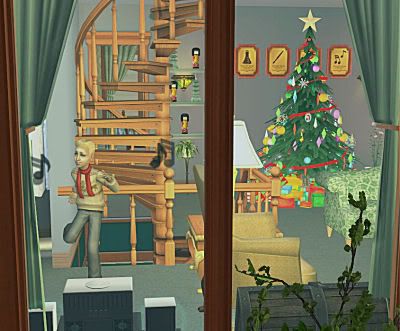 Chevy enjoys dancing off some of that sugar.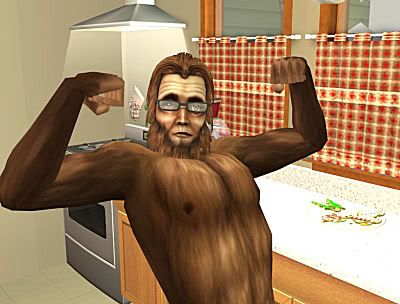 What is it about the Santa cookies? For some reason, Stephen has gotten himself fit, and as far as I know, he hasn't exercised lately. I've noticed this strange phenomenon before with Santa cookies.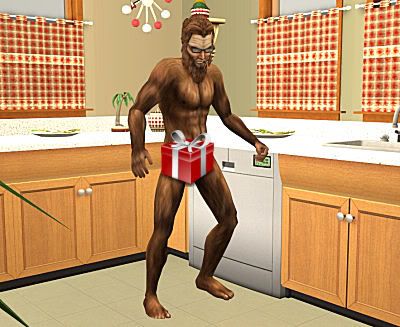 Stephen is exhausted from all the hard work he's done today, and has a melt down in the kitchen. I guess it's time to send him to bed for a bigfoot nap before he starts hurting people.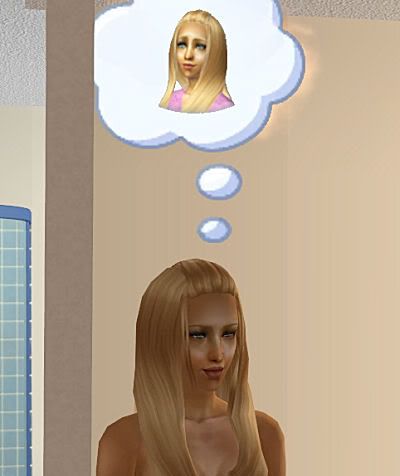 Great. Devan is now mad at herself. This seems to be going around. I hope it's not a really bad sign, but I'll try not to worry. One way or the other, I want Apple Grove to carry on, but I'd prefer not to have to rebuild the entire town.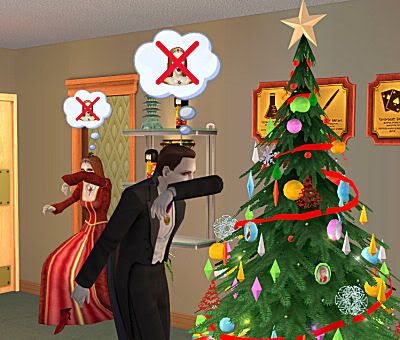 After nightfall, it was time for the Browns' Christmas party. They invited a few guests that might not be invited to other parties, such as some of the other Grand Vampires from Apple City.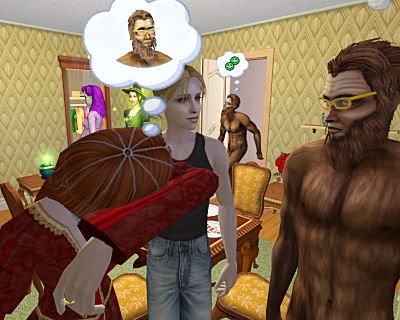 And the other Bigfoots that live in Apple Grove, Mark and Rawley.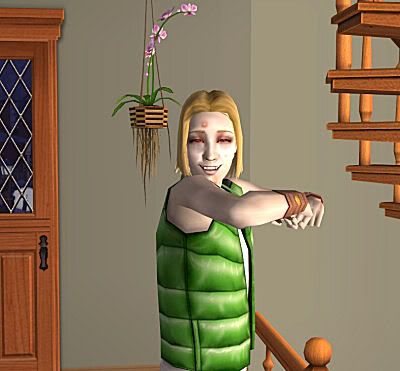 And teen vamp Aleksei Todd, who despite a serious acne problem and hating being a vampire, managed to look happy.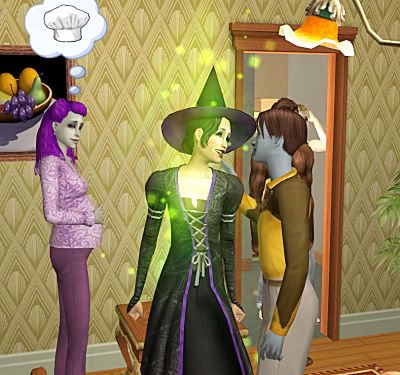 And of course, Belladonna the vampire plantsim was invited. Sophie the Atrociously Evil Witch and her zombie servant Elmer Cormier were also there. This time Sophie actually flirted with her
boyfriend
slave Elmer instead of trying to steal someone else's man.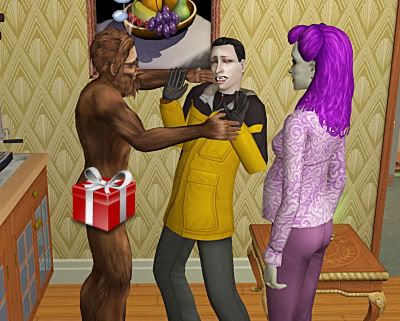 Count Sabastian did not want a hug from Stephen. Usually Sabastian wants to hug everyone, but I guess maybe he can't bite a bigfoot, so he doesn't see the point in making friends with them. Or maybe he's afraid of getting bigfoot hair all over his coat.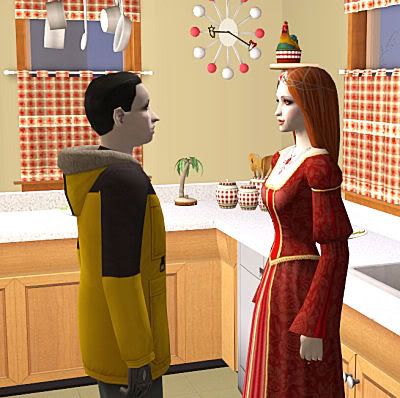 These two have 3 bolts for each other, so I was a little concerned about them, but they behaved themselves. I guess they were just catching up on old times.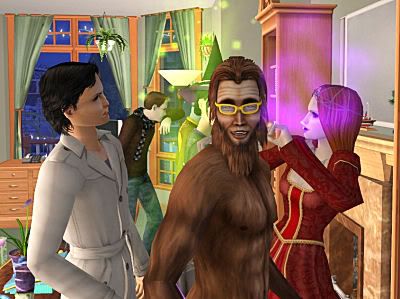 Contessa Hailey can't resist the urge to try to turn her brother-in-law Charles. Thankfully, they're not friends, so he couldn't be compelled.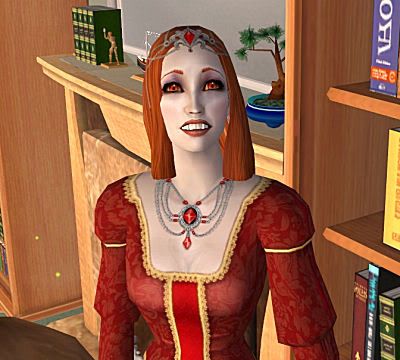 Yep, that was embarrassing for you, wasn't it Contessa? Well, too bad. I don't really need any more high maintenance vampires in Apple Grove anyway. But speaking of embarrassing....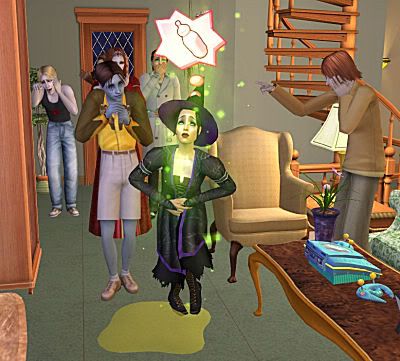 Ah, this is priceless. Sophie had to tinkle, and didn't make it to the bathroom. It's especially bad for her that it happened at a party. Everyone had a good laugh excpet Elmer, who looked noticeably worried. I'm sure his mistress will punish him if he does laugh. I can't help but think this is Karma for all your past bad deeds, Sophie. Or maybe I've just watched too many episodes of My Name Is Earl lately.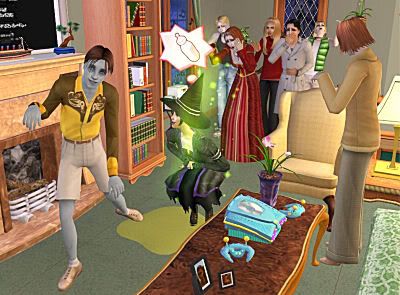 I think it's funny that as Elmer shambled past Sophie, he stepped in her pee puddle.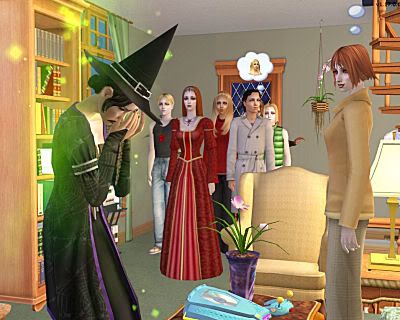 Everyone sobered up and it was really awkward when Sophie began to cry.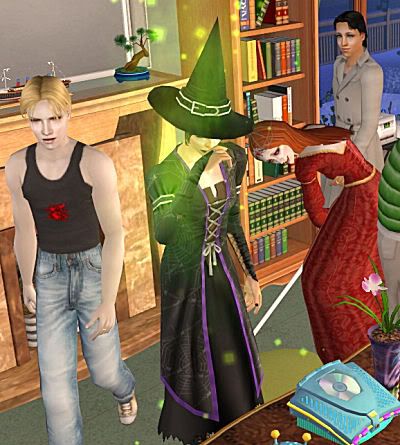 Daniel look really perturbed that his Christmas party is being interrupted by an accident on his living room carpet. The Contessa volunteered to clean it up, and she still looks like she's laughing.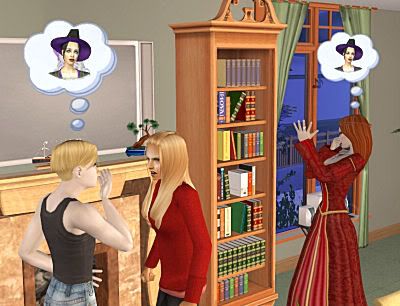 I thought Sophie would go home after that, but I guess she figured the damage was already done and she'd just hang around, much to the disgust of everyone around her.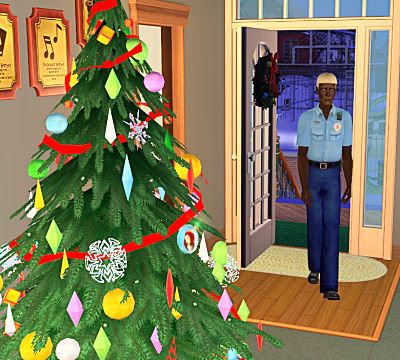 Thankfully, the police arrived shortly thereafter to break up the party. Despite the pee incident, Daniel had a great party.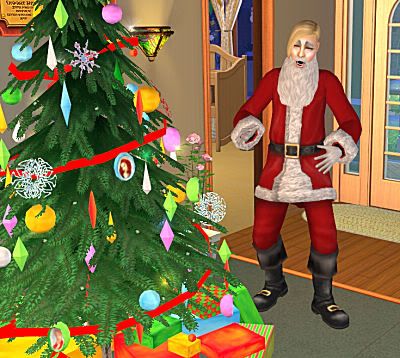 And after that, Santa (or Justin) arrived.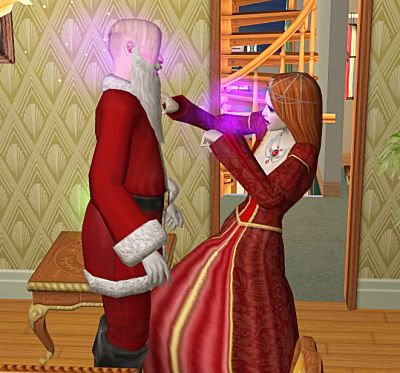 Contessa Hailey saw this as a wonderful opportunity to spread vampirism to the entire world.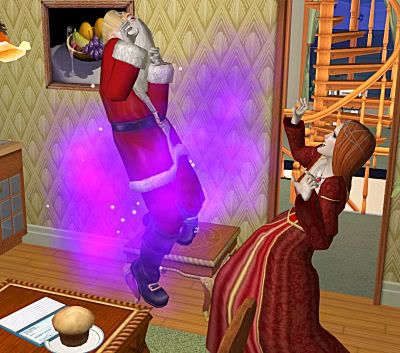 That's right, a vampire Santa would have access to every house in the world, so he could go around giving the "gift of vampirism" on Christmas Eve instead of presents.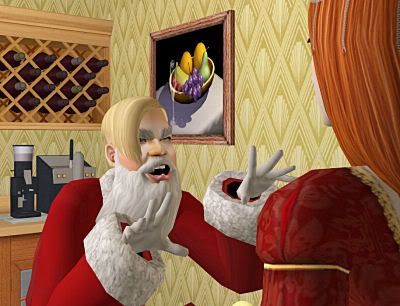 He seemed like he was on board for her evil plan.
That made the Contessa very happy. She and Santa were now the best of friends.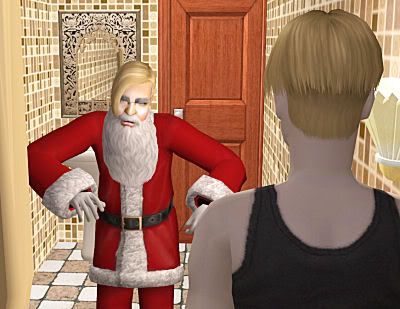 Santa didn't seem to be as fond of Daniel, but I guess he just really needed to pee now, and didn't want to be in a wet Santa suit all night out in the cold winter air.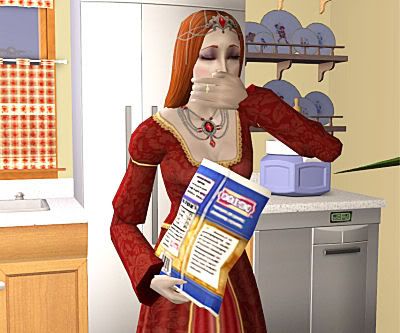 As a vampire and a Celebrity Chef, I doubt Contessa Hailey would want people to know she secretly loves potato chips. I guess there must have been some left over from the party. She didn't normally like to stoop to such human follies, but she just couldn't resist the call of the deep-fried potato.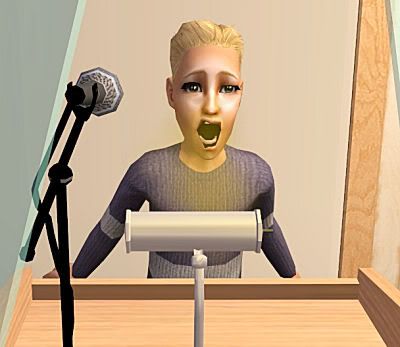 Is Count Chocula practicing for a future career in politics? Nah, he doesn't really have any interest in that. He just enjoys mocking politicians, who tend to belch out lots of hot, smelly air.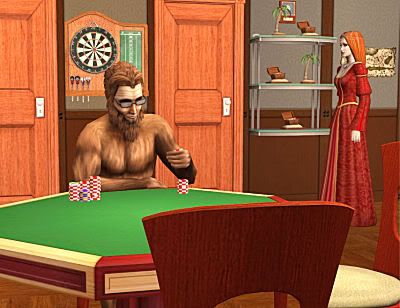 When Stephen isn't doing chores, he's often sitting alone at the poker table. Maybe in the future he can start inviting his hairy relatives over for a poker night now and then.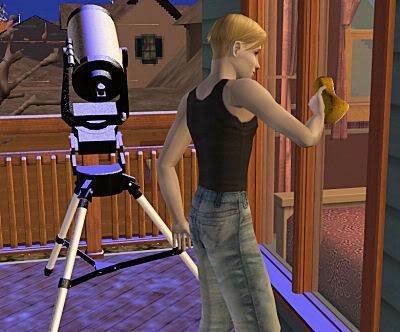 Daniel washed a window. I think he sometimes missed being able to enjoy feeling the warm sunshine on his face. Now it hurts too bad to bask in the sunlight, but he still enjoys the memories. It's also a bit sad for him that his telescope can only be used for stargazing at night. He used to enjoy spying on the neighbors, and often wishes he could still do that.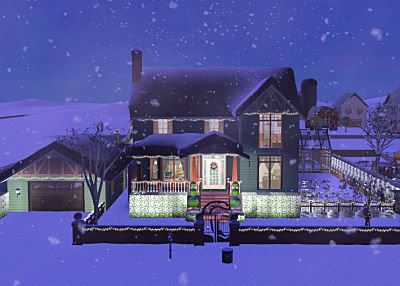 As we leave the Browns, we can wonder if Santa is out biting people as they sleep. I think Santa (if he is the real Santa) just gave Hailey the gift of believing he would, and that he's just fine. I think he's immune to the venom, but didn't want to disappoint her on Christmas.
Scoring: +3 - Contessa Hailey earned all her lifetime aspiration benefits.
*Even though he's not anatomically correct, Stephen is edited in this update for your protection. Photobucket often rejects the unedited bigfoot pictures, so I decided to give Stephen a Christmas theme. I apologize, as I personally think my editing makes him look even more naughty. ;)