Welcome to the University of Applebama Christmas Special! I am your host, Mr. Melty, and I will be showing you just a fraction of what happened at U of A in Round 7, because I'm melting from all the heat and drama.
I may seem like a simple snowman, but I've been around to observe a few things here on campus in my short incarnation. Michelle asked me to do this update because she said playing University is such a soul-sapping chore, even with all the fun drama. But honestly, I think she just doesn't really doesn't want to associate herself with all the glaring timeline inconsistencies. Let the snowman take the fall, she said. Well, she threatened to steal my nose if I didn't do a good job, so here goes. Please leave nice comments, because in my brief remaining time I'd rather have everything smell like carrots than smell nothing at all.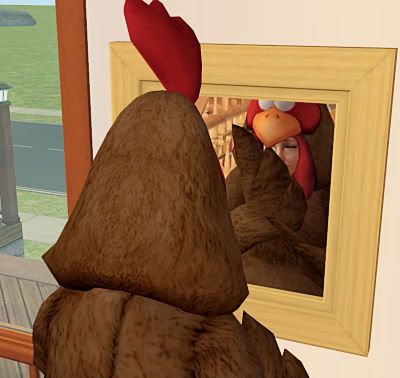 But first we have to back up a bit to before I was rolled up, because Michelle says she almost lost her mind on the last round and couldn't bring herself to completely finish. I think she's exaggerating a bit, because the seniors really needed to stay so they could bring in the new students. The students are in the second half of their last semester. Nerissa Goldman is being made to wear the chicken suit she came to University in. She thinks it's funny, but maybe she doesn't realize Michelle has given her a life sentence for breaking her son Christopher's heart.
And it's not only Nerissa who must wear the chicken suit, but her love interest Manuel has been sentenced for life also. Manuel is from Twikkii Island. He was seen there recently when Rudy Fletcher's family was there, but Michelle didn't want to say who the chicken man was back then. Michelle says she really hates spoilers.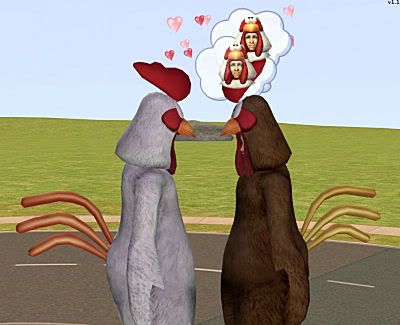 Anyway, they'd better hope their feelings never change, because Michelle said these birds are paired for life.
Nerissa is not sure she likes Michelle's idea of justice. The outside temperature is currently nice and cool, but what about the hot summer months? Won't these suits be hot, sweaty and smelly in the heat?
Manuel thinks wearing chicken suits for life is preferable to jail. Well, his relief might be premature, but we'll have to wait until the end of Round 7 to see their new accommodations. I'm not sure if I'll last that long, but I'm sure you'll get to see it.
Christopher seems happy now. He's found a new girl named Demi Peshterianu that he really likes.
However, that doesn't stop him from continuing to beat up on the chickens.
Ian has found a new girl too. As much as he tried to stay loyal to his first girlfriend Cathy Oates, they just didn't have much chemistry. He couldn't resist the temptation of April Alioto, a three bolt match.
April actually seems really pleased to be dating a werewolf.
And this is about the point when Wendy's showed up.
Unfortunately, that was also when she fell in love with her Uncle Washington who later woohooed her cousin Coupon in the hot tub at the Webb family Christmas party.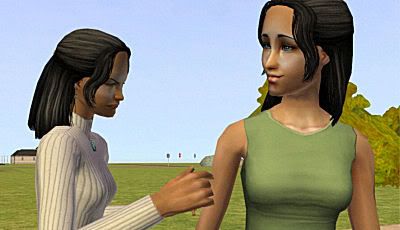 Coupon also arrived at U of A just after Wendy's. Both of them have made it into the Greek house.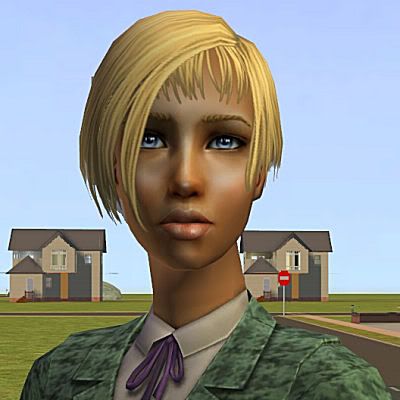 Michelle decided to move some of the eternal teens to U of A this time. This is George's steady girlfriend Jessica. All the new townies will be starting out in the dorms until there's room for them in the Greek house.
And this is a real bast from the past. This is Stacy the Stalker who used to be obsessed with Daniel Brown so many years ago in Round 2. Michelle decided to send her to college, and says she hasn't regretted it at all. As a matter of fact, I think she likes her best of all the new students. Her lack of aspiration as a teen might have been what caused her to obsess over Daniel. Once she got her
lobotomy
Grilled Cheese aspiration all those years ago, she became quite manageable.
And this is another blast from the past. This is Willow, a girl that gave Charles Fletcher his first kiss back in Round 1.
George Hamilton also arrived safely on campus and moved into the Greek house.
This is Don Majekodunmi, a boy Coupon met and fell in love with while she was on vacation at Three Lakes in Round 6.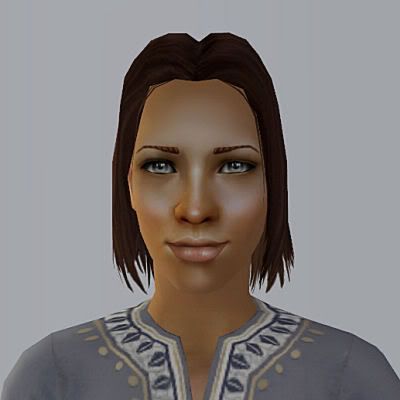 And last, but not least, this is Alvin Howe, Wendy's Fletcher's boyfriend from Round 6.
Since Michelle's son Jason married the eternal cheerleader Mehrissa Dai, there is now a new cheerleader. Her name is Bronwyn Xicaro?! and she is very pale with freckles. To me she looks like she was made out of dirty snow.
It's almost party time at the Urele House, and Dagmar Tucker is visiting. She's there to see Andrew Cameron who always hangs around at the Greek house. Andrew is secretly the real father of her youngest child Blondie.
Uh-oh, trouble is already brewing as Wendy's seems to have kind of forgotten about Alvin in favor of this new guy.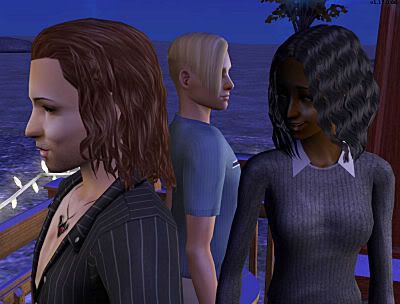 Like a rockstar, Brian Tucker just showed up and crashed the party, and now he's suddenly "in love" with Willow. I'm not sure why he turned away for a moment. Maybe he's afraid his wife caught him flirting, but luckily for him it seems she didn't.
After that, he was so busy checking out Willow, that he forgot to catch his wife when she tried to jump into his arms.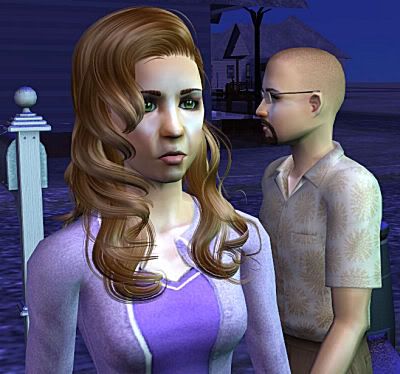 Sim Michelle looks unhappy to be at the Greek house. She
knows
these parties usually kill relationships, so she's feeling especially concerned. She and Scott wouldn't even be at this terrible place except...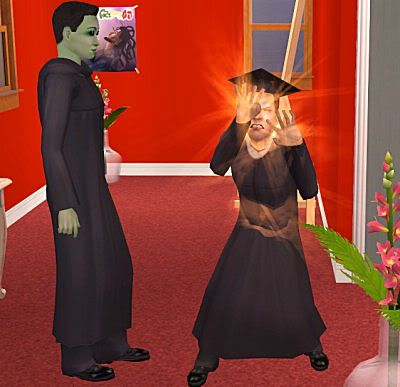 Their sons Ian and Christopher are graduating. They are especially excited for Ian who has had his challenges with being a werewolf.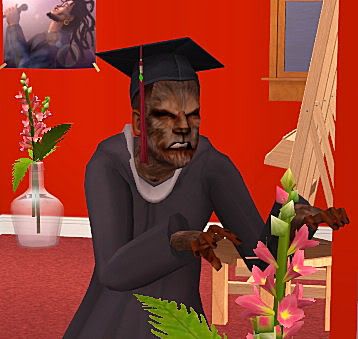 Unfortunately, they forgot to get a picture before he transformed for the night. All four of the seniors are graduating Summa Cum Laude.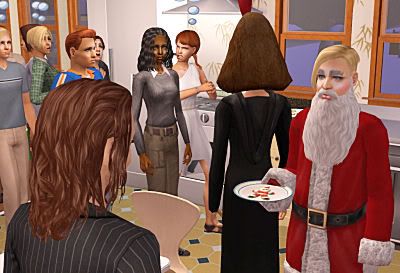 Santa
Justin Case showed up. He still hasn't found his red hat, so I just don't think I can take him seriously until he does. I've been at the North Pole in previous lives and I've seen Santa, and this guy is an imposter. I'm 91.3% sure.
Michelle never throws graduation parties, so she was happily surprised to get a picture of the brothers together. She was glad Nerissa and Washington weren't in it, because she's pretty mad at both of them right now.. It's unfortunate that only one person can have a graduation party at a time. It was also unfortunate that Christopher didn't get to wear a hat, but one party seemed like more than enough.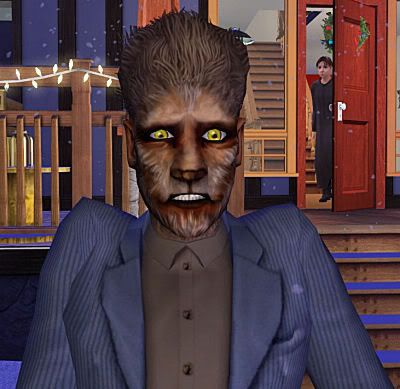 As he was leaving, Ian looked pretty worried about going out into the real world as an adult. It's pretty scary sometimes, but I'm sure he'll do fine.
Christopher grew up in this outfit which Michelle said he would never choose to wear in real life, and then had to go directly to the taxi and didn't even get to stay to watch the cat fight between Wendy's and Coupon.
They are now turning their backs on each other as official enemies.
Here's a good Christmas picture of the Greek house. Unfortunately, I am not in this picture.
Washington has to move back in with his parents and big brother after graduation. They're not getting along very well, but he has nowhere else to go. Michelle doesn't feel sorry for him. She's still mad at him for all of the cheating drama. He's still engaged to Vyn the gardener, but I don't know what he's going to be allowed to do now. Michelle is probably not in a hurry to make his dreams come true after all the trouble he's caused. Nerissa moved out too, although Michelle didn't even bother to take her picture.
Coupon doesn't seem too unhappy that her Three Lakes boyfriend Don is flirting with Jessica, although she seems pleased that Jessica doesn't seem to like him. All the new freshman students are living in the Greek house now that all the seniors have graduated and left.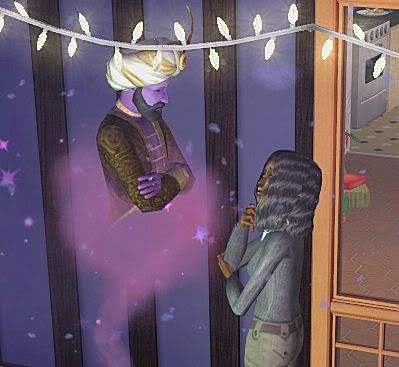 Willow was given a genie lamp, and wishes for beauty, wealth and peace of mind.
Don struck out with Jessica, but he had no trouble getting Willow's undivided attention. Now that all the Bauer kids have safely graduated, Michelle has allowed the Greek house to have a hot tub and a double bed. She said they can now use them at their own risk and suffer the consequences. I wonder what she meant by that.
George and Jessica are in a hurry to take things to the next level.
Wendy's decides to go for it with her boyfriend Alvin.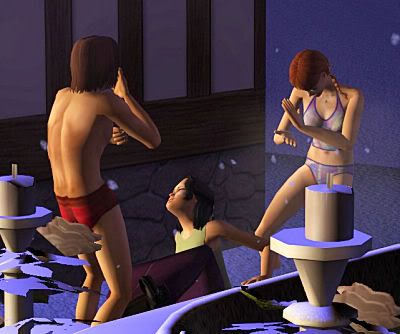 And then she kicks Coupon's butt again. Wendy's has more body points than Coupon, so she wins every time. Maybe Coupon should have thought it through before she slept with their Uncle Washington.
Coupon decided she wanted to get more fit. Michelle said she's sure it's got everything to do with getting revenge on her cousin Wendy's. And I must say that even as a snowman, I recognize a terrible outfit when I see one. This is hideous, but probably a fitting choice for Coupon.
Wendy's didn't really do anything with this guy Derek Lind, but she made Alvin mad at her for being the hot tub with him, and now he thinks she cheated on him.
Coupon has worked out enough that she can now kick Wendy's' butt. Alvin doesn't like violence. He's a lover, not a fighter.
Coupon decided to fool around in the hot tub with Dagmar's lover Andrew Cameron, the guy who fathered Blondie.
Coupon is calling Wendy's a slut for woohooing Alvin. Coupon is such a hypocrite.
Uh-oh. It looks like Jessica and George got started on their LTW's early. He wants to marry off 6 kids and she wants to have 6 grandchildren. I think I now understand what Michelle meant by "use at their own risk."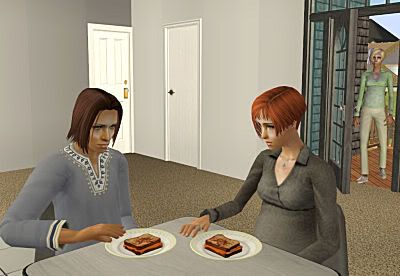 Wendy's got pregnant too, and Alvin is the father. George and Jessica moved out of the Greek house and into a rental house on campus, and since they're good friends with Wendy's they let her move in to help with paying the rent.
Even though he already has a baby on the way, back at the Greek house Alvin has learned nothing and he wasted no time jumping into the hot tub with Coupon. Coupon was glad to try and steal Alvin from Wendy's.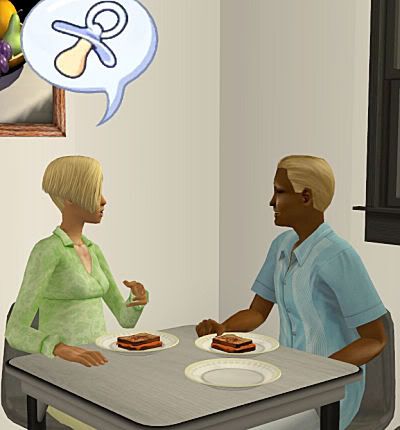 Even though they're family sims, I think Jessica and George are wondering how they can afford this baby.
Alvin is still mad at Wendy's for even thinking about cheating on him, even though he's been woohooing Wendy's cousin and enemy Coupon.
Justin Case came and left them a stereo. I was actually happy about that, because they have no money and could use some entertainment.
Of course, he then hogged the one bathroom. At least he had the decency to turn around while Jessica peed.
Since George really likes fat girls, I think he's pleased with Jessica's new curves. It looks like the baby will be here soon. I'll admit, I like the round snowgals myself.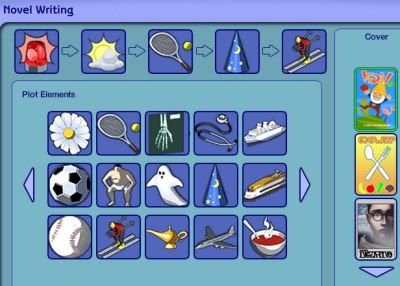 Since they are so broke, George started writing a novel to help pay the bills. Michelle decided to use the
Dungeons and Dragons Dice Roller
to roll for the 44 different story elements, and this is what George has to work with. It ought to be interesting to make this into a story.
It was finally time for the baby. I see that Stacy is back to stalking - looking into the bedroom window trying to get the first glimpse.
On December 6, 2027 Jessica gave birth to a baby girl they named Petunia at 8:56 p.m. Petunia will have Jessica's maiden name Ajjanagadde.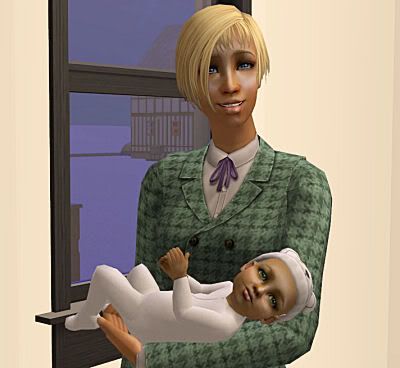 Michelle thinks baby Petunia is adorable.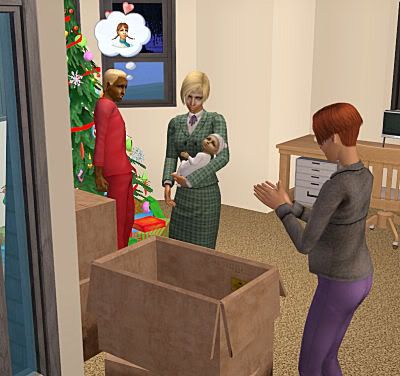 George thinks Wendy's is super hot. It sure makes Michelle nervous that he will try something stupid. Because they're so poor, baby Petunia will have to use a cardboard box for a crib.
Justin came back and left them a lump of coal. They had left out some burnt Santa cookies, so he wasn't happy with them. Thanks for nothing, fake Santa.
Meanwhile, back at the Urele House, Stacy met Count Vince McGaw. She has 2 bolts for him, which is more than she has for anyone else. He only has one major flaw besides needing to sleep all day. He doesn't like to discuss grilled cheese.
But he does make some beautiful sandwiches, even though he doesn't like discussing them. Michelle also says he's extremely attractive.
Stacy isn't hungry because she filled up on grilled cheese earlier, but still sits down with Count Vince to enjoy a toast with him while he has dinner. Bronwyn thought she should entertain the couple with some cheers.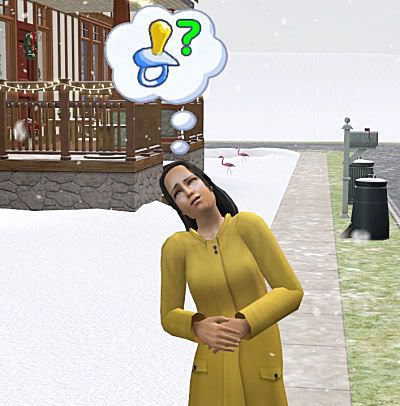 Uh-oh, i t looks like Coupon might be pregnant too. Maybe she shouldn't have called Wendy's a slut and then woohooed her boyfriend.
She doesn't think she should let a possible pregnancy stop her activities. She decided to jump into the hot tub again, this time with Chandler Hamilton. Even though his last name is Hamilton, he's not related to Wendy's or George.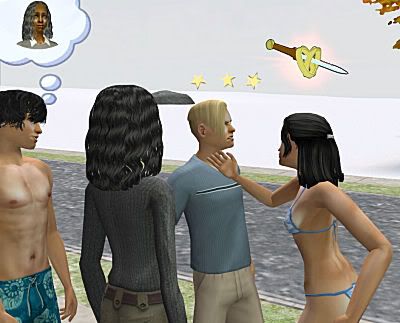 Now finally, after all this time at the Greek house while Coupon has been with several guys and Willow and Don have been a couple the entire time, Coupon decided that Don was
her
boyfriend, and that she's mad at him for cheating on her with Willow.
Uh-oh, it looks like Coupon has not escaped the consequences of all those bad decisions she's been making.
What the heck, Stacy?! I thought you were in love with the Count? Well, I guess when the mood hits and the Count is unavailable, this guy will do. Still, so far she had been saving herself, so I was disappointed in her. This is Derek Lind, the guy that Wendy's thought about woohooing. With his clothes on, he's the nerdy guy.
Coupon's pregnancy is progressing rapidly. She's not really sure what to do. She's not allowed to keep the baby at the Greek house or a dorm, and she can't move in with the other unwed mothers because they hate each other, and she can't afford a place of her own.
Coupon went into labor. Alvin was there, and was freaking out. I don't think it was concern for Coupon, really. I think he might be upset that he's still in college and will have to make 2 child support payments. And yes, Alvin is the real father. Again.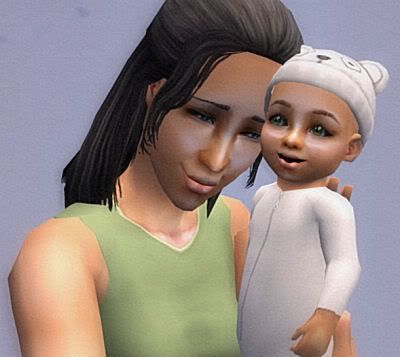 On December 11, 2027 at 7:26 p.m., Coupon gave birth to a baby boy she named Franc. He has brown hair and green eyes. Since Coupon has blue eyes and Alvin has gray eyes, I think it's interesting that he got green eyes.
Coupon looks sad as she contemplates what to do. She loves college life and the Greek house and doesn't want to leave.
So, she moved back home with Franc? No, that's her mother Lara - grandma to little Franc. Coupon thoughtfully sent baby Franc home to her parents so that she could stay and have fun at college with none of the responsibility. After all, she only has one nice point.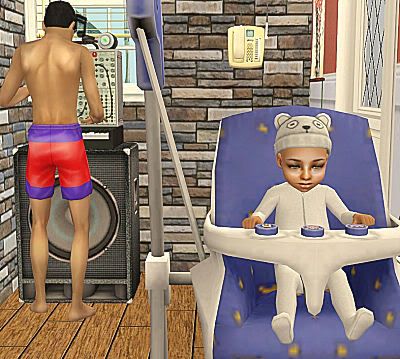 Michelle tried to get a good picture of Franc in his bouncy seat, but he was really sleepy. She says she'll spam you with pictures when she visits the Fancey house.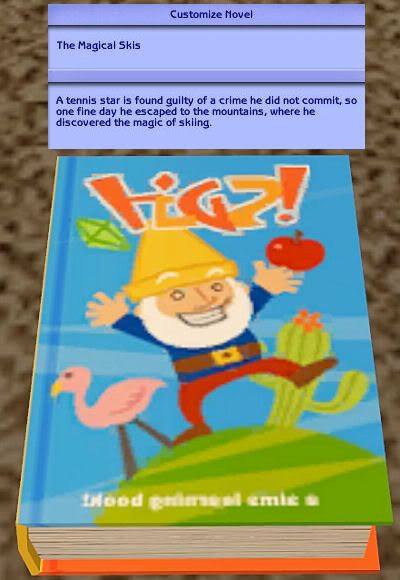 Back at George and Jessica's house, George has finished his novel and had been paid §3,059. It seems like a very weak plot to me, but what do I know? I'm just a snowman.
Wendy's baby was
way
overdue, and even though she got pregnant before Coupon, had still not given birth. On Christmas Eve, she had to leave for awhile and get out and walk around.
That seemed to trigger the contractions rather quickly. She gave birth to a baby girl she named Cinnabon on December 24, 2027 at 10:15 a.m.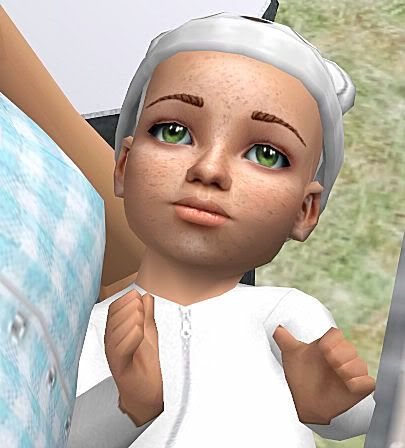 Cinnabon is cute, with brown hair, freckles and bright green eyes. Wendy's does have green eyes and her hair is naturally brown. Michelle was hoping that Wendy's would give birth to a boy, because then her Aunt Zoe and Uncle Ravi could have adopted him to have a male heir. But it was not meant to be.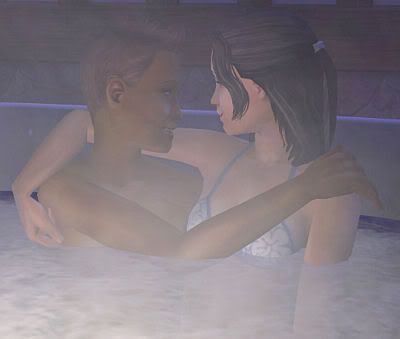 Coupon has found yet another lover because she's never satisfied and has learned nothing. Michelle says she's so much like her Aunt Sophie. This guy is named Alejandro Deppiesse.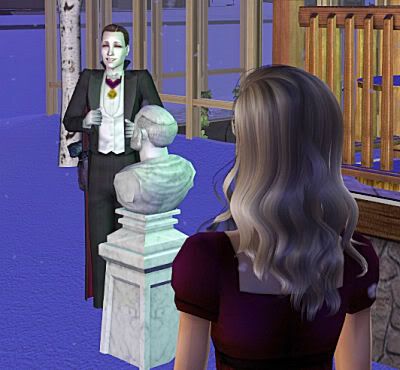 Count Vince stopped by to bring his beautiful girlfriend an expensive gift. Michelle thinks Stacy should be feeling at least a twinge of guilt for having meaningless sex and not saving herself for the Count.
Willow and Don are at it again. Are they going to be smarter and learn from the mistakes of the other Greek house members, or will we hear a lullaby chime? Sorry, Michelle says you'll have to wait until Round 8.
As we leave U of A, it has not really felt like Christmas, but a little more like a long nightmare.
Well, I guess this is goodbye for now. Do you think she'll let me keep my nose? Anyway, in one form or another, I'll sure I'll see you again in one of my future incarnations.
Scoring: +2 Alvin and Coupon - Big Sim on Campus, +9 for adding Nerissa, Jessica, Alvin, Don, Stacy, Willow, Petunia, Franc and Cinnabon to the neighborhood. The population of Apple Grove is currently 101, with a total population of 103.