When we return to the Hamilton house, Beverly is doing the hula in her coach uniform, while her husband Forrest is on the phone trying to make a very important phone call. He's going to retire from his job as a prestidigitator.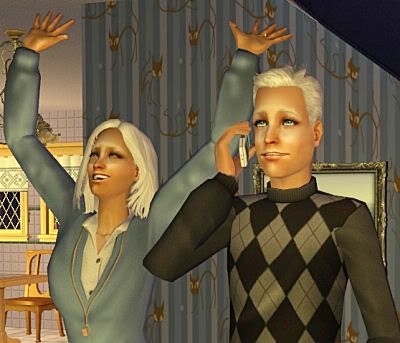 Beverly is so happy that her husband is retired. She wants to retire as a Hall of Famer. She already achieved it, but for some reason, she's a coach again.
As a reminder, this is the Hamilton family again, including their many cats.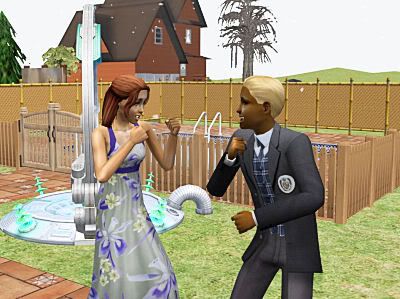 Hyacinth and her adopted brother George love to punch each other, but despite that, they're the best of friends.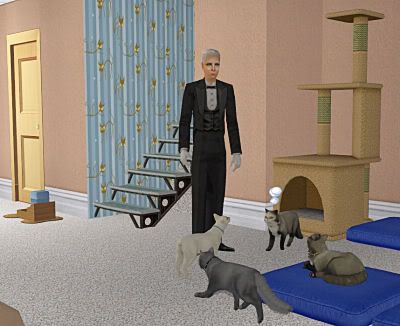 This is their butler Charlie McClellan. He's actually more of the cats' butler. Since the cats all have jobs or get a pension, they can sort of afford him.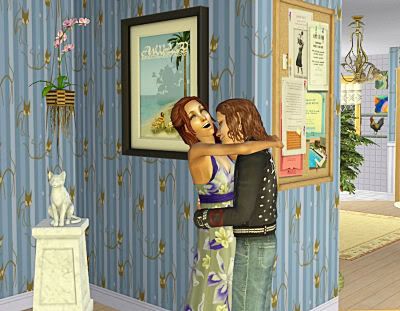 Since it's Christmas break, Hyacinth had her boyfriend Aerosmith over.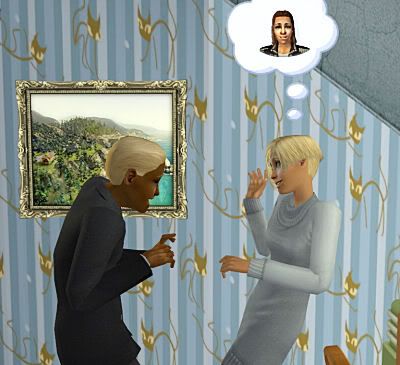 George invited over his steady girlfriend Jessica as well.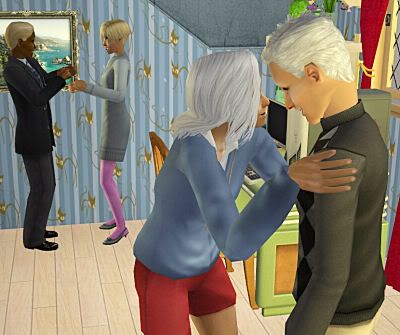 I have no idea why Forrest was so unhappy, but Beverly took the opportunity to try to cheer him up. Maybe he's unhappy that he retired, and maybe she's reminding him that he'll have much more time to spend with his cats.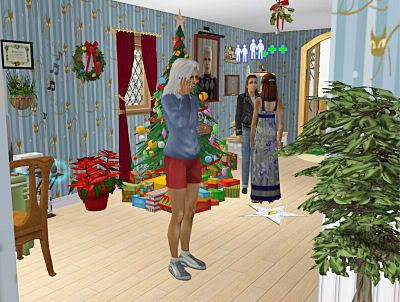 And it's time to be of good cheer, because the Christmas festivities are officially underway.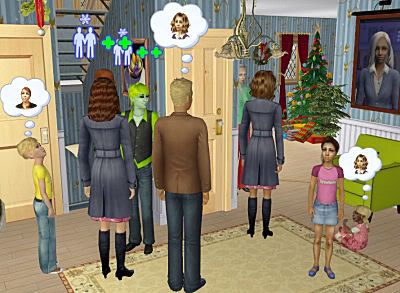 Rose and Violet and their children came over for the party, as well as Beverly's sister Grace and her husband Clinton.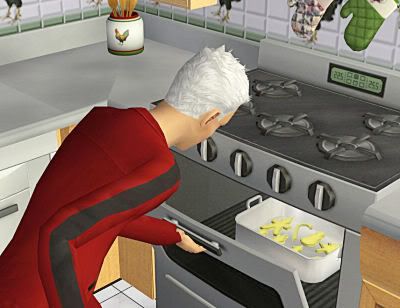 Forrest baked Christmas cookies for everyone. I'd like to think he was cheering up now, and getting into the Christmas spirit.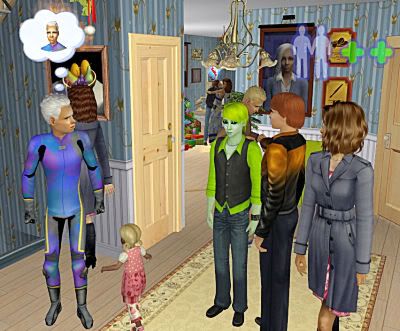 It looks like Clinton Webb is still mad at himself today.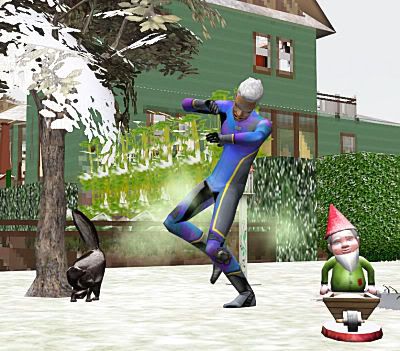 He tried to cheer himself up by going outside to pet one of the Hamilton's many cats. It did not go well. I think Clinton needs glasses.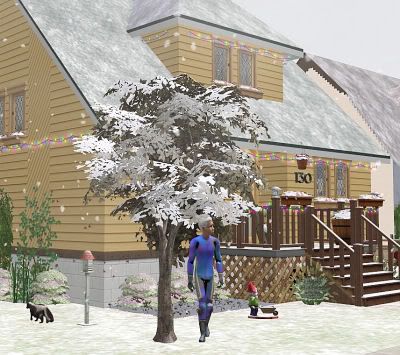 That was enough to send him home. I don't think he was really in the mood to celebrate anymore after his son Washington ruined
his
Christmas party.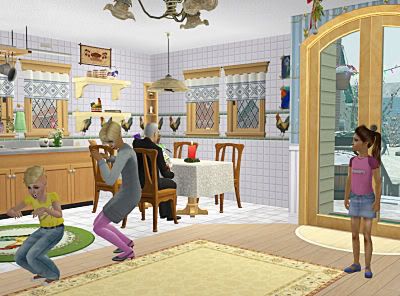 Banana and Jessica are doing the smustle. Banana likes to dance the smustle every chance he gets. I guess Strawberry just isn't that into it yet.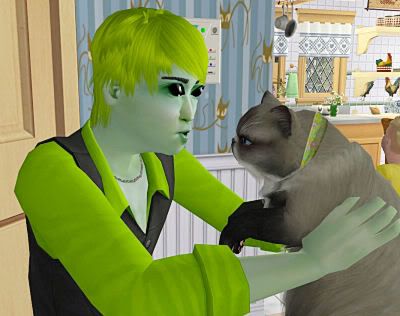 Lime enjoyed playing with Dr. Watson. The cat tolerated him back. Lime is not his favorite human because he brought Gump back one of the times he ran away. Dr. Watson
hates
Gump.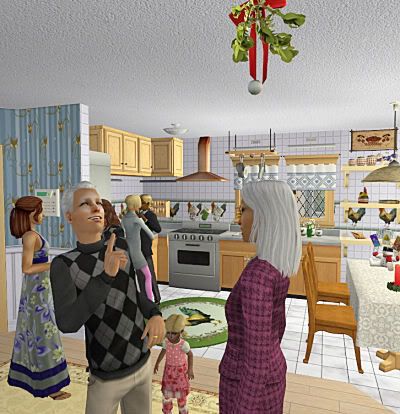 I think this is the first time I've ever used the "holiday kiss" option that comes with the mistletoe.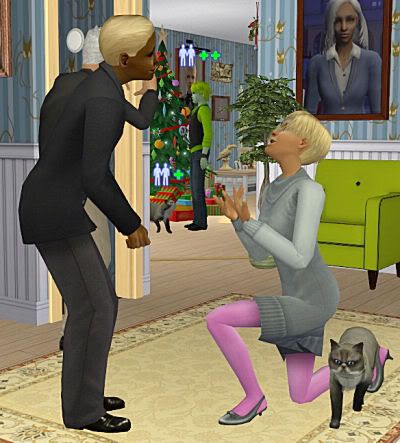 Jessica serenaded George. Dr. Watson is less than impressed.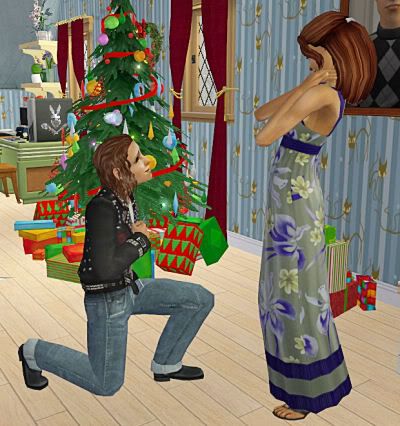 And the serenading continues as Aerosmith sings to Hyacinth.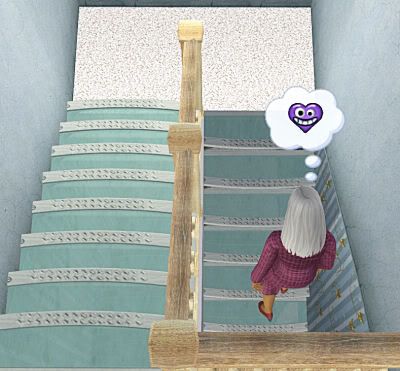 Beverly and Forrest managed to sneak upstairs for some alone time during the party.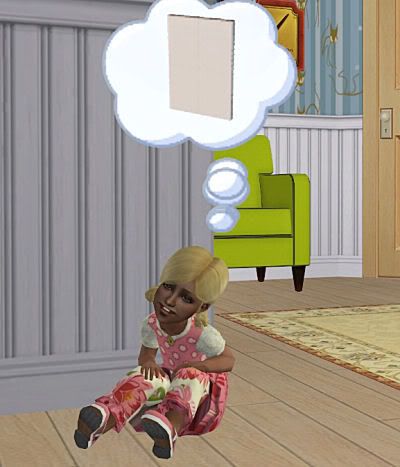 Poor Raspberry spent the entire party trying to figure out how to get downstairs.

When she got bored and tired, she said goodbye. Of course, she couldn't leave, because she can't get down the stairs.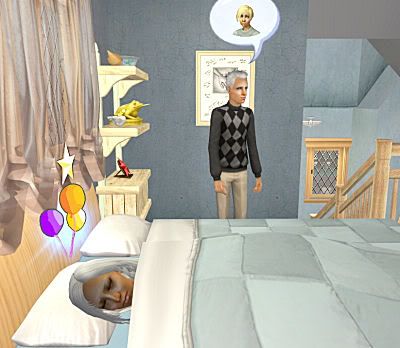 I didn't realize sims could talk to other sims who are asleep, but Forrest tried to talk to Beverly about Jessica. Beverly was asleep for the end of her roof raiser party..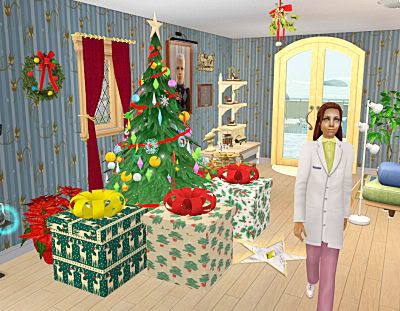 The Hamiltons are going to help try out the openable gifts from
Paladin's Place
for me. They didn't work at the Tucker's house because I was missing a file.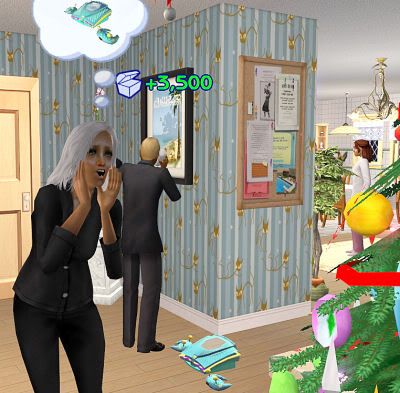 They worked this time. :) Beverly was surprisingly excited about getting a gaming system for Christmas. And everyone else was equally enthusiastic about it.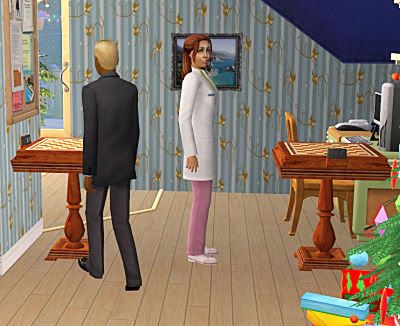 The other three gifts were all chess tables. Since they already had one in the basement, I guess the Hamiltons will have to have a yard sale in the spring when the weather improves.
Hyacinth magically squeezed her chess table into this small box and gave it to Aerosmith for Christmas. He already has one at his house too, but maybe he can put it in his bedroom, or re-gift it.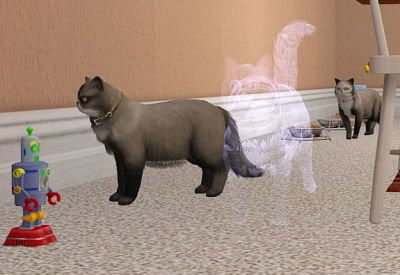 Instead of Santa, Acorn the creepy ghost cat is back to haunt. Last time she visited, she scared the pee out of George.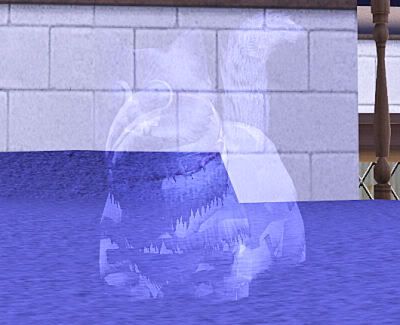 I had to pick her up and put her outside, as she kept getting herself stuck in the basement wall.
Aerosmith really enjoyed his Christmas date with Hyacinth and brought her flowers. You'd think with as much money as his rockstar dad makes, he could have also dropped off a nice Christmas present too, especially since she gave
him
one.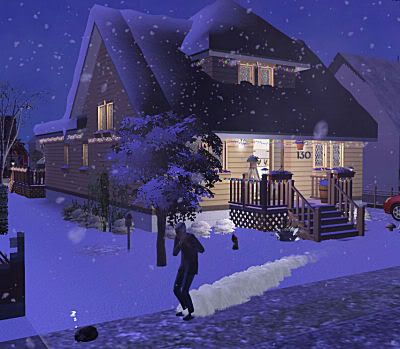 I didn't see it happen, but I guess the Hamilton's gnomes went missing during the party. It's sad when your own family steals from you. Forrest went out in his pajamas barefoot in the snow to steal them back. I think he's going senile.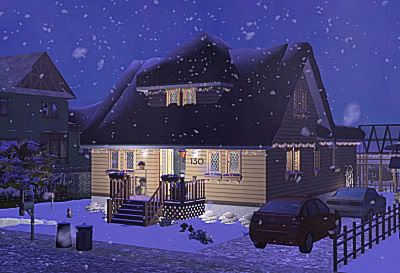 This is just some more Christmas decoration spam. The colored lights are a nice change of pace, but they just don't show up as well as the white lights.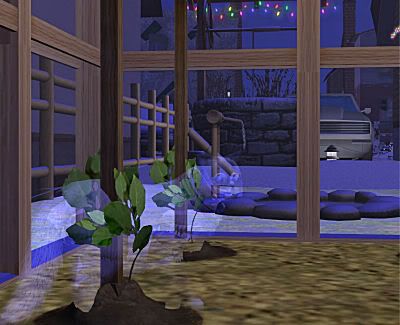 I was glad that Acorn decided to hang out in the greenhouse for the rest of the night instead of scaring people, because she's a bit freaky-looking.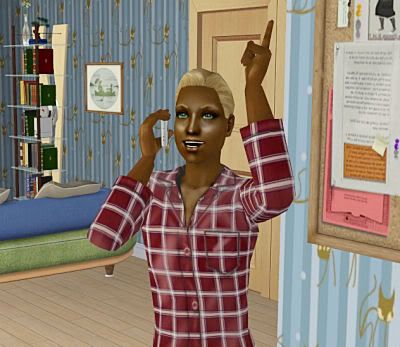 Due to the heavy snow, both the kids had the next day off from school. George had a brilliant idea. He did some math and figured out that he's already 21 (I don't know how I missed that) and that it's high time to head off to college.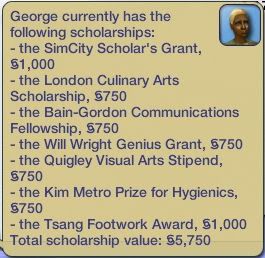 And he got quite a few scholarships, despite starting out at a disadvantage in life as an orphan.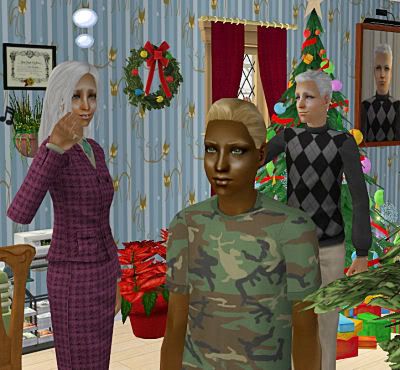 Both of his adopted parents were very supportive of his decision to attend U of A and waved goodbye to him.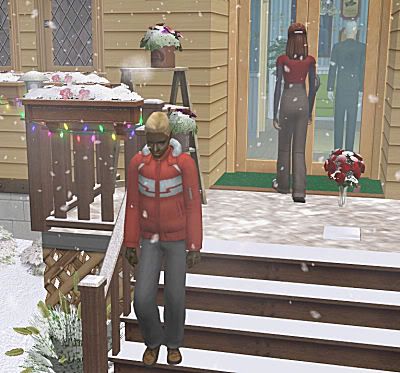 Hyacinth didn't bother to say goodbye, but maybe it was too painful for her. Then again, she'll still be seeing him at family get togethers, and she'll be joining him when he's halfway through school when she's 18 in 2 years.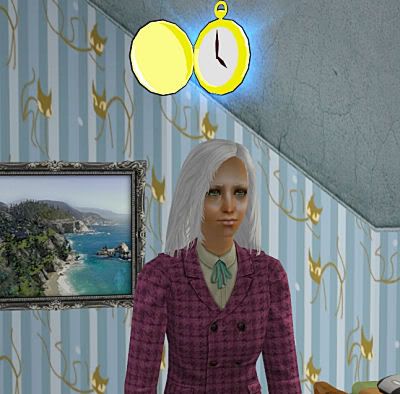 Despite only being a coach, Beverly decided to throw in the towel and take her retirement. She did reach her LTW of becoming a Hall of Famer, but somehow she got demoted to coach. I really don't remember that happening.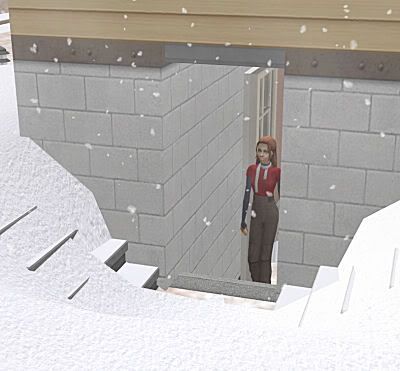 And Hyacinth still had the snow day off from school, so she's testing the new backdoor in the basement. It will save them a lot of steps, plus I'm hoping next time the ghost cat visits, she can let herself out of the basement.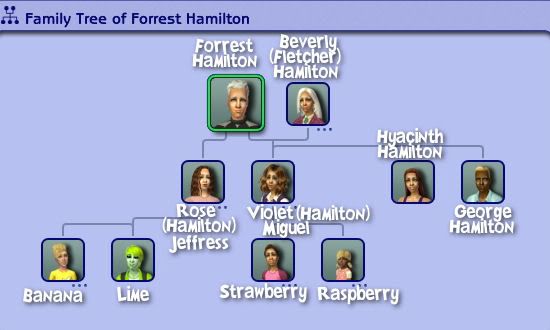 Scoring: No Changes.