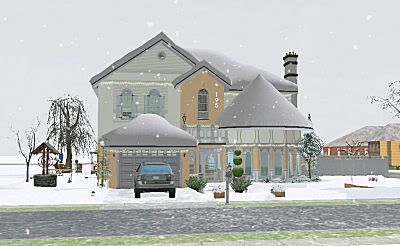 As we arrive at the Shibata house, it's somewhat decorated for Christmas, and there's already plenty of snow.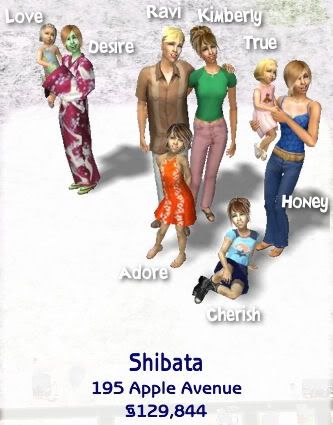 This is just a reminder of who's who in the Shibata family.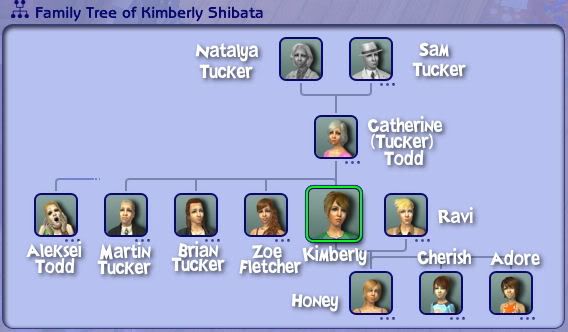 Kimberly's family tree shows that she's one of the Tucker kids. She and Ravi have 6 girls, but Kimberly only gave birth to 3 of them...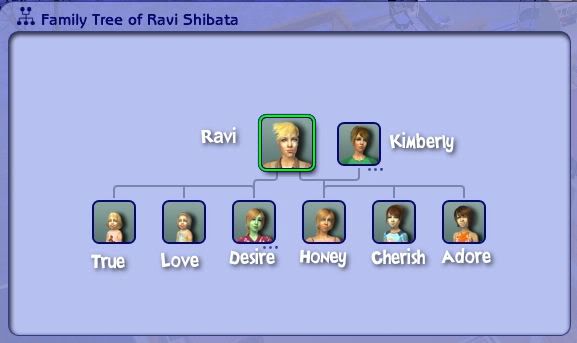 ...because Desire, and twins True and Love were from alien abductions. Ravi now has enough children to fulfill his LTW to marry off 6 children. It's just unfortunate that none of them are male heirs.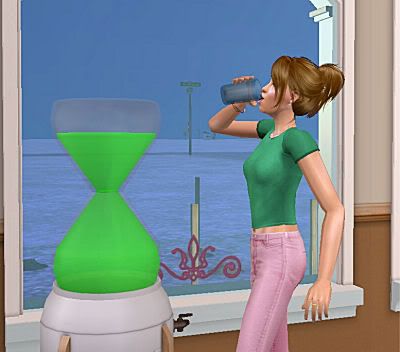 Because of that and Kimberly's age, she's taking fertility treatments so that she and Ravi can try again for a male heir. This round of treatments cost them §10,000, so they're really hoping they work.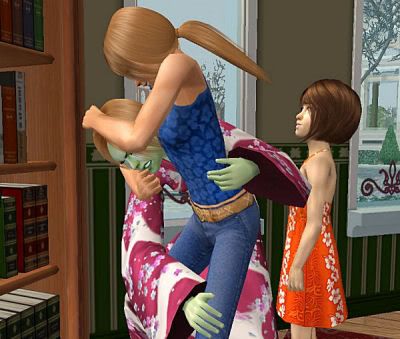 Honey, the oldest girl, is not as sweet as her name implies. With her 1 nice point
(which I guess we could say is actually 9 mean points)
, she regularly gives her half-sister Desire noogies. Desire has 7 nice points, so she just takes it.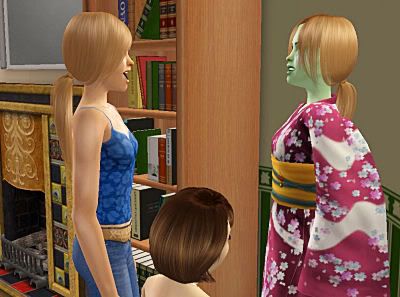 But just because she puts up with it doesn't mean she has to like it.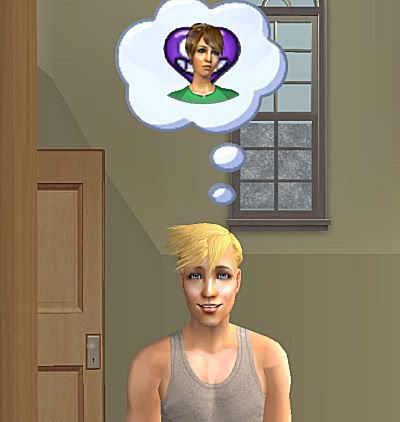 Ravi is a Romance sim, who thankfully still seems quite enthusiastic about woohoo with his wife. Now if he can can only use that keen interest to make a son...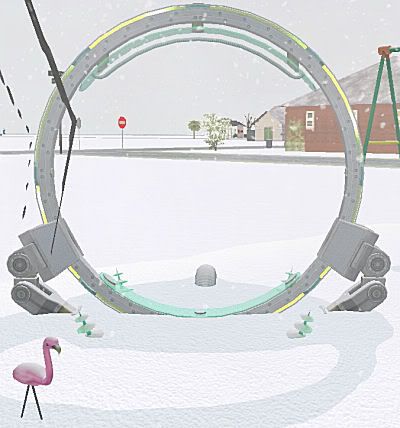 Soon thereafter, Ravi went outside to play on the dance sphere, and disappeared. Maybe it's a secret portal to another world...where they have
probes
. Maybe Ravi will be the one to give them a son. It won't matter if he's a green boy. They just really need an heir.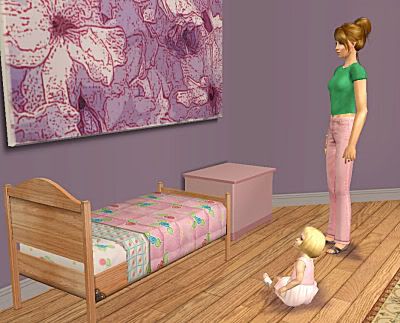 The upstairs hallway of the Shibata's house is large enough that it's used for a nursery. I couldn't resist getting some awesome toddler beds from MTS. Now True and Love can go to bed and get up whenever they want.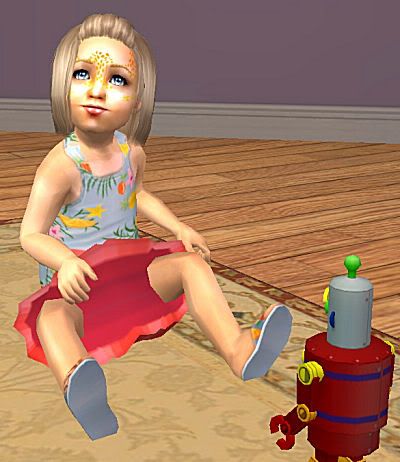 Love is finally beginning to show signs that she's not 100% human.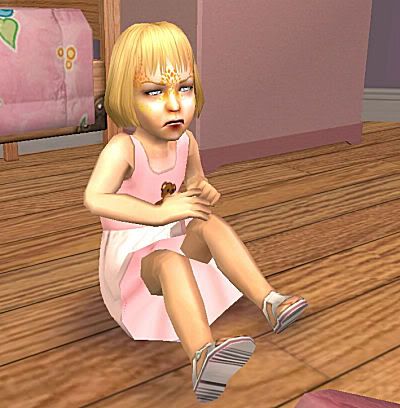 And so is True, who is not wanting to learn Simlish.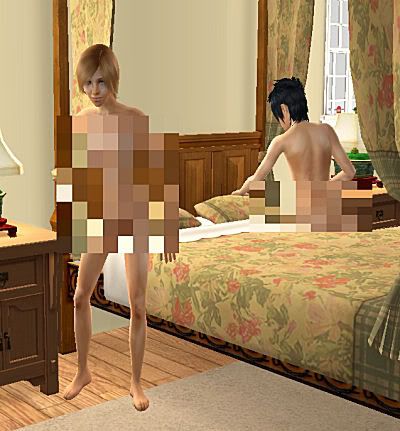 Umm...
what the heck, girl!
Honey invited her boyfriend Havelock Graham over - and they headed right for her parents bedroom, stripped... and started to get into bed together until I made them get out of there. She's 18 years old now, but still... I think reinstalling my game messed up ACR, so I had to go back and reinstall it too. I don't have Inteen or anything, so this is not something Apple Grove teens are normally able to do.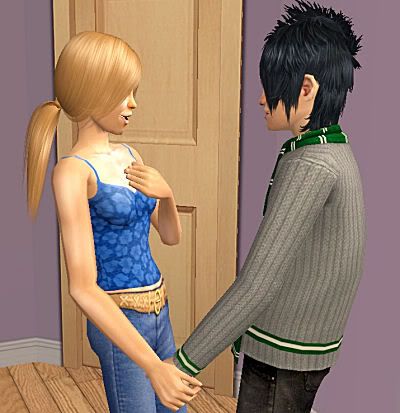 So, since I wouldn't let them do what they
really
wanted to do, they had to settle for going steady. Maybe they will get to do what they want in college, although it's not without its consequences as we found out in the last update.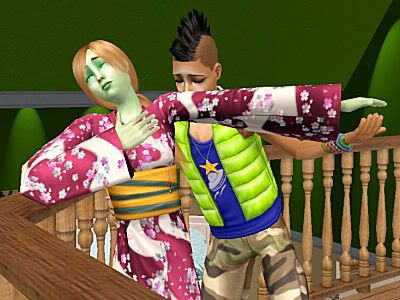 Not to be outdone by her sister, Desire invited over Magnus Danaher, a rooster-headed tourist boy she met when she made a wish on the wishing well.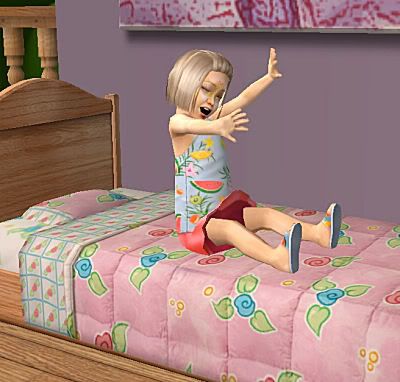 BTW, I
love
toddler beds! :)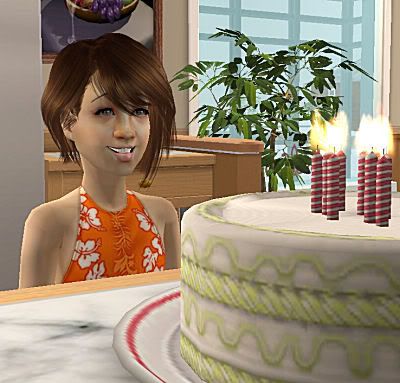 It's birthday time for Adore and Cherish. This is Adore.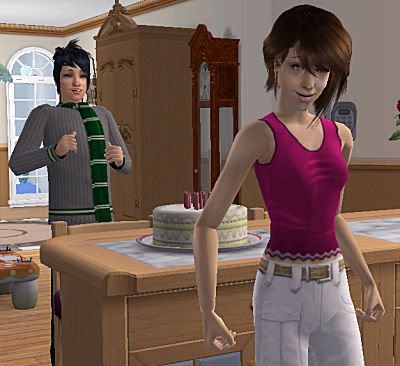 And Adore is still adorable as a teen.
Adore wants a lot of money, as well as to have a lot of fun. She likes athletic guys who wear cologne, but she doesn't like hats.
She wants to be a professional party guest, and I can't argue with that, since that's a relatively easy one, especially after going to college.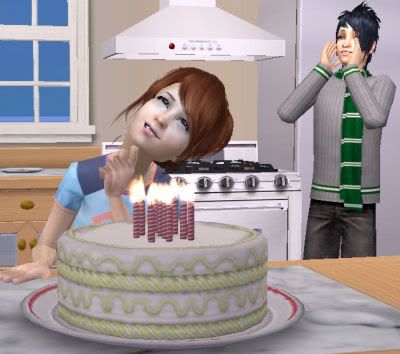 It's also Cherish's birthday. She's making a wish, and I hope it's a good one.
Cherish is also quite pretty, but she chose a rather skimpy outfit for December.
Cherish wants a lot of friends, and she also wants to have a family. She likes guys that are fit, but can also cook. She'd prefer that they weren't very career-oriented. Maybe she wants her guy to be a stay-at-home-dad that cooks for her and works out.
Cherish would like to reach the top of the Law career.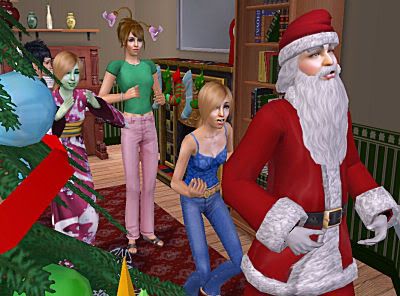 Justin showed up, and for the first time he was wearing his wig and red cap, or maybe it's actually the real Santa.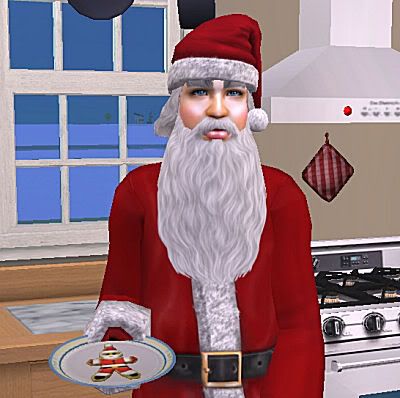 He doesn't look too happy with me. I think I may be on his naughty list for not believing in him for the last several updates.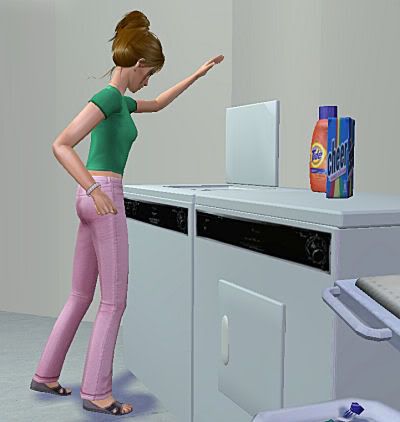 Even though they're almost broke from the fertility treatments, Kimberly got an
awesome
washer and dryer
for Christmas.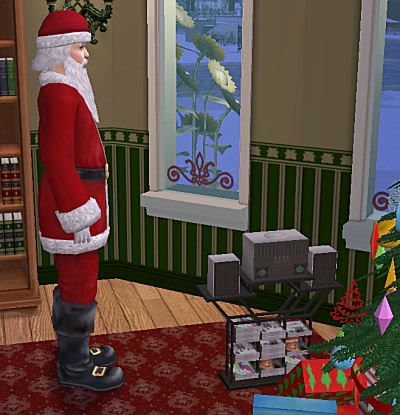 Kimberly must have baked some good cookies, because Santa left them a stereo. Since they already have a stereo, I decided to put it in Adore's inventory. She's the nicest of the family, with 10 nice points, so I figure Santa would approve.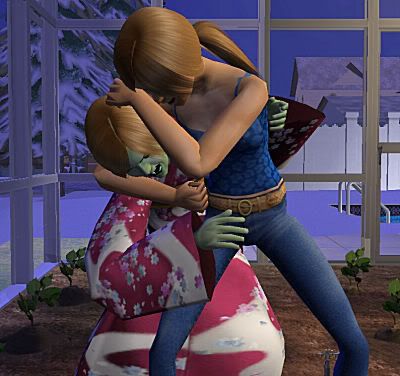 Honey didn't deserve any presents, as she's still giving out noogies every chance she gets.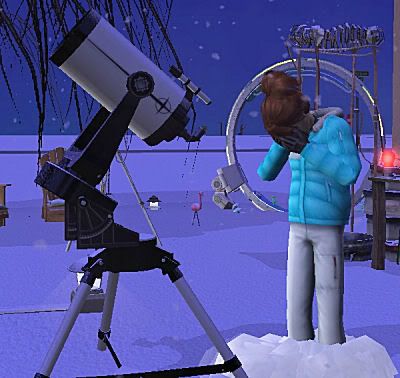 Cherish wants to get the Extraterrestrial Reparations Grant. She just doesn't want to actually earn it by stargazing.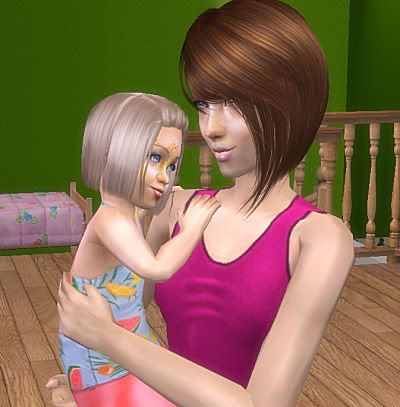 Adore is really great to have around now that she's big enough to help with her little sisters.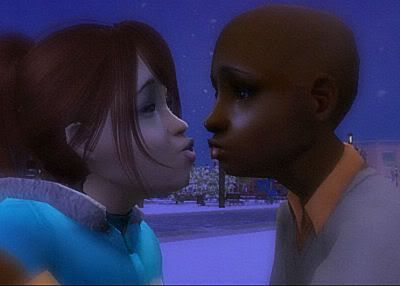 Cherish decided to put the wishing well to the test to get a first kiss. She got this bald-headed guy named Aren Tellerman. I can't remember where I've seen Aren before, but I do remember that I don't like him at all.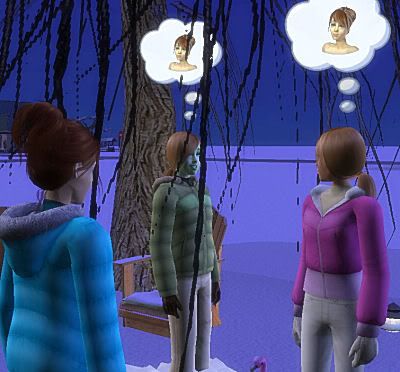 Honey is headed off early one morning after Christmas. She's getting ready to leave for college.
Despite being mean, Honey did work really hard and earned a lot of scholarships.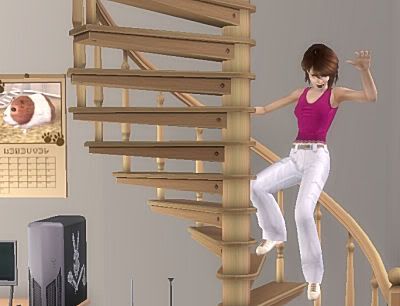 Adore was upstairs with her little sisters when Honey was leaving, and in her adorable way, slid down the banister to hurry down to say goodbye.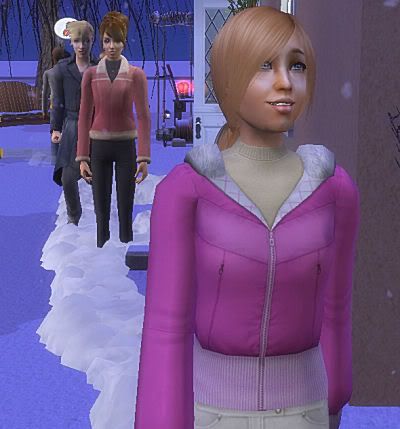 Kimberly and Ravi also came out to see their eldest daughter off to the taxi.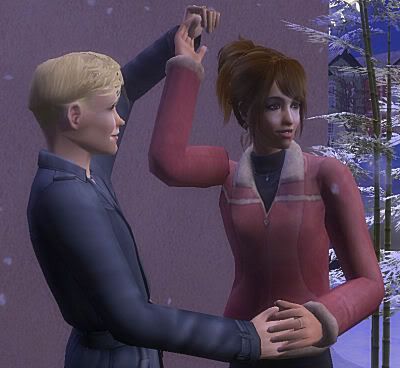 But they're not sad, they're celebrating having one less kid in the house.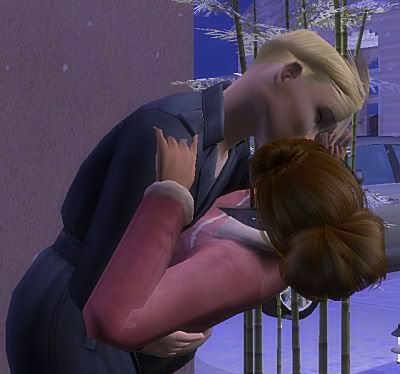 Yeah, they seem like they're going to be just fine.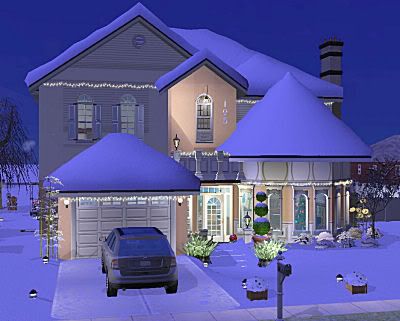 And now as we leave the Shibata house, we can wonder whether or not fate or Santa will send them more kids - and hopefully at least one baby boy.
Scoring: No changes.