Scott and I are enjoying a laugh together. It may be the last one we have for awhile, because things are going to be busy during the holidays. We're going to be way too busy to have a family Christmas party.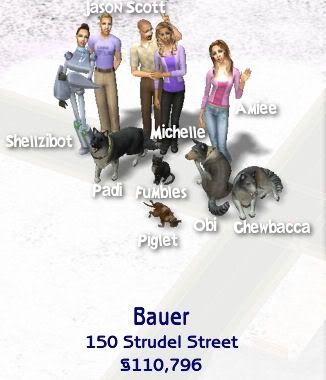 Just for a reminder, these are the current residents of the Bauer household.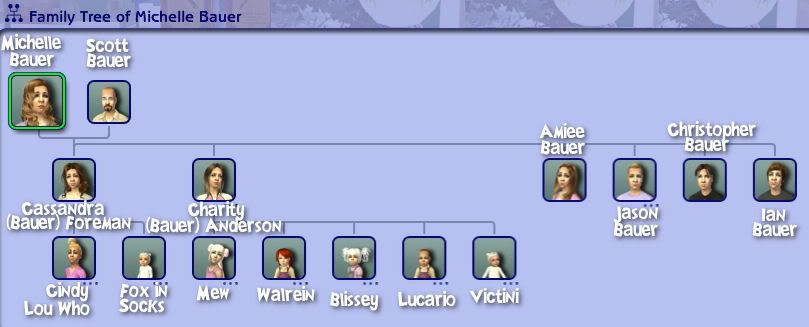 click to see BIG picture
And this is our most recent family tree.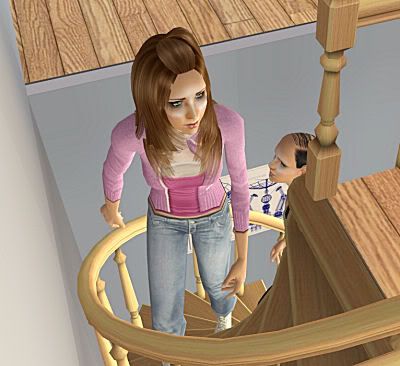 Amiee is back from University of Applebama. Her boyfriend is named Ocean Cameron and those two naughty kids think they are headed upstairs to my bedroom, the only room with a double bed.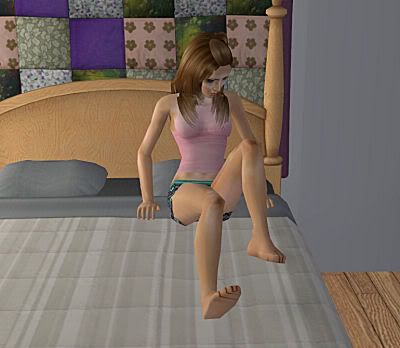 I don't think so, Amiee. I thwarted their plans by locking Ocean out of the bedroom. We have a strict real life policy, and even though I don't have a real daughter named Amiee, she's not married, so she's not going to be doing this in my house. She waited around like this for several hours, though, hoping to find a way around my rules.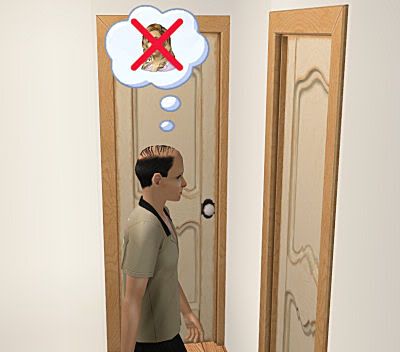 Ocean waited in vain out in the hall. I don't think he likes me, LOL.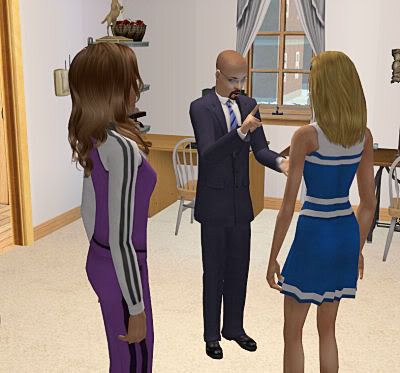 Jason is also back from U of A. He had invited over his girlfriend Mehrissa Dai, the eternal cheerleader. Scott is upset with her because she broke our robot toy.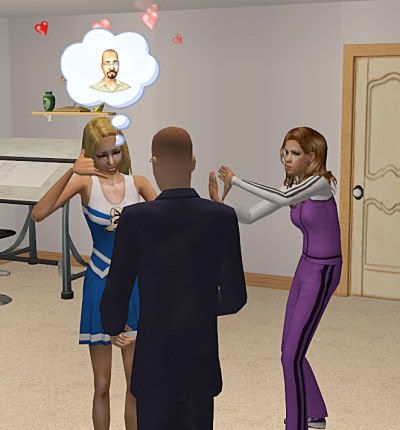 Despite his lecture, she has no reservations about expressing how attractive she thinks Scott is. I'm measuring her head to see if it will fit in our toilet.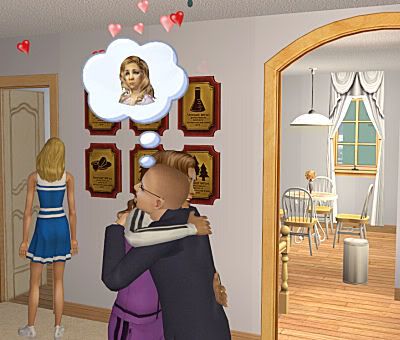 Scott reassured me that he only had eyes for me, and that I had no reason to worry about the annoying robot-breaking cheerleader.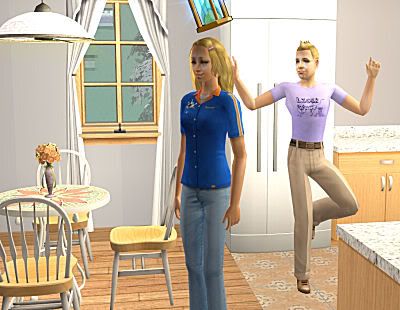 And it's a good thing he's not interested, because she's moving in with us. Jason did a happy dance of joy, even though he looks ridiculous. But he's a man in love, so he doesn't care.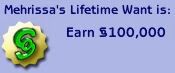 I'm not sure I trust Mehrissa, but I like her LTW, and the §17,000 she brought with her when she moved in.
Her money came in handy to help us build an addition onto to the back of the house. The house addition is what's under the flat roof, as well as an expanded basement.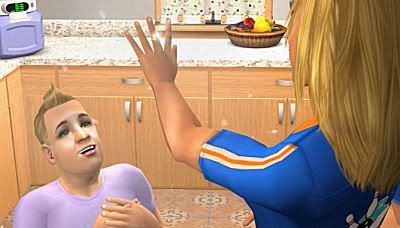 Jason soon proposed to her right there in our kitchen, and she wisely accepted.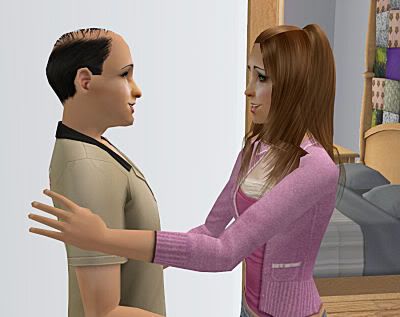 Amiee said goodbye to Ocean. His bad boy appeal seems to have worn off now that's she's older. They only have one bolt of attraction now for whatever reason, so I think she wants to date other people.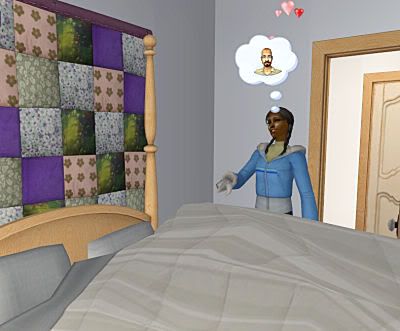 Um, yeah. This is awkward. This is the hobby lot instructor from the Arts and Crafts lot trying to deliver a hobby plaque to me at a most inopportune time. She even broke into the bedroom, because the door was supposed to be locked. And now, she is standing there admiring Scott, although I'm not entirely sure how she can see him since he's under the covers. I guess it's time to put
nohobbyspam
from
MATY
back into my game. I like my sims to get to meet other sims, but this is not what I had in mind.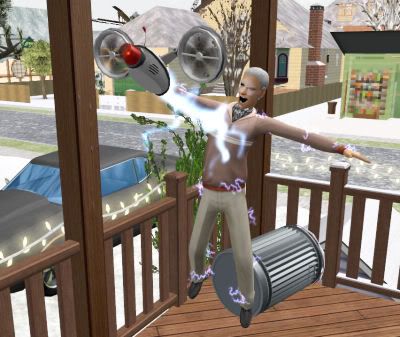 Speaking of annoying people, I don't even know who this guy is. He shouldn't have a reason to kick over our trash. That's why I love the sentrybots. They make life better in Apple Grove. Yeah, there still may be a lot of trash to clean up, but it's worth it to get this kind of revenge. We got him good.

I just had to share this. It's just very funny to me because real life Scott really hates sports. I don't really like them much either, but I like them better than he does. The only sports-related thing we do as a family is attend (American) football games at the high school. We only go to watch Christopher play in the marching band. We usually leave after the halftime performance because it's just not that fun to sit in the uncomfortable bleachers and deal with the crowd.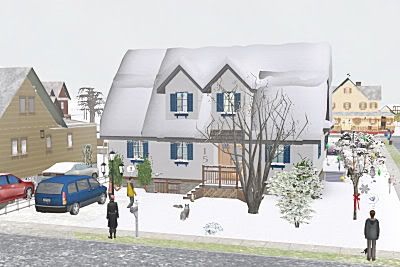 Guests are now arriving for a party at the Bauer house. It's not a Christmas party, though.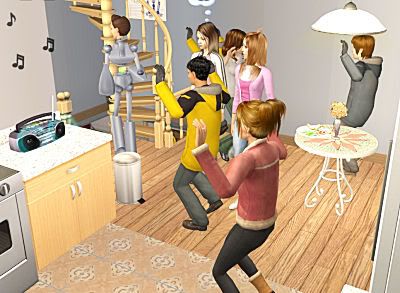 The party guests are still wearing their coats and are warming up from the cold walk over by slap-dancing in the kitchen.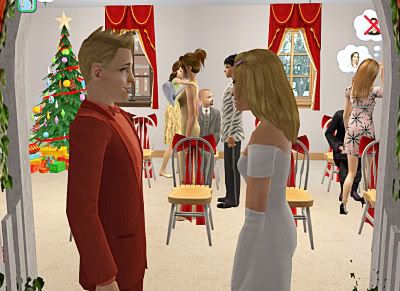 This party is a wedding party for Jason and Mehrissa. I was hoping for a double wedding, but it didn't work out with Amiee and Ocean. Do you like the chairs with the holiday bows? I was excited because I thought they looked good, with the added bonus of using the chairs that the Bauers already owned. This is something that appeals to me, as I am a frugal person, and I love DIY projects. That was not an easy trick to get the bows on the chairs, but it was done with
Silentlucidity's shiftable OMSP's
. Gosh, I love these. The bows are shifted up from the basement.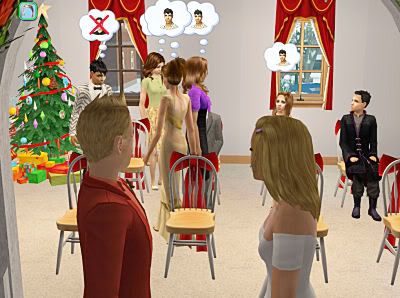 Anyway, back to the wedding. ;) I'm not sure if you can see him very well, but Wilson Webb made quite an entrance in his zebra-striped tuxedo. Even Jason and Mehrissa are temporarily mesmerized by his eye-catching tux.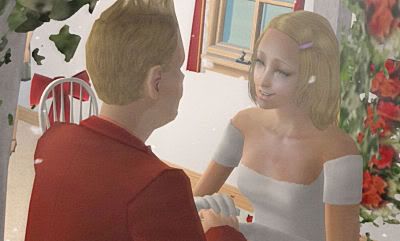 I sure hope Mehrissa is the right sim for Jason. I don't want to have a repeat of Charity's bad experience with Elmer. It just seems so much more personal when bad stuff happens to my sim family than with other sims. My real son Jason is my buddy that I love to geek out with. When we get together, we have so much fun. We like to watch Doctor Who or other sci-fi stuff together. I don't want anything bad to happen to even the sim version of him.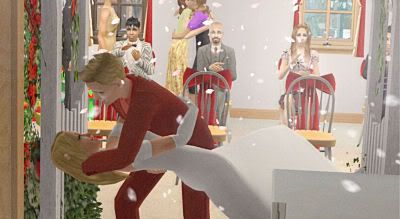 And I always love this part of the sim weddings, although I'm not sure what got in the way of the picture there at the bottom right.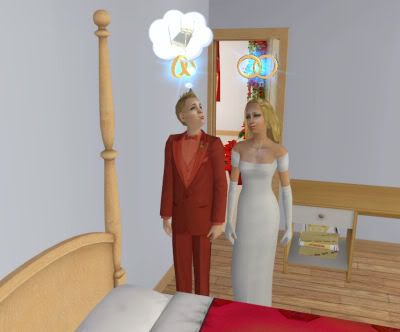 This is their bedroom in the new house addition with a new double bed for their wedding and Christmas gift. Jason looks especially happy to get a double bed. Because of my concerns about the bad influence of ACR, he's hardly ever seen a double bed. ;)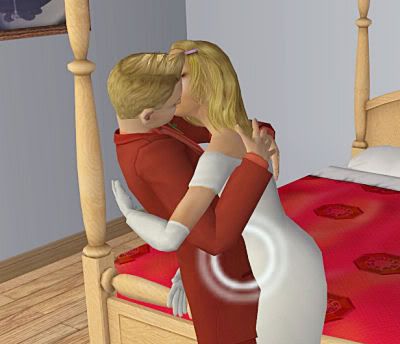 Someone is ringing, and it has to be Jason since Mehrissa doesn't yet have a cell phone. It was some girl asking Jason out on a date, LOL. I think he's going to have to pass. He's a little busy with his new bride.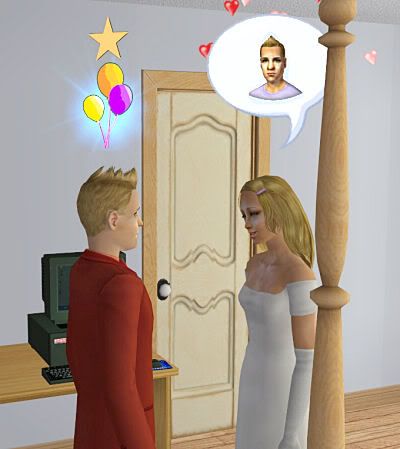 Jason was happy that their wedding party was successful. It was a roof raiser. Mehrissa thinks Jason is very attractive, and she likes to tell him often. She should definitely keep her eyes on Jason and keep them off of Scott. She's in a very dangerous situation if she messes up things between Scott and Michelle.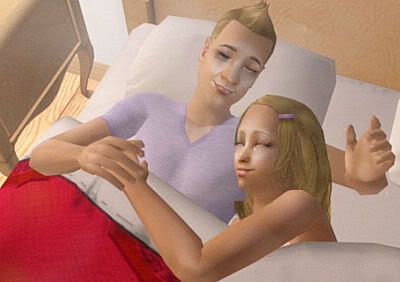 I thought this was a sweet picture of the newlyweds. Hopefully these two will stay sweet and have a happy life together, especially since they're going to be parents. This will be either the 8th or 9th grandchild, since poor Charity is also pregnant - again.
Amiee did not have the best Christmas. She was happy for her brother Jason, but she was still in search of her own happiness since her boyfriend Ocean didn't really seem like the right match. She decided she might have more luck if she moved out of the house and away from the watchful eye of her mother. Yeah, well she can't really escape me. I'm still going to keep her out of trouble. ;)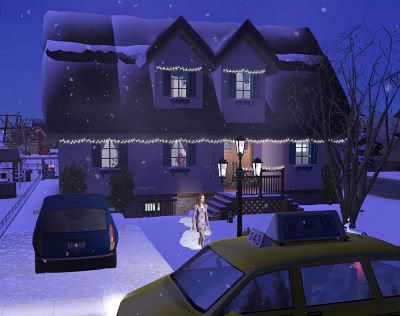 But she left anyway, soon after Jason's wedding.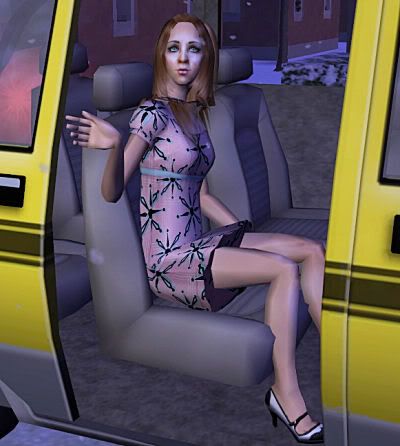 It's cold outside and poor Amiee forgot her coat. But it's not too sad of a departure since she'll still be in town. I have a good idea where she will move, and I think she'll like it.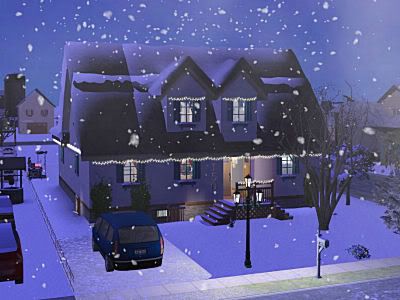 And now we'll have to leave the Bauers for awhile. I like how the snow is coming down in big flakes in this picture.
Santa
Justin was once again missing, and I don't think we're on his naughty list. I think he must be on a bender or something.
Thank you for reading, dear friends. I hope you had a Merry Christmas, and I wish you a Happy New Year!
Scoring: +1 Michelle - Arts and Crafts plaque, +1 - added Mehrissa to the neighborhood. The population of Apple Grove is currently 92, with a total population of 94.