Instead of doing a recap of the Andersons in Round 5, I'm going to just dive right in
and get this story over with. ;)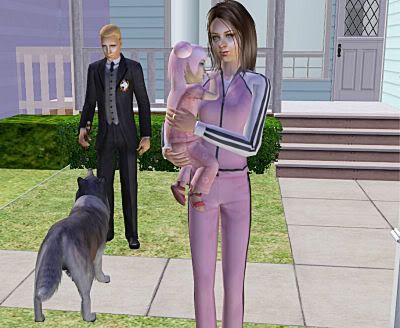 Since Charity is pregnant, she and Sabastian followed Cassandra and Morgan's example and moved to the rowhouse next door so they would have room for the new baby.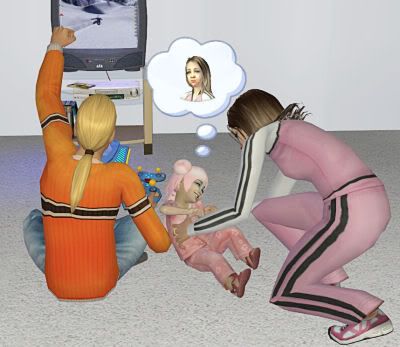 Charity plays with Mew, while Sabastian plays a video game.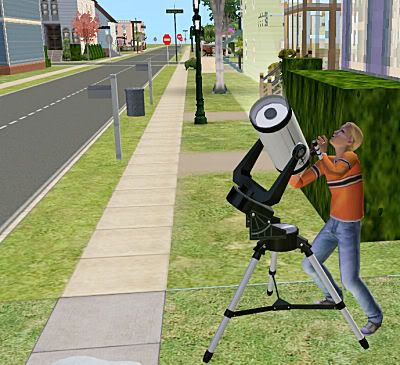 Since he wasn't going to work until the afternoon, Sabastian "decided" to do a little daytime search for aliens. I had no idea whether or not he could get abducted in the daytime. I just knew that his LTW is to marry off six kids, and since Mew doesn't count, he shouldn't put all the pregnancy burden on Charity.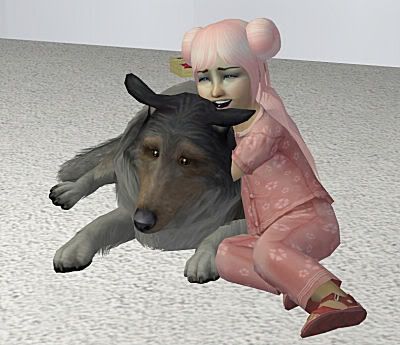 Mew is really fond of Luke, and now has a little more space to hug him.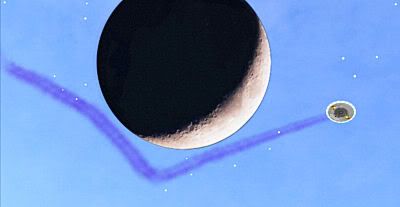 Speaking of space, the aliens couldn't resist coming in for a closer look at Sabastian.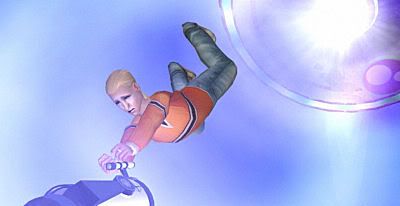 And he was ripe for the picking. I wasn't sure if he could get abducted in the daytime, but I guess he can with "Summon Aliens." I guess knowledge sims have a lot of appeal to the aliens as breeders.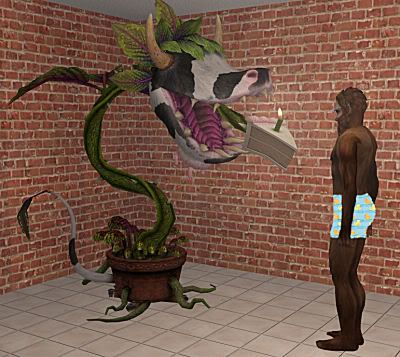 Rawley came over as part of the welcoming committee and made a beeline for Charity's cowplant Miltank.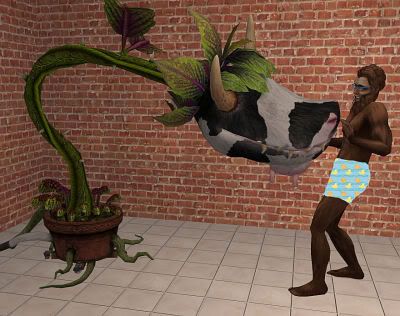 Thankfully, he stinks just enough to be rejected, but that didn't stop him from trying repeatedly to get cake.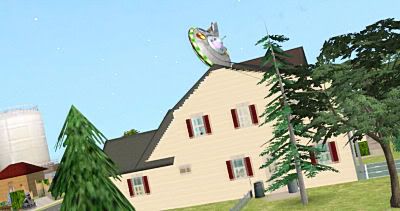 I'm always impressed by the aliens' ability to maneuver their spaceships through residential areas without crashing.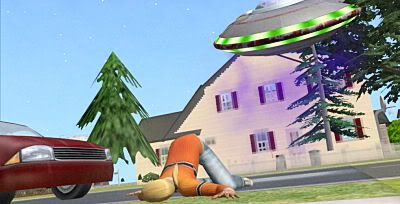 The pollination technicians dumped Sabastian right in front of his carpool just in time to go to work. Thankfully, the car stopped before running over his head.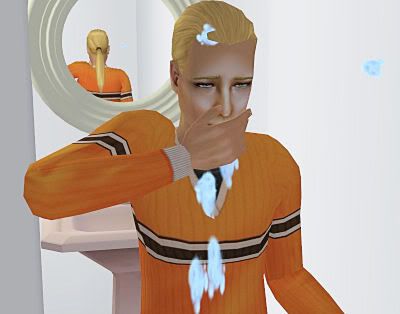 It didn't take long after he arrived home from work for Sabastian to realize the results of being probed.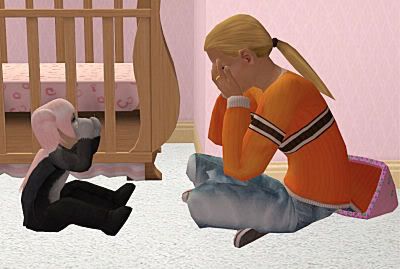 Sabastian is not Mew's biological father, but he and Mew have a very good relationship. Mew's real father Elmer Cormier got fed to the cowplant in the last round, and he is now Sophie Graham's zombie
boyfriend
servant.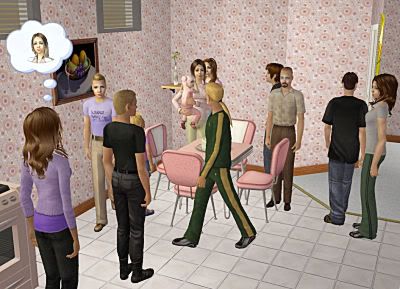 A large crowd of Bauers has now arrived, which means it's time for Mew's birthday.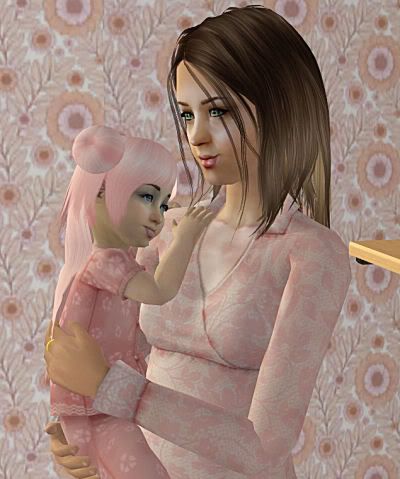 This is such a sweet, pink picture of Charity and Mew, and they match the wallpaper.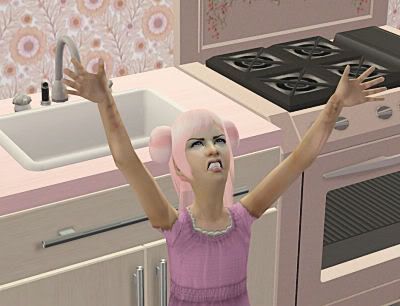 But as it turns out, Mew is not at all sweet. She has one nice point, so it doesn't take much to make her mad.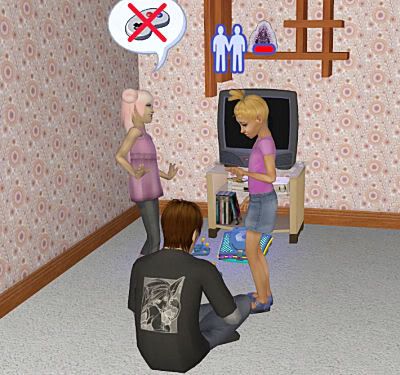 And Mew is not very playful, either. Now that she's a child, she's still not hitting it off with her cousin Cindy Lou Who.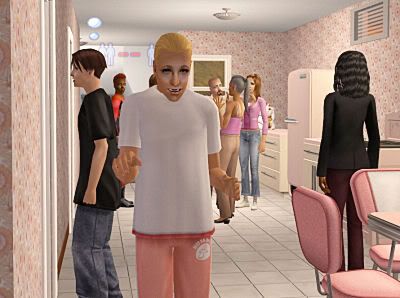 Sabastian doesn't look too unhappy to be changing into the comfy pink sweats. Now he also matches the wallpaper.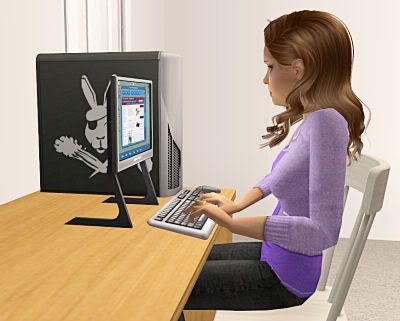 I enjoyed the birthday party so much that my sim didn't get the hint to leave when the party was over, but stayed and blogged. At least one of us is really committed to blogging. ;) I'm trying, though. My head and heart have to be in it at the same time for it to happen. I always
want
to write, I just don't always have the focus. Thankfully, I'm not allowing myself to play ahead, which keeps me blogging.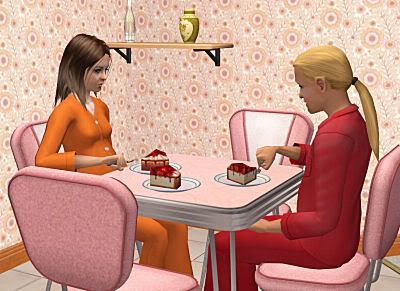 Since Sabastian has that marry off six kids LTW, I figured they should eat some cheesescake and just get this show on the road.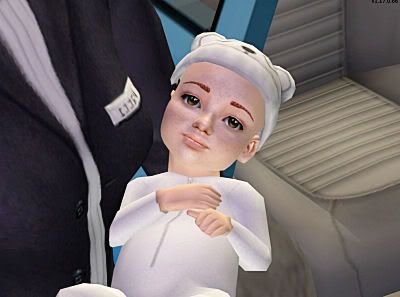 Well then as luck would have it, I decided to draw a random scenario for them, and they are supposed to adopt a baby. Wow, this is getting
crazy
. Too bad they can't go back and un-eat the cheesecake. This is
Walrein
. I used the
Dungeons and Dragons Dice Roller
and got #365 out of a possible 649 Pokemon.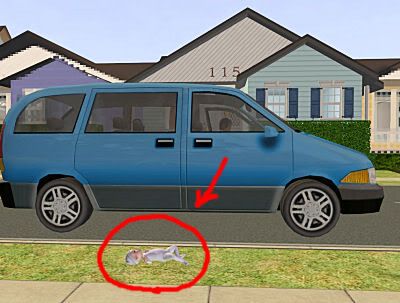 The social workers are quick to take children away, but they are not held accountable to anyone for their own neglect, so the social worker just dropped Walrein off -
on the side of the road!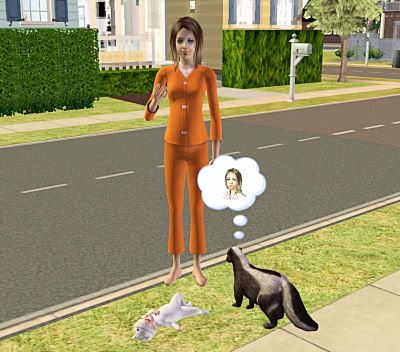 Where there was a skunk.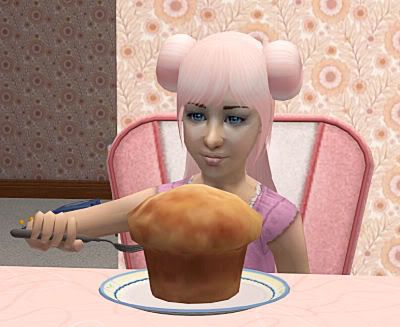 With all the crazy changes, Mew realizes that she will be fending for herself - from now until the end of her life, because her parents just don't have any time and energy left for her, and things are only going to get worse. Thankfully, she's a survivor and was able to perfect her muffin baking quickly.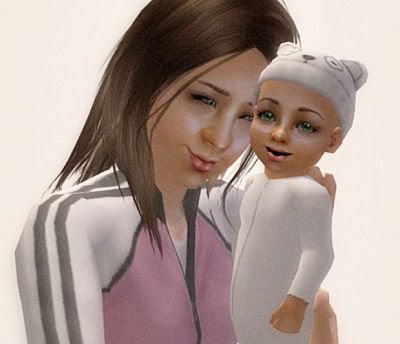 Charity gave birth. This baby boy is named
Lucario
(#448).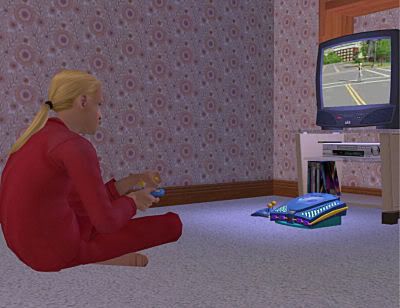 Sabastian missed the birth because he was too busy playing a very important game of Sims 3.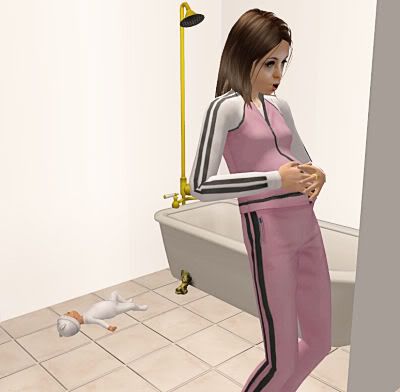 Charity put Lucario on the floor...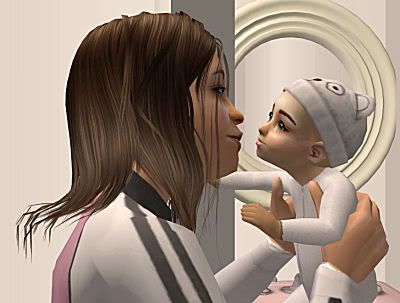 And gave birth to baby girl she named Blissey.
Bbop
requested that I name a sim Blissey when I played this family a year and a day ago. (wow, that is a long round!)
Blissey
is #242.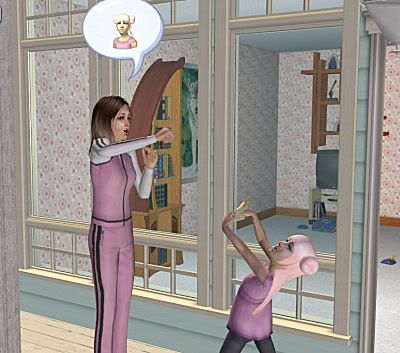 Charity is a great mom when it comes to A+ report cards.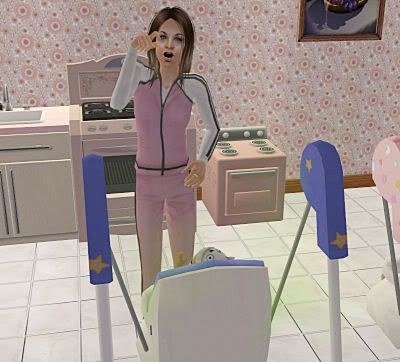 However she's not patient with Lucario for having a dirty diaper.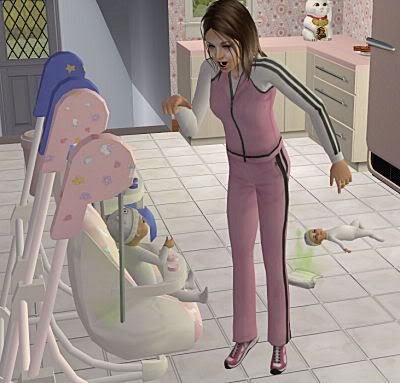 Nor is she at all pleased with Blissey for not making it to the toilet. Not being able to walk is no excuse. ;)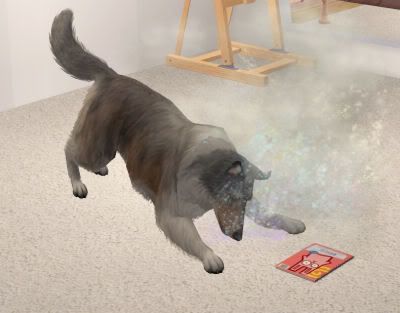 I was hoping that Luke would destroy the homework for Mew so she could spend more time picking up dirty diapers and bottles. Pretty much all she does is bake muffins for herself and clean up. Thankfully, she has 10 neat points and 9 active points, so she is a great deal of help.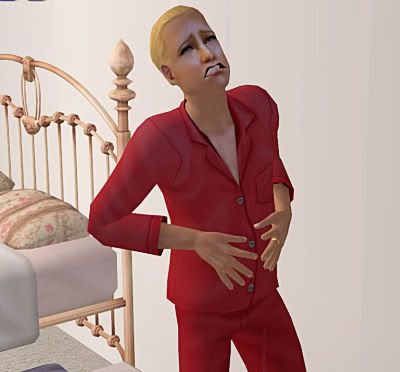 Finally, it's Sabastian's turn to have the pleasure of childbirth.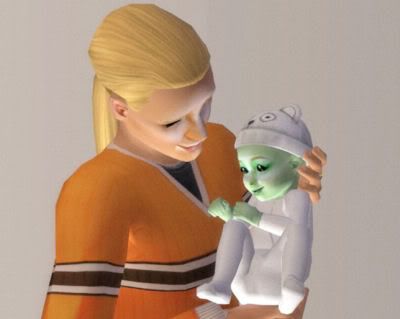 This baby boy is Gorebyss.
Gorebyss
is #368.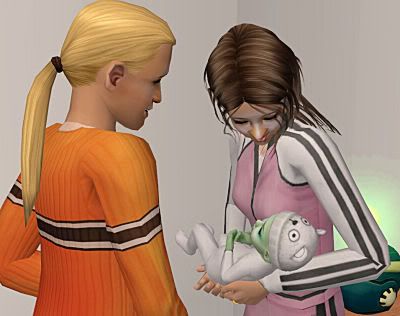 Charity actually helps out, which is nice considering his lack of sympathy or interest when she gave birth. Now he knows how much it hurts.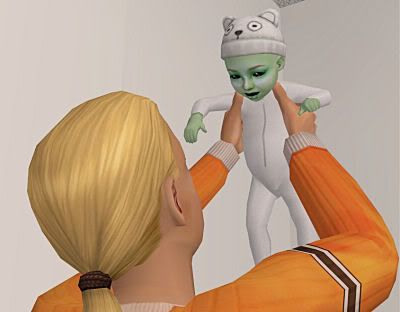 And this is a baby girl named Maractus.
Maractus
is #556.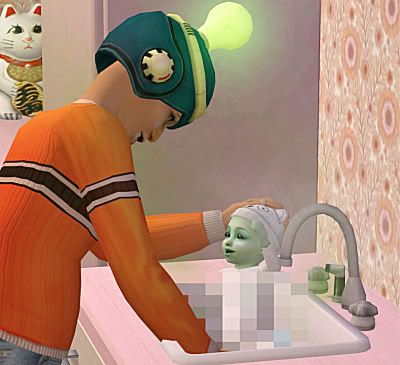 Sabastian has an inconvenient fear of changing diapers, so he has to bathe the babies. This is time-consuming.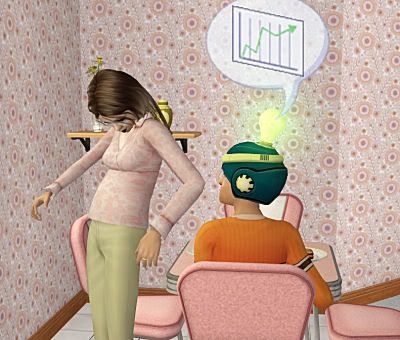 Now Charity just has to give birth one more time for Sabastian to have his six kids.
Baby Spam time: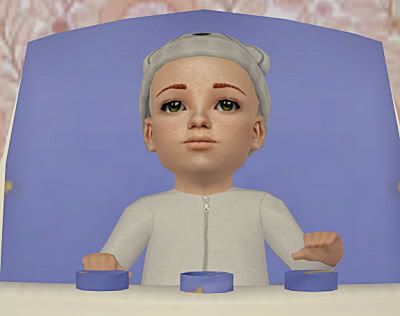 Walrein Anderson - born September 9, 2022. He was adopted on September 20, 2022, when he was 20 days old. Thankfully, he lived through 20 days of ineptitude at the hands of social workers.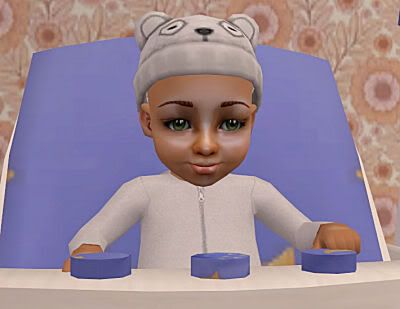 Lucario Anderson - born September 21, 2022. I did not manange to record the time of birth, but the twins were born late that night.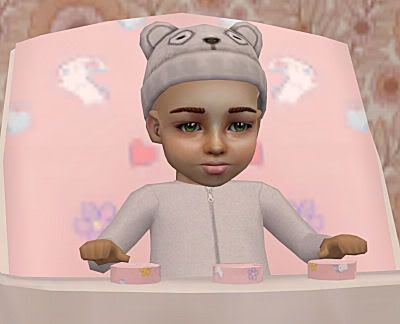 Blissey Anderson - born September 21, 2022.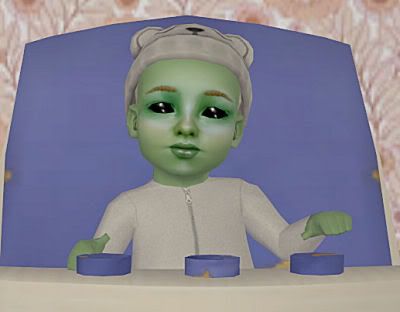 Gorebyss Anderson - born at 9:00-ish p.m. on October 5, 2023.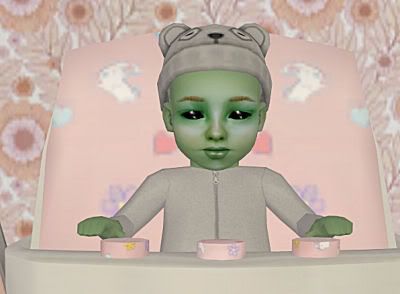 Maractus Anderson - born at 9:15 on October 5, 2023.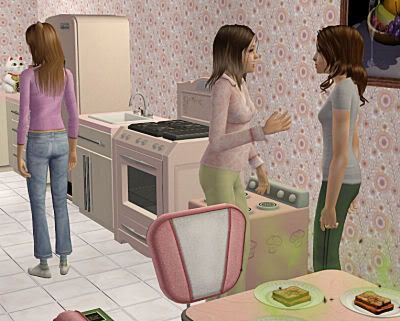 Charity is beyond tired and the house is completely trashed, so she calls in a favor with her sister Cassandra. Charity recently helped her out with her two children. Payback is gonna be hell. ;) She called in her other sister Amiee, too. This is a huge job taking care of all these babies.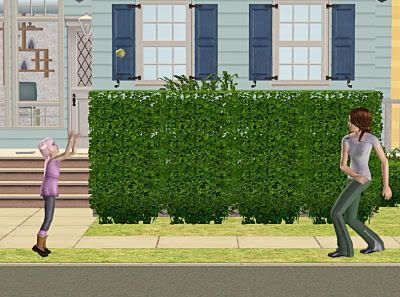 Mew was lucky that Aunt Cassandra is fun. She went outside with her to play catch.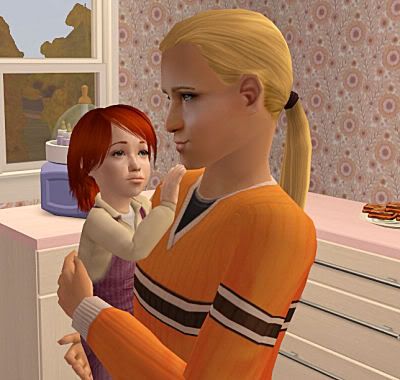 Walrein grew up without a birthday party. But then again, he is a red-headed orphan kid that they didn't even want. Sad, but true. At least they're as kind to him as they are able, and they didn't leave him lying on the side of the road.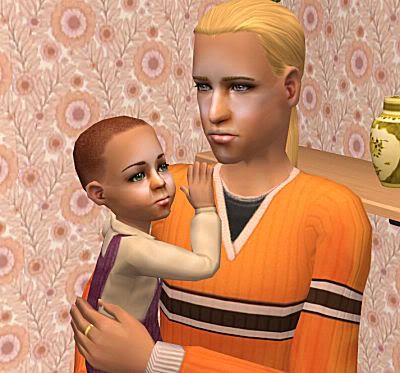 This is Lucario as a toddler. Lucario and Blissey did get a birthday party, despite a lack of very many pictures.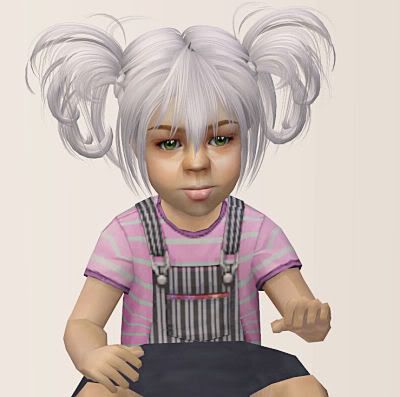 I couldn't resist giving Blissey this hair, although it would be more accurate if it were pink. I'm just not willing to find it in pink or *shudder* fire up Body Shop and make a pink recolor. If you know where there is a free pink version, please let me know.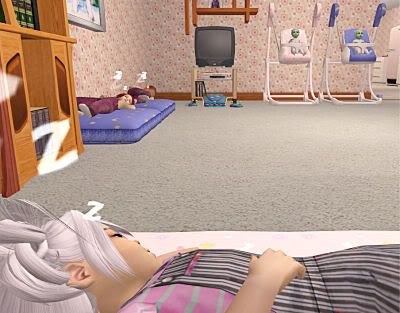 This is a view of the five babies and toddlers sleeping in the living room. I decided it was in my best interest to put them out here to make sure the grown ups and Mew get some sleep.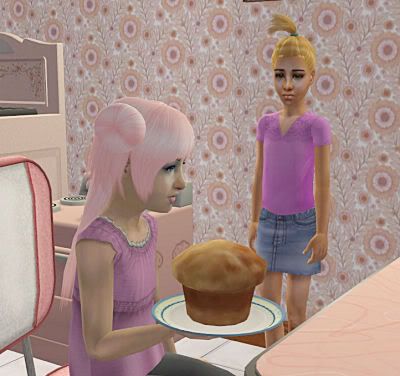 At the next family get-together Cindy Lou Who is coveting Mew's easy-bake muffin, but Mew knows it's every sim for herself and doesn't care to share.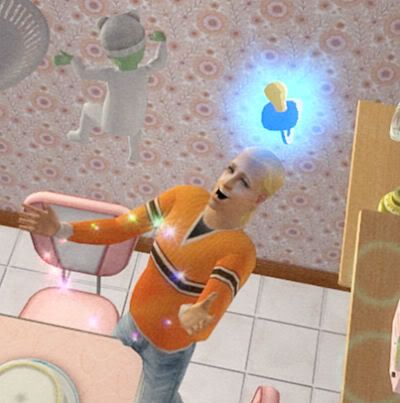 It's birthday time for the little green twins.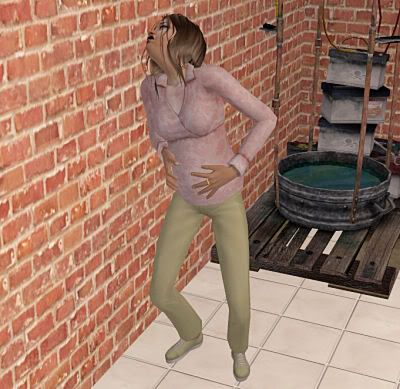 Charity had gone down to feed the cowplant and didn't come back up for cake.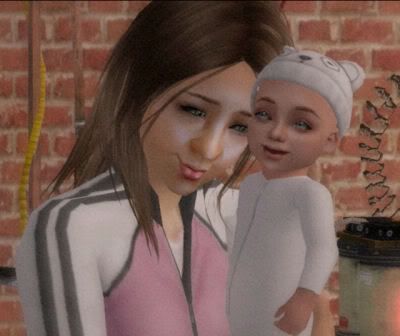 She was busy giving birth to Victini, so she was excused.
Victini
is a boy (even though that Pokemon is supposedly genderless) and is #494. I was glad to see that their baby-making days were over. Hopefully they will survive all the toddlers, because it's going to be almost as if they have their own Toddlermania.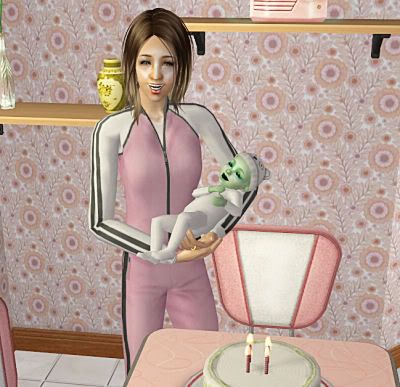 Charity made it upstairs for the second twin's cake.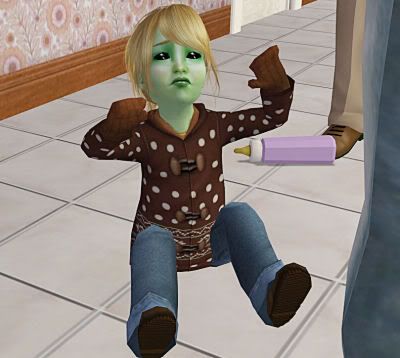 Here's Maractus as a cute toddler.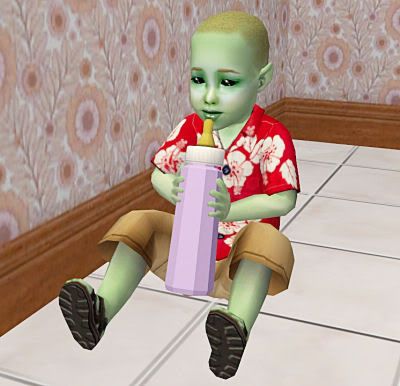 And this is Gorebyss who got some awesome elfish ears! :)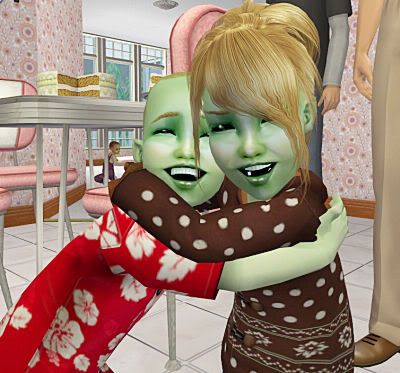 And I just love that they love each other. This was a spontaneous hug that I managed to get a picture of amongst all the birthday party madness.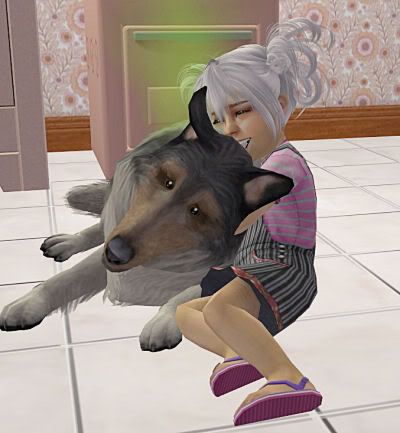 Luke is a very patient dog who loves hugs from smelly toddlers. He will probably be getting plenty of those before it's all said and done.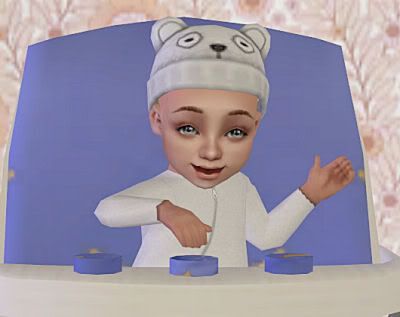 And last but not least is the latest and last edition, Victini. Victini was born on Gorebyss' and Maractus' birthday, which means he was born on October 5, 2026.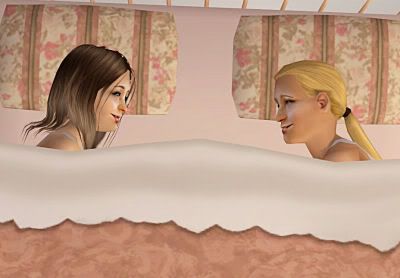 And just when I thought all the baby-making was done, fate and ACR threw me a horrible curve ball.
Crap! I heard a lullaby!
I've never had risky woohoo give my sims a baby before when they didn't try for it - until now. How are we ever going to get through this???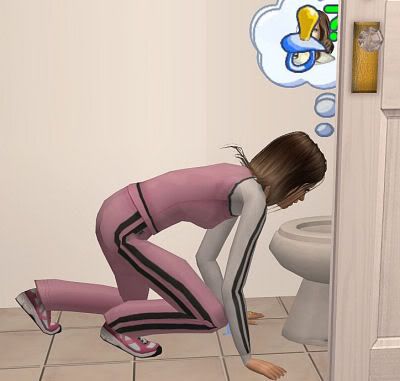 Maybe by the time Charity gives birth, we'll have a few less toddlers. I like how she's thinking that she's pregnant and thinking about her sister Cassandra at the same time. Is she thinking maybe she can give some of these kids to her sister? LOL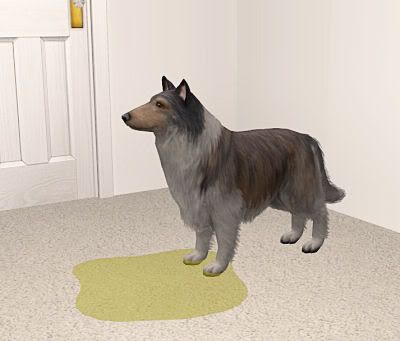 Just to make things more fun, Luke peed on the carpet. Now that the birthday party is over, Cassandra and Amiee went home and can't be called to come back over until 7 a.m. This forces me to call a dreaded nanny just to be safe.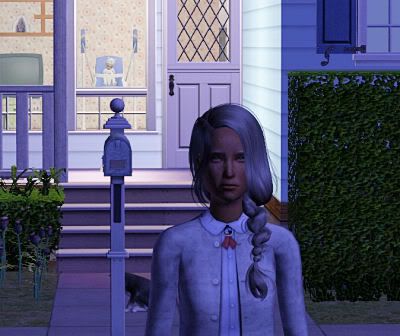 Nanny Marie Wood just stood around outside and wouldn't come in and help for the longest time. At least her presence keeps the stupid social worker away, but Charity and Sabastian could really use some actual help. This is the end of our time with the Andersons. I'm not really looking forward to the chaos that will await when I play them again in Round 7. I may have to move them into a larger house and ask even more family members to help out in the next round.
Scoring: +6 for adding Walrein, Lucario, Blissey, Gorebyss, Maractus and Victini to the neighborhood. The population of Apple Grove is currently 85, with a total population of 87.