I haven't been to the Tuckers house in quite awhile. As soon as I arrived, the first snowflakes began to fall on their house that is lighted for Christmas. They're going to have a family get together in a little while, so they're preparing for that.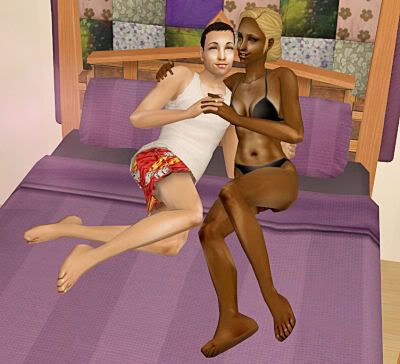 NOT. Instead, visions of purple hearts were dancing in their heads. But I guess they'd better get it over with, because otherwise their eyes may stray to guests at the party. I really don't want that to happen, especially not for Christmas. These two have wandering eyes and not enough loyalty to be trusted.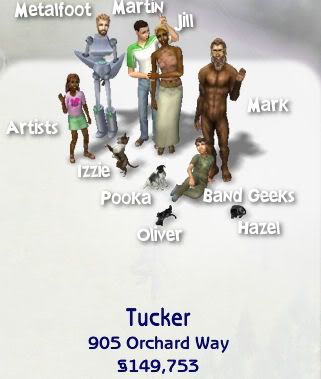 I don't have time to do individual and family updates, so here is just a little reminder of who's who in the Tucker household.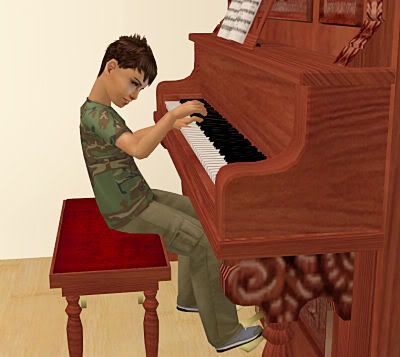 Band Geeks is a master on the piano and
loves
playing it for hours on end. He has 10 creativity points, and he's using them all today. Since the piano is upstairs, we won't be seeing him at the party.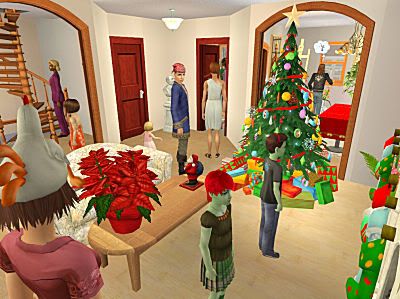 There was hardly any room in this house to begin with, and that tree takes up a lot of space. I eventually had to move it out of the way. Zoe's family is here with her husband Rudy Fletcher and their kids. I also see two of Kimberly's daughters.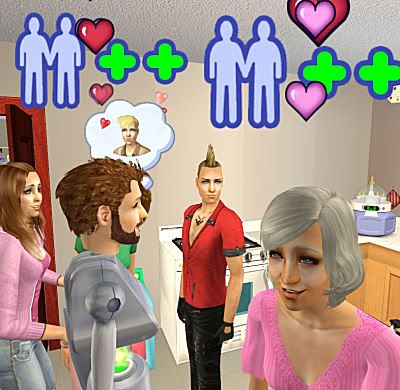 During the party, Catherine fell in love with Mark Bigfoot's servo Metalfoot, while her husband Charlie glares daggers at her. I'm very disappointed in Catherine, who despite being a Romance sim has been very faithful up until this point. Until now she's been hoping against hope to live long enough to have a Golden Anniversary with Charlie before she dies. She's 24 years older than Charlie. I guess it was a moment of temporary insanity. It doesn't help that Metalfoot is her sister Aloe's boyfriend. Thankfully, I didn't invite Aloe to the party.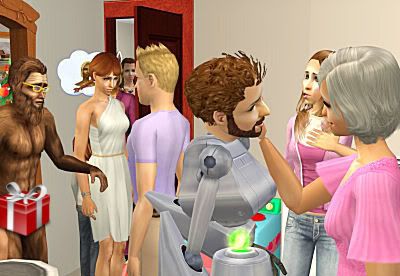 There was no fight yet, and Charlie appears to have left the room. Catherine stroked Metalfoot's synthetic cheek. I'm so mad at her right now, but she's a guest at the party, so what can I do?

Well, I
can
control Metalfoot, so I put him to work making a turkey dinner for the party guests. Of all times to have neglected grocery shopping, this was the worst. There's no way a delivery guy is going to effectively deliver groceries during this huge party. Metalfoot is getting a new fridge for Christmas. It's more than he deserves.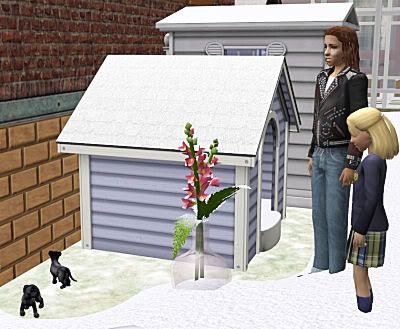 Aerosmith and Blondie found the Tuckers' new puppies. I forgot to mention them before, but Izzie and Pooka had 2 more puppies, Hazel and Oliver. The puppies have some of the most normal names in Apple Grove. I can't remember how they got their names. I probably used a random name generator. Anyway, here's to hoping they are better dogs than the first puppy, Swift.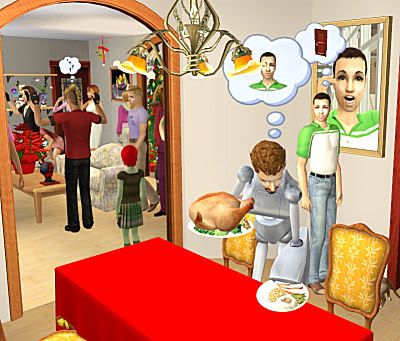 Metalfoot served up a lot of turkey, and I sent him to make more just in case they ran out. No one was interested in eating. :P But, it did keep him out of trouble for awhile.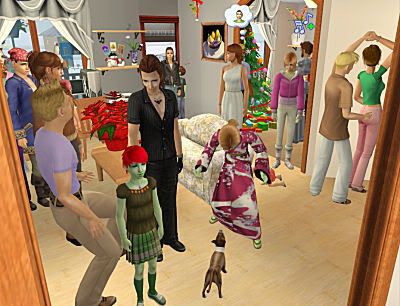 It's just way too crowded in the house, but it was nice to see all the Tuckers together, plus I let Martin invite a few people he wants to be friends with, such as Jason.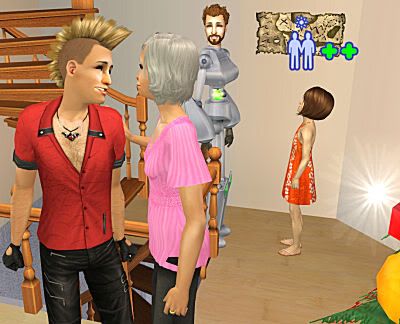 Near the end of the party I got a little worried about a fight, but Metalfoot magnanimously tolerated Catherine "cheating" on him by flirting with her own husband. I guess he's not mad at her, so I'm grateful for that.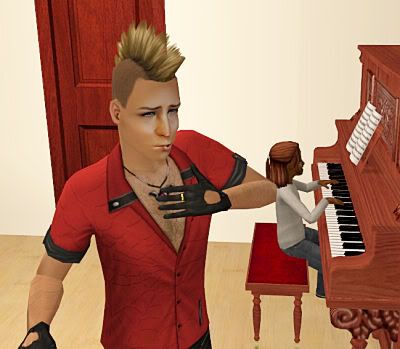 Band Geeks finally had to go tinkle after all those hours on the piano, and as soon as he was off the piano, Artists took over and started playing. Charlie is so impressed with his step-granddaughter's playing, he tries to whistle along. The kids playing the piano added a real Christmas party feel to it for me. :)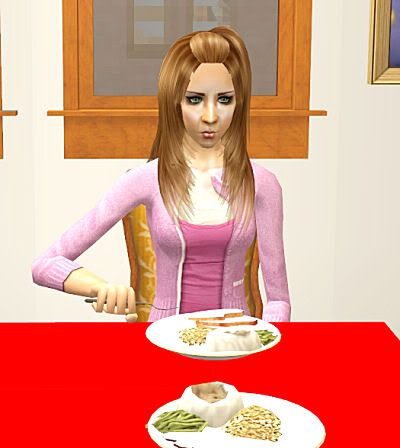 So out of all the guests, only Amiee sat down to eat turkey. It looks like the Tuckers are going to be eating turkey leftovers for a very long time.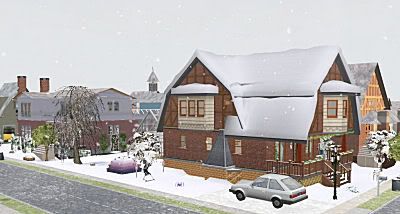 By the time the party ended, they had a decent accumulation of snow.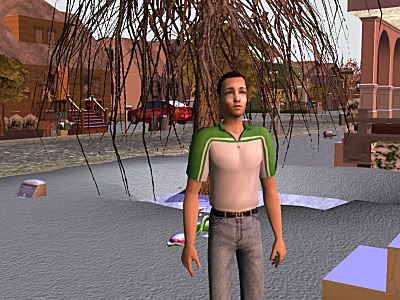 At dusk I noticed that Martin standing in the backyard. It was his birthday, which is actually Dec. 22nd, which makes it awesome that his birthday is in the right season. The non-awesome part of this is that according to my calculations, he should only be 44. I must have miscalculated his birthday.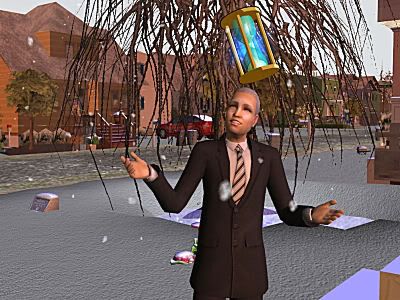 Well, he's an old man now, but it's okay with him. Maybe he's just prematurely gray.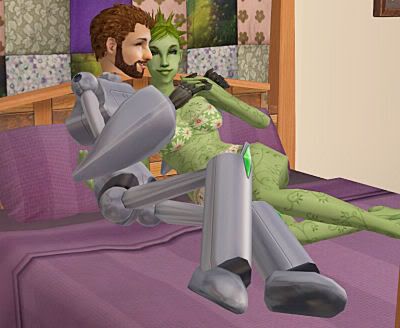 While the family was occupied elsewhere, Metalfoot sneaked his girlfriend Aloe (Catherine's half-sister) upstairs to Jill and Martin's room for some woohoo.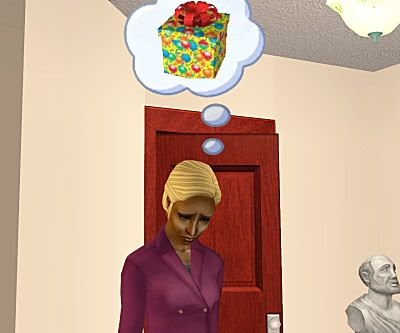 Jill does not seem happy about the gift for Martin's birthday.
It's very large. I wonder what could be inside. I love these openable presents from
Paladin's Place
.

Well, sadly Martin's gift box was empty. I didn't have all the necessary files. It does work again later in the round, but the Tuckers are out of luck.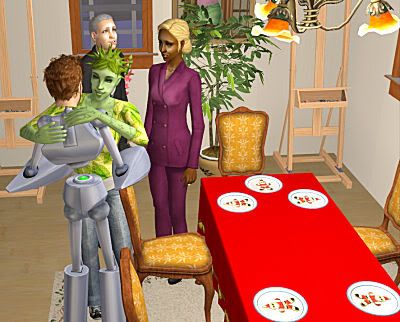 But that's okay, it's been a good Christmas. Metalfoot got to start up some drama to potentially break up a 20 year marriage. He also got a new fridge and some woohoo. Martin aged up well. Mark Bigfoot put on a few pounds from eating too much turkey.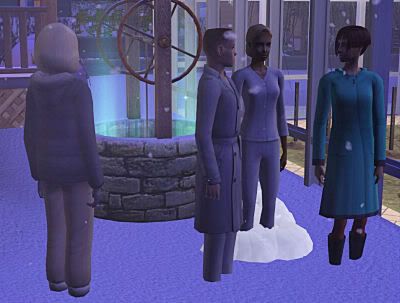 Jill got three new best friends from the wishing well for Christmas.

And she got the promise of a promotion from one of them.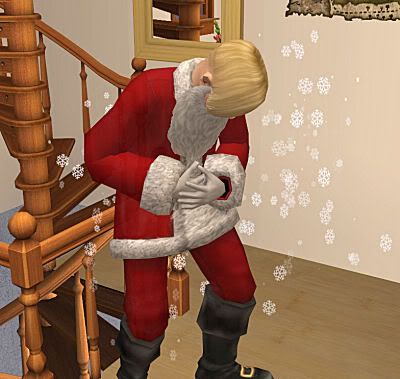 Santa appeared, but unfortunately he probably wasn't the real Santa. I think this must be Justin, the department store Santa.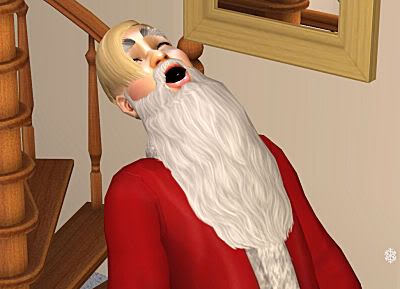 Justin must have carelessly misplaced his white wig and red cap.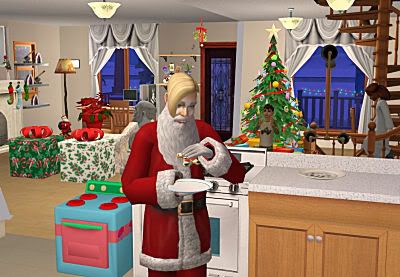 But the kids don't seem to notice anything amiss, even though
Santa
Justin only brought one gift - a remote control car. He's enjoying some nice Christmas cookies in the kitchen.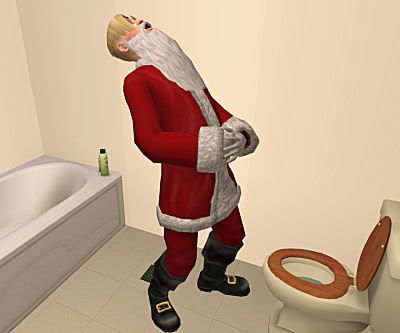 Justin spent the rest of his visit in the bathroom. He has to pee all the time, but he can only go a little at a time. I suspect he might be inebriated, as he seems a bit young for prostate problems. I suppose that might also explain how he could lose the essential wig and cap from his Santa suit.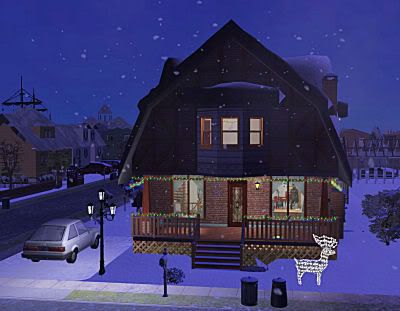 After dark, we can see the Christmas lights a little better.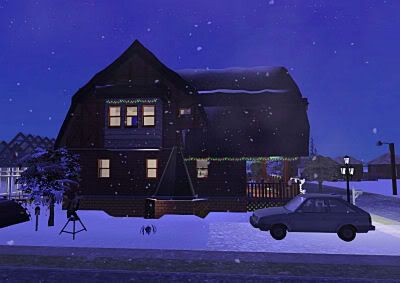 Here is the side view of the house. It's a pain to put the lights on the house, so I get to show you as many lighted houses as I want, right? I didn't do as much to the Tucker house as I'm going to do later on.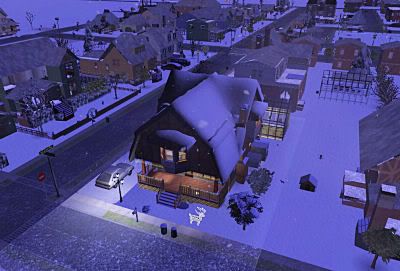 Anyway, I just love the way the neighborhood looks with the snow.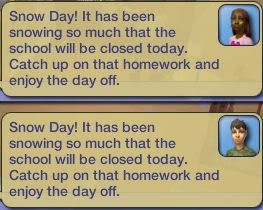 And last but not least, in the morning the kids were blessed with the gift of a snow day, so they get a break from school after the Christmas holidays to play in the snow. All things considered, I think the Tuckers had a Merry Christmas.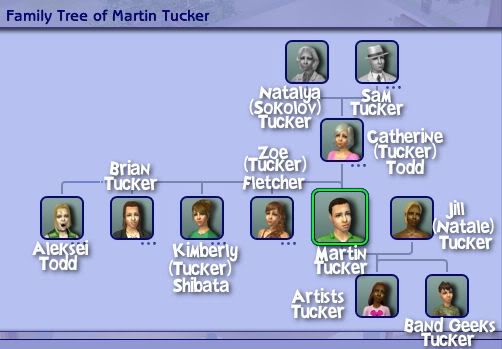 Here's an updated family tree for Martin Tucker's family.
Scoring: No changes.