Half sisters Reagan and Taft Webb were both married at the beginning of the round and have now moved into a duplex with their husbands. Initially they moved into separate apartment buildings, but those buildings have now been torn down. Apple Grove now has residential "apartments" because I hate the game's apartments.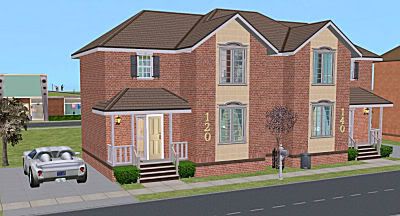 Their building is owned by Heath and Lara Fancey who sent the amount of the lot to them to buy the building. They send rent to the Fanceys using the checkbook from Simwardrobe.com, and Heath is teleported over to do yard work and repairs as necessary. In addition, I keep track of their paychecks and purchases for each family to know how much money they have, and let them split the bills.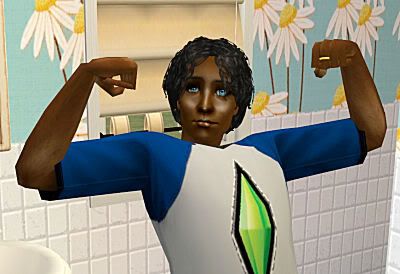 Tyler had a want to get fit. I suppose it's a Romance sim thing, even though he's married. Later, I realized that his wife Taft is turned off by fitness. Oops. But so far I can't tell that it has affected their relationship at all. And that's a smart move on his part. Even though he's a romance sim, I'm not going to feel very forgiving if he hurts Taft.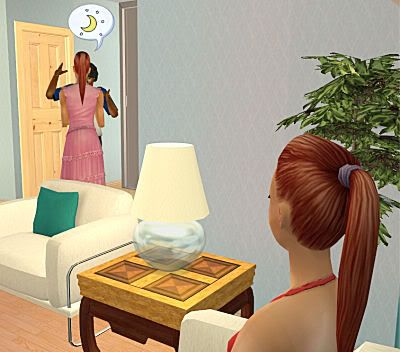 While his wife Taft is at work, Tyler entertains two walkby women who could be twins. And by entertain, that's all I mean. Even though it looks like he's up to no good, so far he has been faithful to his wife.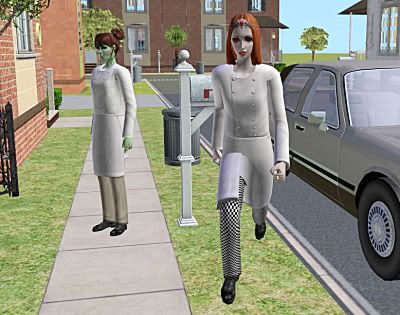 Taft got promoted to Restauranteur and brought Contessa Hailey Brown home from work with her, but Hailey had to run. She said something about getting burned by the sun.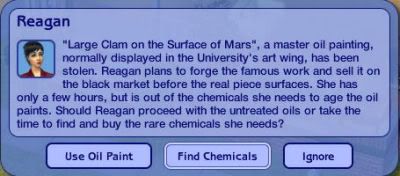 Reagan has been working in the Artist career. Currently she's an art forger. She was trying to decide whether to use chemicals to age the oil paint or not. She chose to find the chemicals.
This bad idea put detectives on her trail, which ended up costing her §1000 in lost supplies.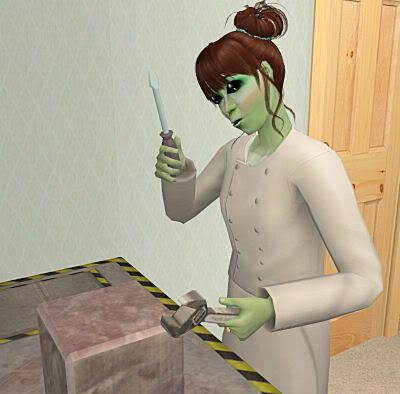 As a random scenario, one of the sims has to activate a servo. I chose Taft, because she's my favorite sim in the house, so I would like the servo to have her personality. She got to work learning robotics.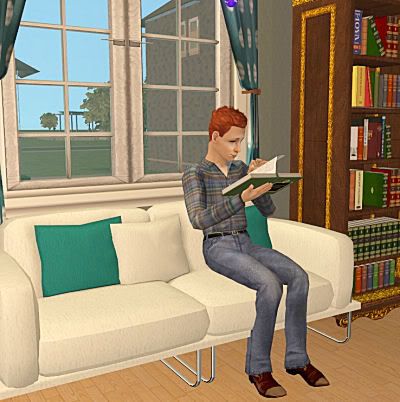 Reagan's husband Komei is a Draftsman in the architecture field. He's studying to get a promotion. He's a Popularity sim, but his highest wish is to max out all of his skills. When he's not dressed for work in a plaid shirt, jeans and cowboy boots, Komei loves wearing a business suit. It's quite a contrast.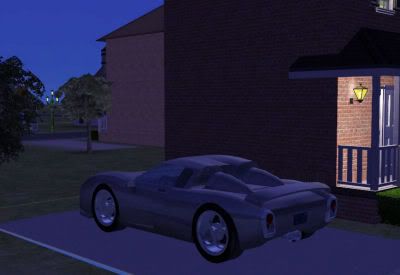 He really wanted a car, and since he had the money, he bought himself a nice sports car.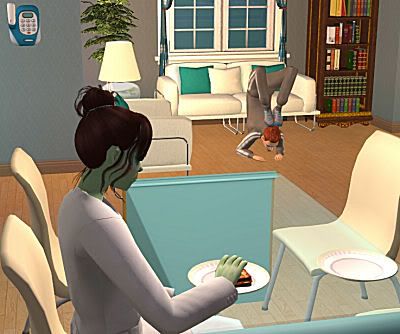 Even though they have their own apartments, the Pedersons and Porters freely come and go in each others' homes except for the upstairs bathrooms and bedrooms. Komei decided while he was already at the Porters' apartment using Taft's nice bookcase, that he would go ahead and do his yoga while he was there too.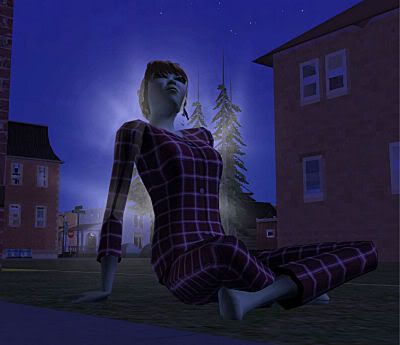 Taft decided to go outside and look at the stars. She really wanted to see a shooting star.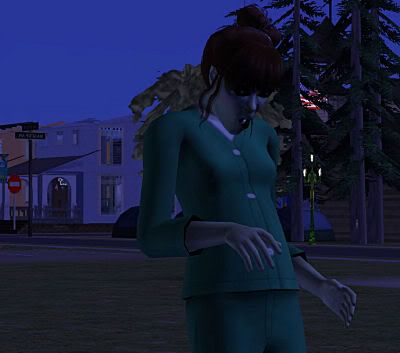 But soon she was done with that idea, because it turns out she's pregnant! I had no idea. She wasn't sick at all. If I knew she was pregnant earlier in the round, I must have forgotten.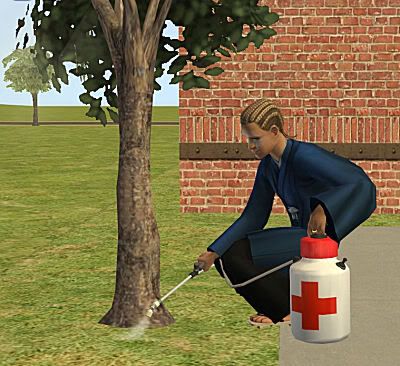 Heath Fancey is there pretty much every day to take care of the gardening.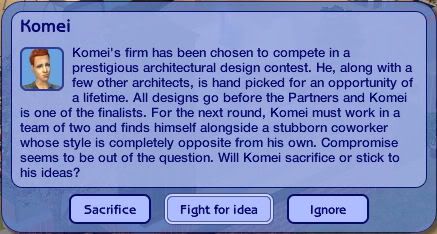 Instead of compromising with a coworker with a completely different style, Komei fought for his design.
Komei lost his pay for the day, but then came home with a promotion as an Architectural Partner, so I'm not sure now whether or not he got paid.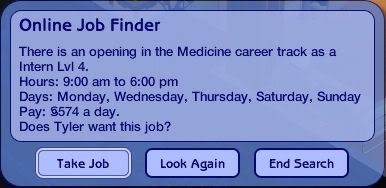 Meanwhile, Tyler is leaving a better paying acting job as a Leading Man to work as an Intern in the medical field. It's his dream to be the Chief of Staff.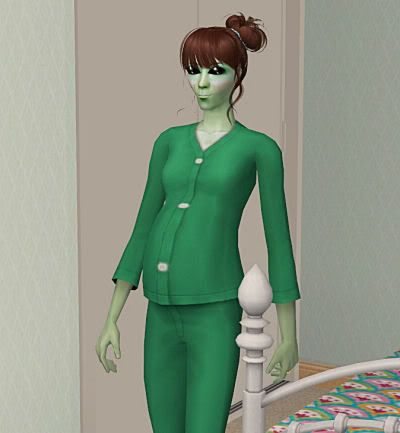 Taft is really starting to show now.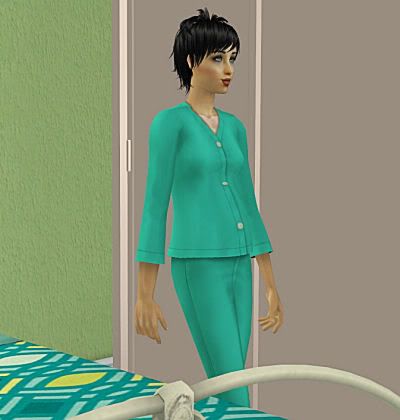 And as it turns out, Reagan is also pregnant.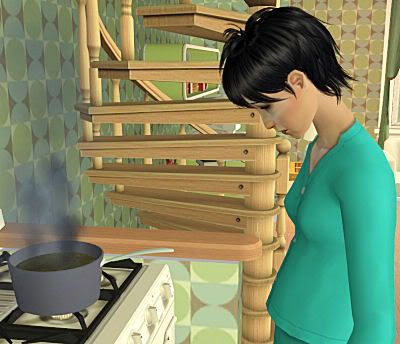 Reagan wants to be a Celebrity Chef, because we don't have enough of those in Apple Grove already. ;). A good start for Reagan would be learning not to burn soup.
On his first day of work as an Intern, Tyler discovered a flaw in a surgery technique and spoke up about it.
Because he spoke up about his concerns, he was promoted to Resident.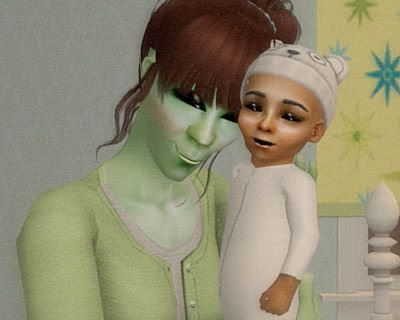 Taft gave birth to a baby boy at around 6:55 a.m. on October 27, 2023. Her doctor husband was taking a long bath at the time, and didn't want to get out of the tub. :P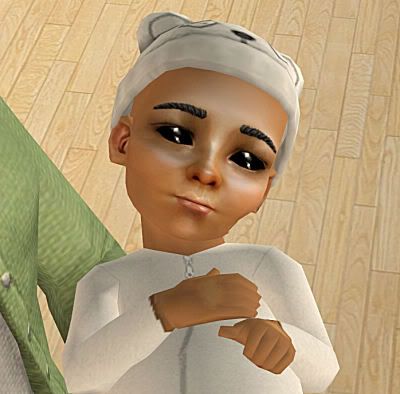 I think the baby is cute, although he's a bit different-looking.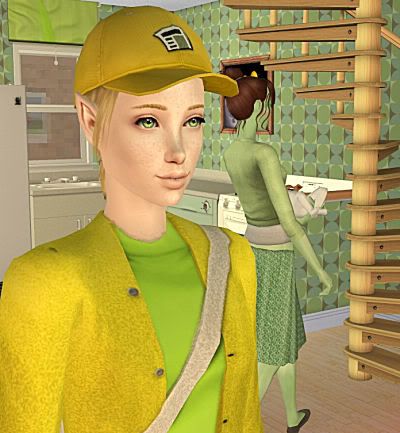 I'm not sure why the pointy-eared paper girl is inside Reagan's apartment. Taft walked over from her apartment with the baby to her sister's house, went upstairs...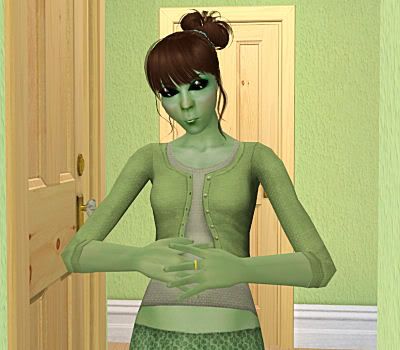 And gave birth to a second baby in the upstairs hallway.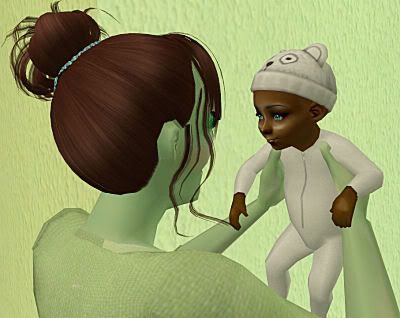 She had another baby boy who looks a lot like her husband Tyler at around 7:49 a.m.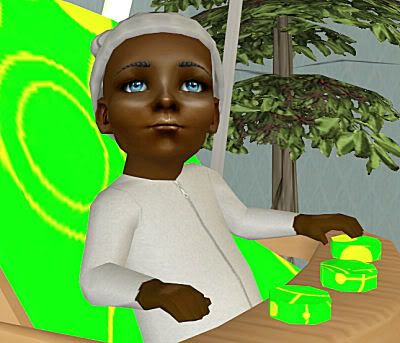 Since we have so many colors represented, I thought it would be fitting to name them randomly after the
120 current Crayola crayons
. This is Shamrock.
Shamrock looks a lot like his daddy.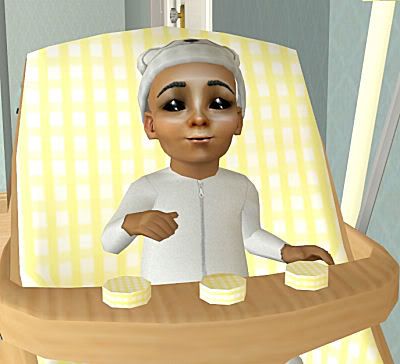 And this is Copper who did not get her green skin, but looks a lot like Taft. These are natural twins, BTW. No cheesecake was harmed in the making of this episode.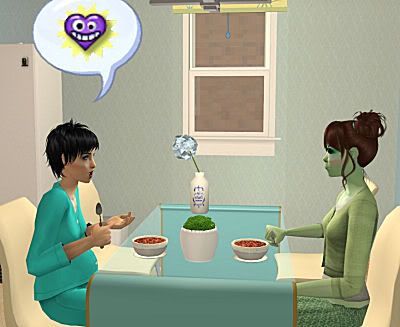 Reagan talks to her sister about how she and Komei had both waited until they were married before their first woohoo and then got pregnant right away.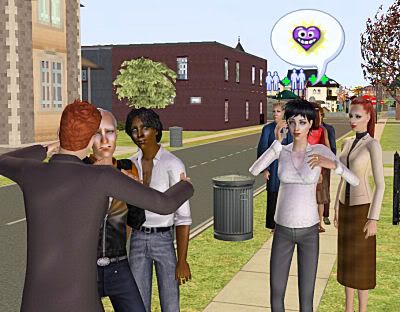 This is a favorite topic for her discuss with her friends as well. It's too bad it isn't entirely accurate.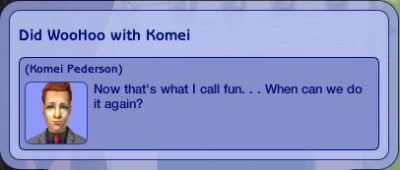 Reagan was not Komei's first, as seen here in the memories of one of Apple Grove's citizens who is not Reagan. I didn't realize this until writing this update. Can you guess who was his first? Fortunately, Komei has no memory of this event.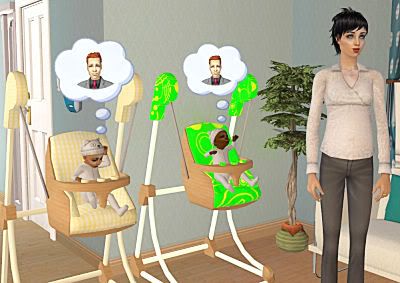 Reagan is babysitting her nephews so that her sister can go to work. They both really like their Uncle Komei.
And this is the night that Taft has finally reached her lifetime want of becoming a Celebrity Chef.
Normally I would have their landlord Heath Fancey fix the broken appliances, but it was late at night and Komei wants another mechanical point, so I let him give it a try. He was able to fix it without electrocuting himself.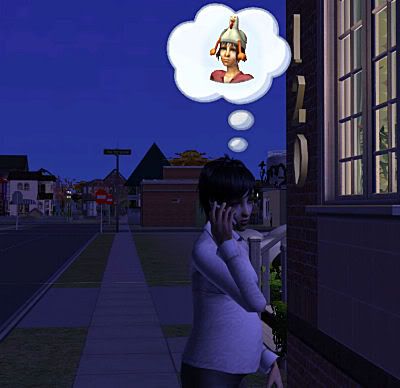 Chick-Fil-A likes to call and chat with her Aunt Reagan often.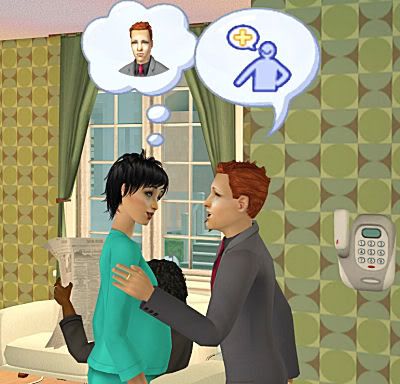 As a popularity sim, Komei is really proud of his wife's good reputation. Reputation is something I never pay attention to with my sims, but I checked and she is a Sociable Celebrity, which is the best reputation she can have.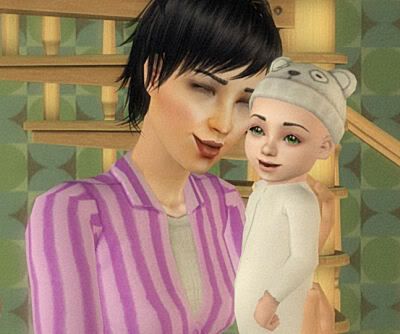 Reagan soon gave birth to her own baby boy. His name is Hot Magenta, LOL. He was born on November 2, 2024 at around 10:36 a.m.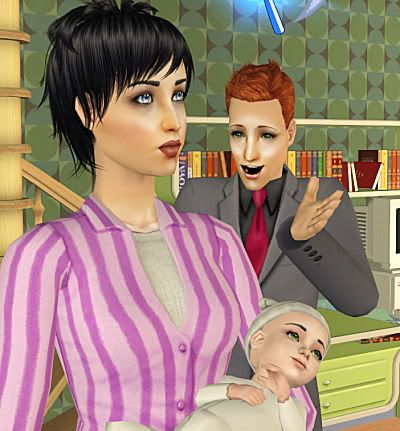 Komei seems really happy to have a son with his green eyes and Reagan's good looks.
Reagan was finally able to find a culinary job and was on her way to becoming yet another Celebrity Chef.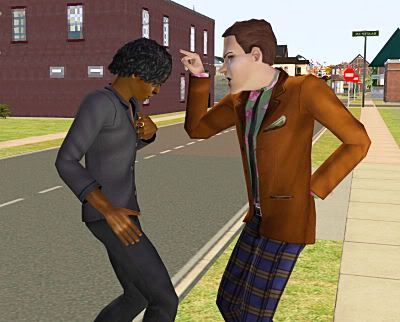 This walkby visitor with no fashion sense is named Ryan Wheeler. He really enjoys poking Tyler in the chest. Sadly, Tyler is the kind of sim who just cries instead of fighting back. Where's the fun in that?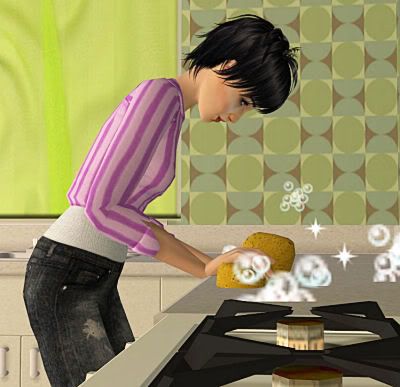 Reagan is the kind of sim who loves to clean and makes a lot of sparkly bubbles.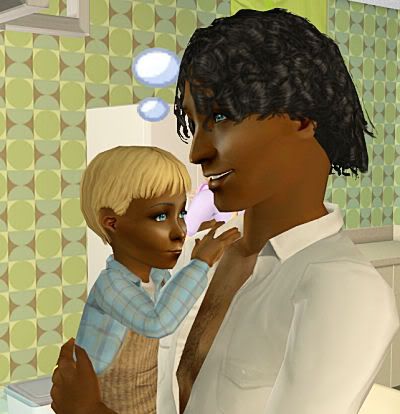 Shamrock and Copper had a birthday party, courtesy of their Uncle Komei who always wants to throw a party. It was a big surprise that Shamrock has blond hair. This would seem impossible, and it is. His hair is actually considered black, but is obviously incorrectly binned. Oh well. It does make him stand out. Since a lot of children start off blond in real life, I'm going to leave it for now.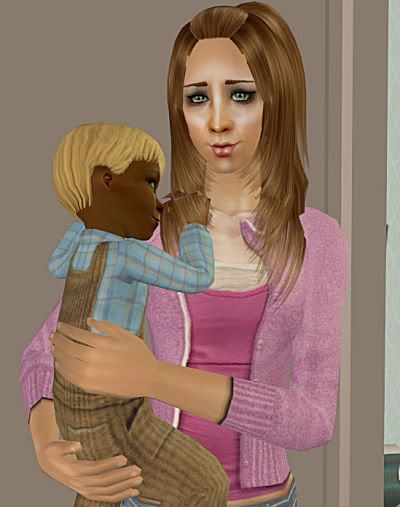 My fake daughter Amiee was at the party and couldn't resist holding cute little Shamrock. She looks sad. Maybe she's ready to settle down and have her own family.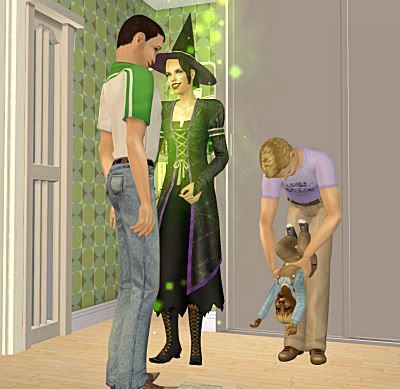 My son Jason was also at the birthday party, and he also found Shamrock irresistibly cute.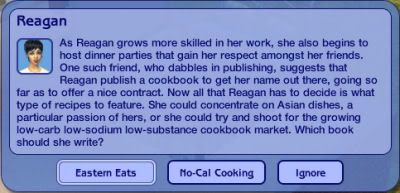 Reagan decided to make a cookbook featuring Asian dishes instead of no calorie cooking. It does sound like it would be a lot tastier.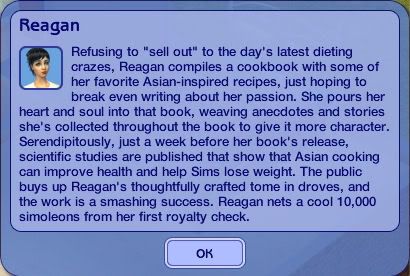 And it was a good choice. She was able to get a §10,000 royalty check.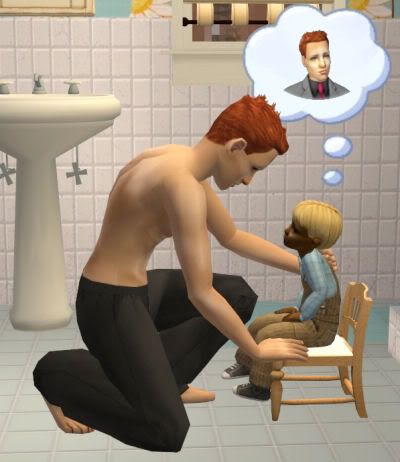 Since Uncle Komei is so popular, I figured he could help out with potty training his nephew.
Taft decided to show off her cooking skills by cooking up a batch of lobster and then walking all the way over to Reagan's apartment to serve it.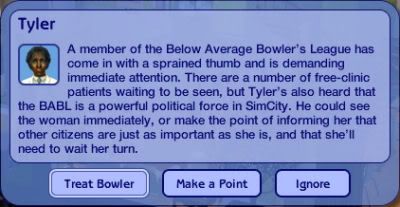 Tyler decided to treat an injured bowler instead of making her wait her turn.
This helped him earn more charisma.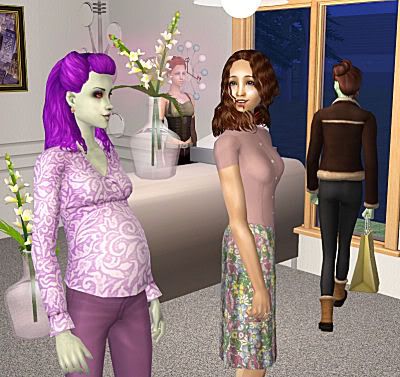 Taft had to give up on making her own servo. She learned how to make robots up to hovercrafts, but was not going to have time to finish her gold badge or build her own servo in this round. She headed over to Rose Electronics and bought one. Even though she's pregnant, vampire plantsim Belladonna Harris is there to manage the store.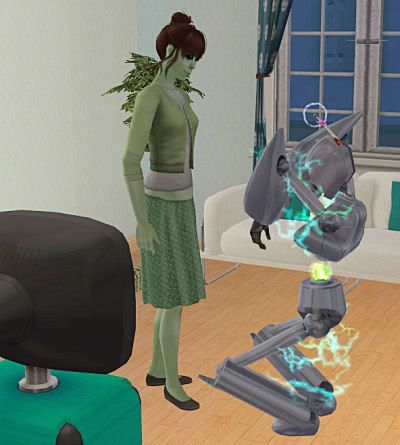 Taft initialized her servo.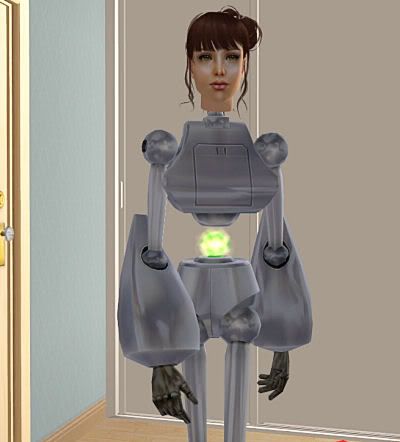 And named her Taft 2.0.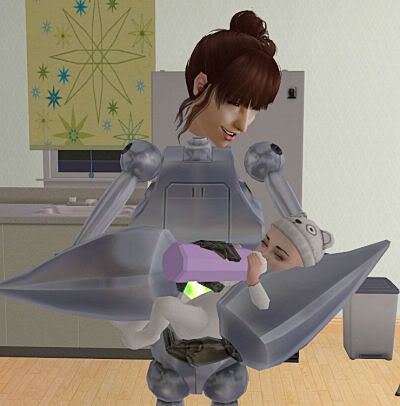 Taft 2.0 got to work right away taking care of Hot Magenta. Having a pair of extra robotic hands around will ease their burdens a bit while all the boys are young.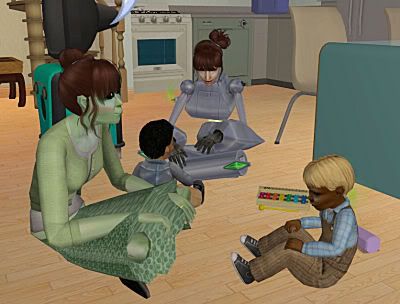 I'm not sure how servos can teach a kid to talk. Hopefully, Copper won't sound like a robot when he grows up.
Taft 2.0 wants to be a Professional Party Guest. Even though her LTW doesn't count for points, I went ahead and let her join the Slacker career so that she can become platinum.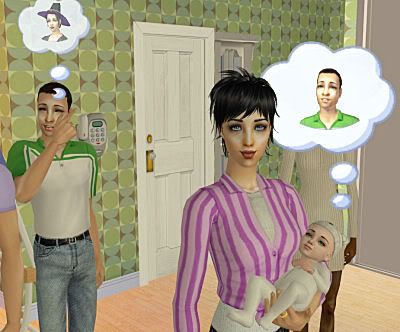 Komei threw another birthday party - this time for his son Hot Magenta.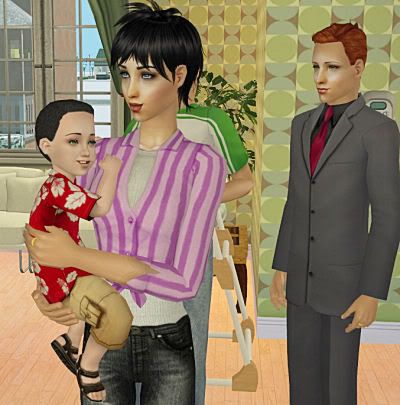 He's a cute toddler except for the hair.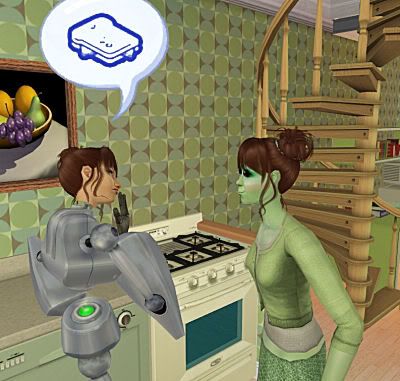 One great thing about her new servo is that Taft now has a built-in friend with whom she can talk to about grilled cheese.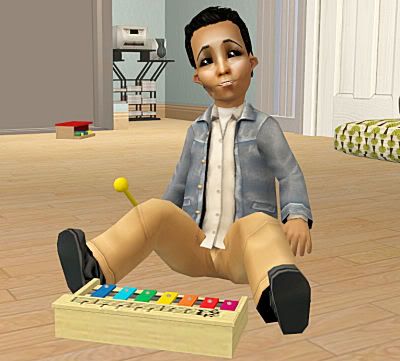 Here is some toddler spam as we finish up the update. Copper plays his xylophone. He's a little odd-looking with some weird ears like I've seen on other alien offspring, but he should outgrow the awkwardness.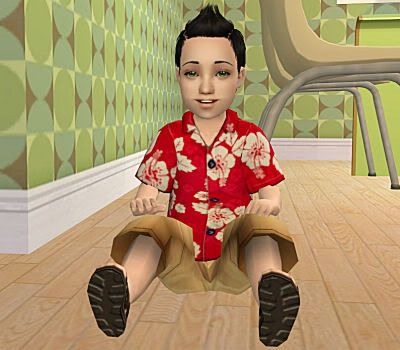 Hot Magenta shows off his new hairstyle. I think he looks better in a fauxhawk.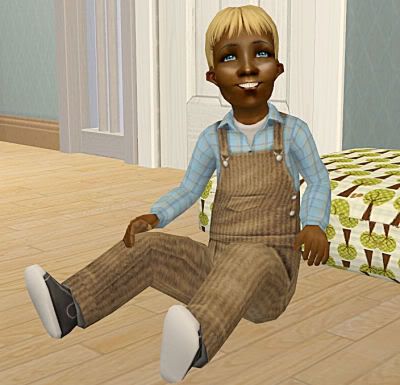 Shamrock has some weird ears like like his brother, but I think he's still very cute.
And now I have one family left to play in Round 6 - Daniel Graham's family. I'm so excited, because I have a fun plan for Round 7.
Scoring: +3 for adding Copper, Shamrock and Hot Magenta, +1 Taft - top of the Culinary career, +3 Taft - Top of Aspiration Meter. The population of Apple Grove is currently 88, with a total population of 90.