After his wife Sophie cheated on him with zombie Elmer Cormier, a divorced Daniel Graham and his 3 sons moved into 125 Apple Avenue - the left end of the same rowhouses where the Andersons and Foremans live.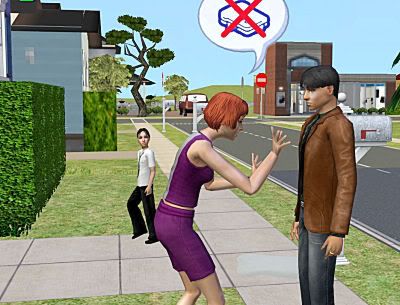 Daniel did not want to be alone raising 3 boys, and wasted no time at all in finding a new love interest.
Tristen Vu did not share his love of grilled cheese, but other than that huge flaw, Tristen was the most perfect and attractive woman Daniel had ever met. Havelock wasn't sure what to think of his dad's new girlfriend. Everything in his young life was completely different now.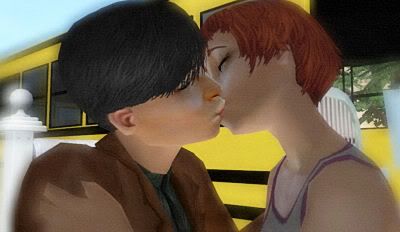 Daniel's new romance was on a fast track. I love the romantic schoolbus backdrop in this picture of their first kiss. Tristen moved right in, bringing with her a helpful §6000.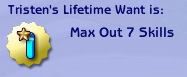 And I love her lifetime want, which is going to be relatively easy to achieve. Tristen is a Popularity sim like Daniel, with a secondary aspiration of Family, so she should be perfect to help him raise his sons.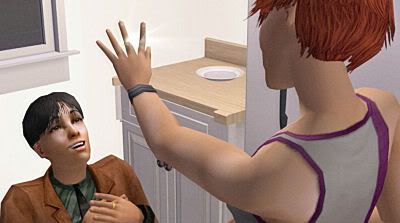 Daniel proposed in the kitchen, and she accepted despite the dirty grilled cheese plate on the counter. At least she seems to be going into this with her eyes open.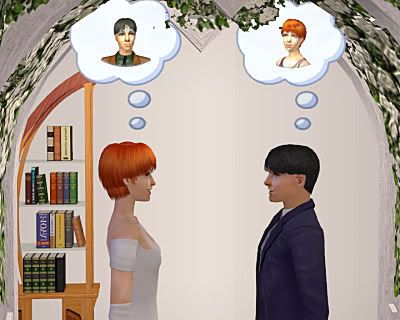 They really seem to like each other a lot. They were married in their tiny living room on Aug. 5, 2020. A community lot seemed too risky. He didn't want his ex-wife to show up.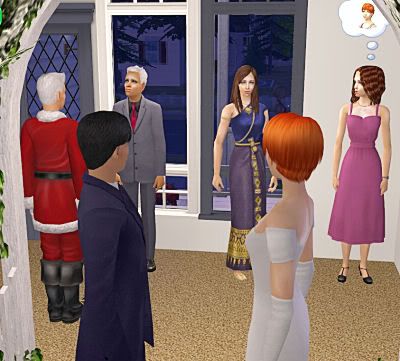 They have an interesting assortment of wedding guests, particularly the guy wearing a Santa suit in August.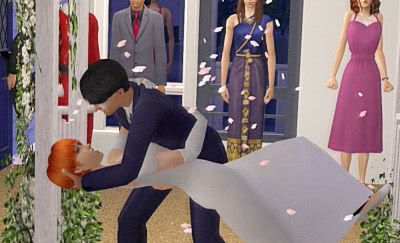 Awww, I always love this part.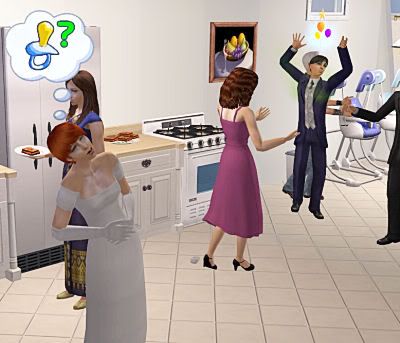 By the end of their wedding party, Tristen realized she was pregnant. They had sneaked away during the party, and Tristen had tried for a baby and BAM - instant baby on the first try.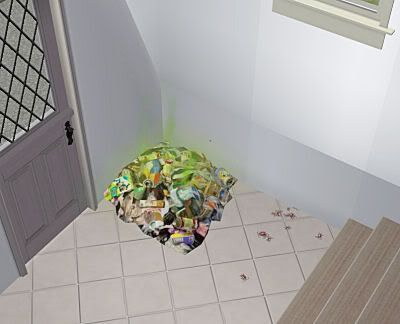 I found out later that someone had dropped a bag of trash by the back door, giving them an infestation of roaches. Nice wedding present.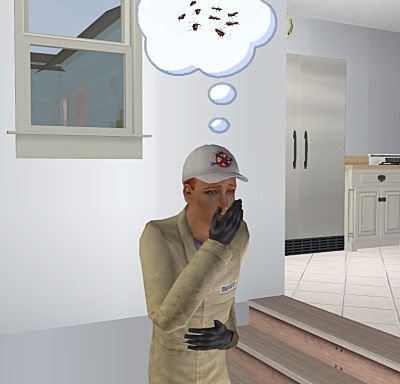 I found this picture funny. Apple Grove doesn't get many outbreaks of roaches, so I guess the exterminator is freaking out because he's just not used to dealing with them. Maybe he's in the wrong line of work, but I'll try not to trouble him very often in the future.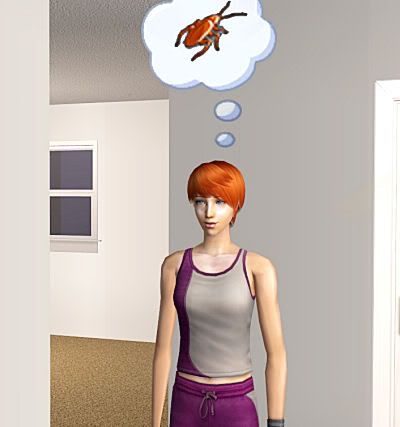 Yes Tristen, it's very sad that there were roaches, but they're gone now. You're going to have to toughen up a bit, because life is hard sometimes.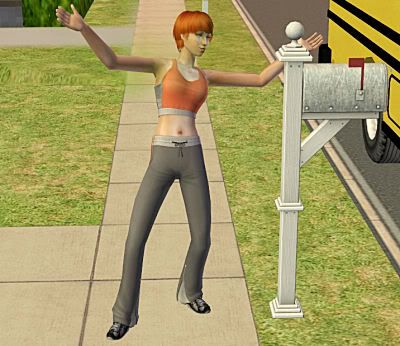 This day was a good one, though. Tristen was an Aerobics Instructor, but she just got promoted to Backup Dancer.
Daniel was so happy in his new marriage that it helped his performance on the job. He came home from work with the best news - he was finally promoted to Captain Hero, which also fulfilled his lifetime want.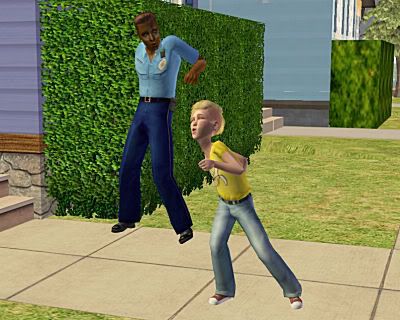 Daniel brought home Ethan Schamess from work, and Havelock brought Banana home from school. Banana Jeffress must be a popular kid, because he goes home with a lot of kids after school. He also loves to smustle.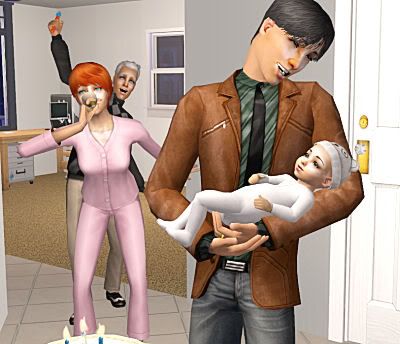 It was time for Harry Potter and Neville Longbottom's birthday - the quintuplet boys from Daniel's first wife Sophie. She kept the girls with her in case you haven't read my blog before. Sophie didn't name the boys - she just wasn't interested. Daniel named the boys, and he went with a Harry Potter theme. Knowing that Sophie hates the Harry Potter stories, he hoped that naming her sons after some very nice wizards would tick her off. Daniel is a huge Harry Potter fan, which may explain why he thought it would be really cool to be married to a witch - at least until he was married to Sophie. She's no Hermione.
Anyway, something happened and the boys were not able to age up properly. I suspect Sophie had something to do with the glitch. At least the party went well and the guests had a good time. Popularity sims really care about their parties going well.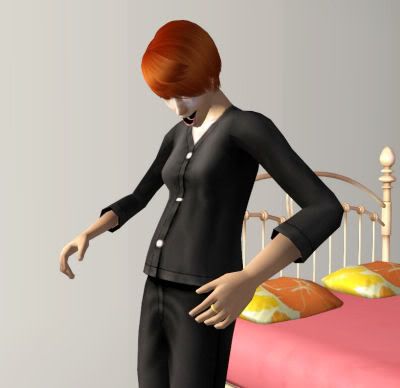 Tristen's pregnancy seems to be progressing normally.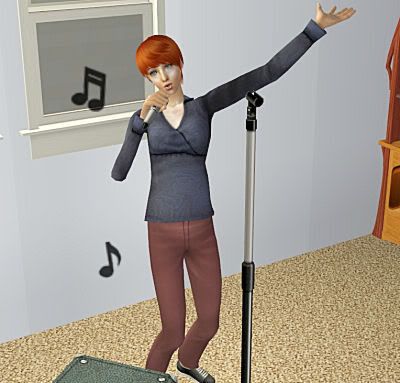 She is a
terrible
singer, but insists on practicing anyway. She did improve a little and actually began to sound like she was singing after - way too much practice.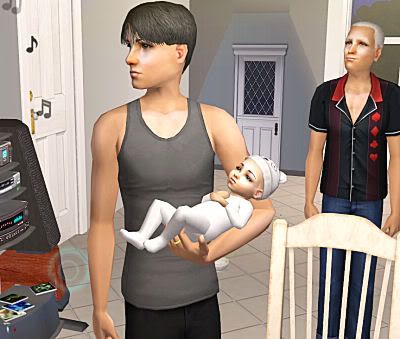 The next day, they tried again to have Harry and Neville's birthday, and this time it was successful. This little bear is Harry.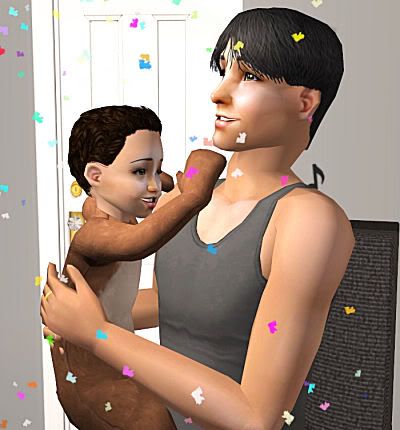 Harry changed into a larger bear costume.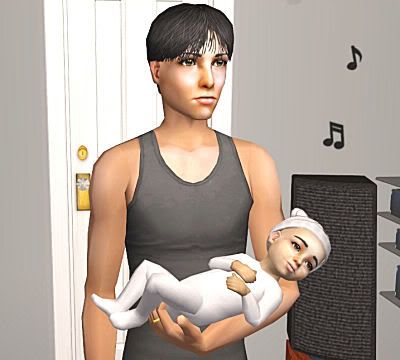 Here's Neville in his matching bear suit.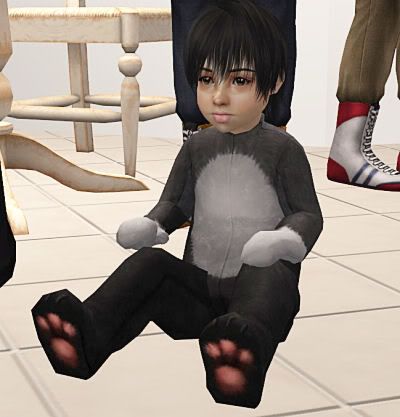 And he changed into a panda bear costume.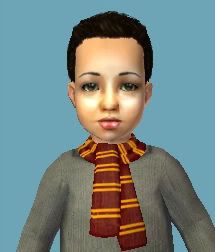 But soon the bear suits were put away, and they were dressed in cute Gryffindor uniforms. This is Harry.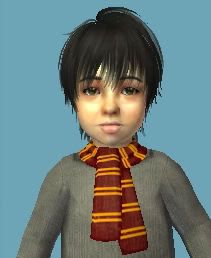 And this is Neville. The Gryffindor uniforms are sure to be one more way to annoy Sophie. She doesn't believe witches and wizards should be good, which is why she's no Harry Potter fan.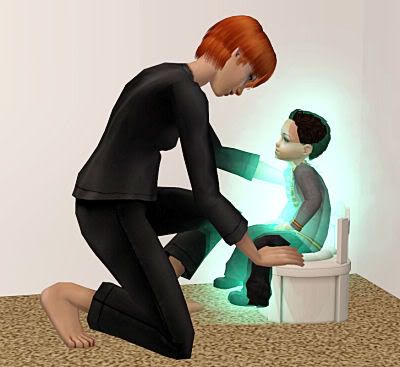 Tristen really makes a good stepmom, and takes on a lot of the toddler training.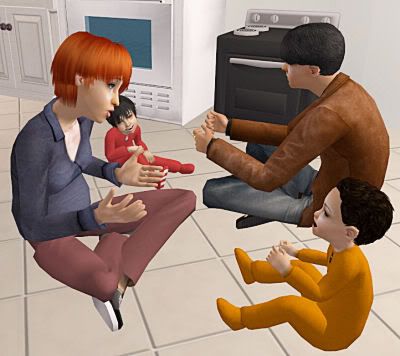 Here they are having a family nursery rhyme lesson.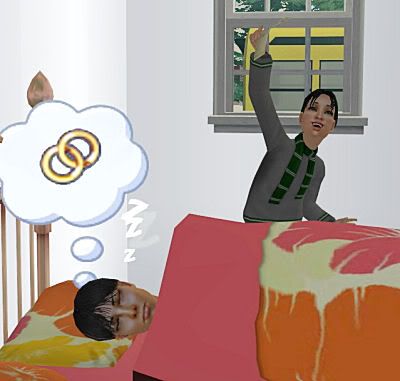 Daniel still seems very happy about his new marriage despite how tired is is from being a superhero and raising toddlers. Poor Havelock is getting a bit neglected, but he is doing very well in school.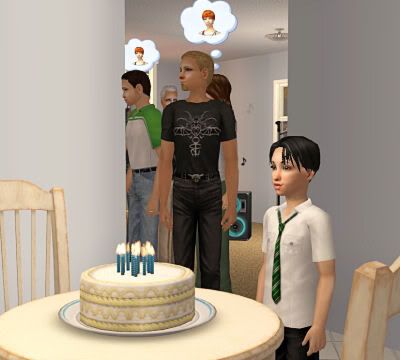 And now it's time for him to have his teen birthday party.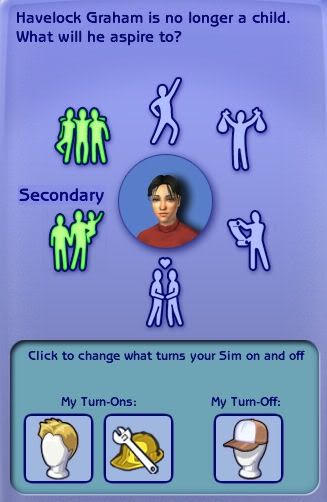 He chose to be a Popularity sim just like his dad and stepmom. He went a bit further, and is also a secondary Family sim just like Tristen. He likes blond girls who know how to fix things, but he doesn't want them to cover up that pretty blond hair with a hat.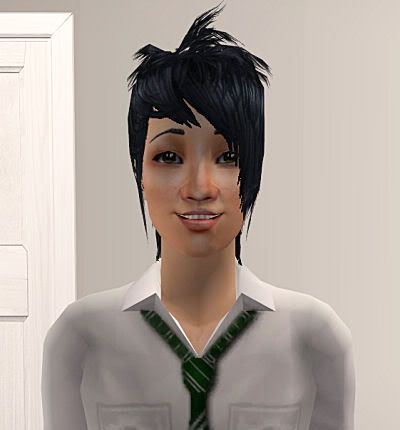 Speaking of hair, I thought he needed a new look. He still wears his Slytherin uniform, possibly as a compromise between his mom and dad. At least as a Slytherin, there's a good chance he will go wrong. ;) With only 1 nice point, he probably shouldn't wear any of the other house colors.

Havelock wants to be a Hall of Famer when he grows up, although he doesn't seem to have any interest in sports or working out so far. There are too many Hall of Famers in Apple Grove already, but I won't complain as he could have chosen something so much worse.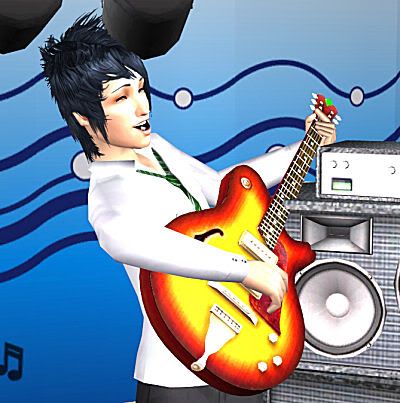 In case you're wondering, Havelock is at the Apple Grove Performing Arts Center. He looks like he could be doing a Pepsi commercial with that hot light touching his hair like that. Yikes.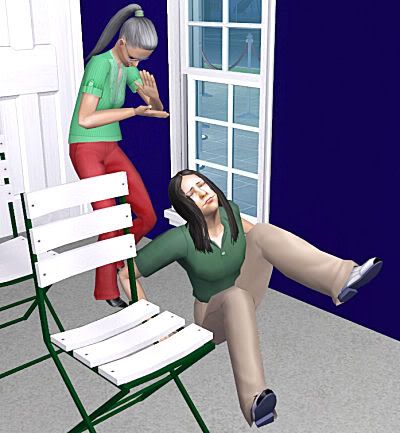 While Havelock was playing the guitar, a fight broke out. After 38 long years, Grace finally got her revenge on Alec Ebadi! If you read
the very first Apple Grove update about the Tuckers
, Grace and Alec were part of the welcome wagon. Alec spent the entire visit beating up on poor Grace. After all these years and despite her dementia, she has not forgotten the pain and humiliation of that day. Grace has maxed all her skills, and now gives him the "old lady ass-kicking" he earned all those years ago.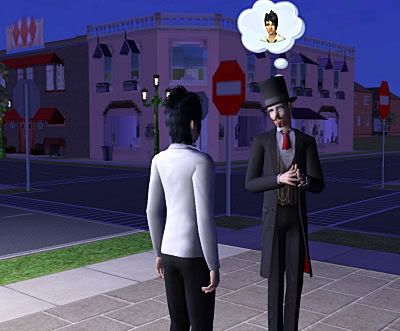 Havelock's mission in coming out tonight besides having fun and buying a cellphone was to try to talk with the Unsavory Charlatan as a random scenario. Well, it was actually to do that on while vacation, but there's no way I'd send them on a vacation even if they could afford it. I'm taking a vacation vacation. Besides, there's no need to leave town as the charlatan hangs around Apple Grove all the time anyway.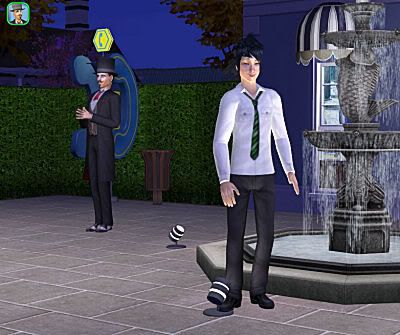 You can't talk to the charlatan, you have to wait for him to come to you. And wait, and wait, and wait....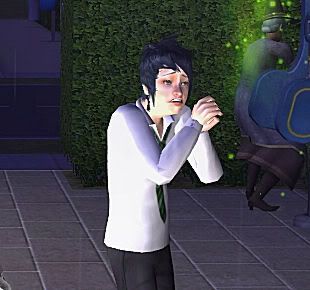 It's scary. Well, not the charlatan, but when you're waiting outside and the witches come and cause a big lightning storm it's really scary.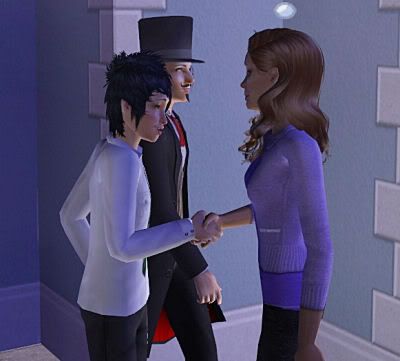 I shook his hand and told him he had made a good effort. We'll try again later. I don't understand why the charlatan didn't choose to pickpocket him. He's easy prey, with only 1 logic point.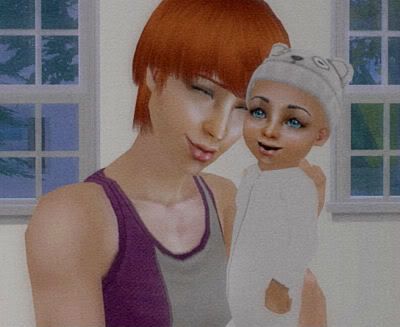 Tristen soon gave birth to a baby boy. His name is Albus Dumbledore Graham.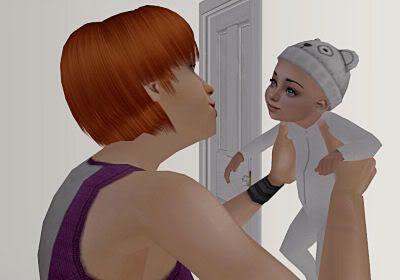 And his twin brother's name is Ron Weasley Graham. Yes, another set of natural twins in Apple Grove.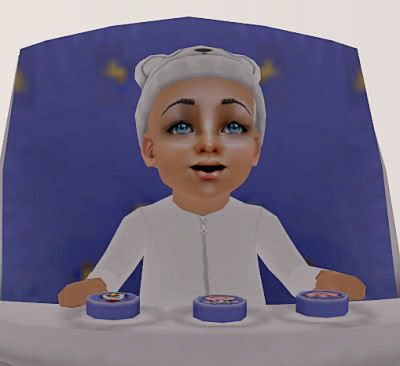 Albus was born at 2:22 a.m. on November 19, 2024.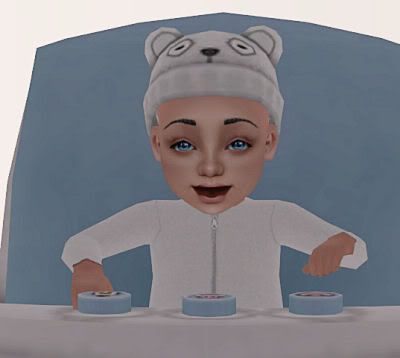 Ron was born at around 3:15 a.m. the same morning.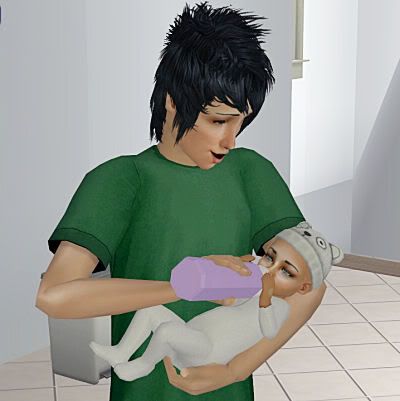 Havelock doesn't mind helping out with the babies. He's feeding Albus in this picture.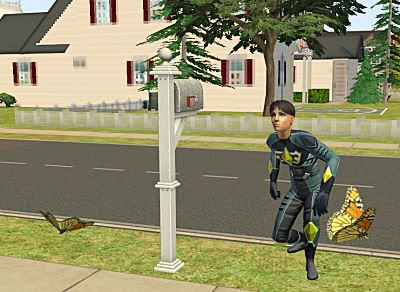 Daniel flew off to work again. I love it when they get to fly as Captain Hero.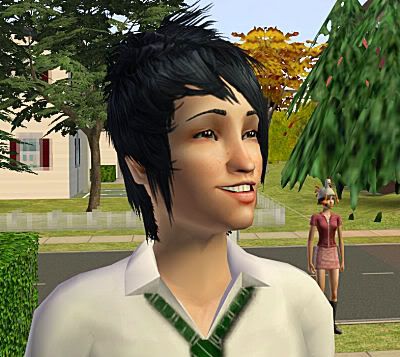 Havelock brought home Chick-Fil-A Fletcher from school one day. I thought that maybe he could get a first kiss from her, forgetting that she is his cousin. Chick-Fil-A is the daughter of Sophie's brother Rudy Fletcher.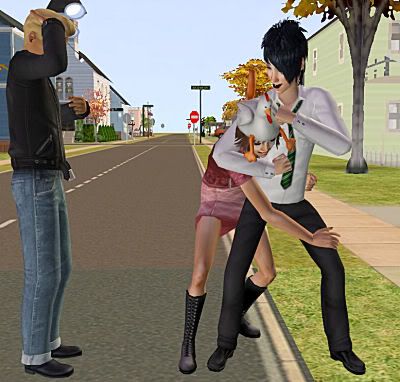 Since he can't kiss her, she gets a noogie instead. I don't know why Chick-Fil-A's boyfriend doesn't come to her rescue. Pierce Zarubin is standing right there, looking confused. Maybe he needs a noogie too. ;)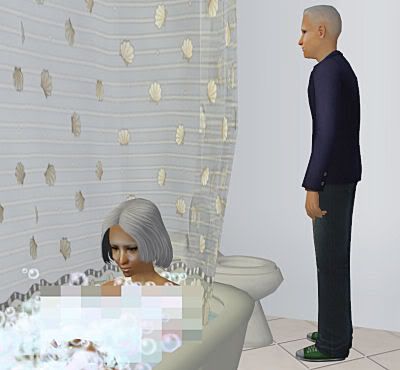 Nanny Shenene decided to hog the only bathroom with a bubble bath while she was on duty. She can be a relatively competent nanny sometimes, so I find this surprising. This guest still managed to barge in to try to use the bathroom.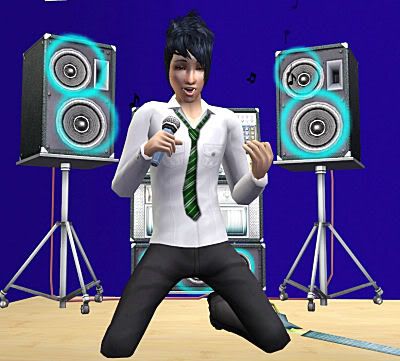 Havelock went back to the Performing Arts Center, but there was no charlatan there. He sang some karaoke. He's really good with his 9 creativity points.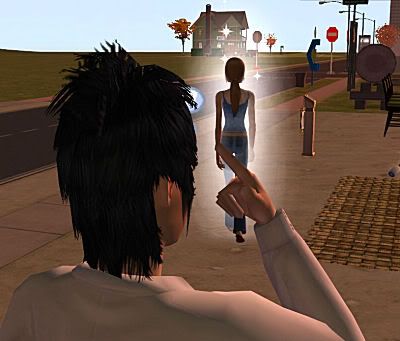 He then went to Mini Twikkii where he saw Honey Shibata. It was a life changing moment for him. He just had to ask her on a date.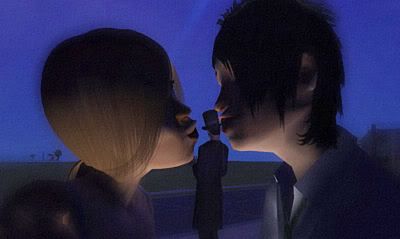 As he's getting his first kiss, the charlatan showed up. But once again, he ignored Havelock. That's okay - Havelock was quite distracted anyway.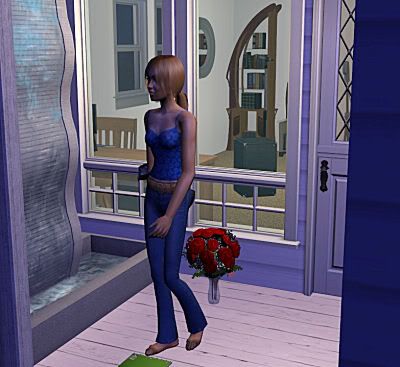 Honey had a great time, and left a huge fountain on their front porch as a gift.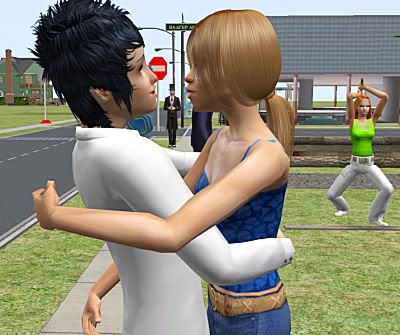 The next day they went on another date, this time to Mini Mountain. As you can see, the charlatan is on his way again.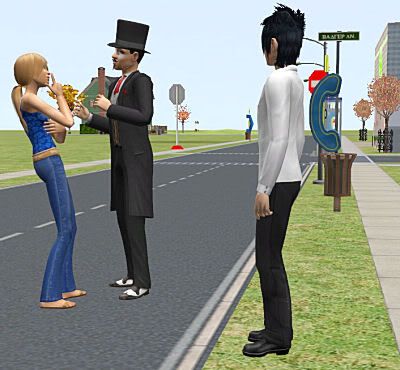 Instead of talking to Havelock, he talked to Honey, but she was too smart for him. He was unable to steal her wallet.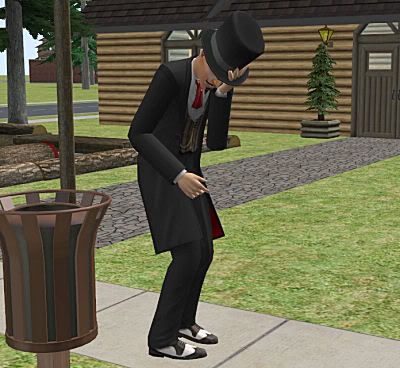 The charlatan was really embarrassed. He should be. He's a total failure as a pickpocket. I've given him enough chances. I consider this random scenario to be completed.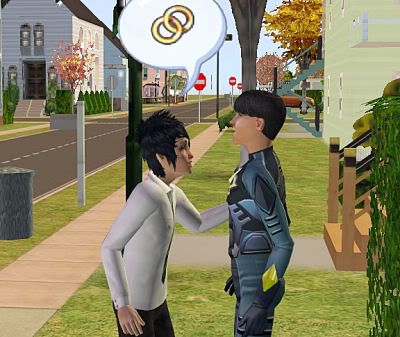 Life has been good for Havelock lately. He was uncertain about Tristen at first, but he's so glad now that his dad married her and that he's so happy.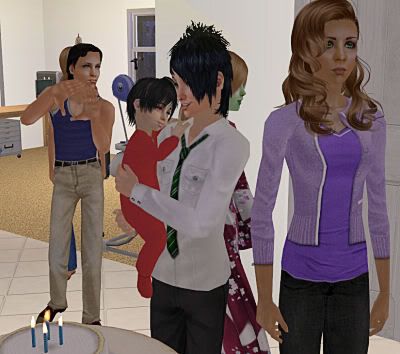 It's birthday time again for Harry and Neville.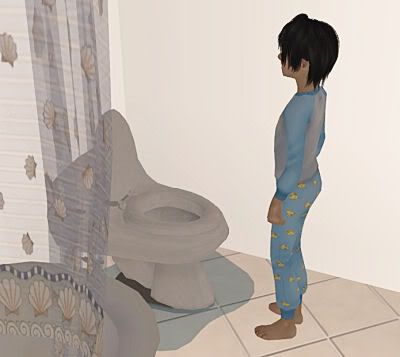 Neville's first accomplishment as a big boy was to clog the toilet.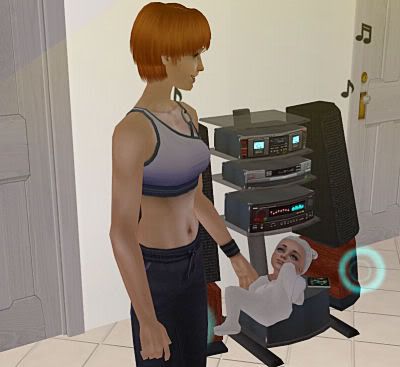 It was also time for the twins to have a birthday. Ron showed some early magical skills. He can already fly without a broom.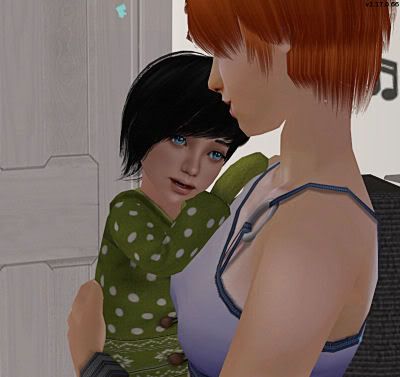 Here's Ron as a toddler.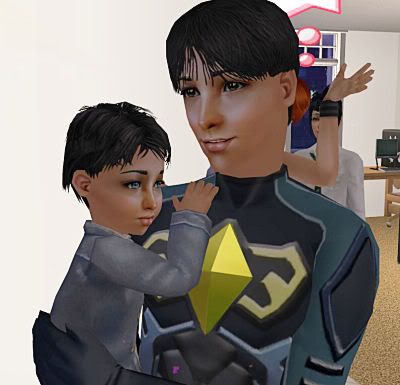 And this is Albus.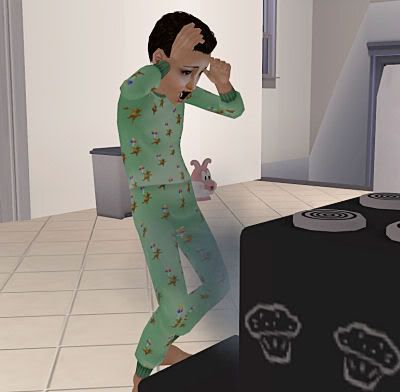 Harry is not magically gifted at baking muffins.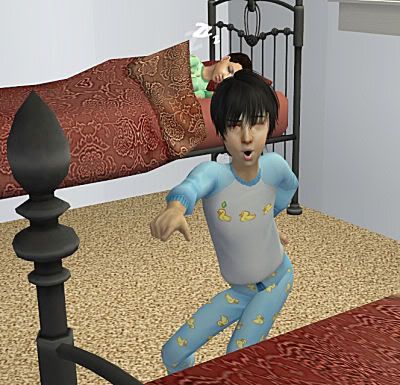 But Neville has some smustle magic.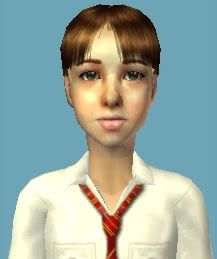 And here is Neville with a makeover and dressed in his Gryffindor uniform.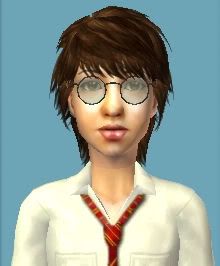 Harry got a makeover, too. It's easier for me to tell them apart now.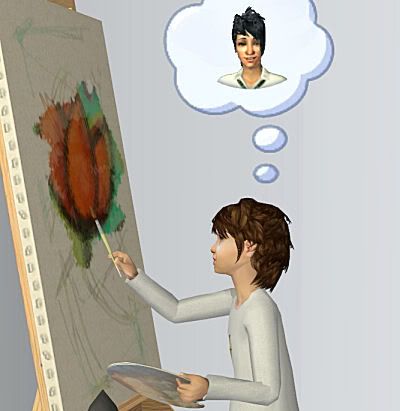 Harry enjoys painting, even though it was Neville who wanted an easel. Harry is always getting to the paints first. I guess he's thinking this will be a nice gift for his big brother.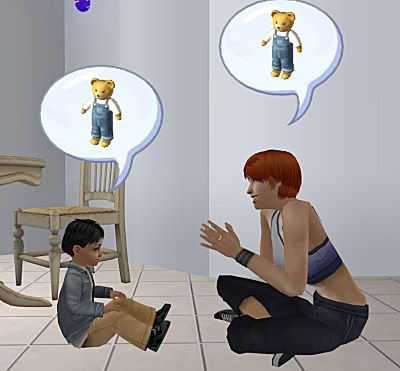 Tristen is teaching Albus to talk. "Accio bear!" Soon he won't have to look for his teddy bear because it will come to him.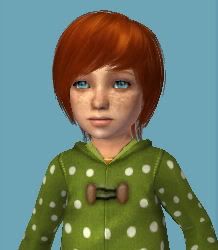 I thought Ron should get a makeover. Even though he inherited his dad's dark hair, his hair needs to be red. Freckles are good, too.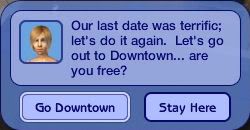 Havelock got invited to go on another date. I wasn't thrilled about it, but I know for sure he wanted to go out with Honey again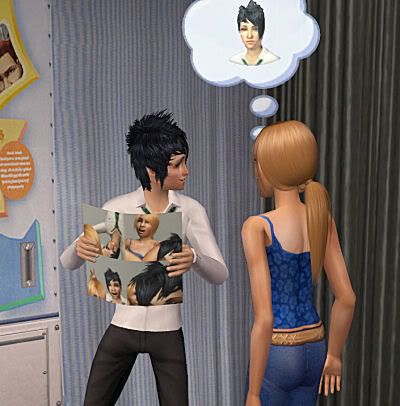 They went to Crypt O' Night club in Apple City. They started the date by taking some goofy pictures.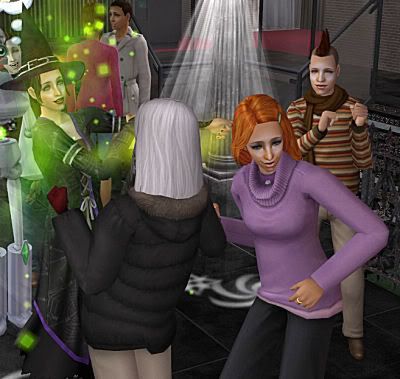 It wasn't too surprising to spot Sophie and Dagmar, Apple Grove's most morally-challenged women, out on the dance floor.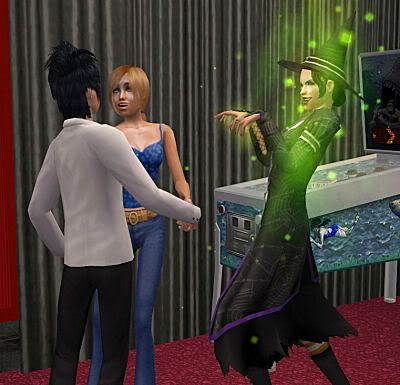 Sophie actually came and acknowledged her son who she's not seen in years by giving him a hug, but she didn't seem pleased that he's dating Honey. Sophie always looks like she's got some evil plan. Honey should probably watch her back.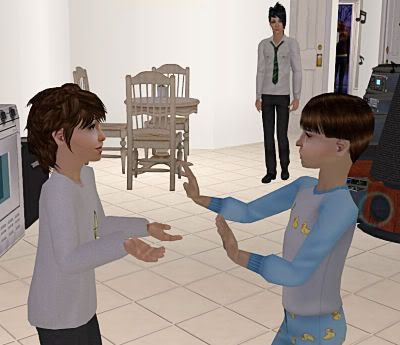 Neville doesn't want to play red hands with Harry. I think he's unhappy that Harry has been hogging the easel and paints.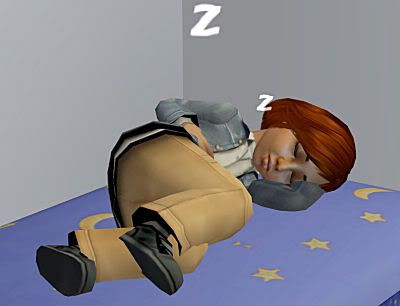 This is Albus with auburn hair. I thought I remembered that he had aburn hair in his youth from reading the books, but I just now bothered to look it up. Eventually, Ron and Albus will also be changing into the Gryffindor uniforms as well - when I get around to it. ;)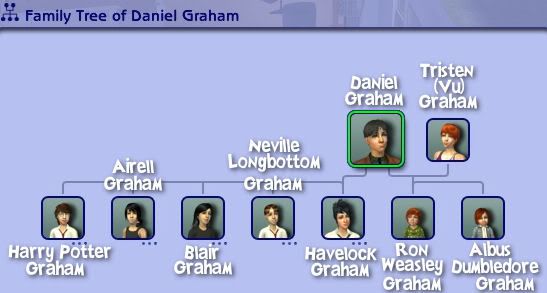 And finally, this is Daniel Graham's updated family tree.
And now that it's been just over a year since it began, Round 6 is done! YAY!!! :D
Scoring: +3 for adding Tristen, Albus Dumbledore and Ron Weasley, +1 Daniel for reaching the top of Law Enforcement. The population of Apple Grove is currently 91, with a total population of 93.