This is the Webb house at 135 Strudel Street. It's all decorated for an upcoming family Christmas party. A driveway and carport have been added since our last visit, as well as a pool and greenhouse in the backyard.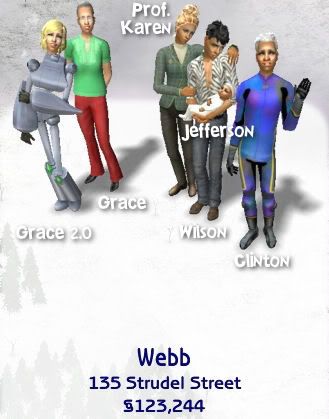 And this is just a reminder of who is who in the Webb house currently.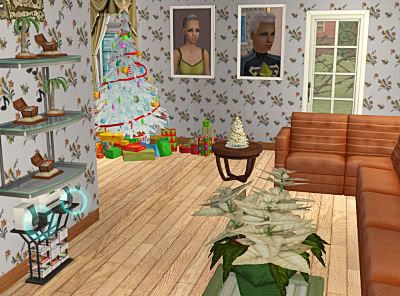 Besides the exterior lights, there are some Christmas decorations inside as well.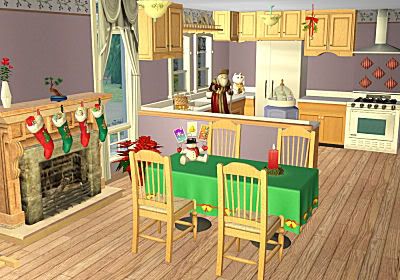 I think the kitchen and dining area looks especially festive. I sure wish I had remembered to light a fire in the fireplace for the picture, but then there was probably a good chance for a fire with the stockings, so maybe it was for the best. I'm not sure a fireman could have made it to the fire with all the guests that will be sure to be here for the party.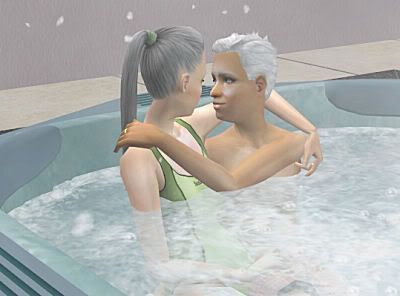 As the in the previous 2 houses, the first item of business on everyone's mind is getting some woohoo.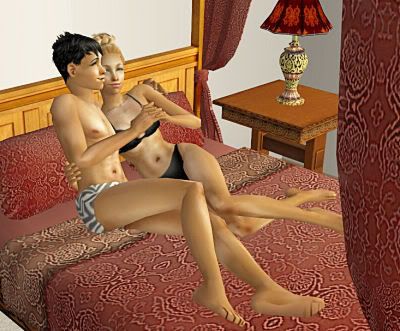 I've learned it's best just to go ahead and let them get it out of their system. :P

Click to see the BIG picture
Before the party starts, these family trees might be helpful to identify who is who. This might come in handy in just a minute to better understand the upcoming drama.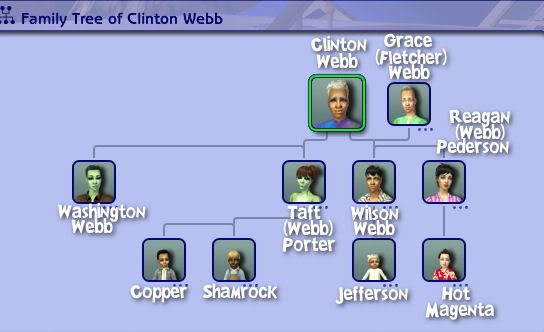 Clinton's family tree is different from Grace's because she already had 4 children from her first marriage before she married him. They got married and had 2 of their own, Reagan and Wilson. Clinton had 2 of his own, Taft and Washington by alien abduction.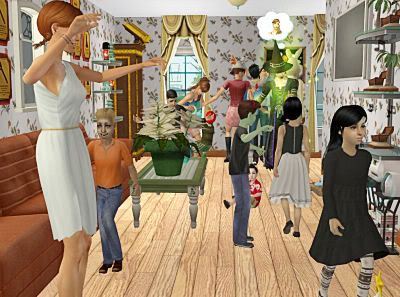 I see Wendy's wore the toga to the Christmas party. Sophie is there with Airell and Blair, but I decided that it wouldn't be wise for her ex-husband Daniel or any of her boys to show up.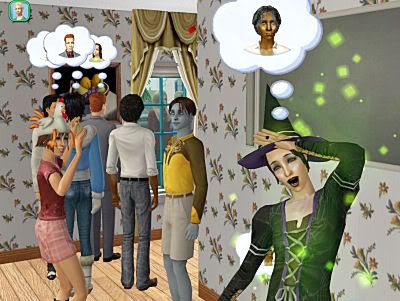 Of course, Sophie is swooning over her stepsister Taft's hot husband Tyler instead of her zombie Elmer.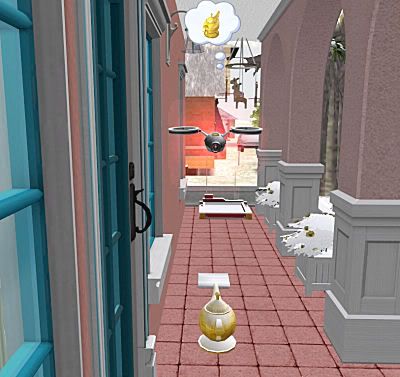 Even though it must have about 18" of clearance, the sentrybot can't get around the genie lamp that was left on the porch. :P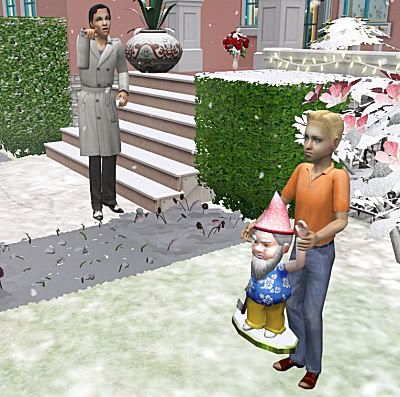 By the time I figured that out, Grace's grandson Chevy Fletcher had stolen both the gnomes from the front lawn. I was glad to see that Charles finally noticed he had a son and yelled at him. I like Chevy, but he does only have one nice point, plus he gets ignored too much by his parents. I guess I should expect him to act out a bit.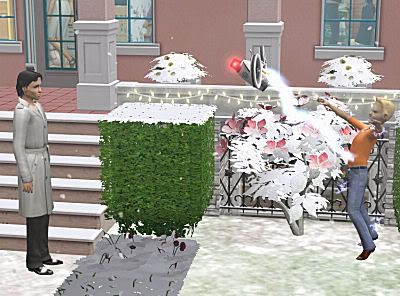 Well, the sentrybot finally got him. He was just laughing the other night about Mew Anderson getting zapped for trying to steal his newspaper.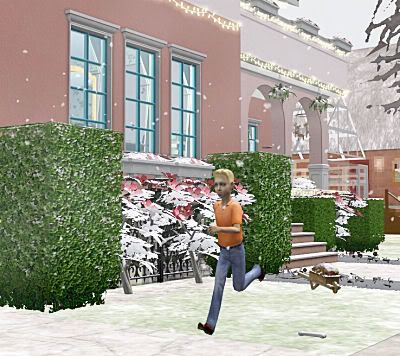 Well, after getting yelled at by his dad and then zapped, it was just too much for him. He decided to run home.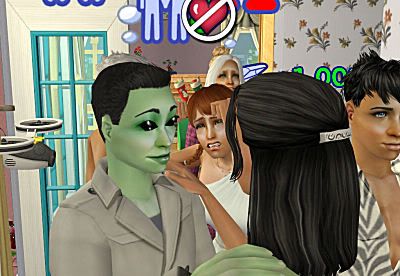 Okay, so this will take some explaining. Washington and Coupon are flirting, and Wendy's is brokenhearted. Washington has been at U of A and is getting ready to graduate. He's engaged to someone else - a gardener named
Vyn Bui
. Since then, I have sent both Wendy's and Coupon to college and moved them into the Urele House. I played the house just a little, and discovered that Washington and Wendy's have some chemistry, and I guess they fell in love. I don't have pictures, so I don't entirely remember. So anyway, at the party, I guess Coupon and Washington discovered that they also have chemistry, and flirted right in front of Wendy's.
And what is weird is that Wendy's and Coupon are cousins, and Washington is their step-uncle, which is also a little creepy and gross.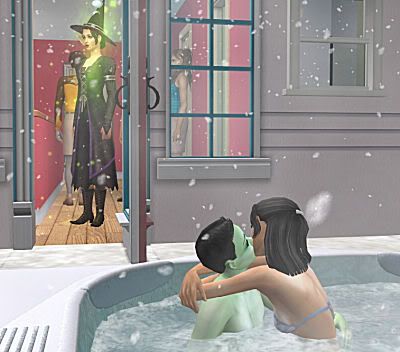 Aunt Sophie was looking on in approval as Washington and Coupon took this nasty affair to a whole new level. Sophie has been Coupon's mentor for awhile now. Coupon loves her Aunt Sophie.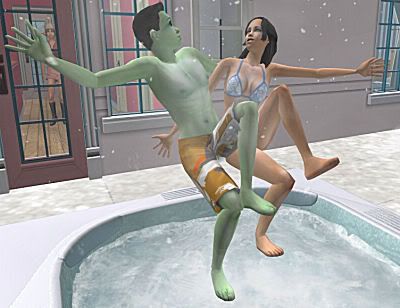 So, I think you know what happened next.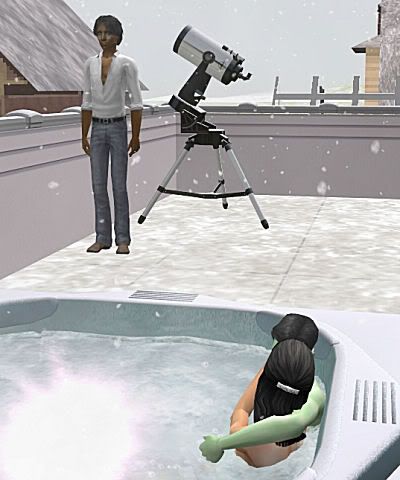 And eww, Washington's brother-in-law was watching the whole time. I guess as a romance sim, Tyler can't help being a bit of a perv.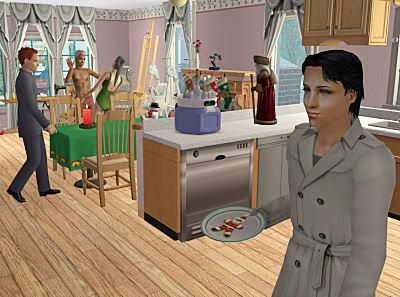 Charles doesn't take his coat off, but goes for the Santa cookies. His crazy mom Grace and stepdad Clinton are dancing in their swimsuits in the dining room, but he doesn't seem surprised.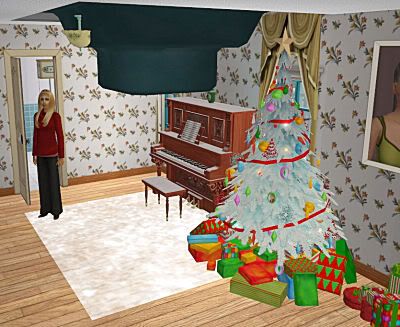 Devan is standing on - not a white rug, but snow. They've had this house for quite awhile now, but I just now noticed that it snows inside the living room area because of the hot tub upstairs. Bummer.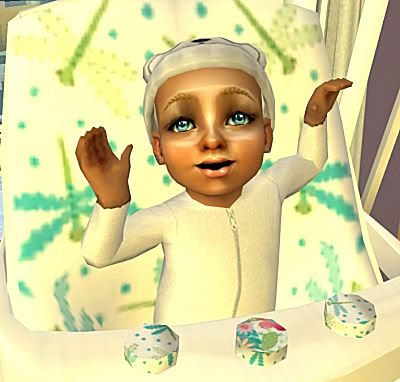 Jefferson was in the dining room for the party. I decided he needed a bouncy seat for Christmas. When he's downstairs all the time they tend to forget about him. Grace 2.0 is excellent at making sure all his needs are met, but the poor kid gets ignored a lot by his parents.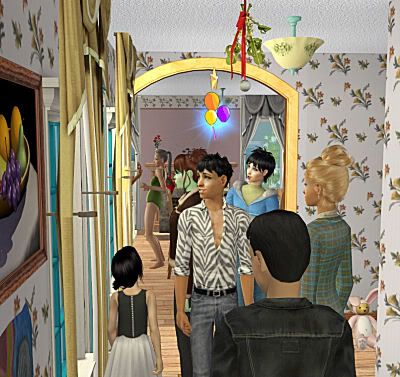 Despite the drama and sex, or possibly because of the drama and sex, Wilson threw a good Christmas party.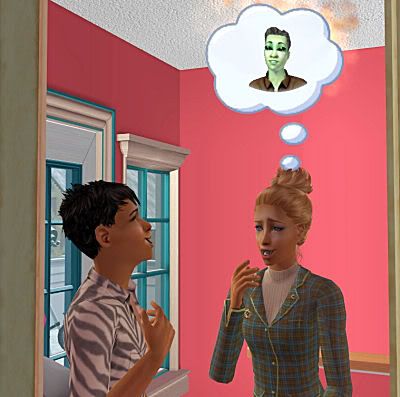 I guess Wilson had his head buried in the sand somewhere, because he completely missed how his engaged alien half-brother Washington had sex with his half-niece in the hot tub during the party. His wife Karen really enjoyed filling him in on the juicy details after the party.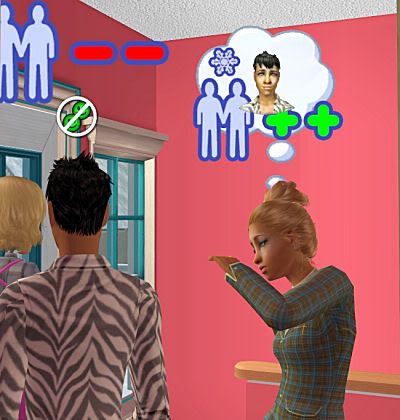 I thought he was really mad at Karen for telling him and that it messed up their relationship...
But instead it made him totally lose respect for Washington, and it broke up their friendship.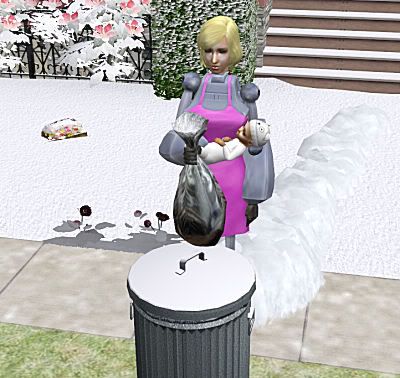 After the party it looked like Grace 2.0 was going to throw away baby Jefferson, but it was just the
Stop Dropping Baby Bottles hack
that makes them throw the bottle away instead of dropping it on the floor. I guess the inside trash cans were full, so she took the baby outside to throw away the bottle.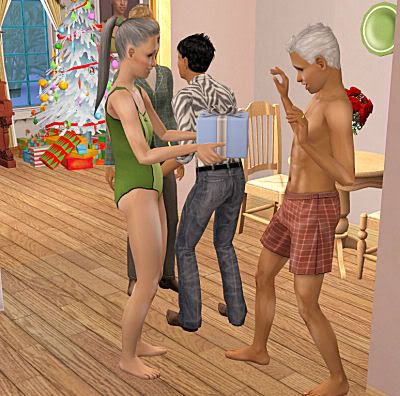 I decided they should exchange some gifts for Christmas since Santa can't be counted on to show up. Grace has a really full inventory, so I thought she could re-gift some things. I don't remember what she gave Clinton.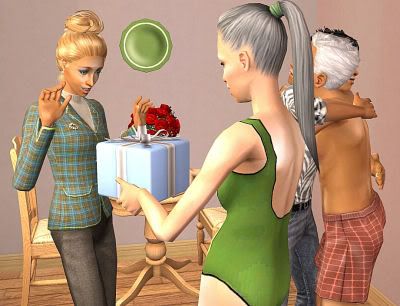 But I know she's giving her daughter-in-law a teddy bear she made for Jefferson.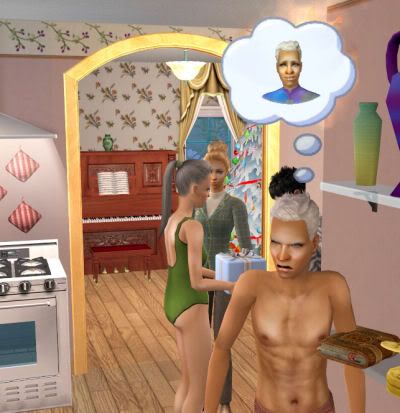 Clinton looks like he's mad at himself for impaling his arm with the shelf, but he's actually really mad at Washington for causing all that trouble at the party and for cheating on his fiancee.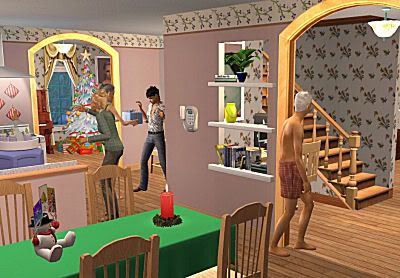 In the background, Grace is giving Wilson a map and an old boot. This is also just another one of those pictures where I show off the Christmas decor. I'm really starting to love this house. I keep changing it as I play, and I'm almost happy with it now.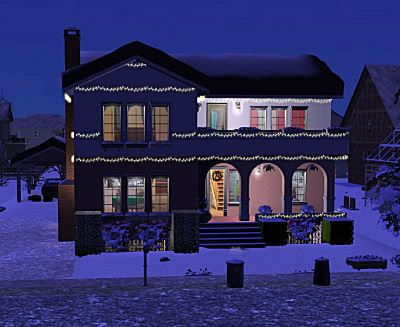 I also like how it looks at night with all the Christmas lights.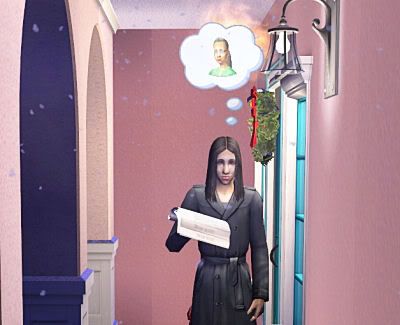 Alec Ebadi is very mad at Grace for beating him up when Havelock Graham was recently visiting the performing arts center, so he's getting even by recycling their newspaper. At this point, I realized the sentrybot has just disappeared. I believed this was probably going to get messy.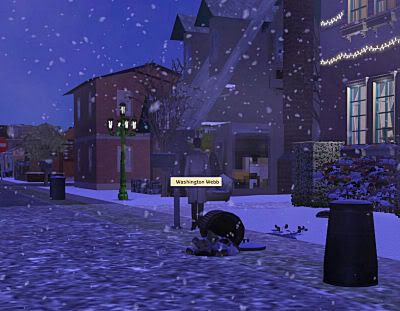 And I was right. Washington is mad at Wilson and his dad for daring to be mad at
him
about his bad behavior at the party, and so he came all the way from U of A to kick over their trash can.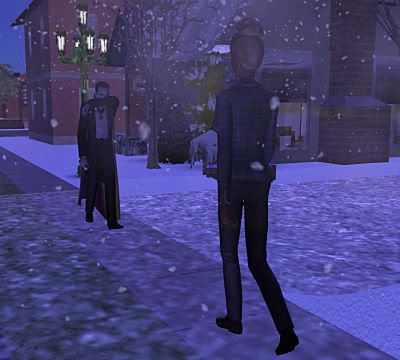 Karen went to try to steal back the gnomes that Chevy Fletcher had stolen during the party, passing a mysterious stranger in a cloak.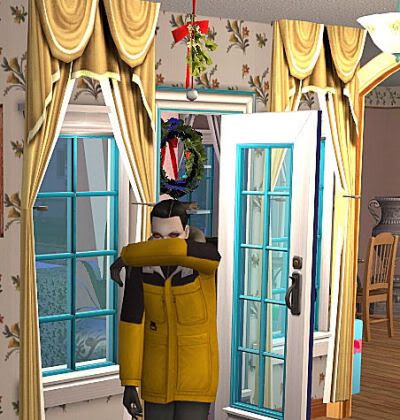 Count Sabastian Harris was not invited over, didn't ring the doorbell or wait to be invited in, but just walked right in and made himself at home. Sabastian is one of the grand vampires from Apple City who recently married Belladonna Tucker and moved in with her at the Todd house. The Webbs were expecting Santa, but got a grand vampire instead.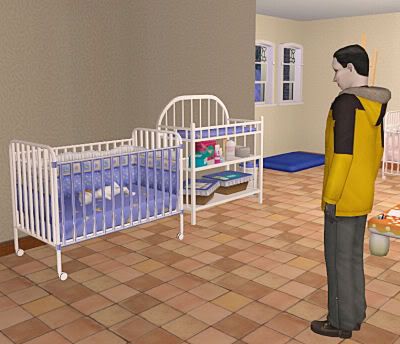 I was concerned when he went directly downstairs and just stared at baby Jefferson. I was hoping he wasn't there to steal the baby. He's about to have one of his own soon anyway.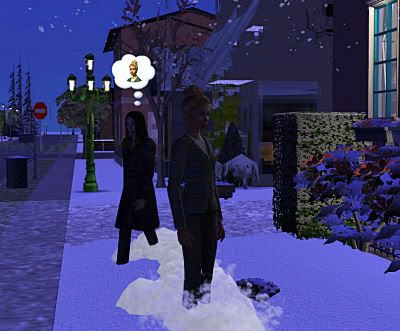 Alec came back for his turn at kicking over the trash can. Between Alec and Washington, the Webbs could be constantly cleaning up garbage. They decided it would be better to just leave the trash can on its side for the time being and just compost the trash.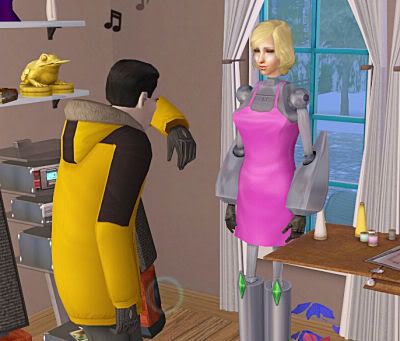 Grace 2.0 looks a little concerned about the unexpected guest.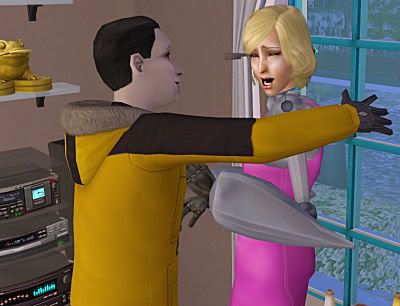 She does
not
want a hug. That's how Sabastian operates. He befriends people so that he can bite them and turn them into vampires. If he has his way, he'll infect the whole town.
Grace 2.0 is determined not to let that happen in their house.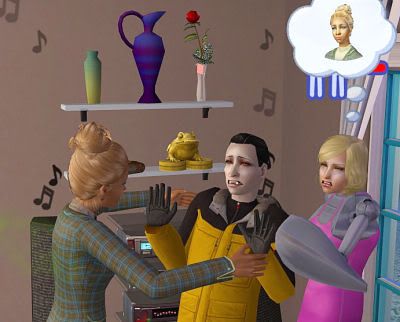 I think Karen must want to be a vampire, but I guess the Count doesn't really like her. In his defense, she does have an awful stench coming off of her that's hard to embrace.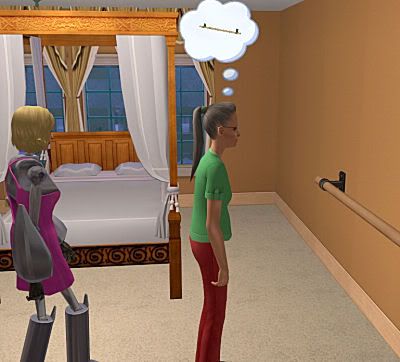 Grace wanted a ballet barre, or at least that's what her wants panel said. So for a Christmas gift I put one in her bedroom. She came upstairs and looked at it, and then walked away. She definitely seems to be getting senile.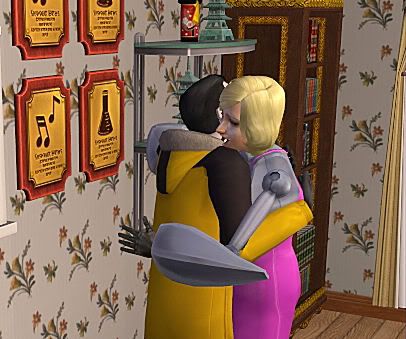 Uh-oh. Grace 2.0 must be getting senile like her creator. She's completely forgotten to be cautious and is now hugging Count Sabastian.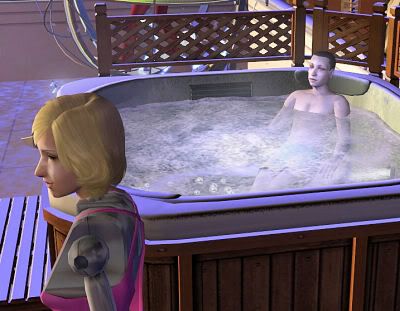 I even thought she might try to get in the new hot tub with him. I'm glad she didn't though. BTW, they downgraded their hot tub to the above ground model because the other other was making it snow indoors.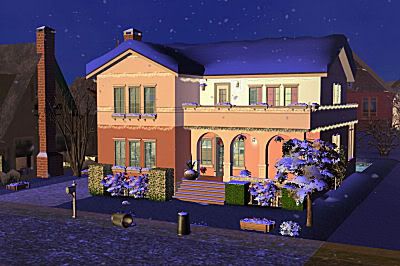 And as we leave the lovely Webb house, I wonder about the future of the family. Will Washington make up with his father and brother? Will he be able to pick a girl and stick with her? Why did Count Sabastian just show up? Does he have sinister plans for the Webbs? This was not the merriest Christmas for the Webbs, but hopefully things will look up for them in the coming years.
Scoring: No changes.