Welcome back to the Fancey family.
Please see the previous post from a few days ago if you want to get all the details about their wants, personalities, etc. In the round 5, Lara gave birth to a baby boy they named Buck. Heath opened Fancey Fitness Center right next to their house. Lara earned her LTW of becoming a Space Pirate, and Heath earned his LTW which was supposed to be World Class Ballet Dancer, but was achieved for earning §100,000 for some weird reason. They both earned their impossible want of earning §100,000. Coupon grew up to be a teen and Buck grew up to be a child. They took a vacation to Twikkii Island.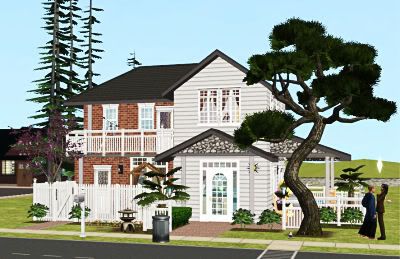 Here's a picture of their rather small
2 bedroom home
. With only two children, it's just big enough.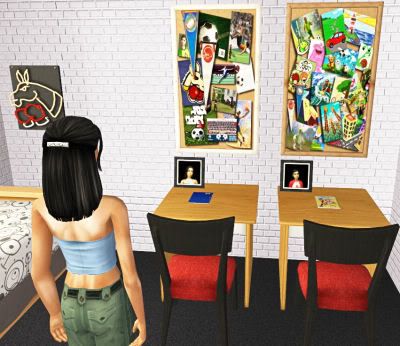 And now the kids each have their own desks in their shared bedroom for their homework. That is especially good for Coupon. She was taking forever to get her homework done until I realized that her parents had neglected to teach her how to study. Her dad made it a point to teach her as soon as they realized she needed help.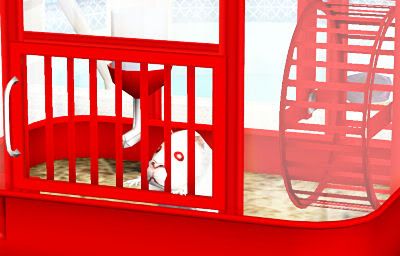 I decided to do a random scenario, and ended up with the Fanceys having to get a womrat. My sims have never had a womrat before. I hope they can keep it alive. My sims have terrible luck with birds, so this may end badly for the little creature. I'll be surprised if it lives to the end of the update.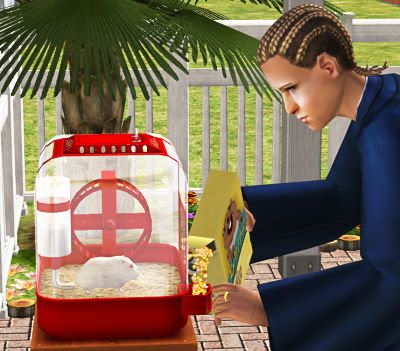 This thing supposedly needs to be fed twice a day. That chore fell mostly to Heath who is home more than anyone else. But the womrat is kinda cute. They named it Diamond.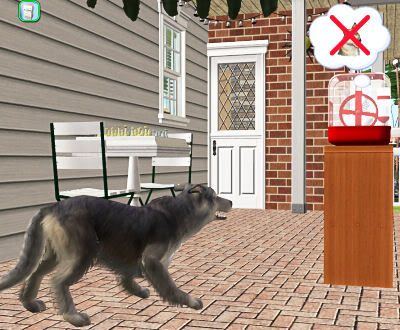 Wolves really hate womrats, and vice versa, apparently. The good news for womrats is that sim wolves can't actually eat them. If the Fanceys had room to put the cage in the house, then maybe they wouldn't have wolves on the back porch as often.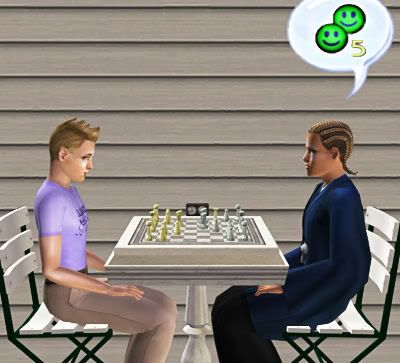 My son Jason stopped by to play a friendly game of chess with Heath. Heath let him know that he was one of his top five best friends.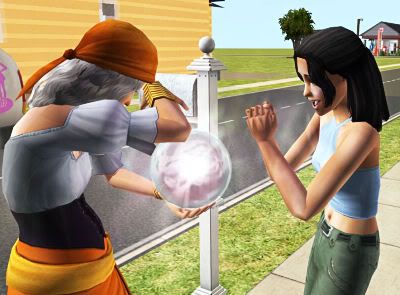 Coupon wanted to meet a boy, so she gave the matchmaker §5000 in hopes that she would find her a really wonderful one.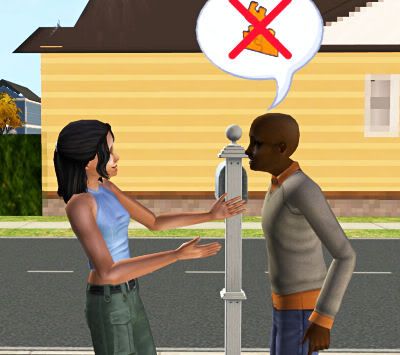 Well, she did not get what she paid for in Aren Tellerman. Despite a lack of hair, he wasn't too bad looking. But, he's a jerk. When she asked him what he liked, he said he liked dumb girls. He also mentioned that he found brown hair very attractive when Coupon clearly has black hair. Anyway, since Coupon prefers logical men with grey hair, this guys seems totally wrong for her.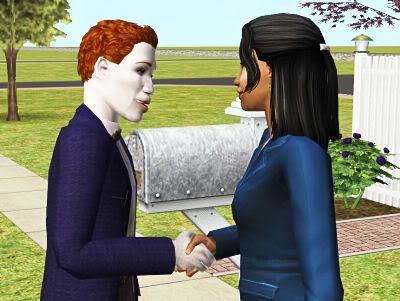 Oh my! The usual headmaster Barry Terminal did not show up this time. This guy looks really weird, and with a name like Nitro Lye he
is
really weird. Maybe that's a nickname and his real name is Explosive Corrosive, LOL. At first I thought he might be a vampire, but I guess he must have just gotten some unusual custom genetics. I have do have some genetic skins on the chance that it could make things more interesting. I swear I had nothing to do with creating this character or his name, and that's why I continue to love Sims 2 so much!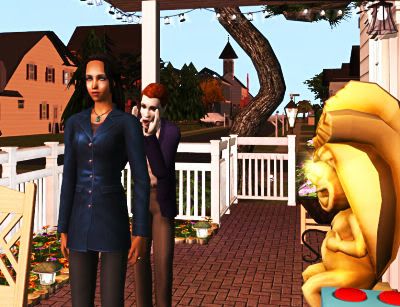 Thankfully, Headmaster Lye was very easy to impress on the tour.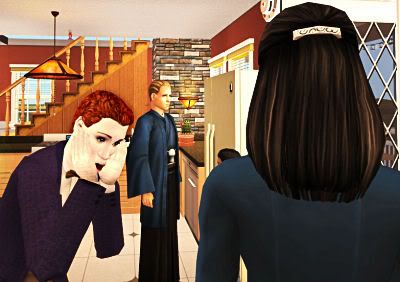 His head nearly exploded from the majesty that was their kitchen.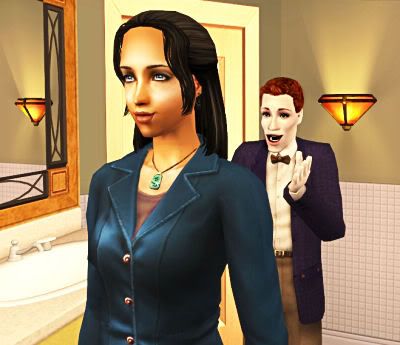 And he thought the bathroom was absolutely breathtaking. Throughout the entire process, Lara was her usual stoic self.
For dinner, hamburgers were served on the patio. Buck preferred to eat a burnt muffin. He came right out and asked Headmaster Lye if he was from Saturn.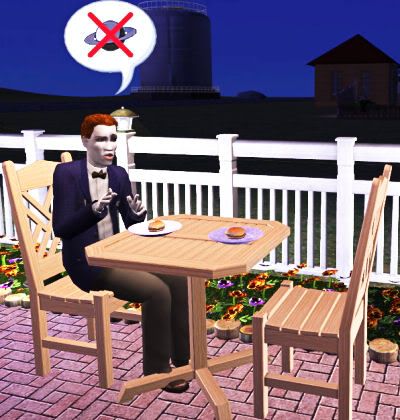 Mr. Lye denied it, but clearly he was nervous about that line of questioning. It's quite possible that he has some secret to hide.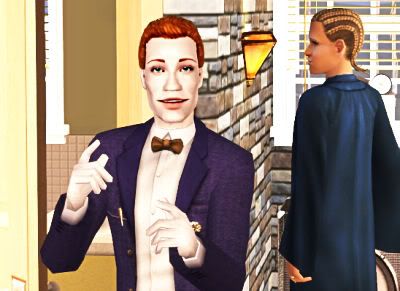 After barging into the bathroom while Lara was bathing and getting an eyeful...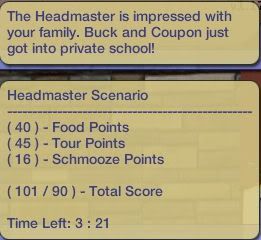 He granted them entry to private school. I guess seeing her in the bathtub was worth 16 schmooze points. Lara still shudders at the thought of the creepy headmaster seeing her naked.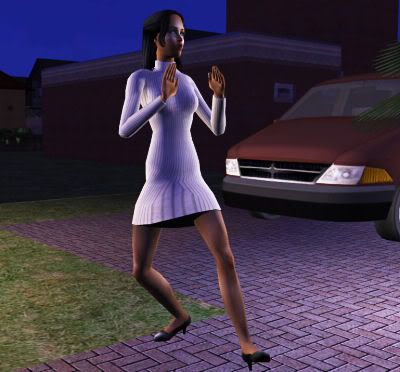 Lara is obsessed with tai chi more than most sims. I think that explains her lack of expressions most of the time. She's just very focused and serene from all the tai chi.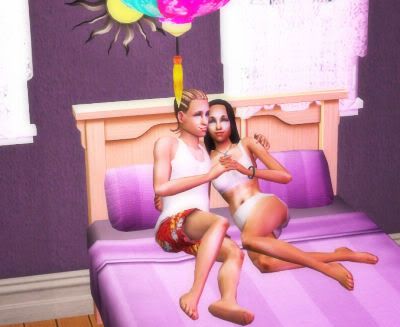 Lara and Heath are another one of those sweet but annoying 3 bolt couples.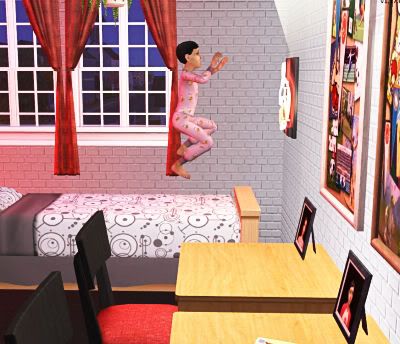 Buck is a very lazy boy, but somehow finds plenty of energy for jumping on the bed on a regular basis.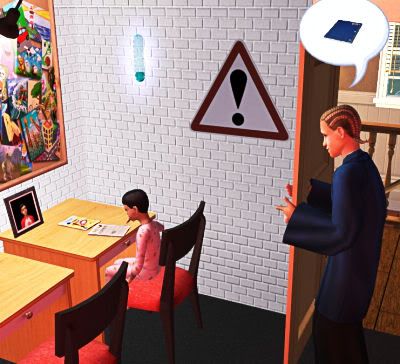 Buck gets some homework instruction from his dad. I'm not sure how Heath can see Buck's homework from so far away.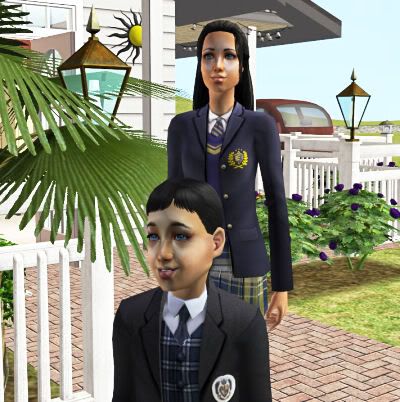 Buck and Coupon headed off to school in their new uniforms. Hopefully they'll enjoy private school.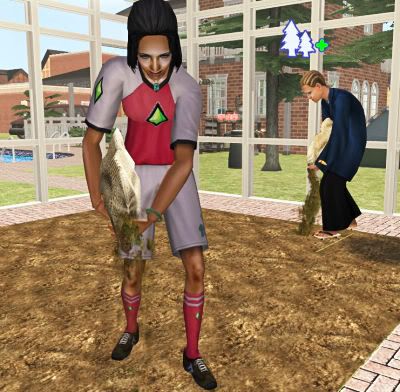 Lara wanted to get into the garden club, so on her day off they built a greenhouse and planted some eggplants.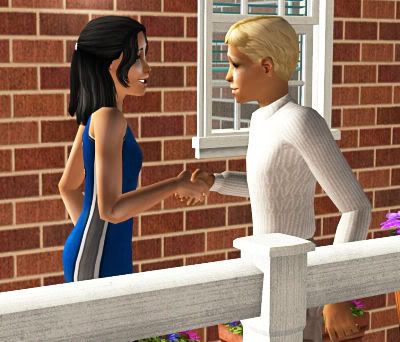 Coupon looked into the crystal ball to see if she could find a better date than her last. She liked this Magnus Beckett guy pretty well.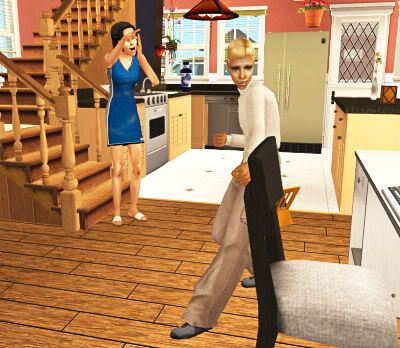 But she soon discovered that he can't dance at all, and with her one nice point she had no qualms about pointing and laughing at his pathetic attempts at dancing.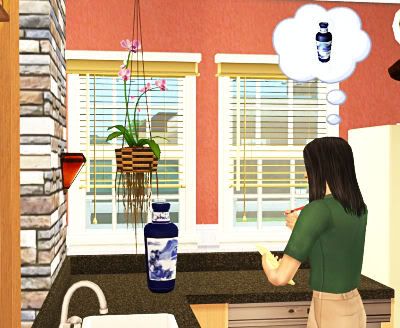 The garden club guy really liked this vase, which has nothing to do with gardening, but it was in the room with a lot of houseplants, so I guess they count room decor in rooms with a lot of plants.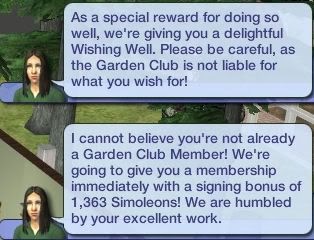 Lara got into the garden club with no problem and got a wishing well and §1363.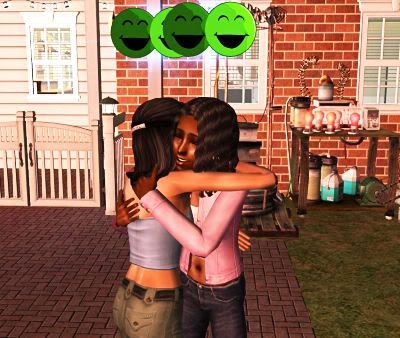 The wishing well helped Coupon make a couple of friends. As a really mean popularity sim, she needs all the help she can get. This is Willow Lilliard who once dated Charles Fletcher many years ago.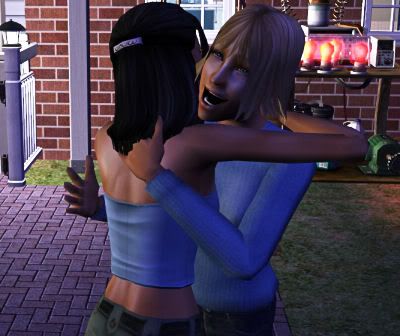 And this is Stacy Reiner, a.k.a. Stacy the Stalker who once dated Daniel Brown, and then afterward obsessively stalked him.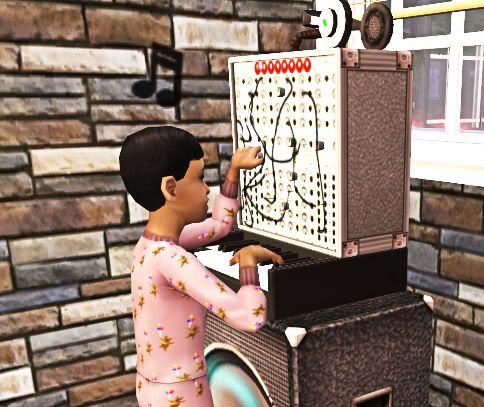 The modular synthesizer is one of Buck's favorite things. He was able to quickly max out his creativity playing with it. I was able to put up with the annoyance since it's the only musical instrument they have room for inside the house.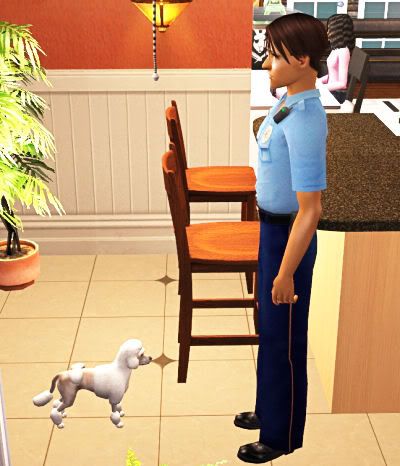 This is Dinero. Buck wanted a puppy, so they adopted a dog. Unfortunately, a dog did not fulfill his want for a puppy.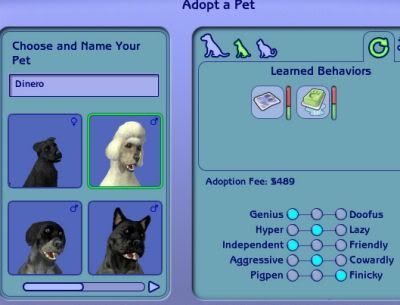 Dinero is a finicky, independent genius.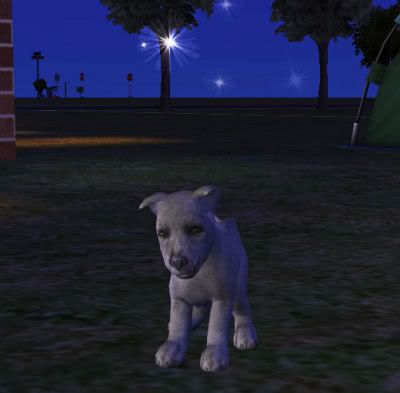 I decided I still wanted Buck to have a puppy, so I created a puppy with
Christianlov's baby pet creator
and the Fanceys sent §500 to Lara's aunt Beverly Hamilton who owns the local pet store. The puppy is a female they named Diamond. Yes, the womrat is named Diamond too. They are not very creative with pet names.

Diamond is a lazy, independent, pigpen, doofus. Wow, they really hit the jackpot on personality that time. I don't expect they will get that dog trained unless they pay someone else a lot of simoleons to come do it.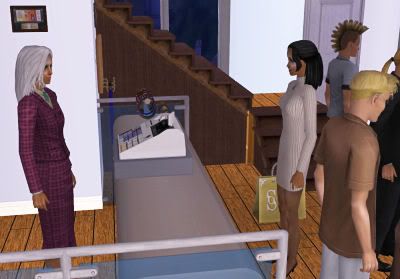 Lara visited Hamilton's Pet Store to buy pet dishes and dog houses from her aunt.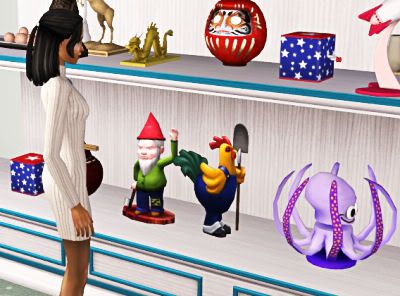 Then she went by Tucker Toys & More and bought a water wiggler. Not having to bathe the pigpen dog all the time will be well worth paying for.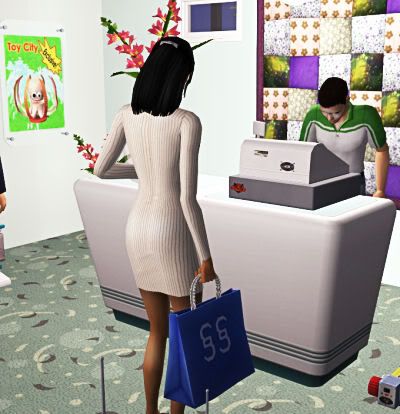 I need to make sure next time I play Martin Tucker's house that I teach him how to operate a cash register, or at least have him hire someone else who knows how.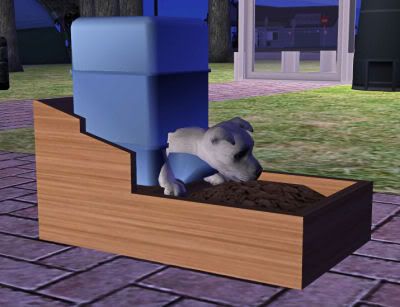 Diamond is a rare gem of colossal ignorance.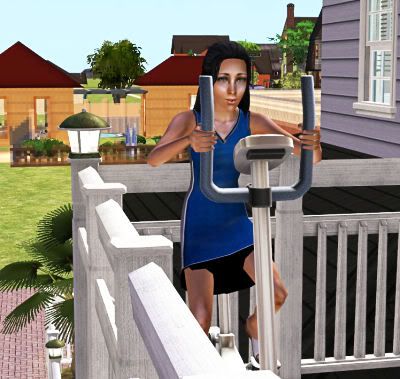 Coupon should probably should wear pants while using the exercise bike, but I'm too lazy to help her pick another workout outfit. Since she wants to be a Hall of Famer, I guess it's good that she's so self-motivated to exercise despite her lack of pants.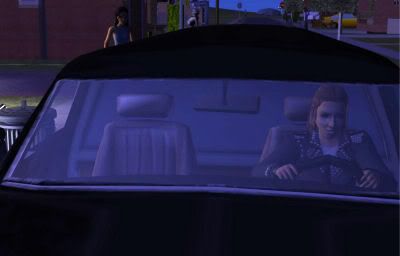 But Coupon is even more motivated to sneak out at night. She has a constant want to sneak out with one friend or another. Here she is sneaking out in a limo with Aerosmith Tucker. She has a strong attraction to him, so Hyacinth Hamilton may have some competition for his affections in the future.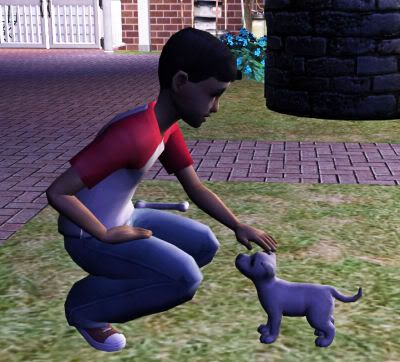 Buck really loves Diamond, and rolled a want to become her master. He had no trouble fulfilling that want, as he spent a lot of time playing with her.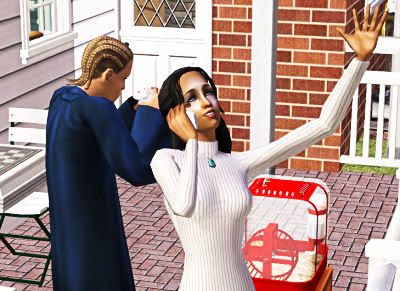 Lara was so inspired by her brother Rudy's yard sale business that she decided to start her own. The Fanceys also have a lot of rocks and bones from treasure hunting, along with a collection of used furniture in their inventories.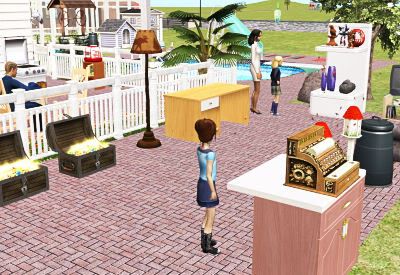 The first 2 customers were Blondie Tucker and Cherish Shibata who were skipping school to come to a yard sale. I guess their families can later open yard sales of their own to get rid of all the junk they bought at yard sales. This is getting to be a little too much like some people's real lives, LOL.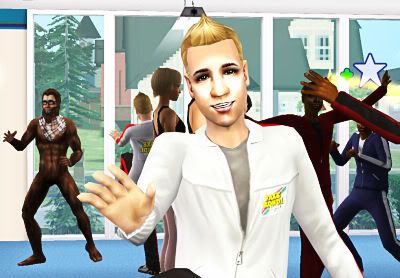 Heath has weekdays off, so those are the days he goes and opens his fitness center. My son Jason was there and said "Hi."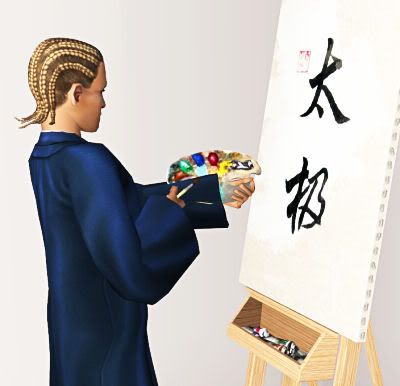 While his customers were doing tai chi, Heath decided to paint a sign for the front of the fitness center.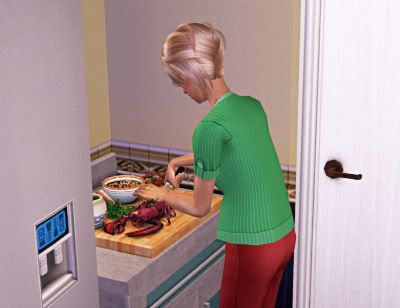 He accidentally left the door unlocked to the small kitchen area, and his mother-in-law Grace Webb helpfully started cooking up some lobster thermidor for everyone. That cut into his day's profits.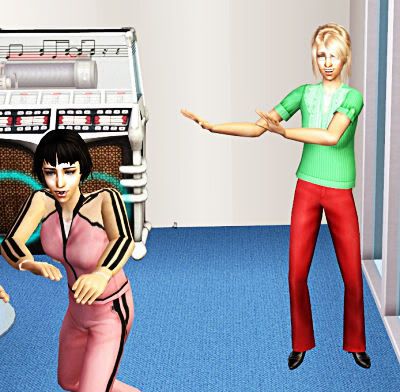 Lately, every day is
Mele Kalikimaka to Grace Webb. She wears red pants and a green shirt together, and when she shows up at the fitness center, she really thinks that she's teaching everyone the hula.
I think Grace might be getting a little senile.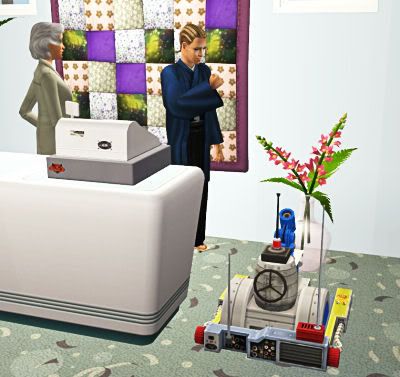 On his way home, Heath decided to buy a hydrobot from Martin Tucker. He's tired of trying to keep all his flowerbeds watered, and he wants to join the garden club as soon as the members will agree to come back and inspect the garden again.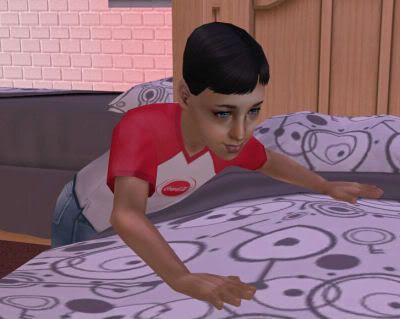 The matchmaker left a magic lamp for Buck. He rubbed the lamp and a genie appeared. Instead of making a wish, he realized he needed to go make his bed first. Sometimes Buck is a bit OCD when it comes to cleanliness.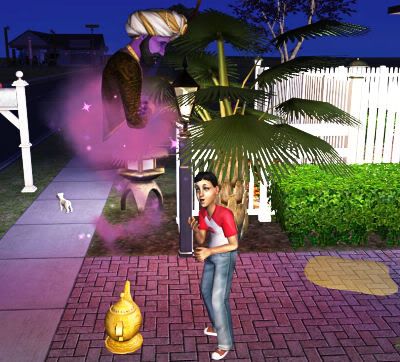 But eventually, he made it back to make a wish for peace of mind. I would have peace of mind if he would keep the pee puddles from his puppy mopped up. His OCD about cleanliness is hit or miss.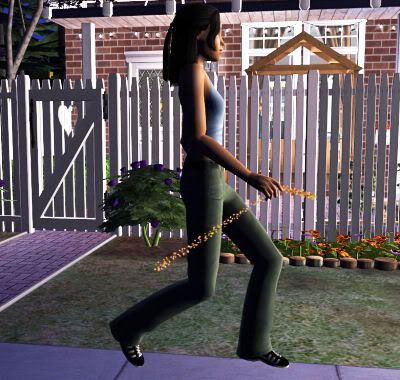 This is one of the many times that Coupon sneaked back home. This time she left a trail of womrat food to find her way home in the dark.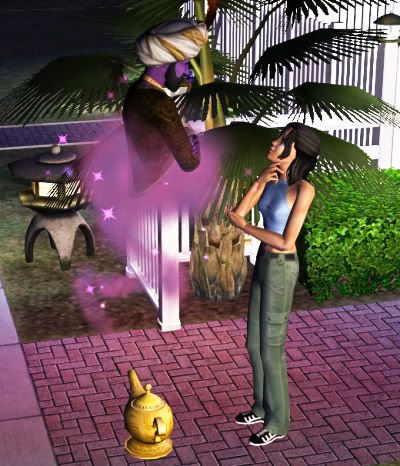 She took advantage of her brother leaving his genie lamp out and made a wish for beauty. This made her very attractive. I'm not sure if the effects are permanent or not, but she now has a 3 bolt attraction with almost every eligible male in Apple Grove.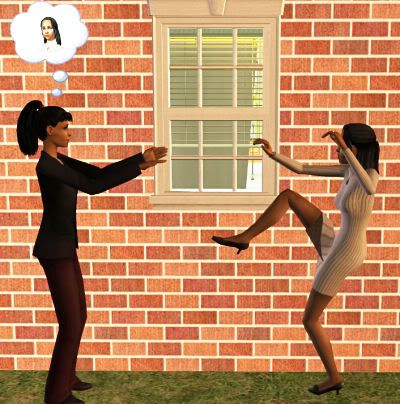 Lara decided to use her wishing well to make a few new friends. All of them are in the secret society. This would have been helpful in college when she wanted to join, but it's too late now. I thought Lara was trying to kick one of her new best friends, but instead she was doing more tai chi. I really hope she is wearing some modest, sturdy foundation garments under her dress. I think she really needs some pants for tai chi.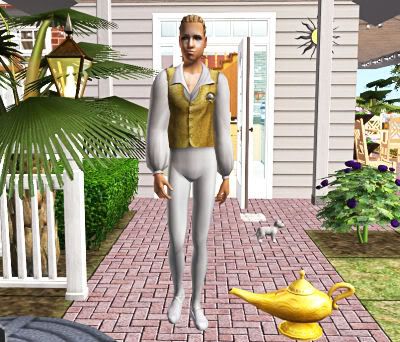 Speaking of pants, Heath never really wears them either. He wears a kimono all the time, except when he goes to work in tights. I realize that pants are not something he can really wear for his world class ballet dancing, but I personally don't think men look good in tights. It's now Friday afternoon, and Heath has to go to work. I don't think being a world class ballet dancer is everything he'd hoped it would be, but he just has to hang on until retirement.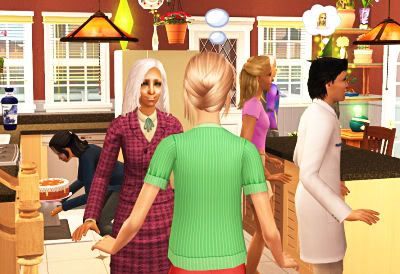 Lara threw a party that night and invited over her family members. Her mom Grace is getting everyone to do the (surprise, surprise) hula. *headdesk*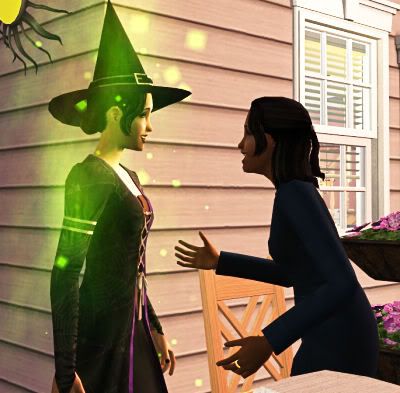 Most of the time, one of Coupon's biggest fears has been that she will become enemies with her Aunt Sophie. I think that can only mean one thing. She respects Sophie more than anyone else and wants to be just like her. I suppose it could mean that she's deathly afraid of her, but that just doesn't appear to be the case.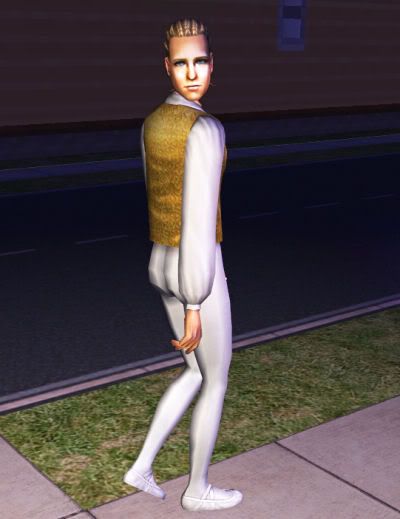 Heath has some amazing flexibility from ballet, but this is too much of a good thing. It's just disturbing to have that much neck flexibility.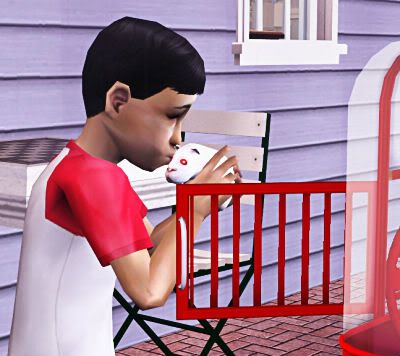 Okay, even though there isn't a guinea pig disease that sims can die from anymore, they should still not be kissing rodents. But that's all sim kids want to do when they play with womrats.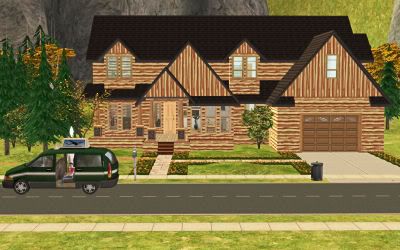 In a crazy moment of extreme generosity, Lara had a brilliant idea to buy a large vacation home in Three Lakes and invite her mom, stepfather, and her brother Charles and his wife Devan to go with them on a vacation. It turned out that the house was a money pit that needed extensive and expensive renovations. Even when they sold the house after they returned from vacation, they had lost many thousands of simoleons on this vacation. :(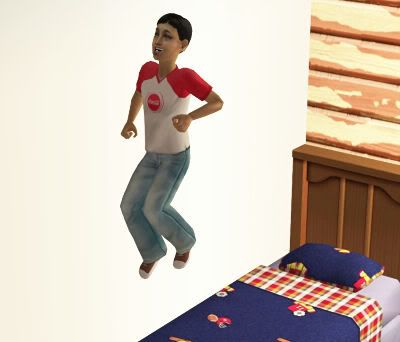 Buck knew exactly what to do when he found his bed. It's unfortunate that there wasn't enough room to invite his cousin Chevy for him to play with.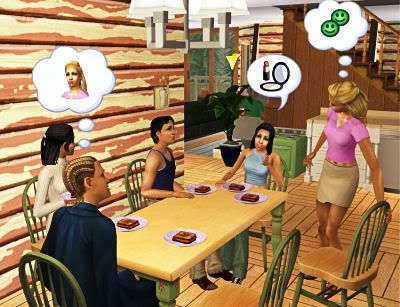 At first it seemed like it was going to be a pleasant family vacation. But it soon became the very costly vacation from hell. They couldn't take the whole group anywhere, because they were never on the same schedule. The guests were always hungry, but couldn't fend for themselves, and wouldn't clean up after themselves. I did use the
boolprop controlpets on
cheat which lets me have some control over guests, but it just wasn't helpful enough.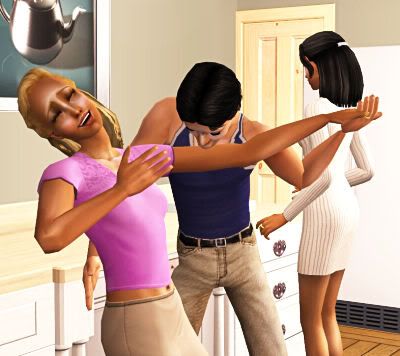 All Charles and Devan really wanted to do was make out in every room of the house, all day...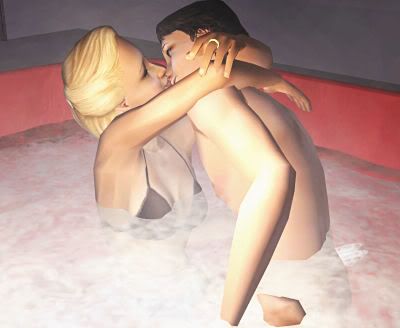 And all night. Maybe there was something about that fresh mountain air that really got them in the mood for love. But it was excessive and nauseating.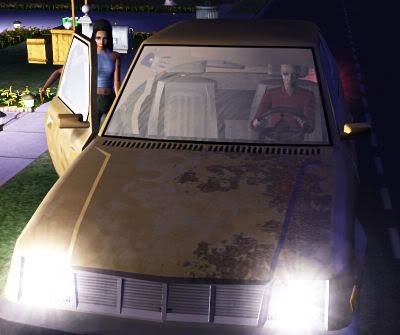 Coupon was disappointed that she couldn't invite her friends over while on vacation, but she could call them and they would drive all the way from Apple Grove to help her sneak out at night. So that's exactly what Coupon did.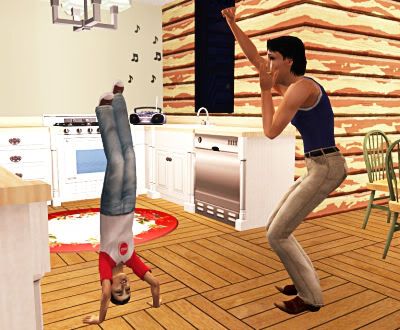 Buck always had a want to play with his Uncle Charles, and when his uncle wasn't busy making out with his Aunt Devan, he did. He wanted to be best friends with him, and soon had his wish.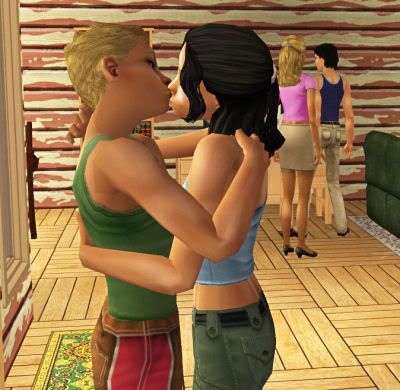 Coupon found a boy to make out with that lived in Three Lakes. His name is Don Majekodunmi. With a name like that, I don't know if I can allow her to marry him. If so, he would have to change his last name. It's been done before in Apple Grove. I changed the first names of the men Rose and Violet Hamilton married who are now named Apple and Almond. I just can't allow names that I have to copy and paste each time. ;)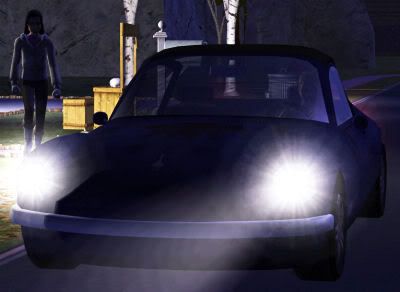 Well, I don't think Coupon had marriage on her mind at all. She just wanted to have fun, so she made sure to sneak out with Don too. Pretending to sell lemonade at 1 a.m. was a good cover story for her sneaking out while at Three Lakes.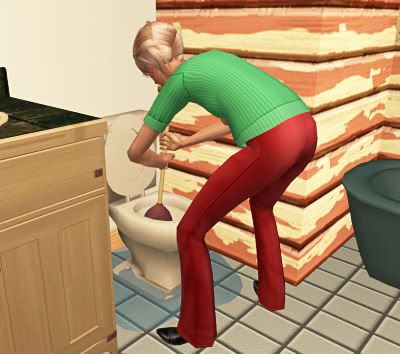 I finally found a use for their extended family at the end of the vacation. They can't cook or clean anything and only sleep when it's their idea, but they can repair things. If there ever is a next time, I think I will see if vacation guests can craft or paint and at least earn their keep a little, and maybe that will keep their hormones under control a little, also.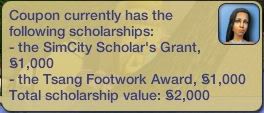 As soon as they returned from vacation it was time for Coupon to check on scholarships. She only received two, one for her good grades, and one for her dancing ability.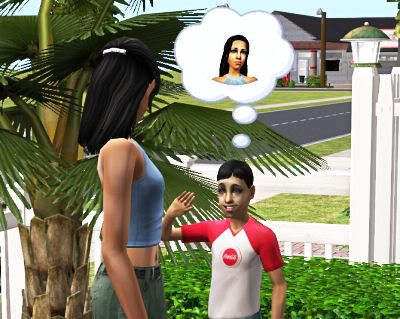 Buck waved goodbye, but he is smiling a lot. He's happy to get his own room now, and he now has
two
beds to jump on, so
yay!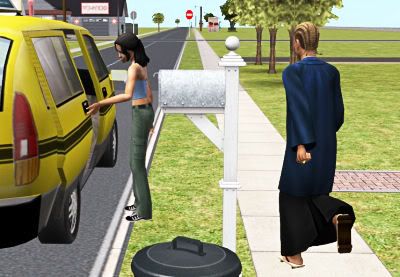 I thought it was sweet that Heath ran after Coupon to say goodbye as she headed off for college. He is going to miss his sweet, innocent daughter. Little does he know.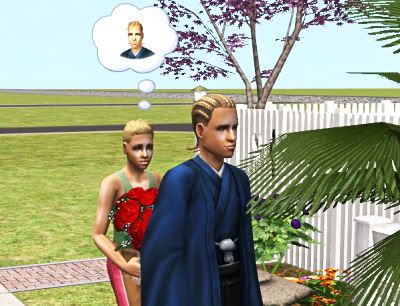 I like how he refused to turn around and acknowledge the boy delivering flowers for his daughter. He's glad she's headed off to the university where she'll be safe from this Don character. Yeah, your perfect daughter will be totally well-behaved and temptation-free there. Just go on telling yourself that. ;)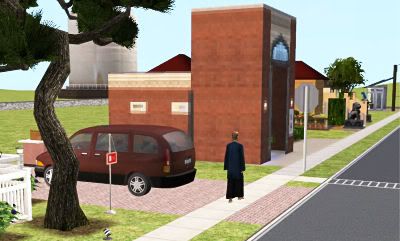 I think it's cool that when Heath headed back to open Fancey Fitness center,
he actually walked in that direction.
This is one of those rare times. Why are sims usually so directionally-challenged?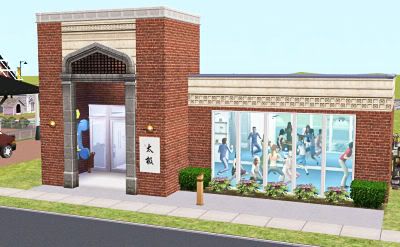 His new tai chi sign looks good. The fitness center is now exclusively doing tai chi thanks to
sigil5 on MTS
. Well, there is the occasional unauthorized hula class...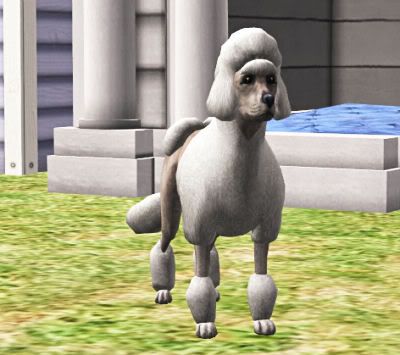 Diamond grew up to be an adult dog. She looks exactly like Dinero.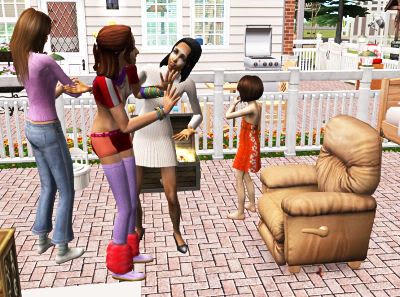 Lara is trying out her new hard sell tactics on this townie to try to get rid of this recliner that came from the vacation house. It worked.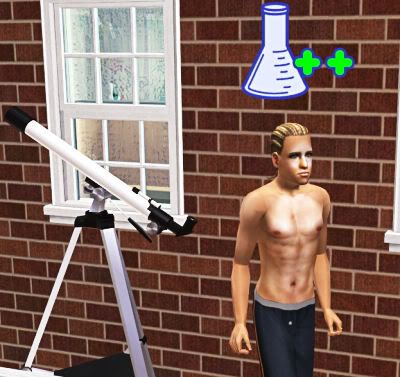 Heath has been doing some daytime
scientific research
peeping again.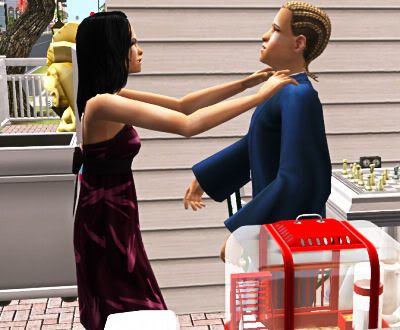 Mary Gavigan showed up shortly thereafter and tried to choke him. She's had
enough
of all these perverts spying on her.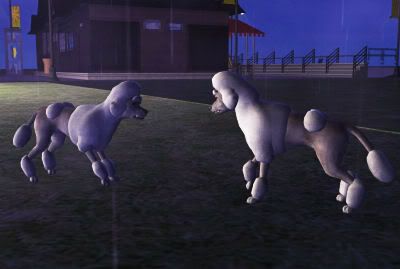 Diamond and Dinero do not get along well because of their conflicting personalities, but thanks to the
boolprop controlpets on
cheat, I can have them play together every time they fight to try to have them make up. Thanks to cheating, they are almost friends. ;) I'm not a big fan of cheating in general, but since it doesn't affect money or prosperity points, I don't think it matters in this case.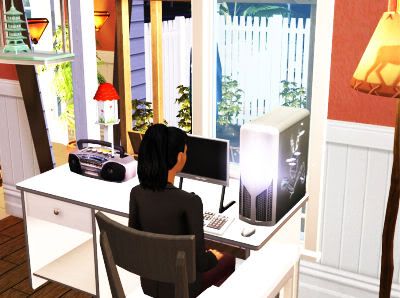 Great, one of Lara's secret society friends broke the computer during Heath's garden club inspection.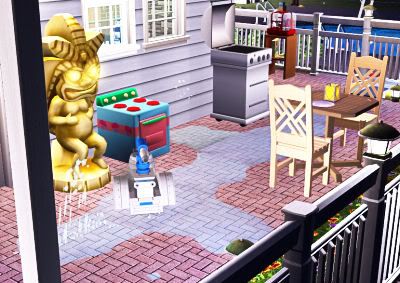 But that was nothing compared to this mess. The hydrobot broke and got water all over the porch before the end of the inspection. Great timing.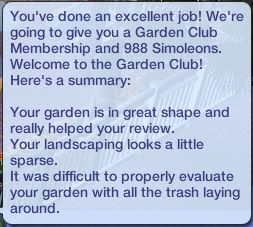 He still was able to get into the garden club and received a bonus of §988, but thanks to the huge mess did not get a wishing well.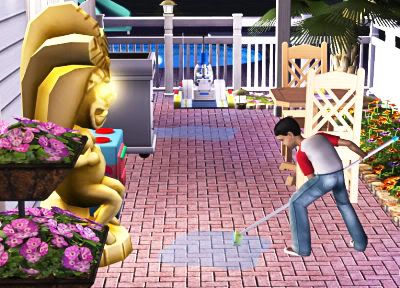 Buck is very happy that the hydrobot broke, though. It makes his day to mop up puddles. You'd think it was Christmas every time you ask him to clean up a mess.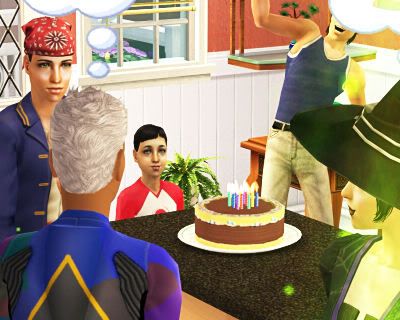 The next day Buck had a very crowded birthday party, where most guests were lucky to get close enough to
see
the cake.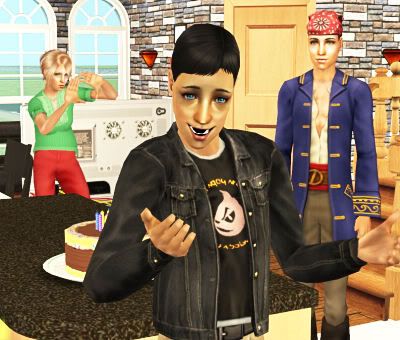 He grew up pretty cute. I like how his crazy Grandma Grace is in the background taking a mental picture. I guess she forgot her camera.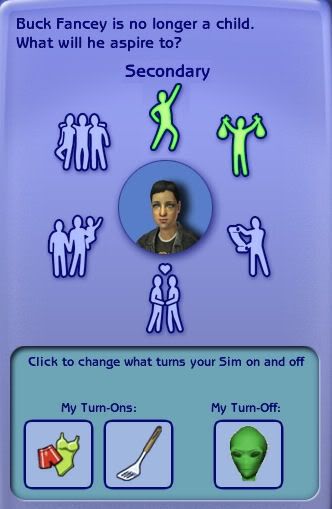 Buck is a fortune sim with a secondary desire for pleasure. He loves great cooks in swimwear. Hopefully, they will use caution when grilling fatty meats in only a swimsuit. Thanks to
tunaisafish on MTS
, you can replace custom hair with alienism as an attraction trait. To me it seems reasonable since vampires, zombies, werewolves and plantsims are all attraction traits. So, Buck is decidedly turned off by aliens.

I'm pleased with his choice of a Lifetime Want. With a college education, he will achieve his LTW in no time after graduation.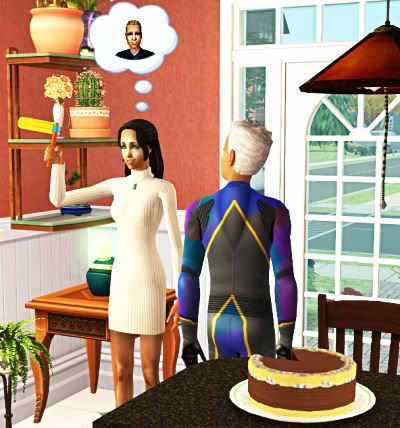 Lara was really late for Buck's birthday. People were already eating cake by then. I think the problem is that the house is just too small, and they couldn't all fit into the kitchen. Despite issues with having enough space, his birthday party was a roof raiser.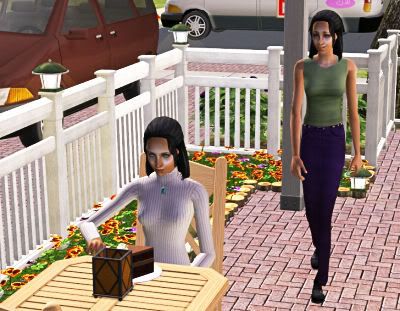 Coupon was invited as well and is here from college, but I didn't see her until now. She looks so much like her mother Lara - even more now that she's the same height.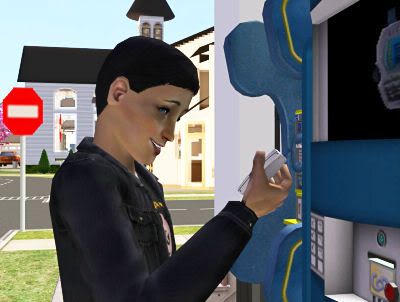 Buck feels so grown up now that he has his own cellphone. Happy Birthday, Buck!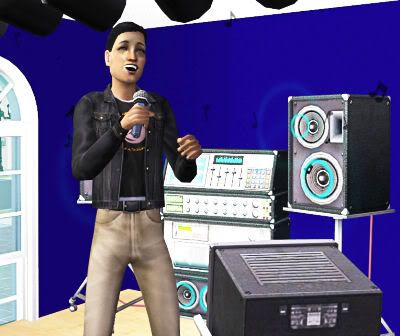 He also went down to the Performing Arts Center and sang some karaoke. He's a really good singer, too. I suppose all the time he spent playing with that annoying modular synth has paid off.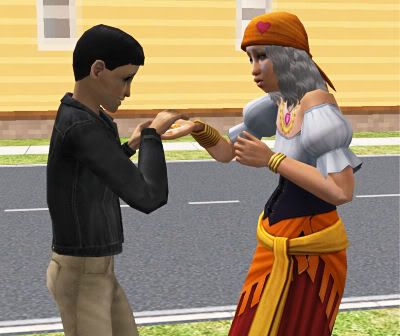 And now he wants a first kiss. He spent §5000 on the matchmaker.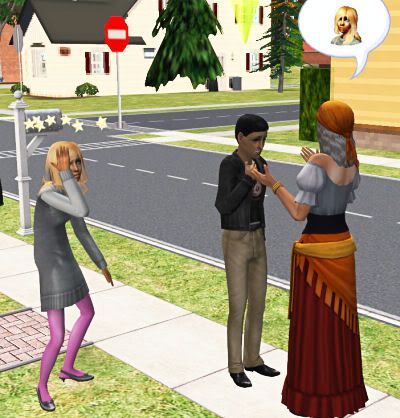 And she sent him Jessica, who is George Hamilton's steady girlfriend. Oh well, no first kiss today. I figure a fortune sim can wait until the next round for a first kiss.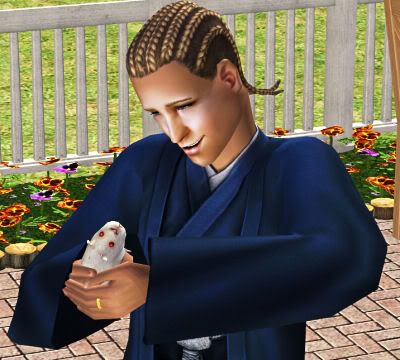 The most amazing thing is that their little womrat lived through an entire round without dying of starvation.
Sorry it was such a long update this time, but I had fun, and had trouble leaving anything out. It's really fun to be able to play again!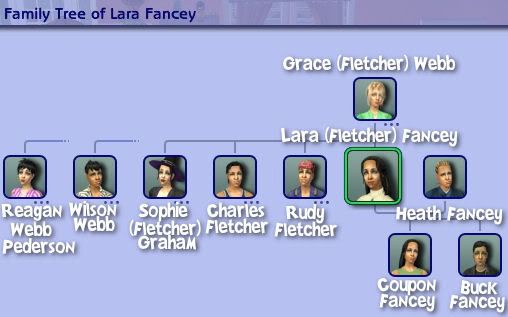 Scoring: Because I tried to be more relaxed while playing this time, I don't think any points were scored, but the good news is that the Fanceys didn't lose any points to those stupid bunnies.