Poor, neglected Apple Grove! I don't know why I dragged my feet so long on this update, but I guess it just might be that University is a bit boring to me.
This is Urele House, the Greek House at University of Applebama. Since many of Apple Grove's young people have passed through it, it's been improved upon about as much as I'm willing to mess with it. It's still quite tacky inside and out, but it seems fitting for a Greek house to be tacky. It's functional at this point, and it has good quality plumbing, nice beds and plenty of study and skilling items. Thanks to me, University of Applebama did not make it onto Simston Review's list of top party schools.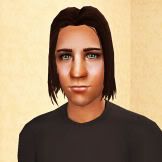 Ian Bauer,15, Young Adult Knowledge, LTW: 6 Grandchildren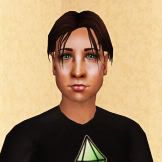 Christopher Bauer,15, Young Adult Family, LTW: Business Tycoon
Nerissa Goldman,15, Young Adult Romance, LTW: Professional Party Guest
Washington Webb,14, Young Adult Pleasure, LTW: Prestidigitator
I guess I was impatient to get all these teens off to college, because they are all very young. I didn't use the time reckoning back then to figure out their ages. In the future I'll try to send teens when they turn 18.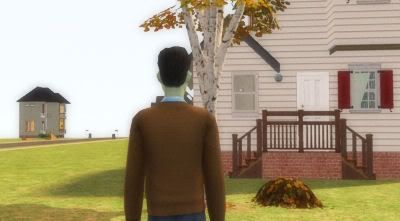 I'm not sure why Washington Webb had to come to college all alone, especially since he's the youngest of the college students on this round at 14 years old.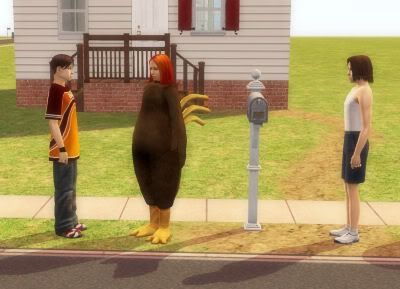 Nerissa wore a chicken suit the first day, which should have alerted me that she would be trouble. In retrospect I should have made her wear the chicken suit all throughout college just for my amusement. She may eventually have to wear it again.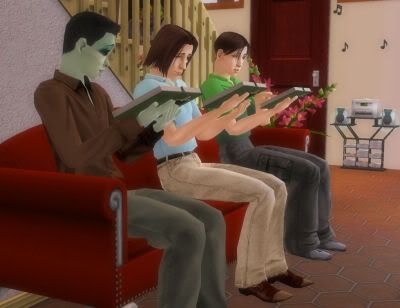 Look at these studious guys getting to work right away on their first semester of college.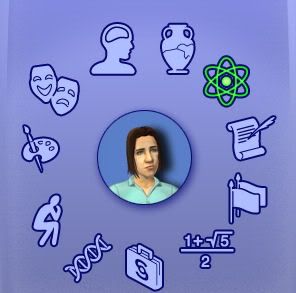 Ian wanted to be a physics major. The real Ian has always had an interest in how things work.
Christopher wanted to be an art major. The real Christopher is really into music. Art seems the closest major for him.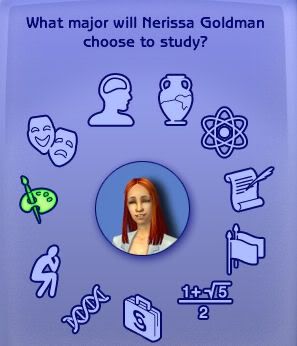 Nerissa also chose art as a major.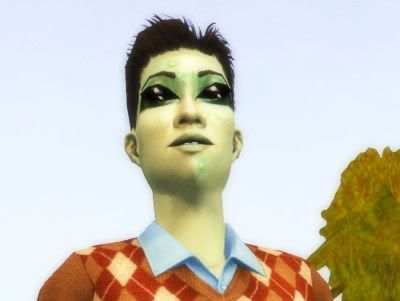 Washington never rolled a want to choose a major, and eventually became a Philosophy Major by default.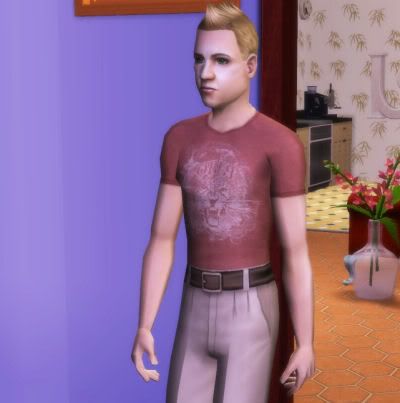 Jason Bauer has graduated and can head back home to Apple Grove since the new students are now settled into the Greek house.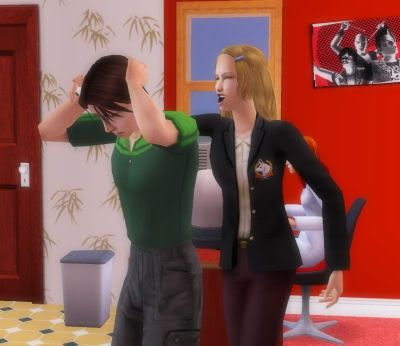 Christopher was the first one in this round to get arrested and taken to the Secret Society.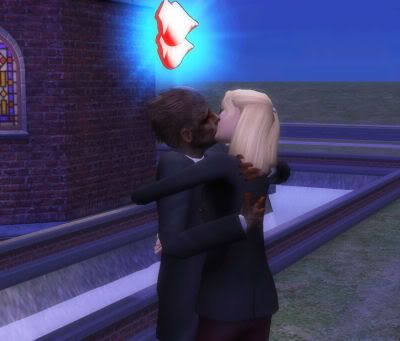 When it came Ian's turn to join the Secret Society, he got more than just the cool jacket. He found love. This blond girl is Cathy Oates.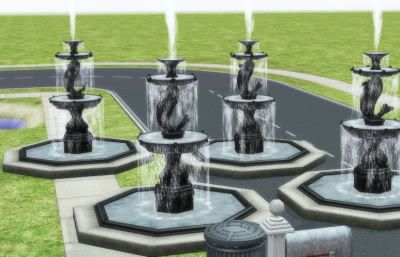 Since they have everything they need at the Greek house, I've started buying them fountains when they earn scholarship money, and putting the fountains in their inventories.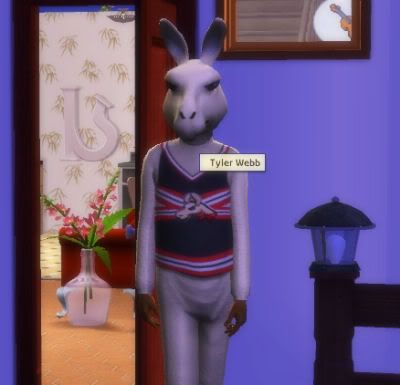 Tyler Webb is back on campus wearing the mascot suit and pretending to still be a college student. I hope he'll behave himself, because I'll be upset and might have to hurt him if he cheats on his wife Taft.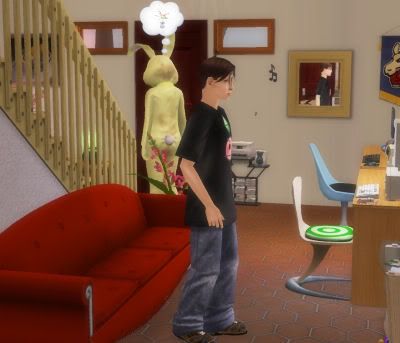 Dangit, Christopher saw a yellow bunny.
And then Ian saw a pink bunny. I need to watch those social meters more closely.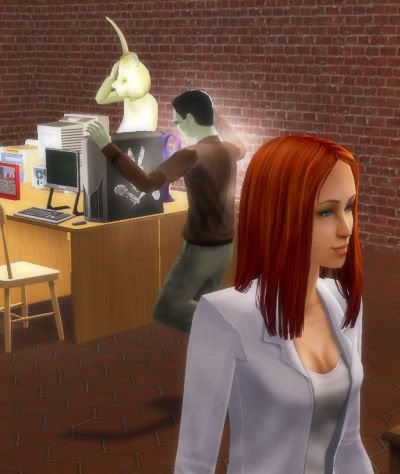 Crap,
another
bunny! This time it visited Nerissa.
Washington's social meter doesn't get low as quickly because he's very shy. He looked into the crystal ball for love and met this pretty gardener, Vyn Bui. Vyn seems to be shy too. They seemed reluctant to look at each other, but eventually they made eye contact. Makes me think of this awesome 80's song:
♫♪ Tongue-tied, I'm short of breath, don't even try
Oooh, try a little harder
Something's wrong, you're not naive, you must be strong
Oooh, baby try
Hey girl, move a little closer
You're too shy, shy
Hush, hush, eye to eye
♫♪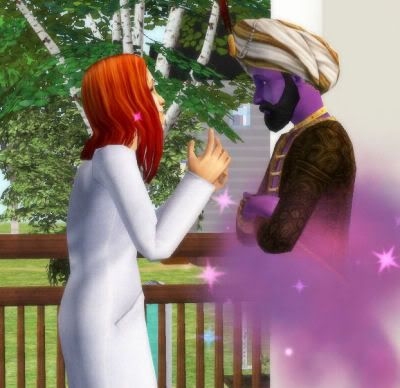 Nerissa found a genie lamp and wished for Peace of Mind. I predict that her future may not be as peaceful as she wishes.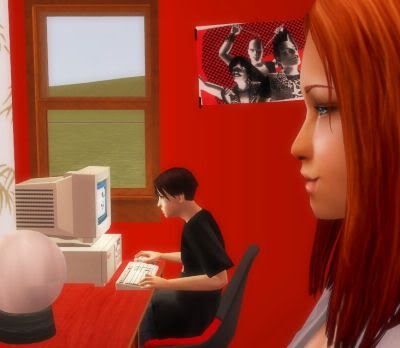 Because I've noticed a definite cooling off between Nerissa and Christopher. They just ignore each other now.
It probably has to do with the fact that Christopher rerolled his lifetime want, and now is a Family sim instead of a Pleasure sim.

And he wants to be a Business Tycoon now. I can't remember what he used to want, but this is better.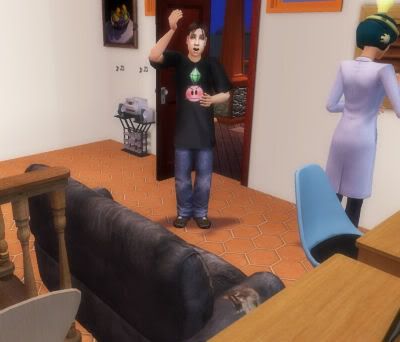 Christopher brought home another couch that they don't have room for.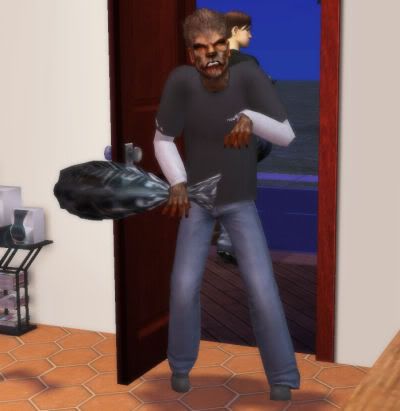 And Ian gets in on his share of theft, however as a werewolf it was taking him a lot longer to carry the bag in at a weird angle. I really think werewolves should move faster instead of slower. But, I found a hack by LycosV
here on MTS
that makes them walk normally, so yay!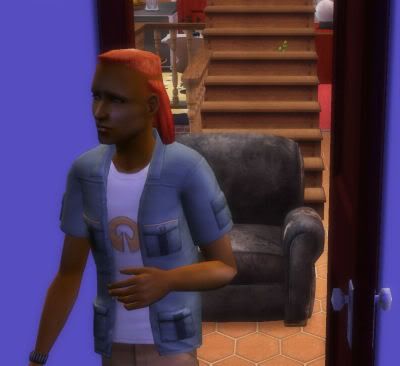 It looks like Renaud Gergis just dropped off a couch, but surely that can't be right. I don't remember ever seeing non-resident Greek house members drop off stuff before.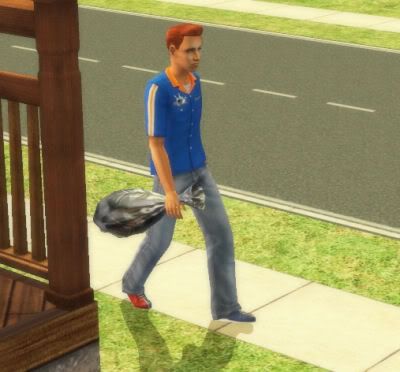 And here's another non-resident Kenneth Enriquez bringing us stolen goods.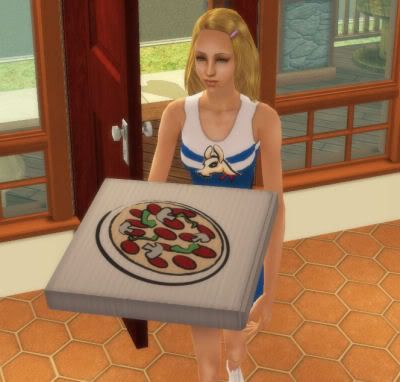 And now they have the blond cheerleader bringing them a free pizza.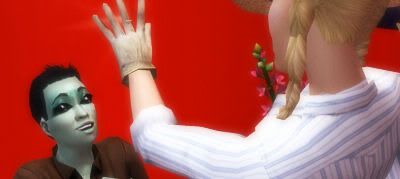 Washington very quickly overcame his shyness toward Vyn, so much so that he proposed.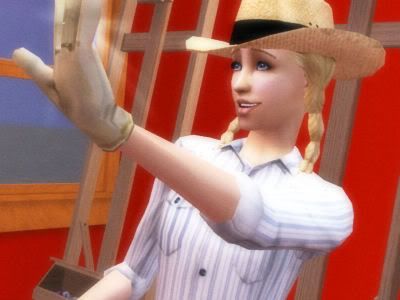 Vyn wore her engagement ring over her gardening gloves. I'm thinking it may need to be resized if she ever decides to take the gloves off.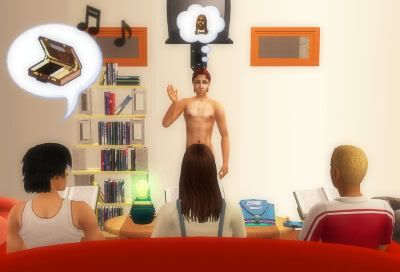 The nerdy Derek Lind is conveniently situated to block our view of the streaker and gets a wave from him. I'm not sure this is the type of streaker these guys were hoping to see.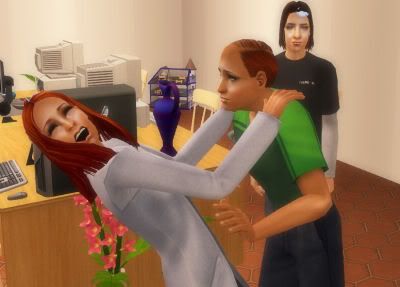 Manuel Andrews, a prematurely balding student who is fooling no one with that combover, made a pass at Nerissa. At first she resisted his advances.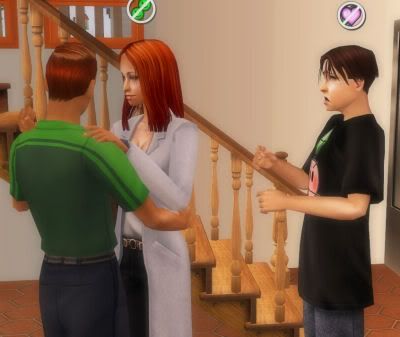 But soon Manuel's persistence paid off, and Nerissa fell in love with him. I feel bad for Christopher.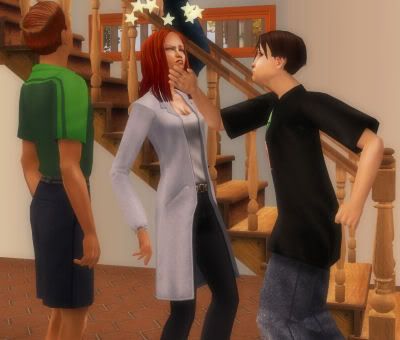 I'm not happy that he is hitting Nerissa, though.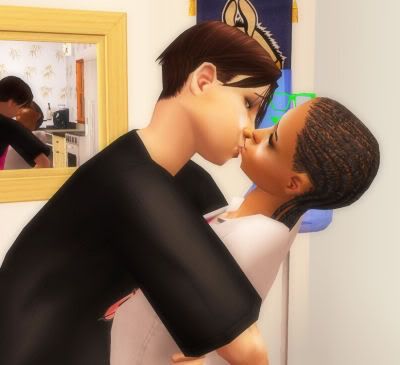 Christopher went on the rebound and decided to get even with Nerissa by dating Demi Peshterianu. He found her with the crystal ball, and they have two bolts of attraction for each other.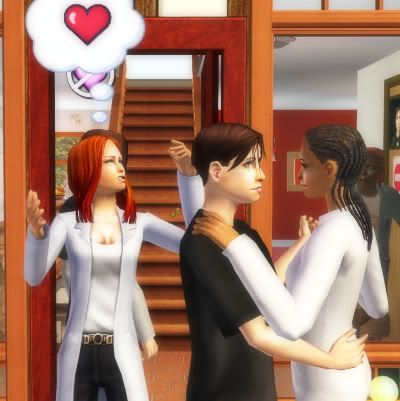 Nerissa didn't want Christopher to move on, though. She got all upset when he found a new girlfriend.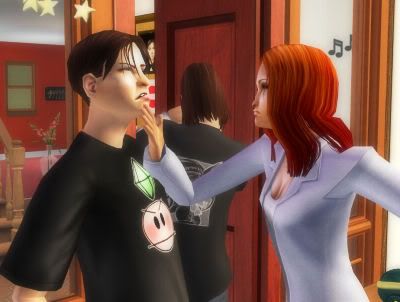 So she hit him.
Soon they are really fighting.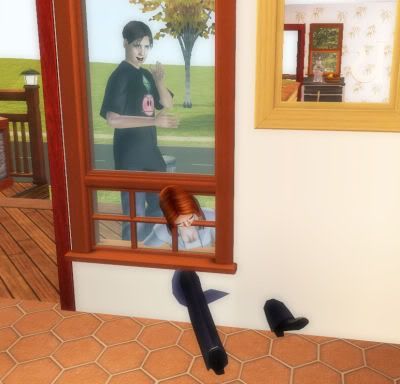 And Nerissa ended up crashing through the wall.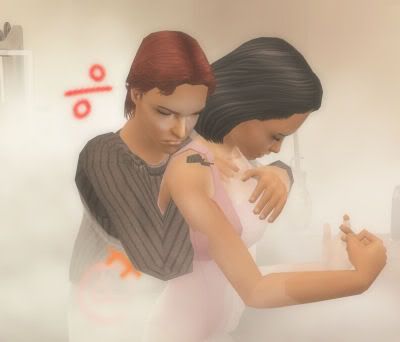 Speaking of fighting, these two sims are Curtis Toyonaga and April Alioto. They're always fighting anytime they are visiting Urele House at the same time.
Curtis slammed April into a desk during one of their many fights. It was brutal.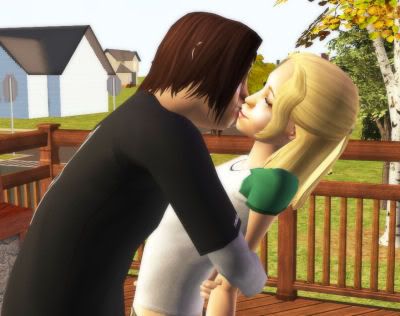 Ian's in love with Cathy, the girl he met at the Secret Society. There is only one bolt of attraction between them, but so far he is loyal and his wants have been about her and no one else.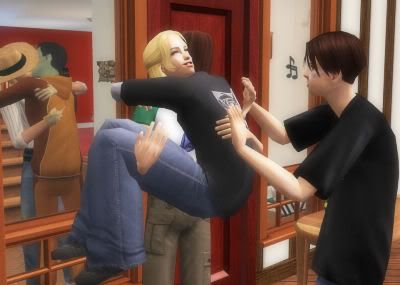 Love is definitely in the air at Urele House. And hate.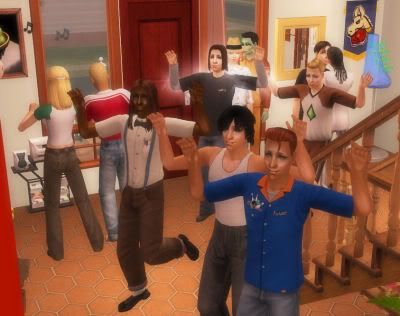 And there is much rejoicing in the form of the slap dance.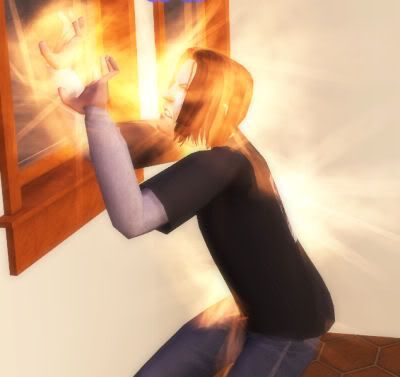 Poor Ian always has to go through a painful transition each morning and night.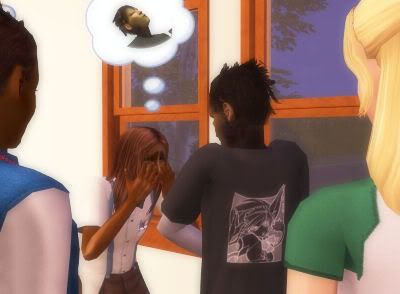 Derek the nerd seems terrified of werewolves.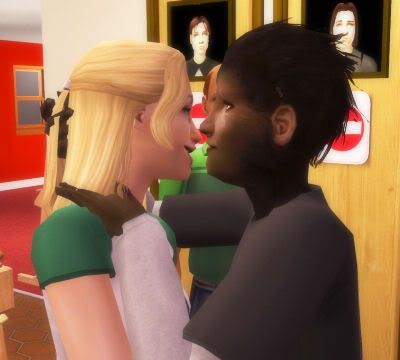 Cathy doesn't seem to mind that Ian's a werewolf.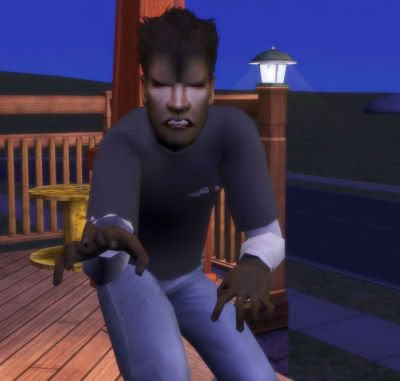 I did change the default werewolf look in my game. I'm not sure if I like it or not yet.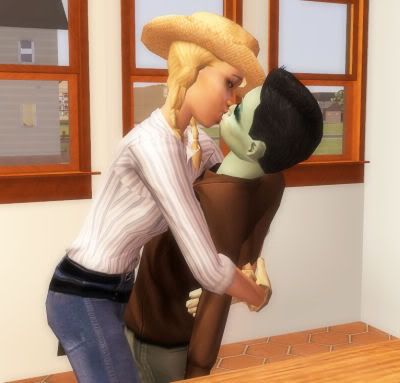 Vyn is really very fond of Washington.
Christopher is not fond of Manuel. Even though he's found a new girlfriend Demi, he still enjoys pummeling Manuel for stealing his ex-girlfriend that he doesn't really like anymore..
Washington does not approve of fighting, and tends to always make these faces whenever there is a fight.
On the other hand, Ian highly approves of fighting.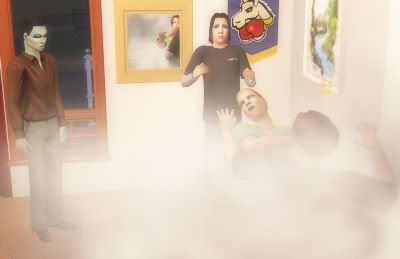 And so the fighting goes on and on and on...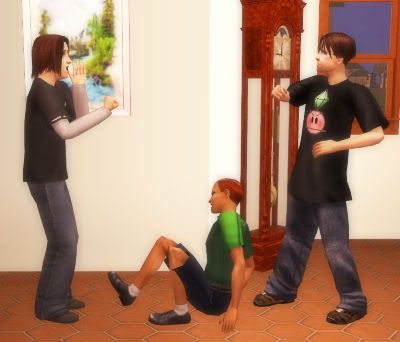 Ian's very excited to see that training his brother Christopher has paid off.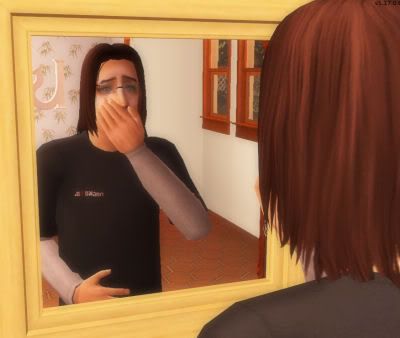 In an attempt to get more bolts of attraction between Ian and Cathy, I tried giving him glasses since she finds them attractive. He hates them.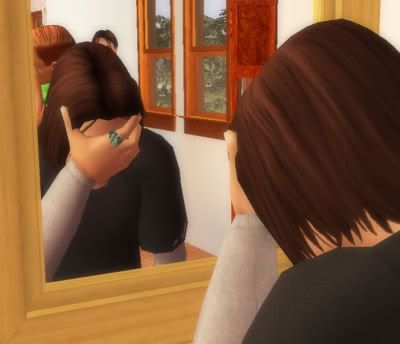 Instead, I gave him a ring which also fits in that category, but he hates it too. Too bad, because I'm leaving it. Unfortunately, it didn't seem to make a difference in the attraction level.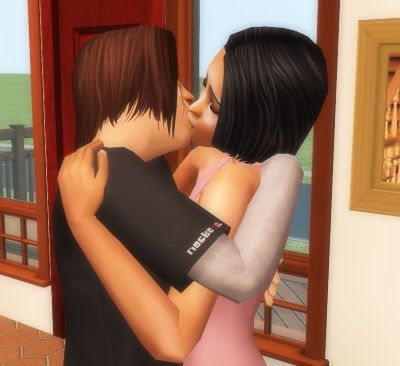 I had him say goodbye to April to cut down on the number of fights, and he made out with her. He has 3 bolts of attraction for her, but has not shown any any interest in her
so far
except for this one kiss. He also hasn't rolled up any wants about her yet. Time will tell.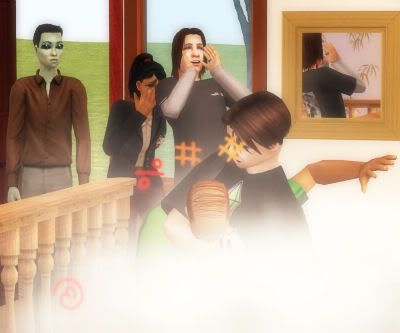 Christopher and Manuel got into another fight.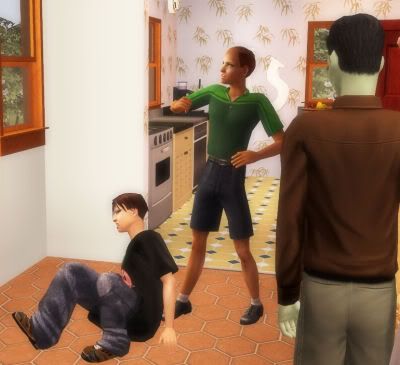 Only this time Christopher lost. This is just the beginning of what promises to be a lot of violence and drama.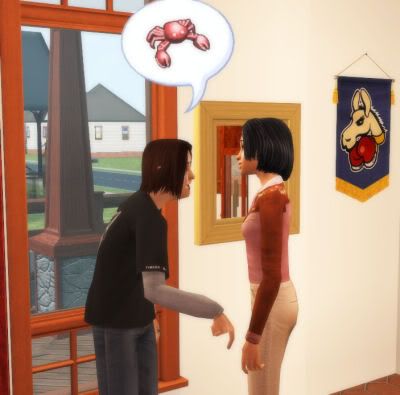 And now I will leave you to decide on a fitting caption for this photo, LOL.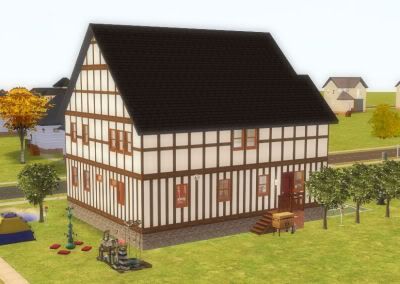 And so we finally get to leave the University kids. Yay! ;) They have one semester until graduation, so they will stay until the next round and then leave as soon as the new students get settled into Urele House. I've played it a bit farther, and I do think the next university update will be more interesting...
Scoring: -3 Christopher, Ian and Nerissa - social bunny visits, +1 Ian - Arts and Crafts, +6 Christopher and Ian - all Lifetime Aspiration Benefits, +2 Ian and Washington - Music and Dance, +2 Ian and Christopher - Nature, +1 Nerissa - Games, +4 Christopher, Ian, Nerissa and Washington - Big Sim on Campus.