When we last visited Brian Tucker's house, Dagmar started her own "massage business" at Radiance Spa. Aerosmith grew to be a child. Dagmar gave birth to a baby girl she named Blondie who looks nothing like Brian. And they took a fairly miserable camping vacation to Twikkii Island where they got seriously sunburned.
And now they are moving into a house more fitting for a rockstar. This is actually the remodeled
Landgraab mansion
. Brian even opened a gym as a home business in the garage of the mansion to help offset the bills and the cost of their butler.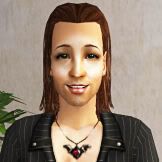 Brian Tucker, 37, Adult Romance, Occupation: Rock God,
LTW: Woohoo with 20 Different Sims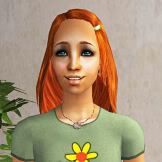 Dagmar Tucker, 30, Adult Knowledge, Occupation: Acclaimed Muralist, LTW: Woohoo with 20 Different Sims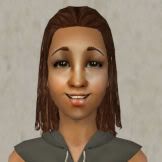 Aerosmith Tucker, 8
This is the garage that's been converted into a gym for Brian's home business. I don't think Brian is really interested in ballet, but all the treadmills are taken. He has to have some excuse to hang around in there so he can look at the women who are working out.
The gym business won't last, though. I realized later that it's not really fair to Heath Fancey to have another gym in Apple Grove, so after this round the business will be a venue for those who want to hang out at a rockstar's house. Most of the house will be opened to visitors.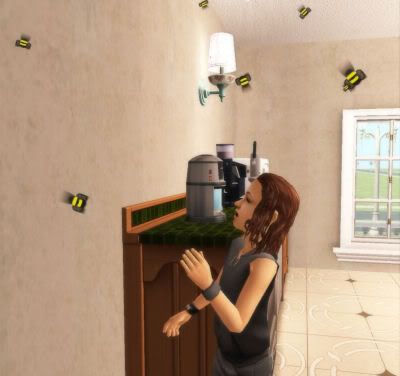 There seems to be an infestation of bees inside their new home. I can't really remember how that happened. I guess they chased Aerosmith inside when he was bug hunting.

Ti-Ning Custer had a ridiculously fun time on his outing with Dagmar. Well, that's because Dagmar is a professional who likes to make sure her clients are completely satisfied.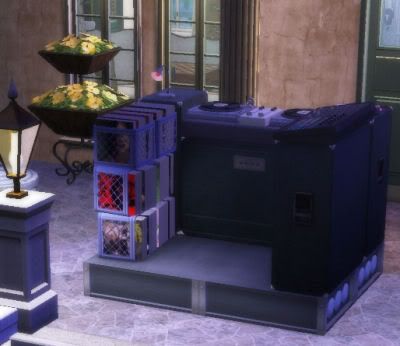 What's interesting though, is with all the clients Dagmar had, Ti-Ning was the only one who cared enough to bring her a gift.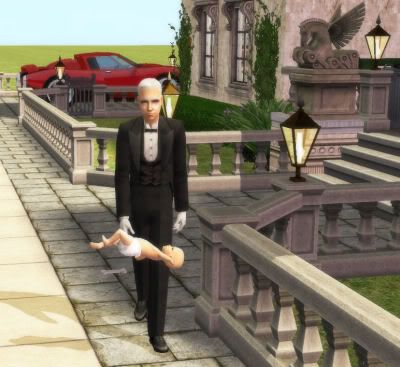 Dagmar asked "Jeeves" to take the baby out for a walk in the fresh air. Jeeves always does what he's told. The lack of functional strollers anywhere in the world does not deter Jeeves in any way from following the orders he's been given.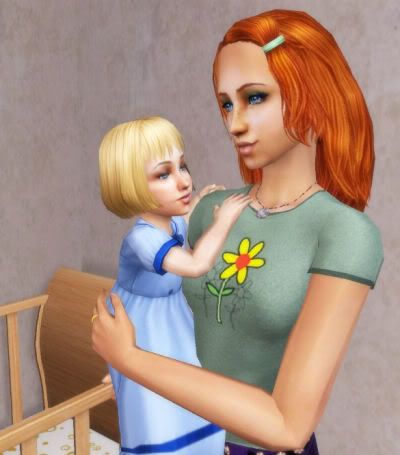 Fortunately, little Blondie survived to grow to toddlerhood. She has the face of an older child in my opinion. She's still a pretty toddler, just unusual. She looks nothing like her daddy Brian - for some reason.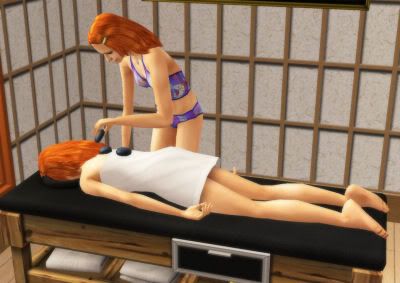 Down at Dagmar's Radiance Spa, it looks like Dagmar is giving her doppelganger a massage, but it's just one of the locals with the exact same hairstyle. I suppose if she wanted to fake her own death, she could kill this woman and start a fire... Yeah, I've been watching a few too many crime investigation shows lately.
Anyway, it seems that Dagmar does do at least some legitimate business down at the spa. Maybe she knows that as de facto mayor, I could shut down her business, or at the very least give her a hefty fine.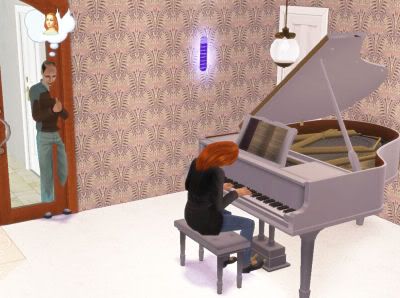 I do think this is actually Dagmar practicing the piano. I love how guests pushed themselves partially through the locked glass door to try to get a look at the Tuckers. I guess with a rockstar and a loose woman on the premises, there's just so many interesting things to see.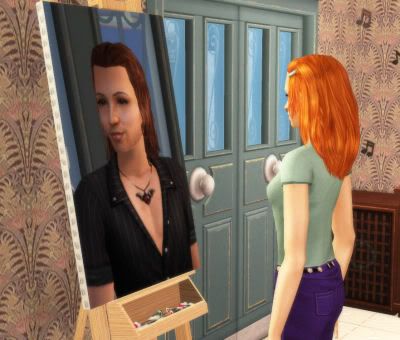 Since they have high creativity, I decided to let Dagmar and Brian paint portraits of each other.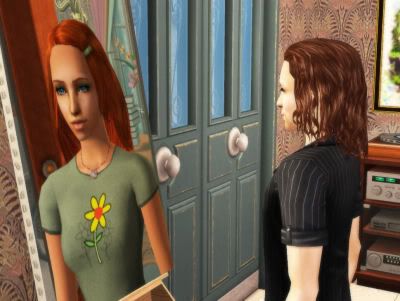 Mansions need paintings, right?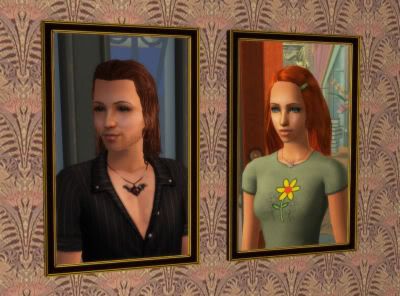 Here they are framed on the wall next to each other. The big question is whether or not those portraits will remain next to each other, or if Dagmar's painting is going to be replaced someday with someone else's when Brian finds out she's cheating on him with half the male population... and that Blondie is not his daughter.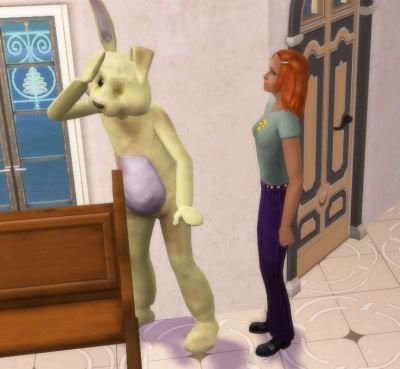 Dagmar saw a social bunny, so I guess it's probably my fault for keeping her at home too much when she'd rather be out cheating on her husband.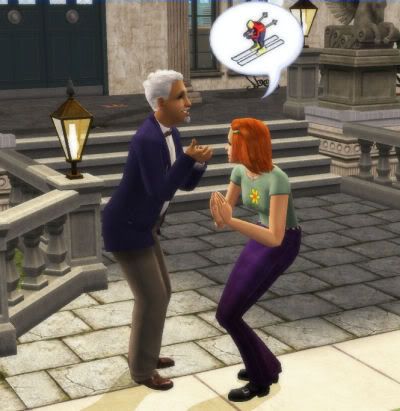 She brought her social meter back up while schmoozing the headmaster.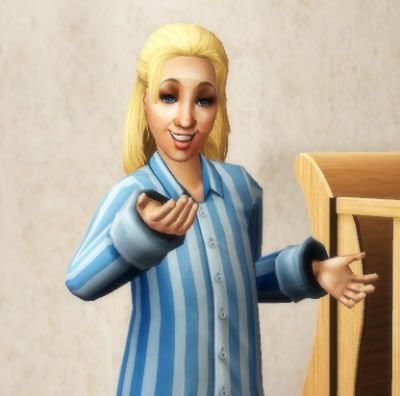 Blondie grew up well, and just in time to get on the list for private school with her big brother.
And they were accepted into private school with no problem. 95 is not a very high headmaster score, but 60 schmooze points is very impressive. Dagmar had the headmaster so distracted that he apparently forgot to eat.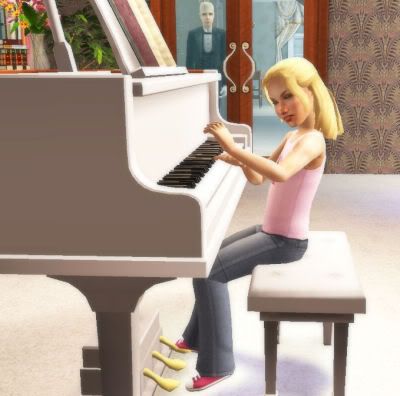 Blondie seems pretty serious about practicing the piano. I wish I could say she takes it after her father.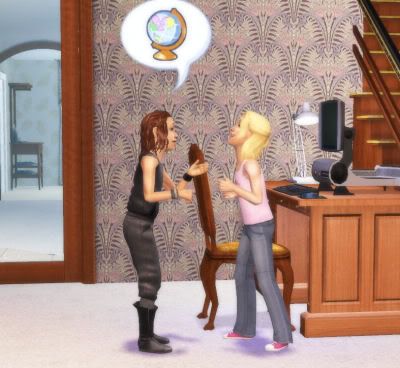 For a short time at least, Aerosmith and Blondie seemed to be about the same size.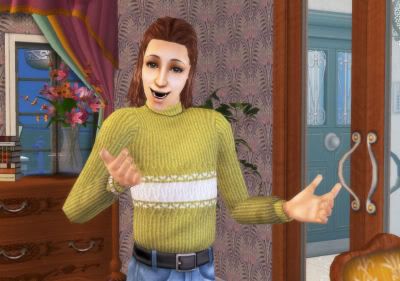 Aerosmith soon hit a growth spurt and left his little sister behind. He grew up to be a teen in this tucked-in chartreuse sweater, which totally does not seem right for him.
He's a fortune sim with a secondary aspiration to be popular. He is attracted to formalwear and face paint, but does not care for jewelry.
And
, his Lifetime Want is to be a World Class Ballet Dancer. It is quite a departure from his rock 'n roll name. Maybe this is some sort of rebellion on his part. Maybe I should have left him in the sweater.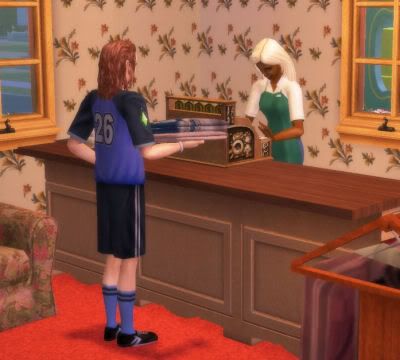 But, I had Aerosmith head to the clothing store to buy some new clothes. I thought he might like the girl behind the register, but when he checked her out, he found her to be repulsive.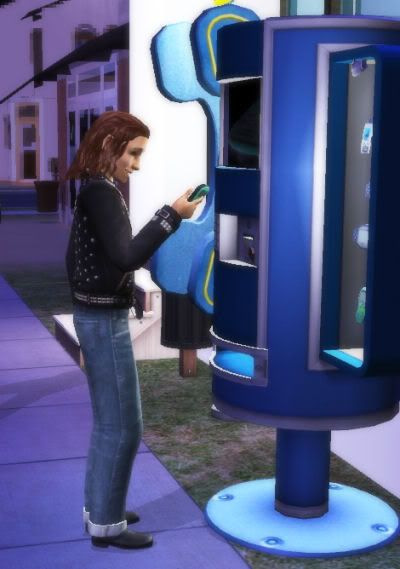 See, he looks more rock 'n roll now. His next stop was to go buy a cellphone. I also let him buy an mp3 player, something I rarely do. But his name is Aerosmith and his daddy is a rockstar, so I figured I'd make an exception in his case.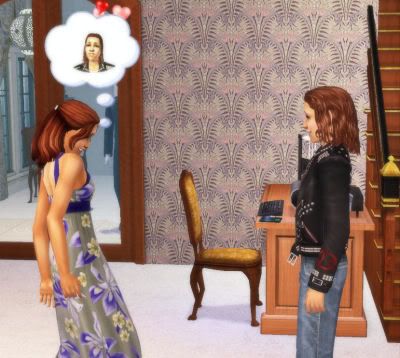 Aerosmith looked in the crystal ball, and Hyacinth Hamilton was in the top 5 attractive girls with 2 bolts. The feeling appears to be mutual on her part. It's been rare for me to get a match among playables that's so good, so I'm glad to have these two paired off. Since Aerosmith is the heir of this beautiful mansion, Hyacinth is sure to be set up for life.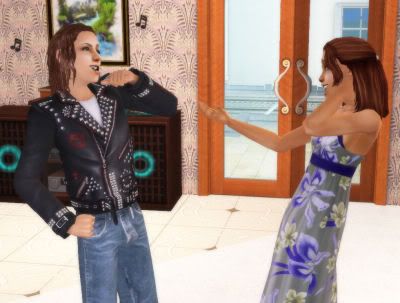 Aerosmith is a bit full of himself, though. It's a bit disgusting, really.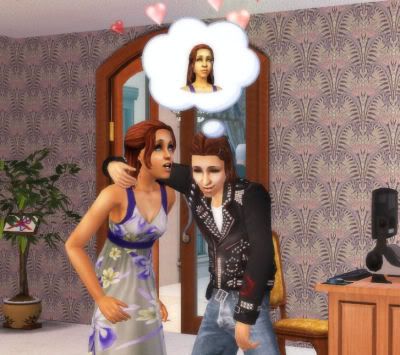 It looks like he wants to give her a hug...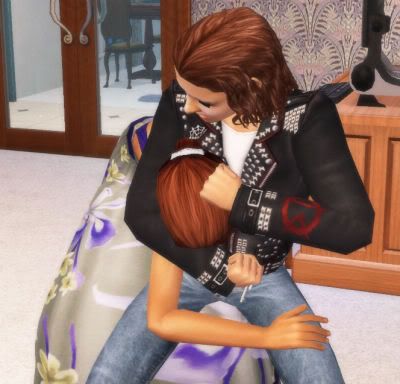 But in reality, he just wants to give her a noogie. I guess that's what it's like for 12 year old boys. They want attention from pretty girls, but they're not exactly sure of the best ways to get it.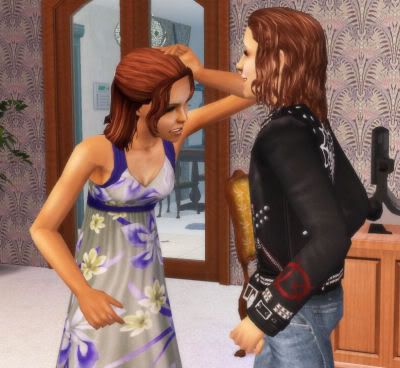 I thought she would be done with Aerosmith after this stunt.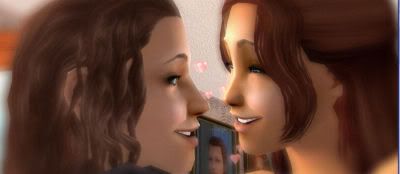 But despite his stupidity, Aerosmith got his first kiss.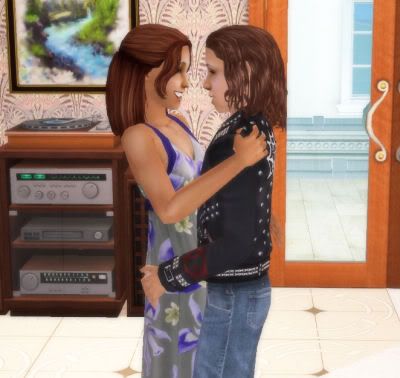 And then because he is Brian and Dagmar's son, he moved very quickly beyond what is appropriate, but Hyacinth isn't complaining.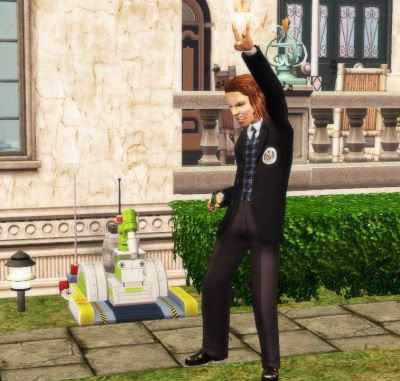 And this is why I don't love the mp3 players so much, but it does seem fitting for him.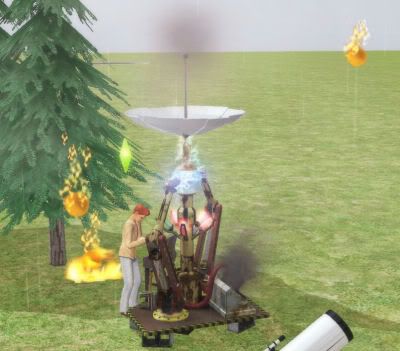 They had an employee working for them for awhile at their home business, but they had to fire him when he made fire rain down from the sky by improperly using the Weathernaught 57X.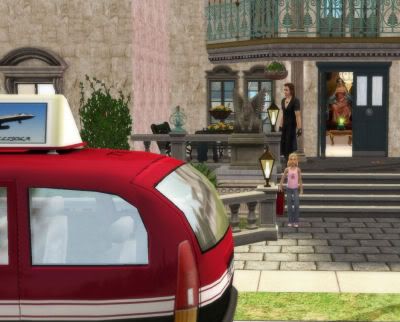 It was finally time for a family vacation - this time to Takemizu Village.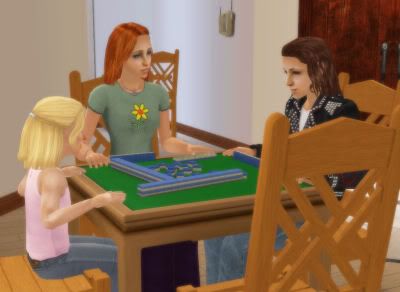 They started off their vacation with a rousing game of mahjong. *Yawn.*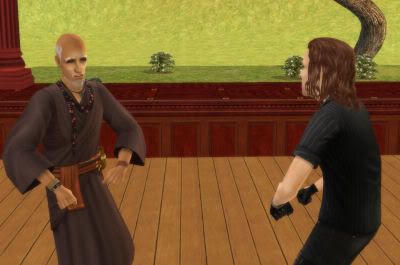 Brian actually impressed the Wise Old Man by teaching him a sea chantey.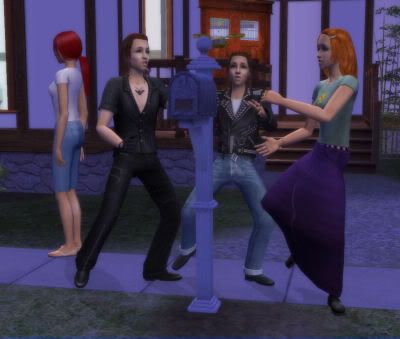 And then back at the vacation house, I think they're doing tai chi around the mailbox for whatever reason.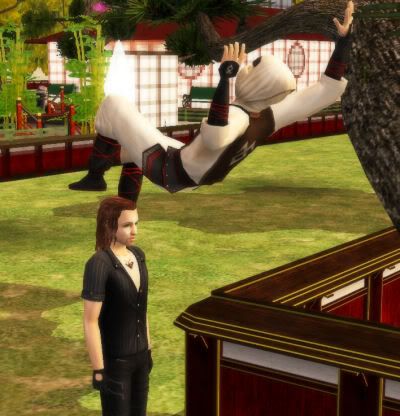 Brian's head narrowly escaped being kicked by the ninja. Really, chasing around the ninja is one of my least favorite things to do in Takemizu Village, but Brian, Dagmar and Aerosmith were all able to learn to teleport before their vacation was over.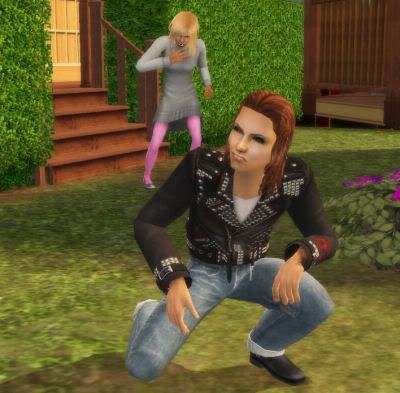 Aerosmith thinks teleporting is so cool, and the fact that it scares pretty girls makes it even better.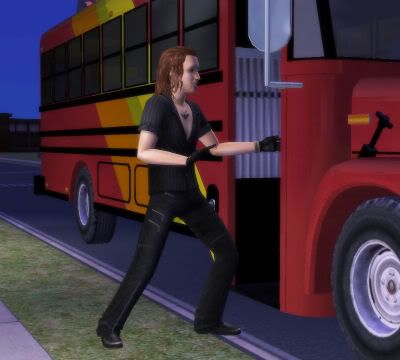 Here we see Brian boarding the Partridge Family bus to go on what is sure to be a disappointing ride. The tour bus company must have the motto, "Come On Get Happy!" But it's deceptive advertising. I think the chance cards are rigged more in favor of bees, poison ivy, and vomiting than any favorable outcome.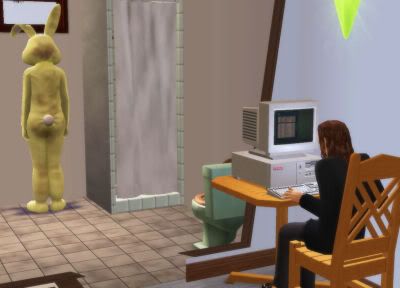 I'm getting really bad at keeping my sims' social bars up lately. I'm losing lots of points over it.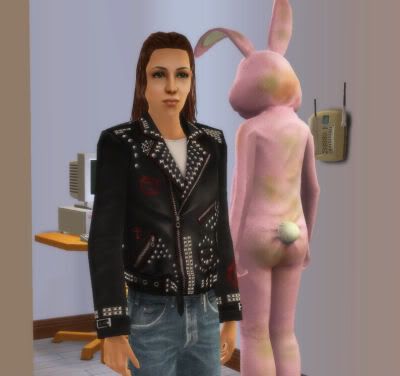 Before the vacation was over, another bunny showed up for Aerosmith, this time pink. Darn you, Aerosmith! I'm trying to
gain
Prosperity points, not lose them.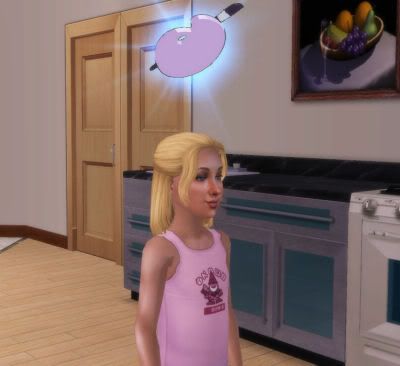 Blondie used her time much more productively than her brother by reaching maximum creativity skill, with no bunnies in sight.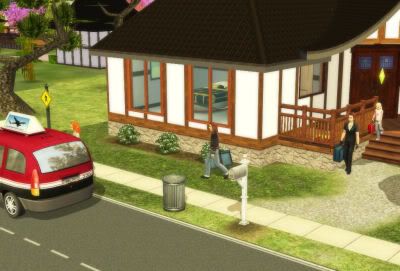 Eventually, it was time to return home. Thanks to Aerosmith's social neediness, I think this vacation cost me Prosperity points instead of helping me gain them.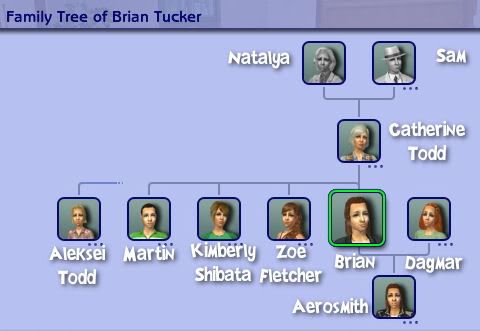 And now let's take a look at Brian's family tree. Blondie is conspicuously missing from the picture.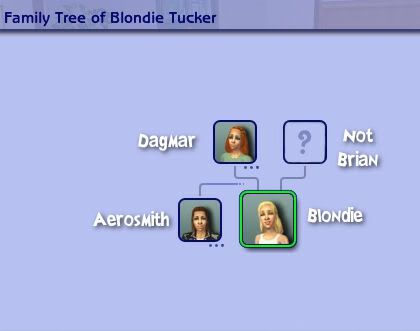 And Brian doesn't show up on her family tree either. I edited out the true father to prolong the suspense a little while longer.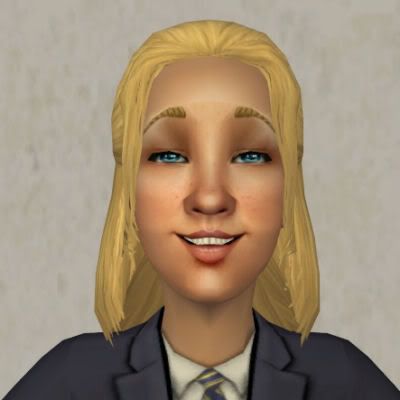 And now for the fun part, I hope. This is a close-up of Blondie.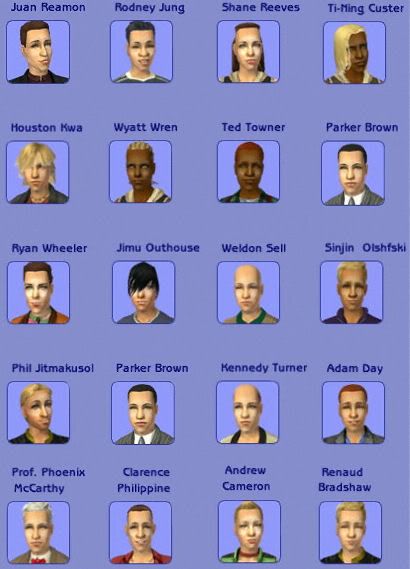 And these are all the men who helped Dagmar achieve her Lifetime Want. I thought you might enjoy guessing which sim belongs in the father spot on Blondie's family tree. Sorry, I realize the pictures are very small. If you want to make a guess, do so in the comments.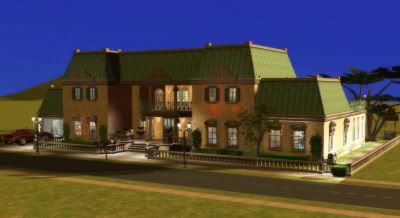 And as we leave, we can only wonder how long the Tuckers will be able to enjoy their beautiful mansion. "But at the length truth will out."
Scoring: +3 Dagmar - all Lifetime Aspiration Benefits, -2 Aerosmith - social bunny, -1 Dagmar - social bunny.