The last time we visited with Rudy Fletcher's family, Zoe gave birth to Chick-Fil-A. Rudy was abducted by aliens, and gave birth to green twins Applebee's and Jack-in-the-Box. Wendy's grew up to be a fortune teen. The twins grew up to be toddlers, and Chick-Fil-A grew to be a child.
Their house is very full now, so it's good they were able to get their male heir Jack-in-the-Box. I didn't want to try to add on to this house, didn't want to move people into the garage, and didn't want to move them to a different house.
Here are Rudy Fletcher's Family: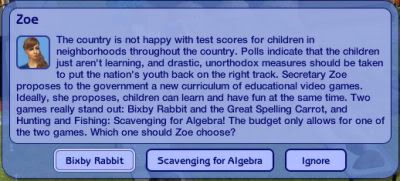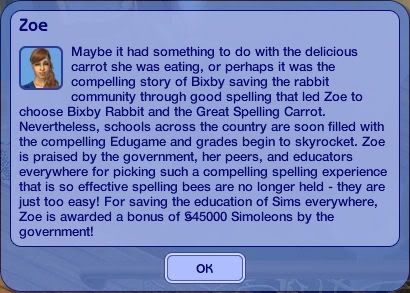 Not only did Zoe get §45,000 once, but she got the same chance card later in the round, gave the same answer, and got
another
§
45,000!
Yay for Bixby Rabbit!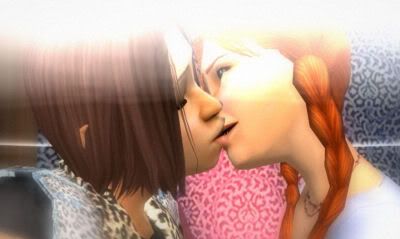 Wendy's got her first kiss from Alvin Howe. I think Alvin is from one of the vacation spots, but I can't remember which one right now.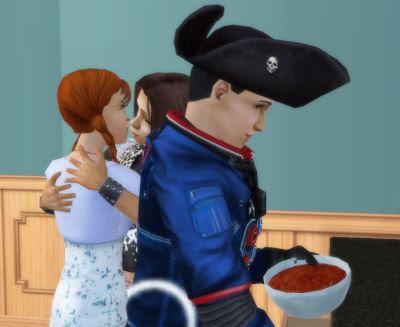 Once she got started with that first kiss, she couldn't get enough. This is the kind of thing that drives fathers crazy.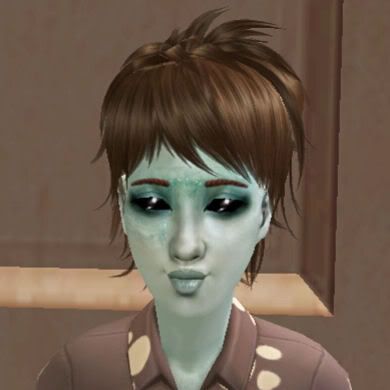 Applebee's became a child. So far, she has escaped having to wear anything ridiculous like her siblings. She does have kind of big hair for her head, though.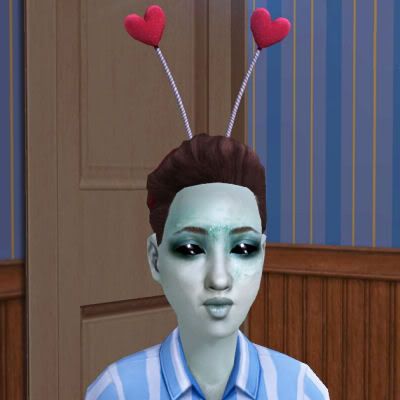 Jack-in-the-Box also grew up to child. He looks disappointed that he did not shed his springy accessories.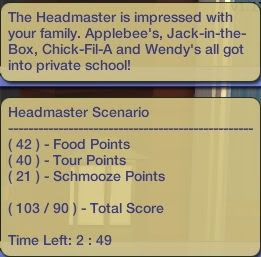 They were able to easily get into private school on the twins' birthday. The headmaster shouldn't be that impressed with the house because it's so crowded that they hardly have any kid stuff. But it is furnished with mostly high quality items, so maybe that's all that really matters to him.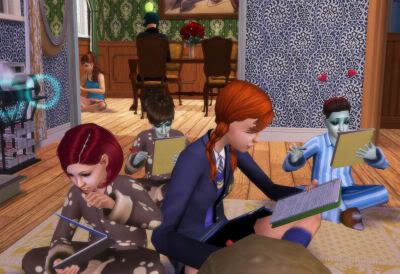 See, homework time is chaotic. Fortunately, I've since remedied the problem with two of my favorite downloads, the
desk locator
and
one tile desks
. Now there's room in the bedrooms to put homework on desks.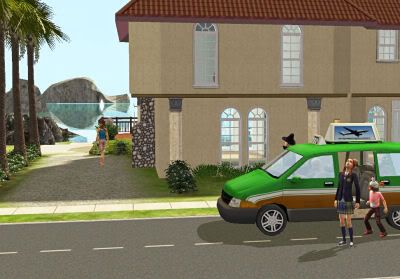 Thanks to Bixby Rabbit, the Fletchers could afford a vacation. This time they stayed in this large house at Twikkii Island. Too bad their regular house is not nearly so spacious. I love Bixby Rabbit so much, so he must not be a social bunny. I've had nothing but trouble from those bunnies lately.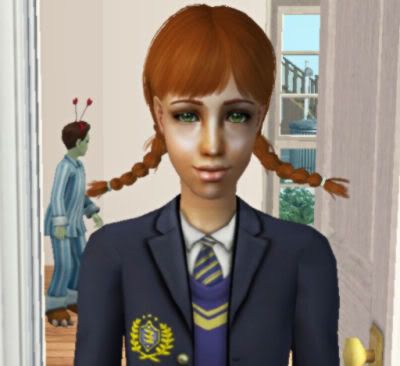 I found some even better hair for Wendy's, LOL. I also wondered why she wore her school uniform on vacation, but then I remembered she's a fortune sim. I guess she wanted people to know that her family can afford private school.

Wendys's Lifetime Want is to be a Hall of Famer. That seems to fit well with her love of money since Hall of Famer is one of the best paying jobs.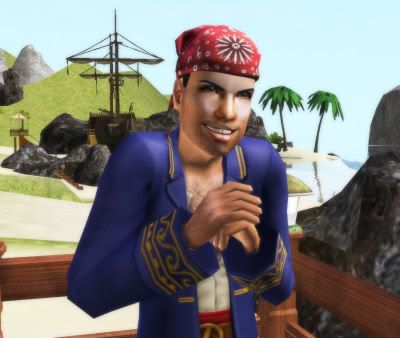 Since they're at Twikkii Island near an old pirate ship wreckage, and Rudy is a Space Pirate, he decided to try a new look. Rudy wants me to remind you that even though he's a hot pirate, he's also an
evil
warlock. Right.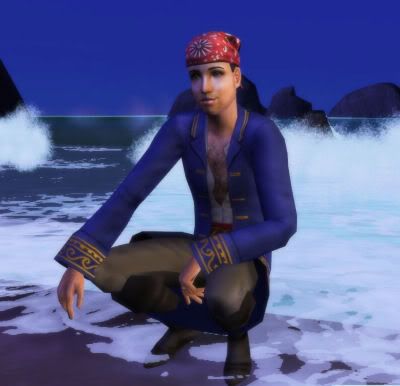 Okay, now he's just showing off too much. If you notice chest hair on Rudy in some of these pictures, I had a hack for awhile that let me add body hair on males. Unfortunately, it doesn't tend to stay on, so I gave up. It's too much trouble to have to keep putting it back on all the time.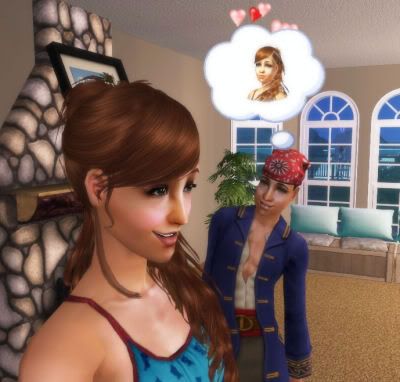 Rudy still thinks his wife Zoe is really hot. Three bolts of attraction between these two means they are all over each other constantly. And with ACR, well... they are very busy. At least they have been faithful all these years. Once Rudy married Zoe he forgot all about his old lady obsession. I haven't seen him lunge at an old lady in ages.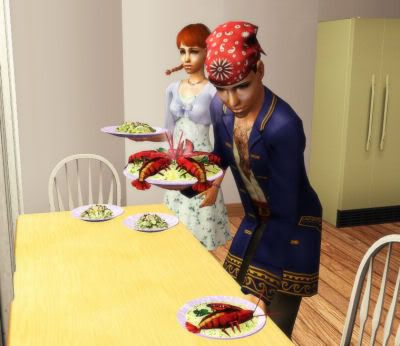 Wendy's was proud of herself for making dinner for the family, however she looked a bit put out when she saw her dad had outdone her salad with his 10 cooking points by making lobster thermidor.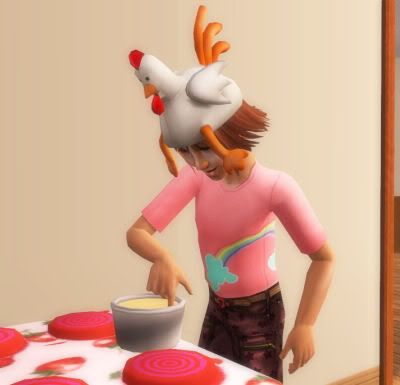 I love to watch sim kids bake, and stir the batter with their index finger. The Rip Co. Little Baker Oven is probably my favorite thing for kids.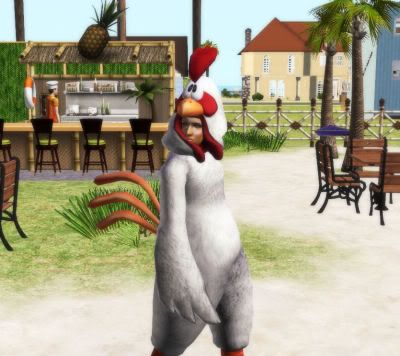 Wow, that chicken looks familiar. I'm not sure if you'll recognize him, though. Huh, I didn't know the "chicken man" lived in Twikkii Island. Or maybe he's a tourist like the Fletchers. Anyway, the chicken man is likely to be a part of Apple Grove's future. That's all I'm saying for now, though.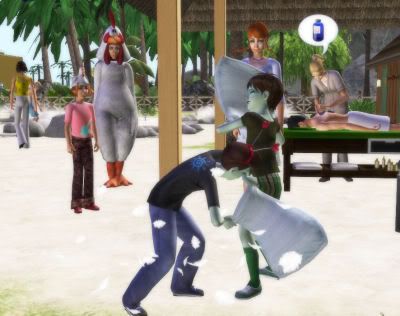 That's Rudy in the background learning hot stone massage. It has to be difficult to concentrate and/or relax with the kids pillowfighting, and a grown man walking around in a chicken suit.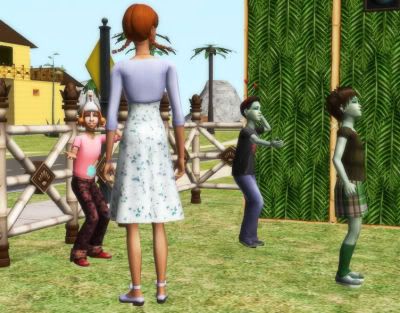 I'm glad Jack-in-the-Box got them started on learning the hula. It's autonomous on the community lots in Twikkii Island, and sometimes it seems like (understandably) no one is in the mood to hula. I'm not sure if Jack started it, or if it was a local person, but I had Applebee's and Chick-Fil-A join him as soon as I saw him learning it so they can teach the others and they can all earn the vacation memory.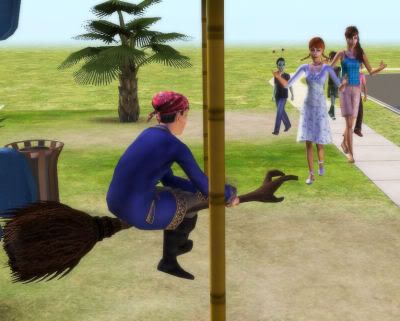 Everywhere they go, Rudy flies on his broom separately from the rest of his family, and then waits for them to catch up with him.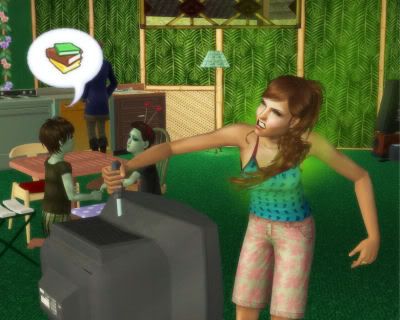 Fixing the witch doctor's TV really made Zoe smelly and angry. At least she got a voodoo doll for her efforts.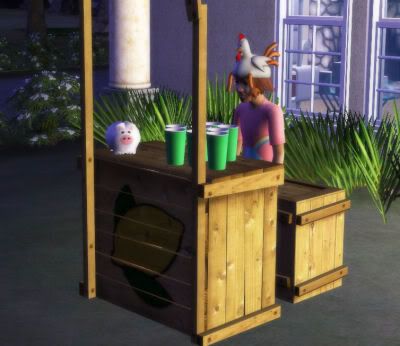 I found out they can sell lemonade on vacation. They didn't need the simoleons, but the lemonade stand was just a way to pass some of the time and give the kids some aspiration points, as they usually roll up a want to sell it if the stand is on the lot. It seemed like the lemonade made by Rudy (with maxed cooking) attracted more customers and sold for a higher price than what the kids made. Once Rudy made it, anyone could sell it.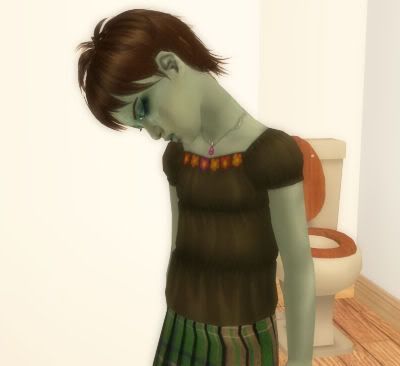 Poor Applebee's tried to do too much one day, and fell asleep standing up in the bathroom.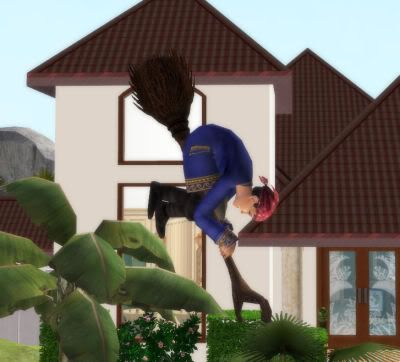 Rudy really loves showing off on his broom.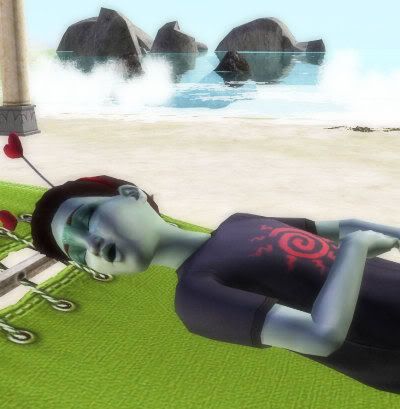 They enjoy taking turns sleeping out on the hammock. Unfortunately, they can get too hot out there.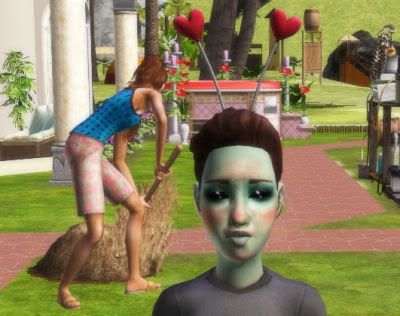 Jack-in-the-Box got overheated. It got really hot again on Twikkii Island like it was when Brian Tucker and Dagmar were there. I had to keep checking on the Fletchers and sending them inside for a drink of water. So, I decided to try out something really cool, an
air conditioner
from Simlogical. It really works! And what I love most is that sims who are too hot will go and stand under it to cool off
on their own
. Once I installed the air conditioner, they would periodically go stand under the air conditioner and cool themselves off. It's supposed to also work in the winter as a heater. Love it!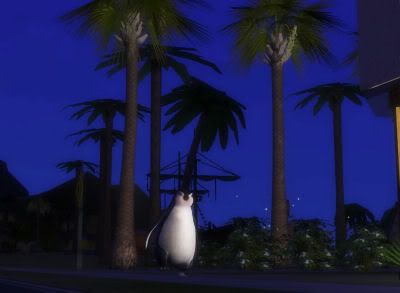 I don't know that I've ever seen the penguin come to Twikkii Island before, but he showed up on the last day of their vacation. Weird.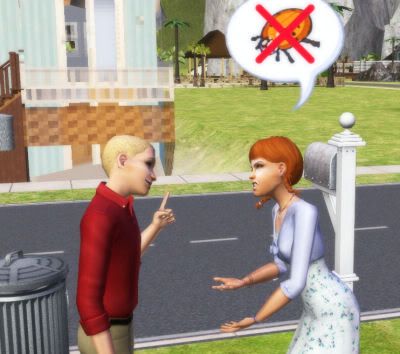 Right before leaving their vacation, Wendy's started up a heated argument with this guy about ladybugs. I can't find that much passion about ladybugs, but she was adamantly against them. I do agree that they're sometime a nuisance in the fall when they start getting into the house.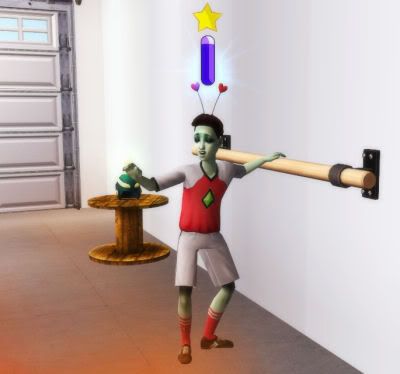 Soon they returned home. Jack-in-the-Box decided to use the ballet barre out in the garage, and since he had studied Physiology, he was able to max his body skill
very
quickly.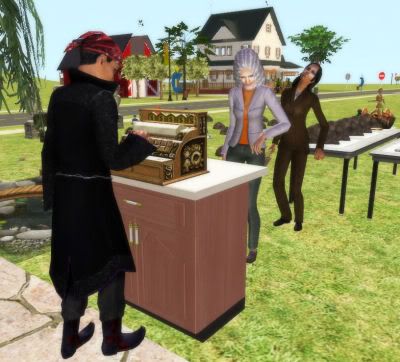 While on vacation, they dug up a lot of stuff while looking for treasure chests. Only Rudy has found one so far - maybe because he's a pirate. In the process of digging they gathered up a ton of useless junk. Rudy decided to open a home "yard sale" business selling mostly bones and rocks.
After a sim day of trial and error, I learned that these shelves were the only way to really sell the rocks and bones. Otherwise I just saw a bunch of stomping and waving from the customers. Unfortunately, it was dusk before I figured that out, so it was time for the yard sale to be over. Also, it stinks to have to invest that much in these shelves. It will take a lot of rock-selling to pay for them when it should be possible to sell rocks and bones right off the ground.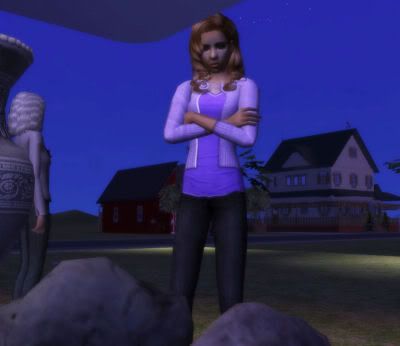 Rudy still had a few last customers. This is the new and improved me, buying a rock. Well, at least the rock I was buying was priced "ridiculously cheap". At least if I'm going to waste money buying a rock, it should be a bargain.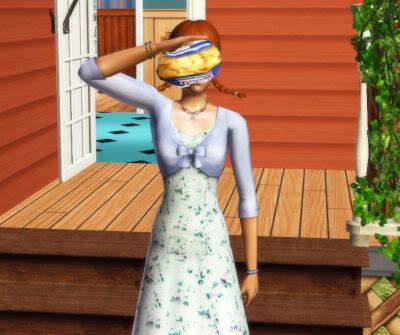 I never let my sims eat chips, so I was really surprised to see that on her way to throw the bag away, Wendy's held the bag up over her face in a recognizably human way to get the remaining crumbs out of the bag.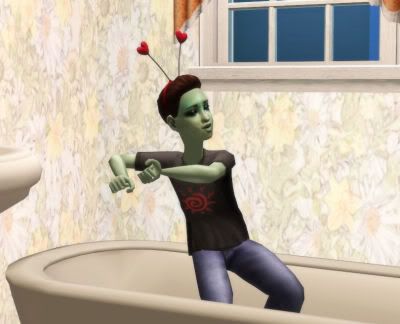 Aww, Jack is a bathtub pirate. I'm really fighting my control freak side and trying to loosen up so I can enjoy these moments.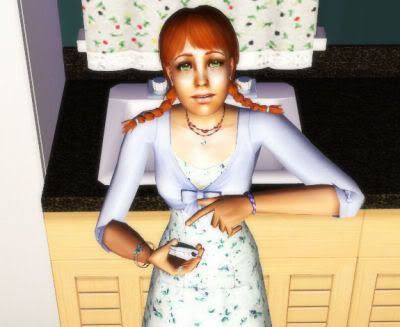 I loved the way Wendy's looked at me when I had her call to leave for college. She's looking at me like, "Really?" She has just turned 19, so this time I remembered pretty close to the right time to send her.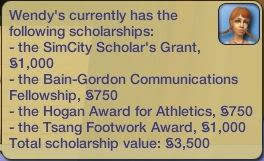 I was proud of her for getting a few scholarships.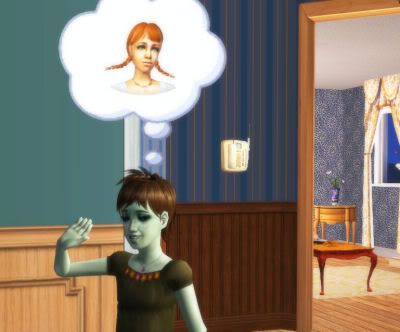 Applebee's waved goodbye to her big sister.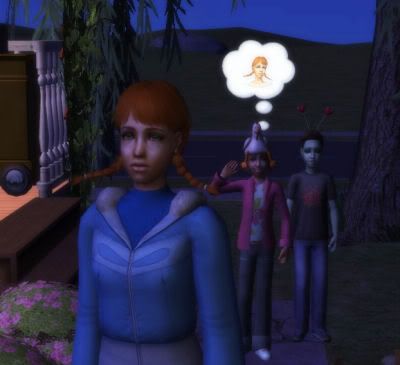 And Chick-Fil-A and Jack-in-the-Box followed her outside to say goodbye. Wendy's actually doesn't look that happy to be leaving. She looks scared, and maybe a little nauseous.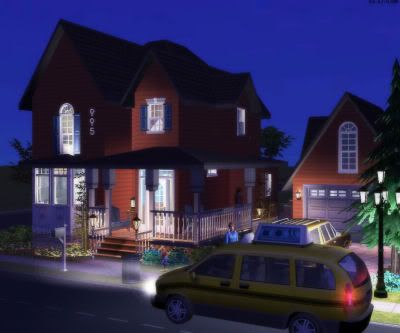 I guess that even though she grew up in cramped quarters, she really does love her home and family very much. But I think she'll be fine once she gets settled at University of Applebama.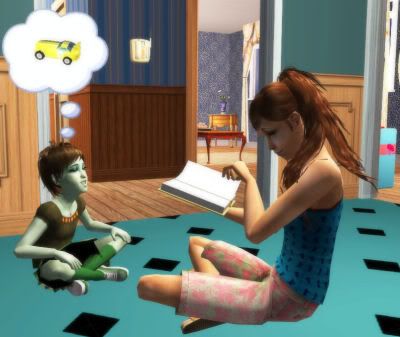 This is another thing that never happens to my sims. I always cancel it out when they want to read to kids because it seems pointless. But, it is pretty cute, and Zoe did all the voices.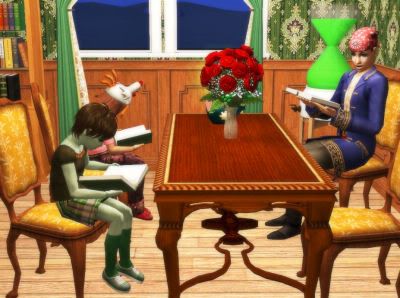 This is more like what usually happens, especially in a family with knowledge sim parents, but it's kind of boring to watch.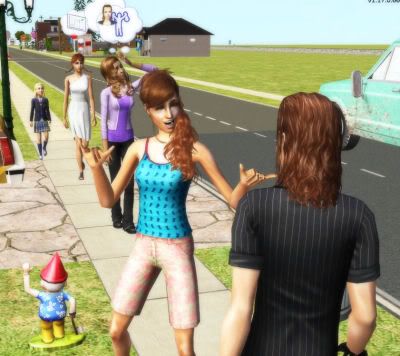 So I decided to let them try something else they
never
get to do. Today Chick-Fil-A turns 11, and Zoe decided to throw a birthday party for her. Zoe is glad I'm letting her hang loose a little. It makes her much less boring. She invited her brother Brian Tucker the Rock God, me (in the purple swooning over Brian), Wendy's who arrived back from the university thinking this was a toga party instead of a birthday party, and little Blondie Tucker, Brian's (sort of) daughter.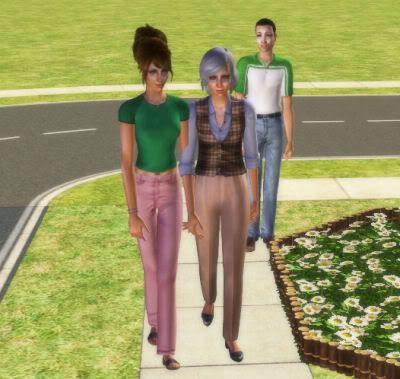 Coming from the other direction is Zoe's twin sister Kimberly (Tucker) Shibata, her mother Catherine (Tucker) Todd, and her other brother Martin Tucker. Only Catherine lives in that direction, so I guess they were visiting with Catherine and walked over together.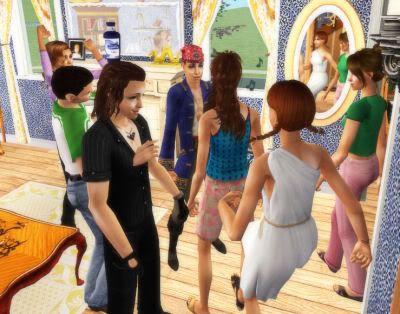 It was so crowded in the living room, but everyone had a "not bad" time dancing while waiting for cake. Even Brian had a decent time despite the awkward hand through his chest by his brother Martin. I think Wendy's wore the toga to the party to show off that she made it into Greek house at the university.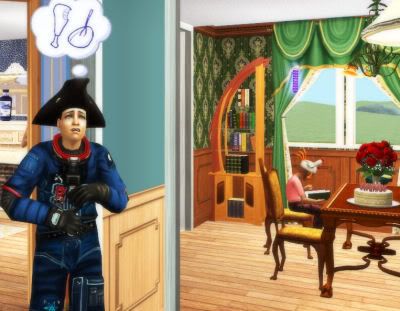 If you can see her on the right, Chick-Fil-A is spending most of her birthday party sitting at the table studying physiology as a last minute aspiration boost to grow up in platinum. It's my fault - I should have checked her aspiration before starting the party. Unfortunately, it's taking her longer than expected to finish, so Rudy is starving.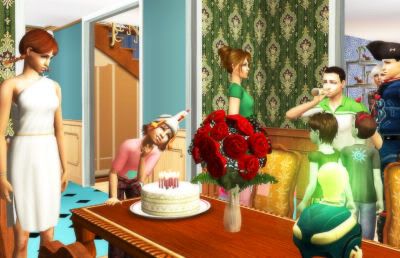 Finally it was time. I was hoping she was wishing for a good aspiration...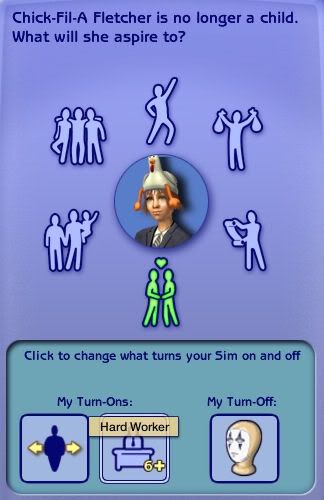 But she rolled romance. Her secondary is knowledge. I did change her second turn-on, because she was attracted to fatness
and fitness
which seemed ridiculously contradictory, so I rolled my die a few times to choose a second turn-on, and got hard worker. She is turned off by full face paint. So, she is attracted to fat, successful guys who aren't clowns or mimes.

I'm so glad her LTW is not related to her romance aspiration. Her story should be interesting, as she's going to try to be a rockstar who wears a chicken hat. This would probably not happen in real life, I suspect.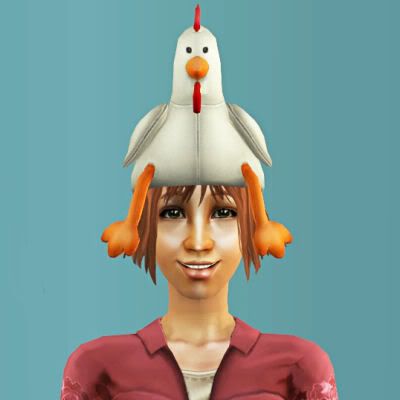 But she is a pretty girl despite the chicken hat.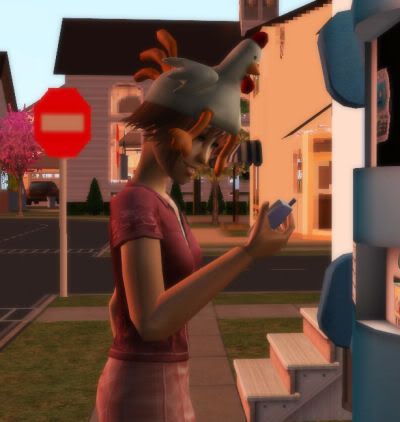 I let her go buy a phone, and since she wants to be a Rock God, allowed her to get an mp3 player too.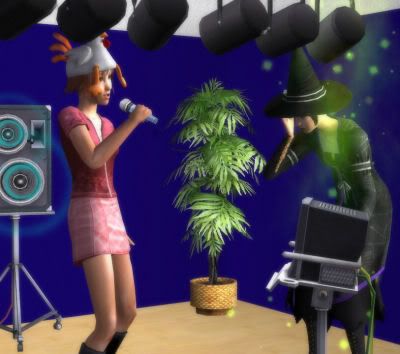 She was so excited about her Lifetime Want of becoming a Rock God that she went down and sang some karaoke. She has about one creativity point, so she really sucks. She's going to have to practice for a long,
long
time. Sophie was really annoyed having to listen to her, and was contemplating turning her into a toad if she didn't give up the microphone soon.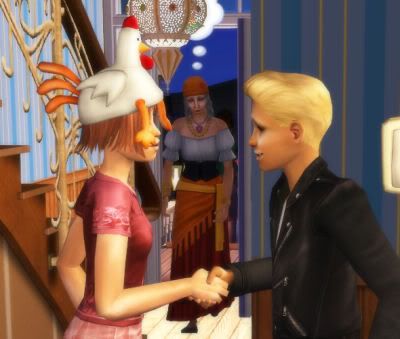 Chick-Fil-A wanted a first kiss, so she paid the matchmaker §5000, and she got a date with Pierce Zarubin. There's only one bolt of attraction, but when I checked the crystal ball, there is no greater match for Chick-Fil-A, at least while she's a teen.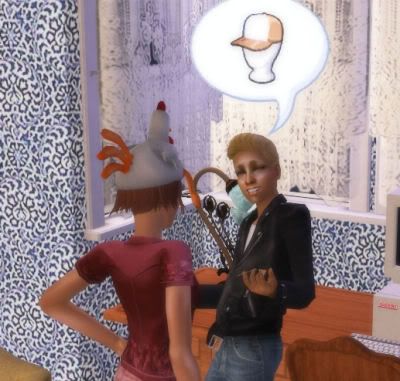 Pierce thinks girls in hats are really hot. Even chicken hats are hot. He's a special person, LOL.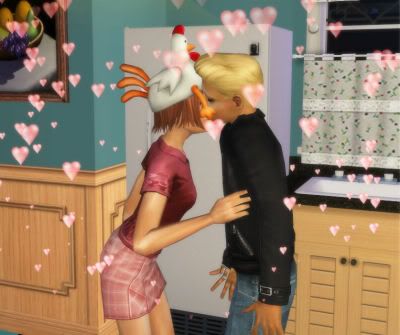 And the date went so well that Chick-Fil-A was able to get her first kiss and a dream date, and that was with just the one bolt of attraction between them. Ironically, her aunt Kimberly got her very first kiss from Pierce many, many years ago. I think it might be about time for that boy to go to college. Maybe I'll send him when Chick-Fil-A goes.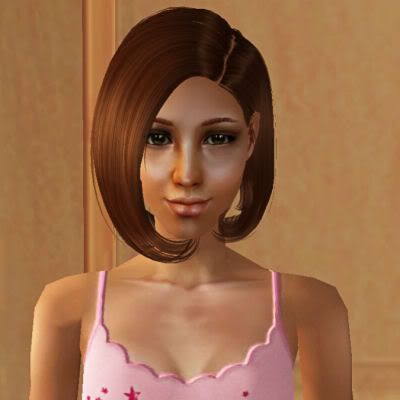 Chick-Fil-A only has to wear the chicken hat for her everyday clothes and her outerwear, so this is the hair she has for her other clothing. I don't know why I initially gave her red hair other than that I gave red hair to her sister Wendy's. I've finally changed it to her natural haircolor of brown.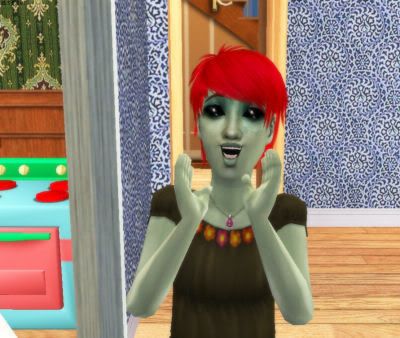 And I changed Applebee's hair to bright red (like a florescent apple, LOL) so she would fit in better with her siblings who all have some burden to
bear
wear. And she actually loves the bright red hair, so that's good.
The best thing about this update is that I
finally
got completely caught up with my blogging, and I was able to go and play most of this round. The Fletchers had been stuck on vacation in Twikkii Island since February 16, 2010 - my time. ;)
Scoring: +6 Rudy and Zoe - all Lifetime Aspiration Benefits, +6 Rudy and Zoe - Max All Skills (Impossible Want) I'm not sure they earned these in this round, but this is when I noticed.