When we last visited the Shibatas, they had just moved into this new house. At the time they had a toddler daughter name Honey and they were
both pregnant
. They each gave birth shortly thereafter. Ravi had an Alien daughter named Desire, and Kimberly gave birth to twins, Adore and Cherish.
And so here are the Shibatas at the beginning of Round 6. The year is 2020.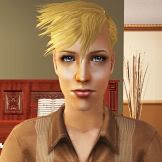 Ravi Shibata, 40, Adult Romance, LTW: Marry Off 6 Children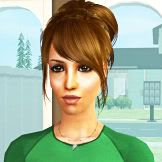 Kimberly (Tucker) Shibata, 46, Adult Romance,
LTW: Professional Party Guest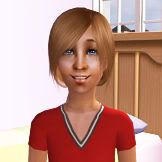 Honey Shibata,
almost
11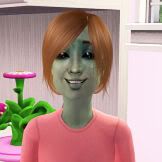 Desire Shibata, 6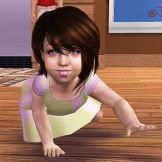 Adore Shibata, 4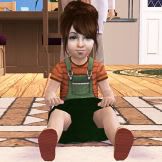 Cherish Shibata, 4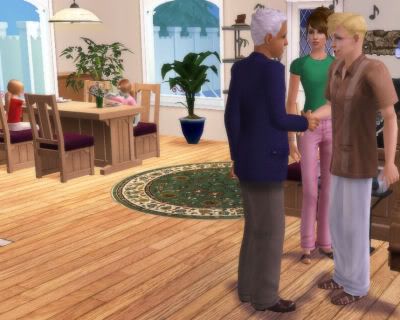 The first order of business was to get Honey and Desire into private school.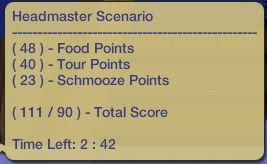 Fortunately, they had no trouble at all. The Headmaster, Barry Terminal, found the food, tour and schmoozing to be more than adequate.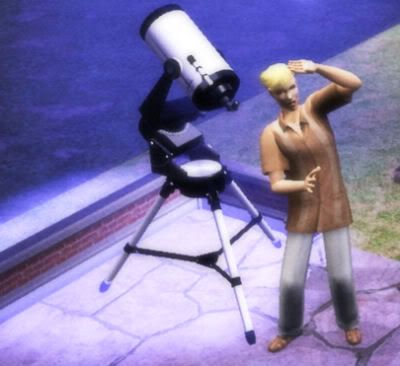 Ravi loves stargazing, but he's a really popular guy with the aliens. In the last update, they had come and abducted him again.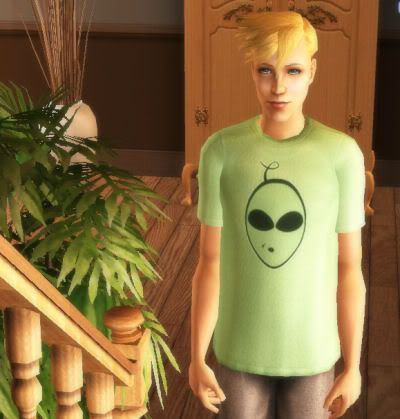 And it now it looks like their family is definitely about to get a little larger, as he's wearing the telltale t-shirt.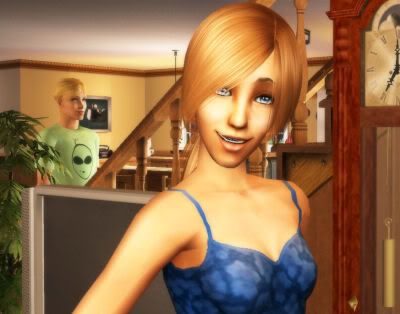 Ravi looks on as Honey becomes his first teenage daughter. With 4 girls already, his hair is sure to soon turn grey. According to
Time Reckoning
, Honey will turn 18 in 2027, which is the first "day" of Round 7.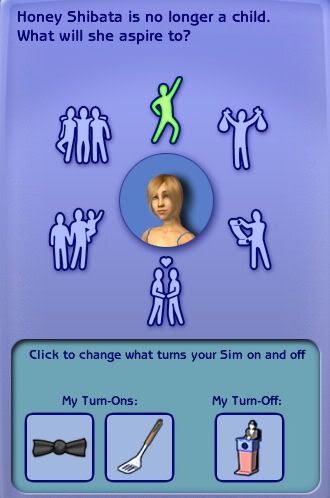 Honey wants to devote her life to fun as a Pleasure Sim. She's attracted to formalwear and good cooking, so I assume they would need to also wear an apron. She doesn't like people with a lot of charisma. I assume politicians are
not
her type. I can totally understand that.

Honey wants to have 6 grandchildren. I guess it makes sense since she has Family as her secondary apsiration. I may have to have her reroll, as I don't want to overpopulate Apple Grove too much.

It's so funny that flamingos are considered garbage. I love to keep them in the yards for a quick gain of fun with macrotastics when sims kick them, but forget to hide them when the garden club comes over.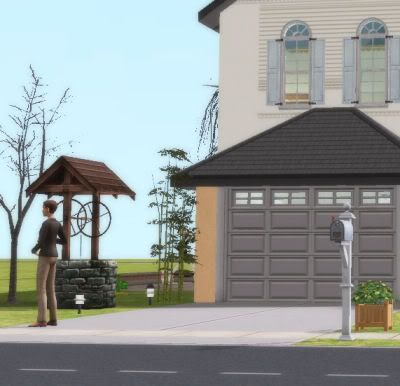 Thankfully, Ravi still made it into the garden club with no problem and he even earned the coveted wishing well.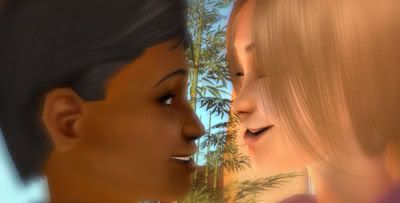 Honey wasted no time making a wish to get her first kiss with this boy, Stephen Dalton.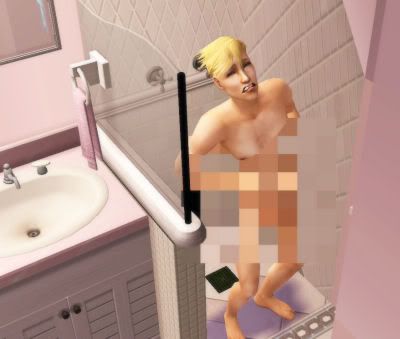 Naked, and in the smallest possible place, Ravi gave birth while in the shower. This kind of thing is what usually happens to my sims when they give birth.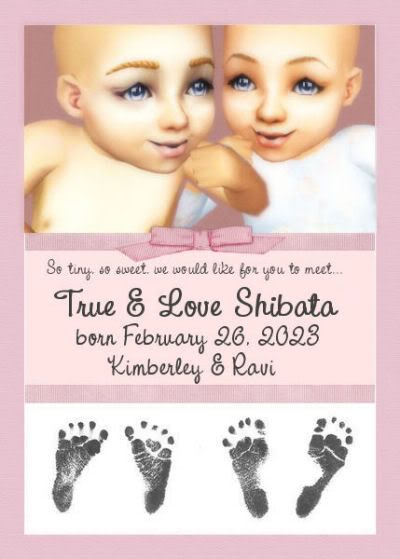 And he was in for quite a surprise, as he not only had twins again, but he now has 6 girls. Also, True and Love are aliens, but look completely human. Unfortunately, there is still no male heir. They may have to try adoption once the older girls leave for college. The Hamiltons had the same problem, and finally adopted their son George who became the heir.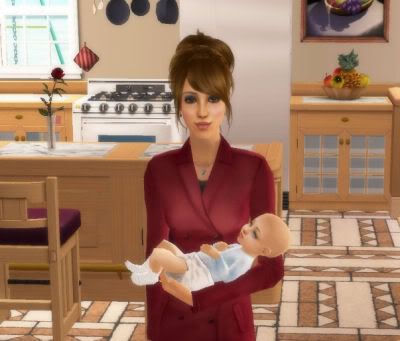 I have no idea which twin girl this is, but Kimberly tried to take her to work.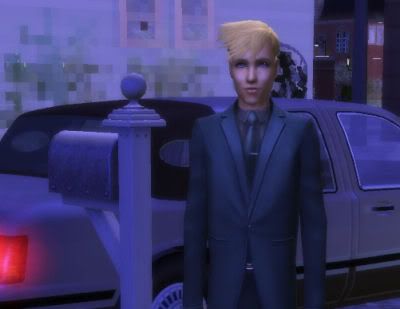 Ravi finally reached the top of the Culinary career track as a Celebrity Chef.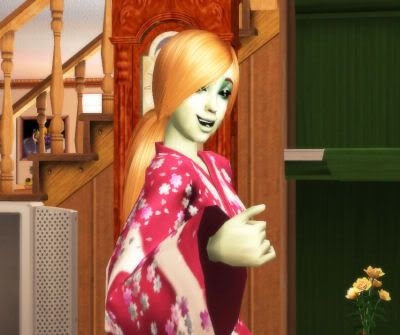 Desire stood in the same spot as Honey as she celebrated her11th birthday. She has always tried to do everything the same as her big sister Honey. Thankfully, they are now friends despite Desire's obsession with copying her big sister. I guess Honey finally understands that "imitation is the sincerest form of flattery."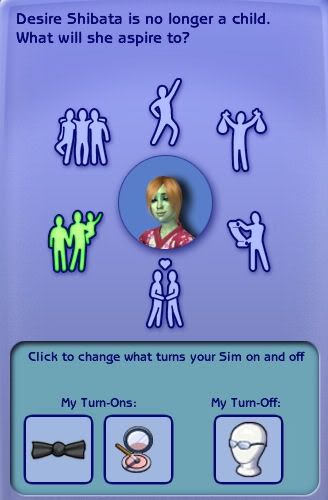 Desire wants to be a Family Sim. Her secondary aspiration is Romance. She's attracted to formalwear and makeup, but doesn't find glasses attractive.

Not again, Desire! Don't copy this Lifetime Want! All these teens are conspiring to make Apple Grove HUGE. I don't think they ever want me to finish the Prosperity Challenge. Thank goodness for college and a chance to reroll.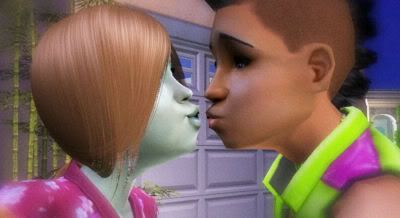 Since Desire's into Romance, she is in a hurry to get her first kiss. The guy with the mohawk is Magnus Danaher.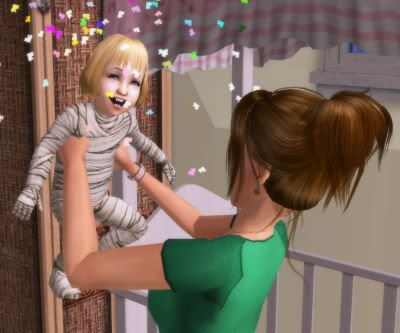 True grew into a toddler in the mummy costume.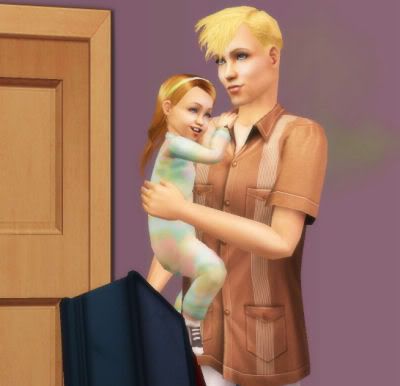 Love grew up to toddler, and clung to her dad. He almost took her on vacation with them, but they had their butler Adrian Andrews stay home with the twins.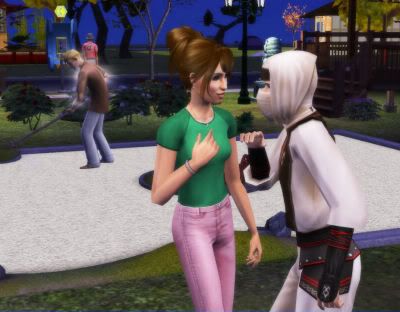 They went and did all the usual stuff on vacation, including chasing the ninja around town to try to get him to teach them to teleport.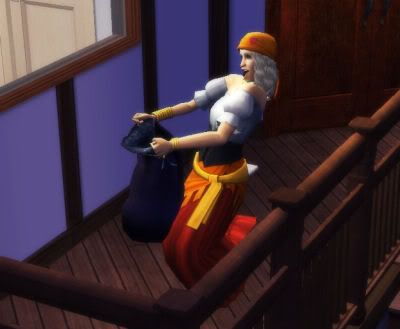 The matchmaker followed them all the way to Takemizu Village to bring them a lamp.

It's weird that the lamp can be delivered to them while on vacation, but can't be used there.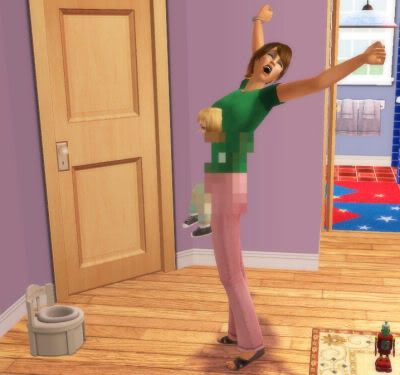 And as we are leaving the Shibata house, they get the potty glitch. True is sitting
inside
Kimberly instead of on the potty.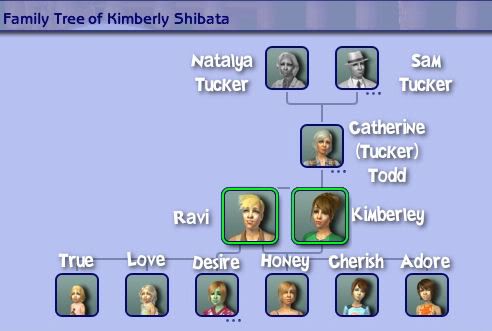 As we leave the Shibatas, 7 years have now passed, and it's 2026. Here is an updated family tree.
Scoring: +4 Ravi, Kimberly, Honey, Desire - Nature, +2 for adding True and Love to the neighborhood, +1 Ravi - top of Culinary career. The population of Apple Grove is currently 69, with a total population of 72.