When we last saw Sophie, she was in labor. I left her in labor for an entire round. But she had had an affair with my sim daughter's husband Elmer Cormier, so I felt justified in torturing her for a good looooonnnngggggggg time. Besides, she got a lighter sentence than Elmer, as I made sure he got eaten by a cow plant.
Okay, so now after all this time she is finally allowed to give birth.
But wait... cross your legs a minute Sophie. I have to put in the pictures of your family:
Daniel Graham, 39, Adult Popularity, Occupation: Police Chief, LTW: Captain Hero
Sophie (Fletcher) Graham, 44, Adult Pleasure, Occupation: Cult Leader,
LTW: Woohoo with 20 Different Sims
Havelock Graham, 10
Okay Sophie, now you can really have the
bab....
Babies!
I was surprised to see she was going to have twins. This house is fairly small, but I figured with some rearranging I could get 2 cribs in it. It would be pretty crowded, though.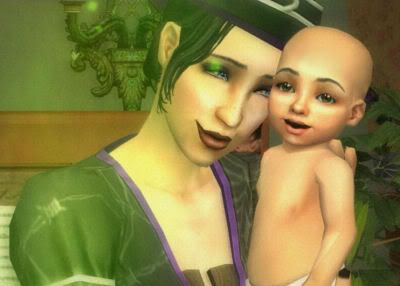 So here's the first baby, a girl...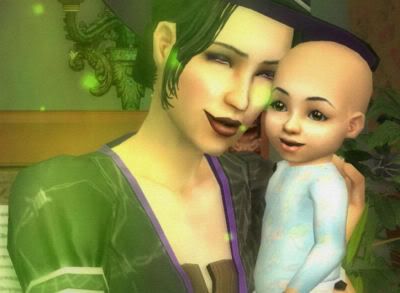 And then a second girl...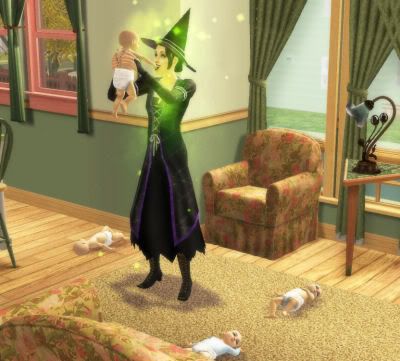 And then, holy crap! Four babies! I forgot I had TwoJeffs Triplets and Quads hack in, but it has only ever has happened once before in the years I've had hack, and never in Apple Grove. So, WOW! And I promise it was a totally random occurrence and nothing I had planned.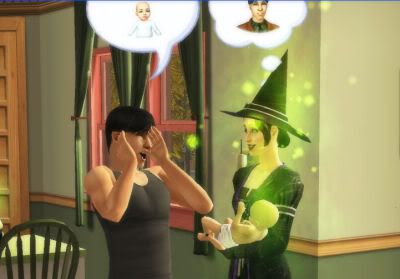 Daniel is so excited about the babies. There are two girls and two boys, so Sophie was finally able to get the girls she so desperately wanted to have. Sophie handed off the last baby boy to Daniel.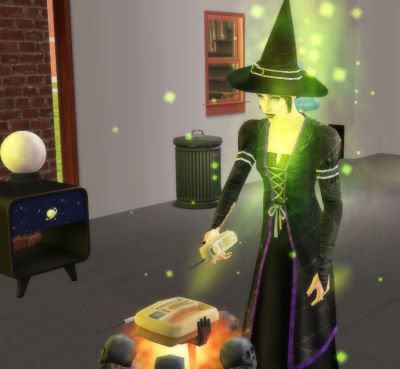 And then she headed down to the basement garage to make a phone call on the "special phone" she earned at work.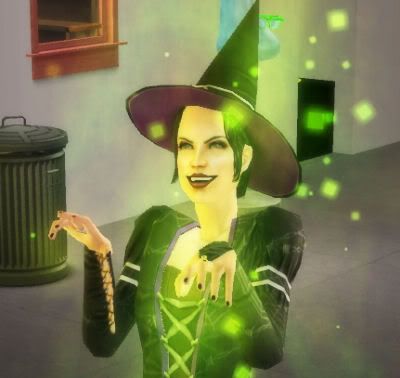 Uh-oh, what is she up to? It can't be good.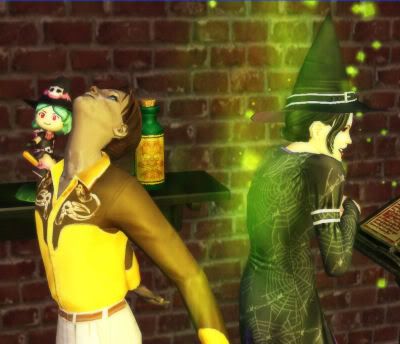 Oh, I see she resurrected Elmer Cormier, but didn't pay the grim reaper anything at all, so he's a zombie. Yuck, I don't like zombies. The good news is that with Elmer alive again, I haven't broken a Prosperity rule. I broke a cardinal Prosperity rule when I killed Elmer. I had no intention of bringing him back, but for the creature bonus I need a zombie at some point. Who better to be a zombie than Elmer? Who better to live with a zombie than Sophie? They wanted each other so badly, that I'm going to give them what they want... sort of. Muhahahahaha!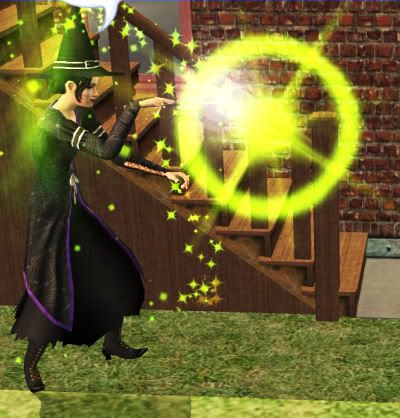 So then Sophie cast a spell on him...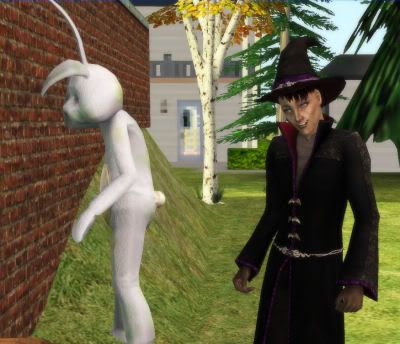 And now he's a wizard-zombie who's seeing an invisible bunny. Yay, one less point for me. I think he did that on purpose just to spite me for feeding him to a cow plant and then turning him into a zombie. Some sims are just so sensitive.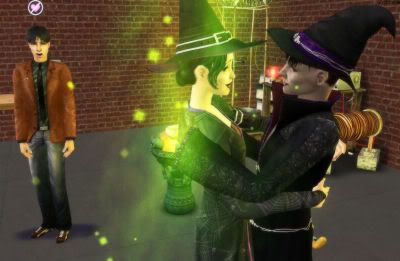 When Daniel finally came downstairs to find her and ask her for some help with the four babies, he found his rotten wife in the rotting arms of Elmer. It was too much for him to take. His heart was finally broken.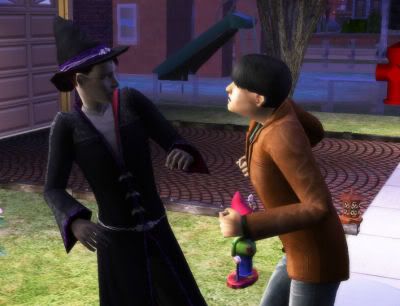 Daniel really hated Elmer right then, but he didn't fight with him. Maybe he's freaked out by zombies and afraid pieces of Elmer might come off in his hands.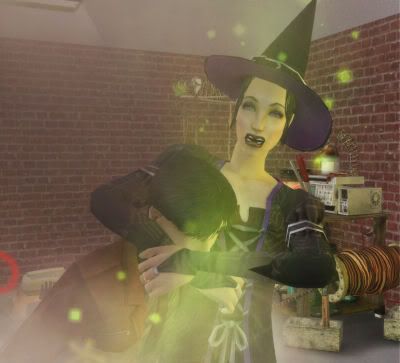 Instead he got in a fight with Sophie. Since they both have maxed out body skills, they're fairly evenly matched.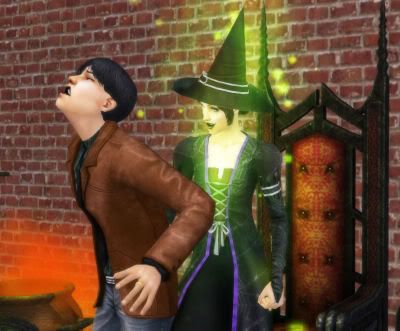 But unfortunately Daniel lost to Sophie despite all his law enforcement training. I guess all that evil in her gives her an edge.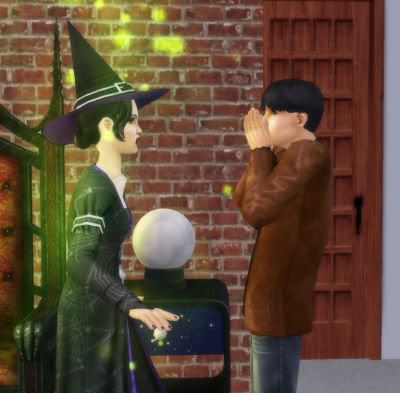 He can hardly believe he is married to such a... such a...
witch!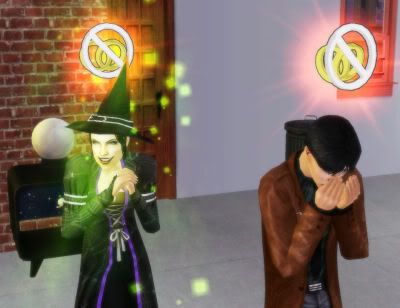 Clearly, she was happy that their marriage was over. She told Daniel she wanted him to take his Captain Hero-aspiring butt, and their three sons, and get out. The girls would stay with her.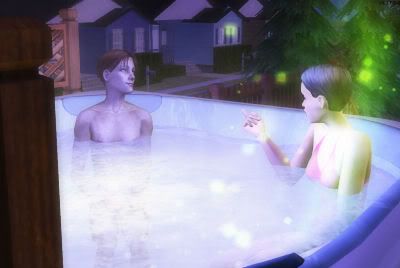 And of course, Elmer would stay. This was where Sophie and Elmer sealed their fates in the last round. How are zombies able soak in the hot tub? That can't be good for what's left of his skin. Yuck.
Daniel comes back every day and steals the newspaper, because that will
really
show them.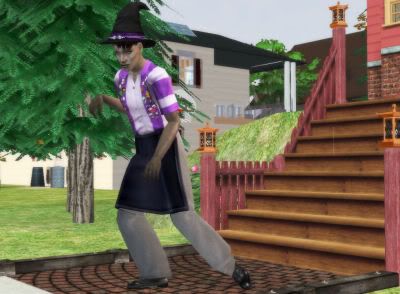 It takes Elmer a really long time to make it to his carpool. He still works in the Culinary career track. I want to know what restaurant would hire a zombie. I also want to know who would eat food served by a zombie. Also, what is the hand-washing policy for zombies? Do their hands actually get cleaner when they wash them, or do they just fall apart faster? Sorry, these are the kind of questions that concern me.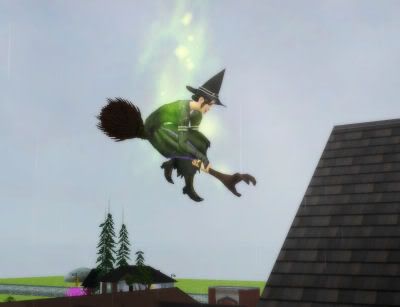 Sophie left the girls in the
capable
rotting hands of Elmer, while she flew to the Sorcery Shop to make some sales.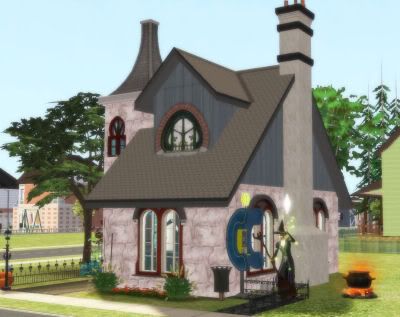 Sophie's Sorcery Shop is a not-so-profitable business that sells crafted witchcraft items. It takes a very long time to make the crafted items to sell, and then she never really has the reagents to do the fun spells. I think in the next round Sophie will try converting her shop into to some kind of venue with a ticket machine.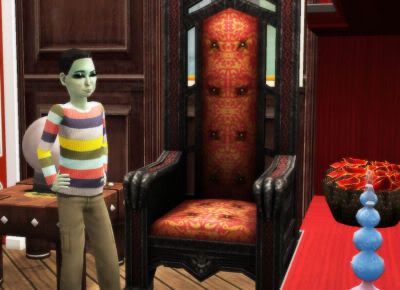 See, Lime Jeffress is thinking he may never really have a use for Essence of Light or Dragon Scales. The witches in the game never shop here. They never have any money, and the evil witches just set things on fire.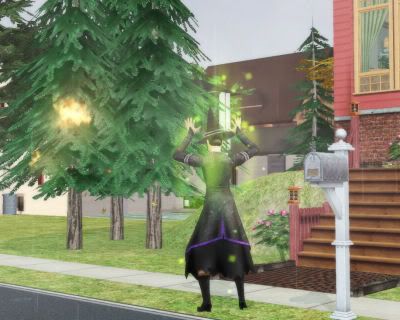 Speaking of fire, I can't remember if Sophie is using her magic for setting a fire or putting it out. I'm going to guess since those are
her
trees, she's putting out the fire, LOL.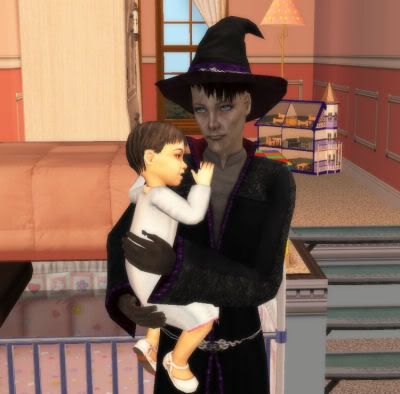 Soon it came time for the girls to become toddlers, and Elmer is just looking thrilled to be the live-in nanny. BTW, this twin is named Blair.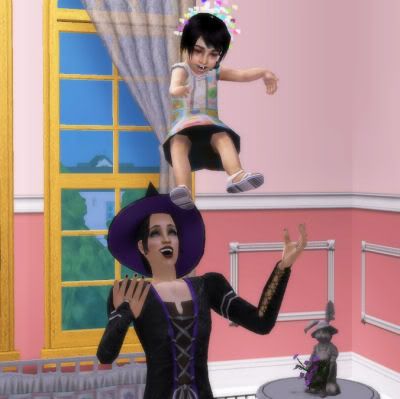 And this is Airell who Sophie is trying to teach to fly.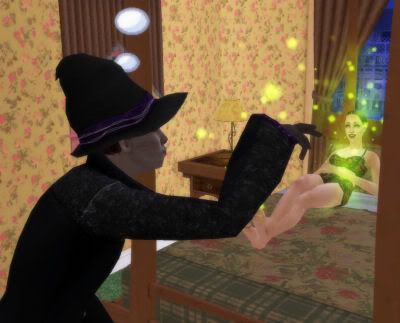 Elmer thinks Sophie's still got it, even though she's just a couple of years from becoming an elder.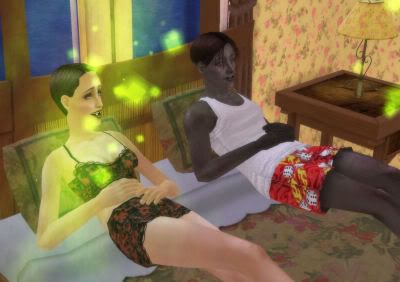 Yes, she actually sleeps with her zombie. Yuck. I guess that is how she keeps him as her personal slave. The butler was getting too expensive, so it's good to have Elmer there for childcare and chores that she doesn't want to do.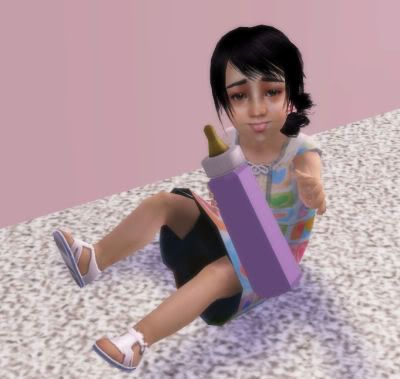 Airell is beginning to learn to levitate objects now.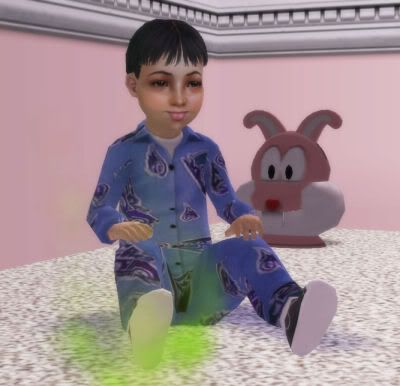 And Blair is learning repelling
spells
smells. But that's really nothing remarkable. I think all toddlers know how to do that.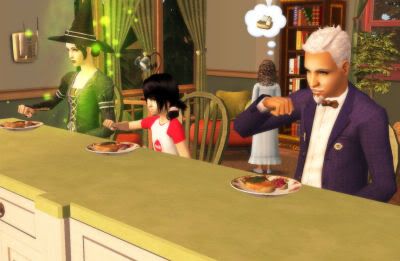 Finally, the girls are children. On their birthday, Sophie invited over the headmaster for a porkchop dinner.
I think it would be interesting if the headmaster contacted the authorities when he found that a home didn't have a suitable environment.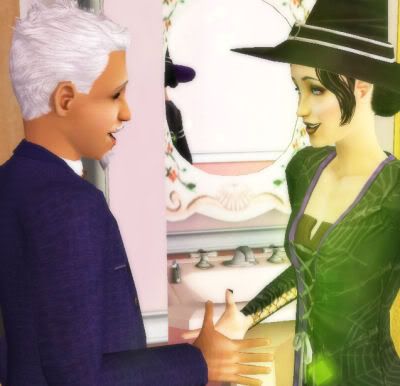 Anyway, despite any misgivings Headmaster Terminal may have had about this family, he still approved the girls for private school. I'm sure it helped that Sophie used to be the Minister of Education - or that she's currently a scary witch/cult leader.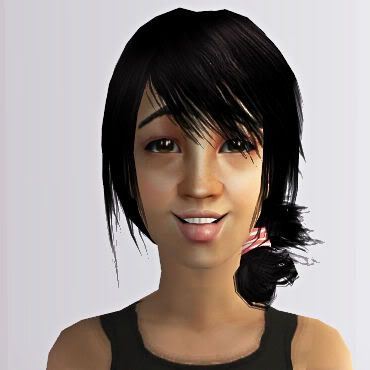 Here are some better pictures of the girls. This is Airell again, and she's a Libra with
(5 neat - 9 outgoing - 4 lazy - 8 playful - 8 nice)
And this is Blair. She's a Gemini with (5 neat - 10 outgoing - 10 active - 5 playful - 4 mean).
Sophie decided to paint her self-portrait while she's still young and beautiful, which won't be much longer. And she is beautiful. Mean and awful, but beautiful.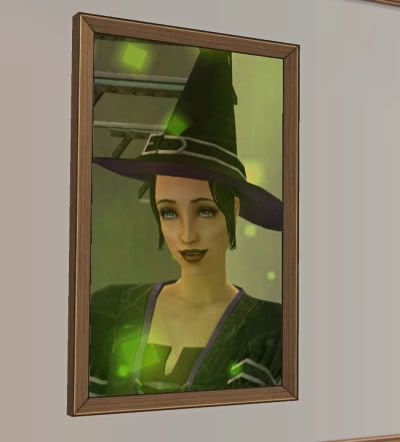 But then she did let Daniel go, which is why the update is called Cruel To Be Kind. In the long run, I think her meanness in driving Daniel away is going to be best for him. She may have just a sliver of goodness in her after all. He deserves a better life than she can give him, and hopefully he will find true happiness now.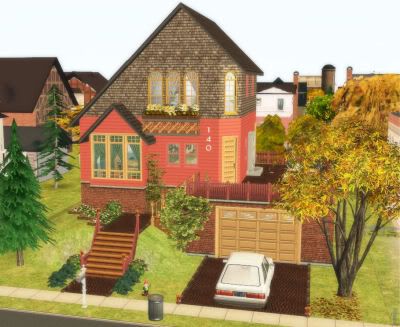 And as we leave Sophie Graham's house, we are left to wonder what the future will hold for Sophie and the girls. Will the girls ever get to know their father and brothers? Will the girls follow in their mother's path and become witches? And, can I put up with a disgusting zombie for the rest of Apple Grove's duration?
Scoring: +4 for adding the four babies to the neighborhood, -1 Elmer - social bunny. The population of Apple Grove is currently 74, with a total population of 76.