This was my first experience playing an apartment I built. There were things I liked and disliked about playing apartments. This led to me putting a hack from MATY into my downloads folder: no20khandouts. This allowed me to move my sims back out for awhile to fix some major problems I had with what I had built. I plan to keep in the hack, and plan to ignore the moving rules of the Prosperity Challenge since there is no money to be gained by moving.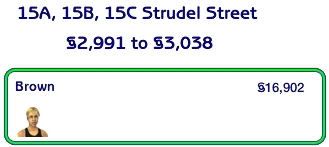 I don't really like the information panel for apartments as much. There's just not much detail.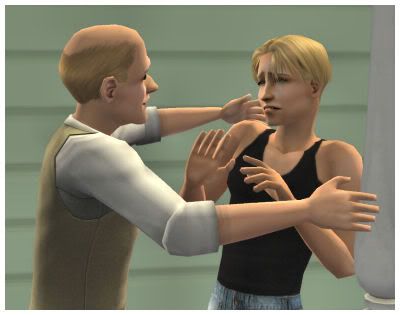 Daniel's landlord is really creepy, and is always trying to hug him. Anyway, Daniel's sister Devan is still living at the Greek house. He considered moving back into his old tiny house, but Apple Grove had some new apartments that looked nice. They were definitely larger than his old house.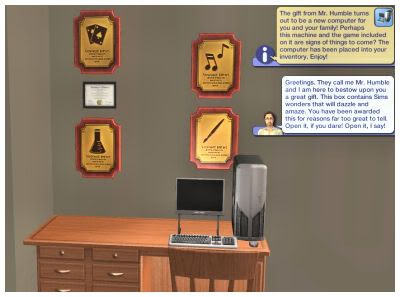 These are Daniel's hobby plaques and diploma from college and his new computer.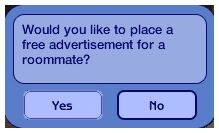 Yes, Daniel is going to try having a roommate. Hopefully he'll get a good one that won't drive him crazy.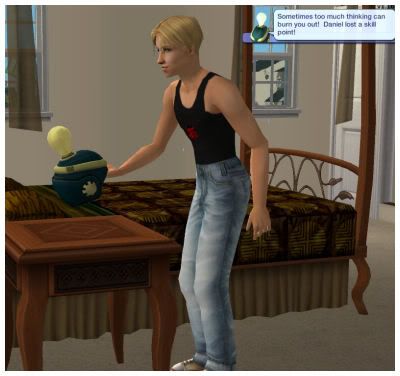 Oops, sorry Daniel! I forgot to check your aspiration before having you use the thinking cap. Go to bed now, and hopefully you'll be feeling better soon.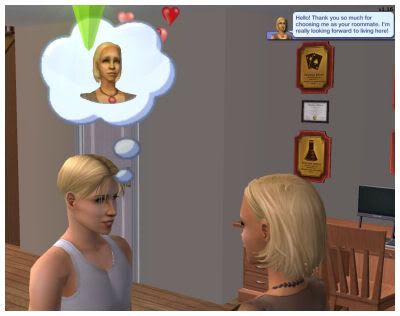 Daniel has a one bolt attraction for his new roommate... I should have taken note of her name, huh? I need to get better about that.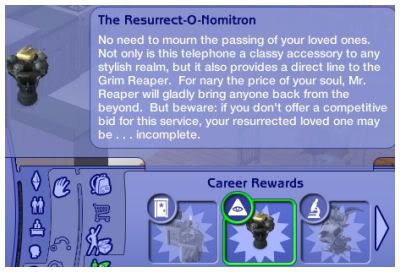 Yay, a career reward! Nobody to resurrect, but still cool.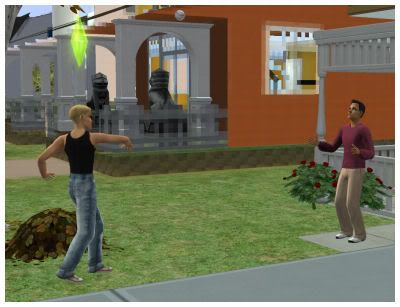 Daniel plays catch with one of his two neighbors.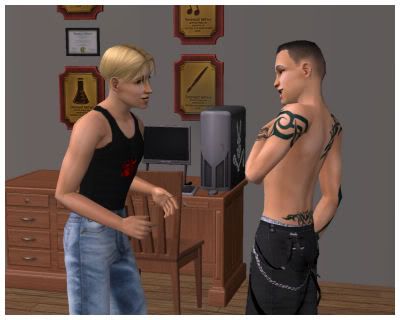 Rudy Fletcher came by for a visit and broke the computer. I always have them influence the person who broke it to fix it.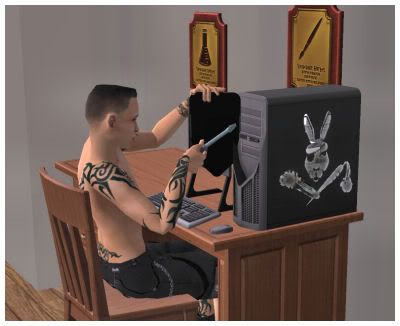 Luckily, Rudy was able to fix it without a problem.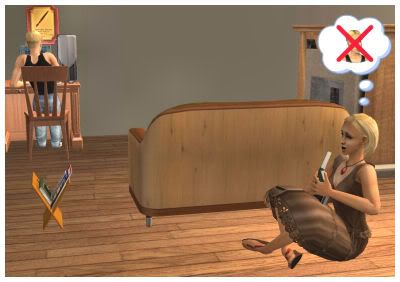 Blond Roommate Chick spends an inordinate amount of her time trying to write in her diary, but not actually doing it because Daniel might have eyes with X-ray vision in the back of his head that can read what she's writing across the room and through the couch.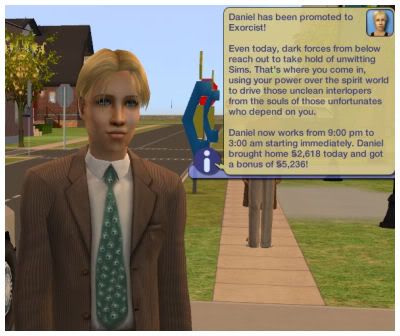 Daniel is now an Exorcist. It sounds like a scary job.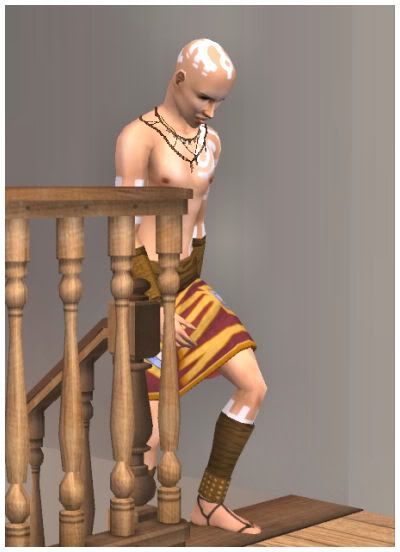 Exorcism made him very tired, but I wanted to get a picture of him before his next promotion.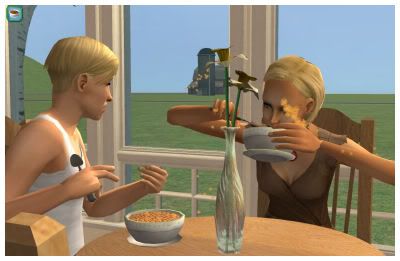 BRC is nice, but a messy sim.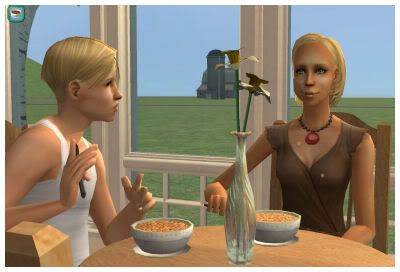 Fortunately, she does clean up after herself about half the time, which is more than what I expected from a sim with only 2 neat points.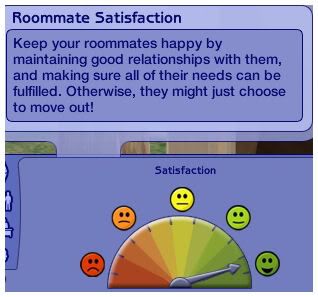 I thought I'd check this thing out, and apparently BRC is very happy with her living arrangements.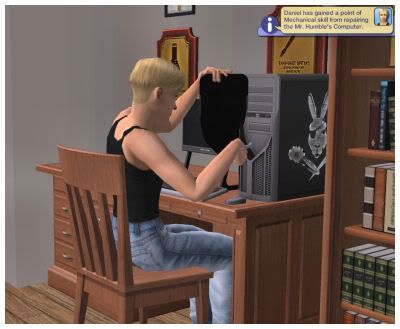 The bad thing about messy sims is that they seem to be more likely to break things. Daniel's roommate broke the computer, and he had to fix it himself because the landlord apparently doesn't, and there is no option available to call a repairman. I guess he could have influenced BRC to fix it, but since he's responsible for her happiness, I doubt frying her would make her very happy.

Creepy landlord is having an apartment gathering. Free food is good!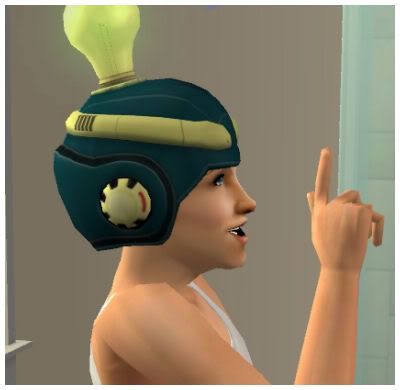 Daniel works on his charisma for awhile until he gets hungry.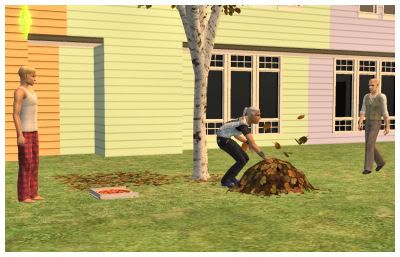 When he gets to the back yard, he's glad he didn't bother getting dressed since the gathering only consisted of one other tenant, a pile of leaves, creepy landlord, and a pizza.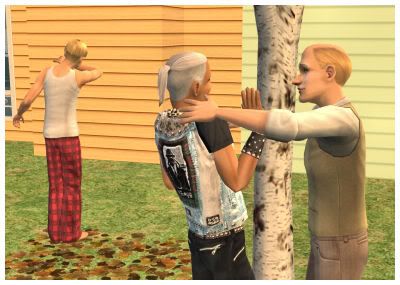 And the landlord was his usual charming self. Daniel decided to focus on pizza consumption and then he would leave.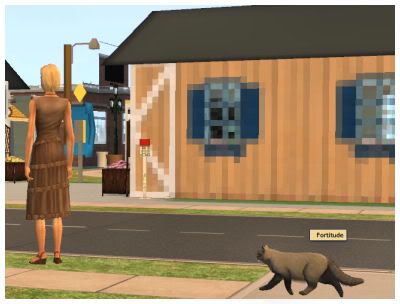 BRC is always on errands. I noticed that the Hamilton's cat Fortitude was out and about too.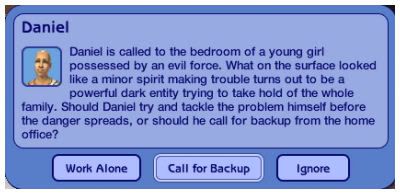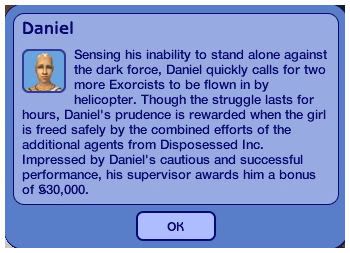 Calling for backup was definitely a good idea. I'm glad his good choice paid him a §30,000 bonus!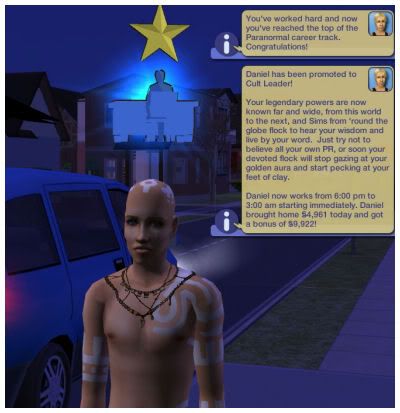 Daniel is now a cult leader. Congratulations! He has reached the top of the Paranormal career track.
Scoring:

1 point to Daniel for reaching to top of the Paranormal career.