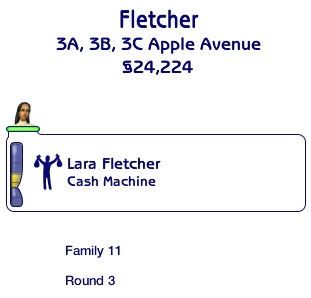 Lara is the oldest of the Fletcher kids, and the last to settle into her own apartment after college. I think living in an apartment has to go against the grain of a fortune sim anyway, as it isn't an investment to throw away money on rent, but there really weren't any available houses in her price range.

This is another apartment triplex in Apple Grove located at 3 Apple Avenue. Lara is renting 3B, which is the center apartment.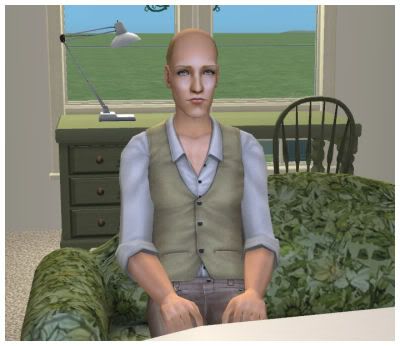 And wouldn't you know it, Dawson Leong owns practically the whole town. Another reason not to like Dawson Leong: apparently he will barge in like Adrian Mendoza did at Zoe Tucker's house and make himself right at home.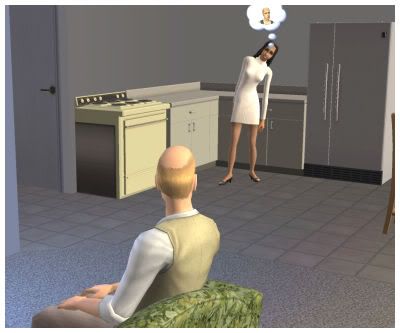 Holy crap! What is it about this guy that makes my sims swoon? He must be a romance sim, but I just don't get it. If you remember, Kimberly Tucker had the hots for him too.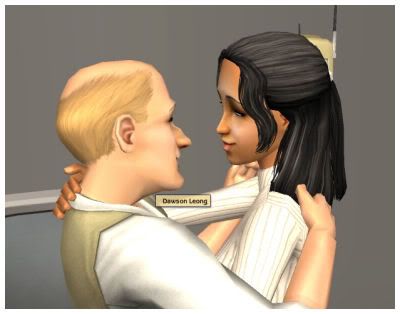 NOOOOOOOOOO! Get your mitt grubbers off my sim! I hate that if they have an attraction and you have them say goodbye - they kiss. Blergh.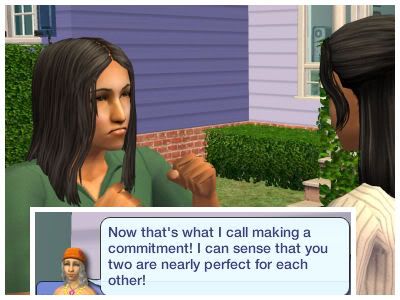 I figure if Lara can call the matchmaker and get a good match, then I won't have to worry so much about the creepy landlord. WRONG. The matchmaker with her evil sense of humor has screwed us again. Who should fall from the sky but Alec Ebadi, the guy who likes to beat up Lara's mom! Even now, he has his fists clenched. He's always looking for a fight.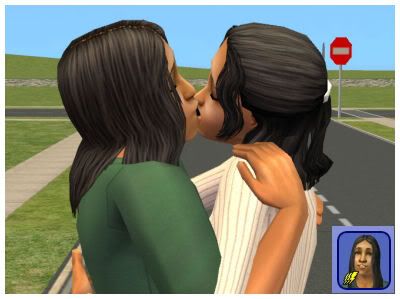 And she has 3 bolts of attraction for him. Ewwwwww, stop kissing this jerk, Lara! You were supposed to say goodbye, not suck on his face!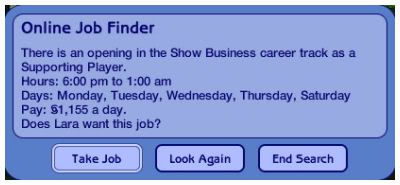 Giving up on the matchmaking services, Lara finds a good job like her brother Charles did in Showbiz.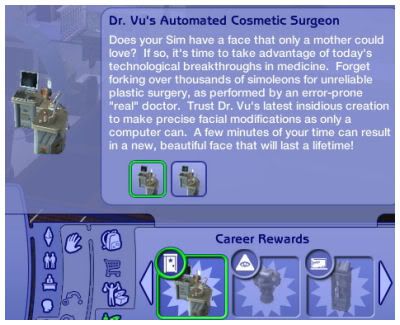 She instantly receives her own home plastic surgery machine, but she's a beautiful sim in my opinion, so I don't think she needs it.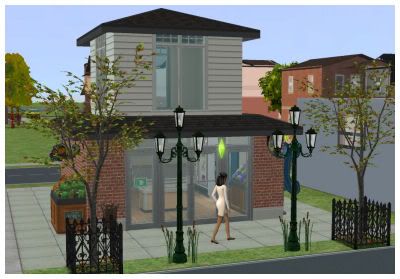 She decides to go to the Mini Mart in order to buy a cellphone, and maybe look around at guys.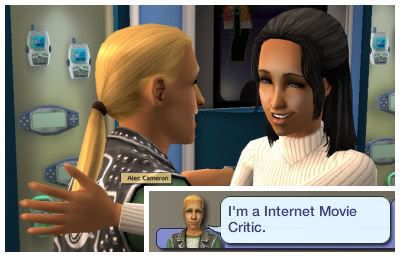 This guy is cute. They seem to hit it off pretty well, except there was only one bolt of attraction between them.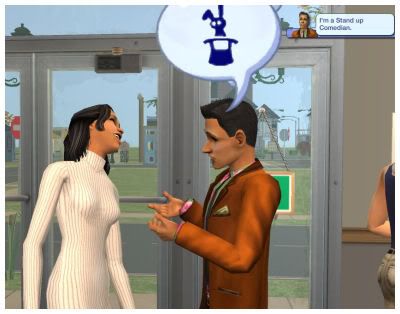 And this guy is cute too, but he's a brunette. I'm trying not to make the entire town brunette. ;) Don't get me wrong, I like brunettes. After all, I am one and I married one.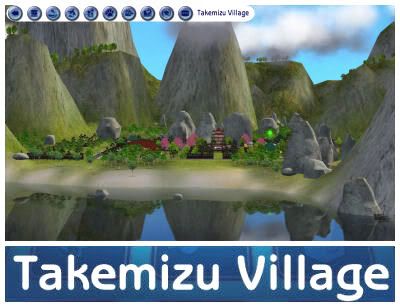 Since Lara spent too much time studying to meet many guys in college, I decided that Lara needed to expand her horizons a bit. She took a trip to Takemizu Village.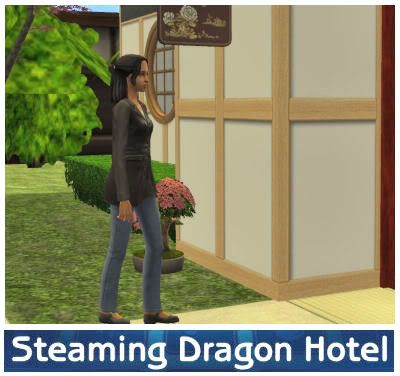 She chose the accommodations at the Steaming Dragon Hotel, which it turns out may have been a mistake.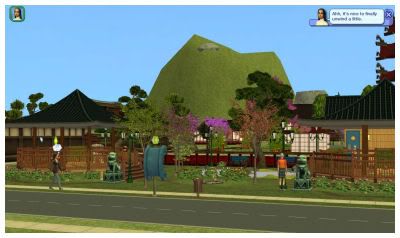 I think Takemizu is a really pretty place.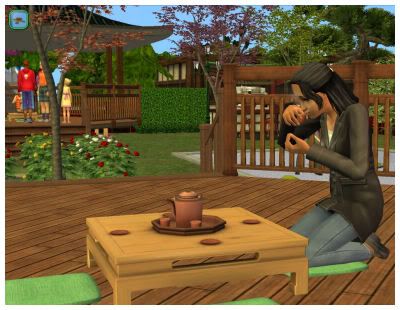 The only bad thing about it was that Lara had no one to share it with yet.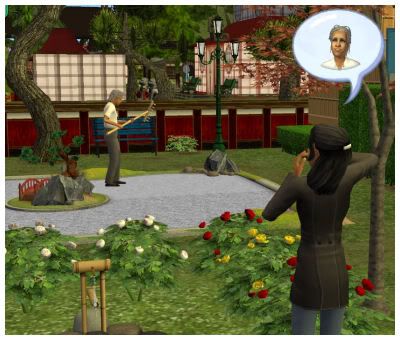 This is a favorite trick of mine - the Call Over. It's good for getting other sims away from what your sim wants to do. Lara wanted to groom the Zen Garden, and this guy was taking forever, so she called him over so she could get him out of the way. It's kind of a mean trick, I'll admit. ;)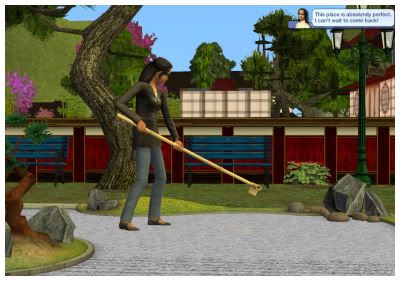 See, it worked like a charm. It seems very relaxing and calming to rake the pebbles.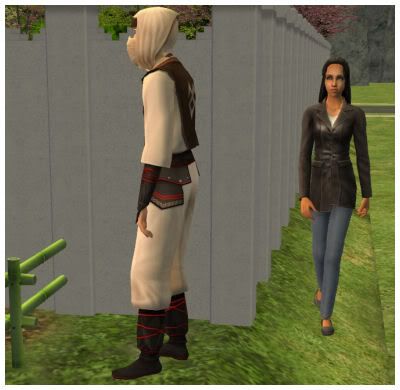 This is the hot springs lot, which is awful with all the fences and slopes, which seems to be the ninja's favorite place to hide out.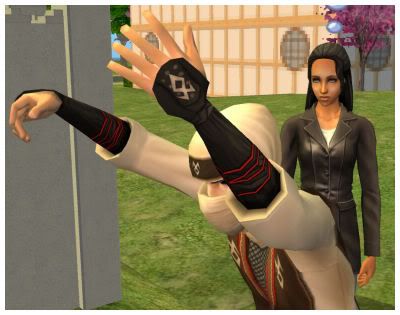 And she can't talk to him because of the slope - very silly. I can talk to people on a slope, and over a fence.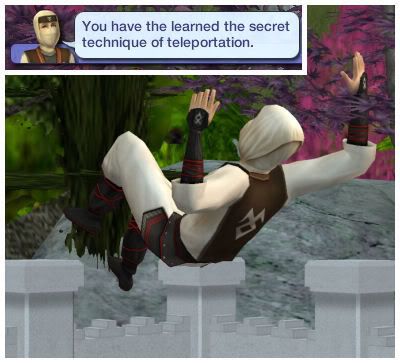 But she finally caught him by removing a piece of bamboo fence. It's a little cheaty, but she was determined to learn teleportation. Later, the business was ruled hazardous by the Takemizu Village Council, so the fences were removed and the ground was leveled for the safety of guests seeking ninjas.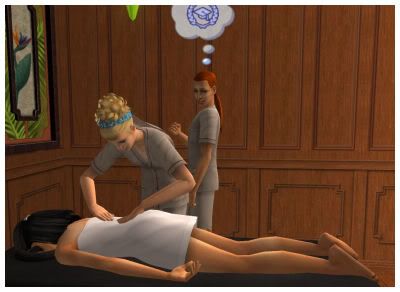 When Lara was getting her acupressure massage lesson, the other massage therapist came in and seemed interested in her. He wondered if she had attended college, as besides her good looks she also seemed knowledgeable.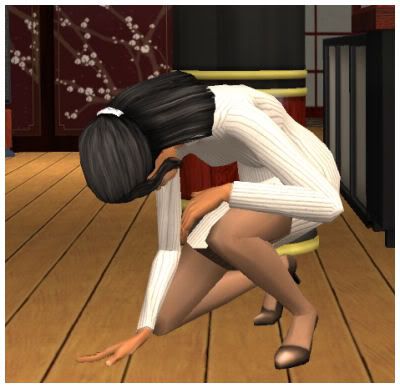 There she is, using her new ninja skills. Teleportation is a very handy ability.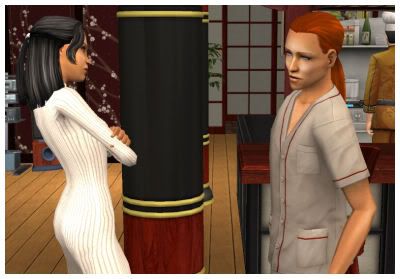 Dominic tried to admire Lara for her amazing ninja skills, but she was annoyed by him.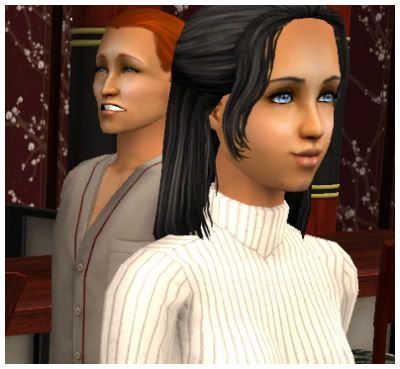 Awwww, I feel bad for the guy, as he was so embarrassed when she rejected him.
I thought maybe I should take a look at her personality to see if it were like Sophie's and Rudy's, but apparently she actually has a lot of nice points. She is always wanting her siblings to be cured of being witches, and one of her biggest fears is to become one, so I guess she won't follow the family tradition, even as a good witch.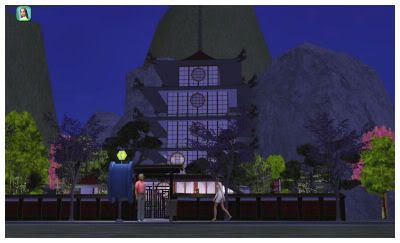 Lara decided to do a little shopping at the Pagoda Market.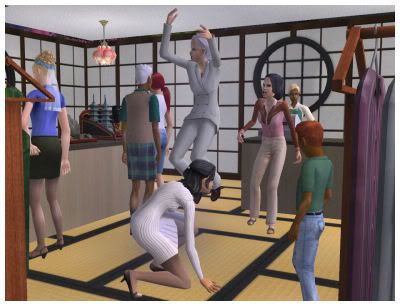 Instead of walking up there, she teleported in, scaring some of the other customers half to death. It's so funny watching people jump and get mad.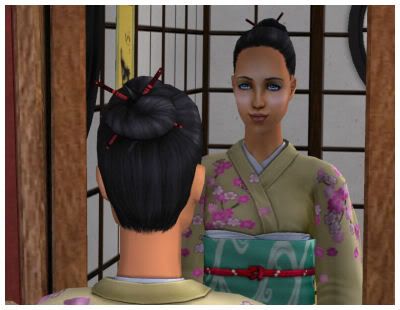 While she had the opportunity, she decided to have some fun and dress up in the local traditional costume.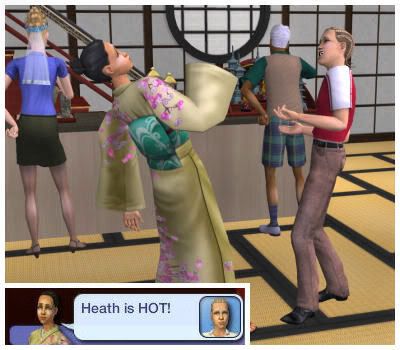 Lara decided to scope the room, and thought Heath was really hot. Oh good, he isn't a brunette. ;)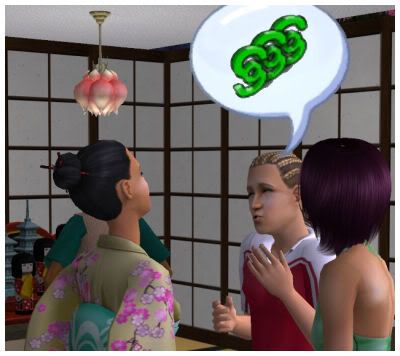 ,
Plus, he claims to have a lot of money, which means that if they get together, maybe they can buy a house soon.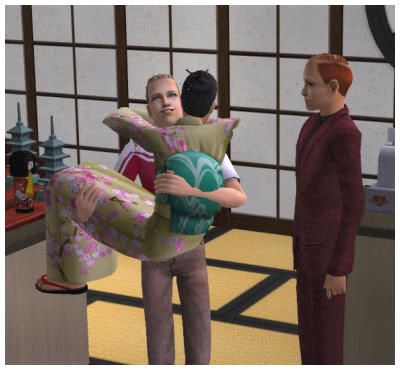 Lara seems to have her heart rather set on getting together with Heath, and they just met.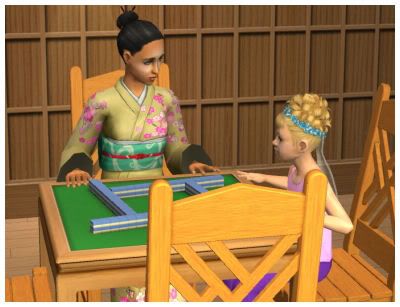 Lara continued seeing all the sights and wanted to have as many vacation memories as she could get, but she was a bit preoccupied with thoughts of Heath.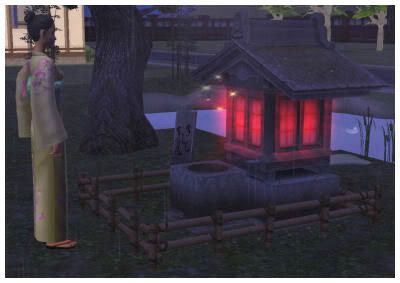 Unfortunately, the Shrine of Odd Blessings gave her an odd blessing of bees. :P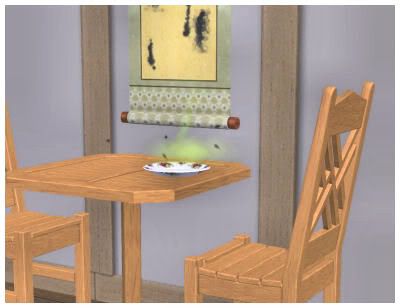 And The Steaming Dragon become The Stinking Dragon, or maybe even the The Steaming Dragon Pile, as none of the staff seemed concerned about cleaning, and gave her the odd blessing of flies.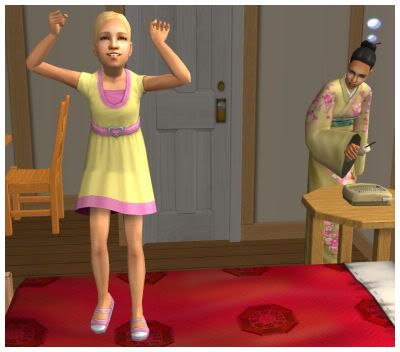 And then she got the odd blessing of a kid not belonging to her in her room jumping on her bed. Where are your parents, little girl?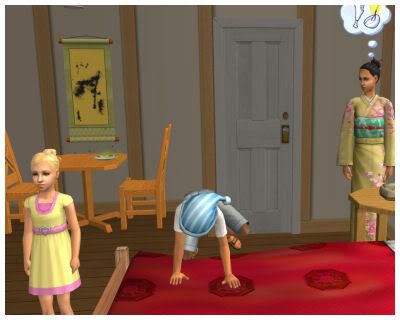 Lara didn't realize this was a tag team event. As soon as the little girl got off the bed, it was time for the boy with the sleeping disorder to jump around.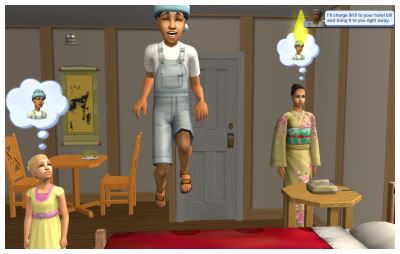 Meanwhile, she was absolutely starving waiting on room service to bring breakfast.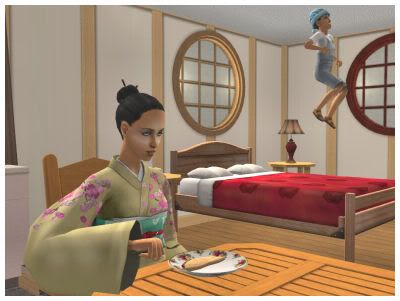 Wow, he is really getting some height on that cheap mattress. This is the point where Lara rethinks staying at The Stinking Dragon.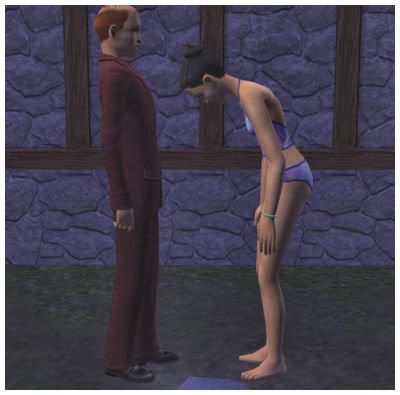 Somehow Lara picked up the ability to bow, which is good. It was one of her goals to learn the local greeting and be able to bow without looking stupid.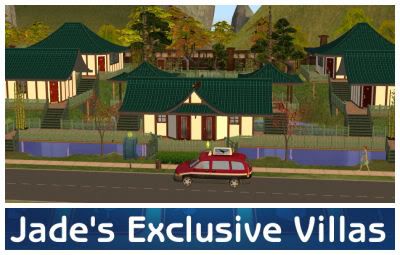 Isn't this a pretty lot? It's a shame really... you'll see. She has decided to stay here for the remainder of her vacation.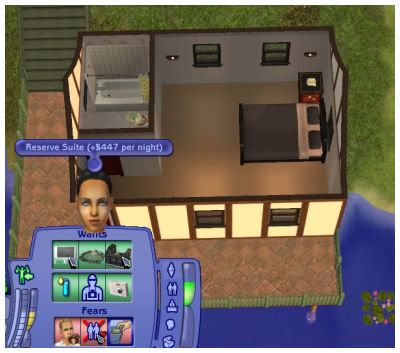 Her room costs about the same as the one at The Stinking Dragon, but has better accommodations and more privacy.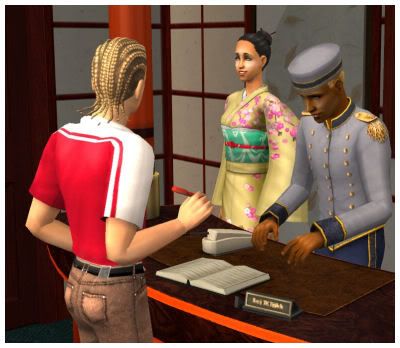 As it turns out, Heath has just registered to stay at the same place.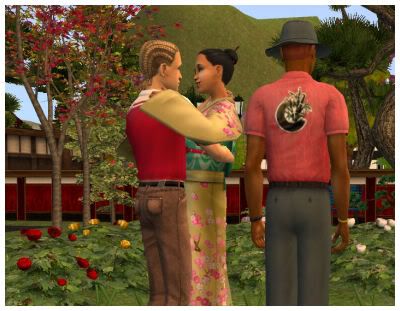 It seemed that as she saw the sights, she was seeing more and more of Heath.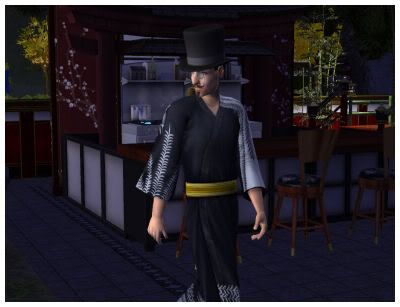 The charlatan was spotted out and about a few times, trying to liberate sims from their wallets.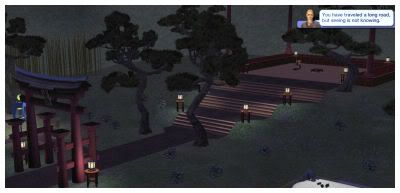 She was able to find a map to Pagoda of the Shadows.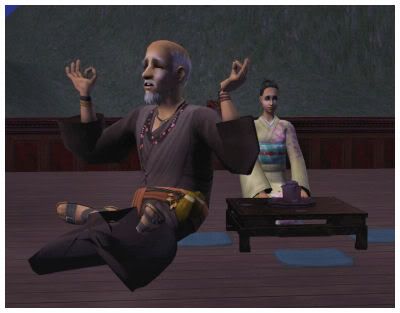 There was an old man meditating. Soon she was able to befriend him, and he shared the Legend of the Dragon. Hopefully, this wasn't the story of staying at The Stinking Dragon.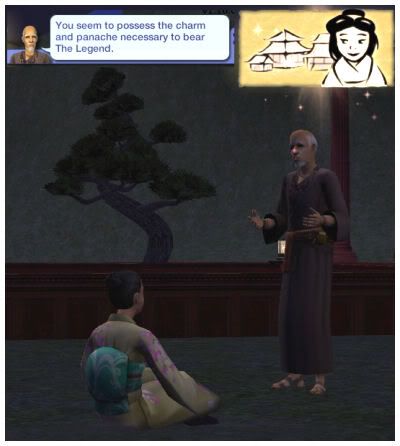 Good, let's get this over with already.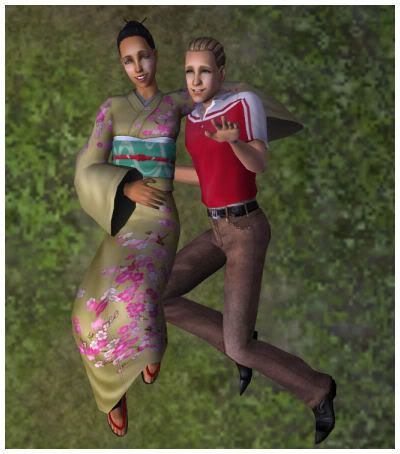 Lara and Heath took time to cuddle under the stars.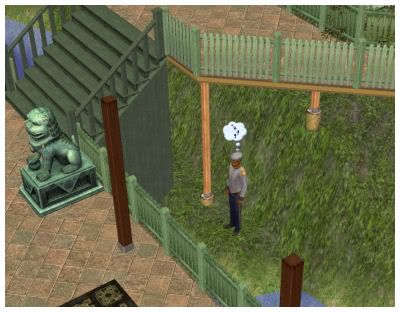 When Lara came back to rest, I noticed this poor hotel guy was stuck down here. He was rescued with the power of boolprop. These villas are pretty, but almost unplayable. All the guests want to do is try to fish where there are decks over the ponds, and yet they won't go find an area where they actually can fish, but just keep trying to fish where the deck is. It's almost as if this lot was never playtested. Imagine that.
But this is the end of her stay, and she was able to check out without incident.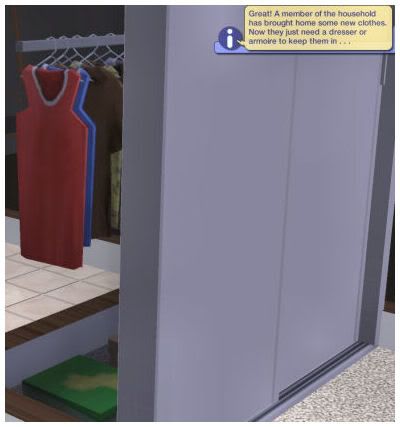 When she got home, she got this warning. Since she doesn't have a dresser or armoire, what's wrong with a closet? Can't she put her new clothes there?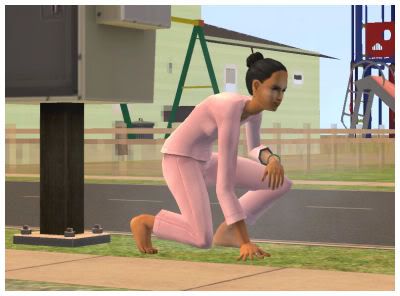 Lara likes to pay the bills the Ninja way.

She really missed Heath, so she called and invited him for a visit to Apple Grove.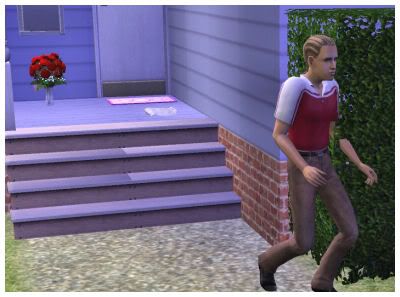 He said he would be here in the morning, but I saw him sneaking around the night before. I thought he changed his mind about leaving her a gift...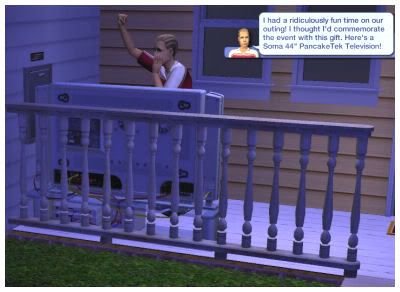 Wow, a widescreen TV! I guess it was too big to fit on her porch, so he left it on her neighbor's porch.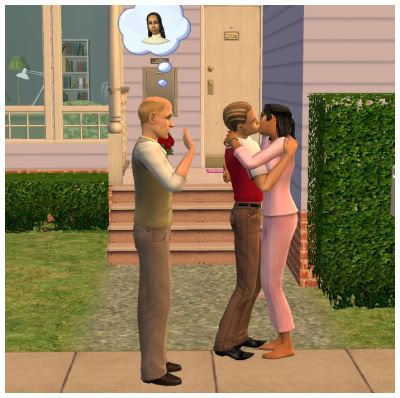 This time when Dawson Leong came by to hang out in Lara's apartment, he was in for a surprise. She had a guest.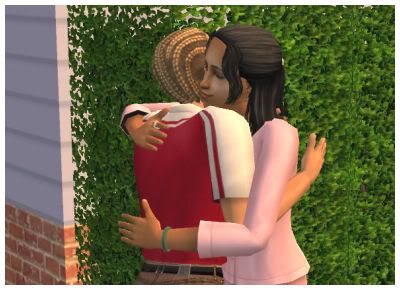 She invited him to move in almost as soon as he arrived, and we learned one interesting thing...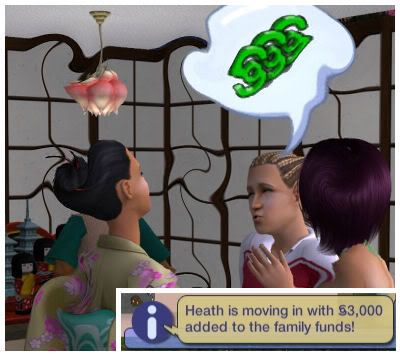 Remember back when Lara asked him how much money he had when she met him and he said he had a lot of money? Either he's a liar, or each § stands for §1,000. Well, I'll try not to hold it against him too much since he did bring a widescreen TV, and he's a much better catch than Lara had found here in Apple Grove.

His Lifetime Want really makes me laugh. I know there are male ballet dancers, but aren't they a bit scarce in real life? I'm just thinking from the perspective of where I live. Obviously, other places may have a plethora of leotard-and-ballet-slipper-clad men jumping around, but it's not a common sight in Arkansas, that's all I'm saying. ;)
Heath wastes no time in popping the question...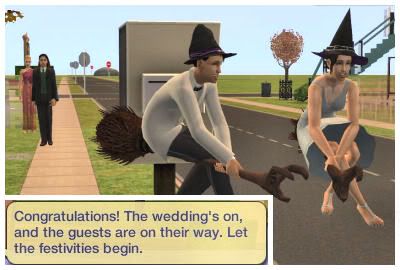 And the broomstick race to the wedding has Sophie in a slight lead. Thankfully, she and Rudy managed to avoid a potentially dangerous collision.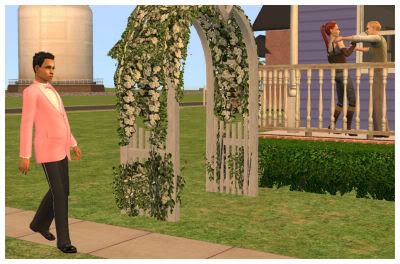 LOL, Lara's stepfather Clinton Webb waddles to the wedding in a pink tuxedo. In the background I see that the landlord has moved on, and is now putting the moves on Lara's neighbor.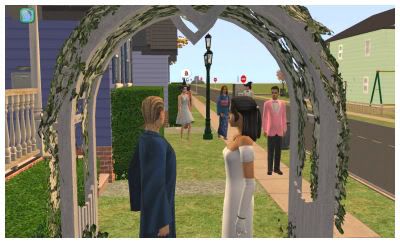 C'mon people, you can get a little closer.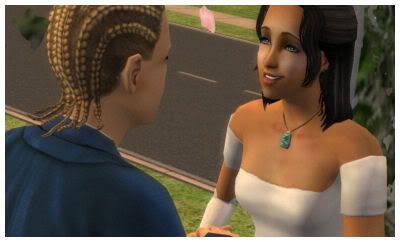 Look at Lara. Isn't she beautiful today?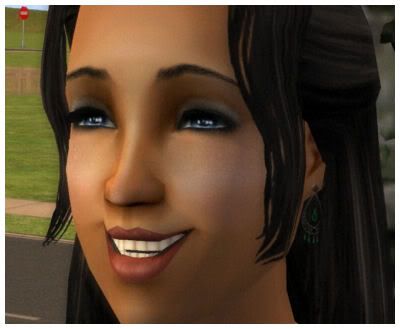 I'm so glad she's happy.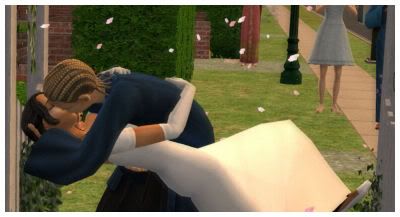 I'm so glad their wedding was a success, or at least more so than the Zoe Tucker - Rudy Fletcher wedding.
Okay Heath, here's a piece of advice for you: when you're the groom it's not cool to be checking out the bride's sister during the ceremony like that no matter how hot she is.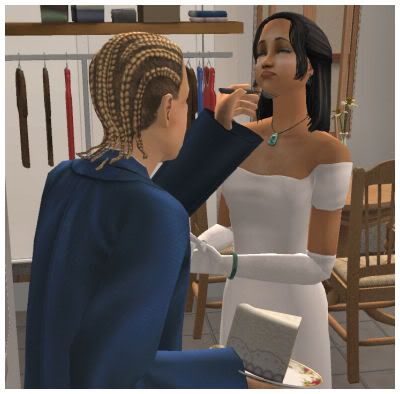 Heath stabs a forkful of cake into Lara's neck.

Apparently, eating wedding cake is an exciting cuisine activity. Too bad he wouldn't prefer to be a chef instead of a ballet dancer.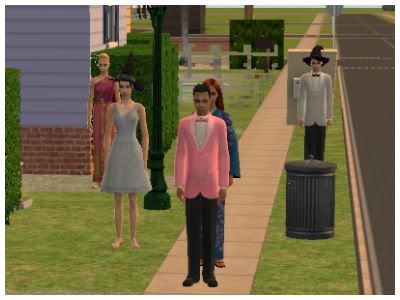 It looks like the wedding guests are in a stupor again, so they don't get cake or champagne, but it's their loss.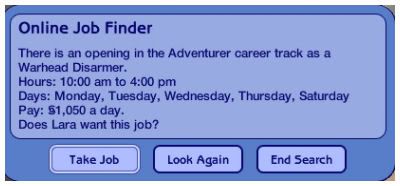 After the wedding, real life had to move on. As weird as it seems, Lara wants to disarm warheads for a living, leading up to her ultimate goal of becoming a Space Pirate. Hopefully, her ninja skills will serve her well in her new career path.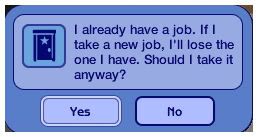 Yes, she wants to quit her cushy, glamorous, well-paid career to risk her life trying not to get blown up.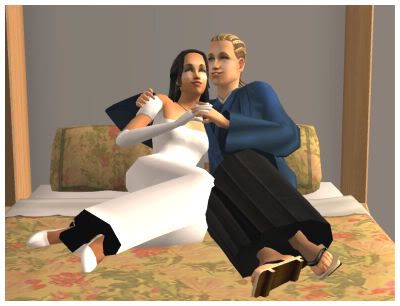 I suppose we should leave them alone now.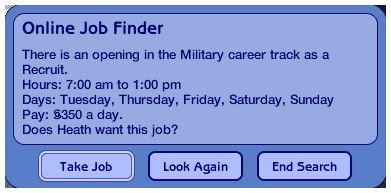 With no jobs available for dancers in the Apple Grove area, Heath settles on what he hopes will be a temporary job in the military. A fortune sim really wants to be employed.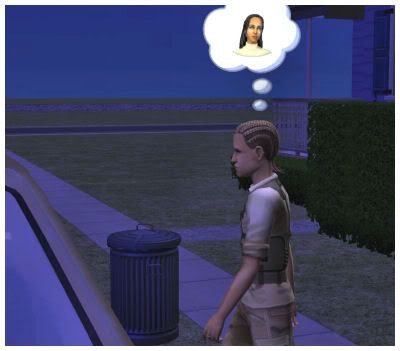 As he leaves, he thinks of Lara and their new life together.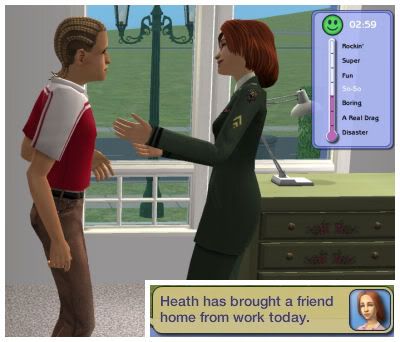 Heath brought home a friend from work named Vamsi Leelaporn. I'm not making that name up. He asks her on an outing in hopes that he might get her to pull some strings for him at work.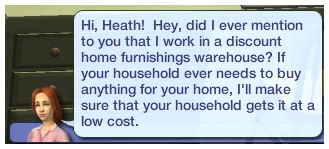 It doesn't work out quite the way he likes, but he discovers that Vamsi is moonlighting at a home furnishings warehouse. Forget the discount - maybe he can blackmail her with telling the commander that she's got another job. In some cases, I believe that's frowned upon in the military.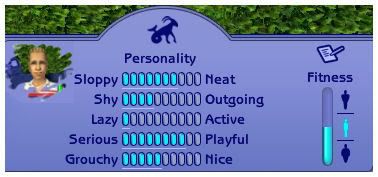 Never mind the blackmail, though. Heath has 5 nice points, and I think anything more than 2 nice points would render you incapable of blackmail. Wow, he is
very lazy
. I have no idea how that's going to work out for him to be a very lazy recruit, not to mention a very lazy World Class Ballet Dancer.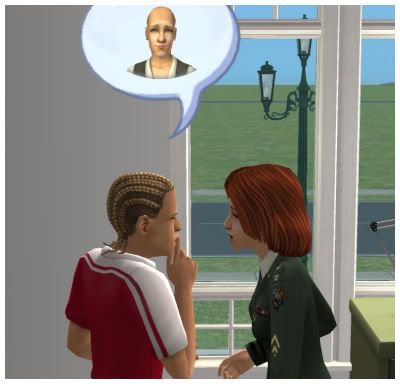 Oh goody, I love gossip if it isn't about me or anyone I like. Talk all you want about Dawson. Okay, I know gossip is wrong, but at least I'm being honest about it. ;)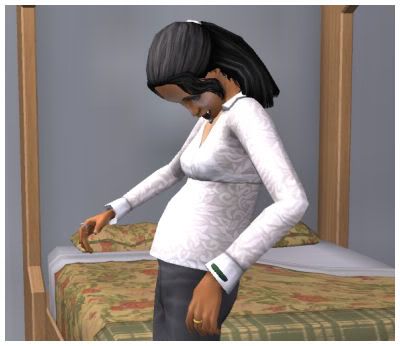 And here is where I will leave you. It looks like the Fancey family will soon grow from two to three.
Scoring:
1 point from Heath joining the neighborhood, plus Lara collected many vacation memories.
The total population of Apple Grove is now 30. The current population is 29.