This is the Tucker Family Tree in 2006.
Watch the love go round: Sam loves his cute little dog Pooka.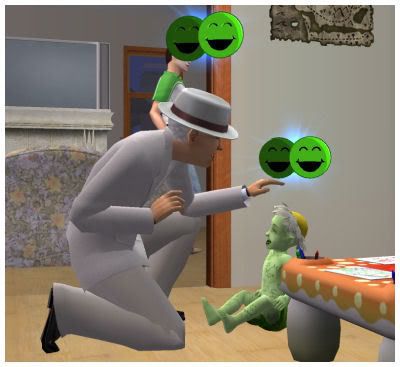 And Sam loves his little plant girl Aloe, and she loves her daddy.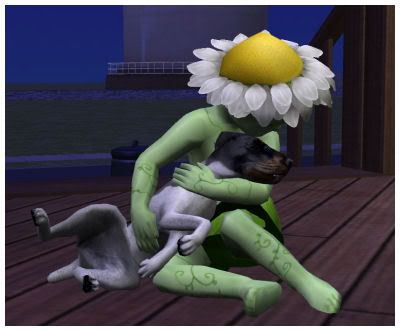 And cute little Aloe loves Pooka.
Izzie loves his tasty kibble.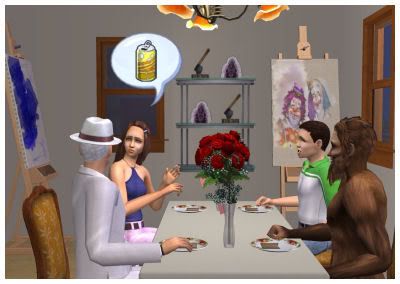 Catherine loves soda, and doesn't know why Apple Grove doesn't have any of the new vending machines yet.
Mark loves The Great Outdoors - and Harry and the Hendersons.
Joni Loves Chachi, or rather Catherine loves Charlie.
Yes, Catherine has overcome her anger and fear of commitment after a painful divorce and finally decided that Charlie is the one for her.
Charlie is a knowledge sim who wants to earn §100,000. I love you, Charlie.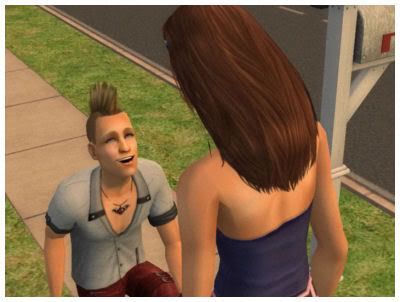 And Charlie wants to marry Catherine.
After checking the adequacy of the diamond, Catherine decides that she loves it.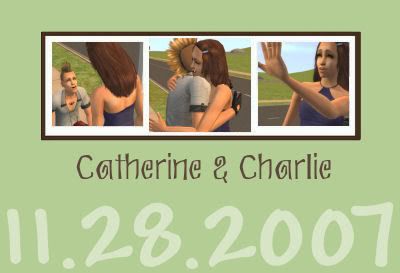 Yes, it's official, so be sure to save the date.
It's a bit chaotic as all the guests arrive.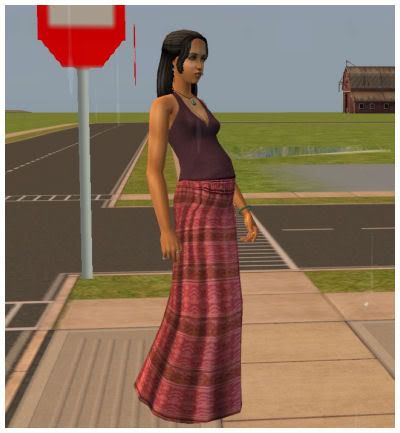 I was afraid Lara might show up in a wedding dress and was glad she didn't, as that would be really tacky and embarrassing, but it would have been funny. I forget after these weddings to have them plan their formal wear again, so someday someone is going to show up in a white dress to try to upstage the bride.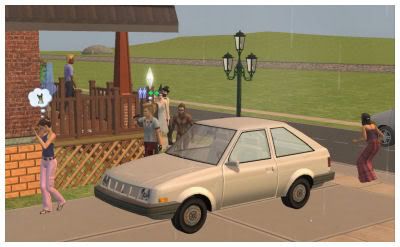 As soon as the wedding was starting it began to hail. Thankfully, the weather improved and the wedding didn't have to be moved inside, because there really isn't much room in there, at least not for a wedding.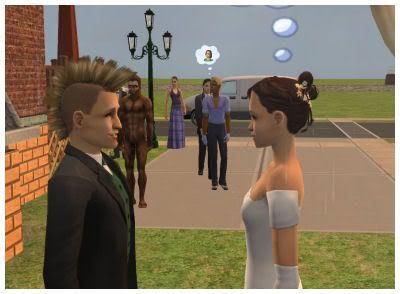 There really isn't much room for a wedding outside either, but they moved the little woohoo car, so there was enough room for guests to gather in the driveway.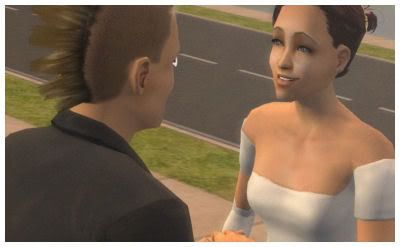 Charlie and Catherine happily exchange vows to love, honor, obey...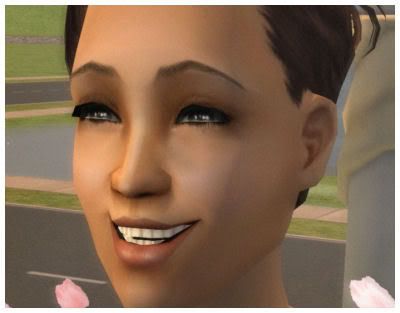 I don't think Catherine is listening, though. She just looks like she's in love.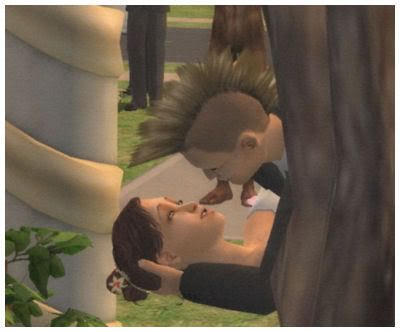 And now for a dramatic and romantic kiss...
Ladies and Gentlemen, let me present to you Mr. and Mrs. Todd.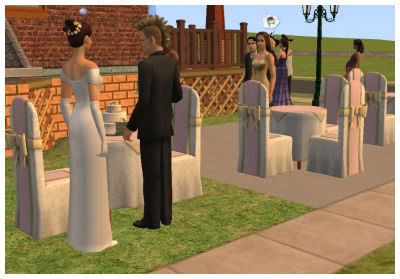 You may now eat the cake! Why isn't Clinton Webb waddling in here with his pink tuxedo? Clinton
loves
cake. Notice how all the tables and chairs just appeared like magic? I give credit to the excellent wedding planner for planning ahead so well. :P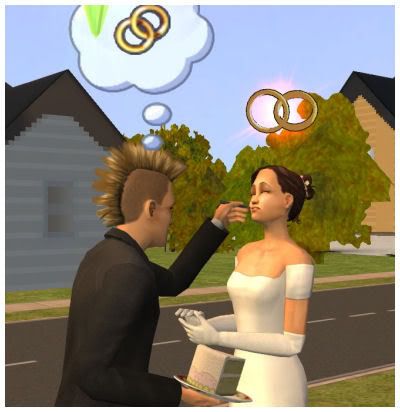 Charlie actually manages to get the cake into Catherine's
cake hole
mouth. It's a rare talent in these parts.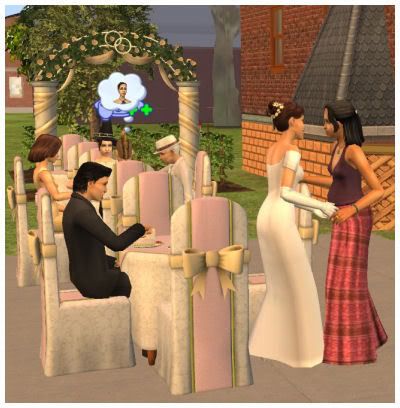 Lara congratulates Catherine on her special, glitch-free day. I hope she and Zoe aren't too mad at me that things didn't go that great for them on their wedding days.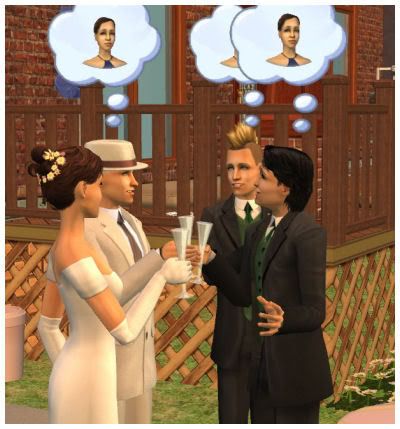 Everyone toasts the bride.
And
everyone
toasts the bride again. You might want to lay off on the champagne, people. The Tuckers only have two bathrooms.
Awww, I think it's so sweet that Sam gave his daughter Catherine a hug after the wedding. He loves his daughters, and I think he's just happy that Catherine is finally happy after all this time.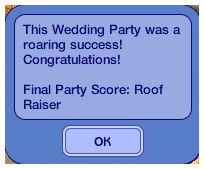 Wow, this was the first roof raiser in Apple Grove history! Huzzah!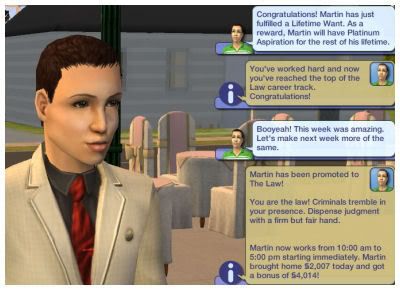 Poor Martin had to work that day and missed the wedding and the cake, but on the up side he achieved his Lifetime Want of becoming The Law. All in all it was a pretty good day for him. I'm going to love his permanent platinum aspiration.
To make the most of his college degree, he switches from being The Law to a job in Show Business - kind of like a reverse-Schwarzenegger, I guess.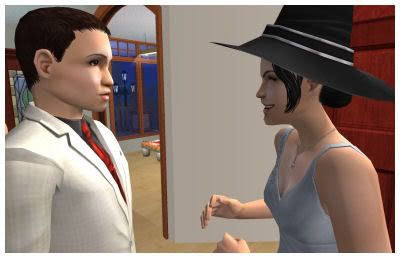 Sophie hung around for awhile after the wedding. She seems to have a bit of a crush on Martin (as well as half the town). She's scary.
Charlie got promoted to Convenience Store Clerk. He had to go to work right after the wedding, so he doesn't look too happy...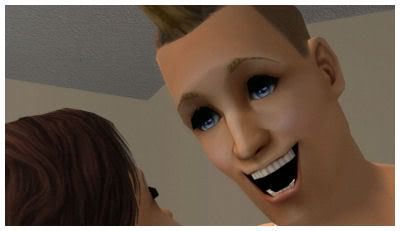 Well okay,
now
he does.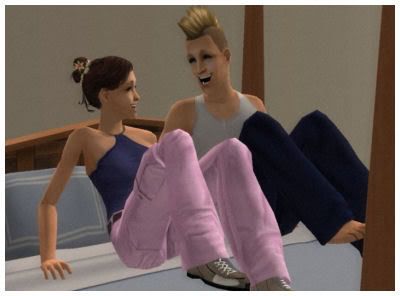 Is it finally time for
love
?
Ahhhhhhhhhhhhhhhhhhhhhhhhhhhhhh................ Love.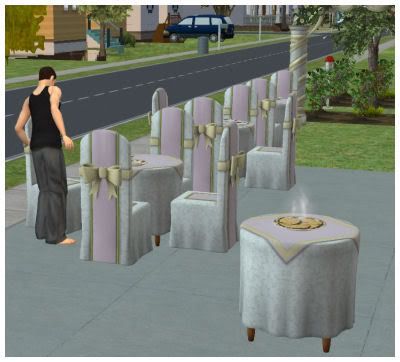 The tables and chairs didn't get put away after the wedding, (oops) so Martin thought they may as well get some use and
makes a big mess
thoughtfully serves breakfast outside.
Martin made fast friends with his little Aunt Aloe. Aloe loves peek-a-boo.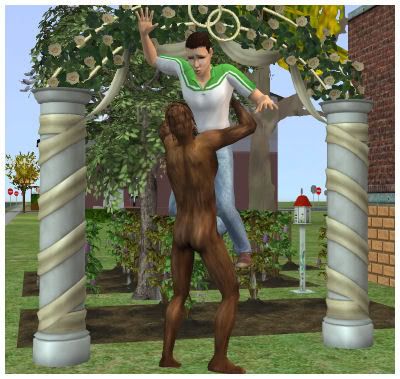 As you can see, Martin is Mark's favorite human in the whole wide world.
He loves to give him Bigfoot Hugs, which are always quite surprising to the recipient.
Whoa! Speaking of surprising - Martin! That is not a cool thing to do! This blog is supposed to be PG-13. Even Photobucket thinks you did something very naughty.
In the background, Mark tries to regain some dignity. In an attempt to buy Martin a clue, I had him call the matchmaker and pay full price. I just realized the boy is now 39 years old, and he's never even been kissed. No wonder he's a bit disturbed.
I'll give you one more chance, matchmaker.
And so she sends over my daughter Cassandra. It's a great match for Martin, except that it goes against my plan for who she will marry. Darn, and double darn because I can't blame the matchmaker. Hopefully, Martin will find somebody soon.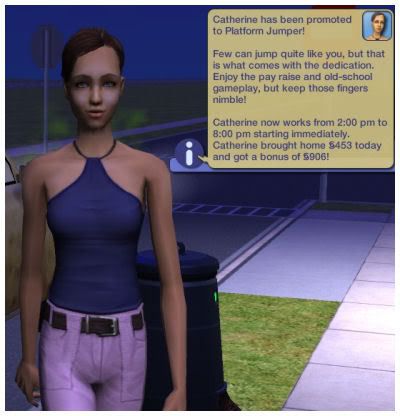 I tried to figure out what a Platform Jumper is. It has something to do with older video games where you have the character jump to different platforms - I assume like Mario, etc. So I guess she plays old-school video games all day? I'll bet she loves her job.
This is such a cute picture. I love both their expressions.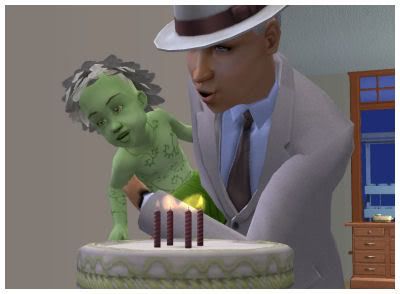 They're smiling because of the day. It's the 15th of September 2008 - It's Aloe's Birthday!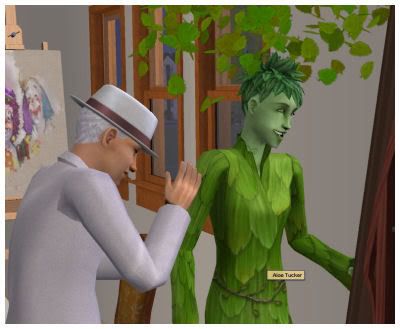 And she sure grows up fast! She's a romance sim, so Aloe loves... love.
Right away she has a plant baby named Belladonna - just because she can.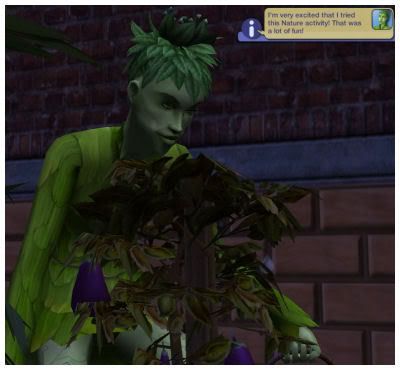 It seems fitting that Aloe also loves Nature.
Charlie really loves the dogs and wants to teach Izzie something. Good luck with all that. Izzie is sweet, but sadly not very bright.
It seems as though there will be another little one in the Tucker house soon.
Mark's co-workers love to keep him happy and well-fed, so they gave him a fridge, presumably so he won't eat them.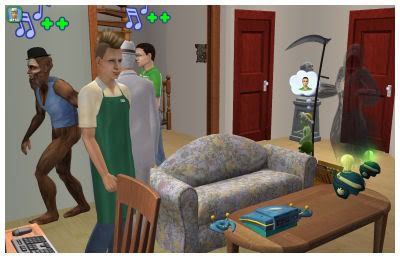 Uh-oh, it looks like we have a guest.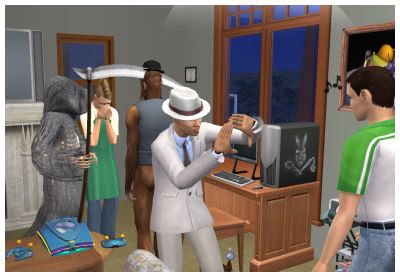 And he is trying to reap the wrong sim! Please, don't take Mark! He has so much left... to do around here.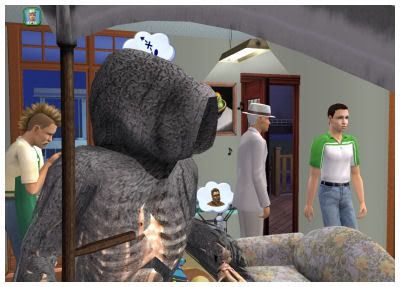 Grim decides to meet his client by going around in this direction. It seems the room is too cluttered for him to do his job, and everyone is too grief-stricken to stop sobbing, howling and crying to move out of his way.
Then he tries going around the other way again...
Then he sighs and hangs his head (if he actually has one) because he just wants to get the job done sometime tonight.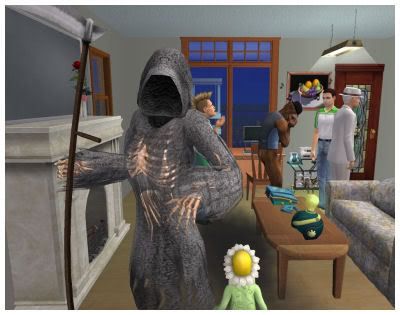 And then he looks at me like this is all my fault, and even though he doesn't have a face, it's not a happy look. I'm so sorry about the mess and all the sims and dogs everywhere. Seriously.
He was finally able to squeeze in to do his job.
And despite his frustration, he still made things nice for Sam's departure with the hula girls and the leis...
And of course he remembered the complimentary drink with the little umbrella.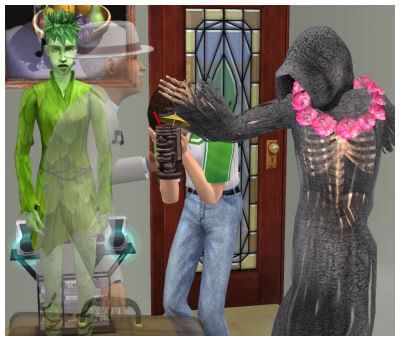 And Grim ushered Sam off to the hereafter in style -
finally
. After all, he is a professional who loves to do his job right.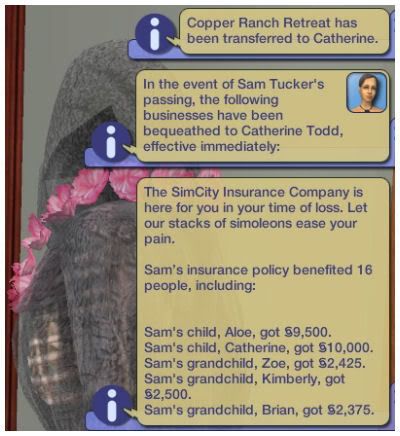 Wow, 16 beneficiaries! We hate that he died, but love the inheritance.
Aloe and Martin keep having a good, long cry.
Belladonna and Izzie have a good, long snuggle.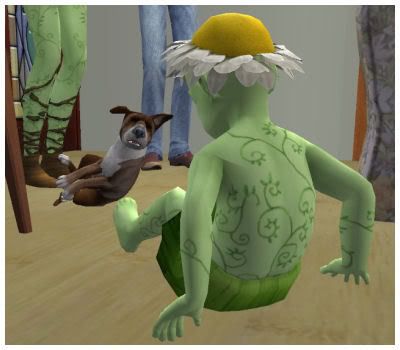 Poor Izzie is paralyzed with grief over the loss of Sam.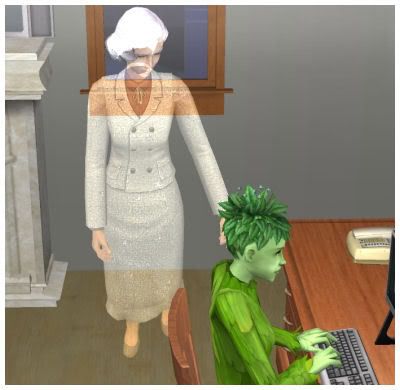 Natalya made her first appearance as a ghost. Maybe she heard Sam was coming and she came out to see him.
She went upstairs to admire the hobby plaque collection.
And she checked to make sure her bed was still there, which made her very happy. Ghosts love their beds which makes no sense since they can no longer sleep in them.
Ghosts also love to scare the living. She tried to scare the crap out of her grandson Martin. Maybe she wants him to hurry up and get married and have babies.
Martin took a chance on speaking his mind and gained 2 charisma points.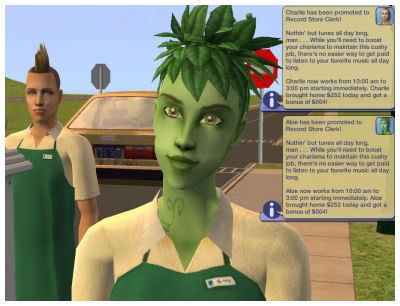 Charlie and Aloe are both in the Slacker career together, but Aloe loves trying to upstage his success.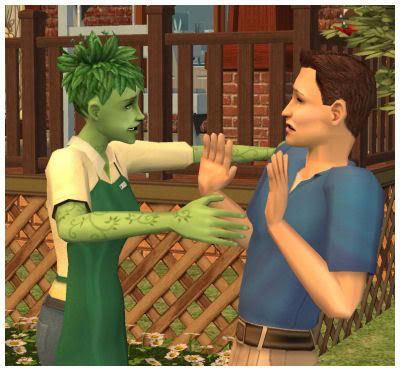 Aloe loves hugs, but when her nephew Brian stops by, he doesn't want a hug from his Aunt Aloe. I guess it's because she's a relative. :P
Belladonna was getting a bit dried out, so Catherine watered her niece.
Charlie always loves to help with the dogs.
It's now time for a baby - a baby Todd.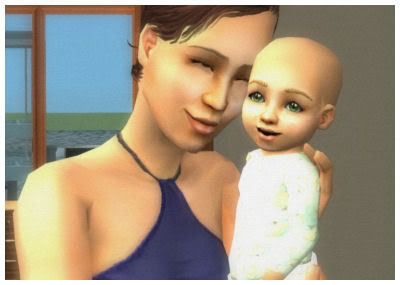 And it's a boy!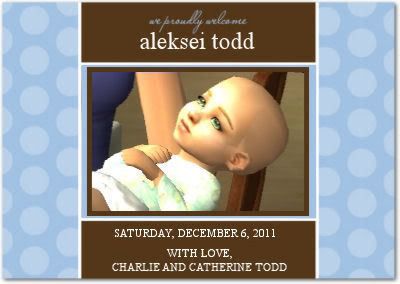 And he's blond like his daddy Charlie, how awesome!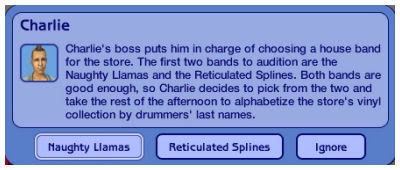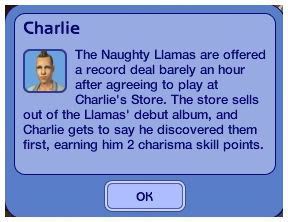 It's the Naughty Llamas, FTW!

With both Natalya and Sam gone, this is the first time they have to hire a nanny. At least it's Shenene.
These plant sims grow like weeds, because before you know it Belladonna's birthday is here.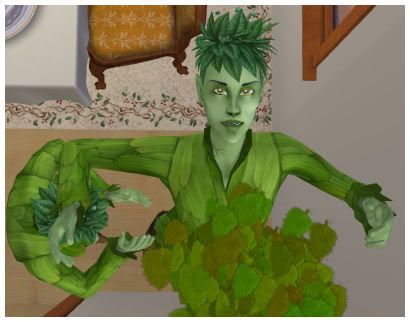 Belladonna sprouts right up!
She looks like Aloe, except she's got pointy ears. Cool! Now I will be able to tell them apart if I want to. But we are out of the plantsim-making business for now. The house is very full, and I want Martin to have no more excuses for not settling down and having a family.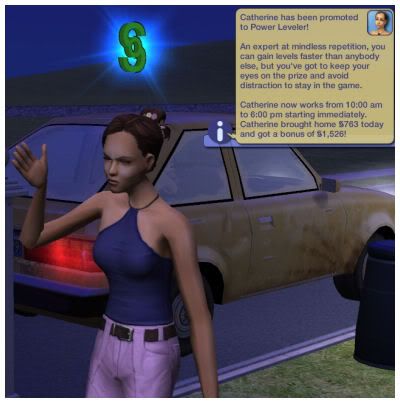 Despite a promotion to Power Leveler, Catherine seems to have come home with a bad headache. A power leveler is someone who is paid to play online games for other people to get their character (or whatever) to a higher level or rank. This is against the terms of service of online game companies, and is also looked upon unfavorably by other players who earn their levels. And sadly, many people foolishly pay for these services only to get their accounts suspended. If you live in U.S. or somewhere, but you're suddenly playing from China... Well that's a really hard thing to explain to the gaming company. ;)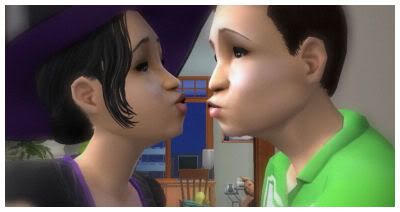 Can you believe it??? I really don't want to get these two together, but I thought Sophie could at least teach the boy how to kiss. She has definitely had plenty of practice.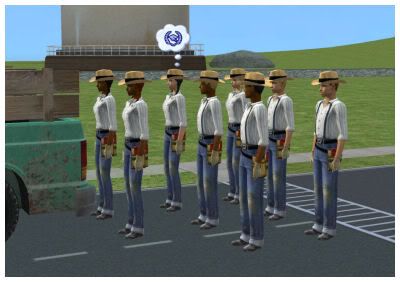 Hey, look! The gardeners are having a parade! They were popping out of the truck's cab like it was a clown car! Great, they've all moved to Apple Grove. I'm concerned that the unemployment rate for gardeners is going to be very, very high.
Notice anything unusual about this carpool? Cue Twilight Zone music now. The car still magically drove itself to Charlie's job.
Izzie's stench was so bad that it fertilized the air, causing Aloe's legs to sprout right through the seat of the couch.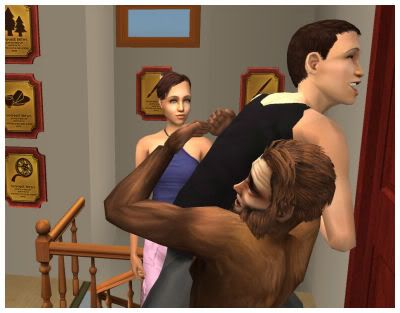 Mark soon forgave and forgot that Martin grabbed him inappropriately, and was right back to the Bigfoot Hugs.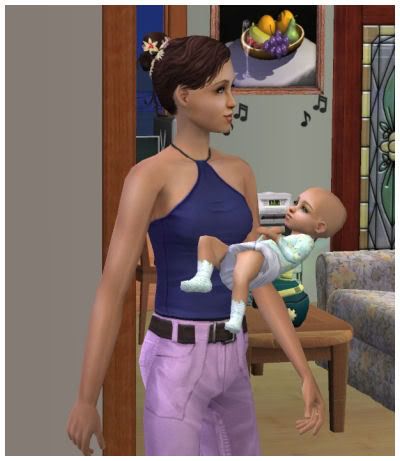 Aleksei does the floating baby trick, which must be caused by gas filling the diaper at the time of the birthday. This delays the baby from being properly tossed into toddlerhood. Gas could definitely explain the floating, although more commonly the gas is very heavy, causing the baby to become so heavy that it has to be put on the floor.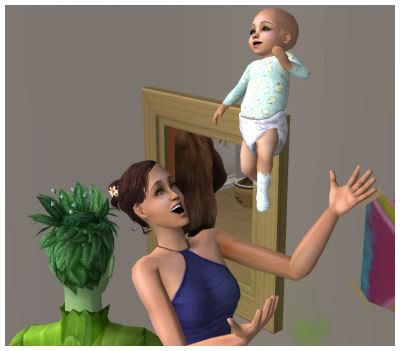 But despite a gassy diaper, Catherine was able to muster the strength to toss him. My guess is that tossing the baby upward stimulates the Grow Up-amajigger. It's all, um, very scientific and what-not.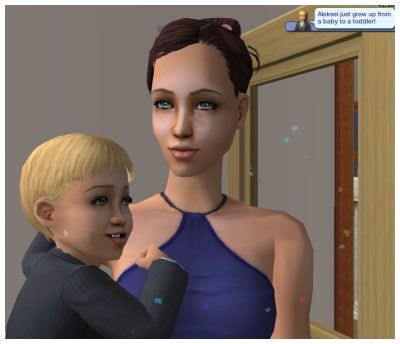 And he is now a cute toddler.
Speaking of gas, Catherine decides to add a little extra something to her cake. After all, it really stinks having to get old.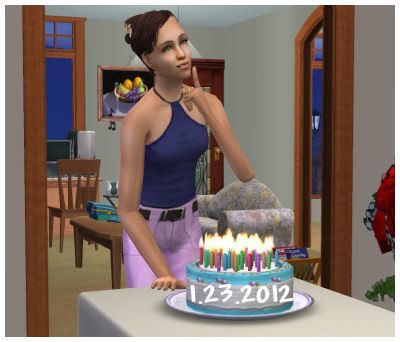 Catherine was born on January 23, 1958. She thinks about what she would most like for her 54th birthday, and she decides that she wants to be a sexy elder.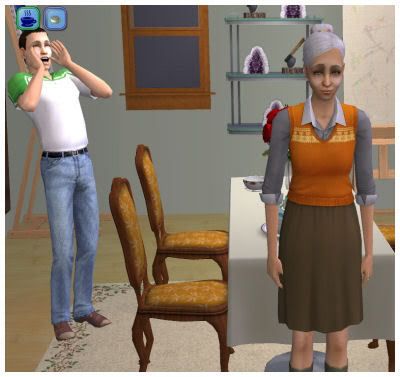 And hot... she is
not
.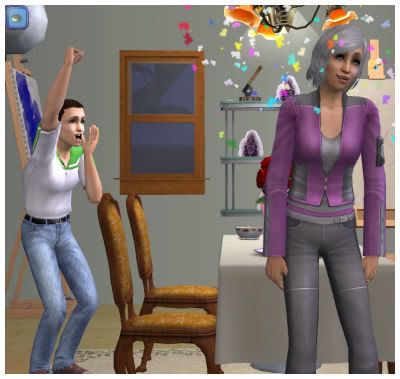 But thanks to Pescado's clothing tool at MATY, that problem can quickly be fixed for $39.95 a month*, and she still gets the confetti for free. Which picture is better though? Should I have left her like she was? I usually don't mess with the outfits because I consider them a part of the story, but I think it would be cruel and usual to make a romance sim dress like that for her remaining days.
Former neighbors Adam and Diana Harris grew to elder when Catherine did, and they are not happy about getting old, especially Diana. They thought that being townies would make them immune. Clueless Adam suggests maybe a little makeup would help her look better, which was the wrong thing to say to his wife. They were going to be residents of Apple Grove before Scott and I took their place and they had to become townies.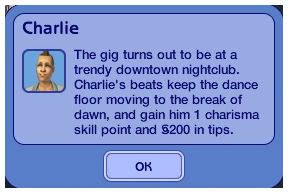 Charlie plays the hits, which are naturally - a hit! Imagine that.
I want to say Aleksei's grandma teaches him to say "Grandma," but it's his mommy. Sorry about that, Catherine. You still look really good.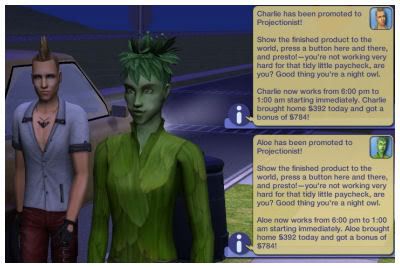 And there are double promotions again tonight with Aloe still hogging the spotlight.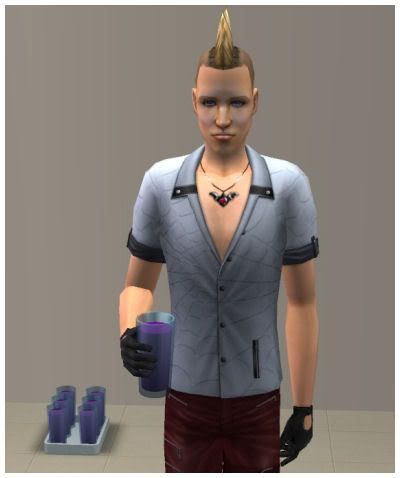 But Charlie has a secret weapon which should get him in the promotion lead. What Aloe doesn't know is that Sam grew 100 gazillion eggplants, and now Charlie is going to do some skill-building the easy way. I don't know if I personally would enjoy eggplant juice, especially in mass quantities like that.
Uh-oh. They'd better get Aleksei inside before he gets cold! I don't want any more social worker scares like at the Hamilton's home with Violet.
*The ridiculous
stated
price
for the monthly subscription at MATY.
Scoring:
1 point for Charlie joining the neighborhood, 1 point for the birth of Aleksei, and Belladonna adds to the progress toward the plantsim bonus.
The total population of Apple Grove is now 32. The current population is 30.