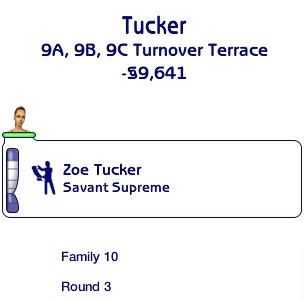 I have no idea why it says Zoe has -§9,641, but I didn't notice at the time, and things worked out for her despite it.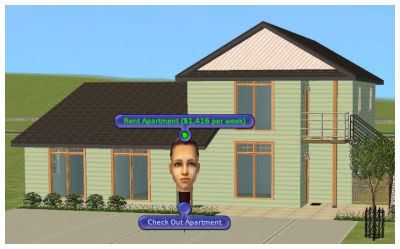 Now that Zoe was out of college, she decided to rent an apartment in this triplex. 9A Turnover Terrace is the apartment on the left.

Zoe's Lifetime Want is to have 50 1st Dates, and since she has only had a few dates so far, she has a lot of dating yet to do.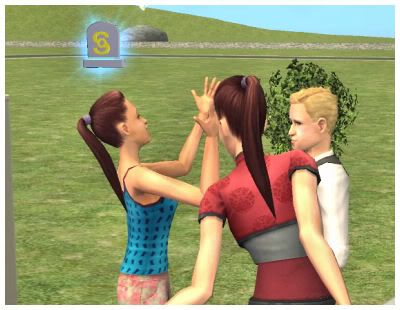 Zoe finally received her inheritance from her Grandma Natalya's passing, which may have helped fix her money troubles.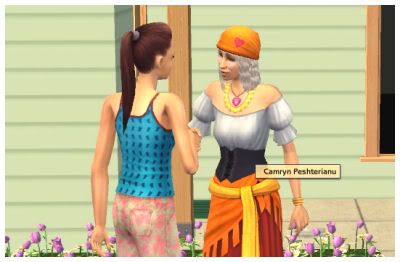 She wanted to get started right away on her dates, so she called the local matchmaker, Camryn Peshterianu. Camryn was never happy unless you paid her a fortune per date, so Zoe usually got to date someone completely incompatible with her.
Being a knowledge sim and wanting 50 1st Dates was a little weird, but Zoe looked at it more as a science experiment. After several experiments, she was able to determine the most efficient dating method for maximum speed and positive outcome. This actually left her feeling refreshed enough to date for long periods of time without tiring.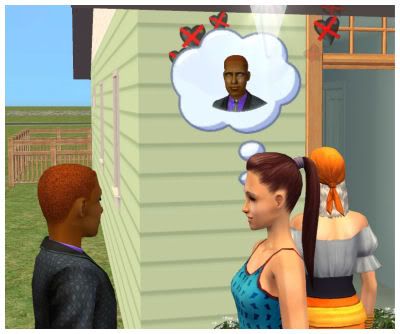 First, she would greet the guy. Then she would check him out. As you can see, he is completely incompatible. That's okay, though. Now she will tell him one joke and say goodbye. She usually had the want to "entertain," and that is the one thing that is almost never rejected no matter how incompatible they are. Saying goodbye is more efficient than ending the date and still ends the date with the added bonus that he will leave.
This method that Zoe discovered worked very well every time she tried it. Of course, she could make an exception if the guy was really hot. ;)
An old guy with a mullet, now that's sure to be a great match, NOT.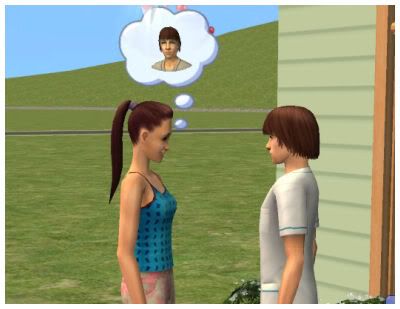 Zoe did like the massage therapist.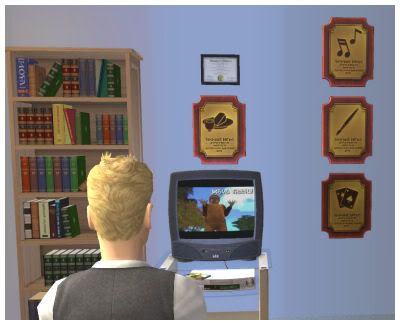 It's hard for me to decide which landlord I dislike most in Apple Grove - Dawson Leong, the creepy landlord that owns most of the buildings in Apple Grove, or this guy, Adrian Mendoza. Adrian thinks he can barge into Zoe's apartment to watch TV whenever he wants.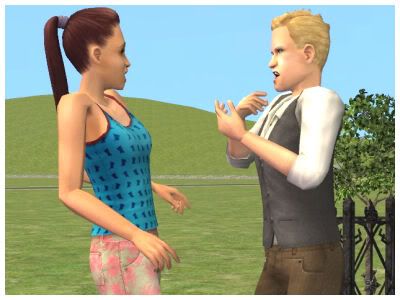 And he's really mean for no apparent reason. Most of the time he just paces around with a grumpy look on his face.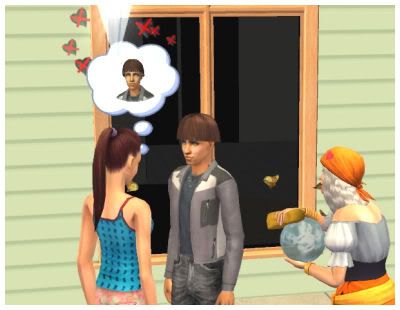 Another day, another bad match. This is one of Sophie Fletcher's 20 lovers, so I'm glad Zoe doesn't like him. Sophie may not like her dating him and cast an evil spell on her.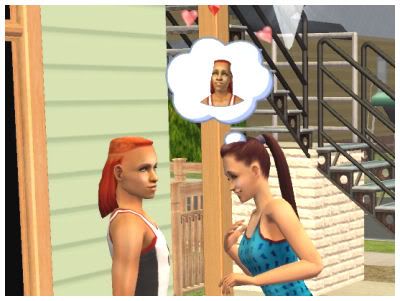 Ewwww, he has a nice face, but it's just very hard to overlook the hair even if you do like him.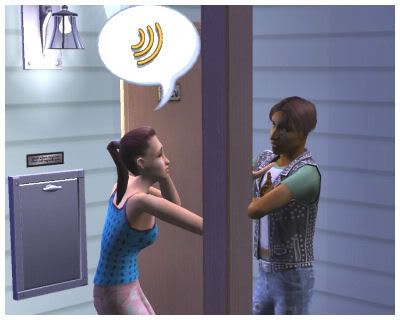 This is Zoe's neighbor Neil Chalmers. Neil at one time dated Beverly Fletcher, the one who married Forrest Hamilton. Anyway, Neil likes to make a lot of annoying noise, and he seems very put out any time Zoe asks him to be quiet.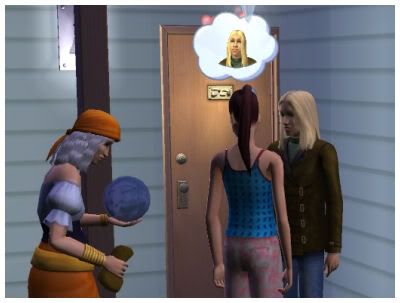 Mmmm, the blond guy is pretty cute, but sadly there is no voltage.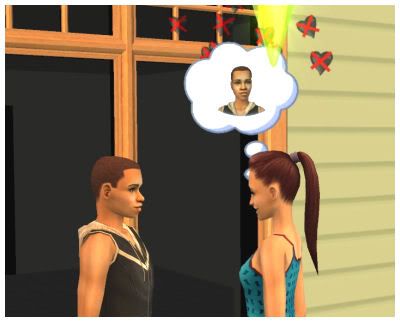 This is another guy that Sophie isn't attracted to.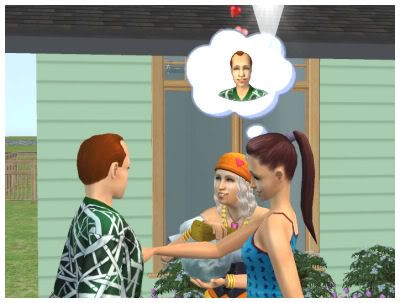 But she does like Kimono Guy whose name is Ron Darga. It's just a little disturbing that her mother Catherine really likes him and has dated him a couple of times. I don't think it would be a good idea for Zoe to date him.

Yoosung is one of the Secret Society members. I'm sorry that he picks bad friends like her landlord Adrian Mendoza, but she'll take a lower rent if he can make it happen.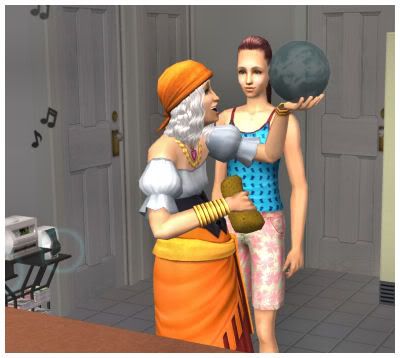 I really hate that the matchmaker is so OCD about spit-shining her crystal ball that is takes several tries to get her attention.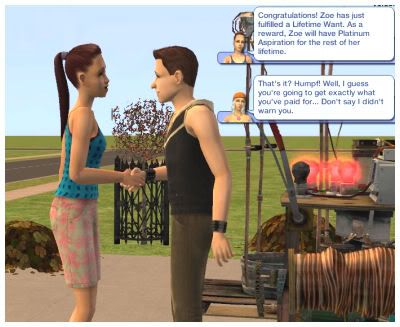 Finally! Waylon Menon was Zoe's 1st Date #50, so she has now fulfilled her Lifetime Want! I bothered to mention his name because all she did was greet him...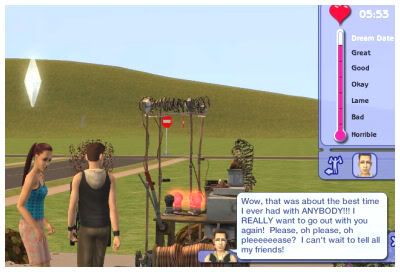 And it was a Dream Date! I've never seen that happen, but maybe the date score was affected by Zoe's rapid change in the level of her aspiration. I mean, I agree that Zoe is great, but I doubt that just meeting a girl was the thrill of a lifetime for Waylon. It's possible, I guess. I don't think I've ever seen him around Apple Grove before, so he could have been hiding in a cave somewhere, very bored and lonely. ;)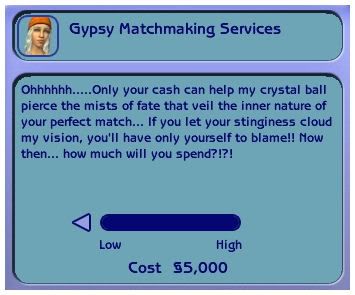 And now for Zoe to find a good match. The matchmaker puts zero effort into finding someone good when you pay her §24, but for §5,000 she'll actually try.

Money talks.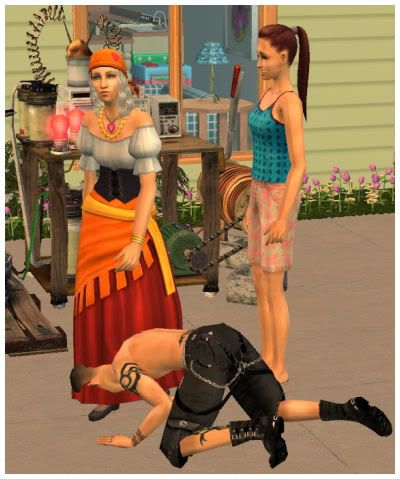 And I was really surprised when Rudy Fletcher came lunging out at Camryn, appearing to want a look up her skirt. Rudy is weird about old ladies. He's always lunging at them, either to kiss them or to beat them up.
This is an unexpected match to me, but I think it's perfect - or at least mostly perfect. I will give Camryn a lot of credit this once. The only thing I don't like is the idea of a completely brunette town, so in most cases I'm going to be more in favor of marrying in more blonds and redheads. But this match is too good to say no to.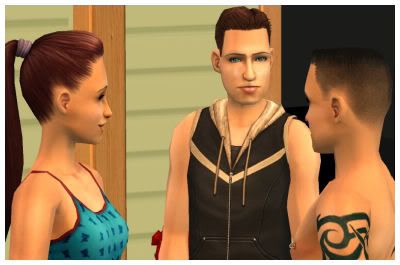 This is awkward. I guess Waylon must be a bit heartbroken when he delivers his dozen roses to see that Zoe has found her perfect match. There are 3 bolts of heavy voltage between them, and maybe that's enough to get Rudy to swear off old ladies for good. We can only hope for a cure to his old lady fetish.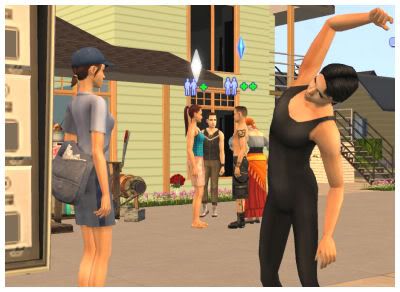 Rudy's brother Charles runs by in his skintight leotard, but he doesn't stop to visit. He's the one who's in show business, and either he doesn't know how funny he looks wearing that, or he's very, very confident.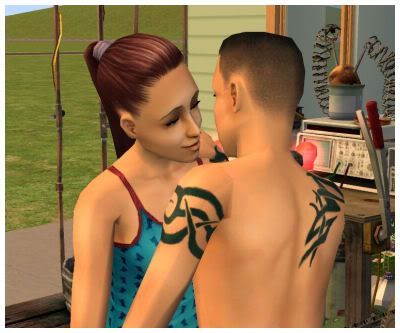 Because of their great chemistry, it took no time at all for Rudy to agree to move in.

Wow, those simoleons will really come in handy.

Rudy wants to be a Space Pirate, but the adventurer career track hasn't been in want ads this week.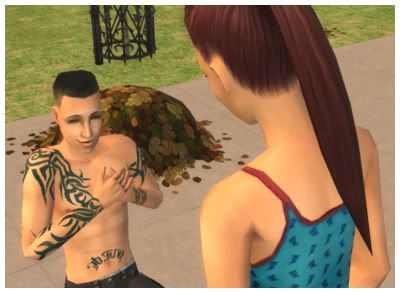 And Rudy proposed to Zoe right in the driveway next to a pile of leaves. It's not romantic, but they're both knowledge sims who don't really care about that.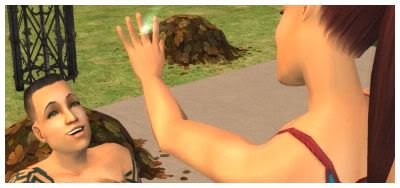 Zoe said yes, and even took an unscientific moment to look at the sparkle. Oh, never mind. Everything Zoe does is scientific. She is looking at it scientifically.

Rudy and Zoe decided to have a real wedding in the apartment parking lot. Technically, it isn't even a parking lot, because apparently tenants aren't allowed to park their cars there. Apartment dwellers can only have cars if their apartment building has garages - it's the law.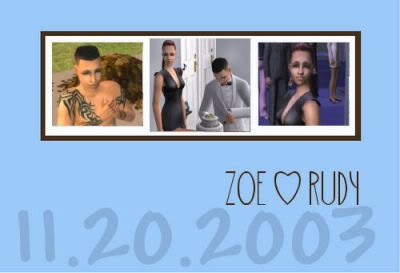 Here is their wedding announcement.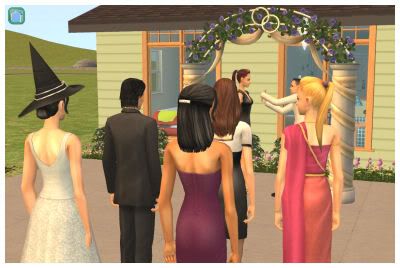 The guests arrived for the ceremony and just stand there hoping that the ceremony will eventually start.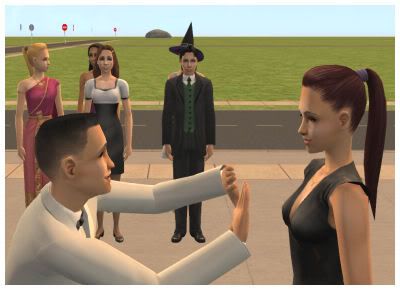 There I am in the front row. I see Zoe has chosen to get married in a little black dress. Too bad I didn't have the foresight to take her shopping. Rudy is already going for second base. Can you just wait until after the ceremony, Rudy?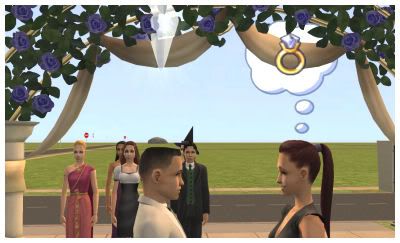 And Rudy and Zoe just stand there some more. Zoe is glad they are engaged, and wonders if she'll ever get married.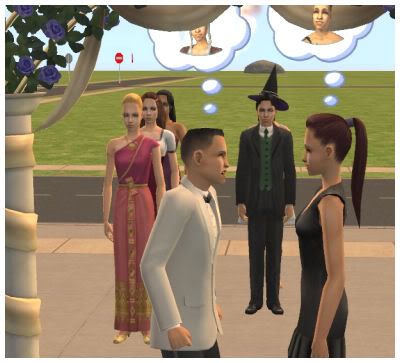 Zoe thinks about how nice it would be if the ceremony would just get underway. Rudy thinks about the old lady that he loves to beat up. I'm afraid if we don't marry him off soon he'll take off to Candy Apple Court for the old ladies.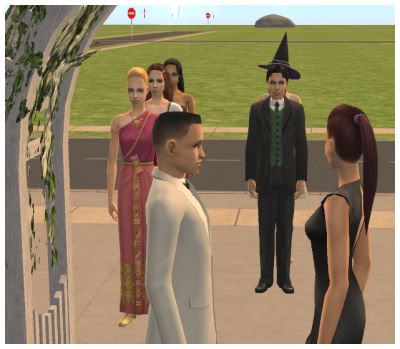 *Whistles* Any time now...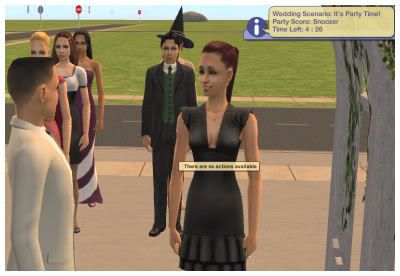 And now Zoe is getting cold feet on the whole getting married idea, as Rudy can no longer even talk to her.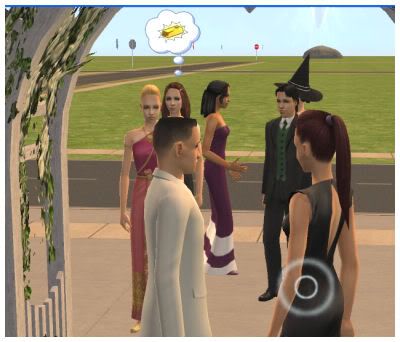 The guests are getting bored, and Zoe's butt starts to ring.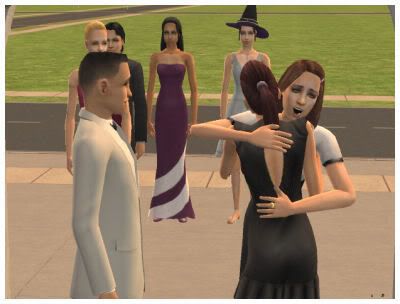 I decided to give the poor girl a hug, as clearly this wedding isn't working.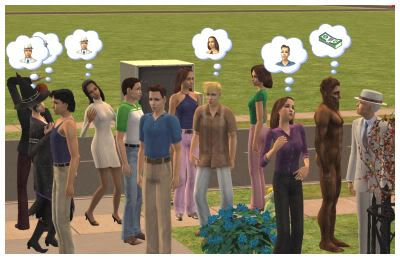 So they canceled the wedding, but had everyone come right back. While they were at it, they invited more people - all of the Fletcher and Tucker families, plus a few friends.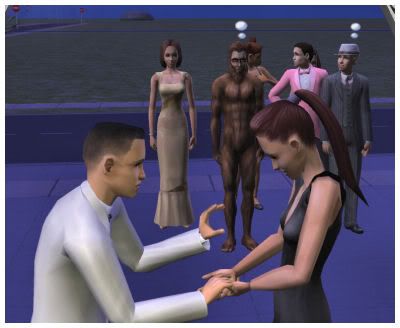 Rudy impatiently made another pass at his future bride.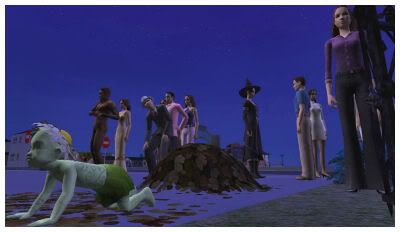 Everyone is still just waiting around. Even Zoe's Aunt Aloe is there playing in the leaves.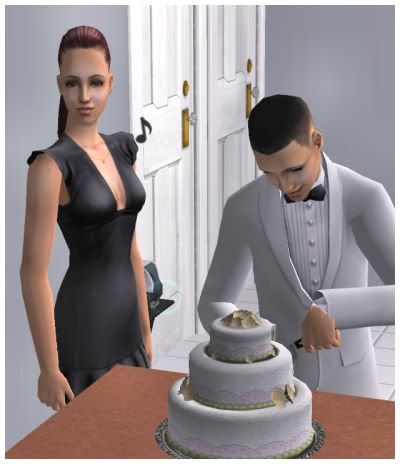 Since they are hungry, they decided to go ahead and cut the cake.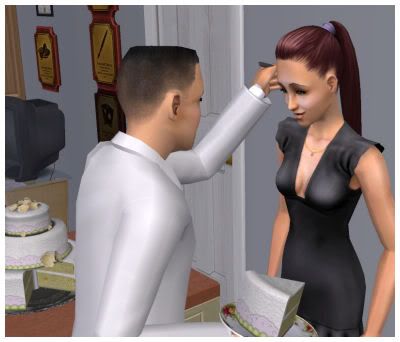 Rudy puts a bite of cake behind Zoe's right ear.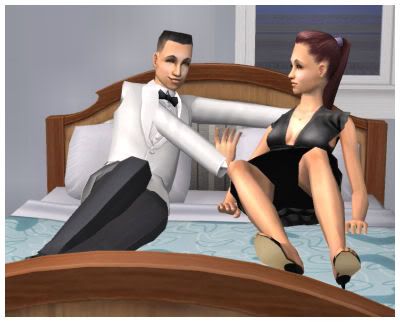 And then Rudy persuaded Zoe that they may as well woohoo, because the wedding party are refusing to come inside anyway. Rudy is overly excited and manages to dislocate his right shoulder and wrist trying to grab his future wife.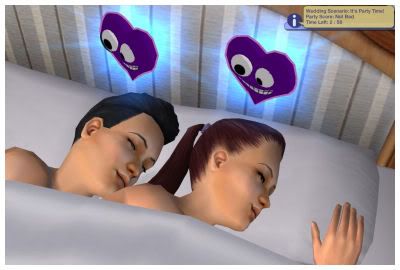 Apparently, he recovers. They even have time for a little nap.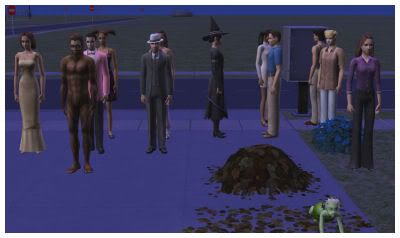 When they look outside, everyone was still determined that there was going to be a wedding.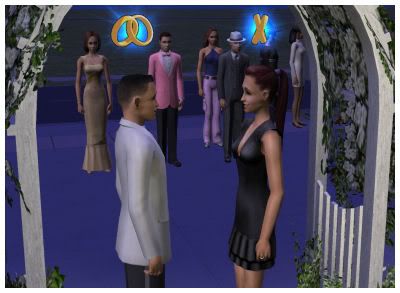 So they got dressed again and decided to stand under the arch, but just have a simple ring exchange instead of vows and flower petals. Fortunately, that idea finally worked, so they are now officially man and wife.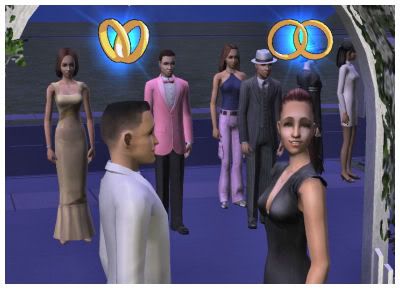 By then, the guests were too tired to clap and just stood there in a trance. And then Zoe looked at me and smiled. I'm glad she is happy and that her day wasn't completely ruined.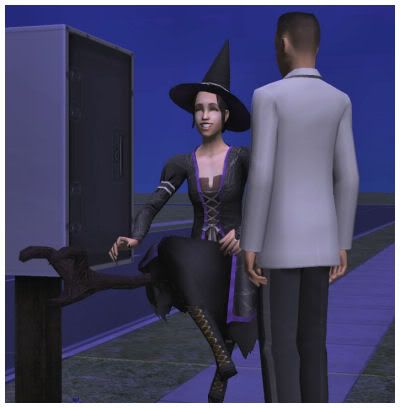 After seeing his sister at the wedding, Rudy really wanted to know how Sophie became a witch, so he called her to come back over after the wedding. She said she couldn't perform such complicated magic, but suggested he call her friend Maura Trimble (the Atrociously Evil Witch).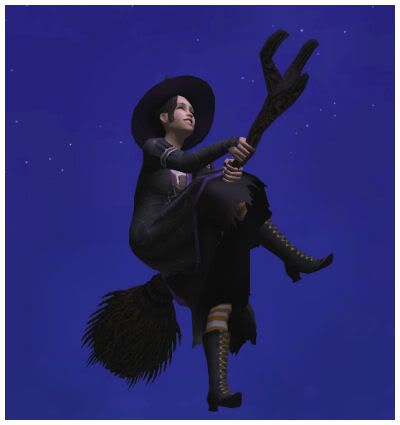 I love to watch Sophie fly on her broom.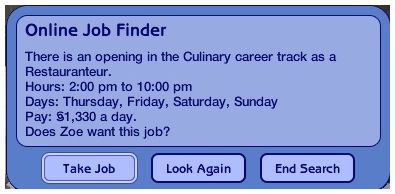 Zoe was able to find a job that really interested her in the Culinary career track. She is now a Restauranteur.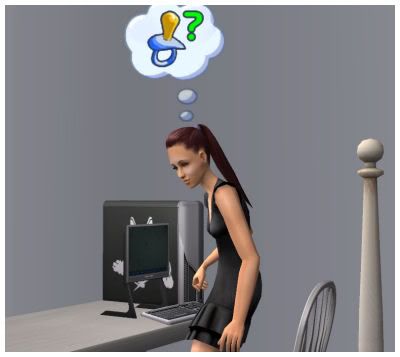 She was also feeling queasy, and wondered if she could have gotten pregnant from just one woohoo.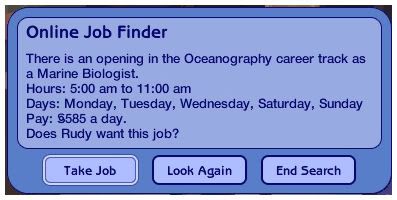 Rudy settled on a job in Oceanography, since it paid well and seemed adventurous.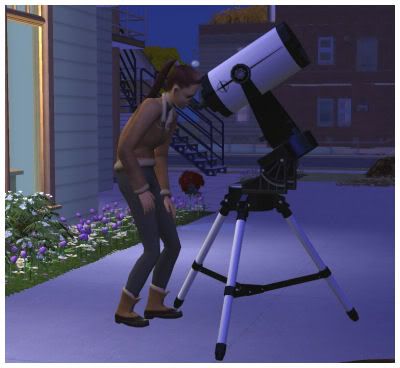 Zoe always wants to stargaze.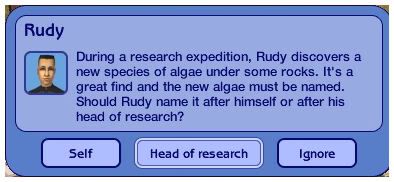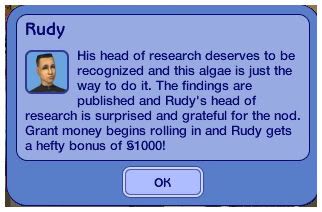 Good way to schmooze the boss, Rudy.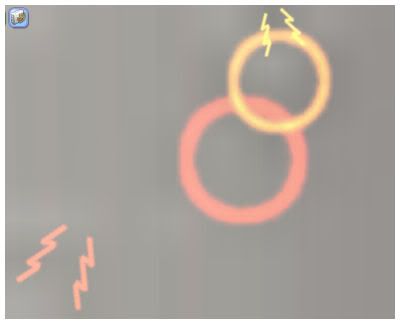 This is the wall between Rudy and Zoe's apartment and Neil Chalmer's apartment. These are not good vibrations.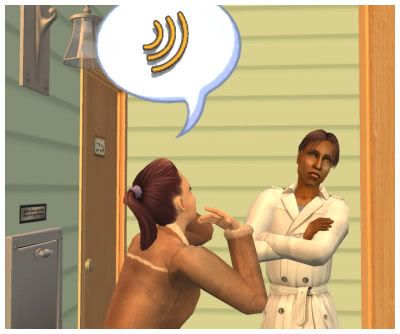 But asking him to keep the noise down never does any good.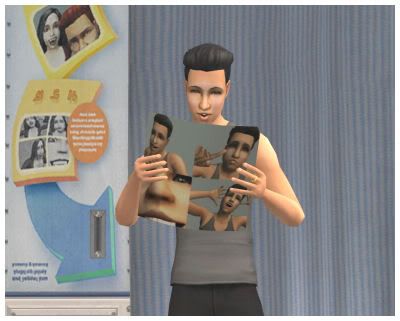 While Zoe was napping, Rudy went downtown in his pajamas. Was he looking for old ladies? I hope not.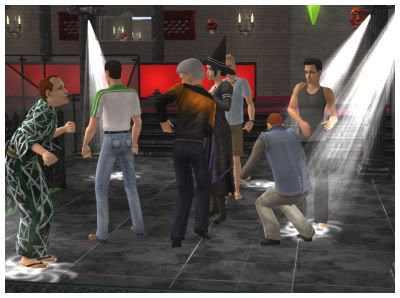 Crypt 'O Night is always a popular downtown spot, as Sophie is there along with Rudy's brother-in-law Martin.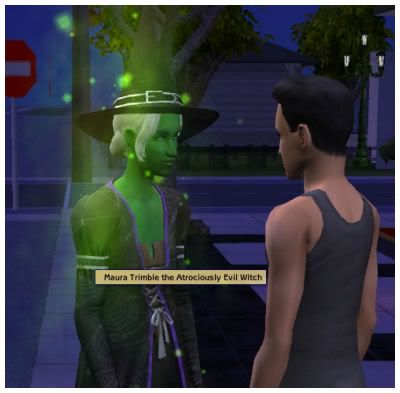 It seems that Rudy is actually here to meet Maura Trimble. He really, really wants to learn the Dark Arts.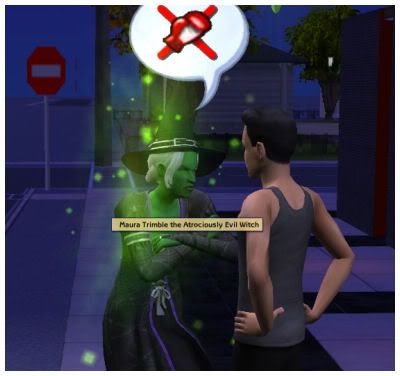 Maura assures him that if he becomes a warlock, he will never have to resort to physical violence again. She also suggests that he not try to kiss or punch her, as his reputation with old ladies is well known.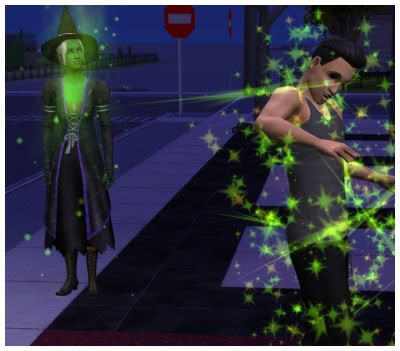 Rudy is filled with anticipation and excitement (and green sparklies) as he thinks about how cool it's going to be a warlock.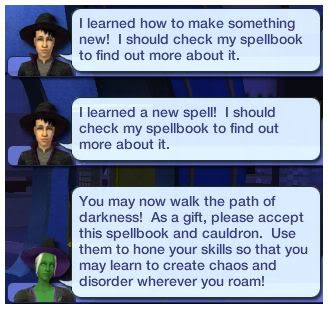 Hooray, chaos and disorder!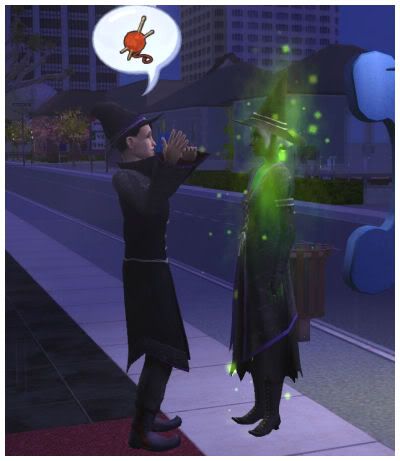 But despite the promise of chaos and disorder, Rudy takes a moment to ask Maura if she knows why FreeTime did not allow sims to knit like Mrs. Crumplebottom. It is very sad, I agree.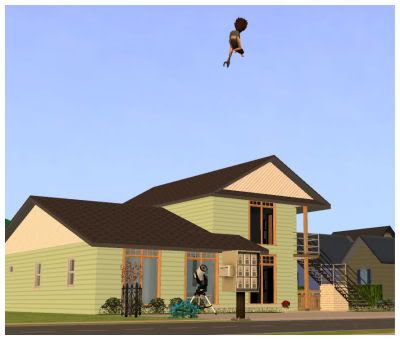 On his way home, Rudy is really overconfident with his newly-developed flying skills and does a huge dive.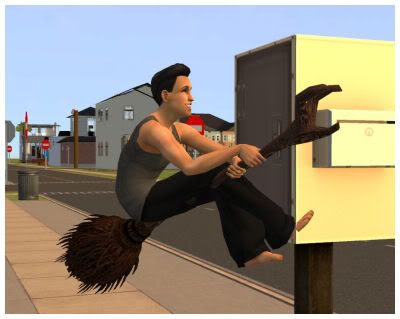 What a showoff, although that foot through the mailbox has got to sting a bit, even if you're a warlock.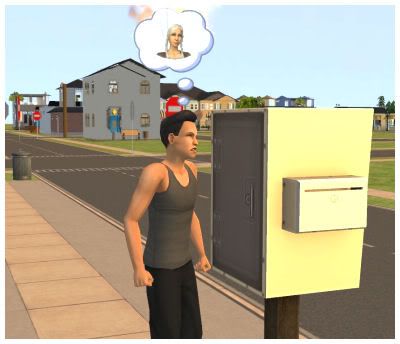 It seems he can't let go of his hatred for Vamsi Tomyoy. That's the name I've been too lazy to look up until now. But he actually has two other enemies - the cow mascot is an obvious choice, and Eric Lim. Eric is the sim that was dating his sister Sophie when the cow mascot flirted with him - ruining their date. I guess he is extra protective of his little sister, which is actually a bit sweet for a Mean Warlock.
Because Rudy has only 3 nice points, he will remain on the "dark side." I guess that explains beating up old ladies.
While we're looking at personalities, here is Zoe's. She only has 3 nice points too, although I think she must be too lazy to fight. ;) If she decides to be a witch, then I guess she will be a mean one.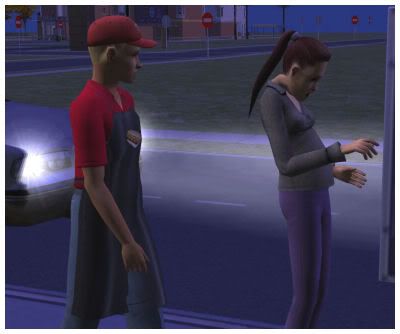 Zoe's pregnancy is confirmed as soon as she arrives home from work. The guy in the hot dog apron is a co-worker named Andrzej Miguel.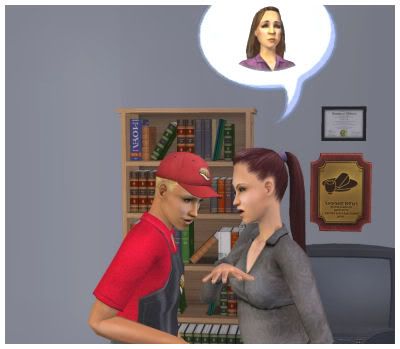 Hey now, that's me in that speech bubble! What are you saying about me???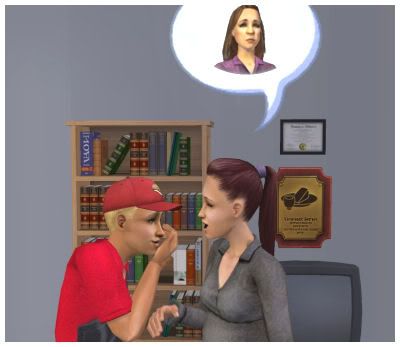 You'd better not be laughing at me! You guys had better stop talking about me or I'll... I'll... well, it won't be good. Devan Brown had to do chores all though college for being difficult.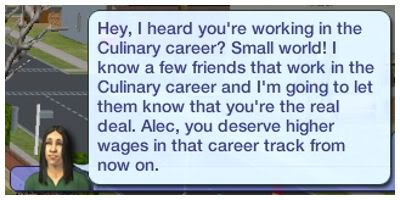 Alec Ebadi is a really mean sim. He's the one that beat up Rudy's mom as part of the Welcome Wagon to Zoe's house the day they moved to Apple Grove. But hey, we won't say no if he wants to help Zoe get a promotion. Maybe he feels guilty, but I really doubt it.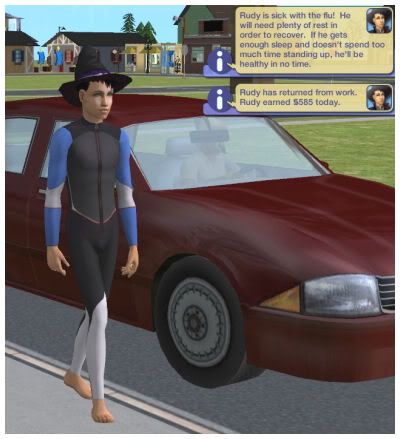 Poor Rudy has a cold. It's no wonder, walking around barefoot like that. And aren't witches supposed to melt in water? I would think warlocks would too.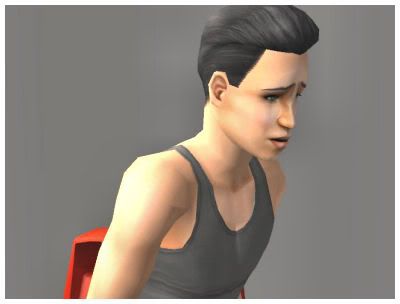 Oh Rudy, just quit your whining and bellyaching and lie down in the car bed. I don't want you to get Zoe sick too, especially now that she's pregnant.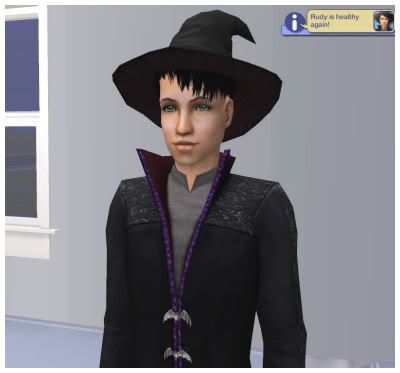 Rudy is healthy again, and looks pretty good in in his warlock garb.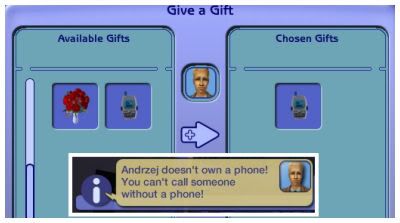 Zoe's co-worker with the unpronounceable name doesn't have a phone. That's where teleporters come in handy.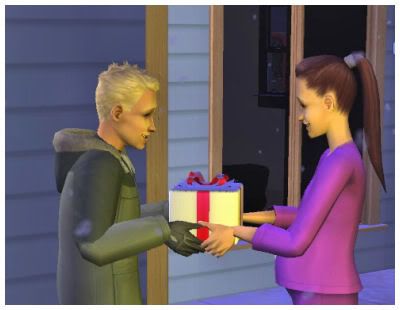 Zoe is all too happy to give him a cellphone in hopes that being friends with him will help her get promoted.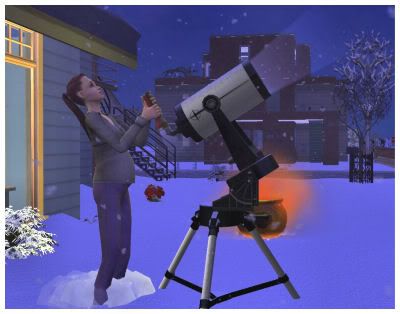 Zoe decides to Summon Aliens. So far she hasn't been abducted, but I don't know if she can or should in her condition.

And here is a view of Apple Grove in winter to close this update.
Scoring:
1 point for Zoe getting her Lifetime Want of 50 1st Dates.