I'm still trying to get caught up with my blogging, which is probably why I update so frequently. I actually played up to halfway through Round 4. I'm trying to have the self discipline to not play again until I've blogged to that point, but with the game open to check information, it's so hard to be good.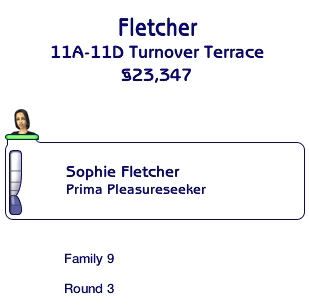 Sophie finished college and her Lifetime Want of woohooing 20 sims, and is now getting her first apartment.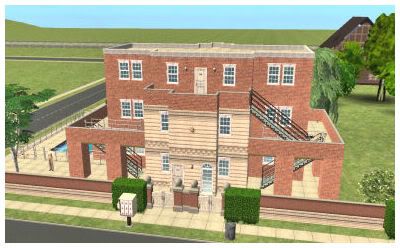 She is renting 11D Turnover Terrace, which is the bottom apartment.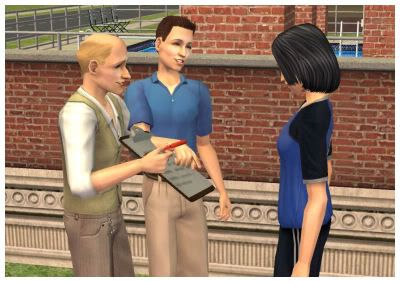 As you know from Brian Tucker's last update, Sophie and Brian have 3 bolts of attraction for each other. Brian lives in the upstairs apartment, and seems anxious for Sophie to sign the lease.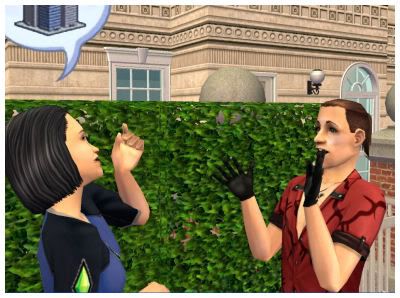 This is Clarence Philippine, one of the two neighbors that live on the second floor - not that it really matters in this update.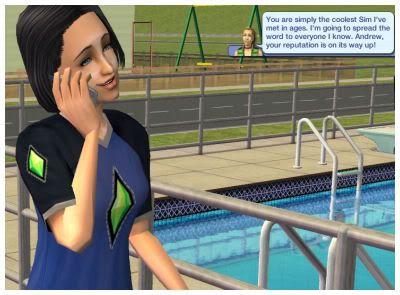 Sophie is going to use all the guys she slept with in college to get her Impossible Want of 50 Dream Dates. Andrew thinks Sophie is the coolest.

Alejandro wants to lower her rent because he is friends with the creepy landlord. It's interesting how all these guys want to do favors for her. I wonder why.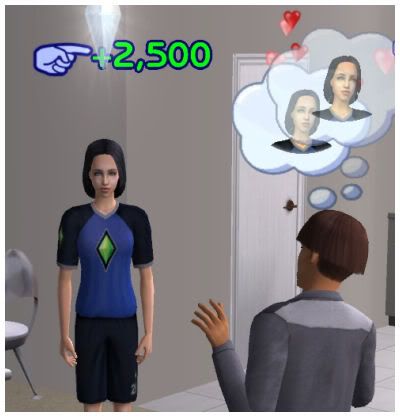 Andrew Mazza is overwhelmed with thoughts of Sophie.

Andrew, I really wouldn't bother. I expect that her name and number are already in every public men's room in Apple Grove and Académie Le Tour right next to, "For a good time call..."
This is Brian McAuley. Nice hair, Brian.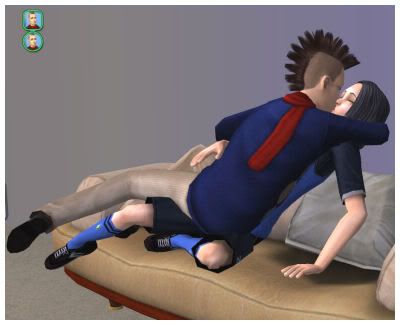 Brian and Sophie made out passionately her couch, but poor Sophie - no more woohoo for her until marriage. It must be so frustrating for her to have a virtual chastity belt. I'm going to let her have her 50 Dream Dates, but nothing else because I'm mean. I enjoy torturing my sims a bit, especially when they annoy me. I'm still a bit bitter about that 20 woohoo LTW.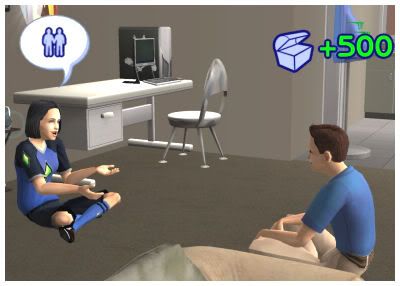 Sophie and Brian hung out for awhile, but I only let them become friends. It would be difficult to avoid jealousy with them living in the same building considering their current lifestyles, although after their goals have been accomplished it could be interesting to see some serious drama.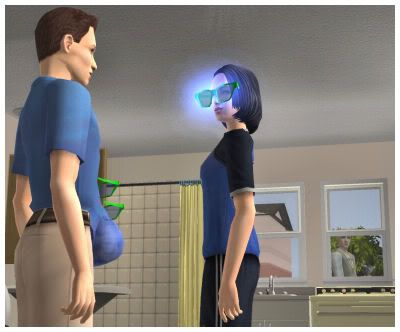 Why did I take the photo from down here? Take a gander out the window - it's the creepy landlord Dawson Leong peeking in at them through the window.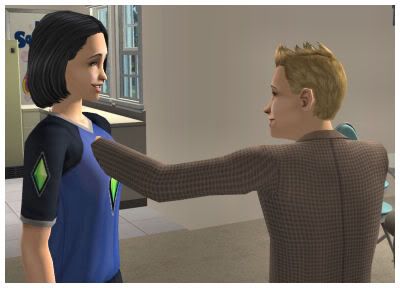 Professor Craig Pearson ripped out her beating heart and stomped on it. Okay not really, but he might want to if he knew how many other guys she was also dating.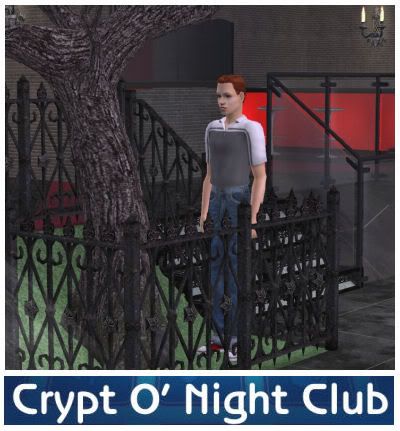 Sophie finally ventures out on a date that isn't at home. It's a real risk, and turns into a disaster. But it doesn't turn sour because of jealousy like you might have expected. It's because Derek Cameron the doofus was being stupid and trapped himself in the fenced area at Crypt O' Night Club.

I don't know why he's the one that's mad. He was the one being difficult.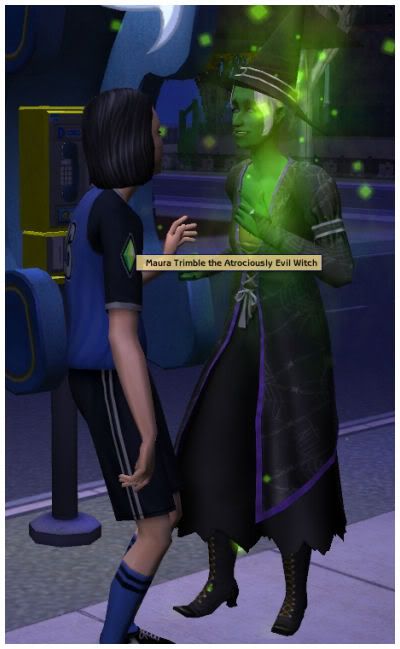 With her date ruined, Sophie noticed Maura Trimble outside. She was very curious about witchcraft, particularly the Dark Arts.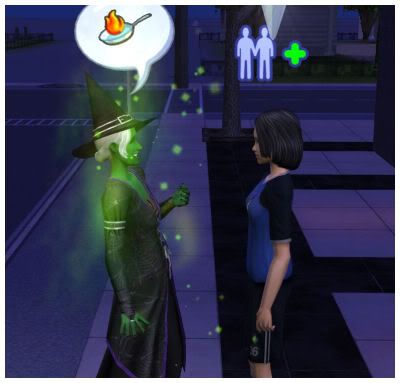 She and Maura had a long conversation about - everything, including cooking disasters. Hopefully, it was only food she was cooking, and not Hansel and Gretel. Sophie didn't have very many female friends, so I guess that's why she craved a friendship with Maura.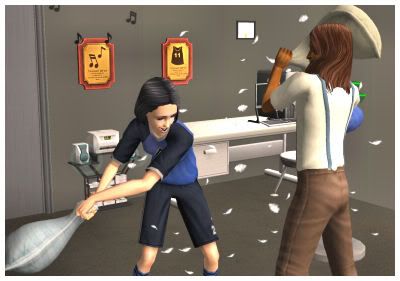 Sophie has a pillow fight with Derek Lin, leading up to yet another dream date.
Sean Johnson had such a ridiculously fun time on their recent date that he left her a Dance Sphere.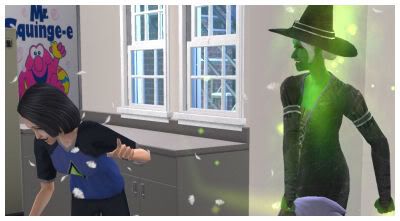 Despite all her dating, Sophie still made time to have Maura come over for a pillow fight, too.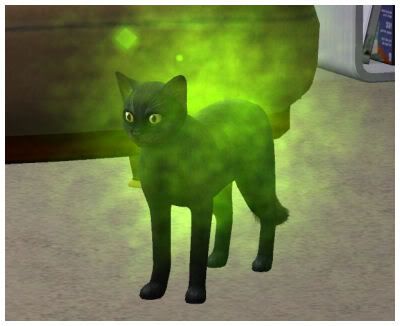 Meanwhile, Maura's magic black cat showed up and tried to shred the furniture which was not quite as fun.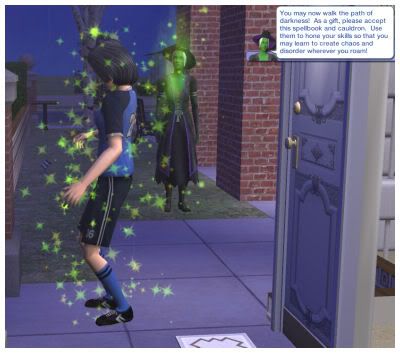 When Sophie asked her, Maura was only too happy to help Sophie become a witch.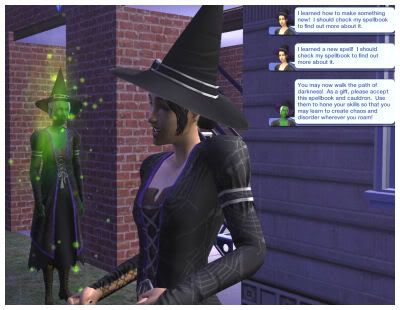 And Sophie knew she would enjoy her newfound powers. Gosh, I love to hear her cackle!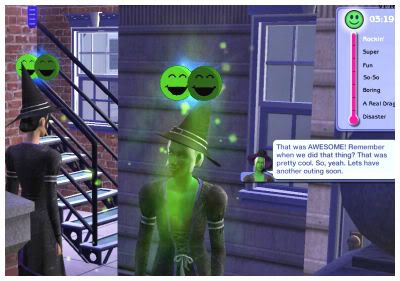 Thus ended a successful outing, with them becoming the best of friends.

Sophie even learned more about cooking. I guess with Maura doing all that cauldron stirring, she probably does have a lot of cooking experience.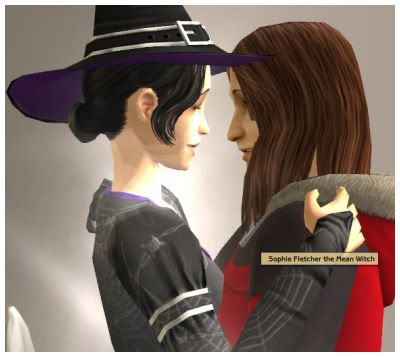 Sophie is a Mean Witch, and will stay on the dark side since she only has 3 nice points. Apparently becoming a witch has not affected her dating at all.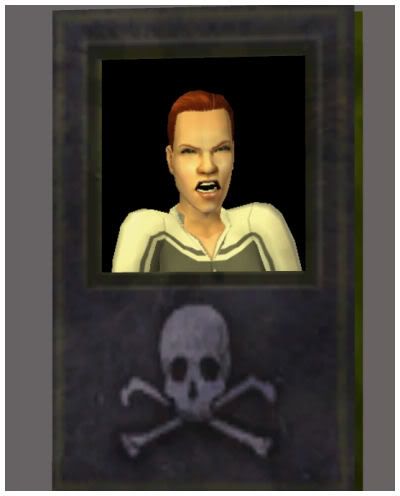 Here is Derek's nasty card he sent after their disastrous date. Now that she's a witch, it will make a nice decoration for her home.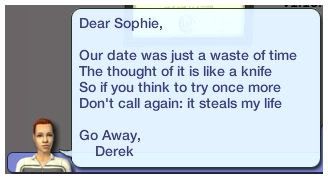 Nice poem Derek, but you're full of it. If Sophie called you right now for a date, I know you would jump at the chance. And if you did say no, she would turn you into a frog or something.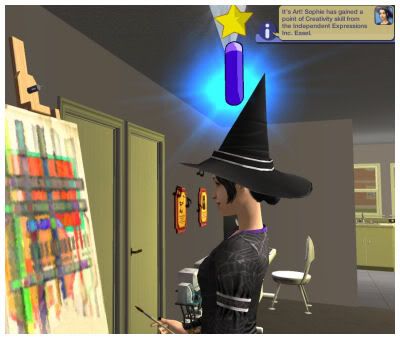 Good job, Sophie. She must be between dates to have found time to paint.
Speaking of dates, Sophie has now had 42 Dream Dates.
Scoring:

No scoring, but progress was made toward Sophie's impossible want, and another type of creature has been added to Apple Grove for the creature bonus.