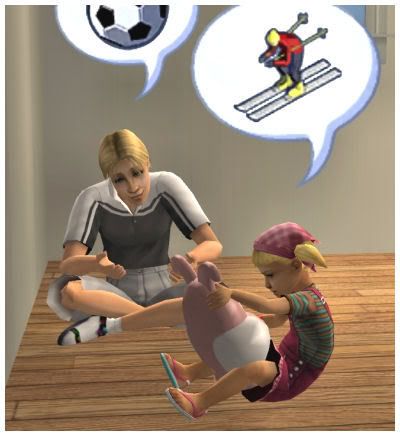 It's been over a year since the disappearance of Daniel, Sr. and Deanna Brown. Little Devan doesn't remember them very well. It is presumed that they were killed on their second honeymoon in Europe, either in a skiing accident, or they may have been trampled at a "football" game by crazed soccer fans. No one really knows for sure.

Daniel is a fortune sim with the lifetime want of becoming a mad scientist.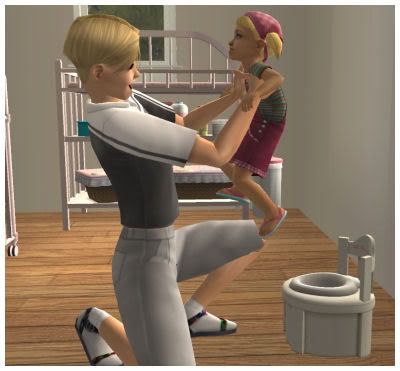 He has been caring for his sister on his own for the last year, doing his best to do what his parents would have done.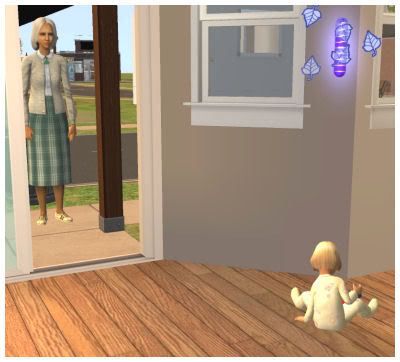 Unfortunately, he has to leave Devan with a nanny on school days so that he can keep his school grades up.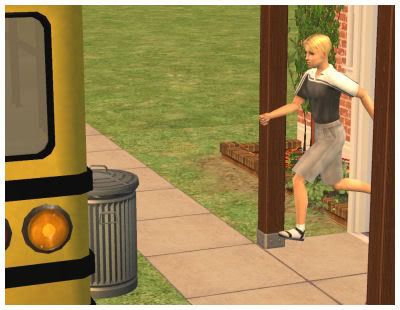 It seems he is so busy with responsibilities that he is always running.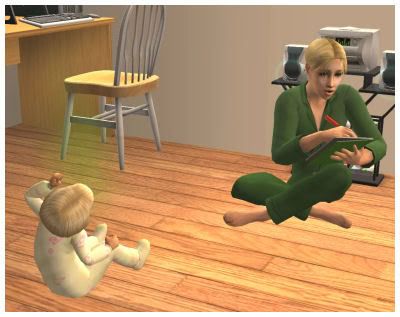 Homework is a long process for him in the evenings as he struggles with never having had help studying.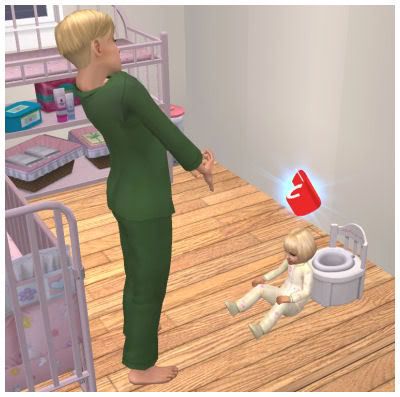 Devan takes a great deal of his time, and he's so tired that the only skill he's managed to teach her is potty training. At least it's something.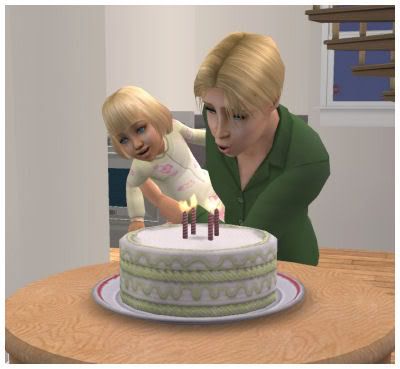 Soon her birthday arrives. It's a bittersweet time. In a way, he's relieved that she will be able to do more for herself, but he also feels bad that he wasn't the perfect substitute parent.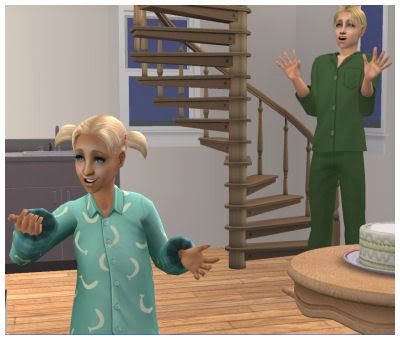 Despite his worries and concerns, Devan grows up really well. He is surprised at what a well-adjusted child she has become. He should be really proud.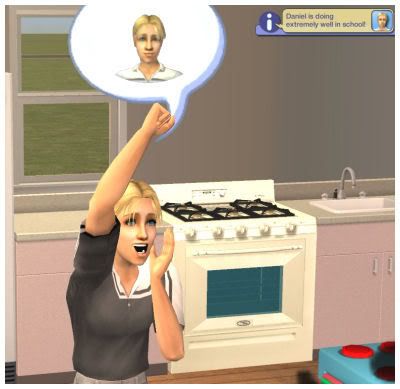 Now that he has a little more time to do his school work, Daniel gets on the honor roll. With no one else to cheer him for his accomplishments, he cheers for himself.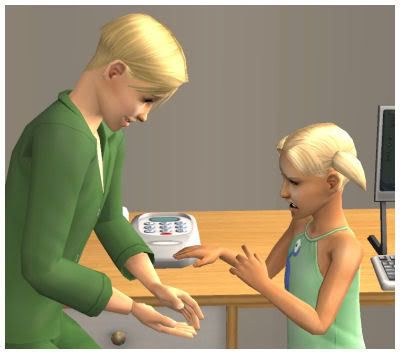 Devan helps out by playing red hands with him over and over again, even though sometimes her hands get sore. For reasons that make no sense to most people, red hands is about the most fun you can ever have in your sim life next to kicking a flamingo lawn ornament.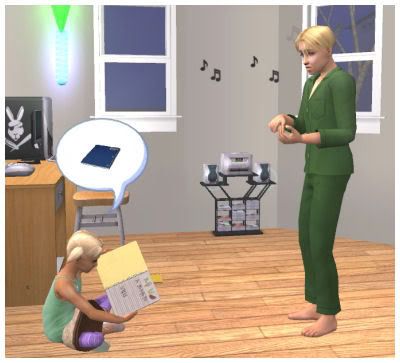 Devan is fortunate to have a big brother to help her learn to study. Good grades come easy for her because of his support.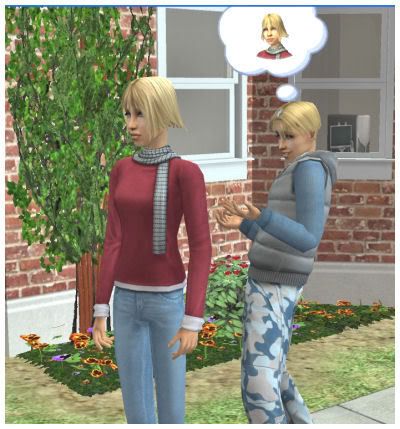 Daniel really thinks this girl is cute. Sure wish I could tell you her name, but it escapes me.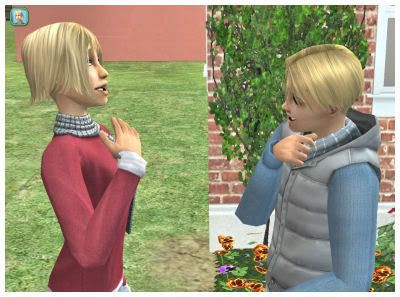 She really likes him too. It's cute how shy they both are at the beginning of their relationship.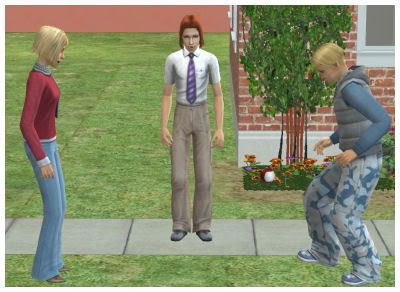 She and the red-haired guy like to come by after school to play kicky bag. It's a lot of fun, and a great way to get to know each other.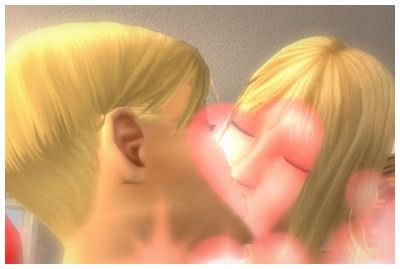 Before long, Daniel gets his first kiss.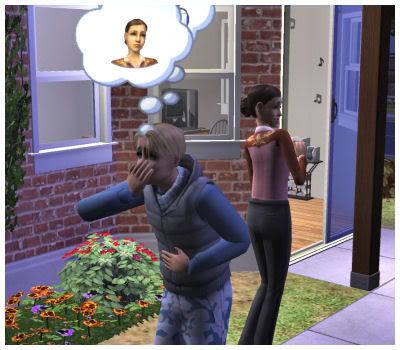 When Zoe Tucker walks by one day I half expect that Daniel will think she's pretty, but he really wasn't interested in her.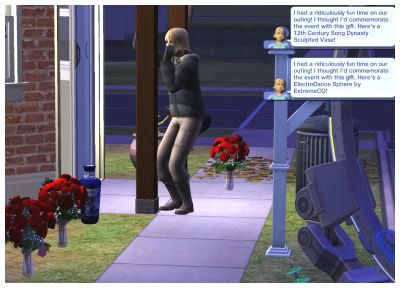 Eventually though, this girl's interest begins to get extreme. One night she left a very expensive vase
and
a Dance Sphere. This is in addition to half a dozen bouquets of roses. Any time they weren't currently together on a date, she would be trying to call him on the phone, sometimes six times in a row. He loved to be with her, but the rest of the time he felt like she was stalking him.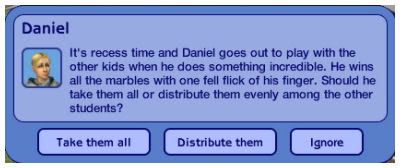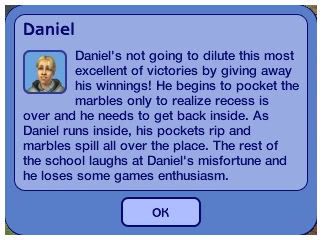 Poor Daniel lost his marbles.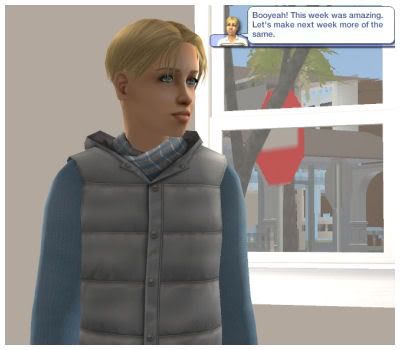 Despite all his trials, Daniel had a great week and accomplished quite a bit. His parents would be proud if they could see him now.