These pictures are in no particular order after the first half dozen, because if I took the kind of time to do it right, then I would never write about this round. I should learn to blog
as I'm playing
. Anyway...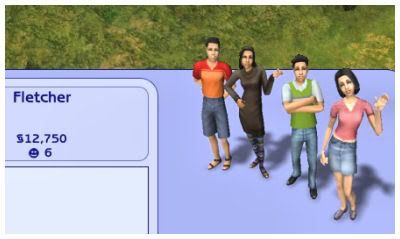 The last time we saw the Fletchers, the kids were all off to college. Let's go see how they are doing.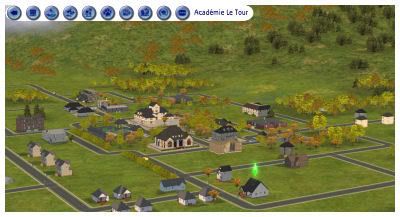 Académie Le Tour is the small nearby college. It may sound like a fancy French school, but don't let that fool you. It's only 20 miles from Apple Grove - because I say so.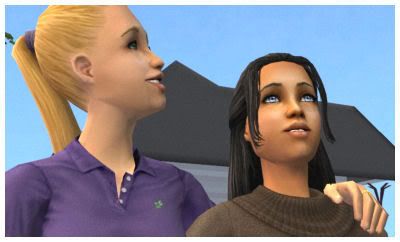 Grace made sure the kids got moved into their rental house and had everything they would need. She should have given them some Mace because...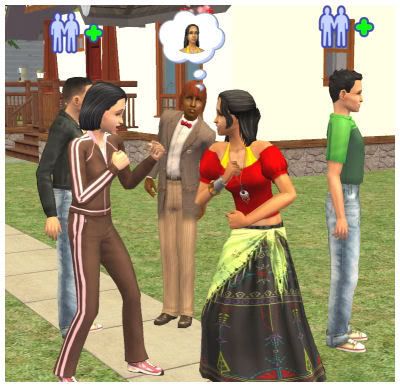 Quick kids, run into the house! The pervy drama teacher is out prowling for some lovin'!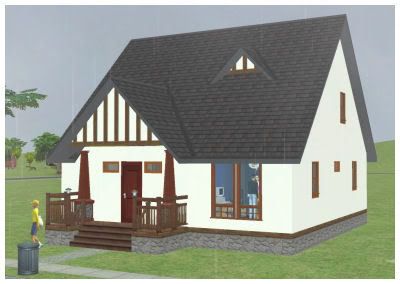 Here is the house the kids rented. It's a fairly decent-sized house, although the layout and decor leave a great deal to be desired.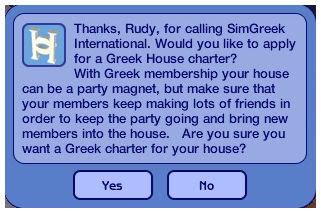 Rudy decides to apply for a Greek charter, and they are approved.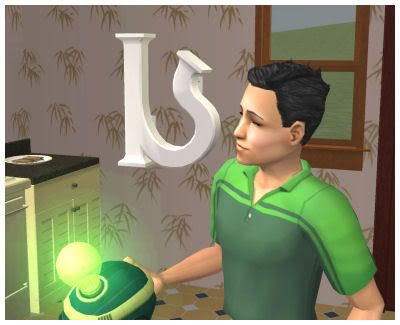 Soon they have their Urele sign that Charles brought home hanging on the kitchen wall.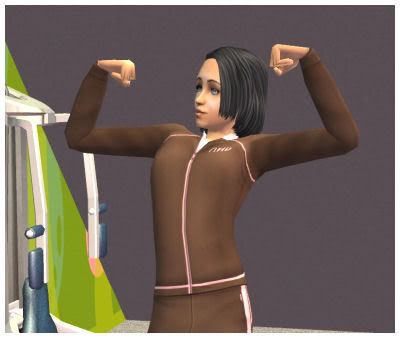 The first thing Sophie focuses on is getting fit. As a romance sim, looking good is very important.

I hate this Lifetime Want, but I was determined Sophie would get it.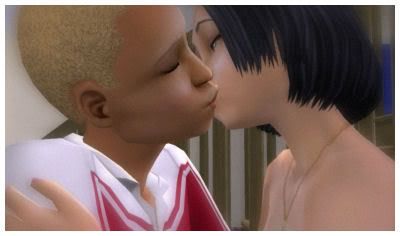 Sophie's first kiss.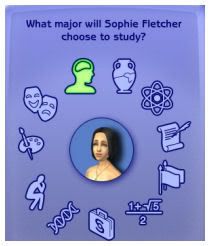 Sophie chose Psychology for her major. I think maybe her plan was that it would help her with her Lifetime Want by getting inside the mind of the college male. It's really not that hard, Sophie.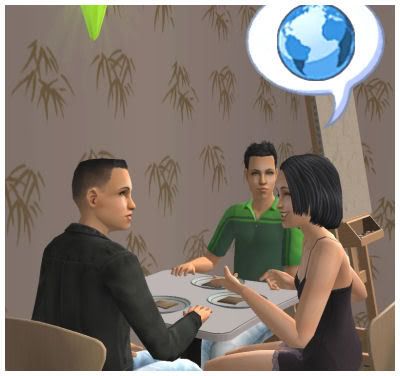 Here they are discussing world events and issues over a breakfast of Poptarts. Sounds like college to me.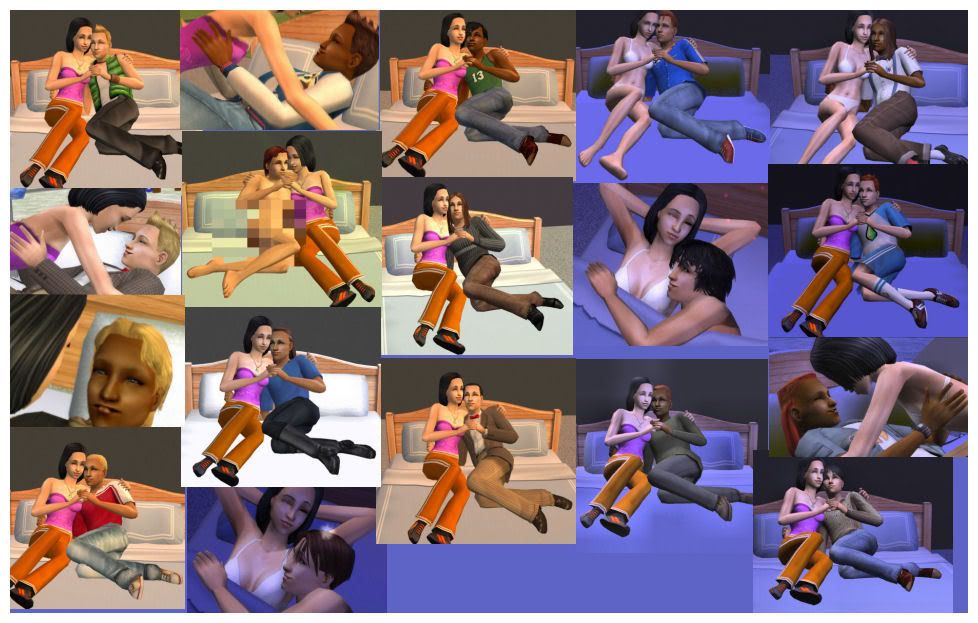 A collage of college debauchery: click to see a larger picture of all of Sophie's conquests. There are only 19 pictured - I couldn't find the last guy until later. It's lulzy!

Yes congratulations, Sophie. You should be so proud of being such a little slut. That's not what I call romance, no matter what the silly game developers think.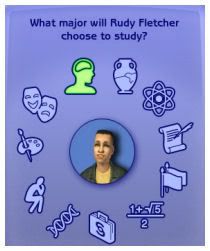 Rudy also choose Psychology as a major, but I have no idea how that will help him with his goal of being a space pirate someday.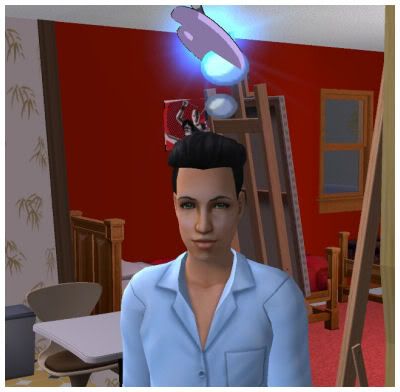 Rudy's hair goes all poofy when he wears his pajamas. This is actually him after he sells his first masterpiece painting.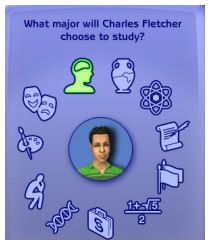 Charles also wants to be a Psychology major. Geez, what's with all the Pysch majors out there? Charles wants to go on 50 First Dates. This Lifetime Want isn't too bad, mostly because no one said they have to be
good
dates. ;)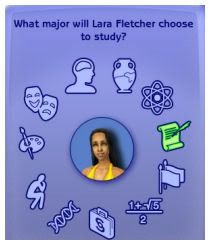 Finally, a different major! Lara wants a Literature degree. She also wants to be a Space Pirate. Maybe she can write books about Space Piracy.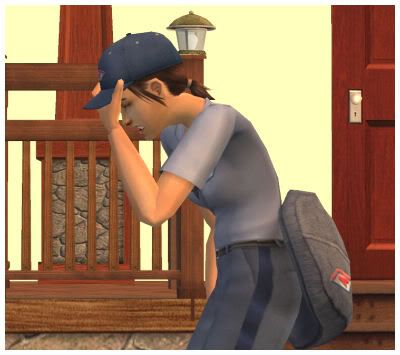 The letter carrier hates her mail route on the college campus. She never knows what kind of sick, twisted thing she'll see next.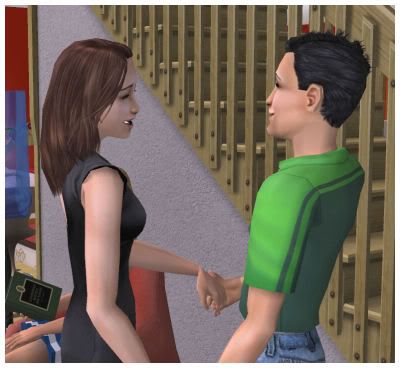 Charles really likes this girl, and they have good chemistry. There may be a future for these two, but only after he's dated 49 more women.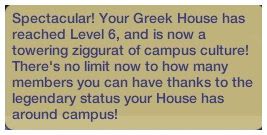 It didn't take long to get the Greek house up to Level 6.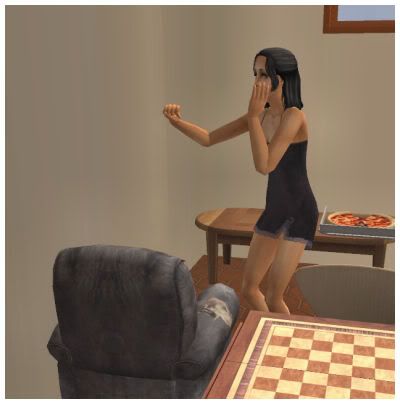 Lara kept bringing home stuff she "found" and clogging up all the pathways.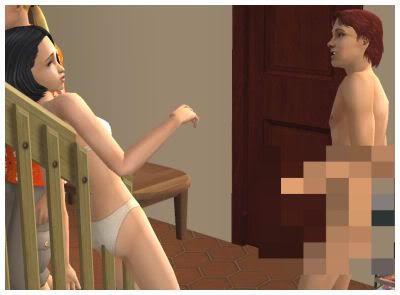 Sophie spent most of her time running around in her underwear - impaling herself on things. Maybe it was a time saver for her being almost naked. She really likes the streaker - the only person around more naked than she is.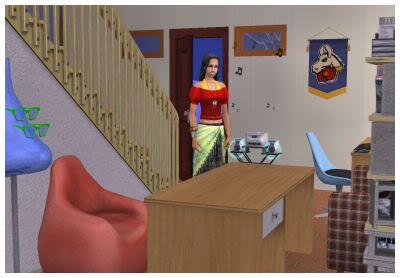 Lara, we cannot have that desk there! Stop bringing crap home!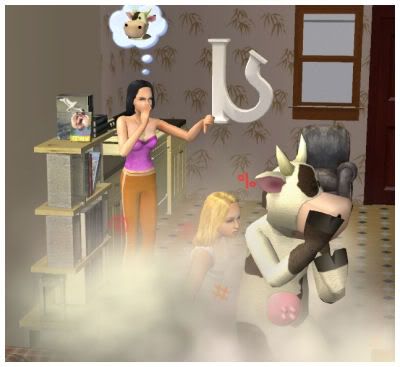 As always, the cheerleader has to fight the evil cow mascot. Of course the cheerleader won, as always. Verbits! Verbits! Vo Verbits!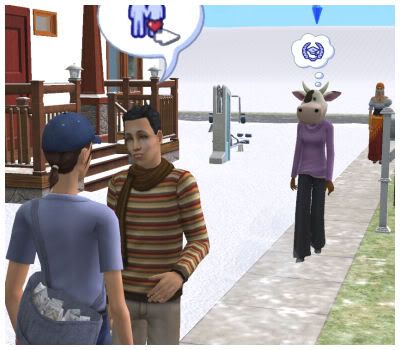 The matchmaker set Charles up on a date with the cow mascot, who decided to dress up a little but still wear the cow head. He's ignoring the cow to talk to the letter carrier for advice and/or sympathy.
Yes, an evil witch is a great date. You suck, matchmaker.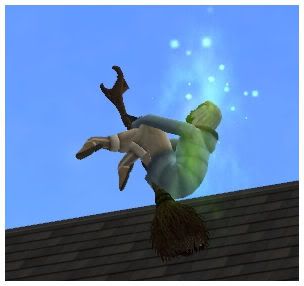 It was fun to watch the witch fly away on her broom, though. She's FAST!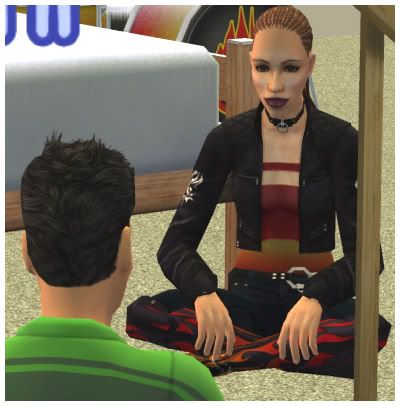 This girl was nice, but just not Charles' type. A bit heavy on the makeup, chains and flames for his taste.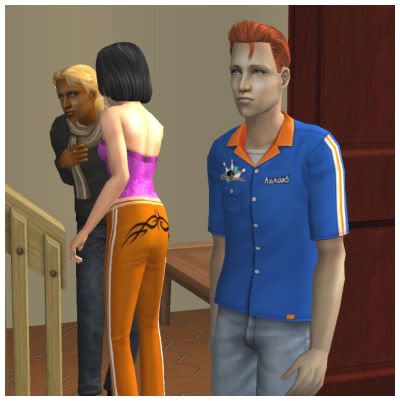 Sophie is on her current date avoiding the bluish guy that she was on a previous date with. You can tell all the guys she's dated in the winter, because they're all blue from woohooing with her in the cold attic.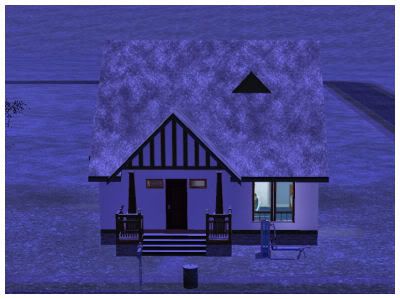 Here's the house in winter. Yep. Looks the same except for all the white stuff.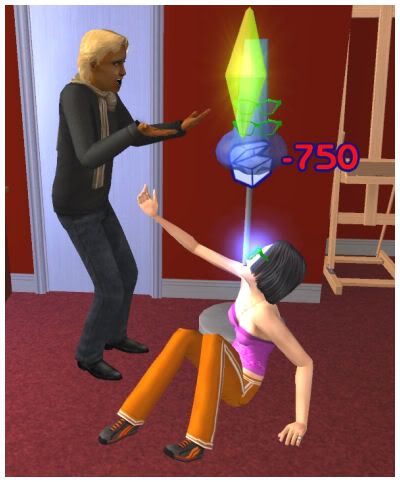 This guy decided not to catch Sophie when she decided to leap into his arms. Very funny, although she still scored a few minutes later. She has a huge supply of cool shades, and she's not afraid to use them.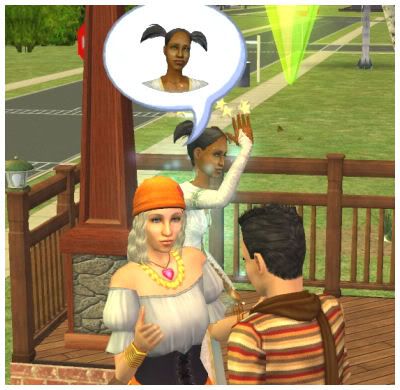 Another witch, this one a good witch. Better, but I don't think the matchmaker's heart is into it when she only gets about §34 a date.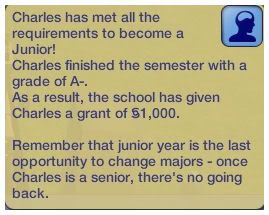 Darn you, Charles. No Summa Cum Laude point for you, you slacker!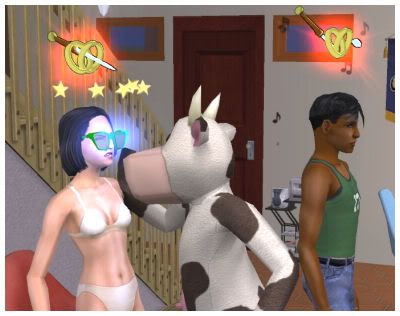 The stupid cow messed up Sophie's date with this guy by flirting with him. It took many days for them to get over this incident so they could, ahem, finish their date.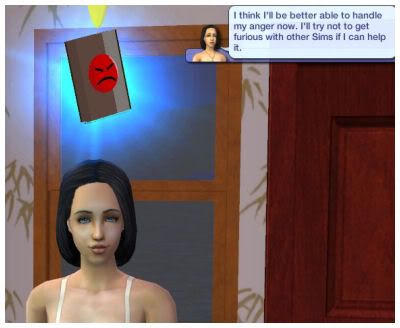 I guess studying anger management is merely a preventative. It didn't seem to make getting over existing anger any quicker.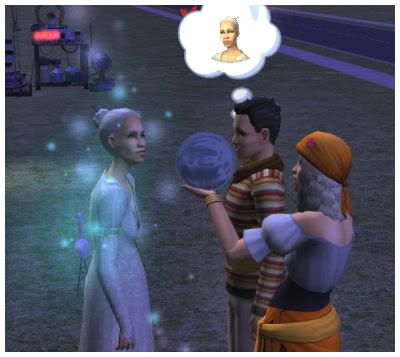 A good, but ancient witch. Way to go, matchmaker.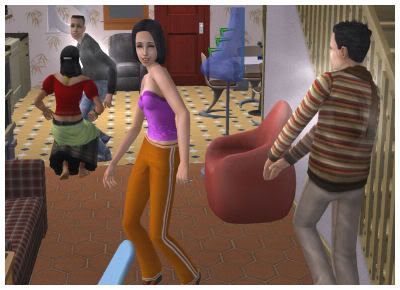 Back to their favorite pastime whenever I'm not keeping them busy - the Fletchers love to dance. Charles and Rudy are obviously in "The Zone."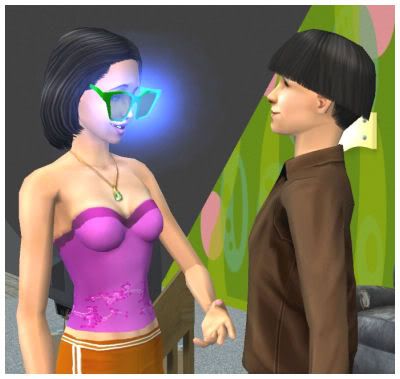 This is the guy I missed in the collage! I think it's funny that I missed the bowl haircut guy. This is the only picture I have of him.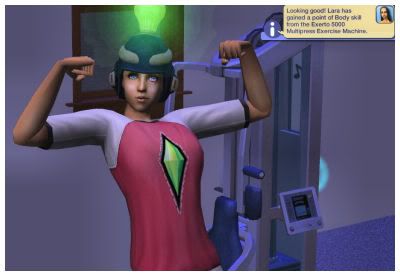 Lara also had the desire to get fit. Good job!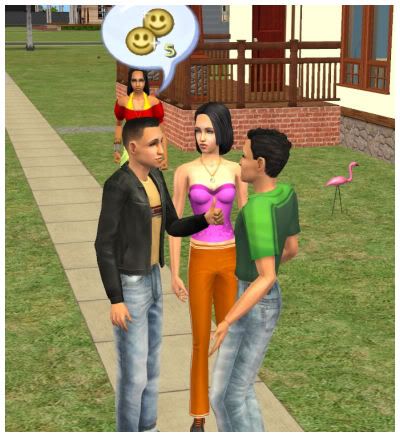 This is just a random outdoor photo of the kids going to and from classes. I guess Charles has 5 BFFs.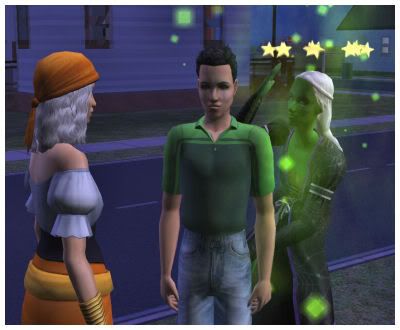 Another, different bad old witch. How many witches are there in this town???

Finally.
And I have run out of pictures, or at least I have lost them somewhere... No one got into the Secret Society. I wonder if it even exists. I'll admit, I didn't send them to community lots enough to find out who was "in."
Scoring:
4 points for being members of the Greek house, 1 point for Sophie's LTW, 1 point for Charles' LTW, 3 points for Summa Cum Laude gradutes, 4 points for Big Sim on Campus, and I will have to later edit in the hobby plaque points from their memories.